When picking out the best fly rods for trout fishing you have to think about what types of flies you plan on throwing. Are you chasing rainbows and brown trout or are you going after small brook trout?
The size of the rod will let you cast these larger or smaller flies with much more precision. Also, a heavier rod will help you haul in those bigger fish too.
So, if you're looking to get into trout fishing and need a rod but you're not sure where to start then check out the information below. We're going to cover features as well as products.
Check out our best fly rods overall if you're looking for rods in all weights and for all species, and make sure to read our guide to the best trout flies as well as our guide on fly fishing for trout if you plan on doing a lot of trout fishing.
As an Amazon Associate I earn from qualifying purchases.
How to Target Trout With a Fly Rod
Below, we're going to go over a few different strategies you can use when targeting trout with a fly rod. Feel free to use these the next time you hit up a trout stream!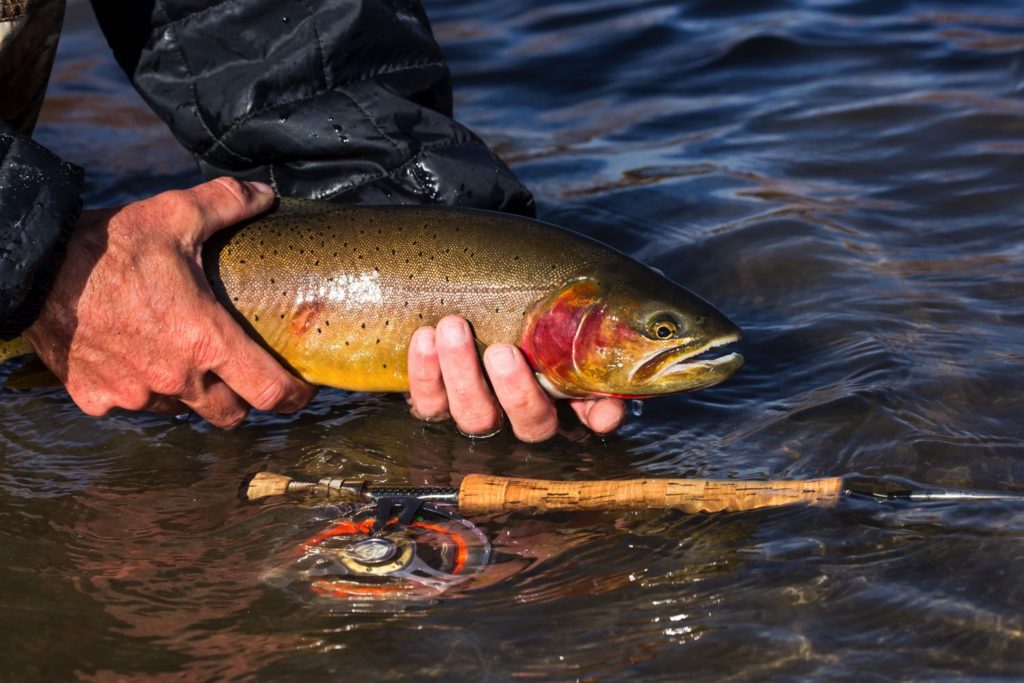 Dropper
A great way to target the surface of the water while also banging the bottom. You want a larger fly on top so it can support your nymphing fly. Typically a big dry or hopper works well.
Your dropper will be tied off using tippet from the shank of your dry fly. Whatever is working best in your area can be used as the dropper.
Swinging
Swinging is a very easy technique to learn and it is also incredibly effective. Making it great for novice anglers as well as some of the experts out there.
You'll be casting your wet fly at a 45-degree angle downstream from you. Allow the fly to drift through the current and keep a tight line to ensure you can detect any strikes.
Hoppers
During the summer there is going to be a limited amount to no hatches occurring. So, your best bet is to tie on some sort of terrestrial and have at it.
Depending on your river you could tie on a beetle, spider, floating ant, or a hopper. If fish are not rising then you could also go subsurface. A squirmy wormy or san Juan is always a great bet. Same with sinking ants.
Pro Tip: Tying your own flies can give you the flexibility to tie the sizes you need for whatever your fly rod set-up is, plus you can hone the colors and attractors to make them irresistible for the trout in your area.
Best Weight For a Trout Fly Rod
Below, we're going to go over three different weights that are going to be the most useful for trout fishing with a fly rod. Each has its own pros and cons so ensure you read carefully and pick the right one.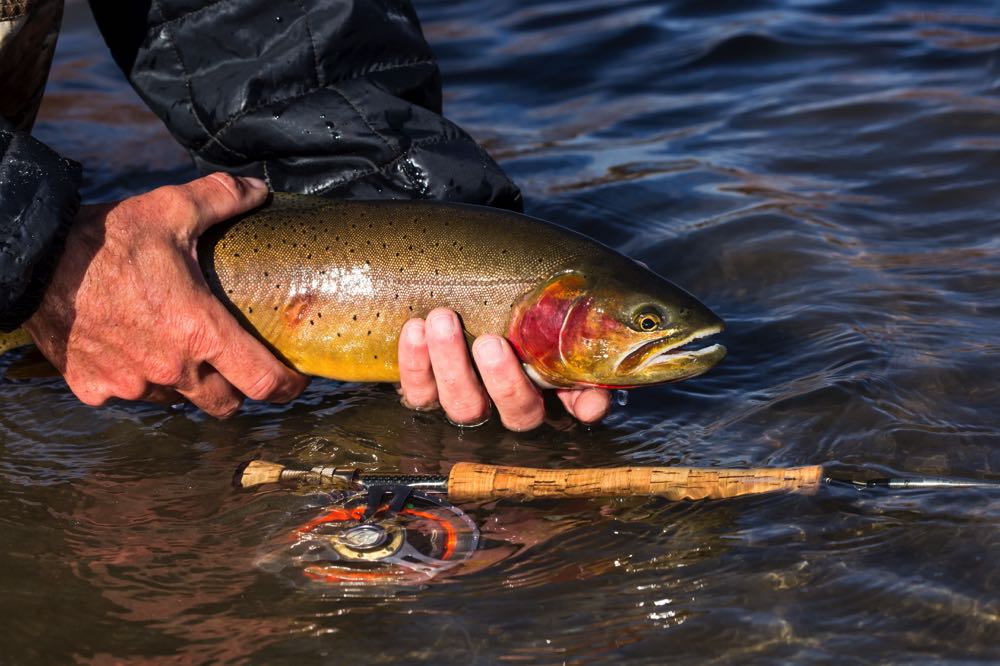 3 Weight
The 3 weight is ideal for throwing small flies that need to have a delicate presentation. Smaller dries and nymphs work well on this weight.
Typically you'll be fishing in smaller streams with this weight. However, you can find some longer rods that are three weights and are made specifically for nymphing big rivers.
4 Weight
The 4 weight fly rod has seen a resurgence in the past few years. Many anglers are now purchasing longer 4 weight rods and using them to effectively nymph currents.
The lighter rod allows them to cast those smaller nymphs more effectively and the longer rod allows for better mends as well as drifts. The extra length also allows for extra reach.
5 Weight
The classic trout rod size. The 5 weight is very versatile and makes a great rod size for anyone who wants to be able to use multiple tactics while trout fishing.
Sure, different sizes specialize in different techniques, but few of them can perform all of them well enough to warrant one rod. If you could only use one rod to trout fish it would be a five weight.
Features of The Best Fly Rods For Trout
Below, we're going to go into more detail about what makes the best fly fishing rods for trout. Take a look and see which ones will be the best fly rods for trout fishing for you and your style of fishing.
Length
The length of your rod all depends on what techniques you plan on using as well as where you plan on fishing. Longer rods are great for mends and reach, but won't work well on skinny water.
Fishing in the mountains or anywhere that requires short casts will require a shorter rod. Shorter rods load quicker and allow you to make those quick casts.
Material
Most fly rods are going to be made of either graphite or a nano-silica resin. Both of these have their own pros and cons, and knowing them can benefit your decision.
Graphite is light, sensitive, durable, and is also cheaper than nano-silica. The resin is essentially the graphite on periods. It's better in just about every way except for the price tag.
Pieces
A four-piece fly rod is ideal for trout fishing. Especially if you plan on getting a rod that is 9′ or longer. This is because of how much easier it is to travel with.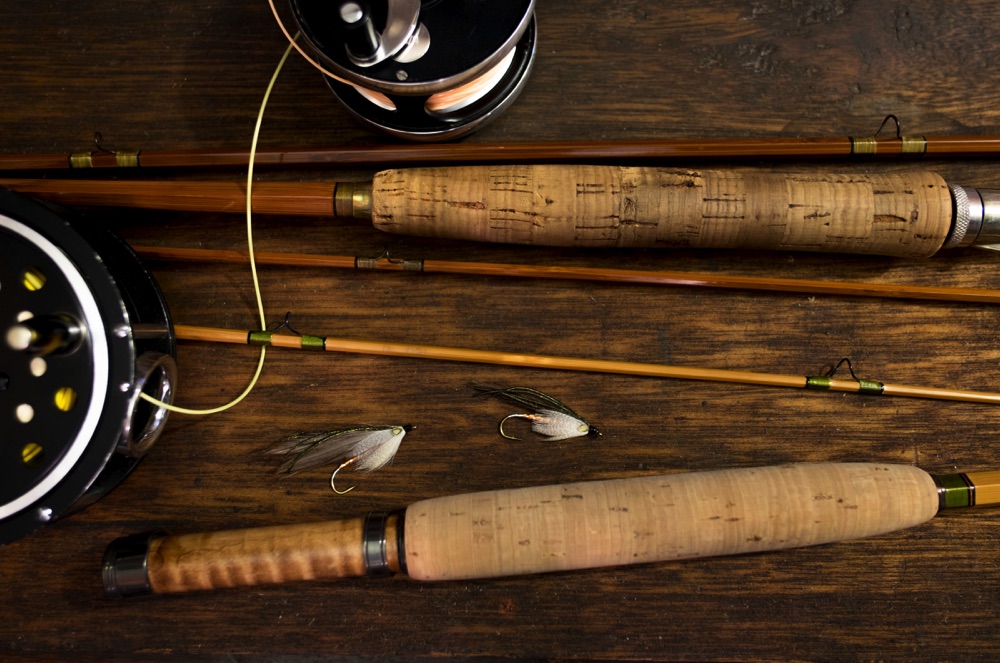 However, if you want to get a one-piece rod that is longer than 8′ then be prepared to take the measures needed to ensure that it is safe during transit.
Action
Fly rods come in three different actions. Slow, medium, and fast. You'll find that the action of the rod is where it begins to bend.
Slow action rods bend at the base of the handle. This is great for small water. Medium action bends in the middle and is a solid all-around rod. Where fast action rods bend at the tip and these are great for big fish and flies.
Balance
This is a debated topic in the fly fishing world. Many anglers feel that the balance of your rod and reel is pivotal to ensuring your success while others think the opposite.
However, we should all agree that the reel should at least be somewhat balanced on your rod. You test this by setting your index finger an inch below the grip of the rod and letting it balance on the tip of your finger.
Best Trout Fly Rods
Below, we're going to go over several different trout rods. Check them out and see which ones are going to work best for you!
Best 3 Weight Trout Fly Rod
Catching a larger trout on a 3 weight is a blast, but if they get too big it's a bit hard to protect the tippet and you could snap them off. There are plenty of great 3 weights for trout, but Moonshine is ahead of the pack in this weight class in my opinion.
Moonshine Rod Co. The Drifter
Moonshine rod co. makes a fantastic fly rod and their The Drifter 3-Weight is no different. This rod comes in a 7′ 6″ length making it perfect for hitting up those small streams.
The short length allows you to load the rod quickly so you can get your fly out there without too big of a back cast. The price point is solid as well.
Best 4 Weight Trout Fly Rod
The optimal weight for a trout rod, giving you flexibility for not overpowering smaller trout, while still being able to land large trout or even mid-sized bass. The Sage Trout LL Series is top-notch and also wins our best fly rod combo for trout (if you're looking for a full set-up we've listed it below).
Sage Trout LL
Sage produces some incredible pieces of equipment. The Sage Trout LL rod has a delicate touch and the medium action makes it great for just about any type of fishing you want to do.
It's ideal for making close casts and for throwing smaller flies on light tippet. This is ideal for the angler who wants a little more backbone in their nymph rod.
Best 5 Weight Trout Fly Rod (Best Overall)
The most versatile fly rod weight of all, a 5 weight will allow you to land those massive fish on the river, or even smaller sized bonefish on saltwater, it's the Goldilocks of rod weights.
Orvis Helios 3F
The 5 weight 8'6″ Orvis Helios 3F might be the best weight fly rod for trout fishing. Not only is this rod extremely accurate but it offers unparalleled finesse and feel. The Helios F was made to put a dry fly inside of a coffee cup from 40 feet away.
This is the ideal rod for just about any angler who wants to drop the money for it. This is a great rod for a big river. Not ideal for smaller water.
Best 6 Weight Trout Fly Rod
Getting a bit big for the smaller trout, the 6 weight is a great offering still if you know you're going to rivers where monsters lurk. Orvis makes some of the best 6 weights and their Clearwater won many of our top fly rods by weight contests.
Orvis Clearwater
The Orvis Clearwater is a great weight and rod that can handle just about anything you throw at it. It has the backbone to throw large flies while also having the ability to reel in big trout.
Danny, one of our team anglers, has this set-up in a few weights, has fished it for years, and still loves it.
Feel free to throw big streamers with this rod, or you could even drift small midges through runs. The 6 weight is very diverse and can do just about anything, plus with the Clearwater, like all Orvis rods, you get their 25-year guarantee.
Check out our full hands-on review of the Orvis Clearwater fly rod.
Best 7 Weight Trout Fly Rod
This is getting a bit big for trout, but there are plenty of anglers who like to do some salmon fishing and trout fishing with the same rod, or on a single trip, and if that's the case you really can't go wrong with the Helios (if you have the cash).
Orvis Helios 3D
On top of being one of the most accurate fly rods ever built, the Helios 3D allows you to throw big flies long distances in order to reach out to those monster trout.
The popularity of throwing big mice patterns at night has picked up and a 7 weight rod is going to allow you to haul in those big browns while also allowing you to cast accurately and with distance.
This is the rod for the trophy anglers out there. Sure, you could bring in a big trout on a normal-sized wooly bugger with a 5 weight, but the 7 weight rod is going to be more efficient.
Best Trout Fly Rod Combo
Sometimes the best way to buy a trout fly rod is to get it as part of a set with everything you need. If you're looking to get into the sport for cheap, then you may want to check out the MaxCatch Premier Fly Rod Combo which literally has everything a new angler could need for a great price.
But if you're going to be in the sport for a while, sometimes it's best to go big or go home with top quality and lifetime warranties right off the bat. That's where the Sage Trout LL Series comes in.
This is easily one of the best fly rod combos on the market today for any weight and any species of fish.
Sage Trout LL 4wt Combo
The Sage Trout LL 4wt 9′ Combo kit isn't the cheapest, and it's not the most complete (it only comes with a rod, reel, rod case, and line), but it has one of the best Sage trout fly rods which comes with a lifetime warranty and arguably the best reel of 2019-2020 for trout.
If you have the money to spend, then the Sage Trout LL Combo is the way to go. You could go for it in the 3wt to 7wt sizes, but for trout, I love the 4wt 8'6″ model. It's truly a world-class trout fly fishing set-up.
Review This Post
Conclusion
A trout rod for fly fishing is going to allow you to throw all different types of flies. Dries, nymphs, streamers, or anything else you enjoy.
So, if you're ready to start trout fishing then use the list above as a jumping-off point and head out to your local fly shop to pick one up!
Some images in this post are courtesy of Shutterstock.
Like This Article? Pin it!