In this post, I'll be sharing my personal pick for the best bamboo fly rods in 2023.
This article will look at the five best bamboo fly fishing rods on the market in 2020. We'll introduce you to some of the most drool-worthy rods as well as more affordable options.
Our Top 3 Bamboo Fly Rods:
Best Overall: R.L Winston
Beat Budget: Headwaters Deluxe
Best Split Cane: Scott SC
I recently had the opportunity to spend a day on a small trout stream with a bamboo rod. What a fulfilling experience. After that day, it dawned on me that bamboo remains a viable rod material, especially for trout.
Disclaimer: IntoFlyFishing.com is a participant in the Amazon Services LLC Associates Program, as an Amazon Associate I earn from qualifying purchases. Please see our Privacy Page for more information.
What Are The Best Bamboo Fly Rods For Sale?
These are the best bamboo fly rods for sale in 2020
Where Is The Best Place To Buy Bamboo Fly Rods?
You likely came to this post after searching "Best Bamboo Fly Rods" in Google. This tells me that you are probably looking to order your bamboo rod online and have it delivered to your door. Here are a couple of the best places to do that.
Amazon
Yes, Amazon also has some great bamboo fly rods. They also have super quick shipping on most fly fishing gear (2-days or less) and they often offer free returns on your products so if you're not happy for any reason, you can send it back.
Trident Fly Fishing
Trident Fly Fishing is the United States' largest online retailer for fly fishing gear and they have an excellent selection of bamboo fly rods as well as lots of other kit. They also offer free shipping on almost all orders and free returns if you're not satisfied.
Plus they have better fly angler support from real professionals, as opposed to the sellers on Amazon.
Orvis
Orvis has been selling fly fishing equipment since 1856 and these days, they have a wide selection of online fly fishing gear.
Your Local Fly Shop
Bamboo fly rods are a pretty specialized item, so your local fly shop might not have any in stock, but it's worth having a look.
What is a Bamboo Fly Rod?
Bamboo became a popular fly rod material around the mid-1800s. Before that, rod builders used wood, which tended to break easily, especially in the tip section.
A bamboo rod is made by laminating split (hence split the name split cane) portions together.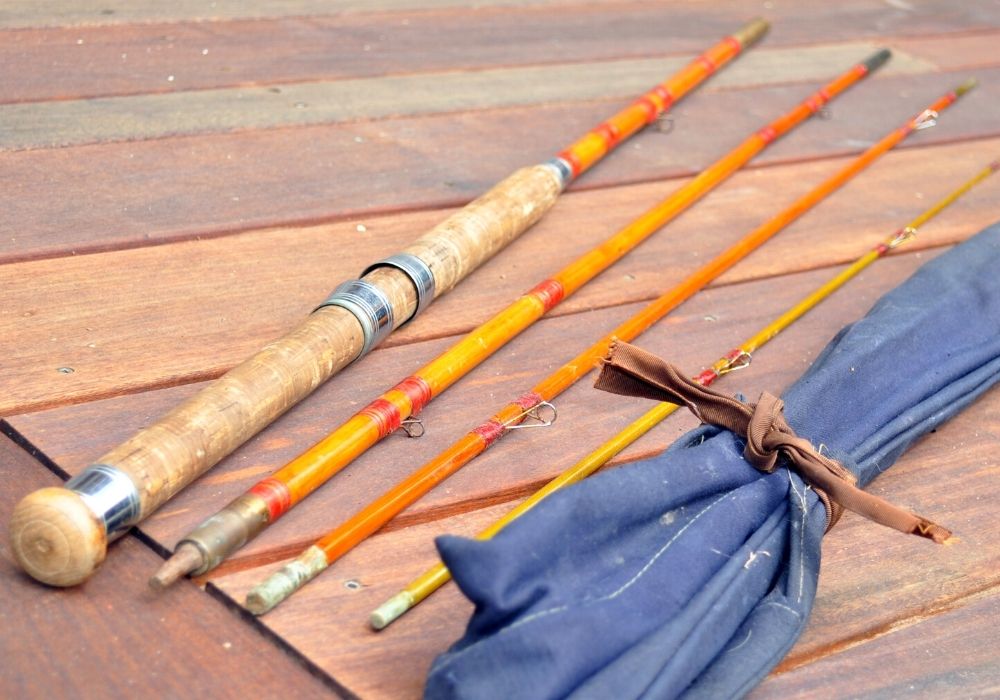 The quality and fishability of bamboo rods vary greatly. This is because the bamboo material's quality and the craftsman's ability play such a significant role. That's why, in my opinion, many anglers have a warped idea of a bamboo fly rod.
A low-cost mass-made bamboo fly rod will feel like a wet noddle in hand. However, a well-made cane rod feels much more lively and fishy.
Bamboo Fly Rod Makers
In this section, we'll have a look at some of the best bamboo fly fishing rod builders today. Yes, compared to carbon and fiberglass rods, split cane rods are not produced in great numbers. However, this magical craft is still alive and well.
Orvis Bamboo Fly Rods
Charles F. Orvis founded The Orvis Company in 1856 in Manchester, Vermont. The primary rod material back then was bamboo. With such a long rod building history, Orvis has played a significant role in refining the bamboo rod building craft.
Today, more than 150 years later, Orvis still builds some of the best bamboo fishing rods on the market. These rods are dedicated freshwater quivers in the 4 – 6wt range and all handbuilt in the USA.
Thomas & Thomas Bamboo Fly Rods
The Thomas & Thomas rod company was founded in 1969 by Tom Dorsey and Tom Maxwell. They specialized in building high quality and performance bamboo fly rods.
It wasn't until 1977 that they started building the first T&T graphite rods.
Until today, Thomas & Thomas are some of the leading bamboo fly rods in the world. They offer incredible quality, ridiculously good looks, and they fish well. T&T provides a wide range of bamboo rods, which range from a 6'6″ 3wt to an 8'5″ 12wt.
R.L. Winston Bamboo Fly Rods
R.L. Winston was founded in 1929 by Rober Winther and Lew Stoner in San Fransisco. One of the significant technical advances they made was patenting their hollow fluted design.
These internal rounded flutes produced rods that were both lightweight and powerful, which resulted in various distance casting records.
Winston Bamboo rods are not cheap. New, they will cost you anything north of $3000 and are all built in the US. The line weight rating of the cane rods available from them ranges from 3 – 10wt.
Headwaters Bamboo Fly Rods
Headwaters Bamboo Fly Rods has been around since 2002. They aim to make good quality split cane rods accessible to the general angler. They are considerably cheaper than the premium American-made bamboo rods.
Headwater bamboo rods offer four different rod families, which gives you access to 14 different tapers. Unfortunately, at this price, the rods are all imported from China.
Scott Bamboo Fly Rods
Most of you would be familiar with the Scott rod company. It has been around since 1974 and builds some of the best carbon fiber rods. Scott does not build their bamboo rods themselves. Instead, they partner with some of the world's top split cane rod builders.
For their newest split cane rods, Scott has partnered with bamboo master artisan Naoki Hashimoto from Japan. These rods are not cheap but are some of the best in the business.
Common Bamboo Fly Rod Lengths & Weights
Now that we know a little more about the history and material behind bamboo fly rods, let's look at the rods themselves. Bamboo has been used for rod building for well over 150 years.
The combination of line weight ratings and lengths that you'll find are near endless. This section focuses on modern bamboo rods in rod weights suitable for most trout fishing scenarios.
3 Weight 6'6″
A 3 weight 6'6″ bamboo rod is the perfect choice for the dry fly purist. This rod is ideal for small streams with overgrown banks and overhead trees. The short length allows the blank to load effortlessly at distances under 30 feet.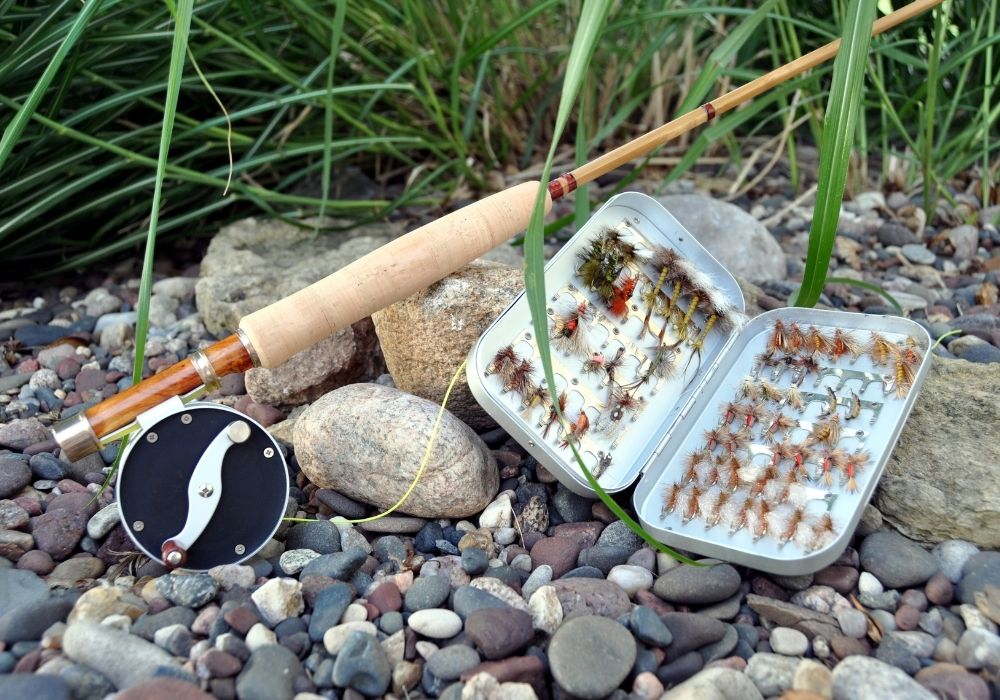 In some cases, I like to underline a three-weight bamboo rod. I do this because the rod already has a slower action and a lighter weight line allows for more delicate presentations.
The ideal line for this rod is a 2 or 3 weight double taper floating line.
4 Weight 7′
A 7 foot 4 weight bamboo rod is ideal for most small to medium-sized rivers. It can present a dry fly delicately yet has more "oomph" than the three weight, which allows you to fish small streamers and nymphs.
It is still relatively short, which makes it perfectly suited for tight bank fishing. The short length also makes it easy to form narrow loops.
5 Weight 7'6″
As is the case with carbon and fiberglass rods, a five weight bamboo fly rod is the most versatile. Five weight bamboo rods are available in various lengths; however, the 7'6″ is the most popular.
It is long enough for longer casts yet can be used on a boat or in tight situations with ease. The short length also allows the angler to load it much faster in the cast.
This bamboo rod is perfectly suited for most trout fishing scenarios. It can cast large dry flies, streamers, and nymphs with ease, yet the soft tip protects thin tippets well.
6 Weight 8′
Get to a 6 weight, and now you have a bamboo fly rod more suited to streamer fishing. At 8′, the rod can deliver longer casts and has the backbone to handle large flies and bigger fish. This rod is ideal for swinging large buggers for large brown trout.
Other Features of the Best Bamboo Rods
So, what other features do you need to look out for when selecting the best bamboo fly rod? Below, I go through some critical considerations:
Material
Although all cane rods are made from bamboo, not all bamboo is created equally. Bamboo is a natural material, and with that comes inherent variations in density, flexibility, and durability.
The bamboo's quality in the rod plays a prominent role in the rod's eventual performance.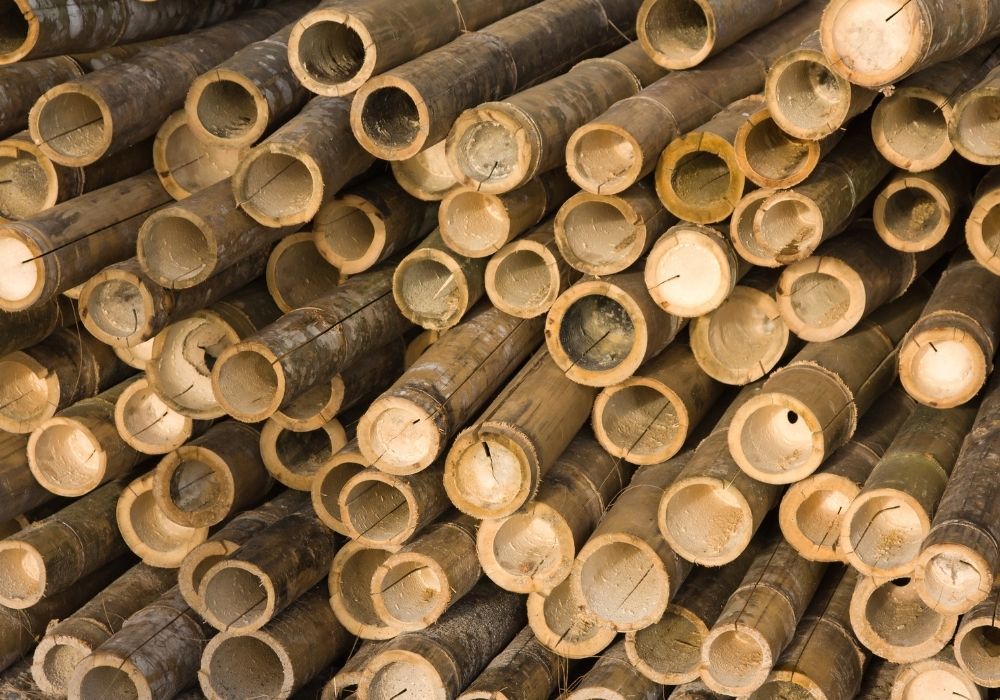 The first popular bamboo that was used came from India. This bamboo, referred to as Calcutta bamboo, was comparatively weak as it had a thin outer layer that provides the rod's strength.
The most popular material to use, even these days, is called Tonkin bamboo. It is native to China and has a much thicker outer layer, resulting in a strong and durable rod.
Pieces
Most bamboo fly rods under 9 foot long are 2-piece rods. Some manufacturers that make longer rods do offer 3 piece variants. This attribute influences the portability of the rod the most.
This, in my opinion, is one of the biggest reasons to select a carbon rod over a bamboo rod.
Action
Most bamboo fly rods have a medium to slow action, and that's why many anglers don't prefer them. However, casting a cheap bamboo fly rod and forming an opinion based on that is like driving a series 2 Land Rover and saying cars suck.
High-quality bamboo fly rods are entirely different than cheap versions and have a much more progressive and pleasing action.
Balance
Bamboo material is weighty when compared to carbon fiber, which results in a heavy rod. To the weight-weeny, this might be a significant negative point; however, in my opinion, the weight adds stability and control. Ultimately, this translates into a more accurate cast.
Remember that you'll need a heavier reel and line combination to balance the rod well.
Cost
Bamboo fly rods vary significantly in cost. Many of the cheaper options on the market are manufactured in the east. These rods offer a great way to get into bamboo fly rod fishing; however, they do not have the performance and finishes that the premium rods have.
Why Choose Bamboo Fly Rods?
So, if bamboo fly rods are produced in such small numbers, are generally more expensive, and carbon outperforms it on most levels, why would you choose one?
In this section, I'll share my thought with you on why bamboo rods are still around.
Au Naturel
Bamboo fly rods are made from natural and sustainable materials. Yes, I know that they are glued together, and the rod has accessories made from other unnatural materials.
But, if you cast a bamboo rod, you do get the feeling that you're one step closer to nature.
Craftsmanship
If you're an angler who appreciates the finer things in life, bamboo fly rods are for you. These rods are made on a small scale by dedicated artisans.
Some bamboo fly rods may take a single rod builder weeks to produce, hence the price.
A Part of Your Legacy
You don't buy a bamboo fly rod to replace it with a newer model two years later. No, split cane rods are meant to stay with an angler for more than his lifetime.
I know some anglers who still fish with the bamboo fly rod their fathers handed down to them.
Bamboo Rods Allow You to Slow Down
Bamboo fly rods are not meant to be high-performance competition tools. No, they are aimed at the angler who appreciates taking his/her time on the water and considers every cast.
Bamboo rods slot in well with the angler who enjoys their surroundings and has a deep love for our sport.
Best Bamboo Fly Rods
In this section, we'll look at some of the best bamboo fly rods on the market today. These rods are all available in the 3 – 6 weight range and are ideal for trout fishing.
Orvis Penn's Creek Full Flex Bamboo Fly Rod
Action: Medium-fast
Length: 7′
Available line weight: 4
Pieces: 2-piece
Orvis has 3 bamboo fly, rod models. The Penn's Creek Full Flex rod is the lightest one in the range and is built specifically with the small stream trout angler in mind.
The rod has a surprising fast action, which allows the angler to form tight loops and generate high line speeds.
If you're fishing into heavy wind or with heavy streamers, the rod performs equally well with a 5-weight line.
The Penn's Creek is hand-built in Manchester, VT. For an additional $45, you can personalize the rod, making this near-perfect bamboo rod even more special.
Thomas & Thomas Classic Series
Action: Medium
Lengths: 6'6″ to 8'6″ depending on the line weight rating
Available line weight: 3 – 6
Pieces: 2-piece
Thomas & Thomas makes some great bamboo fly rods. These rods come at an incredibly high premium. The Classic Series is their least expensive version but still costs $2995.
The 3 and 4 weight versions feature a nickel silver butt cap and a black sliding ring to secure the reel.
They come with a burled walnut reel seat insert and a fine cigar grip. The 5 and 6 weight models feature a hand-buffed uplocking reel seat with a walnut insert and a western-style grip.
All the rods come with an aluminum rod tube with beautifully detailed brass fittings. The Classic Series is hand-built in the USA.
Zhu Bamboo Fly Rod
Action: Medium
Lengths: 7'6″
Available line weight: 5
Pieces: 2-piece
Zhu Bamboo Fly Rod makes some of the best budget-friendly bamboo fly rods. For only $199, you get a 2-piece bamboo rod with a spare tip, a cloth rod sock, and a PVC tube.
If you've always wanted a bamboo fly rod but can't afford the premium options, this is your best option.
Headwaters Deluxe Series Bamboo Fly Rod
Action: Medium
Lengths: 6'6″ to 8′ depending on the line weight rating
Available line weight: 3 to 6
Pieces: 2 or 3 piece
Headwaters aim to make bamboo fly rods more affordable and put these fantastic rods in the everyday fly angler's hand. There are 6 models in their Delux range, which is perfectly suitable for all trout fishing scenarios.
The Headwaters Deluxe Series Bamboo Fly Rod comes with a rod sock and is shipped in a Cordura covered rod tube. Headwaters also offer a 30-day money-back guarantee. If you're unhappy with the rod's performance, you can send it back, no questions asked.
R.L. Winston Bamboo Rod
Action: Slow
Lengths: 6′ to 9′ depending on the line weight rating
Available line weight: 3 to 10
Pieces: 2 piece
In my opinion, Winston is one of the best dry fly rods on the market. The RL Winston Bamboo Rod is no exception. Yes, they are pricey, but they are very special, indeed.
All their bamboo rods are available in either 2 or 3 pieces, with the latter allowing more portability. It features an agate stripper guide and titanium-plated snake guides.
The reel seat hardware is nickel silver, and you can choose between Lacewood, Box Elder, or Zebrawood insert.
At the time of writing, this rod wasn't available on Amazon so I recommend picking it up at the well-known online fly shop Trident instead. They still offer free delivery and returns.
Scott SC (Split Cane)
Action: Medium-fast
Lengths: 7'2″ to 7'7″
Available line weight: 3 and 4
Pieces: 3 piece
The Scott SC Split Cane Fly Rods fly rods are for the discerning fly angler who wants something out of the ordinary. They have partnered with master bamboo fly rod builder, Naoki Hashimoto, to build these striking rods.
Naoki flames the cane three times which results in a higher recovery speed and faster action. The three-piece construction further advances the action to be surprisingly fast. The result is a bamboo fly rod, unlike most others, that is light in hand and pleasantly fast.
Gufiky Classic Bamboo Fly Rod
Action: Medium
Lengths: 7'6″
Available line weight: 3wt
Pieces: 2 pieces
The Gufiky Classic Bamboo fly rod is another affordable option imported from the East. The quality, materials, and action are similar to the Zhu fly rod, mentioned above.
We included this rod in our list to give you more options if you're in the market for a cheap bamboo fly rod.
As with most bamboo fly rods, the Gufiky comes with a spare tip section and is shipped in a cloth rod sock. This is a great bamboo fly rod for the price and perfect for the beginner angler.
Bamboo Fly Rod Blanks
If you've always wanted to build your own fly rod, why not build a bamboo fly rod? The blanks available from China are relatively cheap, even when compared with graphite blanks. There is a wide variety of tapers available.
One of the best options is the range of Zhu blanks. They are the same blanks that are used in the Zhu bamboo rods mentioned in the Best Bamboo Fly Rods section above. The blank comes with a spare tip and is shipped in a rod sock.
Vintage Bamboo Fly Rods
Vintage bamboo rods are, loosely, may either be collector's items or standard "older" rods. The collector's items are usually associated with specific rod builders from a certain era or brand and come at a very high premium.
The cheaper vintage rods offer an excellent option to buy your first bamboo rod.
Used Bamboo Fly Rods
The used market is an excellent way to pick up a bargain on a bamboo fly rod. Used bamboo fly rods regularly appear on secondhand sites, but at reduced prices.
Yes, you might not get exactly what you want or when you want it, but you never know when you'll find that hidden gem.
Places to keep your eye on for used bamboo fly rods are sights such as eBay and Vintage Fly Tackle.
Affordable Bamboo Fly Rods
High-end bamboo fly rods are incredibly beautiful and special tools. But, how many of us can afford to spend $3000+ on a fishing rod?
Affordable bamboo fly rods have the same inherent soul as the premium offerings but get fished more often as more anglers have access to them.
Two of our favorite affordable bamboo fly rods are:
Headwaters Deluxe Series bamboo fly rod
Zhu Bamboo fly rods
Fishing Bamboo Fly Rods
Bamboo fly rods are designed for freshwater use. Yes, there are companies who make split cane rods up to 12wts, but we won't be discussing these. A bamboo fly rod has a medium and smooth action.
This means that the rod flexes deep into the blank during the cast. This flex slows the line speed down and provides more feedback to the angler.
So what does this mean out of a fishing perspective? Well, in short, bamboo makes for a damn fine dry fly rod. You're able to make very delicate presentations. Also, the soft tip protects fine tippets well.
A bamboo fly rod is an ideal dry fly rod for trout.
Why Are Bamboo Fly Rods So Expensive?
I get asked this question very often. The answer is quite simple. Unlike graphite or fiberglass rods, bamboo fly rods are completely built by hand.
It takes several years for the craftsman to develop and hone their skills, which you also pay for in a sense.
Also, it takes a single craftsman up to two weeks to build one bamboo fly rod. If you look at American made bamboo fly rods take into consideration the cost of living and the standard hourly rate for an artisan of this level.
Then, you'll understand why bamboo fly rods are so expensive.
How To Build a Bamboo Fly Rod
Building your own bamboo fly rod might seem like a challenge, but it doesn't need to be. There is a plethora of information covering this topic online. Also, you can buy all the individual components from various online stores.
Probably the hardest part of building a bamboo fly rod is the blank itself. You will need the correct bamboo, called Tonkin. Then you'll need the right tools for the job.
The split sections must fit into each other perfectly, otherwise the rod will be fragile and useless. Luckily, if you don't want to build your own blank you can order one online.
Review This Post
Conclusion
I hope that this article showed you that bamboo rods are still alive and well. They are excellent trout catching tools. They are ideal for the angler who likes to slow down and appreciate the fishing experience more than catching high numbers.
Please leave any comments or questions at the bottom of the page. We would love to hear your thoughts on bamboo fly rods and if you think they're still a viable option.
Until next time.