Here are the best fly fishing combos available in 2023. After fishing, reviewing, and comparing dozens of fly rod combos on this blog and on our YouTube Channel, I've narrowed down this list to 10 of the absolute best. Enjoy.
Our Top 3 Picks For The Best Fly Fishing Combos
Best Overall: TFO NXT Black Label Combo
Best Budget: Maxcatch Premier Combo
Best Top-End: Sage Trout LL
I caught my first trout on fly when I was 10 years old. It was on a borrowed rod from the owner of the lake. Pretty soon after that, realizing that I had succumbed to a pretty serious fishing addiction, my parents bought me my very own fly rod combo for Christmas.
And now, more than 20 years later, I can still remember it like it was yesterday.
It was a 6 weight, 2 piece budget fly rod by Kingfisher with a little black plastic fly reel, backing, fly line, and five (horribly tied) flies. But the excitement was about more than the tangible parts of what lay in my hands.
Links below are Amazon affiliate links which means we receive a commission if you buy.
But fly rod outfits aren't just for kids. Intermediate and pro anglers purchase them all the time and often, they're the best way to get a perfectly balanced fly fishing kit built by the manufacturer with each part of the combo made to match the next.
These days there are so many fly fishing combos available and, in general, offer so much more value. The quality of lower cost rods, reels, and lines has gone up and there's never been a better time to buy fly fishing rods and reels.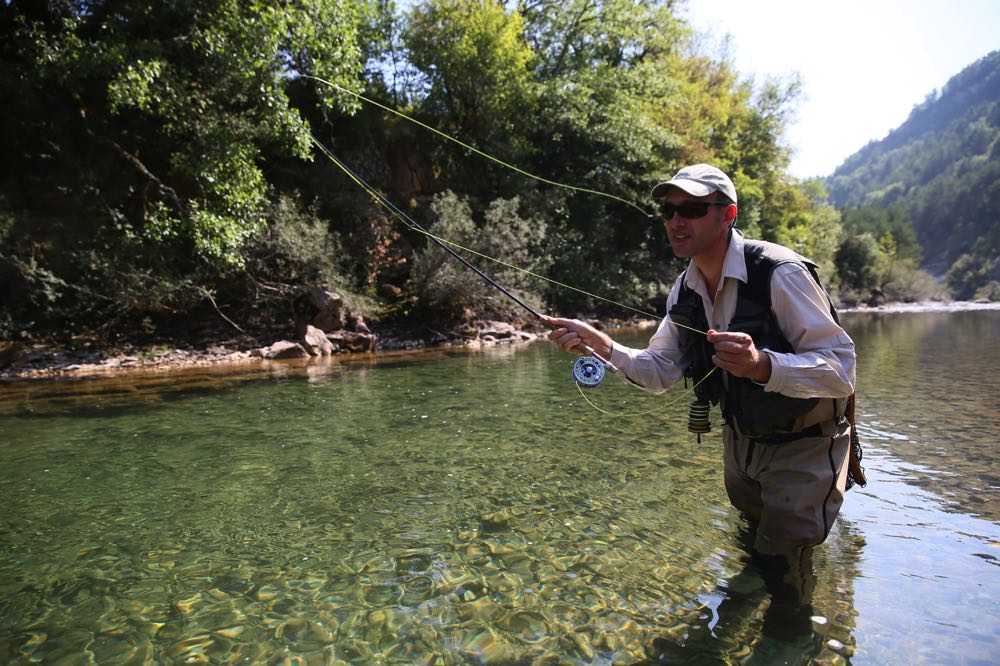 It is now harder than ever to label a rod "beginner" or "expert" without looking at the price tag.
In this article, I'm going to cover the best fly rod combos including the best outfits for professionals, beginners, kids, and anglers on a budget.
Best Fly Rod Combos
To find the best fly rod combo suited to you, you have to know what criteria are most important to you.
Is having the cheapest or best value fly rod combo most important to you? If I were just starting out I would fall into this category. Not knowing if this whole fly fishing thing is for me and working around a strict budget – that's where most of us would be. And I would want to comfort you in saying – this is 100% fine.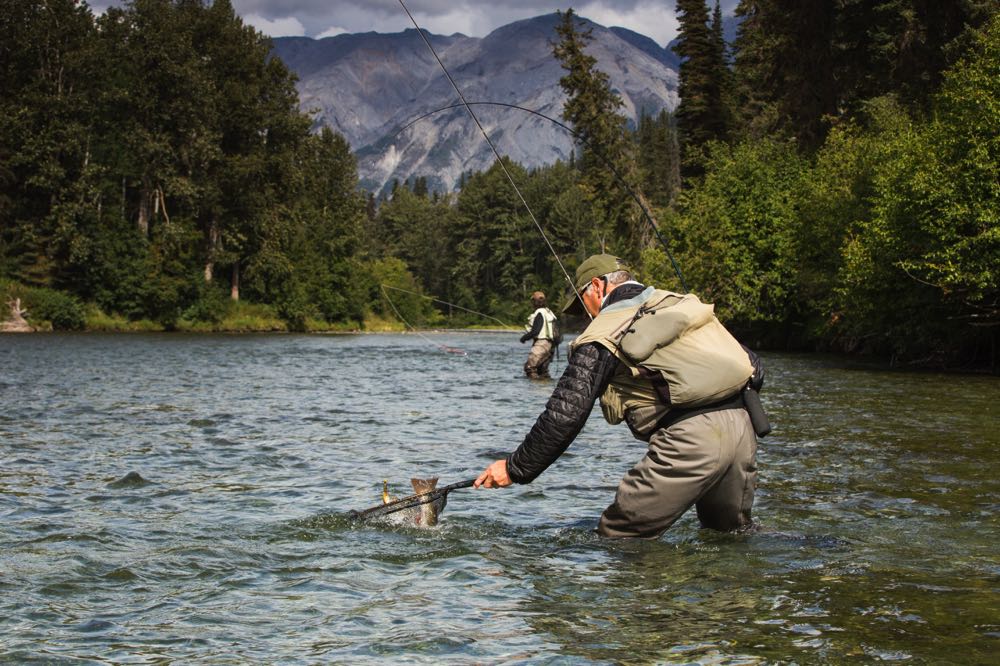 Or are you looking for something a little more exclusive and advanced?
Below we've listed some of the best fly rod combos on the market today and we're sure there's something for you.
1. Maxcatch Extreme – Cheapest Fly Rod Combo
Available weights: 3 – 10
Sections: 4 piece
Included in the outfit: Fly rod and case, fly reel and neoprene pouch, backing, fly line, tapered leader, waterproof fly box, 12 flies, nippers, and lanyard.
Pros: Wide rod selection, low price
Cons: Slightly heavy
The Maxcatch Extreme Complete Fly Fishing Kit is an unbeatable price. The rod weights available range from an 8 foot 4 inch 3 weight to a 9 foot 10 weight.
Have a look at the 3 and 4-weight models if you are looking to fish smaller rivers or if a younger person (under 10 years old) will be using it.
The 5 and 6-weight models are perfect for targeting the majority of freshwater species. This would be the best beginner fly fishing combo. If you are starting out with saltwater fly fishing, the 7 weight and up would be perfect.
All the combos come with a rod case that can accommodate the rod while the reel is fitted to it.
Included in every combo is an aluminum fly reel with a smooth disc drag system. The size of the reel will differ with every different weight outfit to ensure that the overall combo is well-balanced.
The reel comes preloaded with backing and a weight-forward floating line, once again suited to the specific weight combo you've chosen.
Weight-forward line means that most of the weight is in the first 20 feet of the fly line. This results in easier rod loading which will translate into longer casts for the beginner.
It also comes with a good quality neoprene reel pouch that protects the reel, even when it's mounted onto the rod.
The Maxcatch Extreme combo also features a waterproof fly box, a retractable lanyard, and line nippers. These aren't included in even more expensive combos but are something you'll definitely make use of when on the water.
BONUS: Maxcatch Premier Combo
Have a little bit more money to spend? While the Extreme set is Maxcatch's cheapest combo and indeed, the cheapest fly rod combo kit available in 2023, if you have a few more dollars, it's well worth stepping up to the Maxcatch Premier Combo Set which also comes with everything you need, but everything in the kit is considerably higher quality for only a slightly higher price.
I recently picked one of these up on Amazon and it has to be the best full outfit for the money.
2. Orvis Encounter – Best Value Fly Rod Combo
Available weights: 5 – 8
Sections: 4
Included in the outfit: Fly rod and case, reel and reel pouch, backing, fly line, and tapered leader
Pros: Perfect action for beginners, various models to choose from
Cons: Slightly heavy, plastic frame reel construction (which many people like because it's lightweight)
Orvis chose to focus on the most popular beginner weights with their Encounter outfits. The 5 and 6 weight is perfect for the beginner freshwater angler whereas the 7 and 8 are focused towards the beginner saltwater angler.
Whichever you are, any one of these outfits will be a perfect starting point for your fly fishing journey.
The Encounter rod's action has been optimized for the beginner to the intermediate angler making it another one of the best beginner fly fishing combos.
This means that it offers a medium-fast action that will learn you to "feel" the cast.
During the fight, it will also assist you to protect the tippet to ensure that you land your fish.
The rod also comes with a sturdy rod tube for added protection when traveling.
The combo also includes a large arbor fly reel preloaded with backing and a fly line. If you're seriously considering this combo, make sure you check out our Full Hands-On Review Of The Orvis Encounter.
Compare At:
Trouts Fly Fishing
AvidMax
3. Fenwick Eagle and Pflueger Medalist Combo
Available weights: 4, 5 and 8
Sections: 4
Included in the outfit: Fly rod, reel, backing, fly line, and tapered leader
Pros: Good value for money
Cons: Does not include a rod and/or reel case
Fenwick has been at it for over 60 years. One of my first trout on dry fly was with a Fenwick 2 wt we called "spaghetti".
This is a great value for money combo from them offering their Eagle fly rod together with a Pflueger medalist reel.
The rod features a medium-fast action perfect for the beginner. It also comes with a 5-year warranty, for peace of mind.
The 4 and 5 weight options are ideal for any freshwater scenario, whereas the 8 weight would make a perfect salmon and saltwater fly rod.
The wooden handle and finishes of the Pflueger Medalist give it that classic look, although I feel that the small arbor is outdated when compared to the advantages that large arbor reels offer. The reel comes pre-spooled with backing and a floating fly line.
4. Echo Gecko – Best Kids Fly Rod Combo
Available weights: 4
Sections: 4
Included in the outfit: Fly rod, reel, backing, fly line, and rod and reel case
Pros: Colorful and playful, perfect for the young at heart
Cons: Reel seat
The Echo Gecko is the best combo for kids. The combo comes with everything they'll need to hit the water, except a couple of flies and tippet. The design is striking and super funky.
The blank color is a gloss yellow with a mostly green EVA grip. What makes the design of the rod very clever is that the rod can be cast using either one or two hands.
This makes it possible for even the smallest ones in the family to join in on the fishing fun.
Also, to keep the overall weight down, Echo made use of a 7 foot 9 inch 4 weight blank. One thing I didn't like is the plastic reel seat.
The combo comes in a quality Echo rod and reel case and the reel is preloaded with backing and fly line.
This is a perfect combo to get your kids involved in fly fishing.
Compare At:
Trident Fly Fishing
AvidMax
5. Echo Base Kit
Available weights: 4 – 8
Sections: 4
Included in the outfit: Fly rod, reel, backing, fly line, and rod and reel case
Pros: Lifetime warranty on rod
Cons: Heavy composite reel
Echo fly rods are designed by Tim Rajeff. He's not only a previous single-hand distance casting world champion, but he also understands the principles of fly rod design and that distance isn't everything. The Echo Base is a great value beginner fly rod combo offered by them.
The rod is built on a medium-fast blank with mid to high power (pulling) capabilities.
For added durability, they chose to make use of a black anodized aluminum reel seat. The rod comes with Echo's standard lifetime warranty to the original owner.
The Echo Base reel features a composite frame with a Rulon disc drag. This is a good beginner fly reel, but something worth upgrading in the future.
6. Temple Fork Outfitters NXT Black Label Kit
Available weights: 5 & 8
Sections: 4
Included in the outfit: Fly rod, reel, rod, and reel case, backing and fly line
Pros: Lifetime warranty on the rod to the original owner
Cons: Rod weight
Making fly fishing accessible is part of TFO's mission. That's what they've done with the TFO NXT Black Label Kit, focusing their effort only on two very popular models.
A 5 and an 8 weight, designed for freshwater and saltwater fisherman, respectively.
They've hit the mark with a perfect beginner fly rod. They have chosen reconstructed cork for the grips and aluminum reel seats for added durability. The result is a good quality, durable fishing tool.
The 5 weight kit comes with the NXT BLX II reel whereas the 8 weight comes with the NXT BLX III model. Both of these are large arbor reels that will ensure that your setup is well balanced. The reel also comes preloaded with backing and a relevant weight-forward fly line.
For added protection, the rod is shipped in a handy rod case that can accommodate the rod with the real attached to it.
Compare At:
Trouts Fly Fishing
Trident Fly Fishing
AvidMax
7. Redington Vice Combo
Available weights: 4 – 9
Sections: 4
Included in the outfit: Fly rod, reel, fly line, and backing and rod and reel case
Pros: Customizable reel, lightweight rod, lifetime warranty
Cons: Fast action not perfect for beginners
The Redington Vice fly rod combo features a lightweight, fast action blank. Although fast action might not be for beginners, it is a great option for an angler that has some experience with casting.
The rods come in a wide range of weight options, from a 4 weight, perfect for smaller streams, to a 9 weight.
The Vice Combo includes the customizable Redington I.D reel. This reel features a flat surface on the one side where the angler can install custom decals – perfect if you want to show off your favorite freshwater species. Each combo will come with the reel that best suite the line and rod weight.
To complete the combo, Redington pre-spools the reel with backing and great beginner Rio Mainstream fly line. The combo also includes a rod and reel case.
Compare At:
Trident Fly Fishing
AvidMax
8. Sage Foundation Outfit – Best Mid-Range Combo
Available weights: 4 – 8
Sections: 4
Included in the outfit: Fly rod, reel, rod, and reel case and fly line
Pros: Lifetime warranty, made in the USA
Cons: Price
Sage released their Foundation fly rod in 2018. It's a high-performance rod, as expected from Sage, dedicated to the beginner and intermediate fly fisherman.
The Sage Foundation fly rod combo is available as well. That means you can buy the fly rod, fly reel, line, and backing in one package.
Included in the combo is the Spectrum C Series of reels. Its a large arbor die-cast reel that features a sealed carbon drag.
The reel comes pre-spooled with backing and an amazing fly line from Rio, the Rio Gold.
Although this outfit would stretch the budget of many beginners, its amazing value for money as you are investing in one of the greatest fly rod manufacturers ever.
Compare At:
Trident Fly Fishing
Telluride Angler
9. Lamson Center Axis – Pushing The Boundaries
Available weights: 4 – 8
Sections: 4
Included in the outfit: Fly rod, reel, and case
Pros: Center aligned reel for great balance and feel,
Cons: Not interchangeable with other reels, does not include a fly line or backing.
This exciting new design by Waterworks Lamson pushes the boundary of conventional fly rod design. With "normal" fly rods the reel is a separate unit that is locked in place by the reel seat.
When casting, this attached weight creates momentum in a different plane than that of the moving rod, resulting in less feel.
The Center Axis design reduces this momentum caused by an attached reel by moving the center of gravity of the reel into the rod. Lamson made this possible by incorporating the reel and rod, making them one single unit.
The rod itself has a medium-fast action and comes in 4 different weights – each with its own specific reel.
Choose the 4, 5 and 6 weight options for freshwater quarry (this is an awesome trout rod) and the 7 and 8 weight renditions for saltwater applications.
This price of this combo is moving to the more expensive side of things. However, this rod is for someone who wants something a little different and advanced but in a good quality package.
10. Sage Trout LL Outfit – Best Top-End Outfit
Available weights: 3 – 6
Sections: 4
Included in the outfit: Fly rod and tube, reel, backing, fly line, and tapered leader
Pros: Lifetime warranty, made in the USA, high-quality components throughout
Cons: High price
The Sage Trout LL rod makes use of Sage's most recent Konnetic HD technology. Although the same technology is used on their fast action fresh and saltwater rods, they have designed the blank to offer a medium action.
This slower, relaxed feeling is perfect for the trout angler that loves targeting these precious creatures on, specifically, dry fly. In short, this is one of the best fly rods you can buy to target trout.
The reel included in this combo is also a brand new offering. Tastefully styled to resemble an old classic, it makes use of a modern sealed carbon drag system. This ensures a very smooth and durable drag.
The reel comes pre-spooled with Dacron backing and the all-new Rio In-Touch Technical Trout fly line. The In-Touch series of fly lines from Rio is top class, and with their low-stretch core (hence the name In-Touch) helps retain direct contact between your fingers and the fly.
This combo is a great buy for the angler that is willing to part with a considerable amount of cash. However, this incredible quality combo from Sage will continue to offer, even the most experienced angler, fishing pleasure for many years to come.
Compare At:
Trident Fly Fishing
Telluride Angler
Compare Fly Fishing Combos
Image
Title
Best For
Price
Buy

Top

Top

Top

Top

TFO NXT Black Label
Best Overall
Buy Now

Top

Top

Top

Maxcatch Premier Combo
Best Value
Buy Now

Top

Top

Top

Orvis Encounter Outfit
Best Beginner
Buy Now

Top

Top

Top

Sage Foundation Outfit
Best Midrange
Buy Now
Sage Trout LL Outfit
Best Top-End
Buy Now
Product prices and availability are accurate as of the date/time indicated and are subject to change. Any price and availability information displayed on [relevant Amazon Site(s), as applicable] at the time of purchase will apply to the purchase of this product.
Prices pulled from the Amazon Product Advertising API on:
How To Choose The Best Fly Rod Combo
Now that you know of some of the best fly rod combos on the market, it's time to look at some important features to look out for when purchasing rods, reels, line, and other things that commonly come in a fly fishing outfit.
Type of Fishing
There are a few different types of fly rods for different types of fishing. You can pick your rod in the combo based on what species you'll be fishing for, or you can pick it based on the type of water you'll be in (rivers, small streams, saltwater, etc.).
We've also created some lists of fly rods based on categories. If you first pick out your favorite rod, then you can find a good combo kit that has that rod and go from there.
What's Included in the Fly Fishing Combo?
Some combos come with just a fly rod, reel and some line, while others are packed with all sorts of goodies like flies, fly boxes, nippers, pliers, and sometimes even a net or a vest.
When calculating and comparing the cost of fly fishing rod and reel combos, consider all of the other things that might be included as well.
The Rod
When buying a fly rod within a fly rod combo kit, you'll want to look out for a few things to make sure that the rod will suit the type of fishing and casting you'll be doing with it. You wouldn't want to end up with a euro-nymphing rod if you're trying to toss big streamers long distances for example!
The Reel
If you're picking up a combo, the second main thing in the kit other than the rod is obviously the reel. It's worth checking the reel separately to see if it's high quality as well. Is it corrosion-resistant? Is it die-cast or machined? What's the drag like? etc.
Best Fly Rod Combos Video
Review This Post
Conclusion
To end, thanks for taking the time to read our experiences and thoughts on the above-mentioned fly rod combos. We took a look at 10 of the best fly rod combos available on the market today.
From great value combos for the keen beginner to combos that will get your kids involved in our beautiful sport. There are also some excellent combos for the more experienced fly fisherman, such as the Sage Foundation and the innovative Lamson Center Axis.
We even drooled over the premium Sage Trout LL combo which is, in our opinion, the best top-end outfit designed specifically for trout.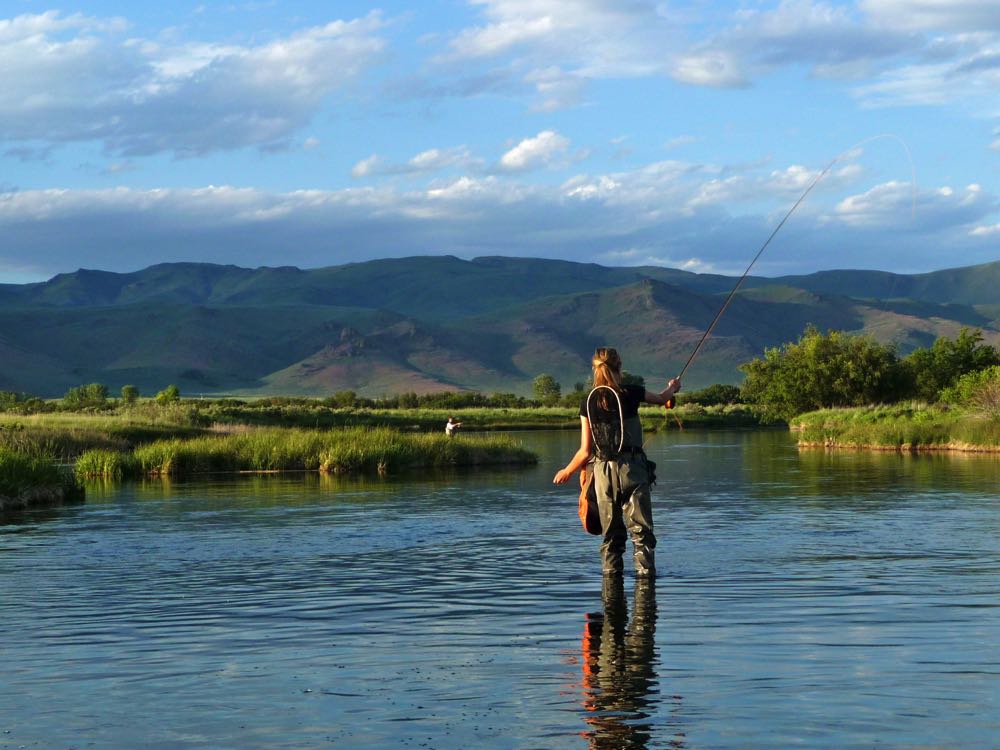 Buying a fly fishing combo is a great way to get into the game. It takes care of all the uncertainty that fly fishing gear brings and makes sure that you get a well balanced, value for money outfit.
If you have any friends that are thinking of starting out fly fishing and who are thinking of buying a combo, please share this article with them.
Happy casting.
Like This Article? Pin it!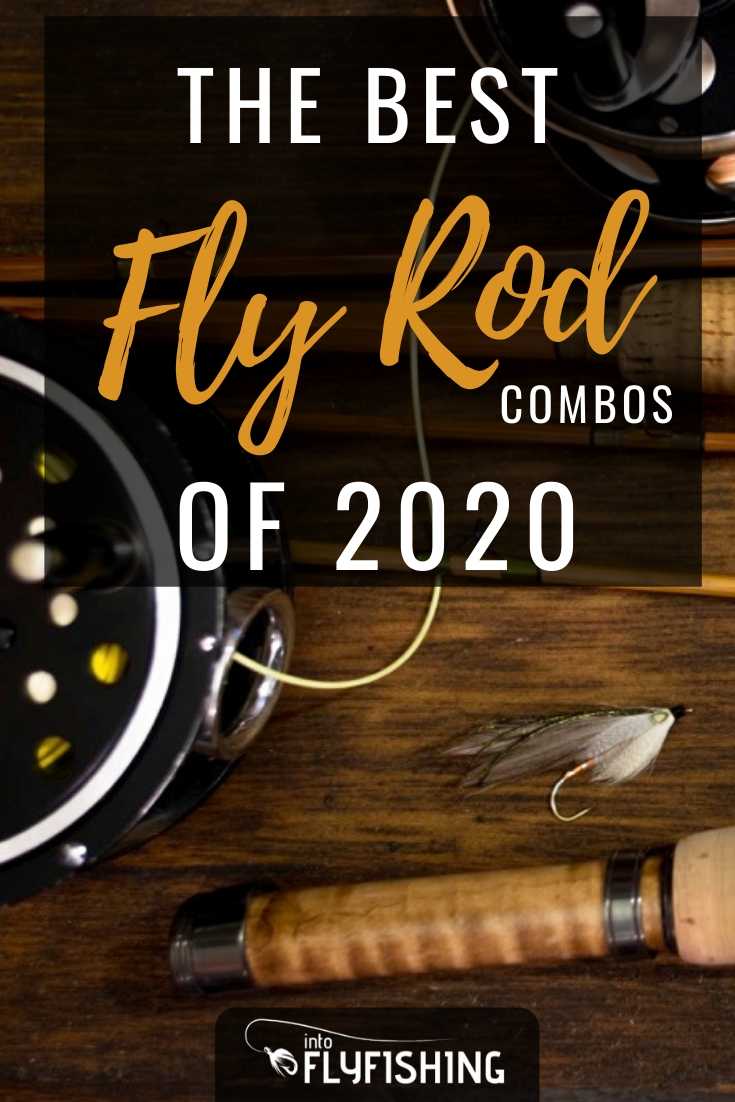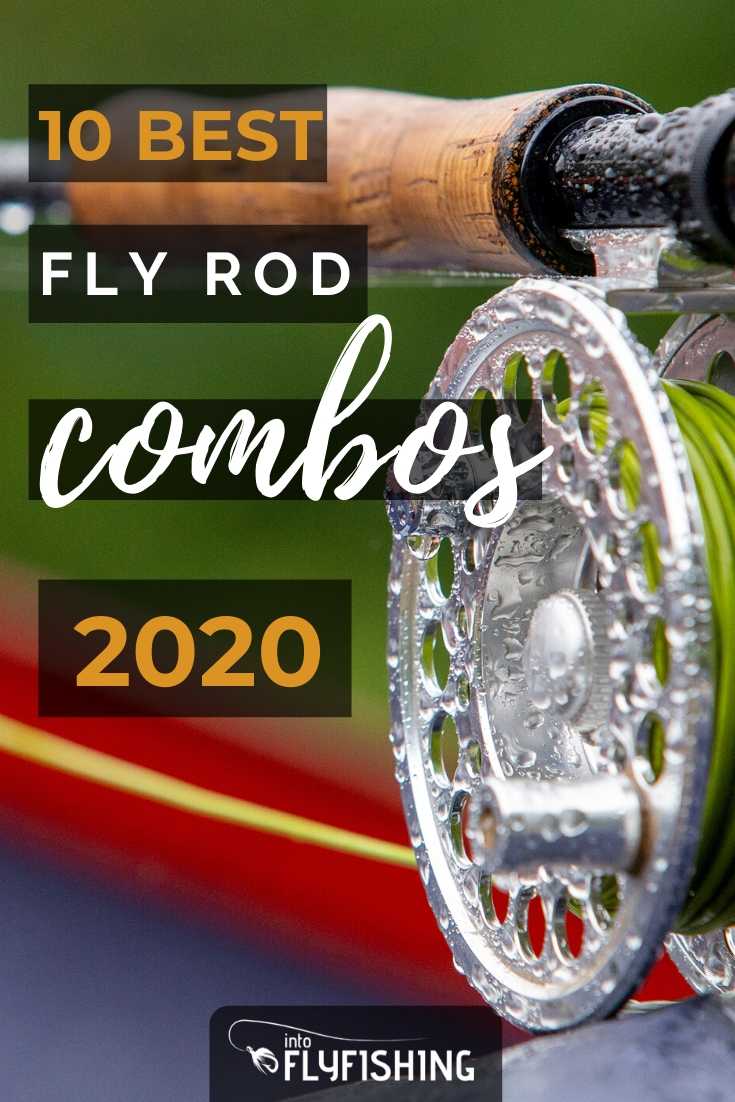 Disclaimer: IntoFlyFishing.com is a participant in the Amazon Services LLC Associates Program, as an Amazon Associate I earn from qualifying purchases. Please see our Privacy Page for more information.