As an Amazon Associate I earn from qualifying purchases.
Getting into fly fishing can be a daunting task, never mind looking for the best budget fly reels suited to your needs. One of the options is to go for a complete fly fishing outfit or combo (see our 10 Best Fly Rod Combos).
But if you're like me, you'd want more control over what you buy.
This guide will assist you in choosing the best budget fly reel. I still make use of some of the budget fly fishing reels that I bought 8 years ago. It goes to show that if you buy it right, you'll only buy it once.
Similarly, if you're buying fly fishing gifts for a friend or a loved one, you want to make sure that they don't have to take it in for repairs after just a few uses.
If you're looking to shop for fly reels, have a look at our Guide To The Best Fly Reels Overall to ensure you get the best reel possible.
10 Best Budget Fly Reels
The guide is split into two main sections. Firstly, we cover 10 of the top budget reels for fly fishing on the market today. Secondly, we have a look at features you need to consider when considering a budget fly reel.
Whether you're planning on fishing the quiet rivers of Iiowa, Minnesota and South Dakota, or the large lakes of Wyoming and Montana, you'll want a fly reel that can stand up to the task, without costing too much.
1. Maxcatch Eco
Drag System: Disc drag
Models: 5 models suitable from a 1 weight to an 8 weight
Claimed Weight (suitable 6 weight): 5.64 ounces
Backing Capacity (suitable 6 weight): 60 yards of 20lb Dacron
Width (6 weight): 1.02 inch
Outer Diameter (6 weight): 3.35 inch
Pros: Low price
Cons: Durability is a question, heavyweight and low backing capacity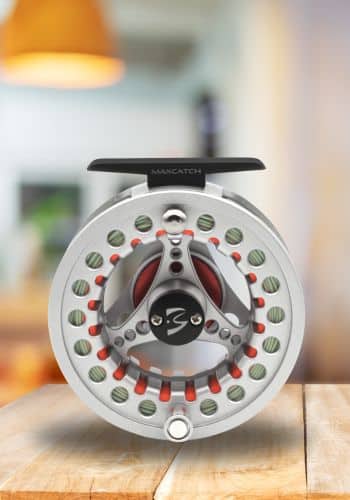 The Maxcatch Eco offers incredible value for money as it is incredibly cheap. Its frame is constructed using the die-cast method, and then polished. The reel is finished in either a silver, black, or rainbow trout finish.
I would opt for either the silver or black finish, as the rainbow trout finish looks more like an 80's disco outfit than a real trout.
This reel is perfect for the beginner or someone who mostly uses their reel as a line carrier. It has ample stopping power for most freshwater species.
The backing capacity is 60 yards for an equivalent 6 weight model – which is fine for normal freshwater species.
I would recommend this reel to a newcomer to the sport or someone who only fishes a couple of times a season.
2. Orvis Clearwater
Drag System: Disc drag
Models: 2 models available. The LA II for 4 – 6 weights and the LA IV for 7 to 9 weights.
Claimed Weight (suitable 6 weight): 5.4 ounces
Backing Capacity (suitable 6 weight): 75 yards of 20lb Dacron
Width (6 weight): not disclosed
Outer Diameter (6 weight) 3.5 inch
Pros: Good value for money
Cons: Heavyweight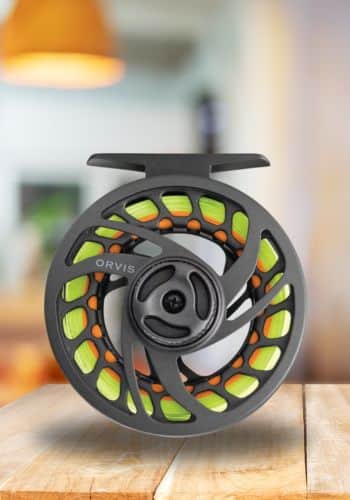 The Orvis Clearwater is die-cast constructed and finished with a matte grey powder coat finish. It has a large arbor and good backing carrying capacity.
The Clearwater is available in two sizes. The LA II for 4, 5 weight and 6 weight rods and lines, and the LA IV for 7 weight rods, 8 weight and 9 weight outfits.
Although, as indicated by Orvis, it is capable of balancing a 9 weight rod, if you're hooking this reel up to your best saltwater rod, I would not recommend exposing the reel itself to excessive saltwater use.
The drag is strong and more than adequate for most freshwater species.
This is an excellent budget fly reel that will serve you, dependably, for years.
Orvis also offers this reel in their Clearwater Combo, which includes the Clearwater rod, backing and fly line and is one of our favorite full fly fishing combos on the market today.
Also, don't miss our full hands-on Orvis Clearwater Review.
Compare At:
Trouts Fly Fishing
Trident Fly Fishing
AvidMax
3. Orvis Battenkill
Drag System: Disc drag
Models: 1-3wt,3-5wt,5-7wt,7-9wt,9-11wt
Claimed Weight (5-7 weight): 3.2 ounces
Backing Capacity: 100 yards
Diameter: 2.75″-4″
Pros: Great Orvis name & Warranty, Retro Look
Cons: Nothing
The Orvis Battenkill Fly Reel is a classic in its new form. We've fished this reel extensively and love the retro look of it, as well as the durability of the build and the warranty backing it.
This is one of the more expensive reels on this list, but it's worth it to get that Orvis name and after-sales service. The drag on this thing is super smooth as well. Highly recommended.
4. Redington Behemoth
Drag System: carbon fiber disc
Models: 5 models available. There's Behemoth that covers from 4 to 12 weight applications
Claimed weight (suitable 6 weight): 5.7 ounces
Backing capacity (suitable 6 weight): 125 yards
Width (6 weight): not disclosed
Outer diameter (6 weight): 3.6 inch
Pros: Great value for money, strong drag
Cons: Heavy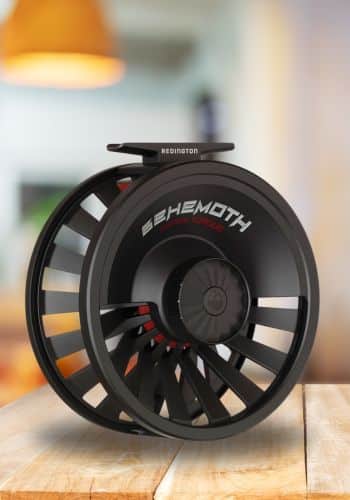 For the beginner saltwater angler who is looking for the best high-value, low-cost reel, the Redington Behemoth has you covered.
The reel is available in 5 sizes, from a 4/5 weight model to an 11/12 beast. For more individuality, it also comes in black, gunmetal, desert, and O.D. Green, and hunter orange colors.
Made out of die-cast aluminum, you'll find that for its size, it is slightly heavier than most other reels. But for the price and performance, the weight penalty is negligible.
On some of the reels that I have tested, the drag knob and reel handle felt a little wobbly.
The Behemoth features a carbon disc drag system that is ample for most saltwater species. Check out our Redington Behemoth Review here.
Compare At:
Trident Fly Fishing
AvidMax
5. Sage Spectrum C
Drag System: Sealed carbon fiber disc drag
Models: 4 models available, covering 3 to 10 weight outfits
Claimed weight (suitable 6 weight): 4 7/8 ounces
Backing capacity (suitable 6 weight): 100 yards
Width (6 weight): 1 5/16 inches
Outer diameter (6 weight): 3 5/8 inches
Pros: Great value for money, strong drag
Cons: Chips to easily
The Spectrum C is Sage's budget fly reel. Obviously, the name does come at a certain premium, but I strongly feel that the product itself is really good value for money.
Sage has also been in the business for a long time and probably will be in the future. That gives you peace of mind should anything have to be repaired or serviced in the future.
The reel has a die-cast construction, is machine-finished (CNC), and comes in either a black or grey powder-coated finish. A sealed carbon disc drag system rounds off this value package.
If you want a budget reel that will last many years, this is a very good option.
Compare At:
Trident Fly Fishing
6. Redington Crosswater
Drag System: Rulon disk, or Teflon (depending on size)
Models: 4,5,6,7,8,9
Colors: Black
Claimed weight (4/5/6 weight): 4.97oz
Backing capacity (suitable 4/5/6 weight): 100 yards
Outer diameter (4/5/6 weight): 3.5 inches
Pros: Strong enough drag for bass, decent build quality
Cons: Chips easily when dropped
We have reviewed all of the weights of the Redington Crosswater fly reel extensively. We've fished it in small streams and big rivers for bass and trout.
This thing might not be the most durable reel on the list, but with a name like Redington backing it it's definitely worth the money.
We found that the drag was really strong. Strong enough for smaller bass even in the 4/5/6 weight so I have no doubt that the larger 7/8/9 weight would easily handle large freshwater species.
7. Piscifun Sword
Drag System: Multi-disc cork and stainless steel
Models: 3/4, 5/6, 7/8, 9/10
Colors: Black, Gunmetal, Space Gray, Pink
Claimed weight (3/4 weight): 4.1oz
Backing capacity (suitable 3/4 weight): 100 yards
Outer diameter (3/4 weight): 2.87 inches
Pros: Great value for money, great drag, high quality components
Cons: Thinly padded reel case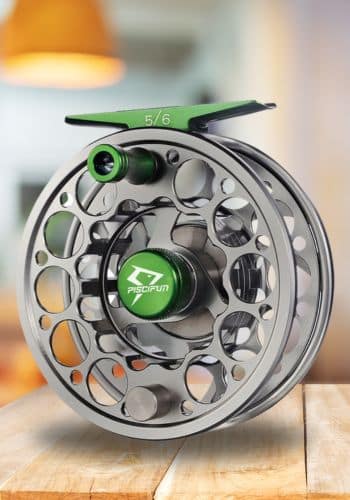 The landscape of budget-friendly fly fishing reels isn't a territory many anglers are eager to tread. A slew of companies offer up fly reels that come up short, built with less-than-stellar parts and delivering underwhelming performance. But Piscifun seems to have cracked the code in the value-for-money fly reel department.
Seeing the buzz and the positive chatter online, we felt compelled to see for ourselves. We bought one and decided to give it a real-world spin to check if it held up to the acclaim.
I personally put the Piscifun Sword reel to the test over a span of several days. Checking its drag capability, the feel of its movement, its components, and its overall build. You can usually gauge the caliber of a fly reel within moments of giving it a whirl, and the 3/4 weight Piscifun Sword didn't leave me second-guessing when I was out fishing.
8. TFO NTR Series 1
Drag System: Fully sealed cork
Models: 4,6,8,10
Material: Machined Aluminum
Claimed weight (4 weight): 4.7oz
Backing capacity (4 weight): 100 yards
Outer diameter (4 weight): 3.26 inches
Pros: Machined aluminum, super durable, great name in TFO, smooth retrieve
Cons: Nothing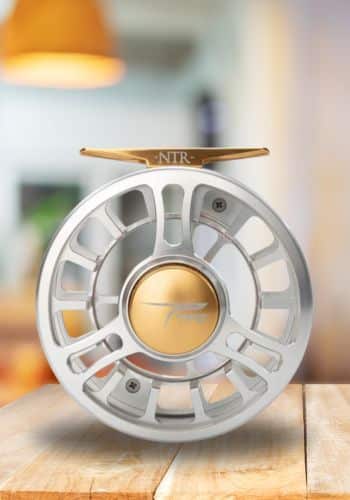 After fishing the TFO NTR Series 1 fly reel for months now, we wouldn't hesitate to recommend it as one of the best budget fly reels available this year.
The drag is super strong, the retrieve is smooth, it's fully sealed, has a great design and is made by TFO, one of the best brands in the budget fly fishing gear category.
If you're looking to go after trout, panfish or small bass, the smaller 4 weight will be your tool of choice, but with sizes going all the way up to a 10 weight, and with that sealed drag, you could tackle pretty much any smaller saltwater species with it as well.
It's not the cheapest reel on the list, but it's a great piece of kit.
9. Echo Base Fly Reel
Drag System: Rulon disc
Models: 2/3,4/5,6/8
Material: Impact Resistant Composite
Claimed weight (2/3 weight): 4.7oz
Backing capacity (2/3 weight): 100 yards
Outer diameter (2/3 weight): 3 inches
Pros: Great Echo Name, Decent drag
Cons: Composite frame not for everyone
The Echo Base fly reel has long been one of the steadfast members of the best budget fly reel club. Echo makes some great rods and reels at low prices and their base is no exception.
You get decent build quality, a strong drag, and a pretty high quality reel for a very affordable price with the Echo Base. We've fished this thing in almost every weight they have on the market, and for over 2 years, and they're all still going strong.
The Echo Base has a composite frame, which is a very nice way of saying it's plastic, but like the Orvis Encounter fly reel, it's built to last, and that plastic will never rust or lose its coating, which is a definite bonus.
10. Maxcatch Avid
Drag System: Teflon Disc Stainless Steel
Models: 1-2,3-4,5-6,7-8,9-10
Colors: Green, Blue, Black
Material: Machined 6061-T15 Aluminum
Claimed weight (⅓ weight): 3.67oz
Backing capacity (2/3 weight): 100 yards
Outer diameter (⅓ weight): 2.7 inches
Pros: Excellent Build Quality, Amazing Price, Lasts Forever
Cons: Mixed Complaints About Customer Support
I've had my Maxcatch Avid fly reel for over 5 years now and it's easily one of my favorite budget fly reels. The reason it isn't in the number one spot of this list is just because I think that when people are looking for a budget fly reel, oftentimes they really want the cheapest of the cheap.
Unlike their fly rods, Maxcatch doesn't have as big of a gap between their top-of-the-line reels and their bargain basement fly reels in terms of build quality and durability.
For this reason, I've left the Avid to the bottom of this list and kept the Eco up top.
If you're in the market for a full fly fishing combo, then I do recommend upgrading to their Maxcatch Premier Combo because you'll get a much better rod and it will come with the slightly better Avid reel as well. Definitely worth the money in that case.
What Makes A Good Budget Fly Reel?
Selecting a budget fly reel is completely different from selecting, for instance, a premium fly reel. In most cases, choosing a good value for the money is harder to do, because you don't have the luxury of only looking at features and top specs.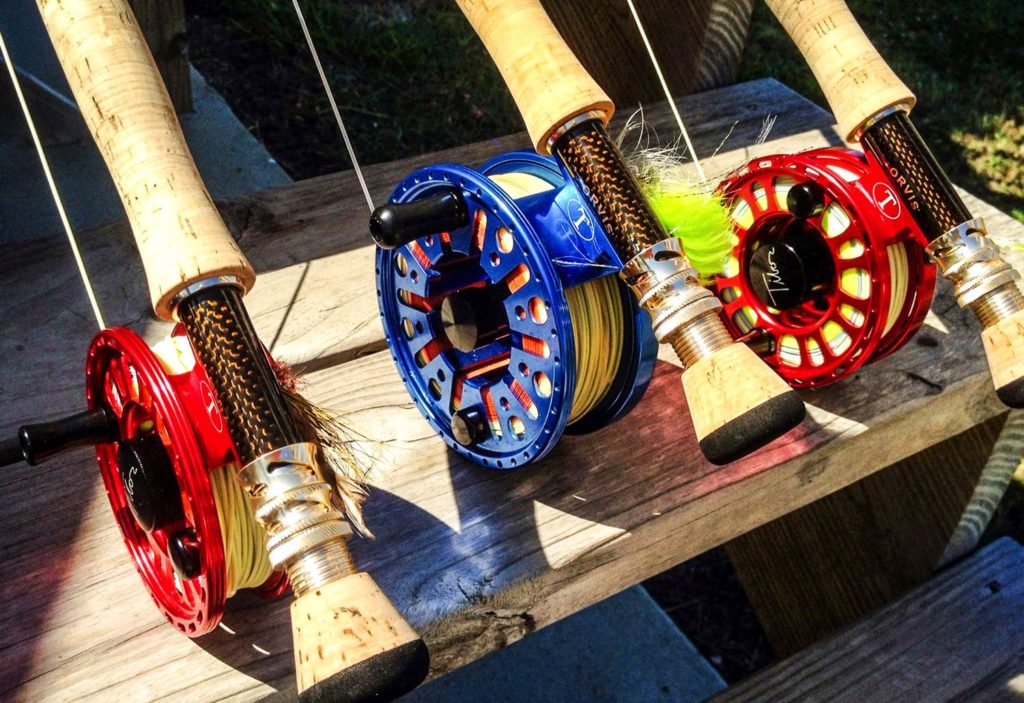 You have to balance it all with the weight (or thickness) of your wallet.
Below, I have gone through some considerations that will assist you when looking for the best budget fly fishing reels.
The Price
The first place to start a budget fly reel discussion will, naturally, be price. With that, I would like to ask the rhetorical question: "What does a budget fly reel cost?"
That may differ between all of us. My gauge for this category are reels that cost less than $150. For real, anything over $150 starts moving into the mid-range category, and when you get to about $500, you're looking at premium stuff.
My advice to you when going out to buy a budget fly reel (or any gear, for that matter), decide for yourself what budget means and what you are willing to spend. In our list above, we looked at reels below $150.
Construction
Most of the reels in this price range will either be plastic (some of the really cheap ones still are) or die-cast.
Die-cast is when a metal alloy is melted and then cast into a mold. It's a much cheaper process than straight CNC and they can mix in less expensive materials. The result is usually a stiffer, heavier reel.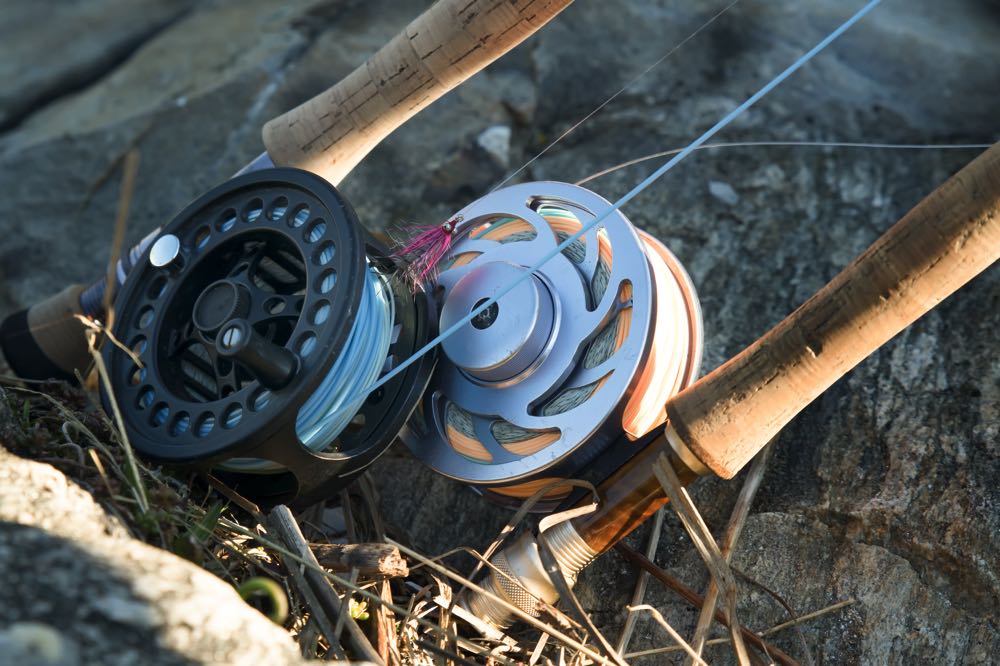 Be careful of letting it fall, though, as most cast products tend to be more brittle than forged or machined units.
In this price range, most reels will also have a powder coat finish, especially when they are colored.
Drag System
For small fish applications and small streams, consider a clicker reel. They don't offer high drag capabilities, but in these scenarios, it's not necessary. The reel is basically a line holder that ensures you do not get an overwind.
A clicker-drag system is very reliable, so you'll have a budget reel that can provide you with many years of service.
For the rest of the applications, most reels will come with a stacked disc drag. Depending on the brand and price, these discs might be made of stainless steel, carbon fiber, Rulon, or a mixture of these.
The drag will mostly be sealed to some degree. Although I must urge you not to expose reels in this price range to excessive saltwater.
Weight
With the construction taken into account, most of the budget fly reels won't be very light. This might not necessarily be a bad thing.
Chances are, if you're looking for a budget fly reel, you're planning to strap it onto a budget fly rod or pack it away in your fly fishing vest, your fly fishing pack or the pocket in your waders.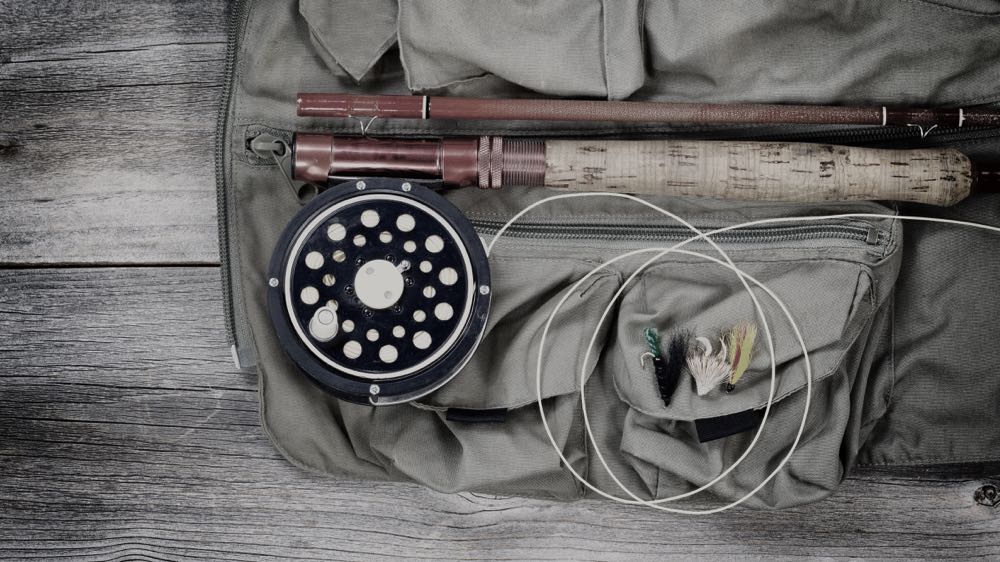 More important than specific weight is the total balance of the rod, reel, and line combination. So instead of looking at weight, think of how the reel will suit and balance the intended rod.
Arbor Size
A large arbor fly reel assists with two issues. The first is that it reduces, to some degree, the amount of memory that your fly line obtains while stored on your reel. Obviously, this is also dependent on the quality of the fly line that you are using.
But, in general, the larger the arbor, the fewer issues you'll have with line memory.
A larger arbor also helps you pick up line faster when you are reeling it in. I've seen many fish lost due to low line tension when the fisherman can't reel fast enough.
In my opinion, buy the largest arbor you can find suitable for your rod.
Review This Post
Concluding The Best Budget Fly Reels
Somewhere in your fly fishing career, you will look at buying a budget-friendly fly reel. Whether it's for a backup setup or to get your significant other to join you on the water – choosing the best budget fly reel is essential.
I hope that this guide assisted you, or at least, pointed you in a helpful direction. Please let me know what your experiences are.
Until next time.
Some images in this post are courtesy of Shutterstock.
Like This Article? Pin it!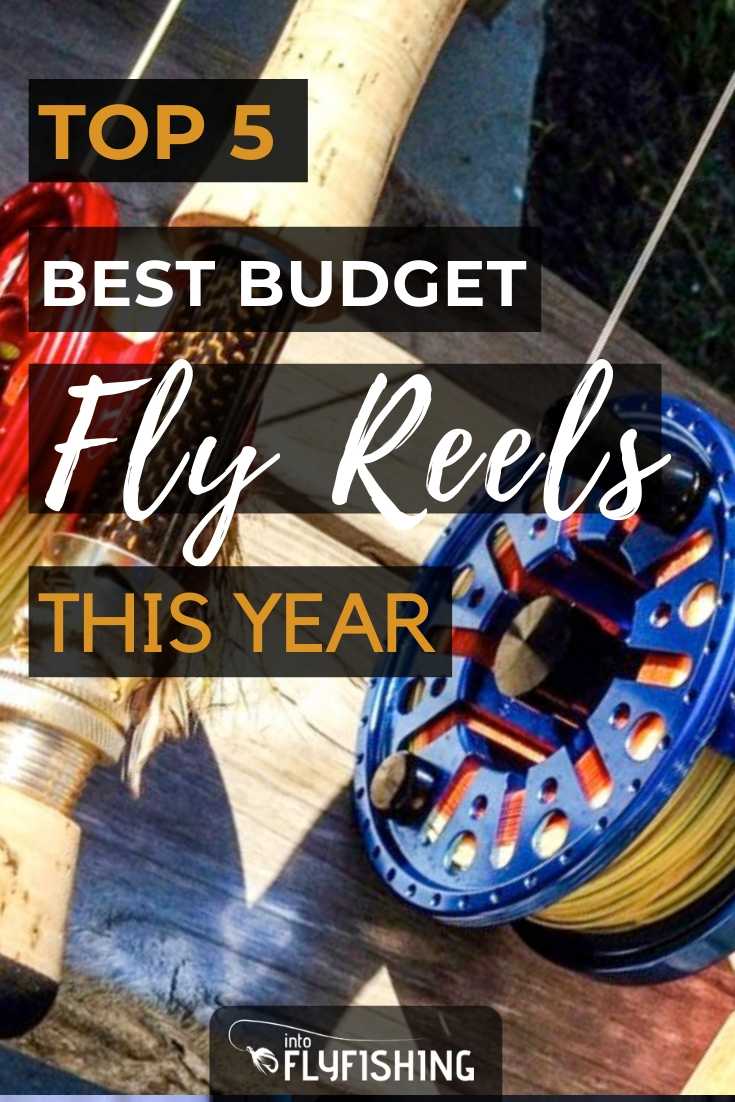 Amazon and the Amazon logo are trademarks of Amazon.com, Inc, or its affiliates.
As a part of the Amazon Associates Program and other affiliate programs, Into Fly Fishing® may receive a comission if you order products through links on this website.