In this article, I'm doing a full review of the Sage Spectrum C Fly Reel. Let's get into it.
Disclaimer: IntoFlyFishing.com is a participant in the Amazon Services LLC Associates Program, as an Amazon Associate I earn from qualifying purchases. Please see our Privacy Page for more information.
Sage Spectrum C Fly Reel Review
So, first off, how have I been fishing the Sage Spectrum C Fly Reel? I have the 5/6 weight, so I've been fishing it on small to medium-sized rivers here in Europe.
Sage Spectrum C
If you like what you see in this Sage Spectrum C fly reel review, you can order the reel on Amazon.
It's been handling it very well. I love its smooth drag. It's just a beautifully designed reel.
It's light. It's not machined aluminum, which we'll get into a little bit later, but I'm really happy with the overall quality and feel of this reel and the balance on my rod.
What's in the Box of the Sage Spectrum C Fly Reel?
First off, let's talk about what you get in the box when you order the Sage Spectrum C Fly Reel.
Of course you get the fly reel with the spool. You also get a nice little neoprene bag, and it's well padded, so it protects the reel while in transport.
You have the box, and you have the Sage warranty inside. The Sage warranty is something that's really quite great about their products. I'll say a little bit about that now.
Sage Spectrum C Lifetime Warranty
Sage's lifetime warranty is a great aspect of buying any Sage gear. They basically say that for the lifetime of any of their reels, rods, or blanks, they'll replace it if it's a manufacturer defect, like a manufacturer error when they were building it.
They'll also replace it because of problems from general wear and tear, or even from your own damage. If you accidentally step on the reel and break off the handle, Sage will replace it for you for the entire duration of your life.
That's a great warranty, and it's nice to have the confidence that if anything goes wrong with the reel after you purchase it, you don't have to worry about spending too much money to get it repaired.
Sage does have a processing fee that I think is about $30 USD for reels. (That's what it is for their rods.) So, if you get dirt in the drag or you crack the frame, Sage will replace it for you.
That's nice to have, especially with their more expensive products.
The SDS Drag System
When I got this reel, I knew that Sage makes great reels and makes great products. This reel has a beautiful drag system.
It's got the SDS or sealed carbon drag system by Sage. It's their patented drag, and it does have a very nice feel to it.
There's basically no startup inertia, so when a fish takes, the line comes out of the reel really smoothly. For the price, I'm amazed at how good this reel feels.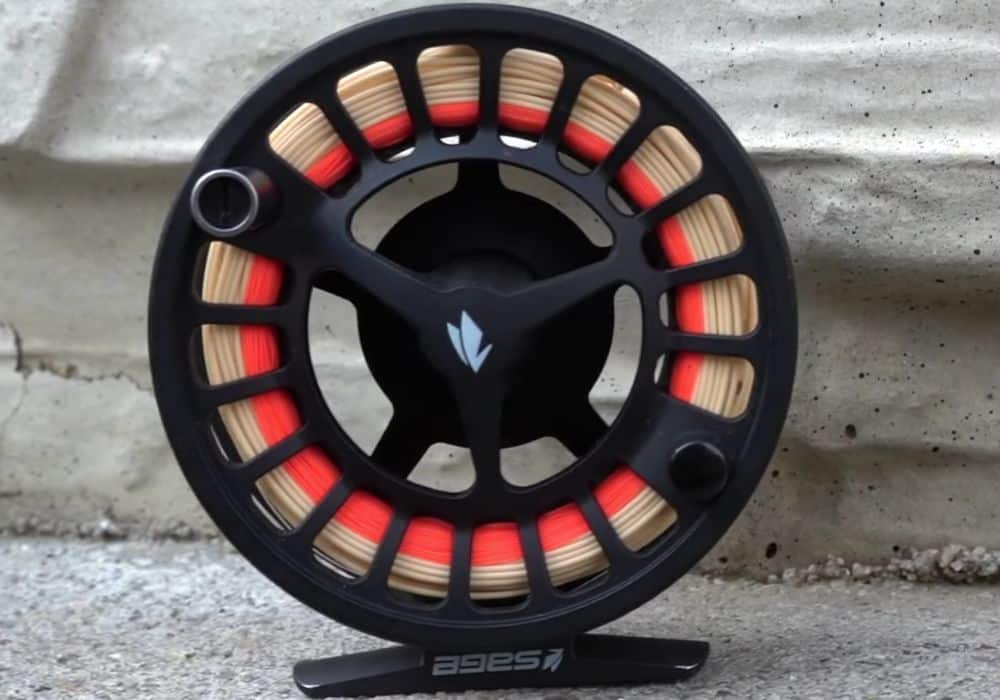 The drag has plenty of pulling power. I caught some nice-sized fish on it, probably 5 or 6 lbs, and it handled them beautifully, with just enough drag that I could quickly adjust it with the one-turn drag knob on the back.
It's an enormous drag adjustment knob, so when you're on the river you can actually do it with just your thumb or one finger while you're fighting a fish. It's really easy to get it to go from practically no drag at all to full pulling power.
When it's all the way loose, there's basically no drag. It comes out smoothly. And when you tighten it all the way tight, then you've got so much pulling power that it's very difficult, even on the 5/6 weight, to pull line out. That's perfect for larger fish.
Different Models and Weights of Sage Spectrum C Reels
Sage has this reel in a 3/4 weight all the way up to a 9/10 weight.
So, whether you're fishing for small brook trout in a tiny stream near your house, or you're going on an overseas trip to target bonefish and maybe even tarpon, there's a Sage Spectrum C that'll match the job.
Order The Sage Spectrum C
If you like what you see in this Sage Spectrum C fly reel review, you can order the reel on Amazon.
Plus, because the drag is sealed for saltwater, you can fish it in the sea or ocean. With all the weights they offer, there's enough to cover every fishing application, which is great.
I was personally fishing if for small to medium-sized trout on small rivers, and also on some large rivers too. I fished a spectrum of rivers, and I fished it on a little bit of still water as well.
The reel has been holding up really nicely for me, and I fished it in a variety of situations.
If you want to go into saltwater, you can get some of their larger weights. They're sealed, and they're going to be great.
The Tech and Specs of Sage Spectrum C Reels
The Spectrum C has a lightweight die cast aluminum frame with a powder-coated corrosion-resistant finish.
One thing I'll say about the finish is that I've dropped this reel a couple of times, and it does chip pretty easily. Mine's already got some chips around the outside.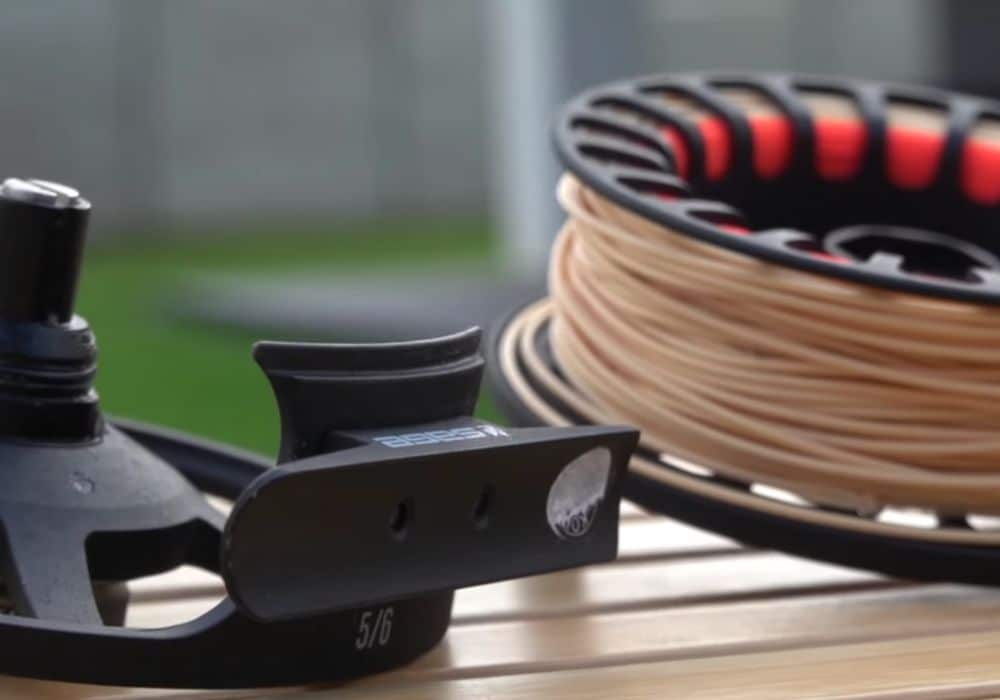 The paint chips off, and while that won't affect the reel's overall usability, it's nice when reels come with a really good chip-resistant coating. Some of my other reels have this, but they're more expensive reels of course.
But Sage does say that it's corrosion resistant, so that should help in saltwater. But again, if you're getting chips on the reel, and then saltwater gets in there, you never know if it'll start rusting a little bit.
Other than that, I think the overall build quality of the Sage Spectrum C Reel is great. It's super light. The 5/6 weight only weighs 4.8 ounces, or 136 grams.
That's perfect. Because of the design, with so much of it cut out with the die cast molding that they've used, it's quite light, feels good in hand, and balances my rod nicely.
The reel has a large arbor, so it has a quick retrieve. I spooled it up with 90 feet of weight-forward 5 wt Scientific Anglers Frequency Fly Line, about 120 yards of 20-pound backing, and the leader setup.
That fit on the reel no problem, and there's still plenty of space. It's got a good spool capacity for sure.
The overall spool width is 1.3 inches, and the spool diameter is 3.63 inches.
The Price of the Sage Spectrum C Fly Reel
Now let's move on to the part that everyone's interested in, because this is Sage's budget option. How much does this reel cost?
The Sage Spectrum C Fly Reel starts at around $165 USD for the 3/4 weight and 5/6 weight.
Then it starts moving up as you start getting into the 7/8 and 9/10. Those are $185, so you're just paying $20 more.
That's a really good deal from Sage. Their one level up fly reel is the Sage Spectrum Max, and I think it's around $400 or $500.
That's a huge jump to the next level. But then you'll start getting some important features that everybody loves in a fly reel, like machined aluminum bar stock to have the frame super durable.
For the price of the Sage Spectrum C, you get a sealed drag, a really nice lightweight design, a super smooth drag system from Sage, and the warranty. I'd say it's a pretty good price.
My Personal Opinion of the Sage Spectrum C Fly Reel
Lastly, I'd like to talk about my personal thoughts and opinions after fishing the Sage Spectrum C for about two or three months now.
I've been fishing this thing extensively on small rivers, medium rivers, large rivers, and a little bit of still water.
I've put this reel through the paces, and I've landed some pretty nice fish on it. I really do like this reel.
Order The Sage Spectrum C
If you like what you see in this Sage Spectrum C fly reel review, you can order the reel on Amazon.
I highly recommend it if you want to get a Sage reel or any reel that has a really good warranty and brand name. This is probably the reel to go with if you don't want to break the bank spending $400 or $500 on a reel.
Actually, I think it'll make our list this year of the best value fly reel or at least the best midrange fly reel because it's just beautiful.
I've fished plenty of reels in this range, from $150 to $300, and the Sage Spectrum C is one of my favorites for sure. It's just so light, and the drag system is so smooth.
It's a great reel. I'd like to see it be machined aluminum bar stock, but with a company like Sage, the warranty that they offer, and the after-sales service, that's probably not going to happen. They're known as a top-end brand creating top-end products, and this is their lower level of that.
I think the Sage Spectrum C Fly Reel is a great option for anyone who wants to target anything from trout all the way up to tarpon and bonefish with the heavier weights.
The versatility is great. The build is great. I like the design. The drag is super smooth and super powerful. It's not a bad deal at all for $165 to $185.
Conclusion
I hope you enjoyed this article. If you did, please check out the video on our YouTube channel, and don't forget to subscribe and hit the notification bell so we can notify you the next time we come out with a new video.
We're coming out with new gear reviews, fly fishing tutorials, and even destination vlogs from different parts of the world like South Africa, the Maldives, here in Europe, Canada, and the U.S.
Definitely stay tuned, and we hope to see you around. Alright, get off the internet and go out fishing.
Until next time, tight lines.