Choosing the best saltwater fly reels is important for any angler, as the corrosion and damage caused by salt and sand can push even the best gear to the limit.
Our first post on saltwater specific gear looked at things you need to take into consideration when buying the best saltwater fly rod.
This post will focus on the top saltwater fly fishing reels and related considerations when choosing one.
Our Top 3 Saltwater Fly Reels
Best Overall: Abel SDS
Best Budget: Redington Behemoth
Best Mid-Range: Ross Evolution R Salt
I've been thinking about writing this article for a while now, in particular, because I have seen many clients lose amazing fish due to poor reel choices.
Once, while a substantial specimen of giant trevally made its initial run, the client's reel went up in smoke.
Compare Saltwater Fly Reels
This blog is reader-supported. As an Amazon Associate, I earn from qualifying purchases.
Product prices and availability are accurate as of the date/time indicated and are subject to change. Any price and availability information displayed on [relevant Amazon Site(s), as applicable] at the time of purchase will apply to the purchase of this product.
Prices pulled from the Amazon Product Advertising API on:
Seconds after this happened the entire spool exploded from the cage.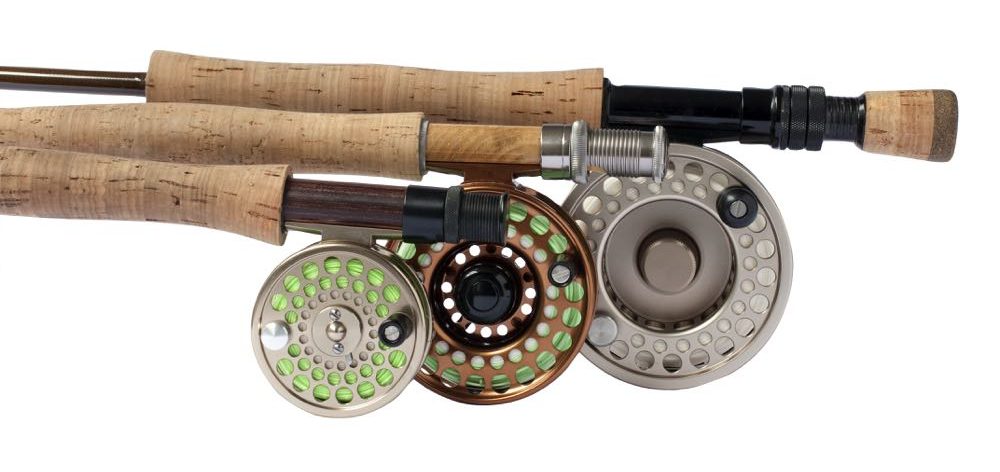 Needless to say, we lost the fish as the line wrapped around the rod, bending line guides and ending in a snapped fly line.
In our discussion of "What Makes a Good Saltwater Fly Reel?" we'll discuss some points that I believe are very important, like drag types and material.
Saltwater fly reel care is also vitally important, so we'll have a look at that too.
In case you missed it, don't miss our post all about the best fly reels in 2022 overall.
Jump To → Best Saltwater Fly Reels
★ #1 Best Saltwater Reel Overall: Abel SDS ★
Complete Your Saltwater Setup:
As an Amazon Associate I earn from qualifying purchases.
7 Best Saltwater Fly Reels
Below I'll list my list of the premium saltwater fly reels on the market in 2022. These reels will have sealed drag systems and corrosion-proof construction to ensure that they can stand up to even the saltiest of seas.
1. Abel SDS 7/8 (Best Saltwater Reel 2022)
Drag System: Sealed "Classic Colorado" carbon multi-disc
Weight: 9.07 oz
Claimed reel capacity: 8+240/20#
Pros: Extremely high quality, award-winning drag, aerospace material
Cons: The hefty price tag
The Abel SDS 7/8 reel won the best reel at iCast and has consistently won awards for its incredible build-quality, unique drag system, and performance on saltwater fish.
As far as saltwater reels go, this baby is a Bently, with the price tag to match.
This reel can handle saltwater gamefish of all sizes. It utilizes an outstandingly powerful multi-disc sealed drag system that leads the industry at 20+ pounds of breaking power at the reel. This thing can handle massive bones and even tarpon.
It's available in 3 sizes currently, The 7/8, the 9/10, and the 11/12 (You can click those links to order them on Amazon and Trident with free shipping and returns).
Part of the reason this reel is so expensive is its industry-leading performance and its awards, but aside from that, it earns its price tag from the materials used.
The frame is crafted from sturdy and powerful 6061-T651 cold-finished aerospace-grade aluminum, while the drag is a stacked carbon composite with a stainless steel disc.
It's the combination of top-class material, build quality, warranty, and finish that make this the best saltwater reel on the market in 2022.
2. Mako Model 9500 (Runner-Up Saltwater Reel)
Drag System: Sealed Carbon Fiber
Weight: 11.7 ounces (9500), 13.8 ounces (9550), 15,232 ounces (9600B), and 16.75 ounces (9700B)
Claimed reel capacity (suitable 12 weight reel): 350 yards 30lb with 12 weight forward fly line
Pros: Reliable, one turn drag knob, made in the USA
Cons: Heavy, very expensive and the manufacturing lead time is long
Having had more than 40 years of experience in the aerospace engineering field, Jack Charlton turned his efforts into developing fly reels. In 1993 he started the popular brand Charlton reels which, in 2005, became Mako.
Mako has only 4 reels in their entire lineup. The 9500 (for sub-9 weight applications), the 9550 (9 to 11 weight), the 9600B (10 to 12 weight), and the big boy 9700B (12 weight and up).
All four models are some of the best reels for saltwater fly fishing and make use of a sealed carbon fiber drag system. The drag is extremely smooth and powerful.
The reel features what Mako dubs as its "one turn drag knob". It enables you to go from total free spool to full drag in one turn of the substantial, yet lightweight, drag knob.
The drag features a clutch pressure plate that ensures that a constant amount of pressure is applied throughout the reels service life. This ensures that the drag will be dependable and predictable.
The reel is finished off with Type III anodizing. This ensures a hard and deeply penetrated finish that will protect the material for many years.
Mako offers a full lifetime warranty to the original owner of the reel. You can check the current price on their website below.
3. Ross Evolution Salt R (Best Drag in Saltwater Reels)
Drag System: 16-disc sealed 23lb+ Max drag
Weight: 7.6-8.2 oz
Claimed reel capacity: WF10/275yds
Pros: Best Drag In Class, Great Build-Quality, ultra-smooth, counter-balanced
Cons: Price, Adjusting the drag takes getting used to
The Ross Evolution R Series of reels have long been some of the best fly reels for trout, but the new Ross Evolution Salt R takes an already great reel-manufacturers line-up to an entirely new level.
Ross really hit it out of the park with this reel and if you're looking for a smooth-feeling, high-quality saltwater fly reel, then you'll be hard pressed to beat the Evolution Salt R.
This thing looks, sounds, and feels amazing. Once you reel in a bonefish or a tarpon with a Salt R, you'll quickly realize what all of the fuss is about.
The reel is made with a 16 disc sealed system that puts out a jaw-dropping 23 pounds of max drag. It's counterbalanced with a dual-spool system that allows a vibration-free retrieval and strip-out from the reel frame.
If you're in the market for the best saltwater fly reel in a more top-end category, then you'll probably be going for the Abel SDS series or the Ross Evolution Salt R series… if you have the budget to fork out on a saltwater reel.
4. Nautilus NV-G (Best Lightweight Saltwater Reel)
Price: from $590
Drag System: sealed cork carbon fiber
Weight: 5.1 ounces (NV G-5/6), 7.2 ounces (NV G-8/9), 8.3 ounces (NV G-9/10), and 9.9 ounces (NV MONSTER)
Claimed reel capacity (suitable 12 weight reel): 325 yards 30lb with 12 weight forward fly line
Pros: Buttery smooth drag, manufactured in the USA, very lightweight
Cons: The 12 weight's stopping power might be too little for some species
This is the top of the range offering from Nautilus. The NV-G is extremely lightweight and is reputable for having very low startup inertia. This helps protect the tippet during a fight when a fish turns suddenly on a blistering run.
There are 7 models in the NV-G range suitable for many applications. Reel sizes vary from a 5 weight to a 12 weight option (aptly dubbed the NV Monster).
The reels feature a sealed cork and carbon disc drag that is very dependable. It, however, does not have extreme stopping power. But as mentioned before, its drag is buttery smooth.
This reel is therefore perfectly suited for fish species that fight "cleaner" (that don't head straight for rocks or structure).
The large arbor of the reel offers an immense line pickup rate. On the NV Monster, the 12 weight reel, one turn of the reel translates into almost 15 inches of line recovered.
I would highly recommend this reel for targeting species that are fast swimmers and clean fighters. These would include tarpon, milkfish, sailfish, mahi-mahi, etc. This product isn't available on Amazon, but you can check it out on Trident and still get free fast shipping.
5. Shilton (Best Cork Drag Saltwater Reel)
Drag System: Cork
Weight: 7 ounces (SL 4), 8.1 ounces (SL 6), and 10.2 ounces (SL7)
Claimed reel capacity (suitable 12 weight reel): 380 yards 30lb with 12 weight forward fly line
Pros: Workhorse, value for money, large backing capacity, and very basic design
Cons: Cork drag might be a con for some. Some people love it.
Shilton has been around for quite some time but only recently started gaining popularity in the States. They have offered many years of dependable service in the outer atolls of the Seychelles where outfitters used them for rentals.
Their durability, simplicity, and performance are what makes them outstanding.
The older SL range is still available to buy, and to me, compared to the newer SR range, offers great value. The range also offers a wider variety of reel sizes – so there will be one that suits your outfit the best.
The SL reels are available in sizes ranging from 5 weight (SL 4) to 14 weight plus (SL 8) applications. The large SL 8 has no problem dealing with big tarpon and tuna.
The SL features an open cork drag. It's not the most modern drag on the market, but it's reliable and easily serviceable. The stopping power is impressive as well, perfectly capable of handling even the toughest fighting fish.
CHECK PRICE ON SHILTON WEBSITE
6. Redington Behemoth (Best Budget Saltwater Reel)
Drag System: carbon fiber
Claimed weight: 5.2 ounces (4/5 weight), 7.5 ounces (7/8 weight), 10.8 ounces (9/10 weight), and 11.4 ounces (11/12 weight)
Claimed reel capacity (suitable 12 weight reel): 250 yards 30lb with 12 weight forward fly line
Pros: Great value for money, strong drag
Cons: 12 Weight reel can only accommodate 250 yards of backing, the drag knob and reel handle has a cheap feel.
For the beginner angler that is looking for the best high-value, low-cost saltwater reel, the Redington Behemoth has you covered.
The reel is available in 5 sizes, from a 5/6 weight model to an 11/12 beast. For more individuality, it also comes in black, gunmetal, desert, O.D. Green, and hunter orange colors.
Made out of die-cast aluminum, you'll find that for the size it is slightly heavier than most other reels. But for the price, the weight penalty is negligible.
On some of the reels that I have tested the drag knob and reel handle felt a little wobbly.
The Behemoth features a carbon disc drag system that is ample for most saltwater species. We also have a full, hands-on Review Of The Redington Behemoth Fly Reel, so make sure you check that out if you're serious about picking one of these reels up.
7. Hardy Fortuna XDS
Drag System: sealed carbon disc
Claimed weight: 8.6 ounce (XDS 10), 9.1 ounce (XDS 20), 12.3 ounce (XDS 30), and 13.5 ounce (XDS 40)
Claimed reel capacity (suitable 12 weight reel): 340 yards 30lb with 12 weight forward fly line
Pros: Very strong, capable drag
Cons: Expensive
I have included the Hardy Fortuna XDS reel in our selection as I was completely blown away by this reel's stopping power. The 12 weight model is capable of a whopping 30lb of drag.
There are 4 size options within the XDS range. From a 6 weight (XDS 10) to 12 weight and up (XDS 40). For standard saltwater fishing, I recommend the XDS 20 for 8 to 9 weight applications, such as bonefish, redfish, etc.
The XDS 30 is suitable for fishing up to a 12 weight, being able to carry enough backing with a full 12 weight fly line.
The previous model of the Fortuna was extremely reliable as well. It provided anglers with many years of problem-free service.
Its substantial drag knob increases the drag from free spool to full lock within a 340-degree turn.
What Makes a Good Saltwater Fly Reel?
A saltwater fly reel is a specialized fishing tool designed to target hard fighting fish in harsh environments. The finest saltwater fly reels will excel at these challenges and provide the angler with many years of service.
In my opinion, a good saltwater fly reel has non-negotiable and negotiable characteristics.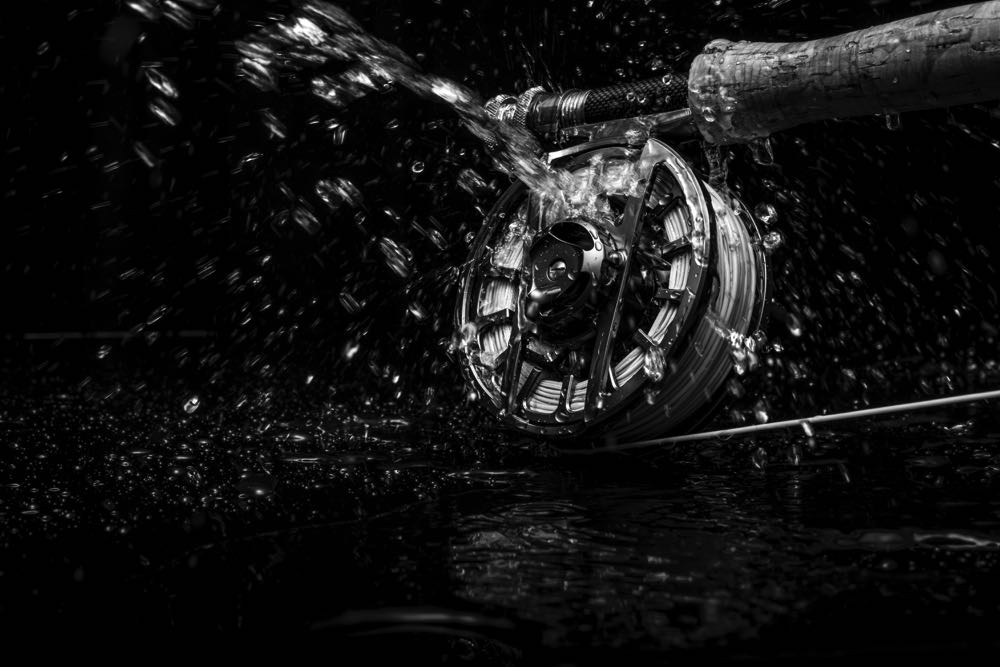 In the non-negotiable corner are corrosion resistance, durability, and after-sale service. On the negotiable side, the considerations tend to get a little more dependent on things such as target species.
Here are some of the key factors that you need to take into account when looking for the best saltwater fly reel suited to your needs.
Reliability
The most important factor, to me, is reliability. When casting to 120-centimeter giant trevally on the back of a string-ray, the last thing you want is doubt in your reel. It should, first and foremost, be something you trust.
Most of the best saltwater specific reels are also very expensive.
This is due to the advanced materials and design that went into building the reel. For this reason, you expect a product that will last you many years to come.
Drag System
The two main drag systems used in saltwater fly reels are carbon discs and cork. Carbon fiber disc drag is, usually, very smooth and offer low startup inertia. With saltwater, you'll always be looking for a fully sealed drag.
The drags are usually sealed in some way or another. On cheaper sealed disc drags I have seen that saltwater and sand penetrate the drag housing. This totally destroys the drag and has to be sent back to the manufacturer for repairs.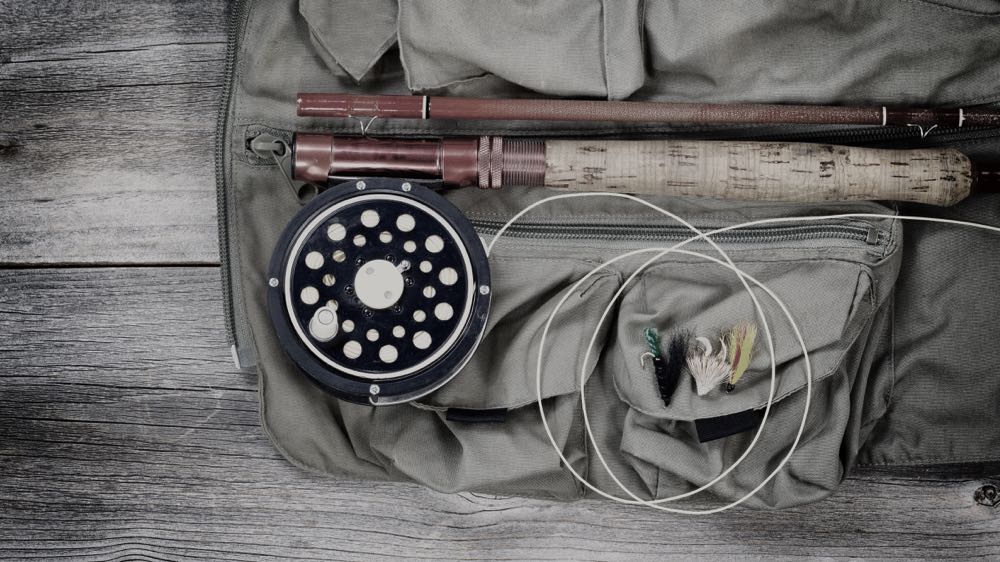 Cork drags have been around for quite some time. Popular manufacturers that made use of this technology include Tibor and Abel. In essence, the drag is made up of a cork ring locked in place by a plunger.
The reel's spool has a flat surface that slips over this cork ring. Drag is increased by pulling the spool tighter against the cork, thus increasing the friction. These drag systems are very reliable and very serviceable. They are, unfortunately, not the lightest and smoothest system out there.
Line And Backing Capacity
The amount of backing (with your fly line) that a reel can carry is crucial. It will, however, be determined by your intended target species.
If you, for instance, constantly target fish that do not make massive runs, it's not necessary to have a reel that can take 300 yards of backing. Remember, the more backing you have, the more weight you need to swing around.
In my experience, a 9 weight setup would be perfect with about 150-200 yards of backing. That would be sufficient for long bonefish runs etc.
For a 12 weight setup, I would look at a reel that can accommodate at least 300 yards of my intended backing. For most fish, this would be an overkill, but you need it for fish that do long runs.
Price
In most fly fishing scenarios, there are numerous budget-friendly alternatives that offer very similar performance than their more expensive counterparts. For instance, even when choosing a good saltwater specific fly rod, there is numerous value for money options.
Sadly, when it comes to specifically saltwater fly reels, there are not many cheap options that I feel comfortable recommending to you. I have seen too many people's dreams explode (like their reels) to do this to you.
However that being said, it's not necessary to buy a $1300 Mako if you are fishing off a skiff once a year. I would suggest looking at one of our other options, like Redington.
If you're looking to save some money, sometimes it's best to get your reel as part of a fly rod combo, which is a kit that generally just comes with a rod, reel and fly line, but sometimes includes a fly fishing vest, waders, boots, fly boxes, a fly fishing pack, a fly fishing net and more.
Material
There are plenty of different materials used in manufacturing fly reels. The highest-quality saltwater fly reels are made with some sort of machined aluminum alloy.
They might either be forged, CNC, or die-cast. The die-cast reels are usually more brittle and heavier but are slightly cheaper. Whereas the more expensive reels are forged and CNC.
For drag systems, the material used is generally carbon fiber or cork, but there are also some stainless steel drag systems out there.
Arbor Size
For most applications, I would recommend going for a reel with a large arbor design whicsh ensures fast line retrieval. This assists with the line pickup rate when the fish is swimming towards you.
Weight
Different fly reel weights will be better for different fishing applications and when you're looking at saltwater fly fishing reels, you're looking at higher weights, generally around 8 weight or bigger.
You can up-line a reel, but you'll always want to match the reel itself to the fly rods you're fishing with, so an 8-weight reel will go with an 8-weight rod, a 10 weight with a 10 weight and so forth.
Who Makes The Best Saltwater Fly Reels?
Having looked at the 7 best saltwater fly fishing reels above, I would like to mention some of the best brands that make saltwater reels. Some of the brands mentioned below I have already spoken about, but there are more reels in their lineup that you can consider.
There are also some other popular reel brands that you can look at.
Taking Care of Saltwater Fishing Reels
Having faith in your saltwater fly reel is important. You need to know that the drag will engage smoothly, it won't lock up on you, and will be able to offer years of service.
Regardless of the specific reel you have, here are some tips on how to look after it so that it looks after you.
When you've landed, and hopefully released, the fish, before even making another cast, turn the reel in both directions to ensure that no debris is stuck in the spool. Sometimes, when landing a fish in saltwater, you drop your rod in the sand.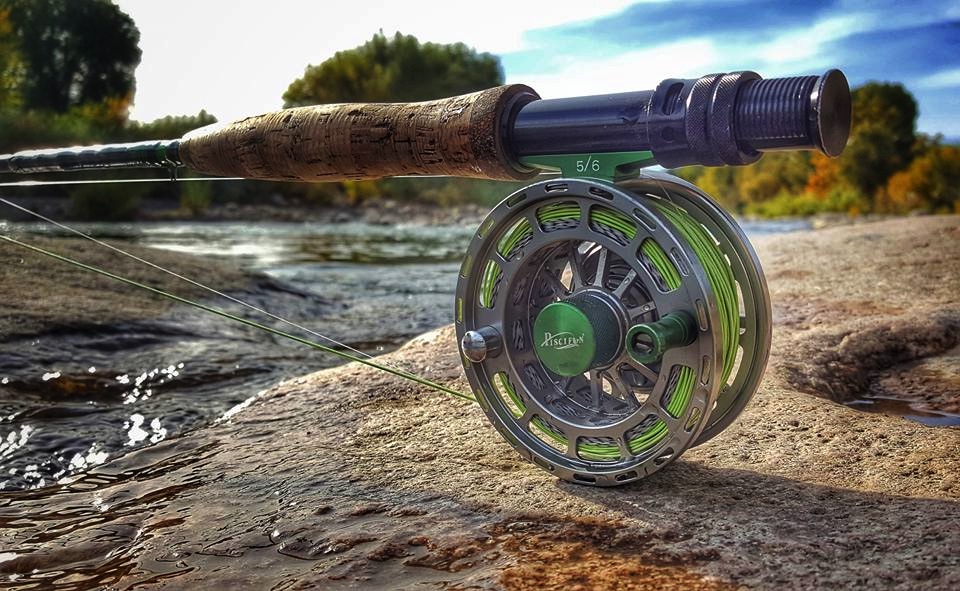 The sand can get stuck in the drag mechanism or between the spool and the cage of the reel. Simply rinse it off with fresh or saltwater do dislodge any material.
After the day's fishing, rinse the reel off, and all gear for that matter, with freshwater. Also, loosen the drag.
After your trip, take the reel apart and remove the fly line. Wash all parts with soap, rinse off with fresh water and dry them properly.
Then apply an anti-corrosion agent like Corrosion Block or something similar.
Another great tip is that if you sent in your fly reel for service, test it directly after you receive it back from the agents.
Ever Consider Rentals?
Having said all of the above, if you do not fish saltwater destinations frequently, you can consider renting, especially reels, from the outfitter and/or destination. This will prevent you from having to flog out a considerable amount of cash on a reel and also make sure that you have a relevant reel to the fishery.
You also don't have to think about maintaining and servicing the reel.
Review This Post
Conclusion
Choosing the best saltwater fly fishing reels for your needs is an important gear choice. They are usually quite expensive, and if chosen wrong, it might be an expensive mistake.
I have full confidence in any of the reels mentioned in the 7 Best Saltwater Fly Reel section.
The Redington Behemoth offers a good value for money option that has tamed considerable fish. Any of the other more expensive reels, if maintained properly, will provide you with many years of loyal service.
I truly hope that this guide assisted you in making a decision for the best fly reels for saltwater fishing. It's a topic that I am very passionate about.
Please feel free to ask any questions or make suggestions below.
Some images in this post are courtesy of Shutterstock.
Like This Article? Pin it!