As an Amazon Associate I earn from qualifying purchases.
The best 8 weight fly reels will allow you to target larger species of fish by throwing larger flies. If you're looking to go after big trout, bass, and smaller saltwater species, then this is a great size for a fly reel.
Quick Look: Best 8wt Fly Reels
★ #1 Best 8wt Fly Reel Overall: Orvis Hydros IV ★
If you live near the coast and are looking for a great saltwater reel to target reds, speckled trout, or smaller saltwater species, then an 8 weight fly reel will get the job done.
So, if you're looking to target those big, hard-fighting fish, check out the article below. I'm going to cover three different reels as well as some of the features that make 8 weight reels so great.
Complete Your 8-Weight Setup:
Best 8 Weight Fly Rods
Best 8 Weight Fly Line
When to Use An 8wt Fly Reel
If you're looking to throw big flies to catch big freshwater fish, then this is the reel for you. You'll not only have the strength to pull in those trophies, but will also be able to throw big flies.
The same goes for saltwater fish. You can hit the flats and throw flies to redfish, speckled trout, and more. The best 8 weight fly reel is large enough to handle most of what you can fish it for.
What Makes a Good 8 Weight Fly Reel?
Now that you're chasing big and strong fish, you'll need a larger arbor. If you ever need to put a fish on the reel, you'll be glad you have a big arbor to help reel them in.
After that, you'll need a good drag system, but I'll talk more about that below, along with a few other features you should be looking for.
Drag System
There are two main drag systems out there. The first one is a disc drag. This is the strongest, and if you plan on putting a fish on the reel, then this is the one you need.
The next is a click-and-pawl. These are usually not very strong. If you enjoy playing a fish with your free hand on the reel, then this would work fine.
The Sound
Many anglers love the sound of line being ripped off a reel and the drag zipping through the air. It usually means there's a big fish on the line.
However, it doesn't actually help you catch the fish. It's just an added bonus. So if you're looking for that classic fly reel zip, then check out the click and pawl drag system.
The Weight
Once you start getting up to these larger sizes, you'll find that the reels are heavier than your 4 or 5 weights. This can lead to casting fatigue.
So, if you plan on fishing all day or for long stretches of time, look for something that won't wear out your arm. Also, ensure that your reel is balanced with your rod.
The Price
The price of your reel all depends on what you can afford. Sure, there are incredible $700 reels out there, but that's not realistic for most people.
Realistically, you could find a $100 reel that will suit you just fine. If that's still a little too pricey, then don't worry. You'll be able to find what you need, although it might take a little bit longer to search for it.
The Material
Machined aluminum is the best you can buy. It's strong and lightweight, but is also very expensive. So, keep that mind before hitting up the shelves at your local shop.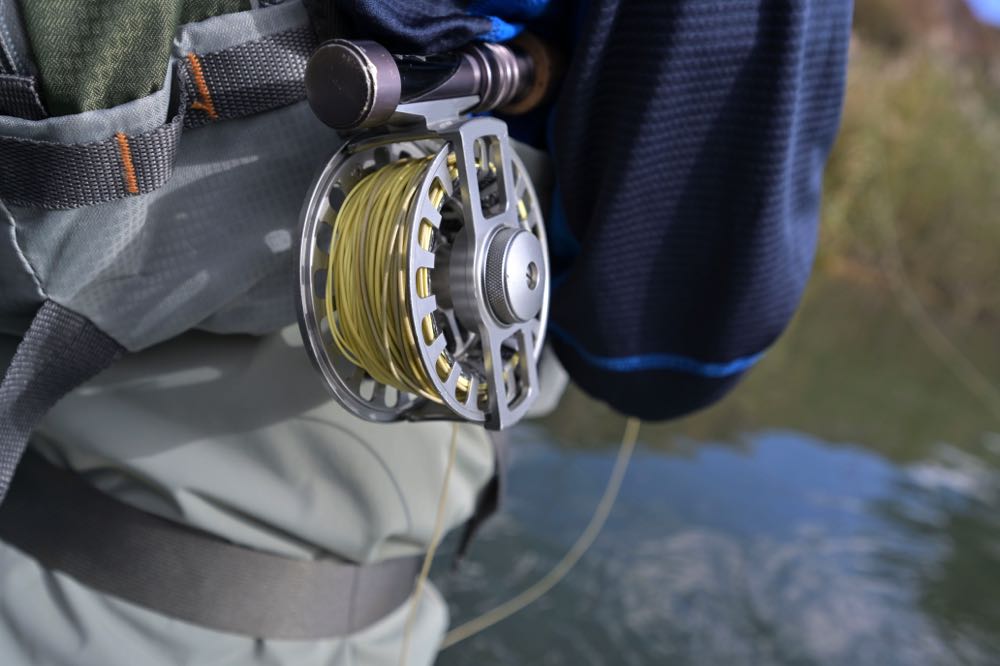 If you want something more reasonably priced, then check out a reel made of plastic, composite, or cut aluminum. These aren't as strong or lightweight, but they get the job done.
The Arbor Size
Smaller arbors are meant for trout fishing, where you play the fish off the reel and strip line in with your free hand. A large arbor is used to chase larger fish.
The reason for this is that the larger arbor will reel in the line quicker. So if you wind up putting a fish on the reel, you'll be able to land it faster with a larger arbor than a small one.
Best 8 Weight Reel Brands
Below, I'll go over three different brands that make great 8-weights. Check some of them out and see how they look.
Orvis
It doesn't matter what weight you're going for, Orvis creates some of the best all-around fly reels on the market today. Their top-end reels can compete with any on the market when it comes to drag strength, start-up inertia, and build quality.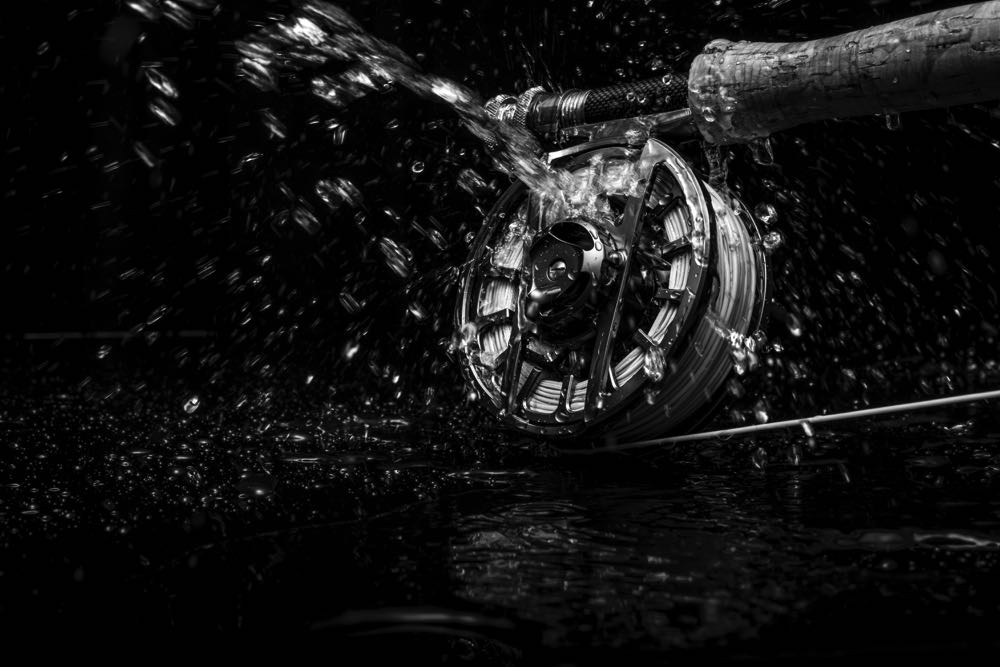 Piscifun
Piscifun makes great reels for novice to intermediate anglers. You won't have to worry about dropping your rent on a new reel anytime soon.
Loop
Many of Loop's reels are waterproof as well as salt-tolerant. You can use them in both freshwater and saltwater. They're ideal for the angler who enjoys all types of fishing.
Redington
Redington makes a wide array of reels for anglers of all levels to use. They're hard to beat and one of the most popular brands.
The Best 8 Weight Fly Reels You Can Buy
Below, I'll go over three different reels that work for all skill levels. Check them out and see which one you like best.
Orvis Hydros IV
Drag system: Sealed carbon & stainless drag system
Pros: Super lightweight, good for saltwater, excellent drag
Cons: None
The Orvis Hydros IV has been improved for 2023 with a sealed drag system that has even more power than the previous Hyrdros models.
When you're up in the 8-weight class of reels, you're going to want that extra drag torque. That's why the Hydros tops my list of the best 8-wt fly reels.
Compare At:
AvidMax
Trouts Fly Fishing
Piscifun Platte
Drag system: Disc
Pros: Great for the money, fully sealed drag system
Cons: Heavy and tough to switch handle
The Piscifun Platte is a great reel for the price. The oversized drag system makes it easy to adjust while fighting a fish.
The fully sealed drag system also helps with durability and ensures you can be on the water for as long as you need. This might be the best 8-weight fly reel for the money.
Okuma SLV
Drag system: Disc
Pros: Performs way beyond its price point, smooth and easily adjustable drag
Cons: Plastic threads in drag, durability
If you're looking to get started in fly fishing, then the Okuma SLV is a great reel for you. The price point is low, and it outperforms other reels at its price point time and time again.
Its durability is lacking, so it's important to rinse it after each trip and be extra careful with it.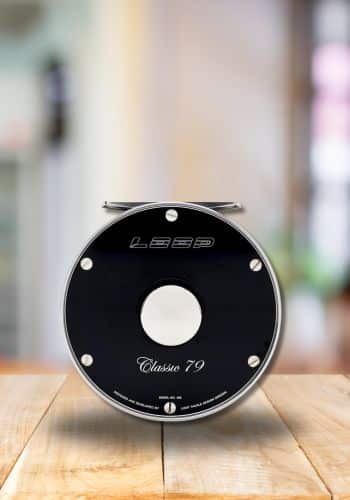 Loop Classic
Drag system: Disc
Pros: Waterproof and salt-tolerant, light and strong
Cons: Price
If you're looking for the Bentley of fly reels, then the Loop Classic (7-9wt) is the reel for you.
Made of aircraft-grade aluminum, the Loop Classic is a beautiful reel that will outperform just about anything else out there.
This salt-tolerant and waterproof reel will work in any condition, so you don't have to worry about your gear breaking.
Review This Post
Conclusion
Fly fishing with an 8 weight reel is extremely diverse, and an 8-weight reel can be used to catch any number of species, especially if you plan on targeting big trophy freshwater fish.
With the information above, hopefully you now have all you need to go find a reel of your own. So, head on down to your local fly shop and pick one up!
Some images in this post are courtesy of Shutterstock.
Like This Article? Pin It!
Amazon and the Amazon logo are trademarks of Amazon.com, Inc, or its affiliates.
As a part of the Amazon Associates Program and other affiliate programs, Into Fly Fishing® may receive a comission if you order products through links on this website.