As most of us fly fishermen (or fly fisherwoman) target trout regularly, we'll need the best trout fly reels suited to our needs. These are reels that are usually matched with 4, 5, or 6 weight fly rods and spend the most time out on the water.
I've gone through probably 30 trout fly reels in my life, some didn't work for me and some just broke. But once you find that reel, you'll be using it for a very long time. The best fly reel for trout is one you'll develop a relationship with (in a non-freaky way).
Disclaimer: IntoFlyFishing.com is a participant in the Amazon Services LLC Associates Program, as an Amazon Associate I earn from qualifying purchases. Please see our Privacy Page for more information.
5 Best Trout Fly Reels
There are currently hundreds of trout fly reels on the market. If I were a newcomer to the sport, I'd feel completely overwhelmed with so many choices available.
Regardless of your skill or budget availability, here I've gone through five of my favorite trout reels on the market today. These reels will serve you well and will be perfect for trout fly fishing.
1. Maxcatch Eco
Drag System: Disc drag
Claimed Weight (suitable 6 weight): 5.64 ounces
Backing Capacity (suitable 6 weight): 60 yards of 20lb Dacron
Width (6 weight): 1.02 inch
Outer Diameter (6 weight): 3.35 inch
Pros: Low price
Cons: Durability is a question, heavyweight and low backing capacity
The Maxcatch Eco offers incredible value for money as it is incredibly cheap. Its frame is constructed using the die-cast method, and then polished.
The reel is finished in either a silver, black, or rainbow trout finish. I would opt for either the silver or black as the rainbow trout finish looks more like an 80's disco outfit than a real trout.
This reel is perfect to go along with a good beginner fly rod, or for someone that mostly uses their reel as a line carrier. It has ample stopping power for most freshwater species. The backing capacity is 60 yards for an equivalent 6 weight model – which is fine for normal freshwater species.
The drag utilizes Teflon and stainless steel washers.
I would recommend this reel to a newcomer to the sport or someone that only fishes a couple of times a season.
2. Cheeky Preload
Drag System: Disc drag
Claimed Weight (suitable 6 weight): 4.4 ounces
Backing Capacity (suitable 6 weight): not disclosed
Width (6 weight): 0.9 inch
Outer Diameter (6 weight): 3.5 inch
Pros: Comes preloaded with backing, fly line, and tapered leader, lightweight
Cons: Nothing
According to me, Cheeky has hit a home run with the Cheeky Preload. For a great price you get a very lightweight reel pre-loaded (hence the name) with backing, fly line, and a tapered leader. Pop this onto your best fly rod and you're good to go.
The reel is manufactured making use of the die-cast process but then finished off by popping it into a CNC machine. The result is a low-cost lightweight reel.
As with most reels in this price range, it offers a stacked disc drag system. It provides ample stopping power and does so quite smoothly.
If you are new to fly fishing, or never heard about Cheeky fly reels before, I would just like to mention that despite its quirky name, it's a budget to mid-ranged fly reel brand that you can take seriously.
3. Lamson Litespeed G5
Drag System: Disc drag
Claimed Weight (suitable 6 weight): 4.19 ounces
Backing Capacity (suitable 6 weight): 100 yards
Width (6 weight): 1.03 inches
Outer Diameter (6 weight): 3.63 inches
Pros: Built in the USA, very light, good backing carrying capacity.
Cons: Expensive
Lamson released their Lightspeed G5 and it's their fifth-generation Litespeed model. In this model, they increased the arbor diameter to increase line pickup rate. They also narrowed the spool slightly, to help with line management – allowing you to focus on this fish.
These added features are just a few of the reason why the G5 is listed as our #1 favorite fly reel for trout fishing on this list.
The G5 has a good smooth and powerful drag, perfect for any trout application. It is also capable of carrying 100 yards of backing together with a full fly line. This will enable you to balance even 10-foot rods perfectly.
The reel is available in two Type II anodized color options, red (Lamson calls it Cinder) and black. To put the cherry on the cake, the Litespeed is made in Idaho, USA.
4. Hardy Ultralite MTX-S
Drag System: Disc drag
Claimed Weight (suitable 6 weight): 5 ounces
Backing Capacity (suitable 6 weight): 80 yards
Width (6 weight): Not disclosed
Outer Diameter (6 weight): 3.9 inches
Pros: Large arbor, good drag system, good looks
Cons: Expensive
Hardy's MTX-S is a great premium offering from the old English brand. The large, modern arbor will assist with rapid line pickup. Due to this very large arbor design, its not the lightest reel on our list.
The reel features a fully sealed carbon fiber disc drag system and a color-coded drag knob, which makes it the perfect pairing for your best saltwater fly rod. This drag adjustment device rotates 340-degrees from completely open to maximum drag.
A usual issue with ultra-large arbor reels is that they tend to flex. The MTX-S is constructed making use of a combination of an aluminum alloy and carbon fiber. This results in a very stiff cage.
Due to its high price, it's not a reel for everybody on the water, but rather for someone who is looking for something exclusive.
5. Nautilus X-Series
Drag System: Disc Drag
Claimed Weight (suitable 6 weight): 4.1 ounces
Backing Capacity (suitable 6 weight): 85 yards
Width (6 weight): 1 inch
Outer Diameter (6 weight): 3.5 inches
Pros: Very light, value for money, and made in the USA.
Cons: Arbor slightly small
The Nautilus X-series offers great value for money. For under $300 you can have a high-performance American made trout reel. It's also one of the lightest reels on the market.
The X-Series make use of a reliable sealed carbon fiber and Teflon drag system. The applied drag force possible is perfect for trout, with emphasis placed on smooth operation and low start-up inertias.
Unfortunately, with the slightly smaller arbor, the reel can only accommodate up to 85 yards of backing. For most trout applications though, this would be more than sufficient. This reel isn't available on Amazon, but you can pick it up on Trident and still get free shipping to your door and a money-back return.
What Makes a Good Trout Fly Reel?
A good trout reel will be one that you forget about while you're using it. This might sound like a very strange statement but think about it for a second. If a reel performs well when catching trout it means that your focus is with the fish and not the gear.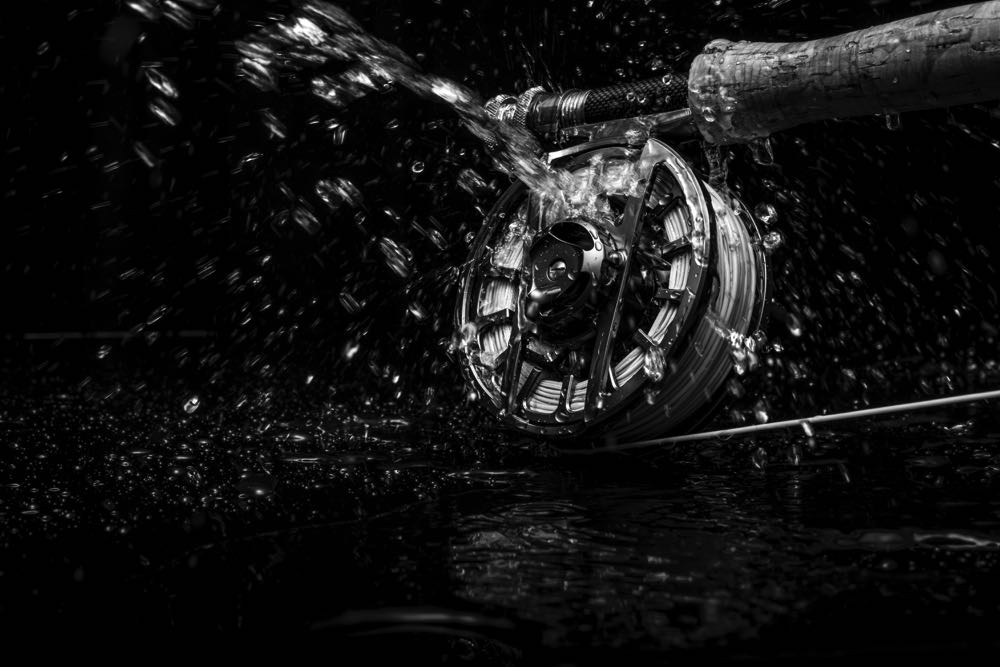 And that's what it's all about.
For a reel to perform well as a trout rod, it needs to have certain characteristics. These include smooth and reliable drag systems, sturdy construction and the correct weight to balance your fishing system. It should also suite your budget.
Drag System
A smooth drag in a trout reel is much more important than a powerful drag. You'll never set your drag to its maximum setting when fly fishing for trout. Ideally, you will set your drag to prevent overwinds and to protect delicate tippets.
Drags should be reliable and operate smoothly. This will also prevent you from losing fish.
Most trout reels feature either a disc drag or a click-drag. I would reserve the click-drag type for very light fishing only (2 weight and under). Mostly, I would recommend a disc drag system.
The materials used in the disc drags include Teflon, Rulon, Carbon, and Stainless Steel. These stacked disc drags are cased inside a sealed housing. Depending on the price of the reel, the quality of the sealing will vary.
Weight
In short, I would say that lighter is not always better. Instead, the best way to think about a reel's weight is how it will balance the rod and line that you are going to use it with.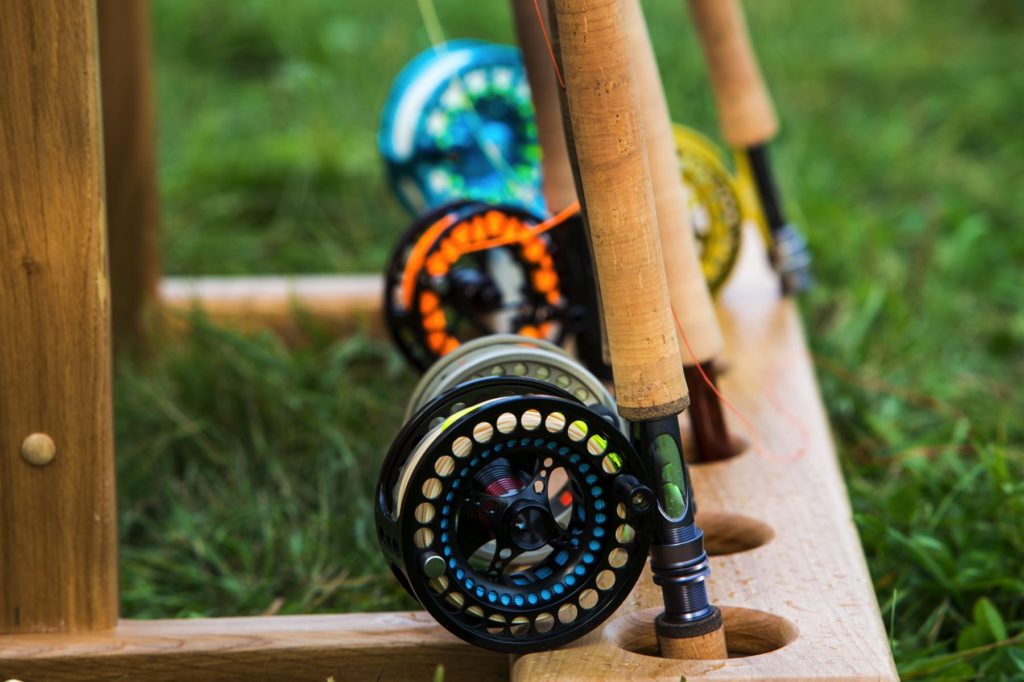 If you're using a very light 3 weight rod, the lightest reel would be perfect. However, when you're using a long 10-foot rod it might be better to look for a heavier reel.
Overall, reels these days are quite lightweight, even if you look at sub $100 reels.
Arbor Size
A large arbor fly reel assists with two issues. The first is that it reduces, to some degree, the amount of memory that your fly line obtains while stored on your reel. This is also dependent on the quality of the fly line that you are using.
But, in general, the larger the arbor, the fewer issues you'll have with line memory.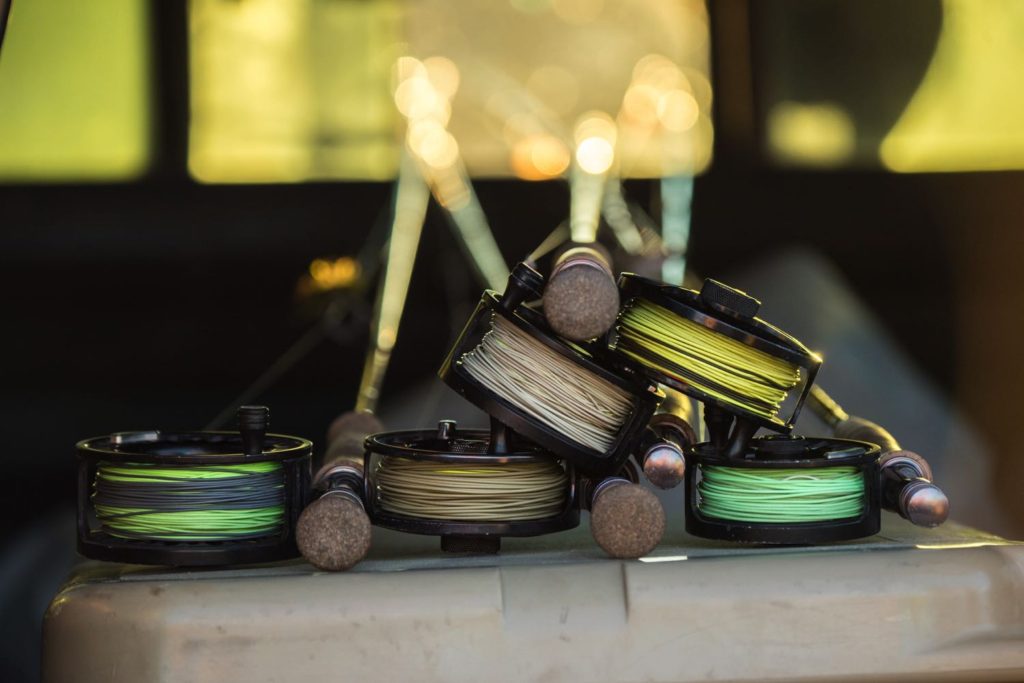 A larger arbor also assists to pick up line faster when you are reeling in. I've seen so much fish lost due to low line tension when the fisherman can't reel fast enough.
In my opinion, buy the largest arbor you can find suitable for your rod.
Price
If you are a beginner fly fisherman looking for a good trout reel, there are many options under $100. Look at the two in our "5 Best Trout Fly Reel" Section.
Mostly though, you get what you pay for. I don't mean that if you spend 8 times more you'll get 8 times more bang for your buck. In general, if you buy a good value reel, like the Nautilus XS-Series, it will give you great performance and many years of service.
Review This Post
Best Trout Fly Reels Conclusion
I hope that this post shed some light on the best trout fly reels suited to your needs. If you are considering any other reels, head down to your local fly fishing shop and measure them against the points that I made in the "What Makes A Good Trout Fly Reel" section.
Please let us know if you have any question, I would love to hear from you. Also, if you know any beginners or a fellow fisherman on the hunt for a good trout fly reel, please share this post with them.
I hope this helped you pick the best fly reel for trout fishing!
Some images in this post are courtesy of Shutterstock.
Like This Article? Pin it!