Fly reels are too often the under-appreciated portion of the fly rig. The heavy focus on rods, line and flies leaves the reel to be the unsung hero of a setup. If a fly reel fails, the entire fishing mission is done. As a result, it's important that anglers purchase a reel that's both reliable and able to perform at high levels.
A 2 weight fly setup is meant to perform in tight situations. While the rods are sensitive and lightweight, the 2 weight reels need to be the balance and provide a bit more substance to the setup. There are dozens of options, and anglers need to be particular with what they choose.
Quick Look: Best 2 Weight Fly Reels
★ #1 Best 2 Weight Fly Reel Overall: Snowbee Spectre ★
I've been testing finesse rigs for years. Since it's what I use most on the water, I've seen the dangers of a poorly balanced setup and low quality reels. Anglers need to put in some serious consideration when they're making a purchase.
As an Amazon Associate I earn from qualifying purchases.
What Makes a Good 2 Weight Fly Reel?
A quality 2 weight reel will balance your 2 weight rod well and provide you with a full experience on the water. Whether you're looking to have as few of the modern conveniences as possible or you're interested in the modern technology of the 21st century, there are options.
Drag System
Anglers have a couple options when it comes to 2 weight reels. You can either purchase a click-and-pawl system, where you do most of the work, or you can purchase a fully sealed drag system. Depending on your preference, you have the choice.
Many anglers use their finesse rigs as an opportunity to do as much work as possible, so click-and-pawl reels are popular.
The Sound
Some anglers want as little sound as possible when using a 2 weight reel. Since you'll be spending quite a bit of time close to the water, you want to be as minimally intrusive as possible. Therefore, it may not be a bad idea to purchase a reel with no incoming click sound.
The Weight
The weight of your reel entirely depends on your rod! Make sure that it has a proper balance.
The Best 2 Weight Reel Brands
Finesse anglers need to choose wisely when deciding what brand to go with when purchasing a 2 weight fly reel. The smaller the product, the more that can go wrong due to faulty manufacturing.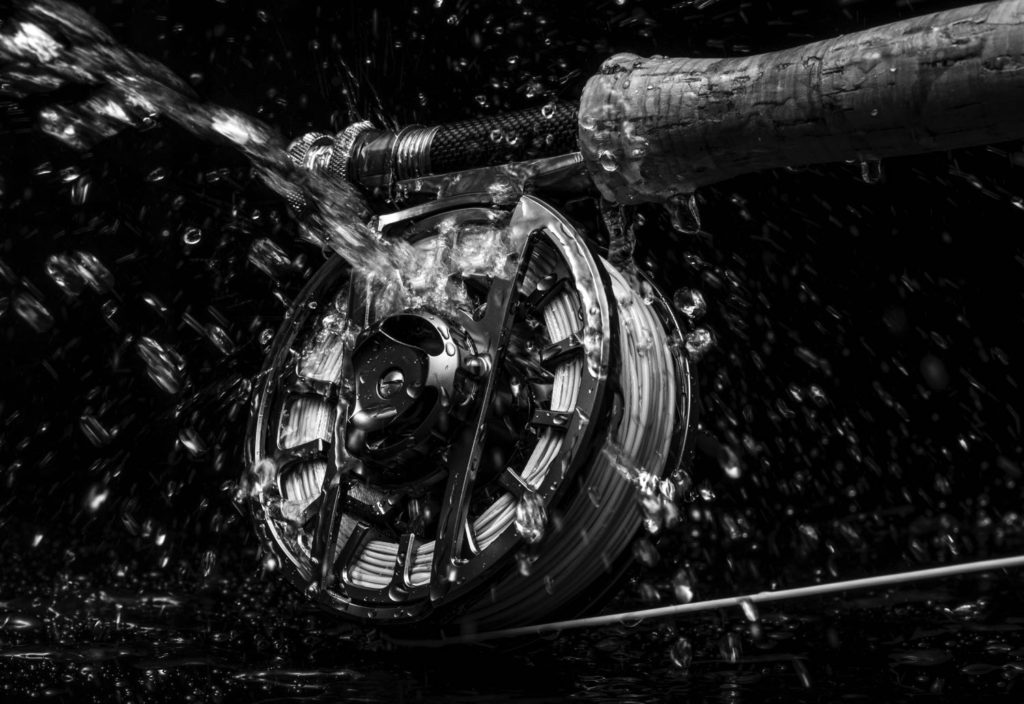 Sage
Sage is a staple in the world of fly fishing. They understand the delicacies of what it takes to be successful in those tight spaces and have created a few reels that help anglers succeed in those scenarios.
Orvis
Orvis is another long-standing company in fly fishing. Their products aren't the most affordable, but you receive a lifetime warranty and extremely high quality material as a result.
Redington
Redington reels are very underrated. They've been making great fly fishing equipment for years, and anglers need to try their equipment.
See more: Redington Vice Review
The 5 Best 2 Weight Fly Reels You Can Buy
Below, I'll go over the best 2 weight fly fishing reels. These vary in price, but they'll benefit anglers of every skill level.
Orvis Battenkill Disc Reel
Drag system: Superior sealed drag system based on the Hydros SL
Pros: High-performance, affordable, tried-and-true
Cons: Classic design, not specifically a 2-weight reel
The Orvis Battenkill Disc Reel is a classic in the world of fly fishing. Orvis makes a Battenkill reel that's a click and pawl, but the disc drag reel is going to be a bit better for your finesse fishing. This reel performs as a traditional high performance reel, and it's extremely affordable considering the other options on the market.
The Orvis Battenkill Disc I will be a nice balance for your finesse setup. It can work on a 1-3 weight rod. It's not too heavy, but it's not so light that you'll feel as if you have no control of your rig. Finding a proper balance isn't easy when it comes to finesse fishing, but Orvis has managed to do it. No, it's not a large arbor reel, but you don't have to worry about reel memory especially if you're using it on a finesse rig.
Sometimes it pays to go with a classic name in the world of fly fishing. The Battenkill has proved its worth for years and continues to do so.
Snowbee Spectre Reel
Drag system: Multi-disc cork and stainless-steel center drag
Pros: Fast retrieve, minimal line memory stainless steel
Cons: A bit pricey, no "click" on retrieve
Snowbee, a company primarily known for its waders, has started to compete with the rest of their equipment. Whether it's fly rods, lines or reels, they're making a name for themselves. The Snowbee Spectre is a great finesse reel. It's lightweight and very compact. You won't feel a lack of balance on your rig as a result.
There is no "click" on your retrieve with the Snowbee Spectre. For many, this isn't an issue, but keep this in mind before you purchase it. It's made of high-grade aluminum bar stock, and even though it's a 2/3 weight reel, it has a bit of a larger arbor so you don't have to worry about any line memory.
The extra hard paint finish allows for anglers to use it on salt water in case the opportunity presents itself. Snowbee offers this reel in a 2/3 weight option, so you can use it on a 3 weight if necessary.
Sage ESN
Drag system: SCS drag
Pros: Comes with different weights to adjust the balance of the nymphing setup, ultra-large arbor
Cons: A bit expensive for a reel with a very specific performance
The Sage ESN is a highlight within the world of Euro nymphing. Since many 2 weight rods are used to Euro nymph, anglers need a reel that's going to match it. This is an adjustable reel that comes with three different weights to help you find that best balance.
It has a large arbor, so you can pick up and move along quickly as you're jumping. The drag system is very detailed and allows you to be quite specific for where you'd like the drag to sit. You're able to operate this carbon drag system without worrying that it'll overheat or fail to perform. The carbon is American made and proven to work.
The adjustment process for the weight is quite simple. All you have to do is remove the spool and lock nut, adjust the weight, and reapply both the nut and spool. Be sure to spend time figuring out what weight will work best on your rod. Anglers who Euro nymph are quite particular, and this reel will live up to their expectations.
The high price comes with high performance and a long lasting guarantee. Sage is well-known for their quality products, so don't worry about this reel falling apart after a few seasons.
Echo Shadow Click
Drag system: Click-pawl system
Pros: Durable alloy construction, large arbor spool design
Cons: Not an adjustable drag system
The Echo Shadow Click reel combines new technology with old-school fly fishing. The click-pawl drag system doesn't require maintenance and adds an extra level of entertainment while on the water. It's up to the angler to feel out the fish and determine how much tension you need on it to land it.
However, the Echo Shadow Click has a unique feature that allows you to adjust the frame and change it from a conventional trout reel to a Euro nymph reel. The line window shrinks and keeps parts of the reel from grabbing it if you're trying to Euro nymph with it. It's an amazing feature that many companies haven't added quite yet.
This reel has an incoming and outgoing audible click and a large arbor constructed out of some strong material. Echo has been in the fly fishing game for years and has quickly built a reputation for quality. You'd do yourself a favor by using one of these reels. Versatility isn't always easy to find within fly fishing, so it's not a bad idea to honor it when you see it.
Redington Zero
Drag system: Spring loaded, click-pawl system
Pros: Affordable, unique colors, lifetime warranty
Cons: Very light, no adjustable drag
The Redington Zero fly reel is a beautiful option for anglers looking to use a system that's as ultralight as possible. This reel comes in a 2/3 weight option that you'll barely feel on the end of your rod. If you want a fishing experience with maximum authenticity, the Redington Zero can provide that for you.
The click-and-pawl drag system leaves the tension up to the angler. Depending on the size of the fish you're fighting, you may need to use your palm to control the rate at which the line is leaving your reel.
For less than $100, you'll struggle to find a reel that offers a lifetime warranty. Redington has created a durable, large-arbor reel with a twin-molded dual density handle that gives you a great amount of control as you fish.
Review This Post
Conclusion
The world of finesse angling can be confusing. It's one of the more untapped aspects of fly fishing because the experience is so personal. Take your time to put together your finesse setup. It's one that will likely last you years!