As an Amazon Associate I earn from qualifying purchases.
The best fly reels for under $200 are going to allow you to keep some extra money in your pocket, but still will allow you to get a solid piece of equipment.
Most fly anglers don't need a flashy or expensive reel. Durability and drag system are the most important aspects of an expensive reel. So if you target smaller species or fish a handful of times a year then a $200 reel is perfect.
Quick-Look: Best Fly Reels Under $200
★ #1 Best $200 Fly Reel Overall: Orvis Clearwater ★
So, if you're looking for a moderately priced reel that won't break the bank and will let you spend money on other gear then check out the article below.
What To Expect From a Fly Reel for Under $200
Most fly reels under $200 are going to allow you to do everything you need. This is true for the casual angler or the weekend angler. Even a guide or someone on the water hundreds of times a year could find a use for one.
They're going to be solid pieces of gear that allow you to get out on the water and catch fish. The newer models will be strong, durable, and will have strong drag systems.
Are There Good Fly Reels for Under $200?
The short answer is, yes! There is a wide selection of fly reels for under $200 that will be able to meet every need you could have. They may not perform as well as an $800 reel, but that's not realistic for the majority of anglers.
If you enjoy throwing streamers or targeting larger fish then a reel with a strong drag system will be ideal for you. Chances are there are going to be several reels for under $200 that will meet that need.
Best Brands for Fly Reels Under $200
Below, we're going to go over three different brands that make great reels for under $200. There are more brands than the ones listed below, but these are some personal favorites.
Sage
One of the better-known fly fishing brands out there, Sage is known for creating quality pieces of gear, and this includes fly fishing reels.
They can range in many different prices, and sizes. So your options are going to be vast and you'll be able to find exactly the size that you need.
Orvis
Orvis creates high-quality fly fishing equipment. On top of having a top of the line reel, they also make phenomenal mid-range reels that are the envy of other brands.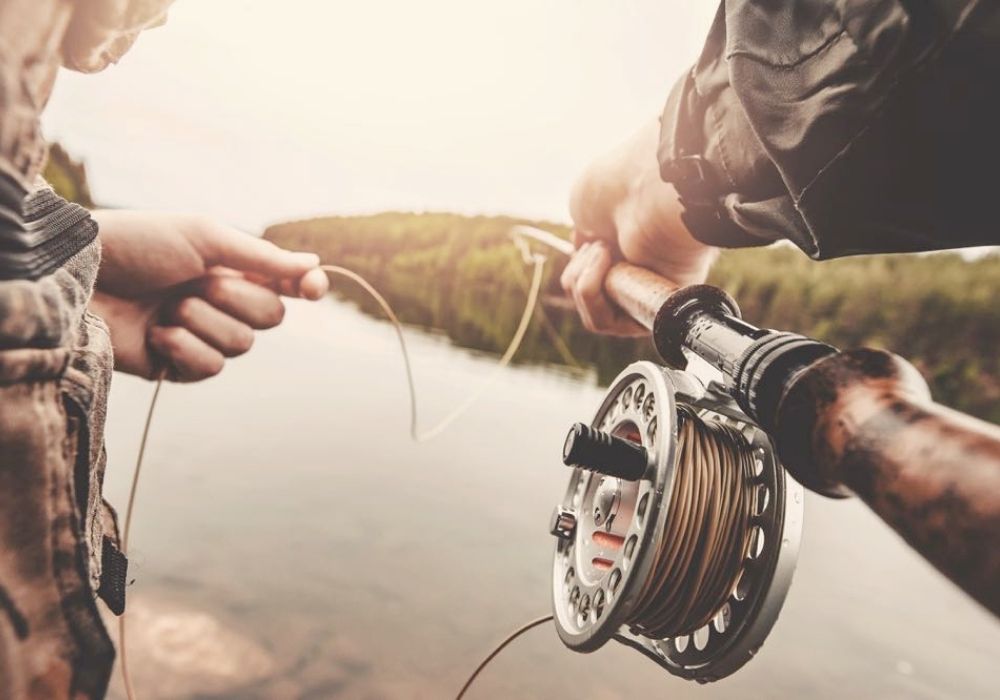 You can find them under $100, or some pushing close to the $200 range. All of them are going to be excellent and will be keep you fishing for years to come.
Redington
Doesn't matter what size, color, or strength you're looking for. Redington has a reel that is going to meet your needs as an angler.
They are a great brand from the Pacific Northwest and along with great customer service, they also produce great reels.
Features of the Best Reels for Under $200
Below, we're going to go over some of the best features for fly reels under $200. Each has its own pros and cons so check them out and see if they are right for you.
Drag System
The drag of your reel is going to be more important if you plan on targeting larger fish. This is especially true if you plan on going after saltwater species.
Click and pawl is great for the noise and can also be strong, but a disc drag system is your best bet when chasing larger fish. This lets you tighten that drag so you can wear those fish out faster.
Overall Weight
The weight of the reel is important if you plan on being out on the water all day. Something lightweight is ideal when you're making hundreds of casts in a day.
However, some of those stronger reels are just going to be heavier. There's no way to get around it. So test them out and see which size feels the best for you.
Arbor Size
The size of the arbor is important when you want to reel in fish quickly. The larger the arbor, the faster the reel is going to gather line. Allowing for the maximum amount of line to be reeled in.
Again, this is great when chasing large fish that you need to land faster and gain ground quicker. A large arbor on a small fish just shortens the fight.
Material
Cast aluminum is a very popular way to create reels. It's cheap, easy and the reels are relatively durable. Plastic is another way to make reels on the cheap.
The most durable reels you can buy are made from milled aluminum. Be prepared to spend a fair amount on this though. It might be tough to find one under $200.
Sound
The sound of a reel is purely aesthetics. A great sounding drag is not going to land you more fish. However, if you enjoy it then finding a reel with a good zip to it will enhance your time spent.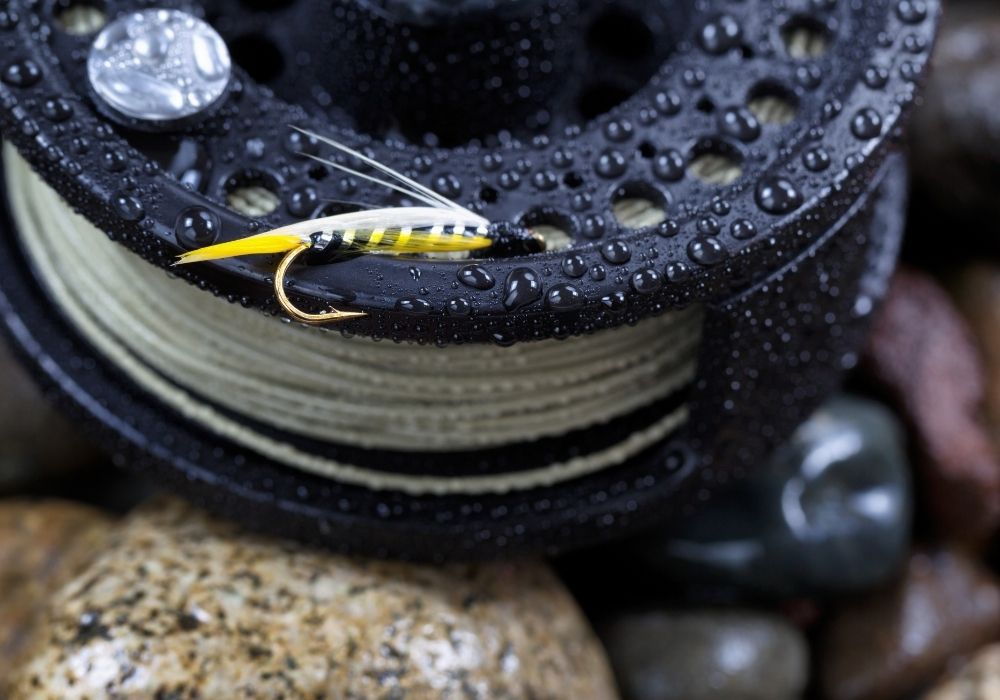 Click and pawl is going to be the best sounding drag, but there are several disc drag systems that sound good as well. You can listen to it, or read reviews online to see what might sound best to you.
Aesthetics
Similar to the sound, how a reel looks is not going to catch you more fish. However, if you enjoy a certain pattern or style and you enjoy fishing with it then that's all that matters.
You can also match your fly line to the color of your reel. This can be a fun way to enhance your fishing experience and make you feel better out on the water.
Available Weights
Whatever weight you want you'll be able to find. Many reel companies are making all different sizes of a reel for under $200.
If you want a 1 weight reel for $150, then you're going to be able to find several. The same goes if you want a 10 weight heavy reel for saltwater fishing.
Best Fly Reels for Under $200 Available in 2023
Below, we're going to go over five different fly reels. Each has its own pros and cons so check them out and see which one is going to work best for you.
Redington Rise
Drag System – Click and Pawl
Pros – Large Arbor and durable, works exceptionally well for the price
Cons – Drag system isn't fully sealed, so grit and sand can get into it
Coming in at a quarter of a pound, this 3 weight aluminum reel is ideal for getting out there and either euro nymphing, or for targeting smaller species in tiny bodies of water.
It comes in four different colors, amber, black, olive, and silver. Allowing you to pick and choose exactly what color would look best for you out on the water.
Reddington Rise has a carbon fiber drag system so if you wind up hooking into a large brown or rainbow you'll have the confidence that you can fight that fish and reel it in.
Sage Spectrum
Drag System – Click and Pawl
Pros – It's lightweight, works exceptionally well for the price
Cons – Less durable finish and the handle is too small
The Sage Spectrum also features a large arbor. This is going to help you reel in fish quicker and will result in less lost trout, bass, red drum, or any other species you plan on targeting.
There is also a one revolution drag knob. Allowing you to easily crank up the pressure and know exactly what setting you're at without having to look at the reel itself.
The weight of this reel is also superb. Not too light, but not too heavy. This is a great middle-ground for this price point.
Pflueger Medalist
Drag System – Click and Pawl
Pros – The unit is lightweight and durable for the price
Cons – Not as flexible as you'd want it to be
The Pflueger Medalist is the classic looking fly reel. This click and pawl reel is old school cool and has a great sound to it when the line is being pulled off.
It's made of machined aluminum so it's very strong and durable. It also has a handle that can be switched back and forth so that any handed person can utilize it.
Technically, it could be used in saltwater but you need to give it a very thorough rinsing before you do so. Mostly, this should be used on trout streams.
Redington Behemoth
Drag System – Click and Pawl
Pros – Insanely powerful drag with a cool design for the price
Cons – A little heavy and bulky
The Redington Behemoth reel has one of, if not the strongest drag for its price point. Created with a strong disc drag system, the Behemoth can haul in those large fish you're targeting.
It also comes in several different colors so you can outfit it to your rod and fly line. The drag is not very loud but has a nice zip to it when fish begin to peel line.
Don't miss our in-depth, hands-on Redington Behemoth Review. We love this reel!
Orvis Clearwater
Drag System – Disc
Pros – Both durable and effective at an incredible value
Cons – Has very simple aesthetics and the texture isn't the smoothest
The quintessential fly reel. This may not have all the bells and whistles of some of the more expensive fly reels, but it's going to get the job done over and over again.
The Orvis Clearwater reel is going to be your workhorse. It comes equipped with all you need to fight fish and bring them in on a consistent basis and do it with style.
Don't miss our Orvis Clearwater Review for a full rundown of this amazing offering by Orvis Fly Fishing.
Review This Post
Conclusion
Now that we've gone over some of the best features of reels for under $200 you hopefully have a better understanding of what to look for. So check out Amazon and see what they have!
Amazon and the Amazon logo are trademarks of Amazon.com, Inc, or its affiliates.
As a part of the Amazon Associates Program and other affiliate programs, Into Fly Fishing® may receive a comission if you order products through links on this website.