As an Amazon Associate I earn from qualifying purchases.
The reel has always been the unsung hero of a fishing setup. The rod, line and tackle get the most credit, while the reel is only expected to do its job and not malfunction. Fishing companies understand this and strive to create reels that stand out far above the rest.
Snowbee has two options for anglers. The Classic Fly Reel is the more budget option and the Spectre is the high performance reel anglers can purchase. Snowbee has been in the fly fishing industry for the better part of 40 years, so they understand what it takes to make quality fishing equipment.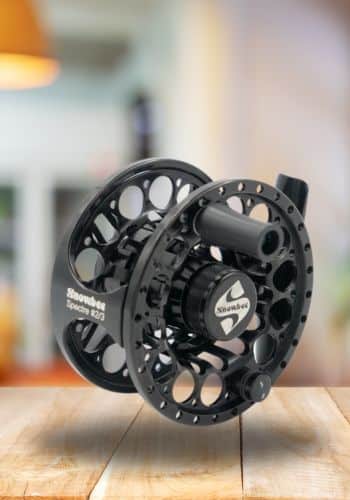 Snowbee Spectre
If you like what you see in this Snowbee Spectre review, you can order the reel at Snowbee.
I've owned too many reels that have failed for me at the most inconvenient times. As anglers, we need full confidence that our equipment will perform in the majority of situations we find ourselves in.
If we don't, we'll take fewer risks and may lose out on some trophy fish as a result. I've made a change by beginning to use more high-performance reels. With this in mind, I picked up a Spectre about a year ago.
I've been using it in many different kinds of weather conditions and fishing scenarios. I've banged it on tree trunks while hiking to my favorite fishing spots, and I've banged it around in the backseat of my car while driving home. It's performed admirably in every situation and has withstood the beating I've given it.
Now it's clear to me that there's an obvious difference between average and high-performance reels. The Spectre has found a nice place amongst this group, as I'll explain in detail in this Snowbee Spectre fly reel review.
Why Trust My Snowbee Spectre Review?
I've used the 2/3 weight as well as the 3/4 Spectre reel from Snowbee. I was able to test these reels on a variety of different lightweight rods to feel their balance and weight. I had the chance to fish these reels with many different lines as well.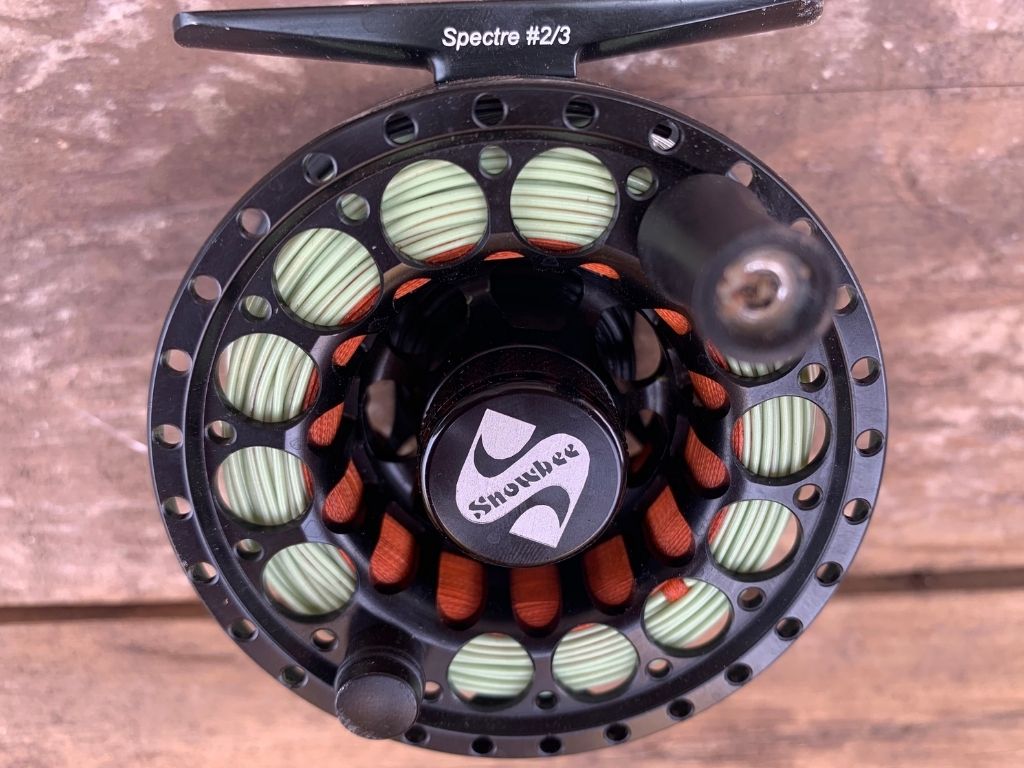 At Into Fly Fishing, we only review equipment we have personally used or own. This reel hasn't been in my rotation as long as some of my other reels, but I do fly fish quite a lot. So, I've been able to give it a fair chance in a variety of conditions.
I'm an avid finesse angler, so I really enjoy reviewing equipment within this realm. I beat up my gear and fish it as hard as I can!
Watch the Video
What's in the Box?
When I first opened the Spectre reel box, I discovered the reel case, the reel, and instructions on how to operate the reel and change the retrieve if necessary.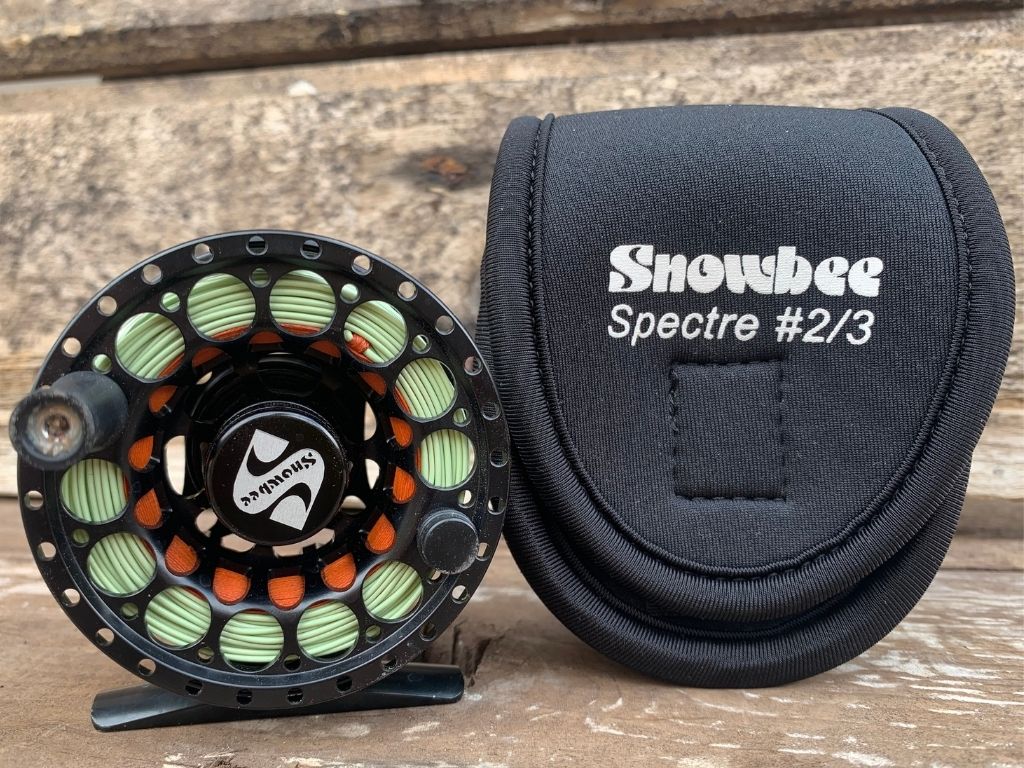 Reel Case
Depending on the company, you'll find different types of reel cases. Some send along cloth cases with drawstrings and others send along neoprene cases that do a nice job of protecting your reel. Snowbee sends along a neoprene case that fastens shut to keep it protected.
Keeping your reel protected from drops is important, and this case really works well. There are few things more frustrating than breaking a reel when you're not out on the water. It hasn't happened yet to my Spectre, thanks in no small part to the case that came with it.
Reel
At first glance, I thought that it didn't have an especially unique design or any sort of groundbreaking appearance features. I received the black Spectre reel, and it looked fairly standard in all areas.
I did appreciate the weight of the reel when I first picked it up. It didn't feel overly heavy, but it had a weight that made it feel solid and gave me confidence that it would withstand some heavy fishing pressure.
Snowbee Spectre Reel Features & Specs
The Snowbee Spectre is made from the same materials that many other high performance reels are built with. They're able to keep up in the quality of materials and still charge a manageable price.
The internal portions of the reel are made with stainless steel. This helps the reel last if you choose to use it in salt water. The paint is extra durable, and I've found that the appearance isn't compromised when I use it in tougher conditions.
Build Quality
The Spectre Reel is made of Precision CNC machined from aluminum bar stock. Many companies use bar stock to construct a lighter reel that won't break the bank or feel like it'll snap during its first time on the water.
The Snowbee Spectre Reel also has a counterweight. There's a machine groove fitted with two rubber o-rings. This gives you the chance to slide your tippet between them to hold it securely while you move to your next spot. This is a useful feature you won't find on many other reels.
Arbor Size
All of Snowbee's reels are large arbor. Because of this, the retrieval rate is higher and you'll have less of a line memory. As large as a 2/3 weight reel can be, Snowbee allows you to attach a fairly substantial amount of line.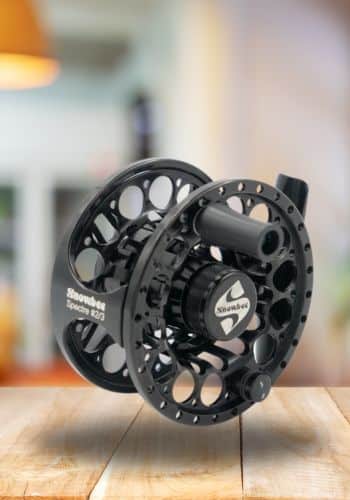 Snowbee Spectre
If you like what you see in this Snowbee Spectre review, you can order the reel at Snowbee.
With these smaller reels, you don't often anticipate fighting a fish into your backing, but you're able to attach a decent amount in case you find yourself with a much larger fish than you expected.
This has happened to me several times, and I was able to fight and land the fish in each scenario. There was one particularly large rainbow trout in Montana that I thought might end up getting away from me. Luckily there was enough on there that it didn't happen, and besides, the drag also performed better than I thought it would.
Drag
The Snowbee Spectre Reel has a fully sealed, multi-disc cork and stainless-steel center drag system. I've been able to achieve a fairly substantial amount of drag and be precise with exactly where I'd like it to be set.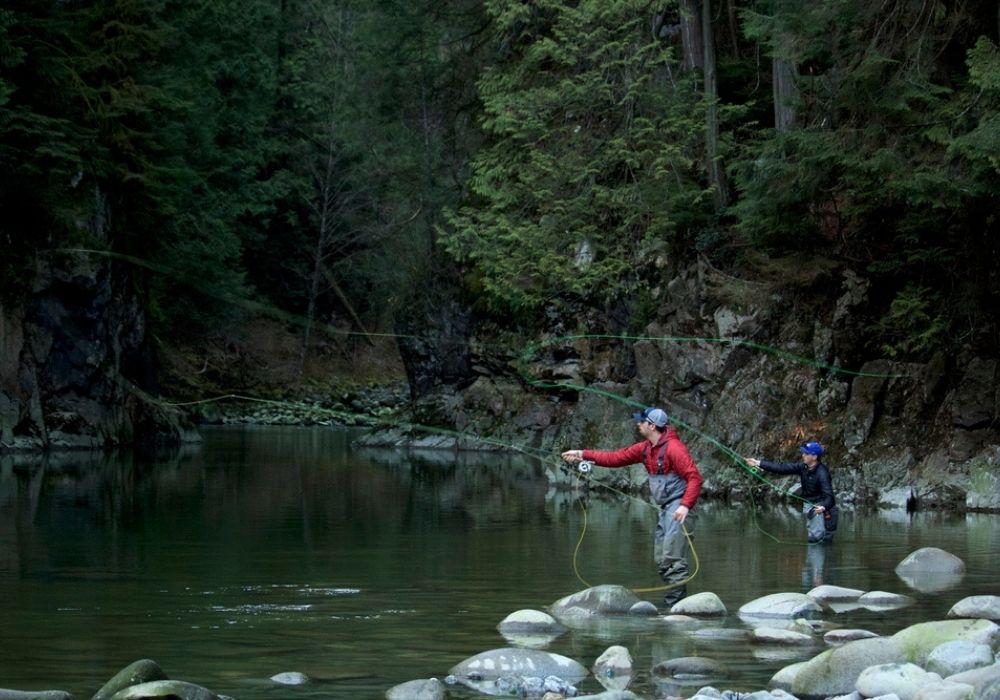 With finesse rigs, it's important to be able to pick the exact tension you'd like on your reel. Whether you're stripping line to begin casting or fighting fish, make sure you don't sacrifice the drag system on your reel. You need it to perform exactly how you need it to.
It can be used on salt water since it's fully sealed. I've been fortunate enough to take it on a freshwater river one day and to the ocean the next. If you do this, make sure you give it a proper cleaning before you go.
Aesthetics
Creating unique fly reels isn't simple. There are a few components that are absolutely necessary on reels, but the rest is up to the design team to see how they can make it look attractive yet stay functional.
Snowbee's reels aren't groundbreaking in the world of design. The bar stock patterns are simple and the Snowbee logo is found on the drag handle like many other reels on the market. Simple isn't bad! Their rods have a more interesting design, so the simple pattern paired with a more intricate rod works well.
Snowbee Spectre Reel: My Personal Thoughts
Testing out equipment is a bit of a double-edged sword. I have my own personal gear that I've used for years and have grown to love for better or worse. I put up with the kinks or mishaps from the companies because their gear has been such an important part of my time on the water.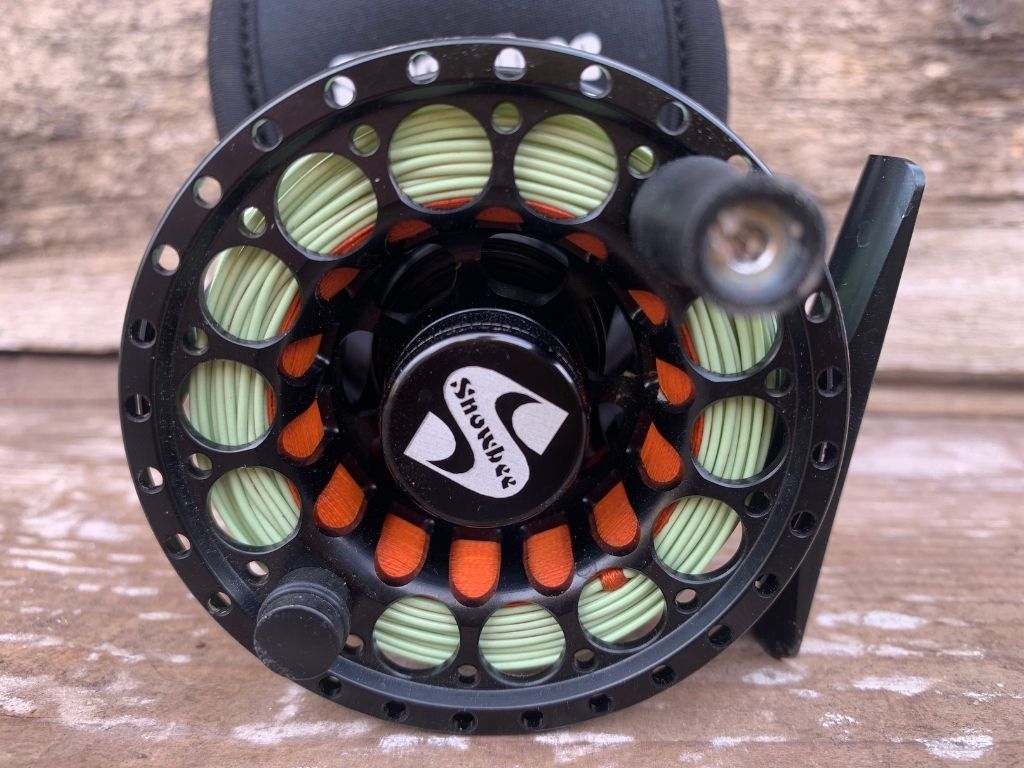 When I receive new gear, I suddenly notice more about what I like or dislike about my own personal equipment.
Pros
The Snowbee Spectre reel feels solid. While it's small and compact, it doesn't feel like it'll fall apart as soon as I put it to the test. I appreciate a bit of a heavier reel when I'm fishing. I think it balances out my rods better.
The lack of noise on the retrieve is quite appealing. Most of my reels have a fairly loud click system that becomes somewhat annoying when I'm trying to finesse my way around the water. Snowbee has it operate more like a spin reel in this instance, with no noise on the retrieve.
One innovative design is the grooved counterweight on the reel that is tightly fitted with two rubber o-rings. This allows you to slide your tippet down between them securely while walking around.
If you like the tension that a click system provides on the retrieve, keep that in mind before you purchase this reel. You won't feel as if your line is going to come off the spool in an incorrect way, but you may not have the reassurance that you like from the click systems of other reels.
For a higher performance reel, I didn't find the Snowbee Spectre to be too expensive. It's $219. You'll see that many other companies are charging upwards of $300 for many of their high performance reels.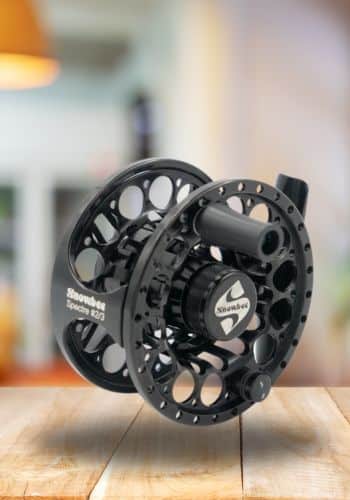 Snowbee Spectre
If you like what you see in this Snowbee Spectre review, you can order the reel at Snowbee.
Snowbee has specifically priced this reel to ensure that it'll have a place in the market. They want anglers to purchase the reel and still feel like they're getting something reasonable and not over the top when it comes to pricing.
The drag system on the reel is also quite nice. It cinches down tightly, and I've always been able to find a nice balance for exactly what I need.
Cons
The reel handle can be a challenge. Since the 2/3 weight is more compact, it's a bit harder to find and the stainless steel material hasn't always been the easiest to maneuver when my hands were wet or I needed to reel up quickly to move to another spot.
Many high performance reel companies are creating their reel handles with a canvas phenolic handle that actually gets more grippy as it gets wet. Although this technology was introduced by a competitor, more and more companies have decided to add it onto their reels.
The canvas phenolic reel handle gets wider as it reaches the tip, which makes it easier to grasp and find when you have to react quickly to your reel.
The design on this reel isn't anything spectacular, but that's more of a personal preference than a performance issue. Depending on how you like your reels to look, it could be perfect!
Conclusion
Overall, the Snowbee Spectre fly reel is a high-performance reel on the more affordable end of the spectrum. This is important for many anglers to hear. You won't sacrifice performance when you purchase this reel. There are a few design aspects that you could find in more expensive reels, but again, those are more up to personal preference.
The Snowbee Spectre is a great option! You can find it in a size 2/3 all the way up to a 10/11. I know that I'll continue to use mine in many different fishing situations and that I'll be able to count on it to perform well in each.
Amazon and the Amazon logo are trademarks of Amazon.com, Inc, or its affiliates.
As a part of the Amazon Associates Program and other affiliate programs, Into Fly Fishing® may receive a comission if you order products through links on this website.