Fly fishing reels are the unsung heroes of a fly angler's entire outfit. They're asked to perform all day long without any issues, and they receive little of the credit. Rods are what everyone looks to for performance, but as soon as a reel goes out, your entire fishing experience is over.
Snowbee, a company well-known for their fly fishing waders, has quietly entered the fly reel scene. They have everything from extremely affordable reels to high performance reels that are proven to operate at a high level. Since Snowbee has been in the industry for so long, they understand what it takes to make high quality equipment.
I've spent a fair amount of my fly fishing career searching for reasonably priced fly fishing equipment. I've never been one to spend thousands of dollars on gear. I want to find gear that's moderately priced and will do exactly what I want. It exists, and I always love trying out new equipment. Snowbee has been able to find that niche.
Since discovering Snowbee, I haven't only used their reels, but also their rods, waders, and fly lines. I consider them a top-tier company that creates quality and dependable products. In this article, I'll tell you all about my personal experiences using Snowbee fly reels and how they perform in a variety of fishing scenarios.
Who Is Snowbee?
Snowbee is a UK based company that specializes in fly fishing equipment. They're well-known for their waders, but they also make apparel, reels, rods, lines, and a variety of other accessories.
They've found a nice spot in a market many would consider to be oversaturated. Their reputation for high quality waders allows them to have success selling other fly fishing equipment.
Snowbee Fly Reel Warranty
Their fly reels are protected by a lifetime warranty. If a reel develops an issue due to manufacturing or material, you can send it back to Snowbee and they'll replace it free of charge. You may have to cover shipping with a $40 shipping and replacement fee, but it's an overall solid warranty.
Also, if you purchase a reel that's discontinued and it becomes faulty, Snowbee will replace it with a reel of equal value.
Types of Snowbee Fly Reels
Snowbee makes two main types of reels for all different anglers. Depending on your skill level and the type of water you're fishing, you'll find an option that works for you. They have everything from extremely affordable reels to some high end reels that many would consider to be high performance.
Classic 2 Graphite Reels
The Classic 2 Graphite Reels are the most affordable option from Snowbee. They're versatile and a great option for beginners looking to try fly fishing for the first time. It's a perfect mix for those looking to start fly fishing or move up from an even cheaper model from another brand. You can purchase them in sizes 3-11.
I'm no beginner, but I still find a lot to love about the Classic 2 reels from Snowbee. I've mostly used them on fresh water, but I've had the chance to try them out on salt water a few times off the Florida coast. I've found the reel to be quick and smooth in both situations, and using the comprehensive drag has been a breeze.
Spectre Fly Reel
The Spectre fly reel is a new option from Snowbee. They're high performing reels and you can purchase them from sizes 2-11. They're being received quite well on the market since they've been released.
I got one recently, and I've been extremely impressed by both its performance and versatility. I've found that it works equally well on small creeks in the Bighorn Mountains in Wyoming, table-flat lakes in Minnesota, and heavy surf off the Virginia coast.
See also: Spectre Fly Reel Review
Features of Snowbee Fly Reels
Snowbee offers quite a few different features on their fly reels. Since they have options for every type of angler, you won't have a problem finding one with the specific materials you'd like.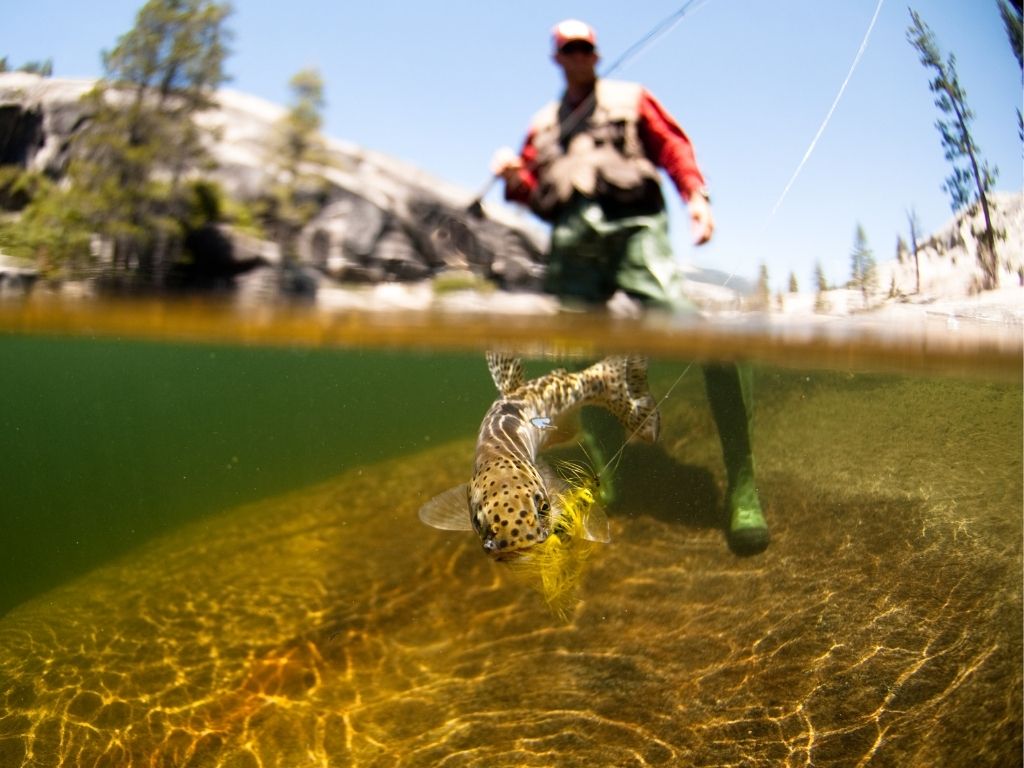 Materials
Snowbee fly reels are made out of anything from glass fiber reinforced nylon to aluminum bar stock. They have a nice range of materials that contribute to their overall affordability.
Case
All Snowbee fly reels are sent with a neoprene case. Many companies send a cloth bag with a couple drawstrings, but Snowbee offers customers a high quality reel case that will allow you to travel everywhere with it and not worry.
Sizes
Snowbee offers fly reels from size 2 to size 11. Depending on what type of fish you're targeting or where in the world you're fishing, you'll have access to a reel that will fit your needs.
History of Snowbee
Snowbee was founded in 1984 and was originally created to be a fly fishing waders company. They found success with selling waders and quickly decided to sell everything from reels to apparel. They're located in the UK and have expanded their market to more than 30 countries across the world.
Snowbee Fly Reels
Snowbee's two different types of reels both have their own specific purposes for fly anglers. In the following list, you'll find an explanation of each of the types of fly reels and their uses. As mentioned, I've used these reels countless times in a variety of fly fishing scenarios, so I have a good idea of what they're capable of.
Snowbee Classic Fly Reel
Best for: The Classic is the most affordable option from Snowbee. These reels are created for beginners or anglers looking to carry around an extra reel that won't break the bank. Don't let the more affordable price tag fool you —

this reel is smooth.

Drag System: This reel has a stainless steel multi-disc drag system with a variety of settings. You can max it out or completely turn it "off" if you'd like. This isn't very common for a reel at this price.
The Snowbee Classic Fly Reel is made out of glass fiber reinforced nylon. It's also corrosion proof, so if you're looking for an affordable saltwater fishing reel, you'll find it with the classic. It's a large arbor reel that will hold plenty of line depending on what size you purchase.
Also, larger arbors allow anglers to retrieve more line at once compared to other types of reels. In my experience, this was definitely the case with the Snowbee Classic reels. Also, the reel handle is made out of a hard plastic, so I've found it to be comfortable to operate throughout my time on the water.
If you're in search of a low budget fly reel that won't cause you many problems and will give you a nice experience on the water, you'll get it with the Snowbee Classic Fly Reel.
Available Sizes & Weights
3/4 weight
5/6 weight
7/8 weight
9/11 weight
Snowbee Spectre Fly Reel
Best for: The Spectre is one of the high performance reels from Snowbee. If you're looking to take your rig to the next level, the Spectre will fit just about any rig you have. It works for wild trout in high mountain streams as well as the salmon and steelhead you might find on the coast.
Drag System: The drag system is a multi-disc cork and stainless steel center drag system. This is a powerful unit that will hold its ground against almost any freshwater fish you find.
The Snowbee Spectre Fly Reel is fully machined and made of high-grade aluminum bar stock, which gives a lighter feel to the overall unit. It's a large arbor reel, so my retrieval rate with it has been a bit higher than what I typically find on a smaller unit.
This reel has a one-way roller clutch bearing that has made my life much easier when the fish smash my fly! I never immediately get tangled or lose my ability to fight the fish. Also, the paint used on the reel is extra firm to prevent corrosion or any issues if you use it on salt water. I have several times, and it still looks basically brand new.
The easy release spool allows you to change out the spool in case you need to change things up while you're on the water. High performance reels are expected to make the fishing experience that much better. The Spectre looks great and performs quite well.
You can purchase a Spectre that will fit on your lightweight nymphing rod and a version that will also work on your salt rods. If you fall in love with the Spectre, you can use a version on all your fly rods.
Available Sizes:
2/3 weight
3/4 weight
5/6 weight
7/8 weight
9/10 weight
10/11 weight
Conclusion
Snowbee fly reels are affordable reels that work for any level of angler. With the company's strong reputation and its helpful warranty system, you can fish these reels with the peace of mind that they'll still be fully functioning by the time you're done.
Companies that stand behind their products prove that they believe in what they make. After my extensive experience with their products, including their reels, there's no doubt in my mind that Snowbee's one of them.
Disclaimer: IntoFlyFishing.com is a participant in the Amazon Services LLC Associates Program, as an Amazon Associate I earn from qualifying purchases. Please see our Privacy Page for more information.