Today, we're having a deep dive into the Snowbee Spectre #7/8 Cassette Reel Kit.
First off, before I start this review, I have to let you know that Snowbee sent us this fly reel to test and review, but in no way are we required to be positive about this product or any other product on this website, whether we buy it for ourselves or the manufacturer ships it to us.
So I'm going to be 100% honest with you. I'll list some pros and also some cons in this Snowbee Spectre #7/8 Cassette Reel Kit review.
How I Fished the Snowbee Spectre Cassette 7/8 Reel?
I've been fishing the Snowbee Spectre Cassette 7/8 Reel up here in northwestern Montana in some of the largest rivers that we have in this region, as well as some of the largest lakes and some small back country lakes.
I've been able to get a pretty good use out of it. I've had it for a couple weeks now, and I've been loving it.
It's my first cassette reel. I had a bit of a learning curve figuring out how to spool it, and I'll talk about that a little later. But I do love it, and I'm excited to share with you my thoughts on this fly reel.
What's in the Snowbee Spectre Cassette 7/8 Reel Box?
Let's talk about what you get in the box when you order the Snowbee Spectre Cassette Fly Reel Kit.
Of course, you're going to get the fly reel, and it comes with a few extra plastic cassette spools, which is really handy. You get three spools in total, plus the fly reel, and you also get a nice little carrying case that's capable of carrying your fly reel with a spool on it plus three others.
The great thing about these fly reels is that they come with so many different spools. I also reviewed the Snowbee Spectre Fly Reel, not the cassette version but the regular version of this fly reel, and that spool by itself was another $110 USD.
If you want to buy more of these spools, they're $11 on the Snowbee website. That's really a fantastic benefit.
If you do want to purchase any extra spools for your Snowbee Spectre Cassette Fly Reel Kit, or if you want to purchase the entire kit, you can follow this link and use the coupon code IFF10, which will get you 10% off.
As always, we appreciate your support when you click and purchase through our affiliate links, because it supports this website and really does help to keep us writing these reviews.
Watch the Snowbee Spectre Cassette 7/8 Reel Review Video
Construction and Build of the Snowbee Cassette Fly Reel
One of the things I love about the Snowbee Spectre Cassette 7/8 Reel is the hard coated paint on the outside. Snowbee claims that it's chip resistant and corrosion resistant. I can tell you that I've dropped it a couple of times and there are no chips. So I really do think they have a high-quality coating.
The reel frame itself is made from machined aircraft-grade aluminum bar stock, which is basically the standard these days for ultra-premium reels on the market right now.
The way that Snowbee has machined their Spectre line of reels, both the cassette version and the regular version, has made it so that they've removed as much metal as possible while still retaining the optimal level of strength and rigidity along with keeping the reel as light and well-balanced as possible.
The precision drag system on the Snowbee Spectre Cassette 7/8 Reel is fully sealed. It's a multi-disc cork system with a stainless steel core. It really does offer superior performance, super smooth drag, and basically no startup inertia at all.
The large arbor design means that you can retrieve lines quickly and keep a consistent drag tension when fighting fish. It also helps with line memory, to ensure that your line straightens out in front of you and behind you with every cast. It lays down on the water super straight too.
The great thing about this reel is its overall versatility. I've been fishing it for small to medium size trout here in northwest Montana, but because it's a 7/8 weight, you could obviously load into some massive fish as well.
It's also totally sealed, so it's perfectly capable of handling saltwater fish. So you can go to some backwaters and catch some small trout, and the next day hook into some big salmon or sea trout in the open ocean.
The fact that you can change these cassettes out and spool a bunch of different lines means that this is a super versatile way to create a fly reel.
What I Love About the Snowbee #7/8 Fly Reel?
The things I love most about the Snowbee Spectre Cassette 7/8 Reel are the makeup and construction of it, as I mentioned earlier.
I love that Snowbee has removed as much metal as possible to keep this reel hyper-light in your hand. Even though it's a 7/8 weight, it's really nice and light, to the point that you can fish it on a 6 weight fly rod as well. The weight differential isn't that bad.
I absolutely love that they don't make you spend 100-odd dollars on every replacement spool that you have. I don't know how many reels I have where I just didn't want to go buy four, five, or six different spools. They're almost the same price as the reel in some cases, so you just end up buying another reel for another $100. It's not good on the wallet or the bank account.
Snowbee and many other companies that make these cassette reels have recognized that. They give you extra spools for $11, and I just love that. You know that you can go to a fly shop and get them to spool up all your spools for you for free.
You can buy the line either from Snowbee's website, and get some of the wicked lines that they offer, or go to a fly shop and buy your own, whatever kind you like. And spooling up all these reels will cost you a fraction of what it would cost with a normal-style fly reel. I love that for sure.
Room for Improvement for the Snowbee Cassette #7/8 Fly Reel
Now onto some of the things I don't love so much about the Snowbee Spectre Cassette #7/8 Fly Reel.
I think it's mainly because it was my first cassette reel, and I don't know much about cassette fly reels, but I think that one thing Snowbee could have done is make the cassette capable of easily flipping back and forth between a right-handed spool and a left-handed spool.
I don't know if this is done by any of the other brands that make these kinds of reels, but it would be a really useful feature.
I mean, what better scenario is there to take the best possible advantage of this reel type? Obviously, when you take a normal spool off, you can't flip it over and make it for a right-handed person.
For guides and people who often rent or lend their gear out to friends, if their client or friend needs the opposite reel, and they're reeling in with the right hand instead of the left, it would be great if you could just take the spool, flip it over, put it back on, and then it's spooled for the other hand.
That would be great, but unfortunately, as I learned the hard way, it only goes on one way. There are little posts that click into the front of the reel, and if you don't have it on the right way, it won't close correctly. You'll notice right away because it won't pull out line properly and it won't reel in properly.
They're only one way, and I would have loved to see them go both ways, although this doesn't affect the performance of the reel.
When you go into a fly shop with your Snowbee Cassette #7/8 Fly Reel to spool it for the first time, or if you're spooling it at home, make sure you look at the reel and find those little posts on the inside, since that's the part that'll go into the mainframe of the reel. Make sure you don't spool it the wrong way, like I did.
Another thing I would have liked to see is an improvement to the little handle on the reel. I like when they're made of wood or some kind of abrasive material so that your fingers don't slip off of them easily.
I haven't had a problem with this particular reel, but as I wrote in the regular Snowbee Spectre Reel review, I had it happen with one fish when the fly reel was soaking wet. My finger slipped off.
It would be nice if they made it a little bit more grippy. But that's not really a big deal, and as I said in the other review, when it happens to you once, you'll never let it happen again. You'll know how to grip it a little better. Besides, it's a really small thing that doesn't really affect the performance of the reel.
Last but not least, I know that a lot of people reading this review will give me crap for saying this, because people say, the sound of a reel doesn't matter, it's not a pro or a con, who cares?
But I'm old-school. I grew up on old fly reels. Every single one of the fly reels on the market 20 or 25 years ago made a distinctive fast clicking sound. I love that sound, and when a fish takes on that, it's so cool to hear when you're reeling in.
I don't know, it's just me being old-school. Nowadays on some of the newer fly reels, you can turn that sound on and off. It's not an option with the Snowbee Spectre line of fly reels, and they do have a pretty quiet sounding spool.
It's considerably quieter than the reels I grew up with, and when you're reeling in, it's absolutely silent. I don't really care about the reeling in part. I just like it when a fish takes and my reel screams.
But that's a small thing. It won't be a performance issue for anybody, and most people reading this review will tell me that it's a dumb thing to put in a review in the first place. But I don't care. I love the sound of fly reels.
My Personal Thoughts and Opinions about the Snowbee Cassette #7/8 Fly Reel
Lastly, as we do in every single one of our fly reel reviews, or any product review here on this website, I want to talk about my personal thoughts and opinions regarding the Snowbee Spectre Cassette #7/8 Fly Reel.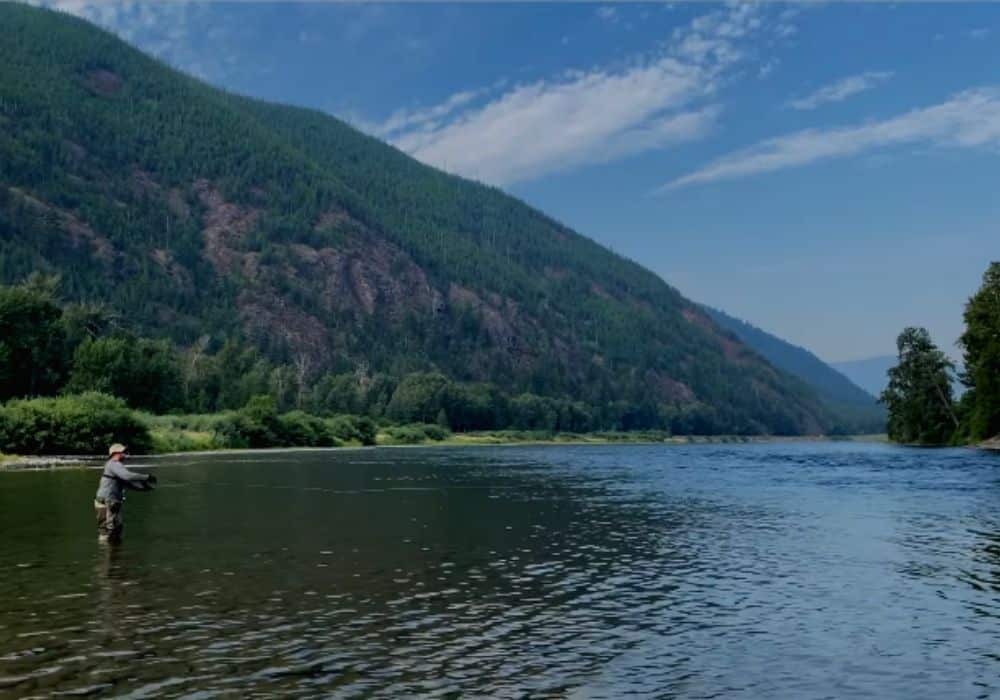 I love this fly reel. I love the features of the cassette. I've never had it before, and I know I'm going to be buying a few more of these for $11 each and spooling them with different lines.
Because this is a 7/8 reel, it fits on both my Spectre RMX 7 weight fly rod and my Snowbee Prestige GXS 5 weight 9 foot fly rod.
Plus I also have a 6 weight Diamond 2, and I have a couple other 6 weights as well. I know that this reel has a similar weight differential to the 6 weight models, so I can also put it on my 6 weight rods.
It's super versatile, and I can load it up with 6, 7, and 8 weight fly lines. I can have a whole bunch of them and maybe get a couple more of the little cases and have my spools all for this reel.
Because of that, it's hard to justify buying a reel that'll cost $100 or $110 for an extra spool every single time.
The Price of the Snowbee Cassette Reel
I think that for the price of $289 for the reel itself, along with three extra cassette spools and the little carrying case, it's a great deal.
If you're looking for a new 7/8 weight fly reel or just a really versatile fly reel that you want to have a lot of different lines for, and you want to put them all on these cassette reels that won't break the bank, this is the fly reel for you.
Final Thoughts on the Snowbee Spectre #7/8 Cassette Reel Kit
It's one of my new favorites. I just love it.
I hope you enjoyed this Snowbee Spectre #7/8 Cassette Reel review. If you did, please give it a like, leave a comment down below, and tell me if you've ever used a cassette fly reel before.
Until next time, tight lines.