The following is a Redington Behemoth Review. Behemoth was the second reel I ever bought. The first reel was part of a cheap combo kit that served me well. After a year of wearing out that 8′ 6″ 5 weight rod and reel, I decided an upgrade was in order.
The man working the register at the fly shop was the one who set me up with it. The price was in my range, and he mentioned the strong drag the reel had and said the 5/6 would be the right size for use on the fish I planned on chasing.
After the first time out, I was hooked on this reel. Sure there are others that are nicer, but for the price, the Behemoth might be the best reel you can get. An angler of any experience lever would enjoy using it. So, if that doesn't convince you, then below we're going to go more into detail.
Watch The Video
As an Amazon Associate I earn from qualifying purchases.
What's in The Box?
Below, we're going to give a quick overview of what's in the box. We'll give some quick oversight of what the reel features and how it's going to benefit you when out on the water.
Reel
Equipped with a carbon fiber drag system, Redington set out to make the strongest drag in its class. They succeeded. The knob for the drag is located on the side and you can easily cinch it down to ensure a fish won't run too far from you.
Reel Pouch
The Redington Behemoth fly reel comes with a nice, protective reel pouch that you should use whenever transporting the reel. It's nicely sewn and has just enough protection to save the reel from serious damage should it be dropped or squished between heavy items in the back of your boat.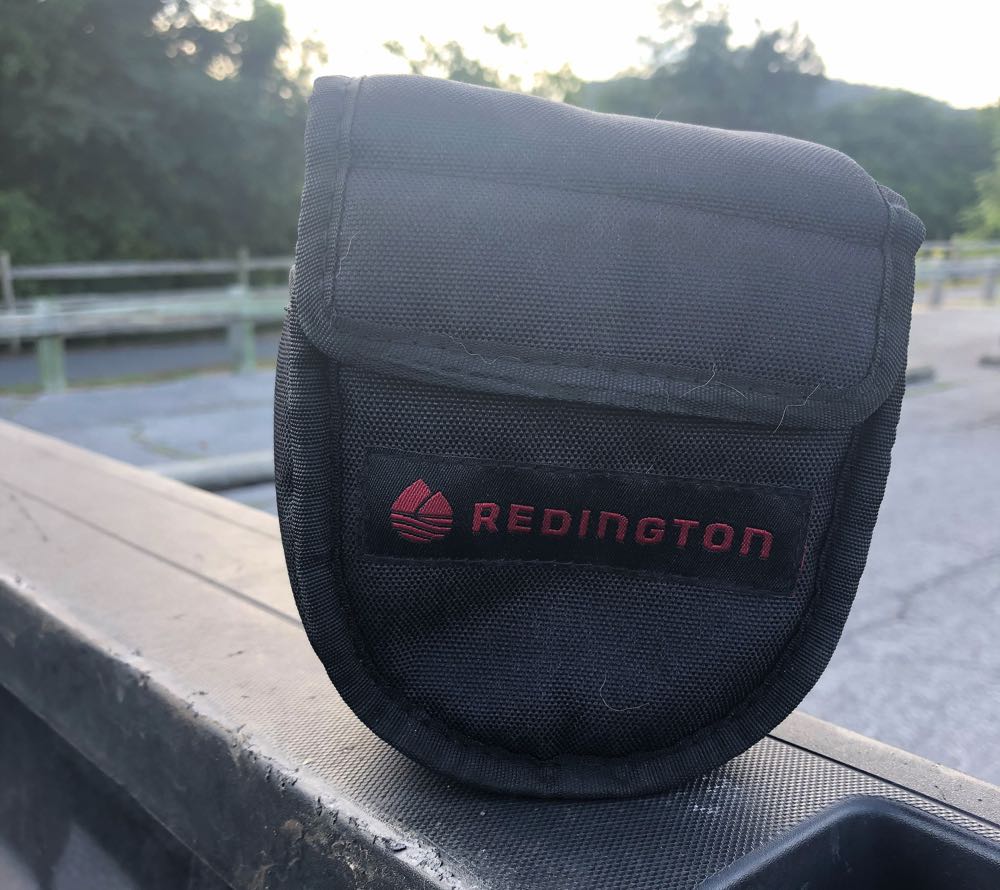 Deep-V Spool
The spool on this reel is very deep, so be prepared to put some backing on it. This is great when you get up to the larger sizes and are worried about a saltwater fish spooling you. This is not as important when chasing trout or bass.
Owners Manual
Who cares about these nowadays anyway? Seems like a waste of paper to me, but it's in the product box when you order it. There's a lot more info about the reel found online so these little booklets seem to just be a throwback to pre-internet days of buying fly fishing gear.
Redington Behemoth Review Features and Specs
Below, we're going to go into more detail about all of the different features that you can find on a Redington Behemoth reel. For the price, you might be surprised at just how many great features this reel is going to have.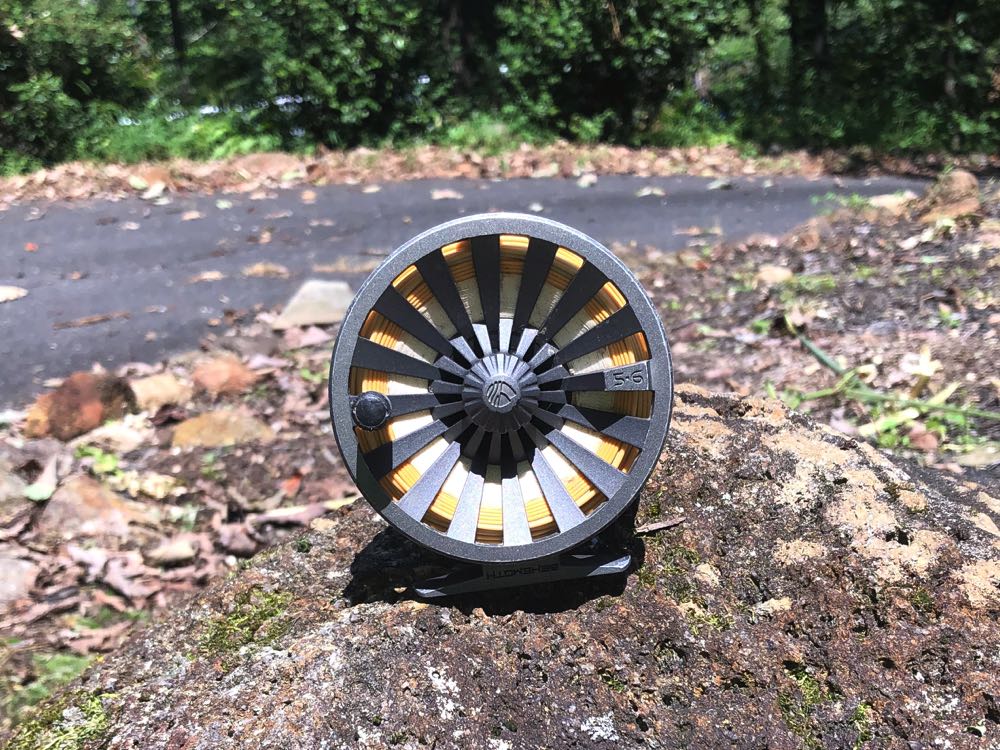 Think about what you're looking for in a reel and then check out the list we compiled below. See which aspects are going to work best for you and your style of fishing.
Build Quality
I'll preface this by saying that this reel has been used heavily by me for the last several years. I have had no issues with it and it continues to perform again and again. The reel has fallen in the water, sand, mud and everything between and it keeps on kicking.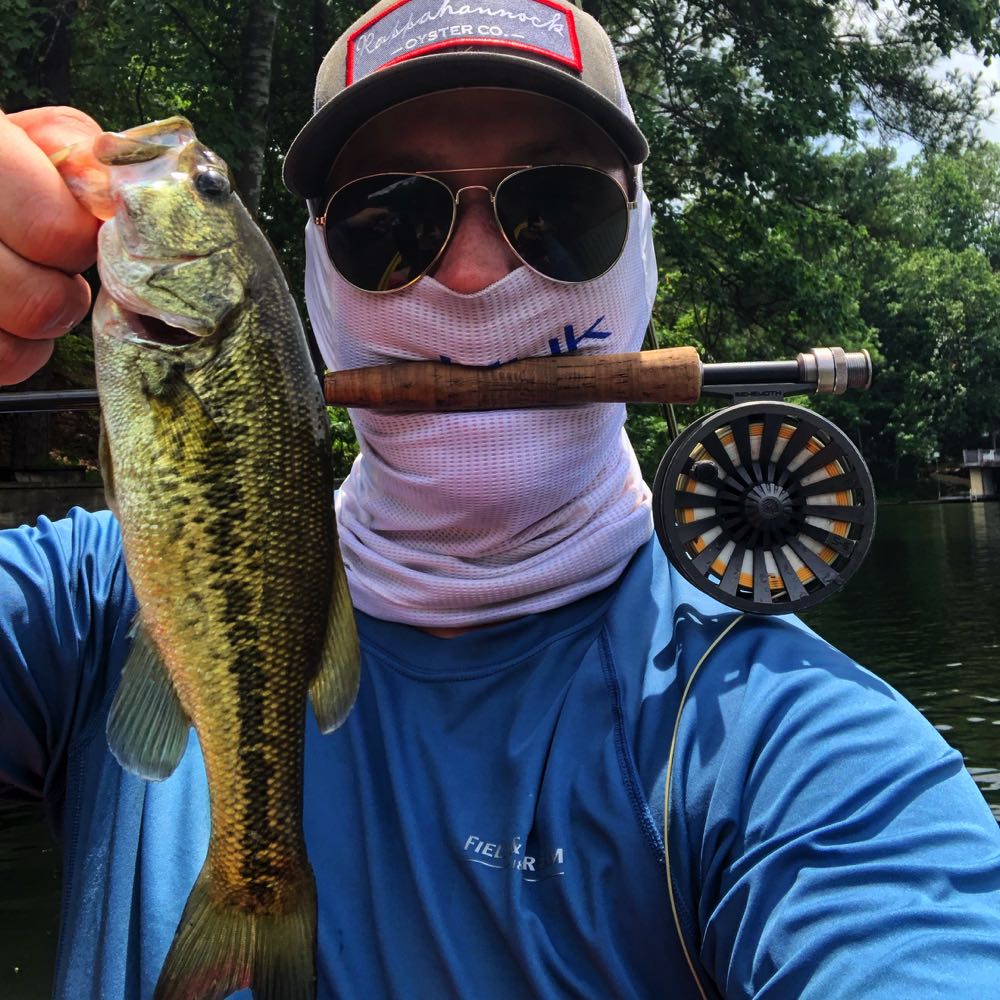 Now, the very first time I took this reel out to the river it fell off the tailgate of my truck and the handle used to spring the reel completely sheared off. Still fishable but if I had to put a fish on the reel I would've been up a creek. So, avoid my mistakes and don't drop this reel handle first in a paved parking lot.
Weight
The reel itself is relatively lightweight. When you take it off you'll actually be surprised at how light it feels in your hand compared to how the whole piece of equipment is.
The heaviest part of the reel is the drag. This is what Redington was attempting to do by making the drag so strong. The heavy reel is great for Spey casters and salmon fisherman though. I haven't had any issues with the heaviness of my 5/6 weight.
Available Sizes
The Behemoth comes in several different sizes.
This gives you a great selection to choose from. Whether you want something lightweight for trout. Something a little heavier for bass or small saltwater fish. Or you could even pick up something heavy for larger fish or for using a spey rod.
Since the drag on the Behemoth was made to be strong they don't make smaller sizes. So, all of those small glass rod anglers who chase small trout will need to choose something different. If you're looking to chase fish that can pull drag then this is the reel.
Drag System
Featuring a carbon fiber drag system, the Behemoth was made to fight big fish. So, if you're looking to go after fish that are going to zip drag off a normal reel then the Behemoth is the one for you.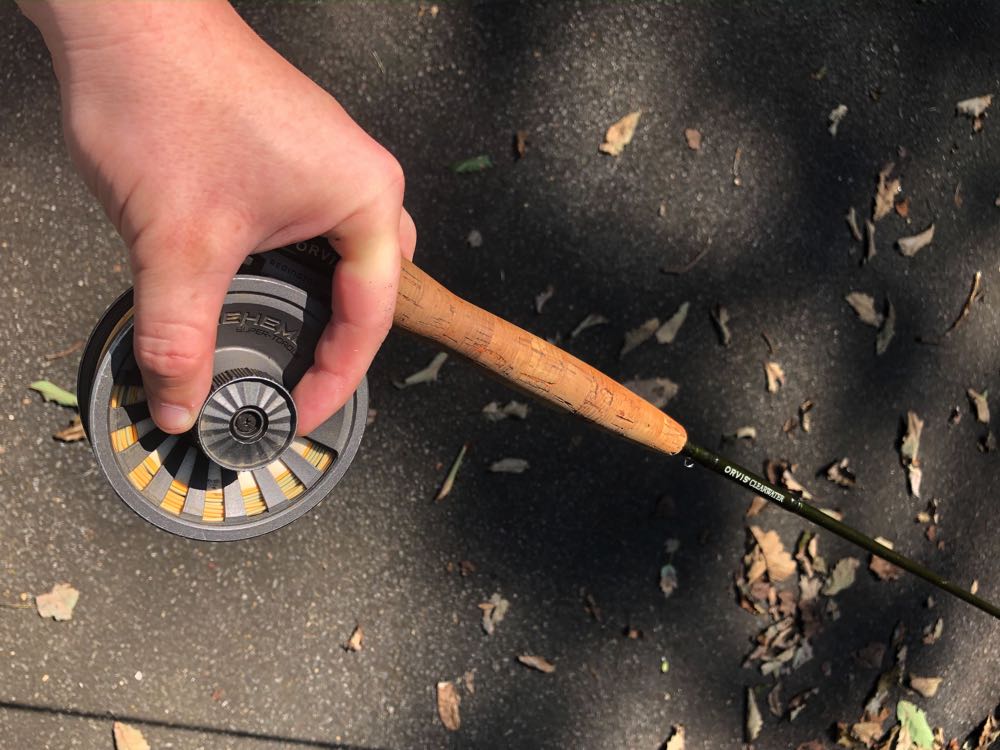 The drag system is pretty bulky and strong. So it will add some weight to your reel. If that doesn't bother you then I recommend using it. If you want something lightweight then you should probably look elsewhere.
Arbor Size
It has a smaller arbor, making it great for putting on a lot of line. So expect to use backing when first stinging up this reel. This will make it more efficient when chasing big fish that might spool you.
Also, by putting the backing on you're making it easier and quicker for you to reel in your fly line. So you can have the confidence of extra line as well as the easier and quicker turning reel to get those fish in quicker.
While the arbor can hold a ton of line, it has a retrieve rate of around 9" per turn, which is pretty average in this reel class.
Warranty
Redington has a lifetime warranty on all of the products they make. Their reels are no different. The original owner warranty covers repair or replacement for any manufacturer defect.
The warranty does not cover direct, indirect, consequential, incidental, or any other type of damage resulting from the use of a Redington product. You can, however, easily request new pieces or products if broken for a fee.
Material
This reel is un- machinable and die-cast. Giving you a strong reel that is going to provide unmatched durability while fishing. It is heavy due to the drag system but the reel itself is surprisingly light.
I've used this reel during days where temperatures got to the single digits, and on days where the temperature was 100+ degrees. It is able to power through all of it and keep on chugging. I haven't had an issue yet with durability.
Aesthetics
On top of being very practical, this reel is also aesthetically pleasing. Coming in six different colors to choose from you can completely customize the color scheme you would like to have on your set up.
On top of, the design looks great as well. The metal material shooting down from the arbor to the frame makes it look like a sun and its rays shooting out from the horizon. If looks are important to your gear then check out the Behemoth.
Species
Thanks to all of the different sizes that Redington uses when making this reel, you can fish for just about species you would like. The smallest is a 4/5 so brook trout or pan fishing might be a little overkill but it's possible to fish and have success with it.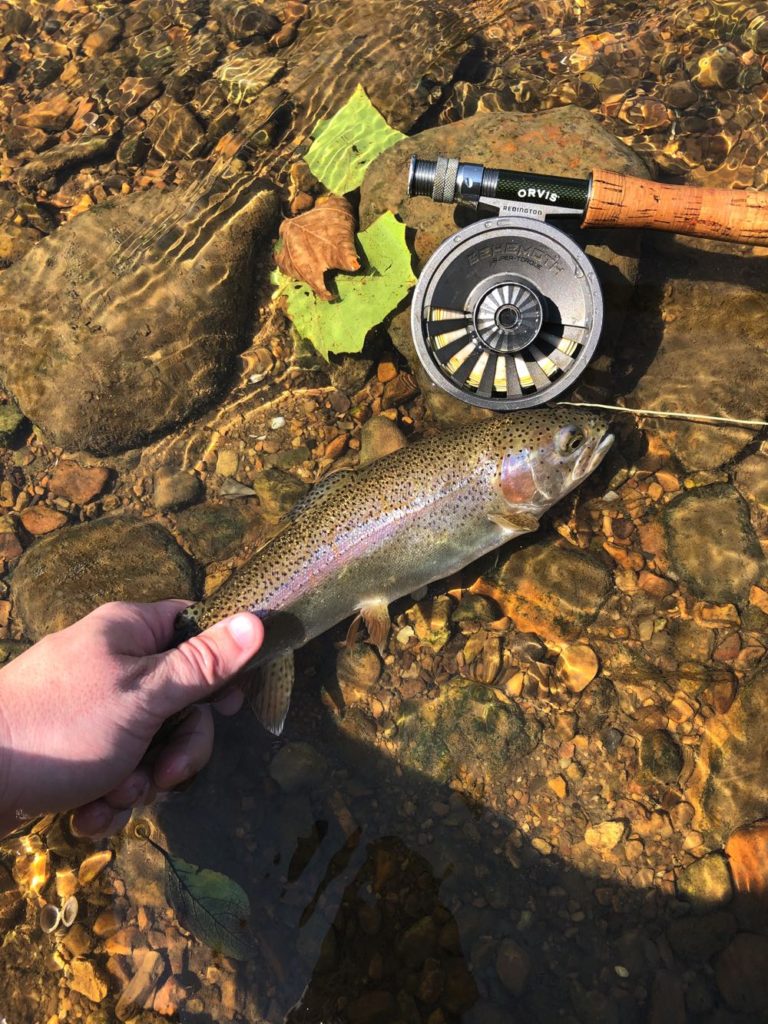 This reel is made to go after fish that could potentially peel drag off your reel. So, chasing smallmouth, largemouth, and big trout and mostly what I use this reel for, and it works great. The drag has single-handedly helped me land some very large fish.
The larger models are great for chasing bigger freshwater species such as muskie, pike, or running salmon. These bigger models can also be utilized to catch large and hard fighting saltwater fish. Tarpon, bonefish, redfish, whatever you feel like catching.
Sound
The Behemoth does not have a great sound the way a click and pawl does. It has a nice little zip that of course will sound great to any angler, but if you're for a louder noise then you should look elsewhere.
Personally, I like the smaller zip this reel has. I don't need anybody else knowing I've got a fish on taking drag. I can hear the quiet zip of this reel and that's good enough for me.
Handles
Something that I have found unique to Redington is its soft, molded ergonomic handles. It's not something that I find it necessary to have on a reel. In fact, it may not do anything at all.
However, I really like the way it feels. It fits nicely in between my fingers and makes me feel like I have a better grip on the reel. Again, it may not do anything but it has a very satisfying feel to it.
Line Capacity
On top of being able to hold your fly line, the Behemoth is going to hold a lot of backing as well. This is perfect for when you're out chasing big fish and you're afraid you might get spooled.
It can hold 200 yards of 20-pound backing. If you wind up getting spooled with that much line on your reel then that fish was just not yours to catch that day. Also, the fact that the arbor is seated in a V pattern will allow you to hold more backing than normal and will also allow the backing to settle in better on your reel.
Drag Knob
This is something unique to the Behemoth. The drag knob on this thing is huge. This comes in handy when you need to quickly tighten down the drag. Easily rise up and find the knob on the side of the reel.
Also, the fact that it's so big means that your drag isn't either super tight or super loose. You can keep it on light, medium light, or whatever you see fit. Easily slide the drag up to medium strength when fighting a fish.
Redington Behemoth Review: My Personal Thoughts
Pros: Strong Drag, Great Price, Range of Sizes
Cons: Weight, the Drag system is not sealed.
Overall, I am very happy with this purchase. Other than that first incident where the handle sheared off there have been zero issues with this reel.
If you do wind up with this reel falling in the sand or the mud then ensure you give it a good rinse off in the river and when you get home. The drag system is not sealed and that extra material could mess up with is otherwise a very great system.
The price is also wonderful. Such a great reel for under $150. Any angler at any level of expertise would be happy to use this reel. The weight could be a small issue, but it has yet to bother me on my day or weekend trips.
My 5/6 reel has mostly been used for chasing trout and bass. So far I have not had any issues with it and it has been great in-between reel. Throwing large bass bugs hasn't been an issue and I also haven't had any issues with throwing tiny nymphs to trout.
Conclusion
This is a wonderful reel that just about any fly angler would be happy to own. I bought it as an upgrade from my cheaper combo set up and have loved it ever since. I have borrowed other rods and reels from friends before but the Behemoth is almost always preferred.
The drag system is wonderful and has saved my bacon many times when I've hooked into a larger fish. If you're looking to go after big fish and want to utilize the drag system then I can't recommend this reel enough.
So, if the above information sounds good to you then you should hop onto Amazon and check out the Behemoth. It's a great reel and you won't be sorry that you purchased it. Check it out!