As an Amazon Associate I earn from qualifying purchases.
This is an in-depth Lamson Liquid review. I've owned and fished with the Liquid for three years and put it through the wringer. This Lamson Liquid reel review will break down my experience gained through owning this piece of gear. I bought the Lamson Liquid for an 8wt setup, a size outfit I've fished for most of my 10-year fly fishing career.
Lamson Liquid
If you like what you see in this Lamson Liquid review, you can order the reel on Amazon.
For the low price, I was cautiously optimistic and excited to see how the Liquid would stand up against other reels I'd owned. I wanted to see how appropriate the Liquid would be as a backup and client reel for both my own fishing and for guiding. I would test every aspect of it throughout my time using the Liquid.
Why Trust My Lamson Liquid Review?
Into Fly Fishing only publishes gear reviews of products our anglers have substantial experience with. I personally have fished the Lamson Liquid in excess of 150 days on the water, for a broad range of species from brown trout to false albacore. I've also had 10 years of experience with other fly reels to draw quality comparisons from.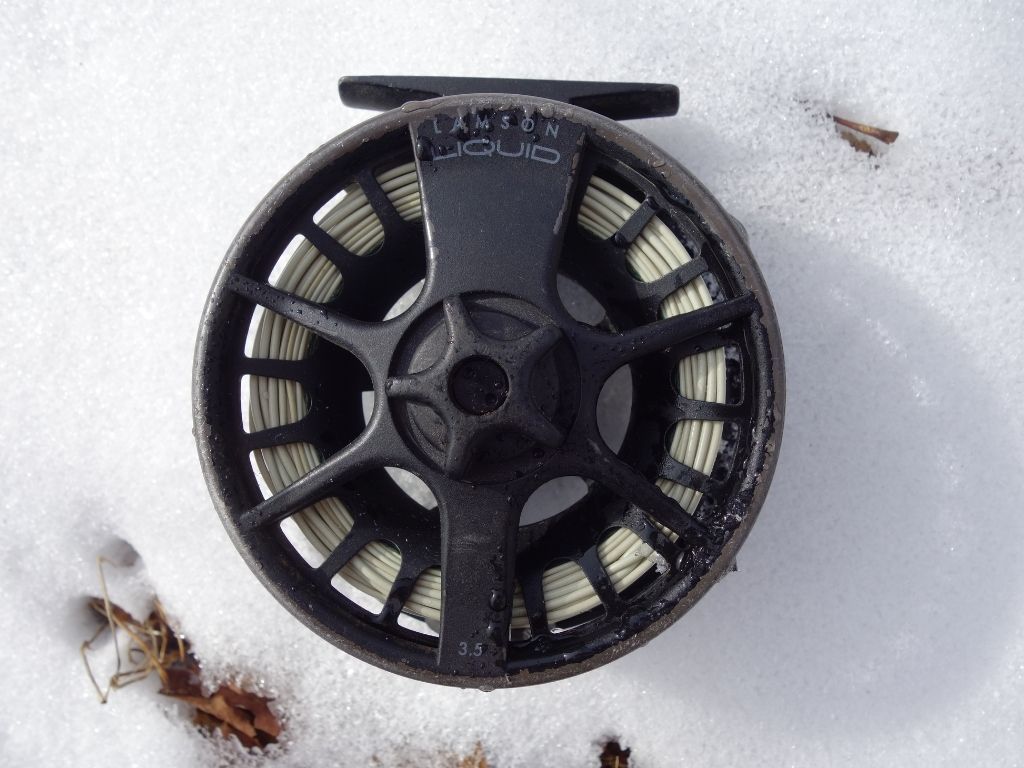 Such extensive testing really allows a reel's strengths and weaknesses to show. Any flaw will become clear, and any good, standout aspects will shine. This Lamson Liquid fly reel review is truly hands-on and tried-and-tested.
Watch the Video
What's in the Box?
There are two options when buying the Lamson Liquid, because Waterworks Lamson offers the "Liquid 3 Pack."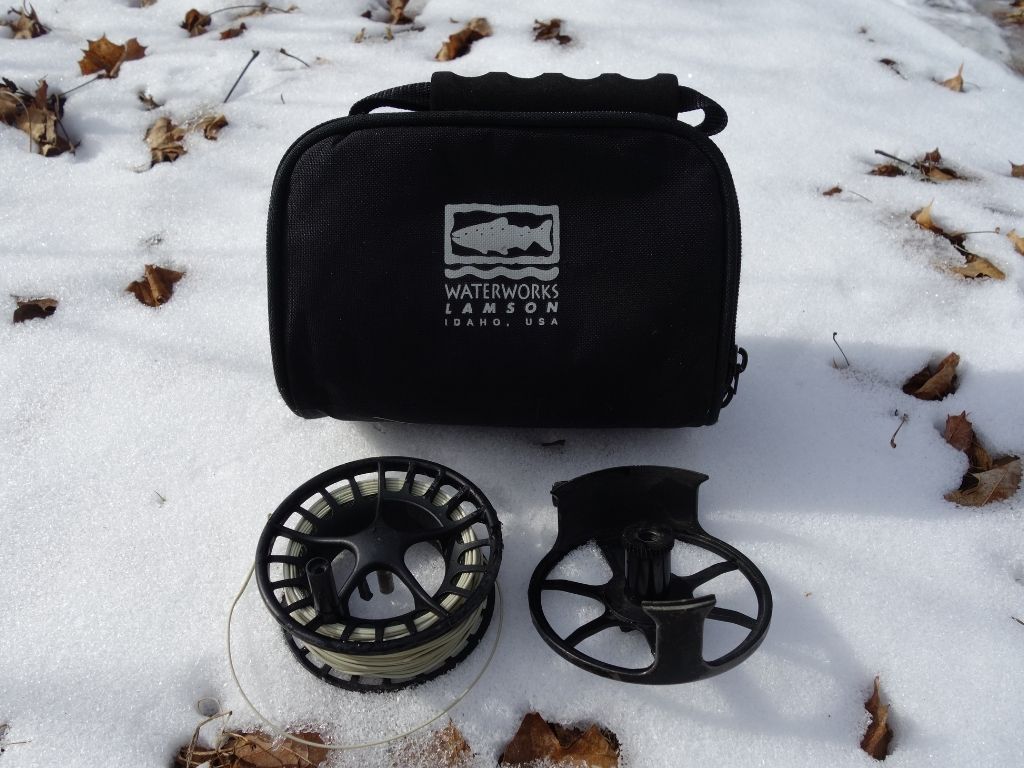 I'll cover what to expect from both the reel and the 3 Pack.
Reel
The Liquid is on a die-cast reel rather than a machined reel. This process is often used to make cheaper reels, but Lamson took advantage of what die-casting allows that can't be replicated with machining. They also take the time to machine the casts so that any issues are fixed. This resulted in an appealing-looking reel of notable quality.
Reel Bag
The Liquid typically comes in a cloth bag. This is fine for protecting against scuffing and scratching. However, I'd recommend getting a heavier case for storage.
Spool
The Lamson Liquid comes with one spool. It is a large arbor reel with a lightweight U-shaped spool. It easily fits an appropriate amount of backing, and the line spools well as long as the angler pays some attention when reeling up.
Lamson Liquid 3-Pack
If you'd like an affordable option with more than one spool, Waterworks Lamson offers this great package. It allows the angler much more versatility on the water.
Three Spools
Along with the reel itself, the Liquid 3 Pack comes with three spools. The spool on the liquid can easily be changed simply by pulling it off and pushing on a new one until you hear it "click."
This provides versatility, as you can carry three spools with three different fly lines. For example: a floating, a sink tip, and a spey shooting head.
Reel Case
The Liquid 3 Pack comes with a nice nylon case with three slots. It's very durable and can easily fit in a day bag.
Directions
As with most reels on the market, the Liquid and Liquid 3 Pack come with a small booklet or paper with easy and concise directions on reel maintenance and other information.
Order the Lamson Liquid
If you like what you see in this Lamson Liquid review, you can order the reel on Amazon.
Lamson Liquid Review Features & Specs
For a 100-dollar fly reel, the Liquid's drag and components are of a surprisingly high quality. The reel frame is fairly durable and lightweight.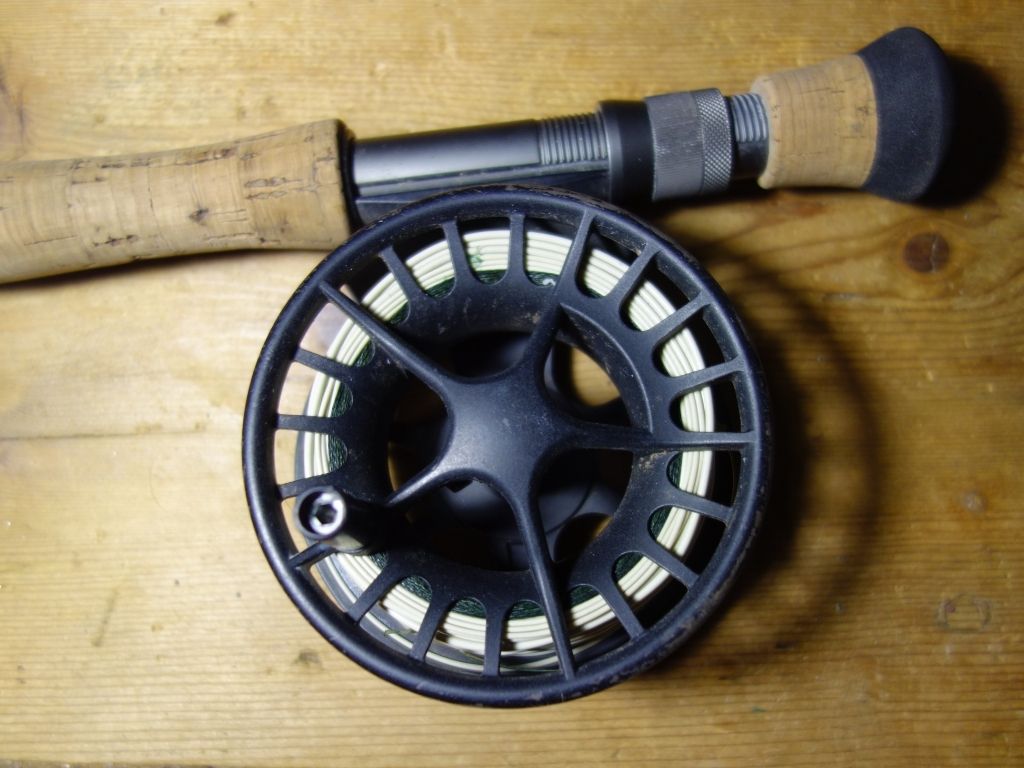 There are a few things I dislike about the Liquid's components, and we will get into those issues as well.
Build Quality
The Lamson Liquid itself is die-cast aluminum. It is lightweight, has a fairly simple design, and is rugged. I have the older "blackout" version, and I don't particularly like how the paint job looks or holds up. It looks like Lamson has rectified this with their newer version, though.
Overall, the reel itself and its components have held up well after being banged around in truck beds, against rocks in the river, and being fully submerged. Nothing has been bent or broken. Only some paint chipping and scratching has resulted, and this will happen to any reel if you use and abuse it the way I do.
Handle and Drag Knob
The reel handle might be my biggest issue with the Liquid. It has a small, smooth plastic handle. It rotates fine, but I tend to prefer a bigger handle with more grip on my fly reels.
The drag knob, on the other hand, feels and looks good and is very easy to turn and control. It has never felt stuck or required any service other than a quick rinse to get the sand out.
Weight
Physical weight: 4.2-6.7oz
Available line weights: 2/3/4, 4/5/6, 6/7/8, 8/9/10
There are certainly lighter reels out there, but there are also heavier. The Lamson Liquid is a very well-balanced reel that feels good in the hand and on the right rod.
Warranty
All Lamson reels have a lifetime warranty for their original owner. This, as is typical, doesn't cover misuse, improper maintenance, or any modification. Lamson charges $30 for shipping and handling on reel repair/replacement returns. You can look at Lamson's website to see their full warranty policy and service.
The company no longer requires registration of their reels for warranty services.
Aesthetics
How a reel looks and sounds is typically important to the buyer. I was never a big fan of how the "Blackout" version looked, but the new Liquid colors (smoke and vapor) are more appealing.
The sound the reel makes when reeling or when the drag is being pulled by a fish is fairly middle-of-the-road. At least it isn't quiet, so if you like a loud reel when a fish is running, this one will probably bring you a smile.
Retrieve Rate
With the Lamson Liquid properly spooled with the correct amount of backing, the retrieve rate is good. The Liquid is typical of most modern large arbor reels. It has no trouble quickly picking up lines. I've had no issue retrieving line quickly with this reel when a fresh steelhead ran straight at me.
Drag System
With the same drag apparatus as Lamson's high-end reels inside, the Lamson Liquid is more than well-equipped to handle large, hard-pulling fish. There is minimal start-up tension. It is very smooth. The drag adjustment is comfortable and easy.
I've put the Liquid's drag against king salmon, large common carp, and even false albacore. It performed flawlessly and continues to this day.
Spool Interchangeability
It's nice to be able to change spools on the Lamson Liquid simply by pulling one off and putting another on. However, it sometimes feels like the spool is stuck on the reel pretty well. It's not a good feeling to have to yank it off, even though this has yet to do any damage to the reel or spool.
I'm not sure if I'd rather have a spool with a release button that could accidentally be hit, dropping the spool in the river, or a pull-off reel like the Liquid.
Of course, spools that require unscrewing something to be removed also have their faults. Your personal preference with regard to spool interchangeability is something to take into consideration any time you buy a reel.
On the plus side, the spools for the Liquid will fit on the same size Lamson Remix and Lamson Remix HD series reels. This sort of flexibility is very good to see.
Saltwater
Any die-cast aluminum reel is going to have some drawbacks in saltwater fishing, and the Lamson Liquid is no exception. I have no doubt that exposing mine to saltwater has decreased its longevity. That said, with proper care and a gentle rinse after every trip, there's no reason the Lamson Liquid can't survive a few seasons of saltwater fly fishing.
The larger-sized reels in the lineup are perfectly capable of handling substantial saltwater fish. Small tarpon, snook, striped bass, and bluefish are well within the Liquid's capabilities.
American Made
Although the cast for the Liquid is imported, Lamson machines the drag components and assembles the reels in their facility in Boise, Idaho. So "American Made" applies to a significant part of the Lamson Liquid.
Species
Lamson Liquid can handle smaller shark, big tarpon, and bluewater species. In fact, most of the species that fly fishers routinely target fall somewhere within the range covered by one of the Lamson Liquid models.
The smallest version would be right at home seated on a 3 weight rod and used on a small brook trout stream. The largest size could be pit against pike, muskie, and large striped bass.
I've been using my 8 weight Liquid for pike, carp, salmon, and bass since I got it. That size is definitely most at home in freshwater and with larger fish species. Lamson's other size options will cover most species you fish for. If you are a bluewater or big tarpon angler, of course, you'll need to look for something a bit beefier.
Cost
A Lamson Liquid could run you anywhere between about $64.99 for the old "Blackout" to $129.99 for the largest size of the new version. The 3 Pack costs from $179.99 to $229.99, as of January 2021. For a reel with an excellent quality drag and good longevity, it's very affordable.
It's a more than adequate reel for experienced fly fishers looking for an affordable backup. It's also a good choice for somebody seeking their first or second fly reel before moving up to something of even higher quality.
Lamson Liquid Review: My Personal Thoughts
Pros:
Affordable
Good quality drag system
Good build quality
Warranty
3 Pack Option
Cons:
Reel handle
Spool removal
All in all, I really like my Lamson Liquid. For the low price, it's a very good reel. In three years of use, it hasn't had any major flaws. I've caught some fish in excess of 20 pounds on it, gotten it wet in both fresh and saltwater, and put it through many vigorous hours on the water.
The drag really is great for such an inexpensive reel. It has never once felt like it might fail on me, and other reel brands and models have failed in the time I've had the Lamson Liquid. That it comes in the 3 pack version as well is great. It makes versatility easier and more affordable.
Both the small, gripless reel handle and the sometimes uncomfortable to remove spool are the only real issues I have. For some people, these things may not be of concern at all. This is also the case with the minor aesthetic flaws I think the Liquid has. None of these are a deal breaker for me.
Order the Lamson Liquid
If you like what you see in this Lamson Liquid review, you can order the reel on Amazon.
Conclusion
This Lamson Liquid review covered the specifications, price point, and my own opinions of this reel. In my time fishing it, I found that my initial optimism was warranted. In fact, this reel slightly exceeded my expectations in a handful of regards.
Any review of the Lamson Liquid or any other fly reel should be done only after the product has been thoroughly tested, and I do believe I've done my due diligence. With hundreds of days of use, my own Liquid's drag, build quality, and functionality were put under rigorous stress.
It certainly doesn't look like it did out of the box, but my Lamson Liquid still works almost exactly as well as it did three years ago. The drag is still smooth, the handle and drag knob still spin as if they were new, and the frame has not bent or dented from any of the minor beatings it has taken.
The Lamson Liquid fly reel is a good starter reel, and decent backup for even the very experienced fly fisher. I will be keeping mine in rotation for years to come and will probably be buying more in other sizes. The Lamson Liquid's affordability and quality are its big strengths.
Reels like the Liquid cement Lamson's reputation as one of the best fly reel manufacturers out there. If you've owned and used the Lamson Liquid, please leave a comment below telling us about your experience with it!
Amazon and the Amazon logo are trademarks of Amazon.com, Inc, or its affiliates.
As a part of the Amazon Associates Program and other affiliate programs, Into Fly Fishing® may receive a comission if you order products through links on this website.