In this article, I'll tell you all about my 10 all-time favorite saltwater patterns. What's great about each and every one of these flies is that they produce the goods at all the saltwater destinations in the world.
I've been guiding and fly fishing for many years and have had the opportunity to fish multiple tropical saltwater destinations around the world. The flies I'm covering in this article have always served me well and I'm sure they'll do the same for you.
1. Crazy Charlie
Like many of the fly patterns I'm going to cover in this article, the Crazy Charlie has become a style of fly rather than a specific pattern. In its essence, the Crazy Charlie has weighted dumbbell eyes, which allow the fly to ride hook point up.
The Crazy Charlie always has a wing that gives the fly volume and movement, both of which are essential to imitate a natural food source. Because the hook point rides to the top, the Crazy Charlie can be fished right on the bottom, making it an excellent fly choice for bonefish.
But the reason why the Crazy Charlie is such a world-renowned and popular fly is its versatility. Fish it on the bottom and it can imitate a shrimp, but strip it fast and maybe alter the color slightly and you've got a deadly baitfish imitation.
Some of my favorite color combinations are:
Tan over white
White
Chartreuse over white
Olive over white
Pink and white
Pink and tan
Match the color of the fly to the color of the bottom for best results. For instance, if you're fishing over turtle grass flats, an olive Crazy Charlie will work well. If you're casting to bonefish over white sand flats, change to a tan or white version.
2. Turneffe Crab
One of my new favorite saltwater fly patterns is the Turneffe Crab. It's a quick and easy fly to tie, and it has the look of a quirky-looking crab. It incorporates a weed guard constructed from deer hair, very similar to what you'll find on the popular Bonefish Bitters fly.
Like almost all the crab and shrimp patterns out there, the Turneffe Crab has its weight tied to the top of the hook shank, which causes the fly to ride hook point up. This weight distribution means that you mostly fish the fly on the bottom.
The Turneffe Crab is an excellent pattern for fish species like bonefish and triggerfish, and I've even seen a good number of emerald parrotfish caught on it.
3. Spawning Shrimp
The most effective small fly on my recent trip to the Maldives was the Spawning Shrimp. I even hooked and landed a decent size giant trevally on it while fishing a 10wt for bluefin trevally.
The reason why I think the Spawning Shrimp is so effective is how realistic it looks in the water. The tan synthetic fiber (mostly EP or sculpting fiber) goes almost translucent underwater, and the fly incorporates rubber legs that give it movement. Add to that an orange egg sack, and you've got a winning pattern.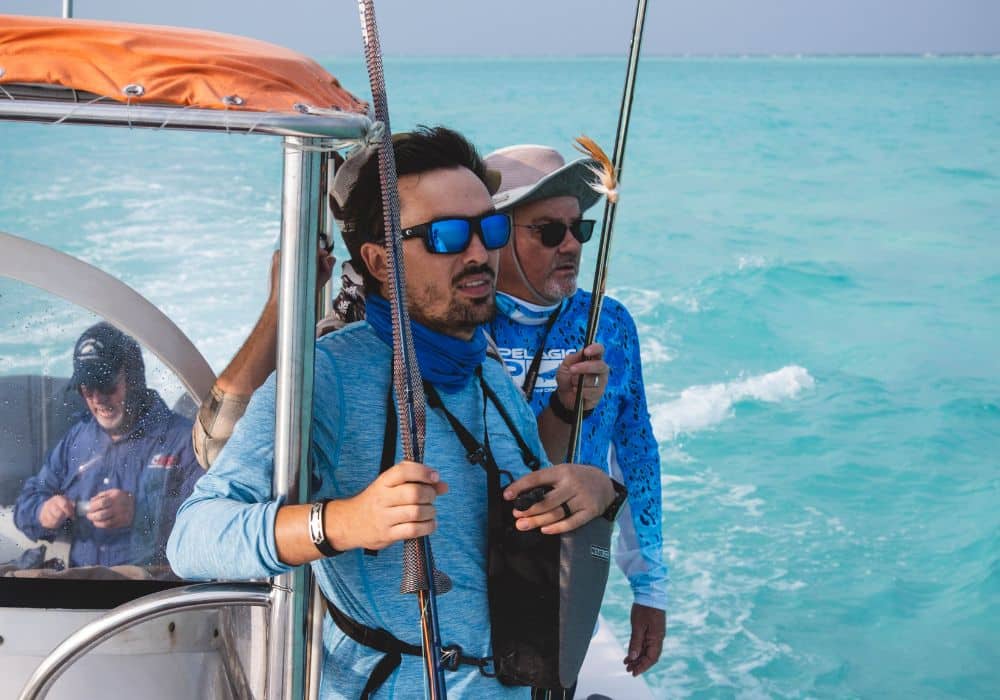 I tie the spawning shrimp in sizes ranging from 6 to 2 and have them in lightweight and heavier options. If you're going to the Maldives, take a full fly box of these.
4. Alphlexo Crab
The Alphlexo Crab is a modification of the original Phlexo Crab and was made popular by the guides of the Alphonse Fishing Company in Seychelles. Now, it's one of the most popular crab patterns out there, and for a very good reason — it hammers even the fussiest fish species.
The body is constructed using a mesh that comes from the electrical industry. This mesh, once tied in, creates the impression of a crab's body, yet it allows water to pass through it as the fly sinks. This is the key to the Alphlexo Crab's success — the way it sinks is completely different to other flies.
The weight is attached to the bottom of the fly, which makes the hook point ride upward. I tie Alphlexo Crabs in sizes ranging from 2 to 6 (although tying a size 6 Alphlexo is tricky). Good colors include:
Tan
White
Orange
Olive
Camo
The Alphlexo Crab is an excellent pattern for permit, bonefish, and triggerfish.
5. Avalon Shrimp
The Avalon Shrimp is one of the most successful Atlantic permit flies of all time. Fresh off the vice it does look like something the cat spat out, but once in the water, everything makes sense.
The two most important factors of a good Avalon Shrimp are the overall profile; in other words, are the proportions correct? And the two zonker strips tied on either side of the hook shank give the fly incredible movement, even when left sitting still on the bottom.
The fly is heavily weighted with tungsten beads on a keel, which means the fly, once again, rides with the hook point up.
6. Clouser Minnow
If there's only one fly I could choose for predatory fish species, it would be the Clouser Minnow. It looks like a big version of a Crazy Charlie and can be tied with various materials and color combinations.
One of the reasons I love it so much is that it's an easy-casting fly. It's a fly that I always tie on for my clients who struggle to penetrate the wind with big flies. The slender profile and minimal materials shoot through the wind.
The Clouser Minnow is also a great option if you find that fish are refusing your bigger saltwater flies like a Semper or Brushfly. I tie my saltwater Clouser Minnows relatively sparsely to imitate small translucent baitfish.
Good color combinations for saltwater Clouser Minnows are:
Chartreuse over white
Tan over white
Olive over white
Black and purple (especially when you're fishing in the dark)
I tie my Clouser Minnows in sizes between 1/0 and 5/0.
7. EP Baitfish
The EP Baitfish is constructed using a synthetic material called EP Fibers. One of the benefits of these synthetic fibers is that it doesn't absorb water in the same way that natural materials do, so once you make a false cast most of the water simply shoots out.
This makes the EP Baitfish easy to cast and it lands incredibly soft. The EP Baitfish also doesn't sink as fast as natural flies, so if you need a fly that you can lead spooky fish with and keep it suspended in the zone before retrieving, this is an excellent option.
EP Fibers are available in an incredible array of colors and also include versions with integrated flash. You can really go to town in terms of color combinations, and it's possible to dial your fly into exactly what the fish are feeding on. Some of my favorite color combinations are:
Black and blue
Black and purple
Red
Red and yellow
Tan and white
Tan
Silver and white
Chartreuse and white
8. Semper
The Semper is my favorite giant trevally fly. I don't only love fishing them, but I love the process of tying them. It almost feels like you're tying a mammoth Woolly Bugger.
The main reason I believe the Semper works so effectively is that it has so much movement. The tail is made from a combination of bucktail and schlappen feathers, and the entire body is wrapped with marabou.
The two main life forms it imitates are baitfish and squid, both of which are on top of a GT's dietary requirement list.
Good color combinations are:
Tan and white
Chartreuse and white (a personal favorite)
Red and yellow
Black and purple
Olive, red, and black (my second favorite)
All my saltwater Sempers are tied on 6/0 hooks.
9. Crease Fly
No matter if you're a freshwater or saltwater angler, we fly anglers love catching fish on the surface. The visual interaction with a fish and seeing it open its mouth and inhaling your fly is what it's all about.
One of my favorite topwater flies is the Crease Fly. It doesn't create a massive commotion on the surface like a Double Barrel Popper, but it has a frantic and erratic action.
Good color combinations are:
Blue
Olive
Chartreuse
Tan
Make sure that your saltwater Crease Fly is tied on a very wide gape hook because if the hook gape is too small you'll find that you miss many takes.
10. Double Barrel Popper
If you're fishing over a deep channel or underwater reef and need to call up the fish to the surface, the Double Barrel Popper is my fly of choice. If you get into the groove of popping this fly, it makes a massive noise.
With all of the foam and profile built into it, it surely isn't the easiest fly to cast. The Double Barrel Popper has the aerodynamic performance of a Land Rover Defender. But, what it lacks in castability it sure makes up for when it's retrieved.
I only tie them in two colors, black and tan. The most important of all is to tie them on really big hooks. For giant trevally, for instance, I only tie them on 8/0 hooks.
Conclusion
I'm confident that if you have a good selection of the 10 best saltwater flies I mentioned above in your fly box, you'll have a blast on your next saltwater fly fishing trip. These flies have caught me some memorable and special fish.
Make sure all your flies are tied on the best quality hooks that you can afford, and you should have each pattern available in different color combinations.
Until next time.
Disclaimer: IntoFlyFishing.com is a participant in the Amazon Services LLC Associates Program, as an Amazon Associate I earn from qualifying purchases. Please see our Privacy Page for more information.