As an Amazon Associate I earn from qualifying purchases.
The best fly tying vise will suit both your tying needs and your travel needs. You should know whether you want to travel with it or use it as a stationary piece of equipment. Some tiers like to have two, one for each purpose.
Do you need a heavy base that can stand alone on the table in your main tying room? Or something that can easily fit into your travel bag and be whipped out at a moment's notice for tying a fly in minutes?
Compare Fly Tying Vises
This blog is reader-supported. As an Amazon Associate, I earn from qualifying purchases.
So, below are a couple of different vises that can help you out with both of these needs. On top of that, I also go into depth on what a vise will do for you and talk about the different parts of a vise.
Best Fly Tying Vises
If you're buying fly tying equipment, then without a doubt the most important bit of fly fishing gear on your bench will be the fly tying vise. Here's a list of the best fly tying vises currently on the market.
1. Colorado Anglers 2001 EZ Rotary Vise
Jaw type: Lever
Mount type: C clamp mount
Pros: Ultra fine jaws, 360-degree rotation
Cons: Not very stable and easy to bump release hook while tying
The Colorado Anglers 2001 EZ Rotary Vise is a solid mid-range fly tying vise. It's perfect for the angler who wants to update to something a little bit nicer but doesn't want to drop $100 or more on a piece of equipment.
It might be the best vise for fly tying mid to larger sized trout flies, or small to medium-sized bass flies.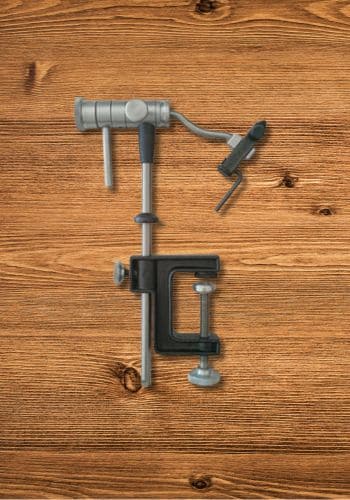 It's not large enough to handle anything bigger and isn't stable enough to handle very small or precise trout flies.
Because it's a clamp style base, it could do well as an at-home vise or for travel. You could easily pack it in your bag and quickly hook it up to a table in your hotel room the night before a trip, or anywhere with a lip that the clamp can hold onto.
2. Griffin Odyssey Spider Vise
Jaw type: Cam lever
Mount type: C clamp
Pros: Very fine jaws make it easy to tie flies, and the cam lever makes it easy to remove flies
Cons: Not very durable and can be flimsy
The Griffin Odyssey Spider Vise rotary allows you to move the fly within the vise without actually having to take it out, saving you time and effort while tying.
It's also 100% adjustable, meaning that you can be more organized while tying a fly. This is something all fly tiers need to be. Also, it comes equipped with a material, spring and bobbin holder.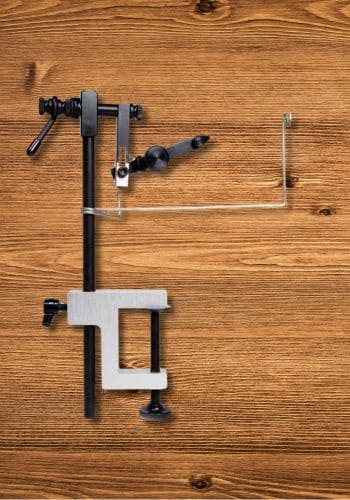 The jaws of the vise are extremely fine, making them perfect for tying flies in just about every size range. Feel free to tie zebra midges in the winter and then large streamers come springtime.
It will also do a decent job on flies like the Woolly Bugger, Pheasant Tail Nymph, Parachute Adams, and Bunny Leeches.
You'll see that the cam lever makes for easily inserting and removing your fly.
3. Peak Rotary Fly Tying Vise
Jaw type: Lever
Mount type: Pedestal
Pros: Excellent all around vise, strong and stable
Cons: Pricy
The Peak Rotary Fly Tying Vise is the top fly tying vise on this list. It's made to last a lifetime. If you're a die-hard fly tier, then this is the vise you should be looking at. It's strong and durable enough that it can last you year after year without showing too much wear and tear.
You'll find that the jaws hold sizes from a #28 all the way up to a 4/0, meaning you can tie just about any fly you want on this thing. If you enjoy throwing tiny flies to trout and big streamers to bass, then this is ideal for you.
The material used is stainless steel, tool steel, aircraft aluminum, and high-quality brass, which helps increase durability. The larger base allows for more stability as well as supporting the stem.
4. Super AA Chrome Fly Tying Vise
Jaw type: Lever
Mount type: C clamp
Pros: Easy operation and a 360-degree rotation, great for beginners
Cons: Limited fly tying ability and not durable.
The Super AA Chrome Fly Tying Vise is the best fly vise for someone who's thinking about getting into the hobby of tying your own flies. The cheap price point means you don't have to invest too much money in it.
The C clamp mount means you can hook it up anywhere you have a table or a lip that can hold it. Again, it's the best tying vise for a beginner because you don't need to have a table designated for tying. You can use any table in the house.
The stainless steel jaws are completely adjustable, allowing you to tie a range of flies in different hook sizes. The 360-degree heads allow for comfortable working angles.
The vise is very easy to operate and isn't very complicated. Someone looking for a budget vise or who's new to tying would get great pleasure out of this vise.
5. Griffin Montana Mongoose Vise
Jaw type: Lever
Mount type: Pedestal and clamp
Pros: Base and clamp mount allows you to tie wherever and whenever
Cons: Difficult to tie small flies, weight is unbalanced
The Griffin Montana Mongoose Vise has been redesigned by Griffin to increase its efficiency. The installation of new screws allows for complete resistance control when you're rotating the vise. The Delrin block is one of the smoothest you'll find.
The cam lever can be locked in both the forward and backward position. This helps you to have better clearance when you're tying your flies.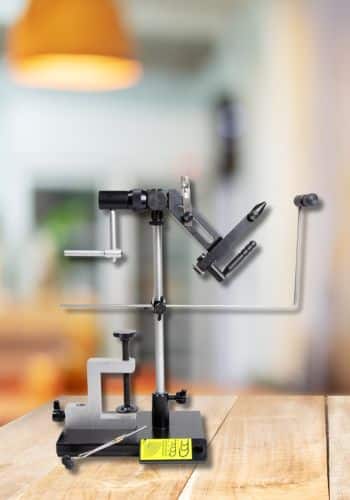 The way the Griffin Mongoose is designed will allow for more hand room while you're tying, ensuring you're able to tie flies without having to worry about bumping the vise or snagging your hand on the hook.
The steel jaws will also hold size #28 hooks all the way to a 4/0, giving you the ability to tie just about whatever you want. You'll also get a C clamp, bobbin cradle, pedestal, material clip, supreme bobbin, hackle gauge, and case to carry it all in.
Features of the Best Fly Tying Vises
When thinking about buying a vise, you have to take into account what you plan on using it for as well as its features. Each vise has positives and negatives that you'll need to take into account.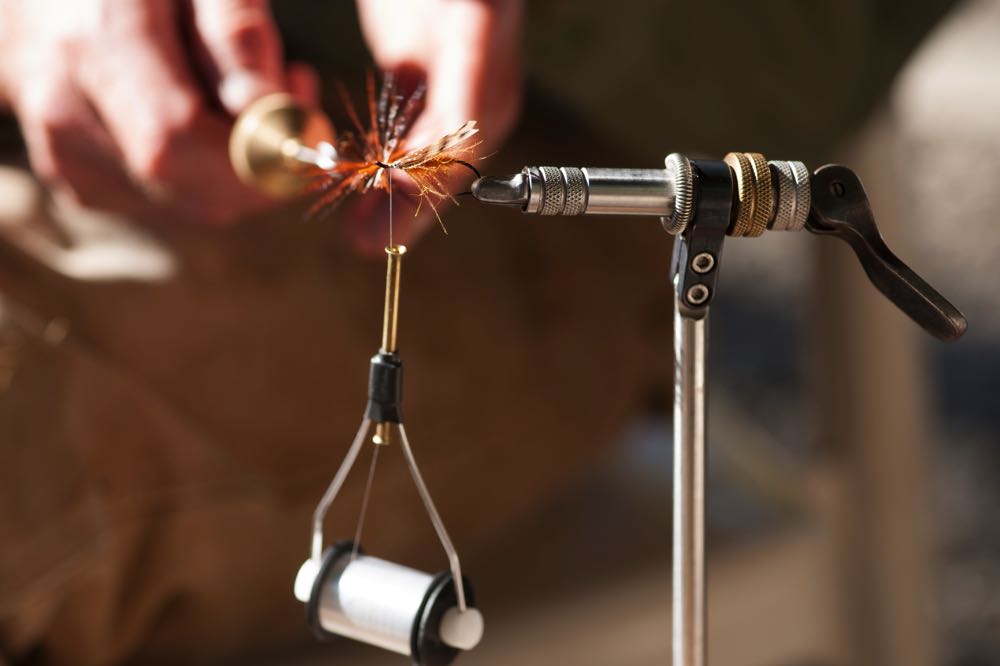 So, below I'll go over in more detail all the different parts of the vise and how they can benefit you. Feel free to use the information when you're looking for a vise of your own.
Jaw Type
There are two different types of jaws. They're the collet and the lever type (parallel clamp). Collet is a one-piece set of jaws. The jaws are closed by pulling or pushing them onto a ring called a collet. You'll usually do this by moving a lever or cam.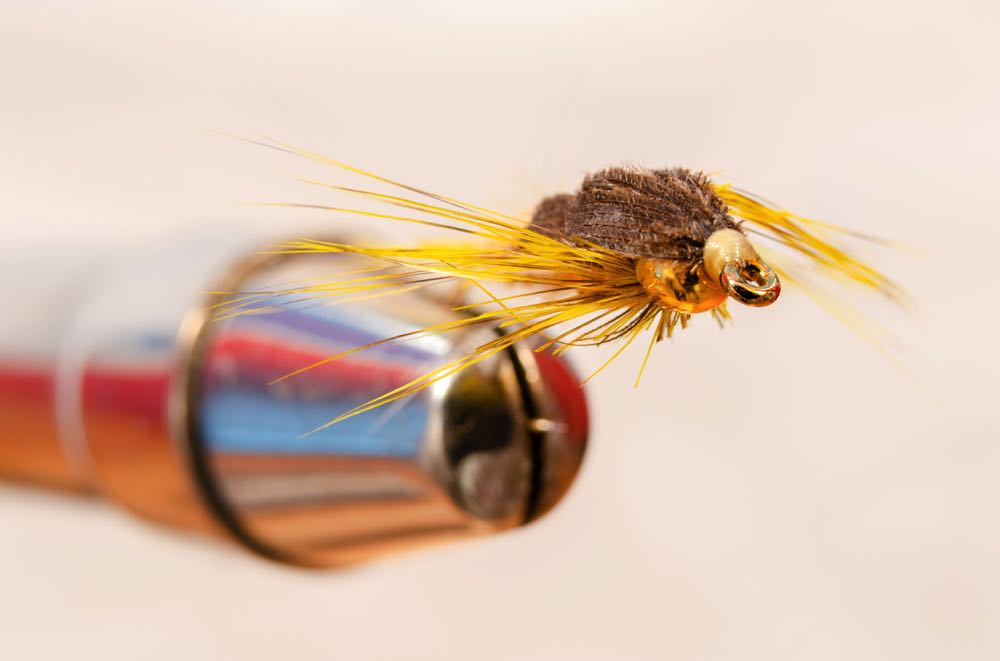 A lever type is similar to a wooden clothespin. It requires a two-piece jaw, fulcrum, and mechanism to close the jaws. Usually, this is operated by using either a thumbscrew or a cam lever.
You'll also find set jaws and interchangeable jaws. This is for tying small and larger flies. Some jaws are made only to tie smaller nymphs and dries, while some are made for big streamers. If you fish and tie both of these types of flies, then you'll need interchangeable jaws.
If you only tie one type of fly, then a large or small set of jaws will work perfectly for you.
Mount Type
There are two different types of mounts as well: a pedestal and a C clamp. Some vises even come with both. So, if you prefer using one or the other, you'll have the option to use the one you enjoy tying flies with.
What mount type you choose boils down to what you prefer. Many people enjoy using a C clamp at home where they know they have a table that it can fit on, while smaller and more compact vises with pedestals are used for travel.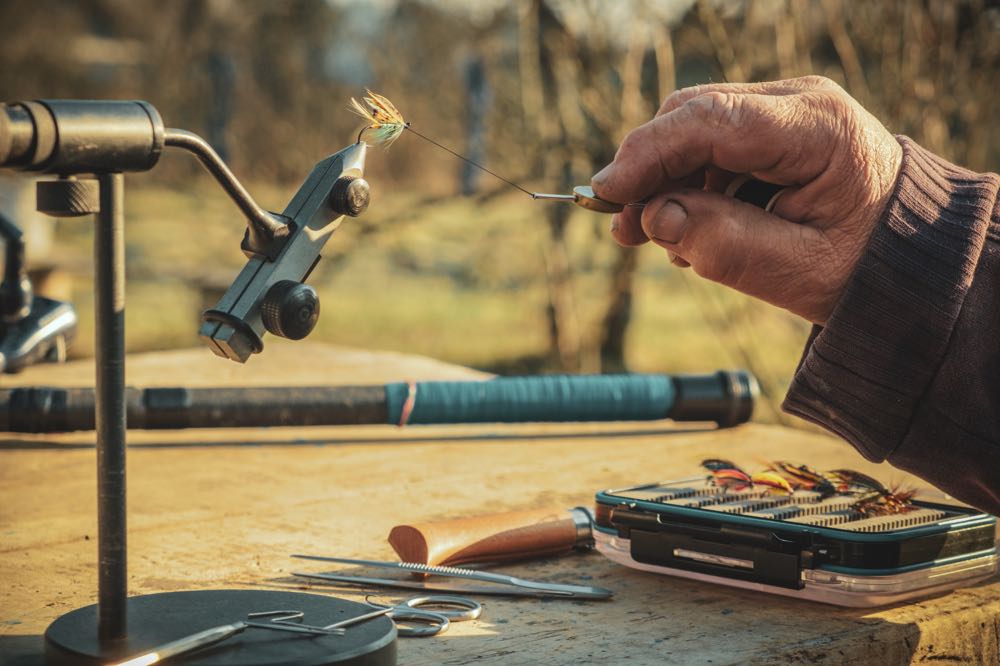 However, some prefer to do the exact opposite. The base is great because you know you can tie a fly anywhere there's a flat surface: a table, a rock, the ground, or your friend's back. The C clamp, however, can only be used in spots that have a lip for it to hold onto.
So, before buying one, think about where you plan on tying and if you'd like to travel with it. It'll make your decision easier.
Type of Flies
If you're a saltwater angler or a maybe even targeting muskie or bass, then you'll need a vise that will hold the larger hooks needed for these flies. A vise meant for trout flies won't have a set of jaws large enough to tie a 5/0 hook.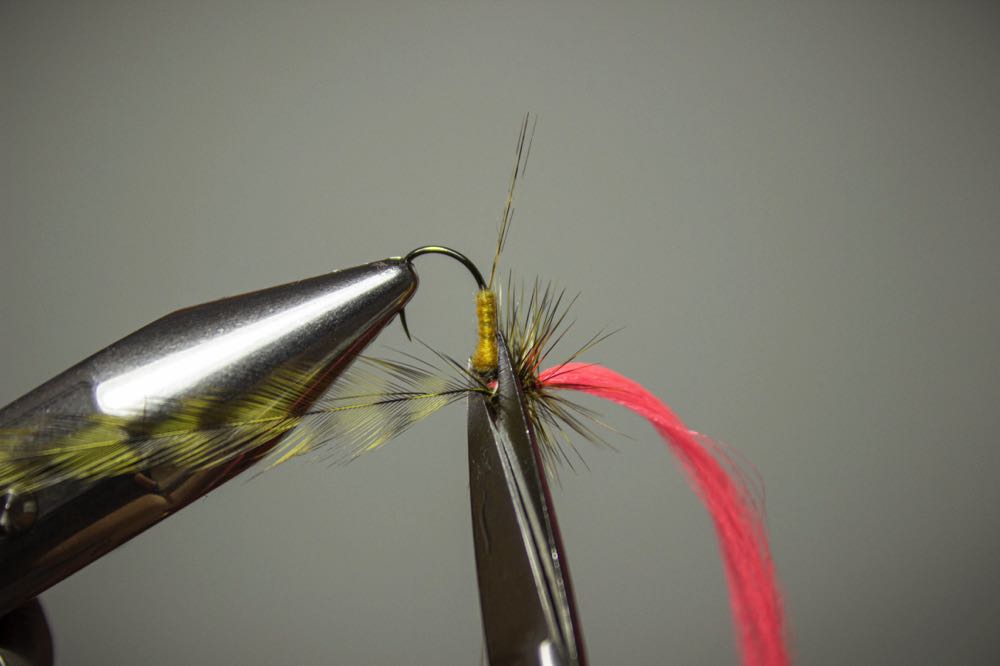 The same goes for tying smaller flies for panfish or trout. Something with master jaws that's meant to tie a bass popper will probably not be delicate enough to hold a #22 midge pattern or a smaller Adams.
If you enjoy throwing midges to trout and poppers to bass, then look for something that allows you to tie both. This will most likely be a vise that comes with interchangeable jaws or just happens to have a very dynamic set of jaws.
Rotating Head
A rotating head is typically going to be preferred by someone who's an experienced fly tier. This is because it allows you to get a full 360-degree look at your fly and lets you tie from different angles.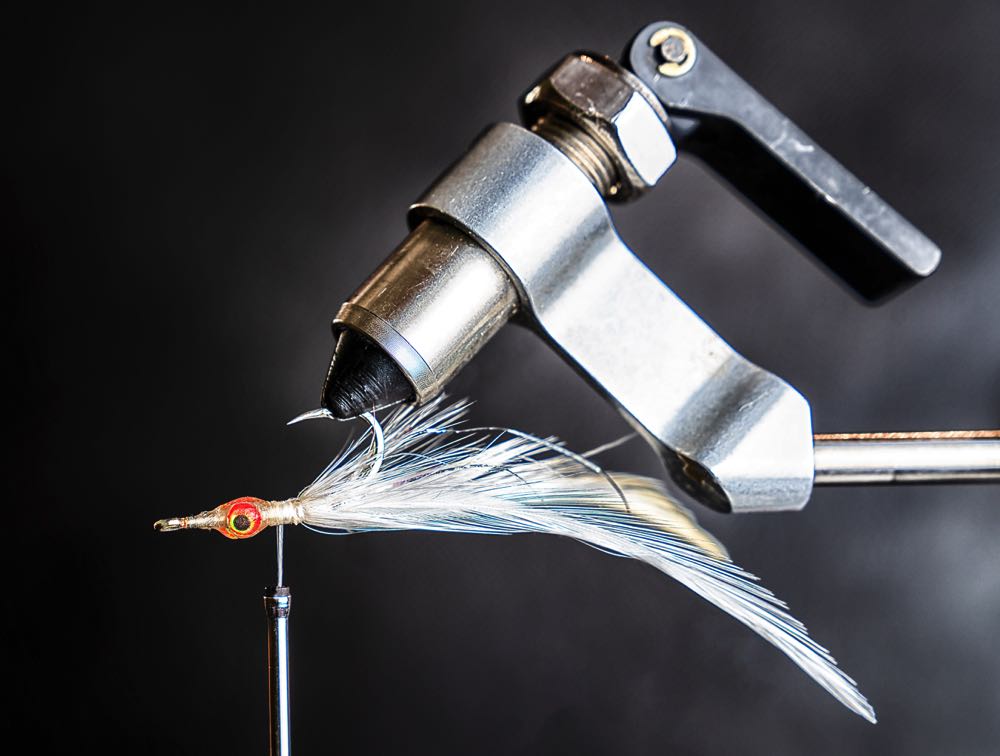 Because of this, they're typically pretty pricy, which is a reason experienced tiers like them. So, if you're just starting out, then don't worry about getting a rotating head.
You'll be able to tie exactly what you need without one. But, when you make the jump up to more complicated flies, then it's worth it to get something that can rotate 360 degrees.
Bobbin Cradle
A bobbin cradle allows you to rest your bobbin in between sessions. It's not something you really need to have, but the convenience of it is very nice.
These aren't that hard to make on your own. You could easily craft one yourself to meet the specs you need. So, if you find a vise that has a cradle, but it's more expensive than one without it, just know you can save some money if you create your own.
Build Material
A vise is either made of aluminum or steel. Sometimes they could even be a combination of the two. Aluminum is lighter and more resistant to corrosion, which means it's ideal for travel vises that come with a pedestal.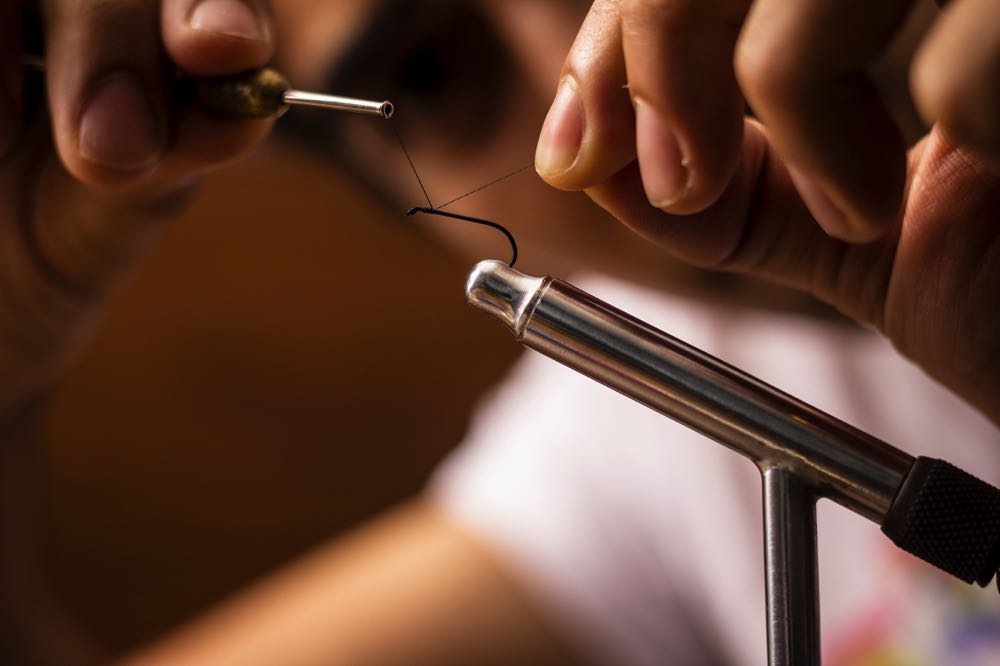 Steel vises are way more durable and stronger, and with a better grip, making them perfect for C clamp vises. Even though they're heavier and bulkier than aluminum vises, you still won't have an issue traveling with them or moving them around your house.
Again, it all comes down to personnel preference and what you're looking for in a vise.
Review This Post
Conclusion
With the information above, you should now be able to pick out the best fly tying vise. There are many different options, and each one serves a different purpose.
So, if you're a hardcore fly tier and looking for an upgrade, then use the list above to help guide you to the right vise for you.
The same goes for the novice. If you felt overwhelmed before, hopefully you now understand what you need and how you should be using your vise.
Now, go pick out your vise and see how it feels. Check out any online shop or local outfitter that may carry them. Don't be afraid to ask questions or carry this list with you to help you make the right decision.
Some images in this post are courtesy of Shutterstock.
Like This Article? Pin It!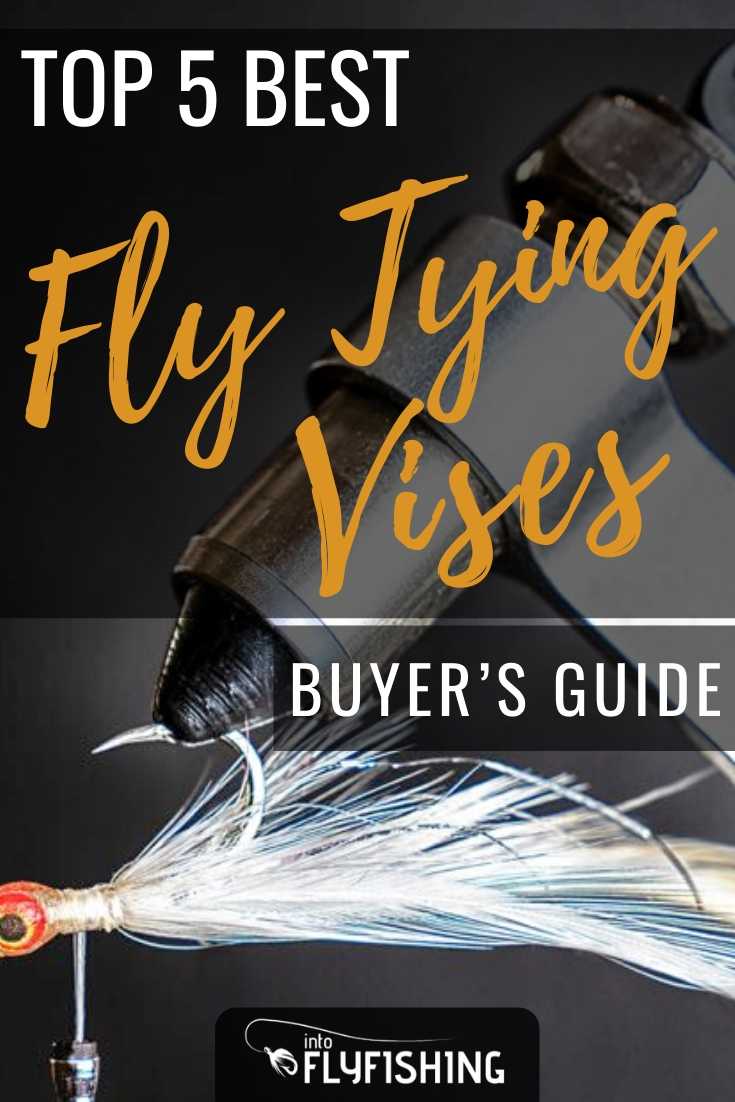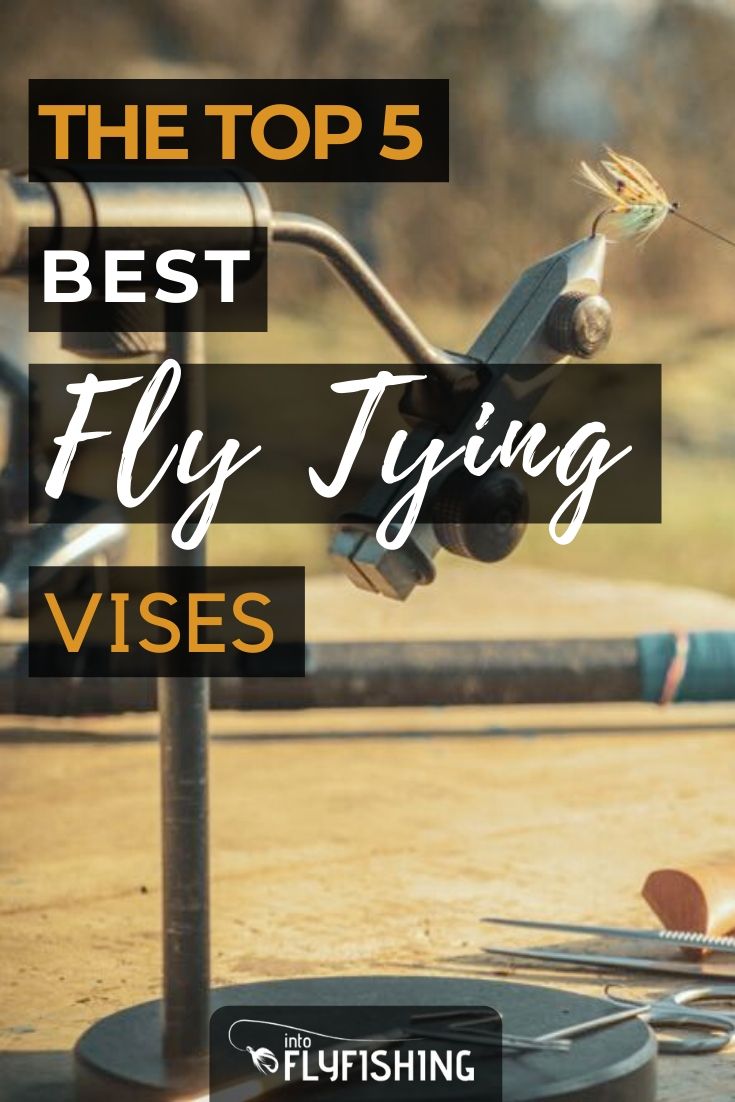 Amazon and the Amazon logo are trademarks of Amazon.com, Inc, or its affiliates.
As a part of the Amazon Associates Program and other affiliate programs, Into Fly Fishing® may receive a comission if you order products through links on this website.