If you're new to the world of fly tying then you may be confused as to what would make the best fly tying bobbin. Or, you may even be thinking, what in the world is a bobbin anyway?
Well, we're here to answer both of those questions for you. Even if you don't know what a bobbin is, you'll still learn about some of the best tying bobbins on the market and which one is going to be the best bobbin for fly tying.
Compare The Best Fly Tying Bobbins
As an Amazon Associate, I earn from the below buttons & links.
| Image | Title | Best For | Price | Buy |
| --- | --- | --- | --- | --- |
| | Stonfo Elite Disc Drag Bobbin | Best Overall | | Buy Now |
| | Dr. Slick Eco Flared Bobbin | Best Flared | | Buy Now |
| | Stonfo Bobtec 2 Bobbin | Runner-Up | | Buy Now |
| | Rite Ceramic Standard Bobbin | Best Ceramic | | Buy Now |
| | Loon Outdoors Ergo Bobbin | Most Comfortable | | Buy Now |
| | Elite2 Saltwater Streamer Bobbin | Best Large Flies | | Buy Now |
Prices pulled from the Amazon Product Advertising API on:
If you're looking to get into fly fishing, you'll quickly notice that fly fishing gear can be quite expensive. By tying your own flies, you'll be able to save a bit of money when you're kitting yourself out with gear. Plus, it's a lot of fun.
Aside from a good fly tying vise, the next thing you need to get started is a decent bobbin and some thread. Then, once you have the basic fly tying materials, you're pretty much ready to go.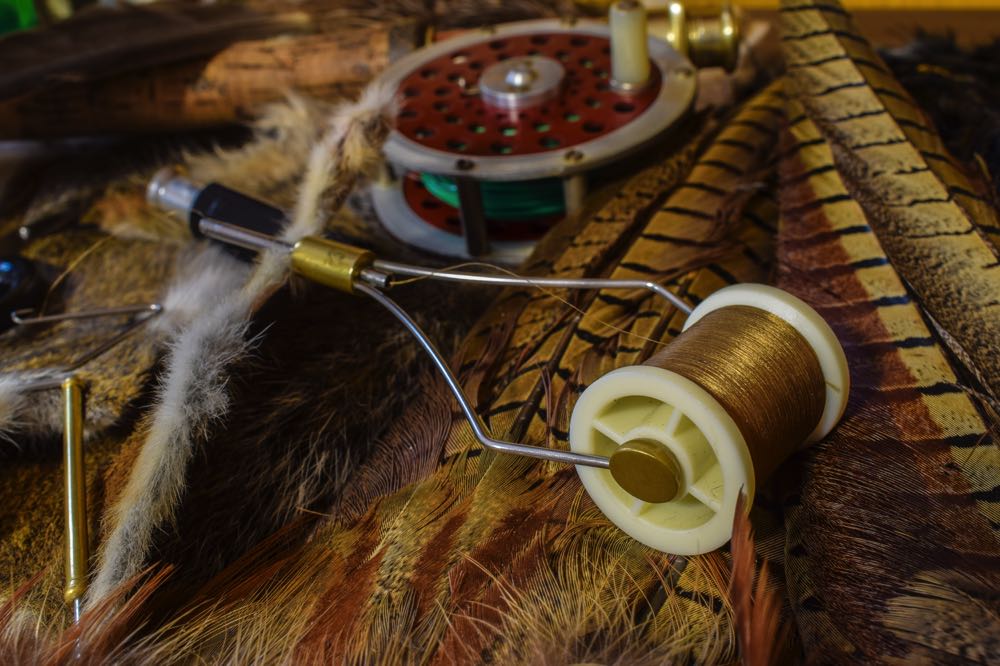 Below, we have five different bobbins that we're going to go over. After that, we're going to cover exactly what a bobbin is and how they can help you become a more proficient fly tier.
As an Amazon Associate I earn from qualifying purchases.
Best Fly Tying Bobbins
Here's a quick list of the best fly tying bobbins. You really don't need to shop around too long for a great bobbin. Basically you want it to be comfortable in your hand, have good tension, and be easy to switch threads quickly.
I think overall the best bobbin you can get right now is the Stonfo Elite Disc-Drag, but each of these bobbins is good for different reasons.
1. Rite Ceramic Standard Bobbin
Pros – Has a ceramic insert and has total thread tension control
Cons – Not very convenient. Can be a pain to change out the thread
The Right Ceramic Standard Bobbin is a very strong and sturdy bobbin. Well made, very smooth and, has the ability to adjust to very precise thread tension. Ideal for making a fly that uses the same thread.
The bobbin threader for fly tying is not the greatest for changing out the thread. So, if you plan on tying a multi-colored fly then you would be better off selecting a different bobbin or having another one set up with the secondary color.
Since this is made out of ceramic, it will not cut or cause any abrasion on the thread. Meaning you can wrap your threads perfectly without fear of your favorite olive green thread snapping halfway through.
The tension control is near perfect on this bobbin. Experienced fly tyers will be able to fully enjoy all the different tension settings while a novice can use it to ensure that they're not constantly breaking thread.
2. Loon Outdoors Ergo Bobbin
Pros – Very comfortable in your hand and good bobbin for fly tying streamers
Cons – It's not ideal for tight threads. The spool holder is not very flexible
The Loon Outdoors Ergo Bobbin has a great shape and is neither too big or too small. A perfect size for just about any fly tyers hands. If you enjoy sitting down for hours on end at your fly tying battle station then this is perfect for you. No more numb hands or fingers!
This is a great bobbin for tying some larger flies, such as streamers. It can be a bit of a nuisance when having to wrap the thread tightly or when tying smaller flies like the Parachute Adams, Wooly Bugger or Pheasant Tail Nymphs. The spool can oftentimes fall out of the bobbin.
Because of how great it is for tying larger flies, it would be ideal for tying some of the larger saltwater flies as well. So, saltwater and big fly throwers should rejoice over this bobbin.
3. Stonfo Elite 2 Saltwater Streamer Disc Drag Bobbin
pros – Very strong and the disc drag system is quick adjusting
Cons- Easy to knock it with your hand which can slacken the drag
The Stonfo Elite 2 Saltwater Streamer Disc Drag Bobbin is a strong and durable stainless steel bobbin will hold up to hours and hours of tying flies. It comes equipped with a quick-adjust disc drag that allows selecting the exact tension you want on the thread of your choice.
The tube of the bobbin has stong and coated ends. This will help prevent fraying of your thread and will result in fewer breaks. This bobbin is rated to work for a larger sized spool.
This saltwater streamer model has a wider tube and is made to be used with heavy thread. So you can tie your favorite heavy-duty saltwater flies. Including streamers and anything else, you enjoy tying.
It can sometimes get in your way when tying. Resulting in your hand bumping it and loosening the tension causing you to potentially restart. Once you're used to the bobbin it shouldn't be an issue.
4. Stonfo Elite Disc Drag Bobbin One Size
Pros – Rated to fit all sized spools. Good tension control
Cons – Easy to accidentally rotate the knob when tying. Drag nut can unscrew if not paying attention
The Stonfo Elite Disc Drag Bobbin One Size is basically the same as the above bobbin, except it is made to fit all spools inside of it. Perfect for the tyer who enjoys tying nymphs, dries, streamers, and whatever else you could think of.
Its versatility, cost, tension, and comfort in the hand is why we listed it as the best bobbin for fly tying on this list.
This would also be great for someone who is just beginning to tie flies. It's easy to know you only have one bobbin and that it is multi-faceted.
It's very easy to thread, and it is also very sturdy. You'll also find that the drag is easy to adjust and it's also quite easy to change thread. Making it great for multi-colored flies.
An easy to adjust drag makes tying a breeze, and the ceramic barrel is protected by the stainless steel barrel. This is one of the best adjustable bobbins that you will be able to find.
5. Dr. Stick Eco Flared Bobbin
Pros – Strong and is great of the price. Good tension.
Cons – Difficult to get the thread through the bobbin, and if forced in with tweezers then you can cut the thread.
The Dr. Stick Eco Flared Bobbin is a deceptive bobbin. For the price, you might not expect much, but it could be argued that they're the best on this list. They have glass ends that are very smooth and will not cut or tear the thread.
The ends of this bobbin are small and nimble. Tying flies can be delicate work so you need something that is going to allow you to do that. This bobbin is up to the task.
There is also plenty of tension so that you can tie most flies with ease. Allowing you to smoothly and easily feed the spool. It's great for smaller spools but would have difficulty tying large flies.
Putting the thread trough the bobbin seems to be tricky though. Be careful when threading it through as it can damage the bobbin and could break off your thread.
What Makes the Best Fly Tying Bobbin
It really all depends on what you need out of this tool. If you prefer throwing tiny nymphs and dry flies then a smaller bobbin that is more delicate is going to be the one for you.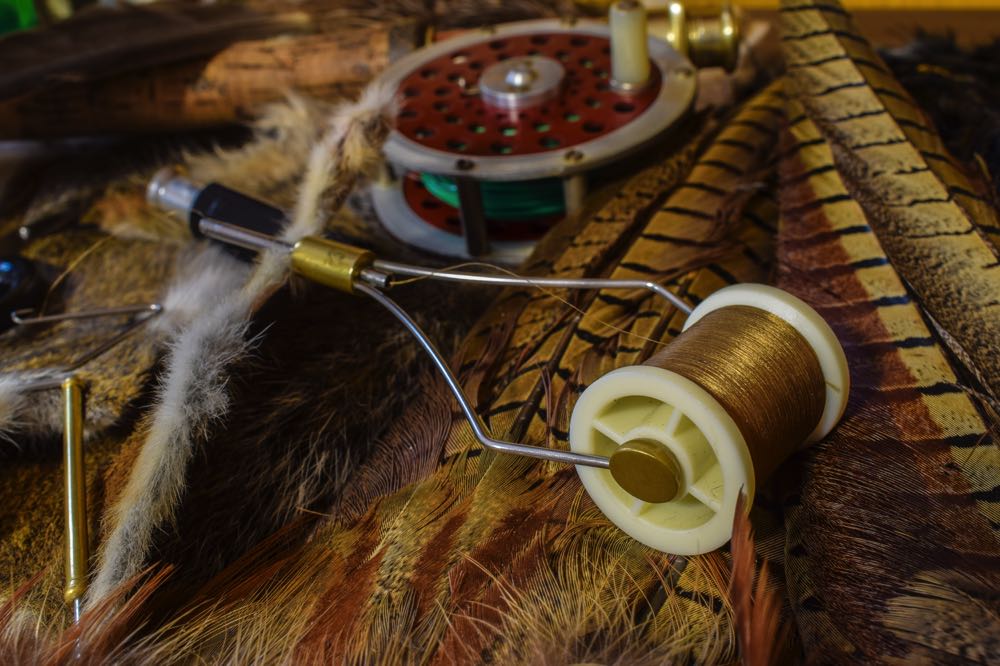 The same goes for if you plan on throwing larger flies. If you enjoy throwing large flies to bass or saltwater fish then you'll need something that's going to have great tension and is sturdy enough to handle tight and long wraps.
So, below we go over in more detail a little about all of the different features that you should be looking for when purchasing your own bobbin.
Tension
Having good tension with your bobbin might be the most important feature of this tool. Even if you're wrapping a fly lightly you still need enough tension to where the thread won't completely unravel or break while tying.
Look for something that is going to allow you to tie exactly the kind of flies you want. All the while not snapping, breaking, or unraveling on you. This can make for a very long fly tying session.
Sized to Fit Spools
You'll find that not all spools are sized the same shape or diameter. The most common diameter you can find for a spool is going to be 7.9mm. So ensure that the bobbin you choose should fit that size.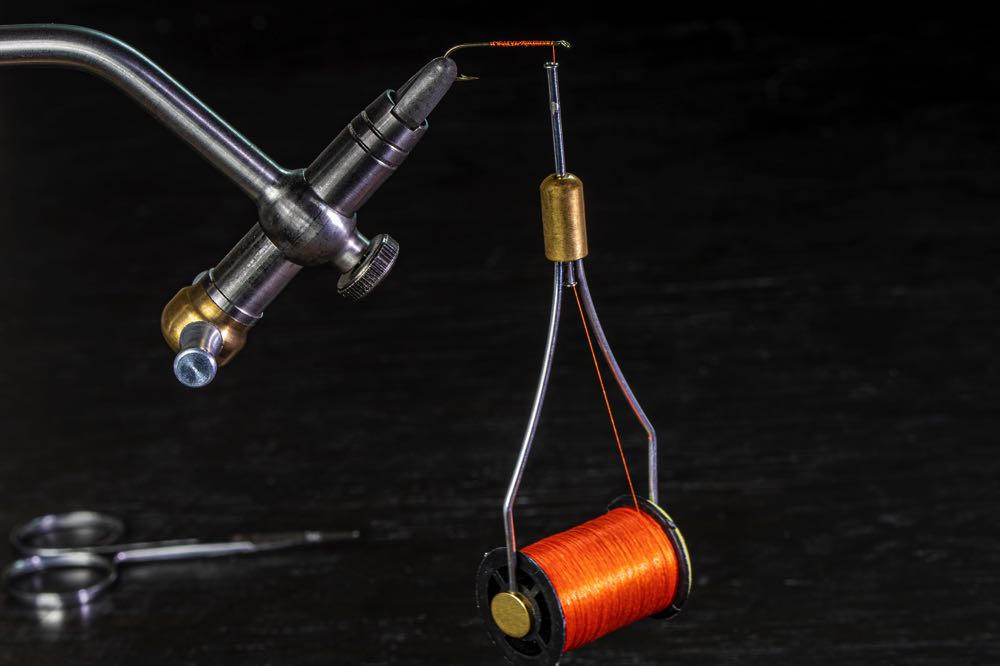 However, it's always nice to know that your bobbin can fit other sizes as well. This is going to make it easier for you to pick out threads from other companies that make different sizes.
You should also ensure that the thread spools fit nice and snug on the bobbin. If they are not on there securely then you will quickly see that tangles will continuously pop up.
Internal Finish
When you tie flies you'll notice that you will be putting pressure on the thread that is coming out of the tube in the bobbin. These tubes need to smooth, flared, polished and have inserts that do not break or cause damage to the line.
Cheaper and poorly crafted bobbins are known for doing this and won't make your fly tying any easier. Sometimes a cheaper product will surprise you, but typically the budget bobbins will burst your bubble.
Tension Control
There are two different types of bobbin. One that has automatic tension control and one that has manual. they both have their ups and downs but basically it boils down to which do you prefer when tying flies.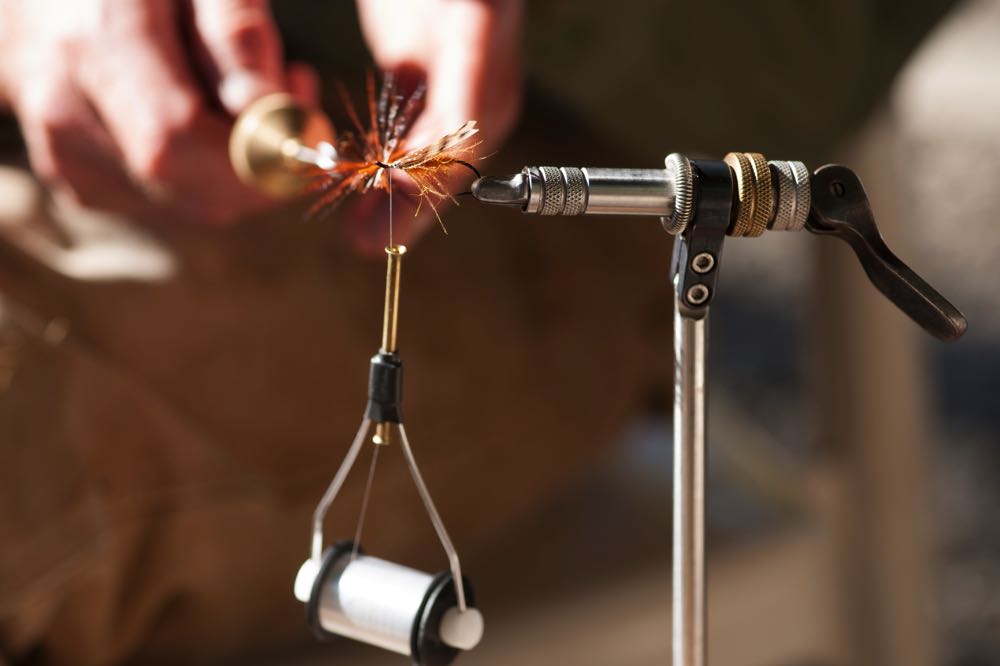 Some people like to to be able to use their hands to control tension. However, if you find yourself consistently breaking thread then an automatic is the way to go.
Review This Post
Conclusion
Now that we've gone over several different types of bobbins and their main features you hopefully now have a better understanding than before.
Not all bobbins are created equal and if you want to tie streamers then you should get one that is made for that. The same goes for tying smaller flies like dries and nymphs.
So head on down to your local fly shop, outfitter, or online retailer to pick up your own bobbin. It's only going to help you with your fly tying experience.
Some images in this post are courtesy of Shutterstock.
Like This Article? Pin it!