As an Amazon Associate I earn from qualifying purchases.
When you're looking for the best whip finishing tool, the most important factor is comfort. This may come as a surprise to you, but you don't even actually need a whip finishing tool. It just saves a lot of time and headaches.
You can perfectly finish tying a fly with your own fingers. Pros and beginners alike can achieve this. However, with the whip finishing tool, you can get a more precise and tighter knot than you could with your fingers, giving you a stronger and more durable fly that's less likely to come unraveled.
So, below I'll go over a few different products as well as a couple of different features of whip finishing tools.
If you're new to tying flies, or you want to take your flies to the next level, be sure to check out our fly tying section, which has everything a fly tier needs to know, including the best materials, tools, techniques and more.
The Best Fly Tying Tools:
Features of the Best Fly Tying Whip Finishing Tool
The best whip finishing tool for fly tying will allow you to tie all of the flies you need. If you enjoy tying smaller dries and nymphs, then you'll need something to accommodate you.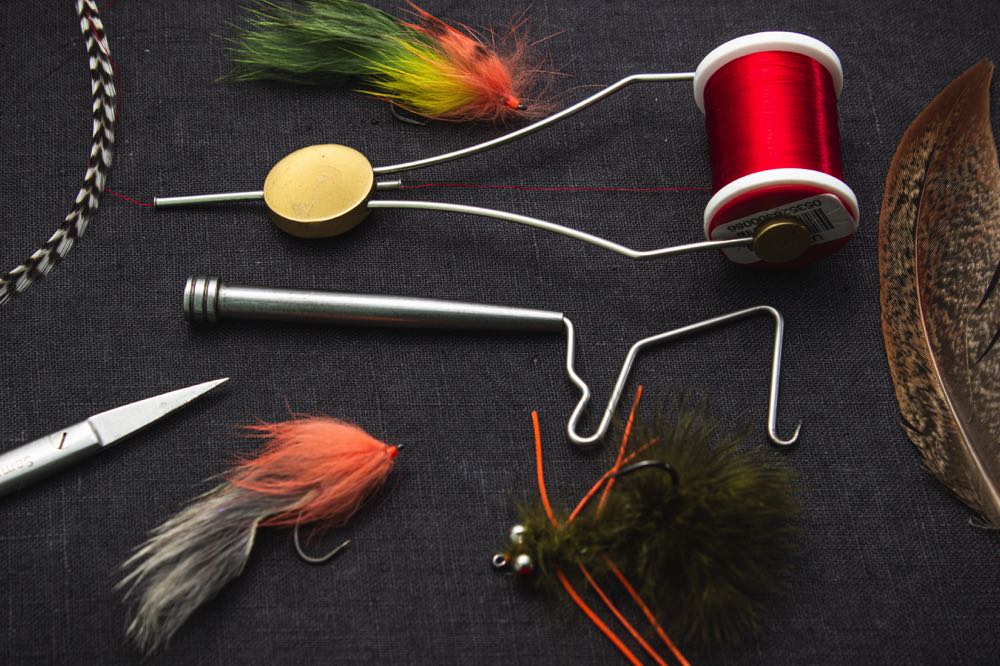 The same goes for larger flies. Pick out something that will let you tie the flies you enjoy using. It won't only make your fishing life easier, but also your tying life.
So, below I'll go over a few different features that you should be looking for in the whip finishing tool.
Size
The size of your whip finishing tool should be one of the first features you think of. This is because a small tool will work best with small flies, while a large tool will work best with larger flies.
If you enjoy throwing big poppers to bass or large streamers to trout and saltwater fish, then you'll need something that can handle the larger material. That's where a big whip finishing tool comes into play.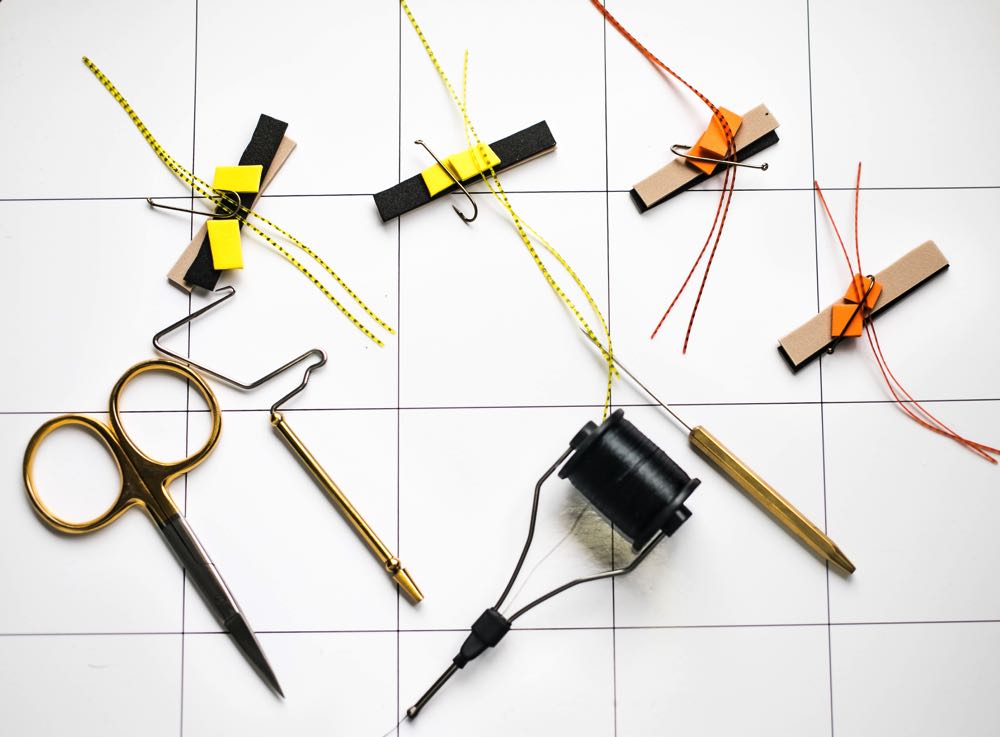 If you enjoy tying multiple sizes of fly, or aren't looking to tie super large or super small flies, then have no fear, there are also mid-range tools. These are great for tying mid-sized flies but are also perfectly capable of tying big or small.
The mid-sized tools may not be as refined for the flies on the opposite ends of the spectrum, but you'll be able to tie everything you need with them. They're great for the everyday tier or someone just starting out.
Style
There are two main styles of whip finishing tools: the Matarelli-style whip finisher and the Thompson-style whip finisher. Of these two types, the easiest to use is the Matarelli-style whip finisher.
Rotating Head
Having a rotating head on your whip finishing tool will allow you to effortlessly tie a knot or give a few extra wraps around your fly. No longer do you have to bend your arm and wrist into uncomfortable positions.
These are great for someone who wants to take the next step in their fly tying. You can be more efficient in tying your knots, resulting in increased power and durability and a decrease in your tying times. This lets you tie more flies.
The rotating head is a great next step from beginner fly tier to intermediate or intermediate to advanced. This is because it can be a little difficult when you're first learning to tie with a rotating head. It can be learned, but a beginner could be overwhelmed by the extra rotations.
This could cause poorly tied knots and less fly durability. Once you understand how the whip finisher works, then you can upgrade to the rotating head.
Handle Appearance
There are three different types of handle material you can find on the market. These are brass, stainless steel, and bamboo finish. Each one comes with its own unique aesthetic that tiers will enjoy.
From a functional standpoint, differences in the materials used in the handle are minuscule. Sure, some people may enjoy the feel of a bamboo handle more than brass, but in general, it won't make much of a difference in your fly tying experience.
However, if you're going to be putting on tying clinics or creating tying videos, then the aesthetics of your equipment will come into play. A nice clean bamboo handle can look great and professional looking.
However, if you're just tying for yourself or for some friends, then it doesn't really matter, unless you prefer one or the other. iI you enjoy the look of brass and that gets you excited to tie, then go for it.
Thread Clipping Base
Having a base that clips the thread for you upon knot completion is a great addition to a whip finishing tool. It allows for quick and clean cuts that don't require a second hand to grab another tool.
This keeps your tying more efficient since you don't need to have a second tool to cut away the thread you just tied. This means your flies will be tied quickly and with ease.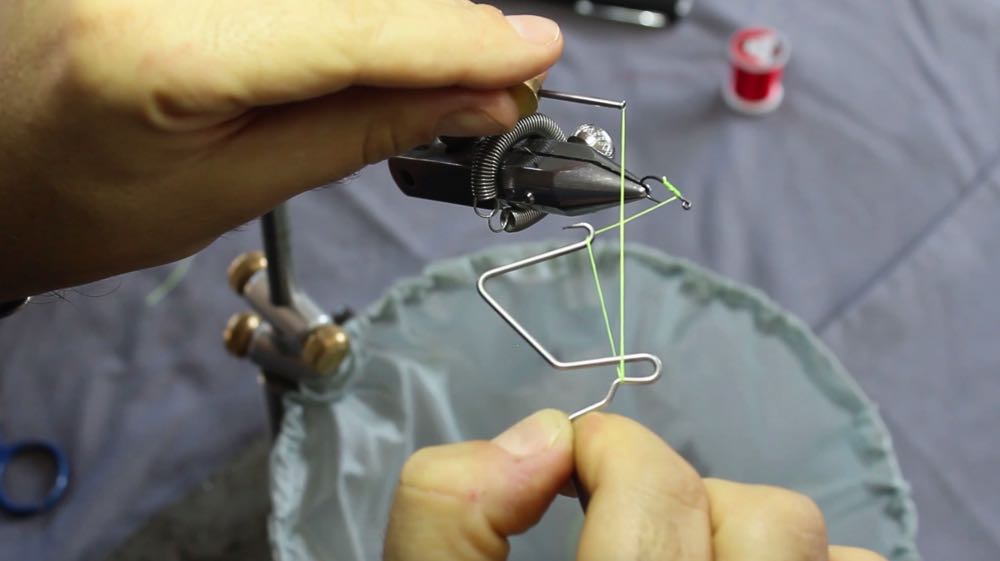 Similar to a whip finding tool, a clipping base on the tool isn't something that's necessary. However, it makes for quick and painless knot tying. This will help someone who plans on sitting down and tying a bunch of flies to crank them out.
A beginner could use this as well, though. It's not something they should seek out when purchasing a whip finishing tool, but once they get the hang of using it, then they'll never want to go back to having to use a pair of scissors.
Want to learn how to whip finish a fly? Check out our easy-to-follow tutorial, which includes a step-by-step video and even photos and text to help you learn how to tie the perfect whip finish.
The Best Fly Tying Materials:
How to Use a Whip Finishing Tool
We have an article all about the best technique for using a whip finishing tool, and you can also check out the easy-to-follow, step-by-step video to learn exactly how to use the tool.
Best Whip Finish Tool List
Now that you know what to look for in the best whip finish tool, I'm going to quickly list five good options that you can pick up on Amazon or at your local fly shop.
1. Tiemco Umpqua Whip Finish Tool Midge
Pros: Great for finishing off small flies. Can even be used on sizes smaller than 28
Cons: Not ideal for anything larger than a size 16. Pricy for a whip finish
It's possible to use the Tiemco Umpqua Whip Finish Tool Midge to tie a larger fly, such as a streamer or a large dry or wet fly. However, you may not get the right tie at the end, resulting in a knot that comes undone and a fly that becomes unraveled.
Ideally, this would be used for smaller nymphs and dries. It's in the name, but this would be the ideal tool for finishing off a nice Zebra Midge. It's perfect for those super small flies that trout can somehow see.
Most people use this to tie flies that are size 18 and smaller, but it could go up to something a little larger if you really wanted it to, or if this is your only whip finishing tool.
This is a must-have tool for the fly tier who loves to throw tiny nymphs to trout and wants to be able to finish off the tying process properly.
2. Kaaka Whip Finisher Hitch Knot
Pros: Comes in two different sizes. Very durable and practical
Cons: Lack of grip means the thread can sometimes slip off
Since the Kaaka Whip Finisher Hitch Knot comes in two different sizes, you'll have the ability to tie multiple sizes of flies. Feel free to tie large streamers and dries with the big size, and then smaller nymphs with the smaller size.
The Kaaka Whip Finisher will help keep the knot tight on all of your flies. It will also help them to be smaller and more hidden, allowing you to catch more trout without spooking them off of a poorly tied fly.
The product is made of high-quality brass, making it strong and durable. This means you can feel free to take this anywhere you need to tie flies. It's perfect for keeping in your travel kit or for use at home.
The price is also pretty great too. It comes in at six dollars, so you can buy it and know you're getting a great piece of equipment for an even better deal. It's perfect for a beginner who doesn't want to spend too much money on gear.
3. Griffin Stainless Steel Matarelli Style Tool
Pros: Made of strong stainless steel. It also rotates, letting you tie better knots
Cons: Can be difficult to control. Doesn't have a cutter on the end
The Griffin Stainless Steel Matarelli Style Tool is a great piece of equipment for both the novice or advanced angler. You can quickly and easily tie the whip finish knot to ensure you have a durable fly that won't begin to unravel or have protruding knots.
The rotating head can be a little difficult to learn at first, especially if you're a beginner. However, once you get the hang of it, you'll never want to go back. It makes tight and strong knots that won't come undone.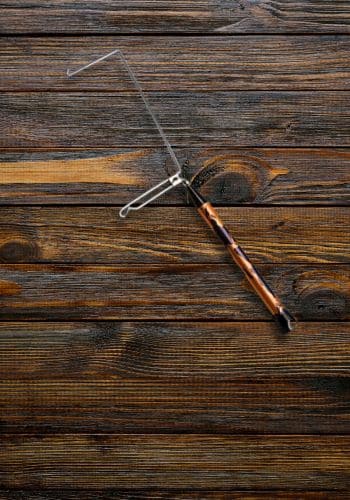 Because of the rotating head, it also allows you to tie faster. No longer do you have to fumble around while finishing your knot. Now you can quickly and easily finish it up and save yourself time to tie more flies!
The strong stainless steel will also allow you to bring it with you wherever you want. Use it in your travel kit, or keep it at home, where you know you'll be able to get a lot of good years out of it.
4. Tooltron Fly Time Whip Finisher
Pros: Great for all flies. Polished steel arms
Cons: Thread can slip sometimes. Sometimes it doesn't sit in the hand well during tying.
The Tooltron Fly Time Whip Finisher is a great catch-all whip finishing tool. It's ideal for someone who's just starting out and needs to tie several different sizes. Or, for someone who just wants one tool to keep their tying station neat and clean.
The polished steel seams give it a great feel and also help with durability. You'll be able to use this at your fly tying station or in your travel kit for many years.
The non-slip grip means you get solid handling on the tool. This way it doesn't slip out of your hands when you're tying. You can focus on tying a perfect knot instead of watching to make sure it doesn't slip through your fingers.
It can be a little difficult to use at first, but most beginners will be able to pick it up quickly. The same goes for more seasoned fly tiers.
5. Dr. Slick Whip Finisher
Pros: High quality, great for the price
Cons: A little small for some larger flies
For the price, the Dr. Slick Whip Finisher is arguably the best whip finisher tool on this list. It comes in at thirteen dollars, and you'll be getting a solid piece of equipment that will help you tie better and more efficient flies.
It's very easy to use and is ready to go straight out of the box. The thread holds onto the arms and doesn't slip off, allowing you to tie perfect finishing knots. This results in better-tied flies that will last longer.
It sets in your hand perfectly with a beautiful bamboo grip that gives you complete control over it. This allows you to maneuver the tool and thread like it was an extension of your own hand, making it more comfortable and fun to tie your own flies.
This tool comes in a few different sizes, so essentially it should work with just about any sized fly that you want. From Wooly Buggers to Bunny Leeches, you can finish them all with the Dr. Slick.
Review This Post
Conclusion
Who would've thought there could be so much to be said about whip finishing tools? Something that's not deemed necessary has so many different aspects that can help anglers tie flies of all different sizes and shapes.
Yes, you may not actually need one, but if you want to take the next step in your fly tying hobby or job, then it's something to be considered. Not only do they make for better flies, but they allow you to be quicker as well.
If you don't already have one, then you should check out some on this list above or use my descriptions of their features to help you pick out the one you want.
If you're looking to take the next step, then the next time you're searching for thread or browsing the local fly shop, go ahead and pick one up. You'll be glad that you did.
Some images in this post are courtesy of Shutterstock.
Amazon and the Amazon logo are trademarks of Amazon.com, Inc, or its affiliates.
As a part of the Amazon Associates Program and other affiliate programs, Into Fly Fishing® may receive a comission if you order products through links on this website.