As an Amazon Associate I earn from qualifying purchases.
If you want your flies to look professional and realistic, then you'll need to get a hair stacking tool. The best fly tying hair stacker will make your tying job quicker as well as easier.
In terms of fly tying tools, the hair stacker is one of the most popular and can be easily found online or in most fly shops. This is because of how useful they are.
So, if you're looking to improve your flies and catch more fish then this is the spot for you. Below, we're going to go over three different tools as well as go over different features that can benefit you and your flies.
What is a Hair Stacker?
A hair stacker is used to make the hair that you will be putting onto your fly is straight and uniform. This makes them look more realistic and theoretically will result in more fish caught.
It also makes it much easier to tie your flies. Deer hair, once trimmed is not very uniform. So, putting it in the stacking tool allows it to lay more even which means there is less adjusting for you.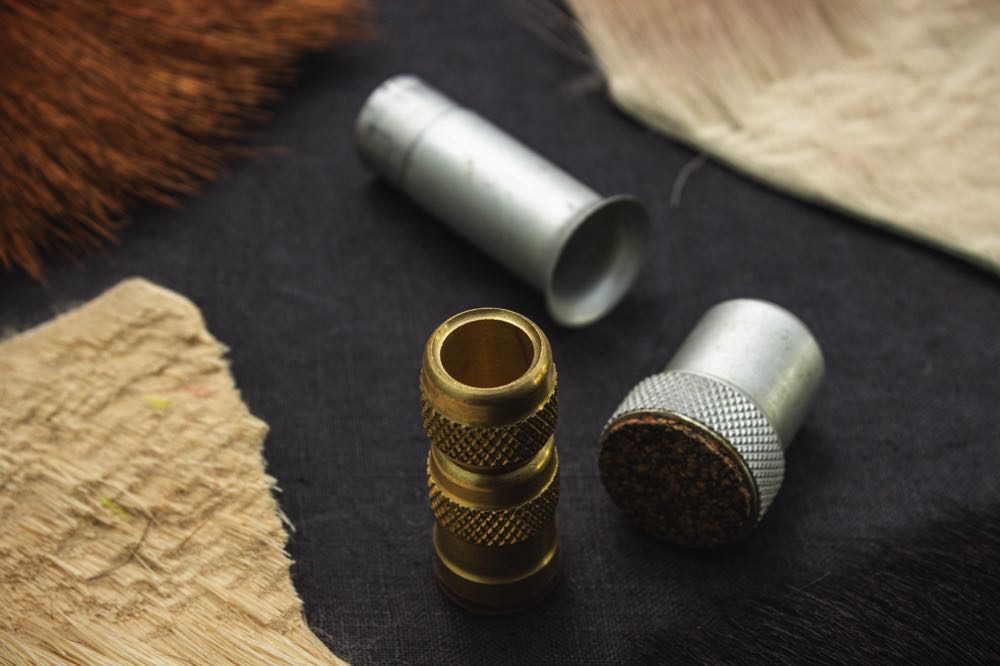 So, anytime a tool can make your job easier you should add it to your arsenal. Which is exactly what a hair stacker is going to allow you to do.
When To Use a Hair Stacker?
Anytime you're tying a fly that utilizes animal hair. It makes it so much easier than having to do it by hand. You'll be less frustrated and will enjoy tying that much more.
Also, you're going to tie flies that much quicker. Instead of fiddling with it by hand, you'll be able to slide it into the tool, give it a few whacks on the counter, and your all set.
So, you're looking to tie flies quicker and with more consistency then this buying the best hair stacker for fly tying is a no-brainer.
Types of Hair Stackers
Below, we're going to go over a few different types of hair stackers. Two of them are made in different ways and the other two are made of different materials. Each has its own pros and cons.
Open End Stacker
The open end stacker is great because there is no limit to how much hair you can fit inside of it. So this is great for larger flies or for larger pieces of hair that you'll be suing for tying,
Closed-End Stacker
If you prefer putting the root end first into your stacker then you will want the closed-end. With this, you open up the stacker and place the roots at the bottom then the closed-end goes on top and stamps down the material until it's straight.
Brass
Brass stackers are usually made of one piece of machined material. Making them much stronger and durable than other products. This is great for someone who wants some longevity out of their tools.
Aluminum
These are much cheaper but are also not as durable as brass. These work just as well, but they're more, likely to break. So if you use this tool a lot then this option might not be the best hair stacker tool for you.
What Makes a Good Fly Tying Hair Stacker?
Below, we're going to go over some features that the best hair stacker tool for fly tying will have. Each of them will be useful for tying, but some will be better than others.
Static Resistant
This one seems pretty obvious. You don't want to be tying a fly on a dry, cold winters night and when you go to bang the tool to tamp the hair it winds up getting stuck to the tool.
So make sure you have materials that are static resistant. This is only going to help you and save you a future headache.
Hexagonal Base
Like a lot of other fly tying tools, you would like the base to be in the shape of something that will not allow it to roll off the table while you're tying.
A square, hexagon, triangle, or anything else with more than three sides is going to ideal. The last thing you need to have a handful of deer hair and your stacker has rolled under the couch.
Bored From One Piece
Ideally, you would like a stacker that has been made from one piece of metal. These are typically going to be brass and have great durability, but are usually pricier options.
However, if you're new to tying or don't tie that much then a non-machined stacker will suit you just fine. These are great for the budgeted fly tyer too.
Size
If you want to tie larger flies with a lot of hair then a larger stacking tool will be the best hair stacker fly tying tool for you. This will give you enough room to stack the hair you need without cramping your materials.
The same goes for smaller tools. Look for stacking tools that meet your needs as a fly tier. Not the other way around.
Best Fly Tying Hair Stackers
Below, we're going to go over three different products. Each has its pros and cons so think about what you need for your own tying bench and then select accordingly.
Creative Angler Hair Stacker
The size of the Creative Angler Hair Stacker is 2.5 x .5 x .5, making it great for all-around fly tying. The body is made of polished black aluminum.
Featuring a hex-shaped body this tool will also not fall off the counter while not in use. It won't be as solid as an all-brass stacker but this is great for a novice to moderate tyer.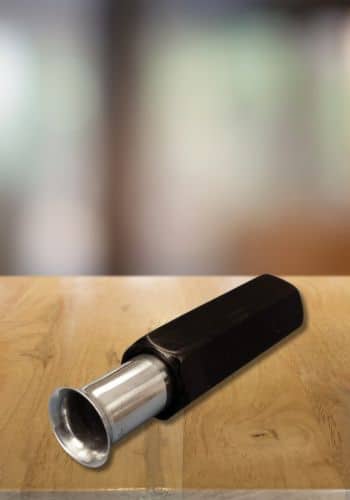 Aventik Hair Stacker
Along with aligning your animal hair, the Aventik Hair Stacker also is well-suited suited for making sure your feathers and other materials are also well uniformed.
Along with the stacker, you also get a free hook and hackle gauge. Making this a great all-around tool for someone who is new to tying and wants to get started.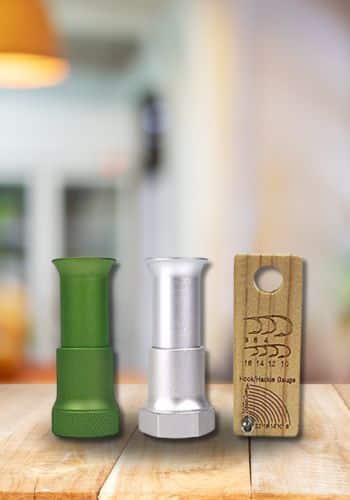 Creative Deluxe Aluminum Stainless
Made from aluminum, so the Creative Deluxe Aluminum Stainless is not going to be the most durable stacker out there, but it will get the job done for you.
Coming in at a low price point this lightweight stacker will allow you to tighten up those pesky deer and squirrel hairs with ease.
Conclusion
Hair stackers are a great tool that every year should have o their tying bench. They make the job easier, and also allow you to tie flies faster.
So, now that you're armed with the knowledge above you should head on out to your local fly shop and pick one up!
Amazon and the Amazon logo are trademarks of Amazon.com, Inc, or its affiliates.
As a part of the Amazon Associates Program and other affiliate programs, Into Fly Fishing® may receive a comission if you order products through links on this website.