When looking to purchase the perfect fly tying desk, you have to think about how big you need it to be, the size of the space you'll be putting it in, and how much gear you have.
Once you've got all that figured out, you can start narrowing down your list. The perfect desk for fly tying will allow you to easily stow your gear and have enough space to tie your flies.
So, if that sounds good to you, check out the information below. I'll cover several different desks as well as the pros and cons of different types of fly tying stations.
Disclaimer: IntoFlyFishing.com is a participant in the Amazon Services LLC Associates Program, as an Amazon Associate I earn from qualifying purchases. Please see our Privacy Page for more information.
What Is a Fly Tying Desk?
Like all other pieces of equipment in fly fishing, a level of aesthetic is paired with functionality. A fly tying bench is a crucial piece of equipment for tying flies, and it also needs to look good.
It'll allow you to hold all of the gear you need while also adding to the look of the room where it's located. It needs to have space for a vise as well as many other pieces of tying equipment.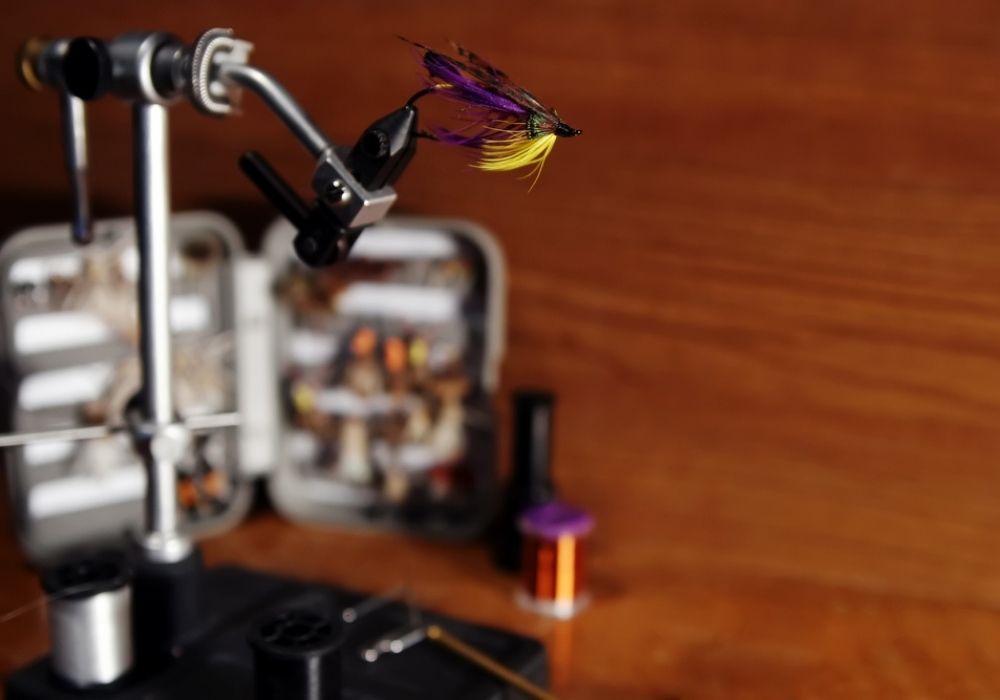 I know I mentioned aesthetics earlier, but the station for fly tying doesn't have to be handcrafted artisanal furniture if you don't want it to be. As long as it holds your gear and you're happy with it, then that's all that matters.
What Makes the Perfect Fly Tying Desk?
Below, I'll go over exactly what makes the perfect fly tying desk. So, think of some features that you'd like to have and check for them below. I may have a few of them on the list!
Storage Space
Before looking for your bench for fly tying, you should think about how much gear you have. I've seen some personal collections that put fly shops to shame. Those people had massive desks.
If you have a lot of gear, you should purchase a large desk with a lot of storage. If you're new or just don't have a lot of tying equipment yet, then there's no need to buy something large unless you want to grow into it.
Stability
Have you ever sat at a table in a restaurant and one leg is longer than the other, causing your drink to slosh back and forth every time someone sets an elbow down? Well, that'll happen to you and your flies if your table isn't stable.
So, before purchasing a table, you should read up on reviews or try out the table if it's already put together. Ensure it doesn't wobble, as that will hamper your tying experience.
Adjustability
Some desks aren't one-size-fits-all. Some can be raised and lowered. This lets someone short or tall work at the desk. It's also ideal for people who enjoy sitting in short or tall chairs.
Some tables can even become standing desks. This is great for anglers who spend their days sitting down and would like to stretch their legs after work while tying.
Easy Access to Tools and Materials
You don't want to be leaning over a fly trying to grab that last piece of dubbing. You need it to be within easy reach, so you can ensure that your fly is tied properly.
So, make sure the desk is deep enough to hold all of your gear, but not so deep that you find yourself straining to reach tools that are just past your fingertips.
Quality of the Build
This is in the same vein as stability. You need to make sure that the desk is built properly, doesn't wobble, and will hold up to years of work. Scratch-resistant is nice, but some people enjoy the weathered look.
Also, if your desk comes with drawers for storage, you should make sure that the doors easily pull in and out and don't stick. There are few things more irritating than a drawer that sticks.
Sliding Drawers
Now, if you plan on getting a desk with sliding drawers, just keep in mind what I mentioned above. If you don't feel like you have enough gear to justify drawers, then don't worry about it.
They might be good to get, though. Most people grow their fly tying collection over the years, and drawers can be great storage for all the equipment you need.
Size
The size of the desk needs to fit in the room and also needs to hold the amount of gear you either have or plan on having. A slightly bigger desk that you can grow into is better than a small desk that quickly overflows.
If you plan on using the room for anything other than tying, then you should make sure that you don't get something too large. You may want to have other pieces of furniture in there too.
Price
Prices vary. You can easily order a cheap desk from Amazon that runs you $100. Or, you could find something in the thousands. It all depends on what you like, and need.
More importantly, though, it boils down to what can you afford. A nice fly tying desk is great, but you shouldn't be setting up a payment plan in order to get one.
Materials
What the desk is made of should matter to you if you're concerned about either the aesthetic or the durability. A cheaper desk that's plastic may not last a long time and might not look as good.
On the other hand, a hardwood desk will to be sturdy and look great. It might run you a pretty penny, though. Don't fret, because there's always a happy middle ground for looks, affordability, and durability.
Extras Included
This could be anything. There could be drawers along the side for storing extra gear, or an easy spot to place your reels, fly boxes, leaders, line, tippet, or anything else you could possibly need.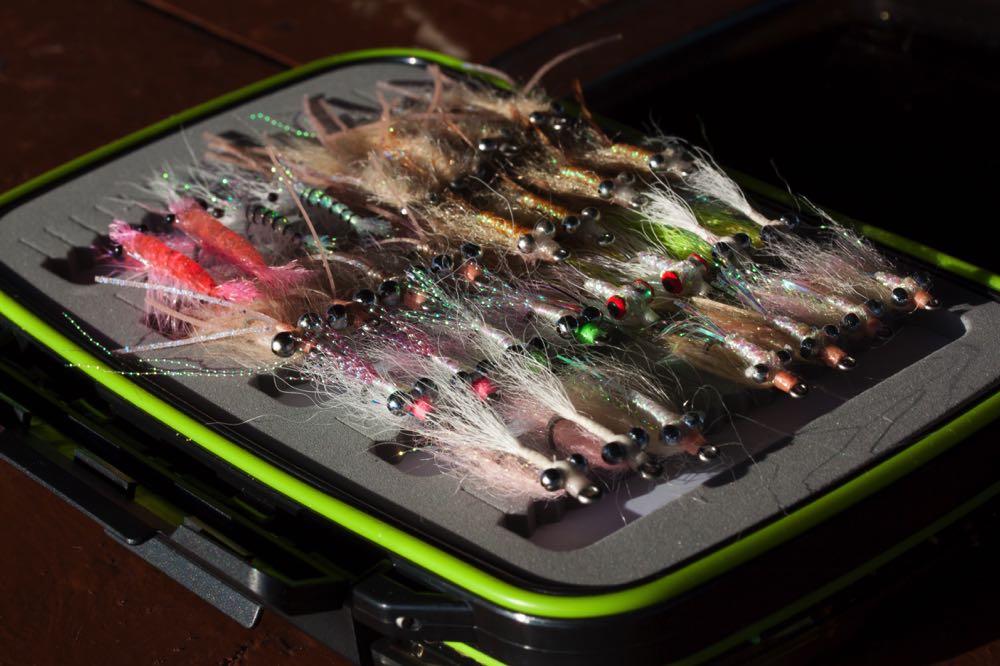 I saw one desk where the back was made to hold fly rod tubes along with reels. So, you would slide a rod into its own cubby at the back of the desk, and then the reels went into a drawer. This was great because it helped keep everything in one spot.
Overall Design
This is important if you want something that will match a theme in your tying room or your house. I know many different tiers use their "man cave" as the tying room, and the desk fits a certain theme.
However, feel free to make it your own. Whatever design you enjoy seeing and working at will let you feel more at ease when sitting there, and it'll lead to more flies tied.
Fly Tying Desks
Below, I'll go over some different fly tying desks. Check out the products below and see which one is going to best serve you!
Sauder Edge Water Computer Desk, Chalked Chestnut
The Sauder Edge Water Computer Desk is a great minimalist desk. It's perfect for the tier who doesn't have too much gear but still would like a spot where they can hold a vise, dubbing, thread, and all of their other tools and materials.
It's a nice size. It's large enough for you to spread out your tools and ensure that it's not too cluttered while also filling a corner of the room without taking it over as the centerpiece.
It has a classic wood tone and comes equipped with two drawers, one big and one small. They're great for holding larger and smaller pieces of equipment.
It's deep enough that it can also hold separate containers. This way you can grow with the desk, and the separate containers will allow you to have more storage spots.
It has a solid price, too. Coming in at under $250, this desk is durable and solid without costing too much. It's a great table for a tier of any skill level.
Sauder Carson Forge Desk, Washington Cherry Finish
This desk will give you more storage than the previous item. It's equipped with cubbies at the top of the desk that you can use to store larger or smaller pieces of tying material.
It's made of engineered wood and is grey-silver in color, which gives it a more modern look. There are also three separate drawers on this desk, two on the side and one in front where the tier would sit.
The Sauder Carson Forge Desk would be a great desk if you're either a beginner and want something to grow into or if you have a moderate amount of gear that you need to store. This desk is a good middle ground.
It also comes at a great price point, and you get a solid and sturdy desk. It will store just about all of the gear a fly tier could ever need, short of a professional.
This is a strong and sturdy desk that would look great in any tier's room. It's large enough that it can also be used as a workspace if need be. When done working, just remove your laptop and get to tying!
Roll Top Desk Solid Oak Wood – Executive Oak Desk
When you close your eyes and think of a fly tying desk, this is what most likely comes to mind. It's a classic, wooden, roll-top desk with tons of small cubbies that are perfect for storing all of your gear.
On top of having tons of storage space, this desk looks great. It's made of oak and then stained to let its natural colors shine. This desk would look great in any room, not just in the tying room.
It also comes equipped with nine different drawers. Two of them come with locks. meaning you can keep your secret patterns locked away until they're ready to see the light of day.
There's tons of storage space at this desk. If you have a lot of gear, then you need something like this to ensure that it can all fit and be nearby.
The Executive Oak Desk is the ideal fly tying desk. If you can drop the money on something like this and you're big into tying, then this desk will make your life easier.
Creative Angler Tabletop Organizer
Not all fly tying desks are full-sized tables, and not all fly tiers want that. Sometimes you already have a beautiful desk in your office (like the ones listed above) and you just want a cheap tabletop organizer to go on top.
That's where the Creative Angler Fly Tying 33 Tool Organizer Caddy comes in. This is a beautifully designed tabletop fly fishing organizer that'll work on any tabletop surface.
There are enough holes and pockets to hold pretty much all of your tools, and it looks great too.
Review This Post
Conclusion
After reading the above information, you hopefully have a better understanding of what a tying desk is and how it can benefit your fly tying experience.
So, if that all sounds good to you, then use the above information as a guide to help you pick out your own desk. Head on over to Amazon and pick one out!