As an Amazon Associate I earn from qualifying purchases.
As a part of the Amazon Associates Program and other affiliate programs, Into Fly Fishing® may receive a comission if you order products through links on this website.
In this post, I'll teach you how to start fly fishing streamers like a pro.
In recent years, fly fishing has increased in popularity and new techniques have been developed as a result. People are becoming more and more intuitive and discovering methods as well as flies that are catching a massive number of fish.
Streamer flies are constantly being developed and anglers are quickly learning how entertaining it is to fish with them. These flies draw some of the most aggressive strikes out of any fly on the market.
I love spending my time fishing deep pools and cut banks with streamers. Drawing a hungry trout out of the depths in pursuit of my streamer is addicting. The flash and quick strike are a guaranteed adrenaline rush.
What is Streamer Fishing?
Streamer fishing is a type of fishing done when the fish are aggressive. They're some of the larger flies on the market so you'll likely catch larger fish when you use them.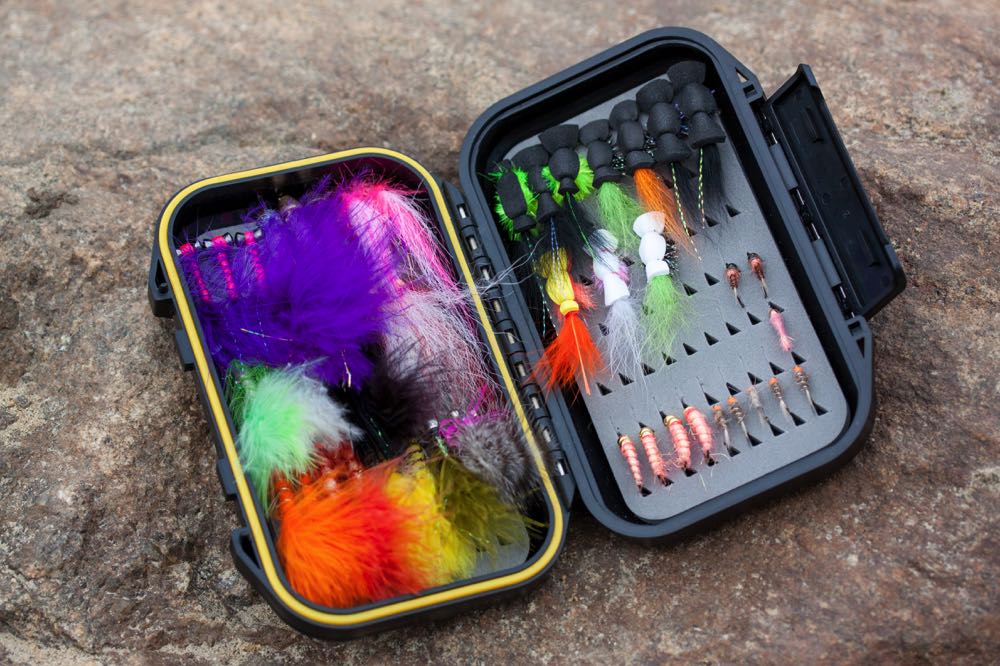 Streamers are used in lakes, deeper portions of the rivers, and in areas where the fish are spending time lower in the water column.
When to Use Streamer Flies
There are a few instances when streamers are going to work. First, if you're able to see high numbers of baitfish, crayfish, or leeches in the water, it's a great time to tie on a streamer. Streamers imitate these types of bait.
It's also smart to use streamers when you're fishing deep portions of rivers or lakes when the fish are staying low in the water column. These will fall near the bottom and imitate a wounded baitfish.
How to Cast a Streamer
Streamers are going to the heaviest flies in your box. As a result, it's going to take some time to learn how to use them. The biggest thing to remember is to stay patient. Casting is one of the most important streamer techniques.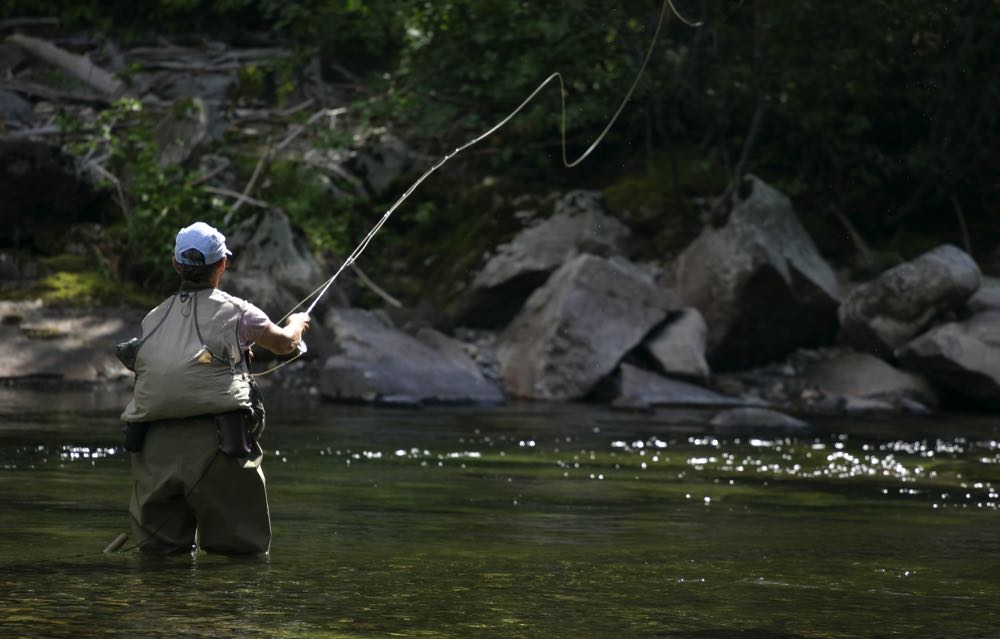 When using streamers, you need to wait for your line to fully unfurl before you continue casting. Start with a backward false cast and wait until you feel the weight of the fly. Once you feel it, a quick flick of your wrist forward will bring the fly ahead and pull out more line.
The Best Streamer Flies
Streamers have been a popular option for anglers for years. However, there are a few streamers that are guaranteed to catch you almost every type of fish. Tie on one of these and you have a chance at a trophy.
Best Streamers for Trout
Trout love to eat streamers. They enjoy the opportunity to feast on small baitfish and other smaller prey swimming near the bottom.
Wooly Bugger
The Wooly Bugger is a phenomenal streamer to use for almost every type of fish. However, trout seem to especially enjoy them. You can find these anywhere from size 2 to 8.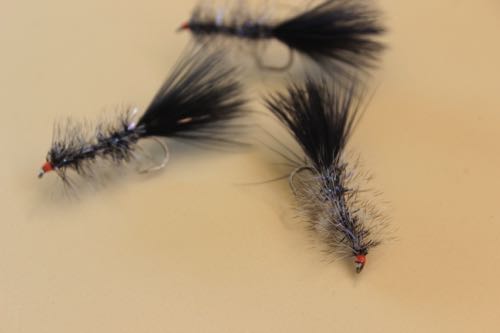 Use these when you're fishing a pool. Cast towards the front of the pool, let it fall in the water column, and start stripping towards yourself. The trout will think it's a baitfish trying to escape the deeper portions of the water.
Use a 6-weight when fishing with a Wooly Bugger. Also, use 3 or 4x leader. You don't need any tippet when fishing with a Wooly Bugger. You can use sinking, floating and weight forward line for these. They'll work on all types of line.
Jawbreaker
The Jawbreakers is another classic trout streamer. You tie these flies with jig hooks which is especially helpful when fishing deeper water with quite a bit of structure. The hooks won't snag as easily and allow you to work all types of water.
These are great flies to use in lakes. They have long rubber legs and look like a tasty meal for trout. Go ahead and fish this fly with smaller stripes to imitate more of a jig action.
When using the Jawbreaker, be sure you have at least your 5-weight. These are heavier flies and you want to feel comfortable casting them a longer distance. Plus, this fly will entice bigger fish so you need to have enough power to handle them.
Use 3 or 4x leader and no tippet. It doesn't necessarily matter what type of fly line you use. As long as you understand what depth you need to reach, you're good to go.
Sex Dungeon
The Sex Dungeon is a deadly fly for trout. It continues to gain respect in the world of fly fishing due to the impressive strikes it receives. It has several rubber legs, multiple colors and is too tempting for the trout to ignore.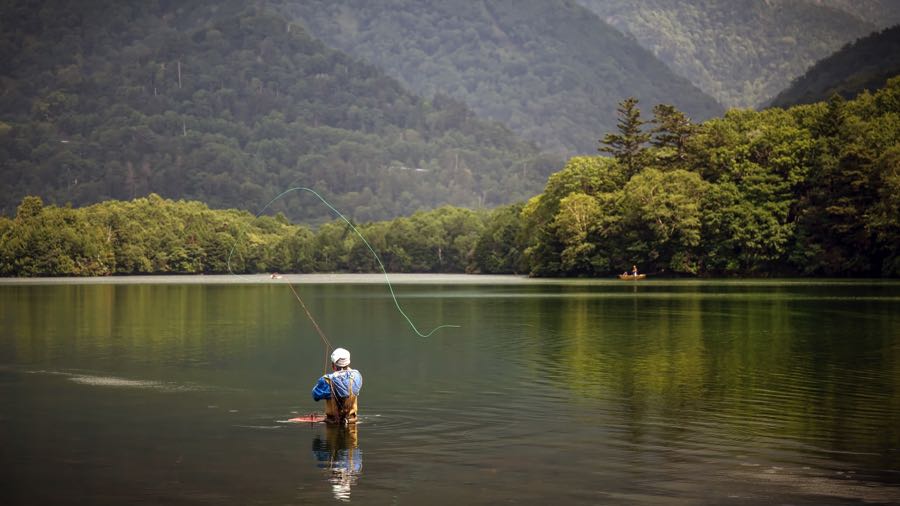 These are great to use along cut banks as well as deep pools in rivers. Dead drift and swing this streamer and you are guaranteed to find fish. A 5 or 6-weight is going to work well for the Sex Dungeon. You need the power to pick your spots.
Also, 2 or 3x leader is going to do the trick. The teeth from the larger trout have the potential to snap this fly!
Best Streamers For Bass
Bass will eat up these streamers all day. Whether you're fishing in open lakes or tight wooded pools, smallmouth or largemouth, you'll get them all with these flies.
Gully Ultra Craw
Crayfish are the perfect fly for bass fishing. The Gully Ultra Craw has dumbbell eyes so it's great to use when targeting a bedding bass. Cast near the bed and strip it over the fish. Bedding fish can't stand to see anything come near their fish.
The thing with fishing bed fish is that the strikes aren't always going to be aggressive. What you need to do is pay attention to the end of the fly line. If the line stops or has a slight twitch, it's likely a fish. The bass has eaten it, but may not have fully committed.
Use your 7 or 8-weight along with 0x leader. The bass will provide an intense fight.
Clouser Minnow
The Clouser is similar to Wooly Buggers in the sense that it will catch all types of fish. However, the bass are quite fond of this fly. You can use it on rivers as well as still water.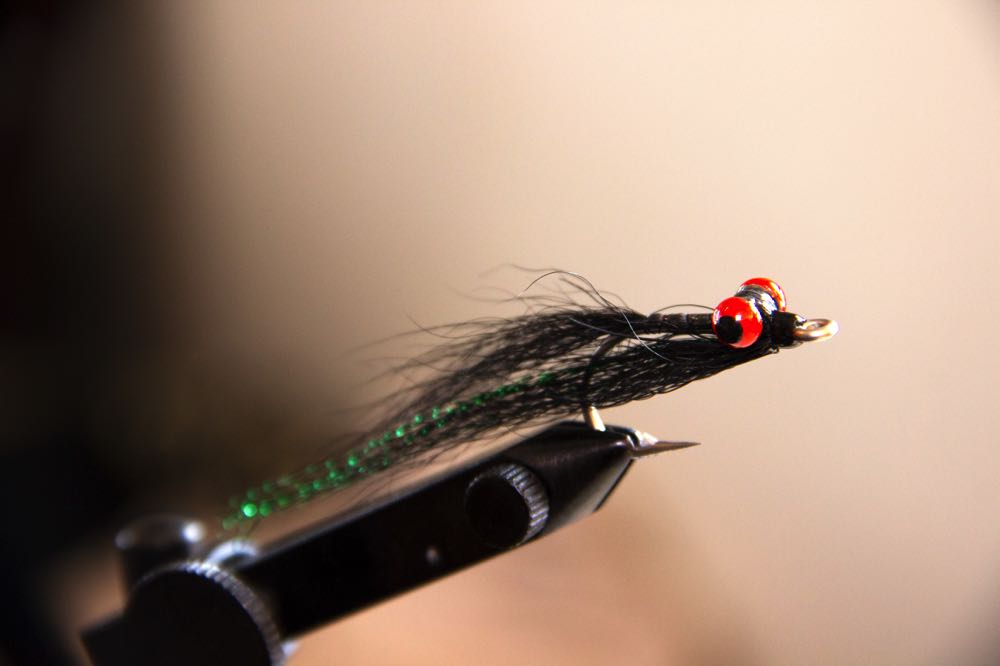 The beauty of the Clouser is that it imitates shad as well as crayfish. You can fish this deep as well as subsurface. You can find it anywhere from size 0 to 6. Also, it's smart to carry a variety of colors.
Use the Clouser with your 7 or 8-weight as well as 0 or 1x leader. You don't need tippet when fishing with these large streamers. Fish this with a sort of jig action as well as longer strips. Change the retrieve in order to learn what the fish want.
Meat Whistle
The rubber legs on the Meat Whistle are one of the main appeals for bass. The interesting aspect of this fly is that the bead is a few millimeters lower than the eye of the hook. This allows you to properly imitate a weak baitfish.
The best way to strip this fly is to do so 6 inches to a foot at a time. The meat whistle is best to use on a 7 or 8-weight. Plus, a 0 or 1x leader is going to be a necessary option.
Best Streamers For Salmon and Steelhead
Salmon love these flies, particularly young salmon in the rivers.
Dolly Llama
The Dolly Llama is a great option for anyone looking to land both salmon and Steelhead. These flies are as obnoxious and intrusive as any fly you can possibly find. It has a variety of colors and plenty of material to imitate a large baitfish.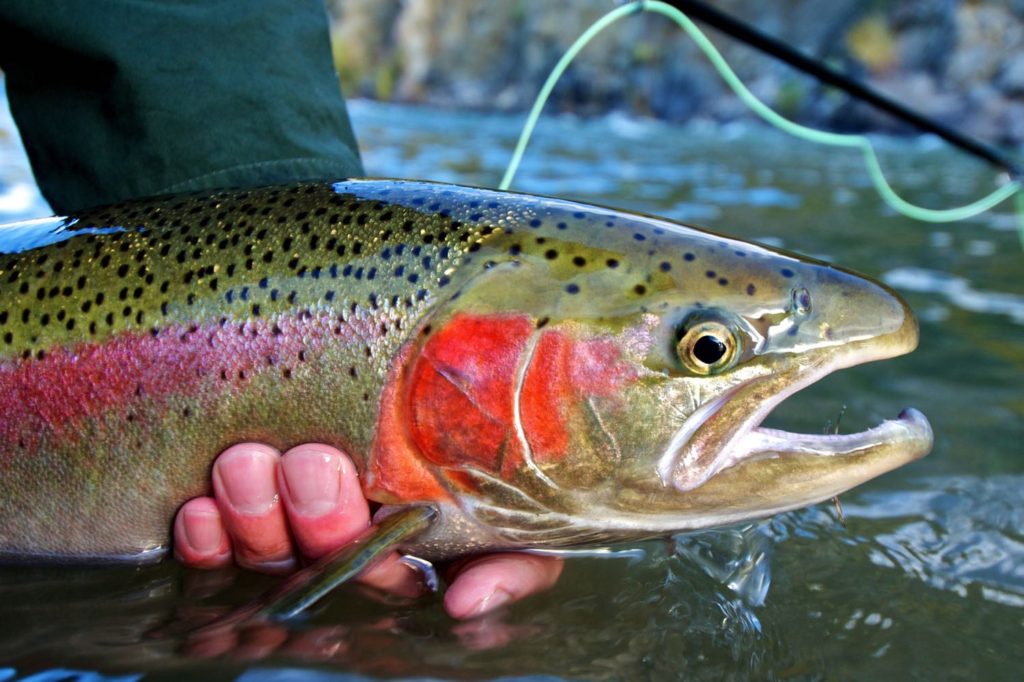 There is a heavy skull weight on the Dolly Llama that helps you swing and dead drift these flies. Salmon and Steelhead often strike based on reaction. If they see a large fly like the Dolly Llama, it won't take long for them to strike.
Use the Dolly on a 8 or 9-weight rod with 12 foot 0x leader. These fish are spooky and need a natural presentation so the 12-foot leader is going to help you accomplish that.
Egg Sucking Leech
The Egg Sucking Leech is something that you're going to find in every salmon anglers fly box. This pattern is deadly in every area of the world where salmon live.
The red material near the hook eye imitates an egg and the rest of the pattern is long and skinny like a leech. These often don't have beads so you're going to need to fish it with sinking line if you're trying to reach the bottom of the water column.
The Egg Sucking Leech is best used with 0x leader as well as an 8 or 9-weight rod.
Cat Toy
Sometimes when you're fishing for Steelhead and salmon, you need a fly that is going to force reaction strikes. The Cat Toy accomplishes this. It's going to anger these fish and make them strike.
Many anglers use this on a Spey or switch rod. It's a bit heavier and needs to be able to cover quite a bit of water. Be sure you have the proper leader to match with your Spey line.
Gear To Use When Fishing With Streamers
When it comes to fishing with streamers, quite a bit of your gear choices depend on what type of water you're fishing and the size of the fish you're targeting.
Rod
If you're in smaller mountain rivers and streams, you only need a 5-weight to fish with streamers. Your fly choices are likely not large and you'll only be handling fish upwards of 20 inches.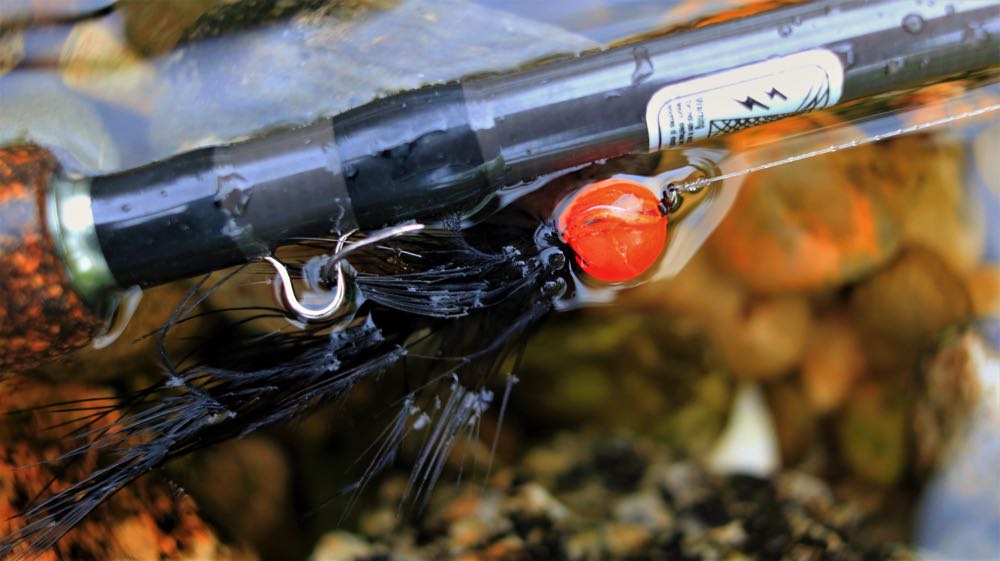 If you're after large fish in wide rivers or lakes, you're going to need anywhere between a 7 to 9-weight. You need the casting power as well as the necessary action to fight the larger fish you hook.
Reel
Any one of your favorite fly reels that matches the weight of your fly line and rod will be perfectly fine for fishing with streamers. Generally, as mentioned above, these will be around 5 weight and up.
Line
When it comes to fishing with streamers, many anglers think they can only use sinking or weight forward line. This isn't the case. Floating line has proven to be a great option when using streamers. It allows the streamer to look extremely natural under the surface since nothing is in its way.
However, weight forward and sinking line do serve a purpose. You can't go wrong with any option, but you need to understand the depth of the water you're fishing and where the fish like to sit.
Leader
Fly fishing with streamers is going to require stronger line. The strikes are going to be more aggressive and the fish are larger. As a result, it's best to fish streamers with 0 to 2x leader.
At times, if you're fishing clear streams, you may need to fish with 3 or 4x leader. The fish you catch likely won't be huge so it's not as big of a deal if you aren't using heavier leader.
How To Fish With a Streamer
Streamer fishing doesn't have to be complicated. At the end of the day, you're trying to imitate a baitfish of some sort. If you can find a technique that does this, go ahead and use it.
Fly Fishing Streamers in a Lake
When you tie on a streamer to use in a lake, the biggest thing to remember is to find structure. Fish are always going to be around structure and look to feed near them.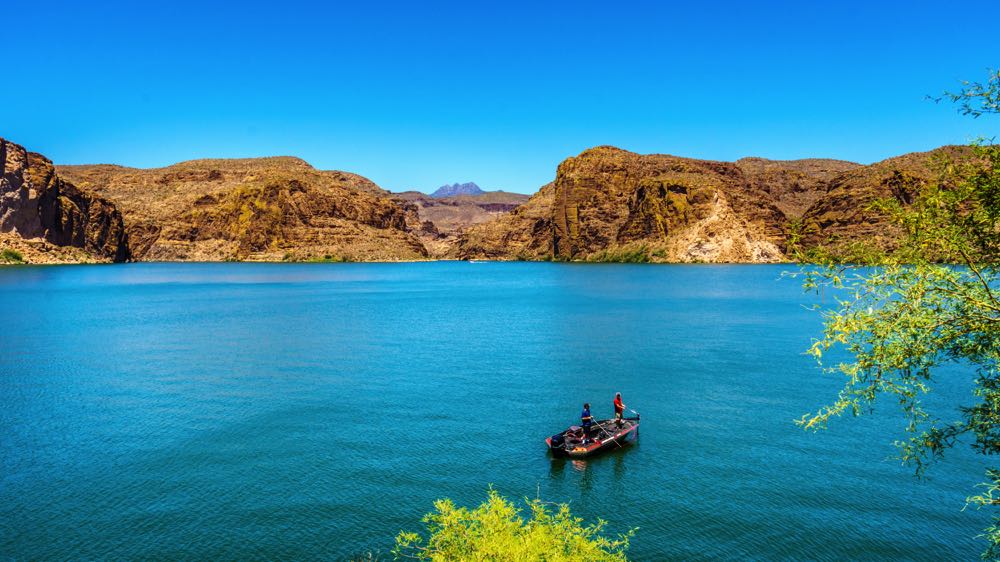 The next thing to understand is the depth at which you're fishing. Once you understand this, cast near structure, let the streamer fall in the water column and begin to use longer strips.
Predators are used to seeing prey swim smoothly through a lake. There is minimal current compared to rivers and baitfish are able to swim uninhibited through still water. However, don't be afraid to try multiple retrieval methods.
Fly Fishing Streamers in a River
When you're fishing a river, you want to find streams, pools and cut banks. All of these are going to hold fish. There are two techniques to use when fishing with streamers in rivers.
The first is to dead drift the streamer. Cast upstream and let it flow downstream through your target area. When using this method, high stick your rod. You want as little drag in the water as possible. As long as your streamer is leading the way, you're good to go.
The other method is to swing your streamer through a pool. Cast your streamer into the riffles above the pool, let it drift through the pool, and as soon as your line unfurls let it swing through the pool and start stripping towards yourself.
Fly Fishing Streamers in a Small Stream
Fishing with streamers in a small stream is one of my favorite ways to fish. Streamers are going to receive intense strikes in smaller streams because these fish don't see many baitfish.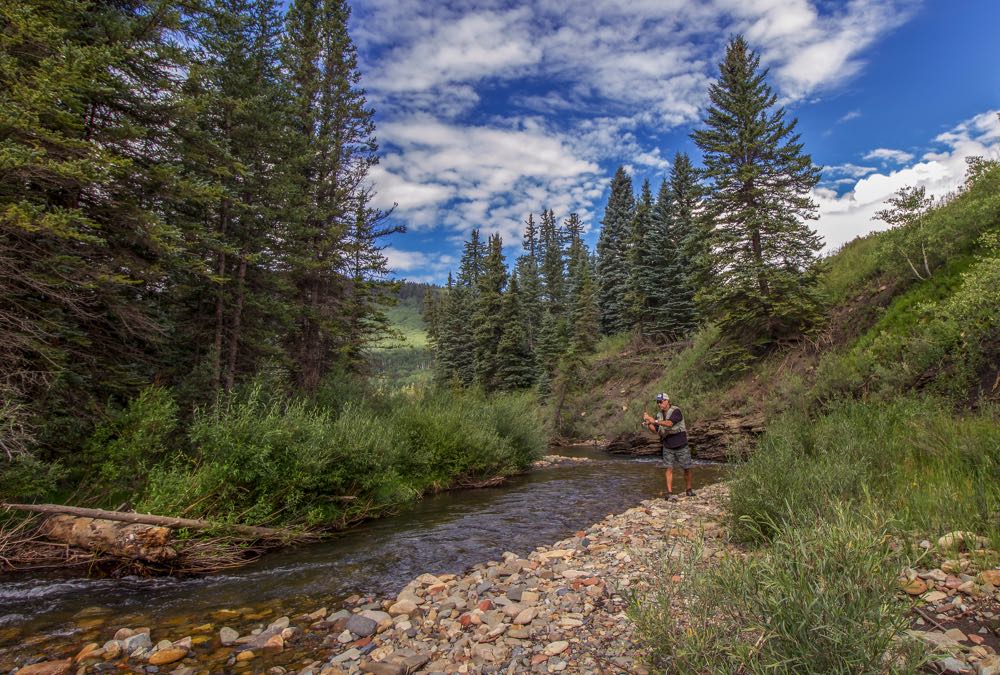 Do your best to find pockets and pools in small streams. Cast above them and let it drift into the still water. You'll almost always receive your strikes on dead drifts. As long as you can cast accurately, you'll land plenty of fish on streamers in small streams.
Best Time For Streamer Fishing
Streamer fishing is going to work well right before a hatch. As the flies are making their way towards the surface, the fish begin feeding. This usually happens as the sun is rising and setting.
When this is the case, find the seams, cut banks, and pools. The fish are going to actively look for food. These are the times when you have a great chance at landing a trophy fish.
Streamers aren't ever going to be very successful in the winter unless you're targeting Steelhead. The rest of the fish species are sluggish and aren't looking to strike a large bait. Stick with nymphs during the cold months!
And remember that if the water is clear and you see fish feeding, throw a streamer. They're hungry and looking to eat so don't ever think a streamer won't work. If anything, it's a great fly to use to anger the fish and get them in the mood to eat.
Streamer Fishing Techniques, Tips & Tricks
There is never going to be one specific way to fish streamers that is always going to be more successful. It is heavily dependent on the water you're fishing and how comfortable you are with your fly rod.
Give the Fly Time
When fishing with streamers, patience is key. Yes, it is a large bait that draws reaction strikes, but it still needs to look natural. You need to give the fly time to reach the lower parts of the water column and achieve a natural drift.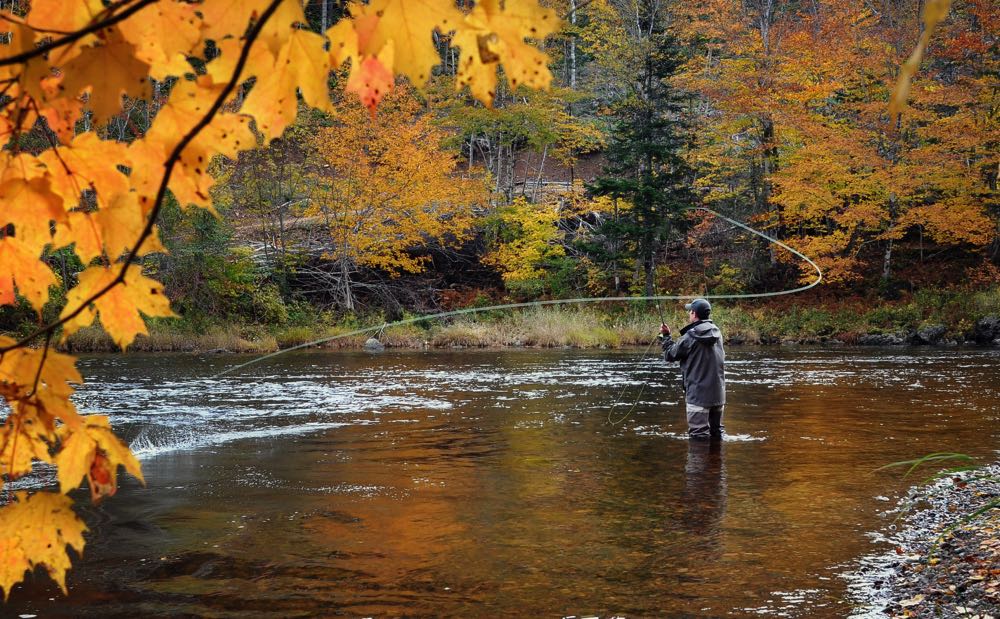 The best way to ensure that the fly is going to look natural is to cast further ahead of your target water. This gives the fly time to sink in the water and drift through the pool or cut the bank perfectly.
Also, remember that fish will strike streamers all the way until you pull them out of the water. Don't yank the streamer out of the water when you still have 10 feet of fly line out. Be patient and strip all the way until the streamer is at your feet.
Fishing Cut Banks
When fishing a streamer on a cut bank, do your best to get it as far under the bank as you can. The cuts always go back further than you think. Dead drifting is the way to go when fishing a cut bank.
Dead drifting will put the fly in front of the faces of the fish and be too much for them to handle.
Fishing Pools with Streamers
Do your best to get your fly as close to the shoreline when fishing pools. The pools are likely formed due to a bend in the river or a rock wall on the edge of the water. These portions of the river are deep and the fly needs time to fall.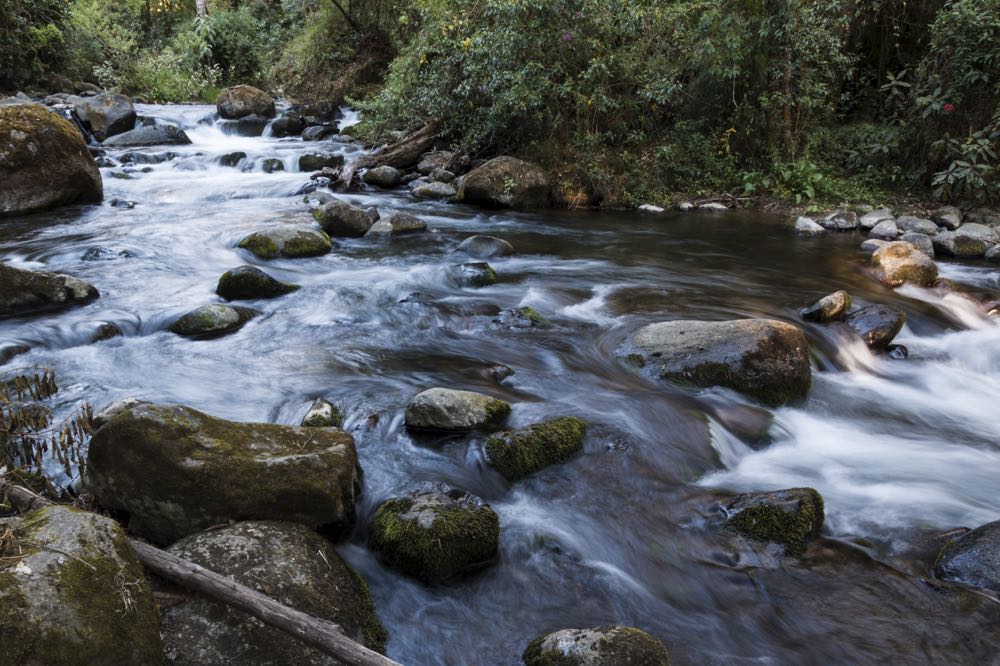 You can fish the pool vertically or horizontally. When fishing vertically, you're standing below the pool, casting upstream into the riffles and letting it drift back towards you.
When fishing horizontally, you're casting the fly up against the bank and letting it swing through the pool. Each of these methods is going to catch fish, but it will likely take some time to learn what the fish like.
Cover Water
Streamers are great search flies. If nothing is striking and you know fish are in the area, tie on a streamer. Don't be shy when it comes to covering a large amount of water with it. The fish are going to eventually strike, but you need to discover their pattern.
Let The Fly Control
Streamers are large and heavy flies. As a result, you need to let them control the pace at which they flow downstream and stay out of their way as much as possible.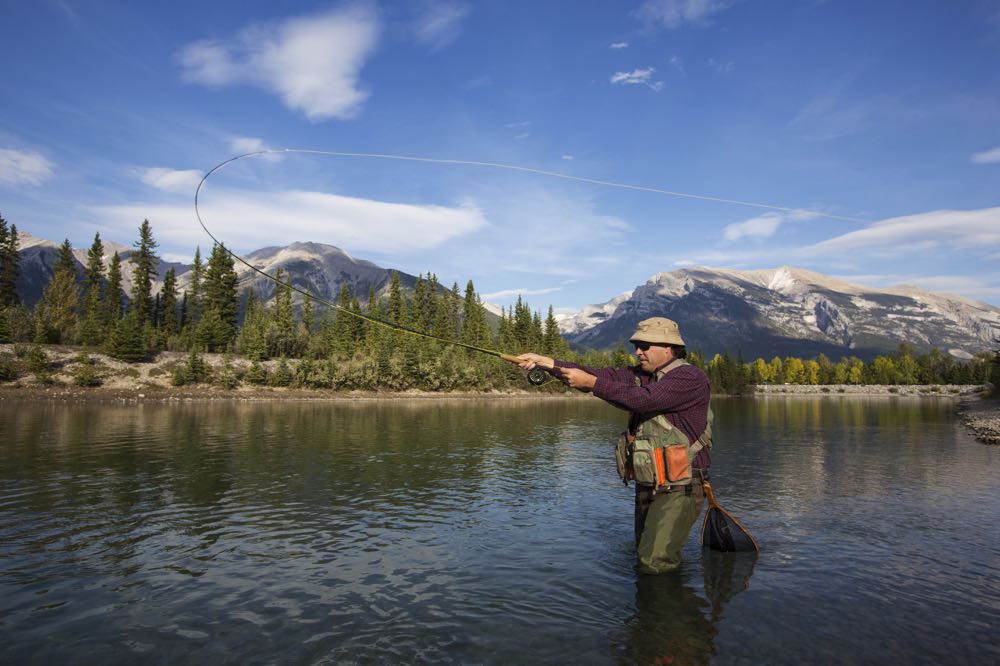 This means you may have to consistently mend up and downstream to ensure that the fly is able to drift with the current so the fish assume that it is a live baitfish.
The trick is always getting the fly lower in the water column. This takes time to learn how to read the river and identify the best ways to mend so that your fly is deep enough.
Best Destinations For Streamer Fishing
Streamer fishing has no boundaries. Any place where you can cast a fly, you can use a streamer. Fish are always going to look for larger bait to eat.
Montana
The amount of water in Montana makes it perfect for any type of fly. However, the large amount of rock throughout the state creates wonderful pools in many of the rivers. Any streamer angler salivates at the idea of a pool.
Use streamers on the Madison and Yellowstone rivers!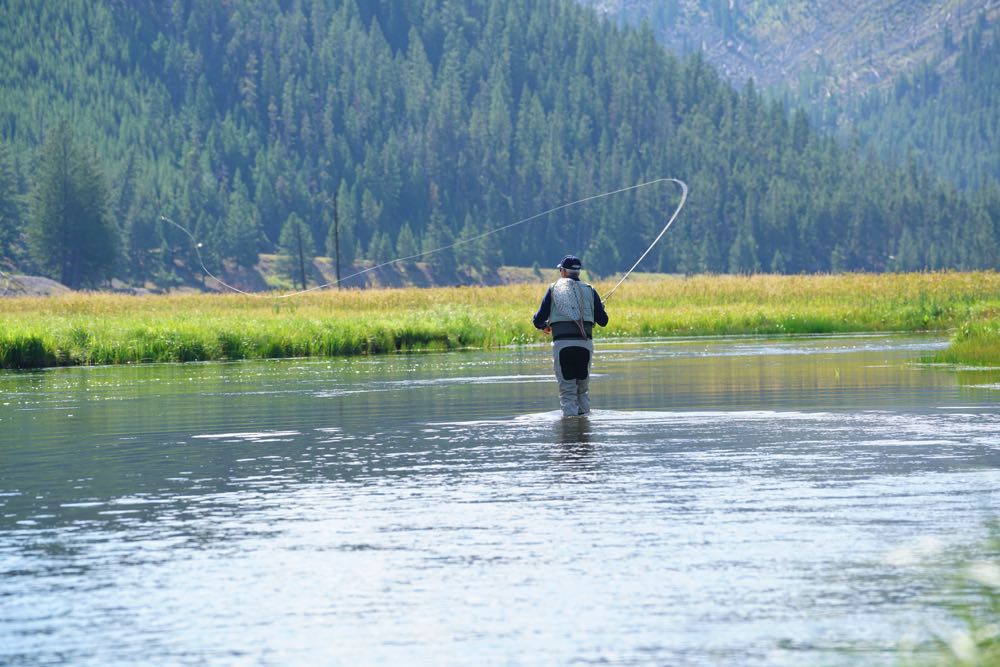 Wyoming
Wyoming has large, fast-moving rivers that need heavy flies. Streamers are going to be one of your best friends in this state. They're especially useful on the Bighorn and Yellowstone.
Are You Ready For Streamer Fishing?
Every fly angler needs to try their hand at streamer fishing. It can feel unnatural at first, but the opportunity to catch massive fish is too tempting. Start fishing with a Wooly Bugger or Clouser Minnow and see what happens.
These flies are going to catch fish and the more you learn your water, the more opportunities you have to expand your streamer box. If it has the potential to land you a trophy fish, why not use them?
Some images in this post are courtesy of Shutterstock.
Like This Article? Pin it!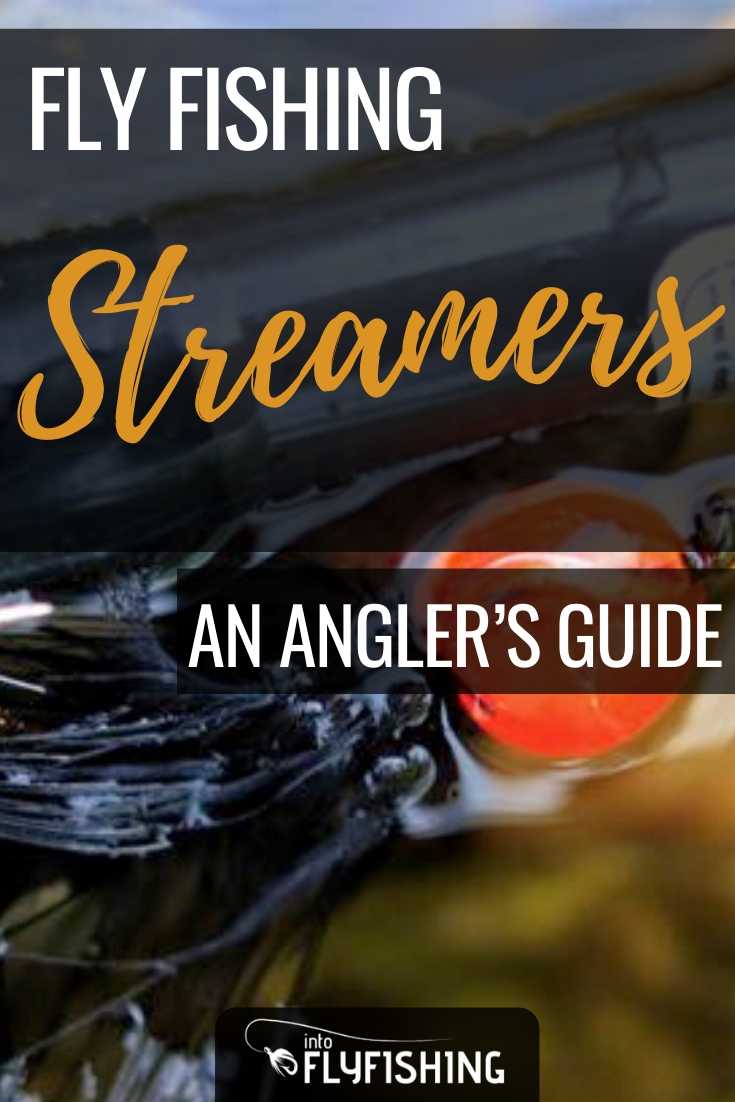 Amazon and the Amazon logo are trademarks of Amazon.com, Inc, or its affiliates.