In this guide, I'll share the basics of how to fly fish for trout on small streams. I've been fly fishing for over 20 years. I've traveled to extreme saltwater destinations like Seychelles, Costa Rica, and Sudan during that time. I've also been able to fish for Salmon in Canada and Tigerfish in Africa.
But, of all the fly fishing I've done, I enjoy small stream fly fishing the most. Yes, it's probably because I have two of South Africa's best trout streams on my doorstep, but the visual aspect and how close you become to nature when fishing small streams is what I love the most.
Disclaimer: IntoFlyFishing.com is a participant in the Amazon Services LLC Associates Program, as an Amazon Associate I earn from qualifying purchases. Please see our Privacy Page for more information.
What Makes Fly Fishing on a Small Stream Different?
No hard and fast rule determines if a flowing water body is to be classified as a small stream, medium, or large river. So, what makes a stream small, you might ask? I believe it's not only the width of the river but also the way we approach it.
A small stream, very often, is overgrown with bankside vegetation and overhanging trees. Due to its small size, the river's character may change drastically depending on the water runoff from its catchment area.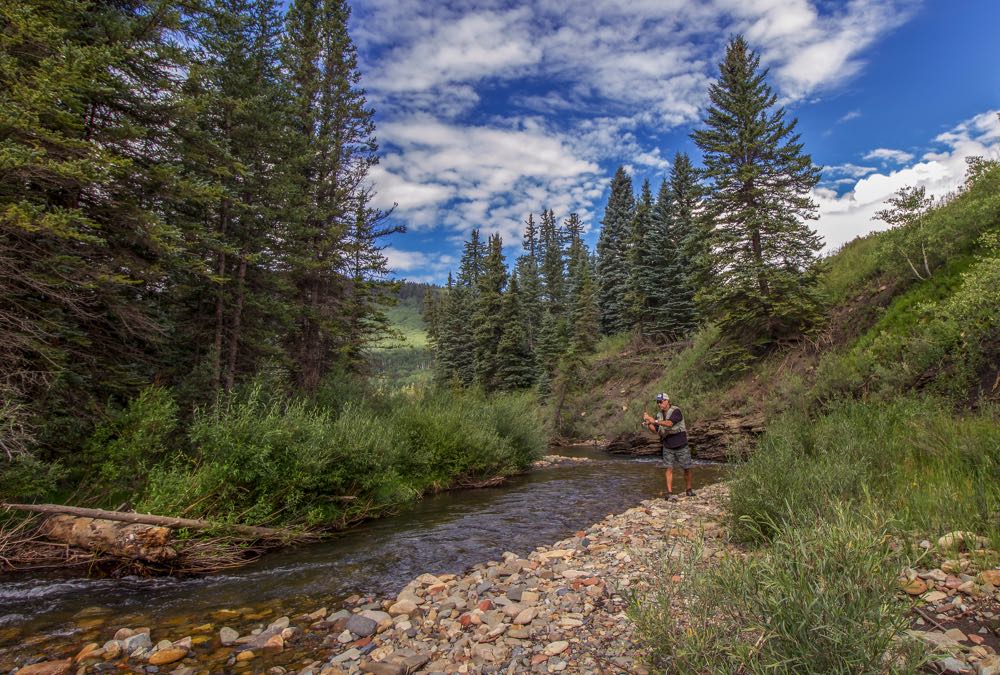 One of my favorite things about small stream fly fishing is that most of the fish are caught at relatively close distances. It is a visual fishing experience where you're drawn into thinking like a fish and life goes into slow motion.
Watch How to Fish Small Streams
How To Fly Fish on a Small Stream?
So, let's look at some basic techniques and tips that will significantly improve your success rate on a small stream.
Fish Upstream
Plan your day to fish in an upstream direction. Trout, mostly, face upstream, which allows food to drift in their direction, almost like a conveyor belt, which gives you two benefits. The first is to use the current to drift your food naturally into their feeding lane. The second is that you're able to sneak up pretty close to a feeding trout without them seeing you.
Observe the Water
When arriving at a beat or stretch of river, find a spot where you can observe the water without being seen. Watch the water for at least 5 minutes, paying particular attention to the pools' tail and head section. A trout will often reveal itself by either rising to a surface snack or turning underwater, causing a flash.
Slow Down
Do not move too fast. Because a small stream offers so little water, trout hold in some peculiar spots. Move slowly and work every likely looking stretch of water. This will increase your catch rate drastically.
Fish Systematically
I've seen many fly anglers, especially those new to small stream fishing, miss tons of opportunities because they only fish the head of a pool. When you arrive at a pool, break it down into smaller sections and fish it accordingly.
For instance, I always work the tail quite hard, especially if the pool drops down into a fast-flowing rapid. It's one of the most productive spots on a river. Then, work the structure in the pool and along the banks, slowly upstream. Only at the end fish the head. Yes, this is probably the most productive spot, but you'll miss so many fish if you neglect the rest.
Dry Fly Fishing on a Small Stream
Probably one of the most rewarding ways to fish a small stream is with a single dry fly. It is the essence of our sport. Yes, trout don't always free rise to dries, but it makes for superb fishing when they do.
As with most techniques to be used on a river, the key is to make the dry fly drift as natural on the surface as possible. The fly is cast ahead of the feeding trout, allowed to drift, like a natural, down towards the fish.
Once the fish takes the fly, delay the strike for a split-second to allow the fish to turn downward. This pause will ensure that the hook sets properly. It's something to get used to and can only be learned while spending time on the water.
Dry Dropper Fly Fishing on a Small Stream
Of all the small stream techniques there are, this is the one I use the most. It is highly productive and allows you to fish two areas in the water column at once.
In the area where I fish, which is close to Cape Town, a mountain wind pics up in the afternoons. This wind, usually blowing in an upstream direction, tends to lift small dry flies off the surface, reducing the effective fishing time.
A nymph suspended behind the dry fly, as you find in a dry-dropper rig, anchors the dry fly keeping it on the water. Another great benefit of a dry-dropper rig is that if you miss the take on the dry fly, the chances are good that the same trout will eat the nymph on the next couple of casts.
Nymphing on a Small Stream
Nymphing is one of the most effective ways of catching trout. If numbers are what you're after, you need to learn this technique. You're fishing multiple nymphs allowing you to cover the entire water column (except the surface, of course).
You can adapt to the depth that the fish are holding very quickly. Fish holding in deep and strong runs very seldomly rise to dry flies. Nymphing is a great way to catch these fish.
It's a technique that takes a lot of practice, especially if you're fishing without a strike indicator and relying on the feedback translated through the leader and rod to detect takes.
Streamer Fishing on a Small Stream
One of the easiest and most fruitful ways to catch trout on a small stream is using streamers. The size of fish will dictate the size of the streamer you'll use in the river. However, one of my favorite patterns to use is a micro bugger.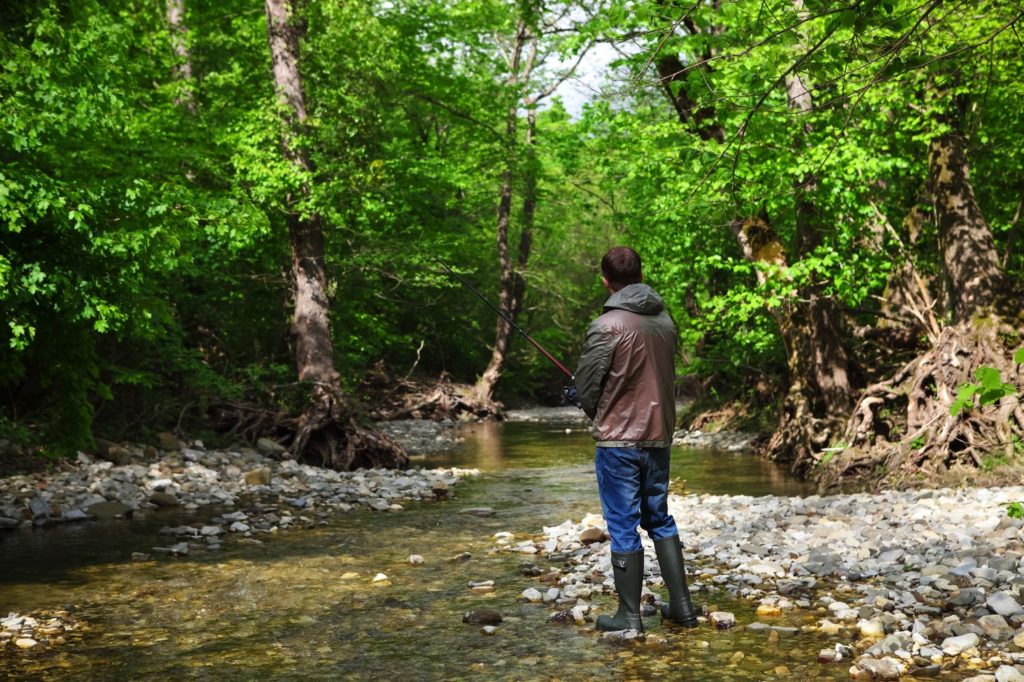 This is the only technique that I use when fishing in a downstream direction. I present the fly across the river and allow it to swing over likely fish-holding areas. The takes are noticeably harder and more ferocious than with a dry or nymph, so ensure the tippet size is selected accordingly.
Gear for Fly Fishing on a Small Stream
Let's have a look at the essential gear you'll need when fishing a small stream. Before we continue, let me just mention these are not a must-have, but instead, they'll make your small stream fishing day more productive and enjoyable. So, if it's something you'll do regularly, follow these guidelines.
Rod
The ideal rod's length and action depend significantly on the specific stream you'll fish, the fishing techniques you prefer using, and your casting style. Let's have a look at each of these factors:
The Stream
One of the most significant factors determining the ideal rod length for a stream is how overgrown it is. Trying to swing around a 10ft nymphing rod on a severely overgrown forest stream is a nightmare. In this case, a short (6'6") rod will be better suited.
On the other hand, when working fast-moving water with intricate seams and pocket water, a long 10' rod will be ideal.
Fishing Techniques
To illustrate the point, I'll look at the two extremes of small stream rods. On the one end, you have slower actioned rods in short lengths. These rods are ideal dry fly fishing tools that enable you to make delicate presentations.
On the other side of the coin, you get nymphing rods. These rods are long and have a sensitive tip that enables you to pick up subtle takes. Obviously, there are many options in between.
Line
A long cast on a small stream is in the region of 40-50'. Very seldomly will you have to make presentations further than that. If you're going to predominantly do dry fly fishing, I recommend buying a double taper line suited to your rod's line weight rating.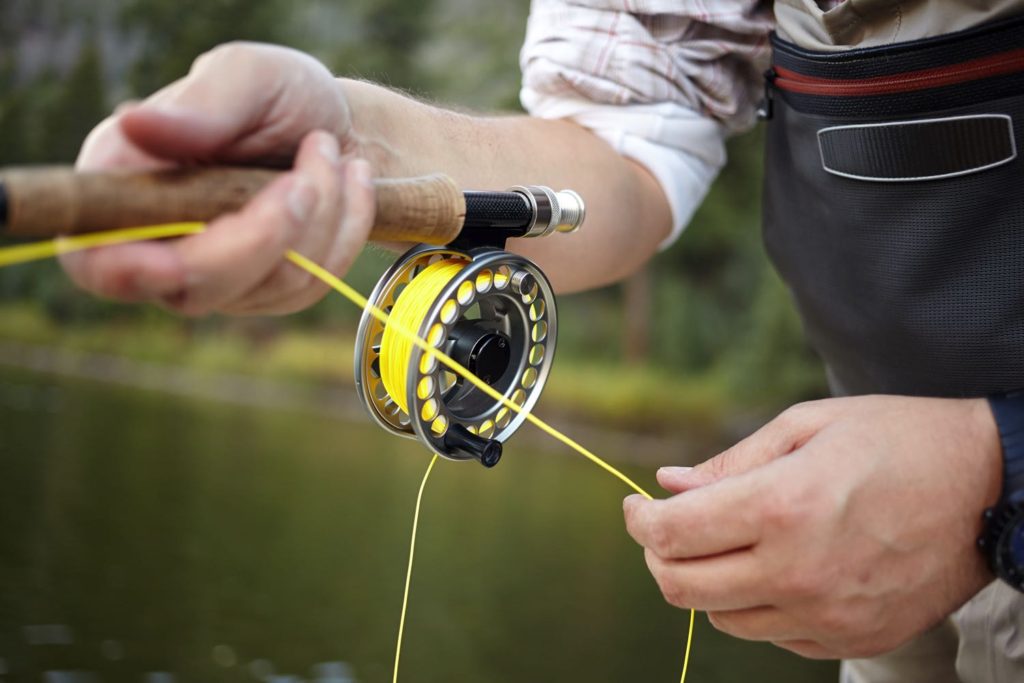 For nymphing, any thin fly line will do as you'll probably just be fishing with the monofilament leader out of the rod's tip.
Best Flies for Fishing On a Small Stream
I've split the best flies into categories for the best dry flies, nymphs, and streamers. Yes, I know there are thousands of patterns, and on a specific section of water, some flies work better than others. However, if you have these flies in your box, you'll be able to catch trout consistently anywhere in the world.
Dry Flies
These dry flies work all over the world. Their size and color may be adapted to suit the naturals found in the specific water systems you are fishing.
Parachute Adams
The good old Parachute Adams. One of the best mayfly patterns you'll ever find, which is developed from the original Adams. What makes the fly so successful is the realistic mayfly-like profile, yet the parachute hackle ensures that the hook gape remains unobstructed.
Klinkhammer
The Klinkhammer was initially developed by the world-famous Dutch fly tyer Hans van Klinken as a caddis emerger pattern.
However, when adapted slightly, it may also imitate spent mayfly spinners by adding a small tail. A highly versatile pattern that works very well on small stream trout.
Hopper
Terrestrial insects form an essential part of a small stream trout's diet. Depending on the specific river system and the available subsurface food source found in the water, trout will always come up to inspect a hopper. This makes a hopper pattern a great prospecting fly when covering a new stretch of water.
CDC & ELK
One of my favorite patterns is the CDC & Elk. It is derived from the popular Caddis & Elk pattern, but the hackle is replaced with a thick CDC body. This gives the fly great buoyancy and bugginess. It's a great pattern to use in a dry-dropper rig.
Nymphs
Here are some nymph patterns that you'll always find in my small stream fly box.
Pheasant Tail Nymph
I carry Pheasant Tail Nymph in two renditions. I tied them on both standard hooks and jig hooks. Jig hooks allow the hook point to ride upwards, which protects the point when nymphing.
These are general mayfly imitations that work well in sizes ranging from 18 – 14. Always carry them in various weights, which allows you to fish at different depths.
Gold Ribbed Hare's Ear
The gold ribbed hare's ear is a tremendous general nymph pattern. It imitates both mayflies and caddis larva. I generally tie them on jig hooks and use silver, gold, pink, copper, and brown beads.
Brassie
If the trout are not responding well to any of the nymphs mentioned above, a small brassie tied on a size 18 or 20 hook usually does the trick.
It is much lighter than the other nymphs on the list and therefore gets a more natural drift. The fly works exceptionally well on a dry dropper rig in shallower water.
Perdigon
If you need to get down quickly or present a fly through a strong current, the Perdigon is the perfect fly. It has a slender body with almost no unnecessary bulk. The Perdigon has become a popular recreational fly that is derived from competition fishing. Carry them in sizes ranging from 18 to 14 and in various weights.
Streamers
Streamer fishing on a small stream can be enjoyable and effective. I don't carry an extensive selection of patterns, as I believe the action and depth are more important than the pattern itself.
Micro Bugger
The only streamer you'll find in my small streams box. I tie the micro bugger on jig hooks ranging from 18 to 14 and use slotted tungsten beads as weight. Always have a small selection of these flies at hand in black, brown, and olive.
Time To Go Fly Fishing on a Small Stream!
Although this is not a complete article on catching trout on a small stream, I wrote it to give you a brief introduction to this fascinating fly fishing niche. It's not for everyone out there, but those that love it do so to an extreme degree and prefer it to all other forms of fly fishing.
Most of all, I hope that the article inspired you to at least give small stream fly fishing a go. It is an intimate experience that words cannot describe.
If you enjoyed this article, please share it with your fellow anglers and fishing friends. Also, leave any comments and questions at the bottom of the page.
Until next time.