As an Amazon Associate I earn from qualifying purchases.
I recently had the pleasure of spending an entire week fly fishing at Jurassic Lake Lodge on Lago Strobel in Argentinian Patagonia. This trip is the ultimate bucket list fly fishing adventure, and in this post, I'll tell you why.
I'm going to introduce you to the world's best rainbow trout fly fishing destination (if you don't already know about it). I'll explain exactly what it costs, how you can book it, and what you can expect on the trip.
If you're an avid fly angler, then Jurassic Lake Lodge Argentina should be firmly on your bucket list, and if it's not…it will be after you read this blog post.
As a part of the Amazon Associates Program and other affiliate programs, Into Fly Fishing® may receive a comission if you order products through links on this website.
Why Go Fly Fishing at Jurassic Lake?
This is easy. If you're an avid fly angler who loves to catch large, powerful trout, then aside from New Zealand there's probably no better place on Earth than Lago Strobel. These are premier trophy trout waters. At any given time, on any given day, someone is likely catching the fish of their lifetime.
There's probably nowhere else in the world where trout grow in such numbers and fight with as much ferocity as at Lago Strobel in Argentinian Patagonia.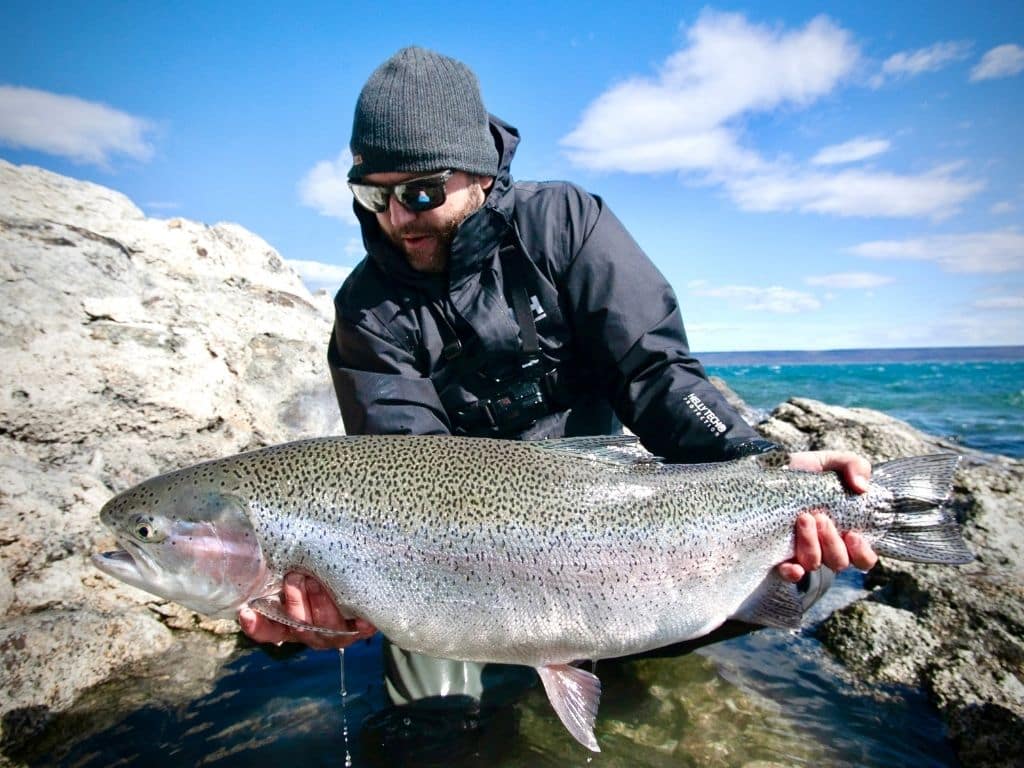 The fish are usually in astonishing condition. They have little pressure and are mind-blowingly abundant in numbers.
On top of that, the lodge itself is situated in the middle of nowhere. The Patagonian landscape seemingly rolls on forever in every direction around the lodge, with no other building or road in sight.
It's this remoteness, along with the fresh air, clear starry skies, and of course, life-altering fishing, that makes Jurassic Lake Lodge in Patagonia one of the most sought-after fly fishing destinations on the globe.
About Fly Fishing Jurassic Lake (The Lodge)
Jurassic Lake Lodge is a luxury fly fishing lodge situated on the banks of the Rio Barrancoso (Barrancoso River) in central Patagonia.
The lodge is nearly a 7-hour drive from the nearest town (most people come from El Calafate). It's this remoteness and the empty Patagonian landscape around the lodge that makes it so special.
The lodge features beautiful rooms sufficient to host 10 anglers at a time, all with views out to Lago Strobel and the Rio Barrancoso.
A lodge host, Nacha, is there to pamper you every day of the trip. She's very welcoming and really helps all of the anglers feel like they're part of the family.
There's also an alternating chef on staff. During our time there, we had Belén, and the food was spectacular. It's hard to believe they're able to create such fantastic food in the middle of nowhere!
Most fly fishing lodges are quite basic, but not Jurassic Lake Lodge. Sure, the rooms are sparsely decorated, but the beds are comfortable and the common areas are extremely cozy.
I've stayed at quite a few luxury fly fishing lodges in my day and I think that when you combine the service, comfort, and quality of nearby fishing spots, Jurassic Lake Lodge has them all beat.
About Lago Strobel
This is what makes Jurassic Lake Lodge so famous. If it wasn't for Lago Strobel, a windswept lake overfilled with enormous (25 lb+) rainbow trout, then it would be hard to justify the journey out to the middle of nowhere in Patagonia.
But, luckily for Jurassic Lake Lodge, this lake is unrivaled anywhere else on Earth when it comes to rainbow trout fishing.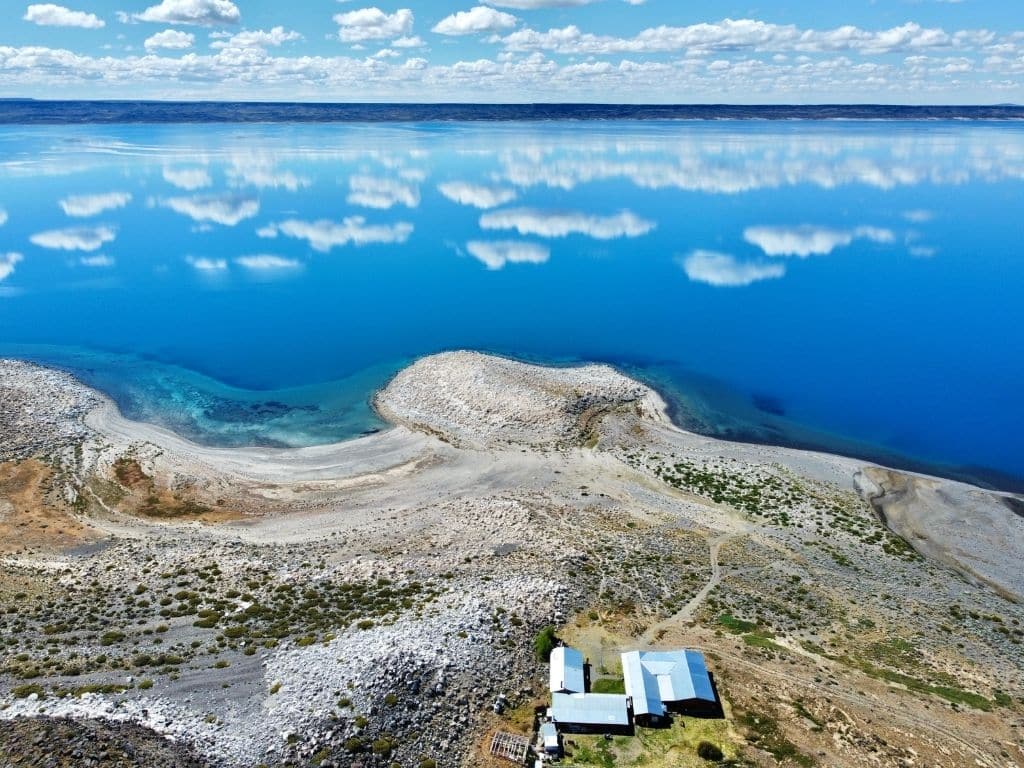 The lake itself formed after an enormous volcano collapsed. Limestone-rich waters filled the empty canyon and these waters made the perfect habitat for small crustaceous scuds.
Over the following centuries, these scuds exploded in numbers and size. Even to this day when you pick up any rock on the shoreline, you'll see hundreds of tiny shrimp crawling around the underside of the stone.
These scuds are the absolute perfect food for trout. They're abundant and nutrient-dense. But, back then, there were no trout in this part of the world…at least not yet.
Eventually, the owner of the ranch where Jurassic Lake Lodge is situated decided to stock a few trout. Months later he returned to the banks of the Barrancoso River to see if his efforts were successful, and to his surprise, the fish were already growing.
First, there were a few hundred, then there were a few thousand, and pretty soon the lake was teeming with trout life.
All the rainbow trout gorge themselves on the scuds and grow at a staggering rate of up to 2 pounds per year!
Today, this is the premier fly fishing destination in Patagonia. It's spoken about in whispers, by avid Argentinian anglers and foreign fly fishers alike.
It's a secret worth keeping. This place just seems too good to be true.
About Rio Barrancoso
The Rio Barrancoso is the only river leading in or out of Lago Strobel. As it happens, this rocky meandering stream is the perfect breeding ground for trout.
The trout not only spawn up the Rio Barrancoso, but after heavy rains, they run up the river aggressively hunting for food. Luckily for them, insects are also abundant in the river, so they can take a break from eating scuds and gorge themselves on other trout delicacies like hoppers, ants, and moths.
Even God couldn't find a more perfect place to grow rainbow trout. If there was ever a place where they were truly meant to be, then Lago Strobel in Patagonia is it.
What to Expect Fly Fishing Jurassic Lake
I'm not sure if part of the allure of staying at this lodge is not knowing exactly what the trip will be like, but I definitely wanted a bit more info before my trip began. So hopefully, by listing it here I can help you out a little bit.
Transportation
At the time of writing, you'll have to make your way to El Calafate to begin your trip to Jurassic Lake Lodge. There are direct flights to here from Buenos Aires and from Bariloche multiple times per week.
There used to be direct charter flights to the lodge, but since COVID, these flights haven't been running. Therefore, you'll get picked up by a minivan in El Calafate to get to the lodge.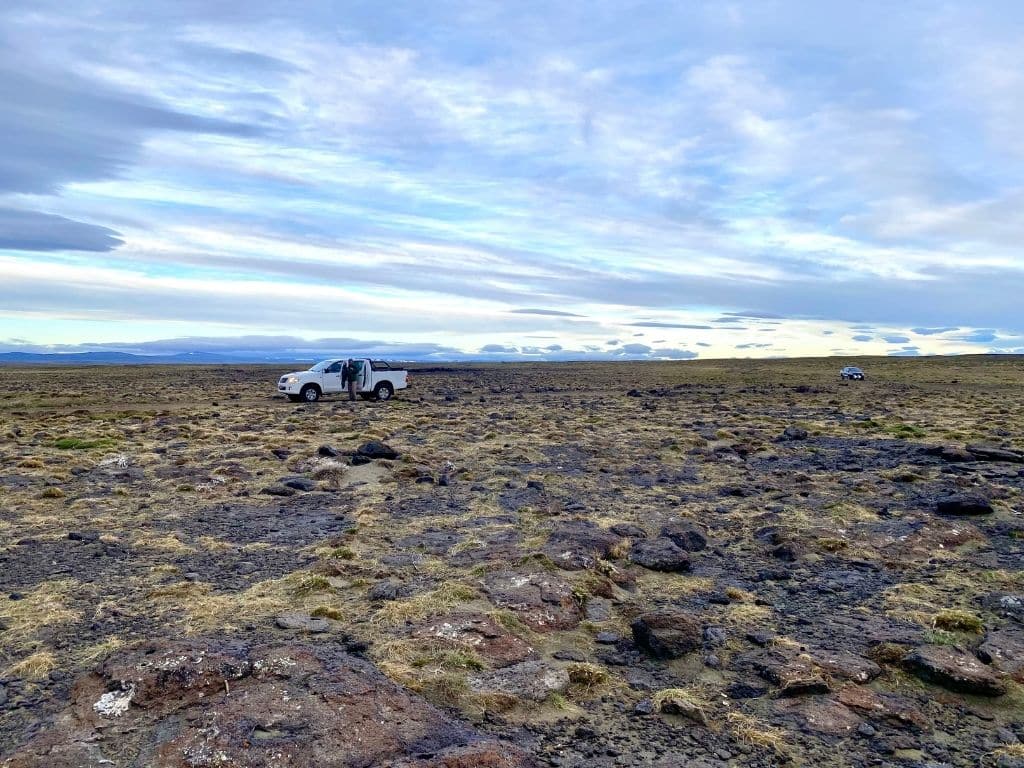 From El Calafate, you'll be picked up early in the morning. This means that you'll likely have to spend the previous night in a hotel in El Calafate. There are plenty of good options there.
Check In
When you arrive at the lodge, Nacha, the camp host, will give you a full rundown of how everything works. She's also like the team mom who takes care of everyone and really makes you feel like family.
After the explanation of the lodge, the food, and how everything works, you'll be taken to your room.
The Rooms
Every room is large with comfortable queen-sized beds, most of which have beautiful views over the lake and the Rio Barrancoso. The rooms are basic but well-kept and have plenty of space to charge your gear and unpack.
The Gear Room
Known as "The Wading Room," this is where you'll leave all of your gear after a long day of fishing. There are places to hang your waders, place your boots, and dry out your gear. Strangely, this room isn't heated, which makes for some chilly mornings and damper gear than necessary.
The Food
The food at the lodge is fantastic. Breakfast is from 8-9, lunch from 1-2, and dinner from 7-8. These hours may change depending on the guests at the lodge and their preferences.
The cuisine borders on gourmet most days, with homemade pastries, bacon, eggs, sausages, and coffee & tea for dinner, anything from pasta to lamb for lunch, and similarly hardy dinners.
The Booze
There's a selection of beer, spirits, and wines (red & white) included in the room rate, with some top-shelf options available at an extra cost for those looking to treat themselves or their guides.
We drank almost exclusively red wine and it's delicious (not surprising in Argentina). The booze is free-flowing and available all day.
The Gear
I'm not sure why, but gear rental and flies aren't included at Jurassic Lake Lodge. Bring everything you need including all of your flies, tippet, leaders, rods, reels, lines, etc.
There will be more about what to bring later in this post.
The Fishing
On the first day, you'll likely just head down to the mouth of Rio Barrancoso for an afternoon fish (depending on what time you arrive at the lodge). On this day, you'll be with a few of the guides.
The next morning, you'll find a whiteboard outside of the main common area at the lodge which has your name, the name of your guide (whom you'll be assigned for the duration of your trip), and the place you'll be fishing both in the morning session and in the afternoon.
The morning fishing session is typically from 9 am-1 pm and the afternoon session is from 3-7 pm.
You can also fish outside of these hours if you'd like (although you'll probably catch more than enough fish to satiate your cravings during that time).
If you do fish outside of those hours, I highly recommend waking up before sunrise and going for a morning fish. It's beautiful.
The Guides
The guides at Jurassic Lake Lodge are phenomenal. I've hired dozens of guides all around the world in my years of fly fishing and I have to say that my guide here, Rado, was the best I've ever had.
After a week of fishing with Rado, I can honestly consider him a friend and I hope to meet up with him next time we're in Argentina, whether at the lodge or not.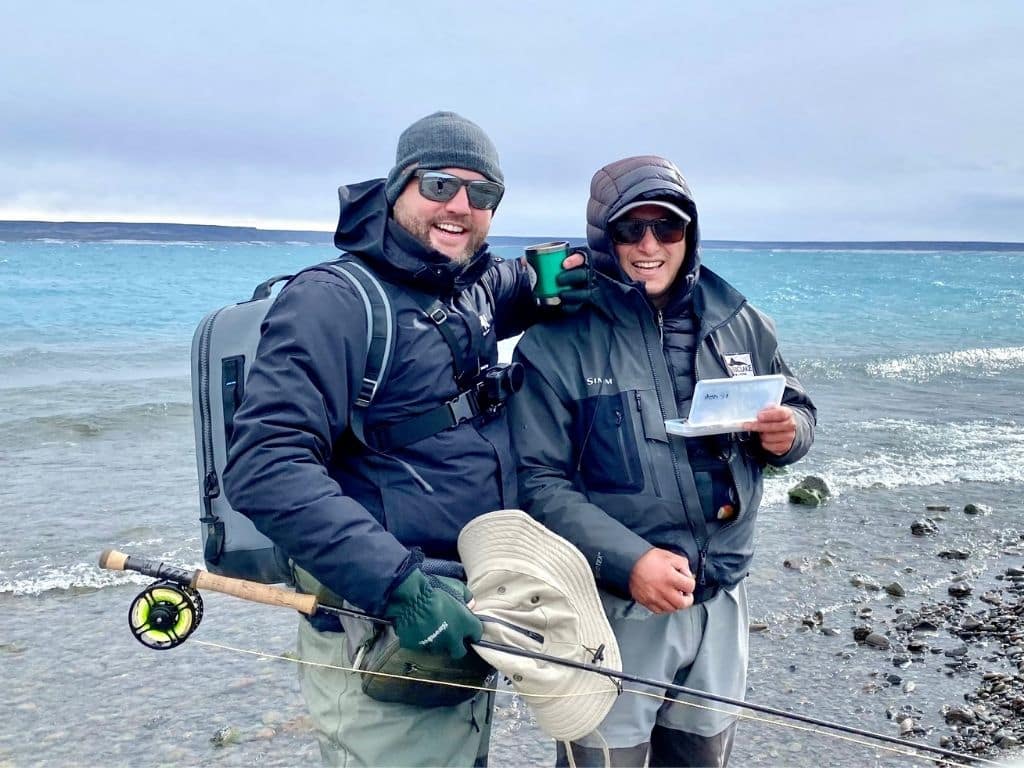 I learned more about fly fishing in that single week than I probably had learned in the entire year prior. The guides are knowledgeable and kind (and all very young).
Tipping
This brings us to tipping. As is normal for tipping guides anywhere in the world, a 10% service charge is expected at Jurassic Lake Lodge. The nice thing is that this 10% is split between all of the guides and the staff at the lodge.
Expect to pay around $80-100 USD per person per day on tips. One great thing you can consider doing (on top of the cash tip) is bringing something special for your guide from your home country.
It's not easy to get certain fly fishing gear in Argentina, so guides, while they definitely don't expect it, will definitely appreciate a cool fly fishing gift from home (think flies, packs, lines, boxes, etc.).
Money
If you bring your own gear and don't drink the top-shelf alcohol, then you won't need any cash besides gratuities while you're in the lodge. For the rest of your trip to Argentina, however, it's imperative that you bring USD cash in 50 and 100 denominations only.
At the time of writing, the official rate (meaning the rate you'll be charged if you pay by credit card or withdraw cash from ATMs) in Argentina is double that of the unofficial rate (which you will get if you exchange USD cash in-country).
It's a confusing system, but basically, if you pay with your credit card at hotels, restaurants or anywhere else in the country, or if you withdraw cash from your bank card, it'll be twice as expensive.
On top of that, no Argentinian money exchange booth will accept anything smaller than a 50 bill (100s preferred). Bring 100s and bring more than enough for your trip. You can easily exchange in any town at Western Union (including in El Calafate).
Costs
At the time of writing, Jurassic Lake Lodge offers three different packages: a 3-night, 4-night, and Full Week (7-night) fishing trip. All include lodging, food, and guiding.
I'd personally go with the Full Week trip if I was to go again. It's expensive, but it's a better value than the other two trips and most importantly, it gives you more fishing opportunities.
You may think that you'll have plenty of time to get fish in a place like Jurassic Lake, but the weather in Patagonia can be unforgiving. You might get two full days when you can't hit the water due to high winds, snow, or hail. It's unlikely, but it could happen. Also, after quick weather changes, the fish can shut off for a day.
Give yourself time. This is the trip of a lifetime. The prices for these trips and what's included are listed in USD below:

When to Visit Jurassic Lake Lodge
If you're used to "normal" fly fishing, then really you can visit Lago Strobel at any time of the year and be blown away by the fishing. The fish are so abundant here that you might even say there are too many fish at certain times of year.
We visited in the last half of January. This actually isn't the best time to go, although I've never had such amazing days of fly fishing in my entire life.
After speaking with all of the guides at Jurassic Lake Lode and even the owner Carlos, we confirmed that the absolute best time to visit Jurassic Lake Lodge is in December and early January (within the first week), or the month of April.
Jurassic Lake Fly Fishing in Spring
Early Season: October to Early January
This season is pretty well defined actually. If you really want to maximize the best fishing at Jurassic Lake, then I'd consider "early January" to only be the first week, or maybe 10 days. After that, there tends to be a pretty steep drop off in the number of fish, particularly in 2022, the year I visited.
In the early part of this season, the fish are waking up from a long winter and are hungry. But they wake up slowly. Their numbers grow with each passing week until December when they hit their absolute peak.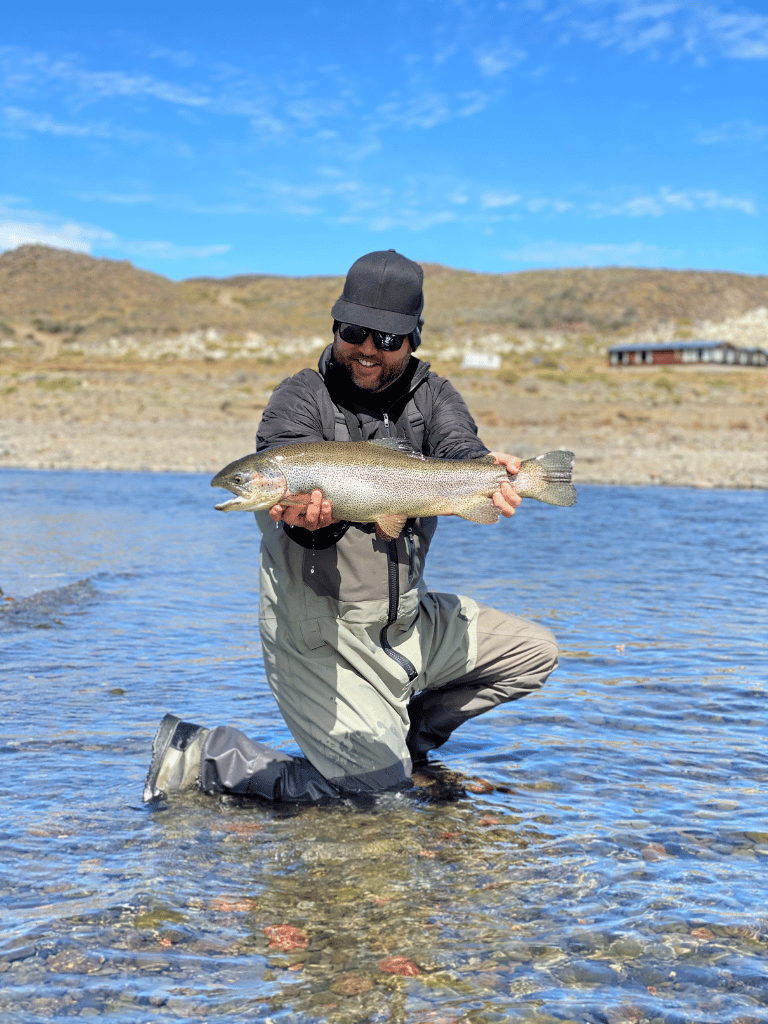 The numbers during this month can be truly astonishing. It's not uncommon for anglers to catch dozens of enormous trout in a single day, with countless small ones quickly caught and released.
Expect cold weather at this time, particularly in the early part of the season. You'll likely see hail, snow, rain, and just about every element that mother nature can throw at you. Patagonia is an unforgiving place.
This is also the windiest time of the year, so don't be surprised if you're casting in 100 km/hr (60 mile/hr) winds.
Don't worry, though, these winds wake up the fish and they feed much more aggressively when it's windy. Plus, your guide will help you minimize the challenge of fishing in high winds both by changing the fishing spots and the direction of fishing.
I'm not a pro caster by any means, but I had no problem presenting my flies in these difficult conditions.
Jurassic Lake Fly Fishing in Summer
Middle Season: Mid-January to Mid-March
Even though you'll still probably have incredible catch rates during this time of year, there's a steep decline in the number of fish congregating around the lodge at this time. Starting from the second week of January, the winds tend to die off, and with it, the fishing.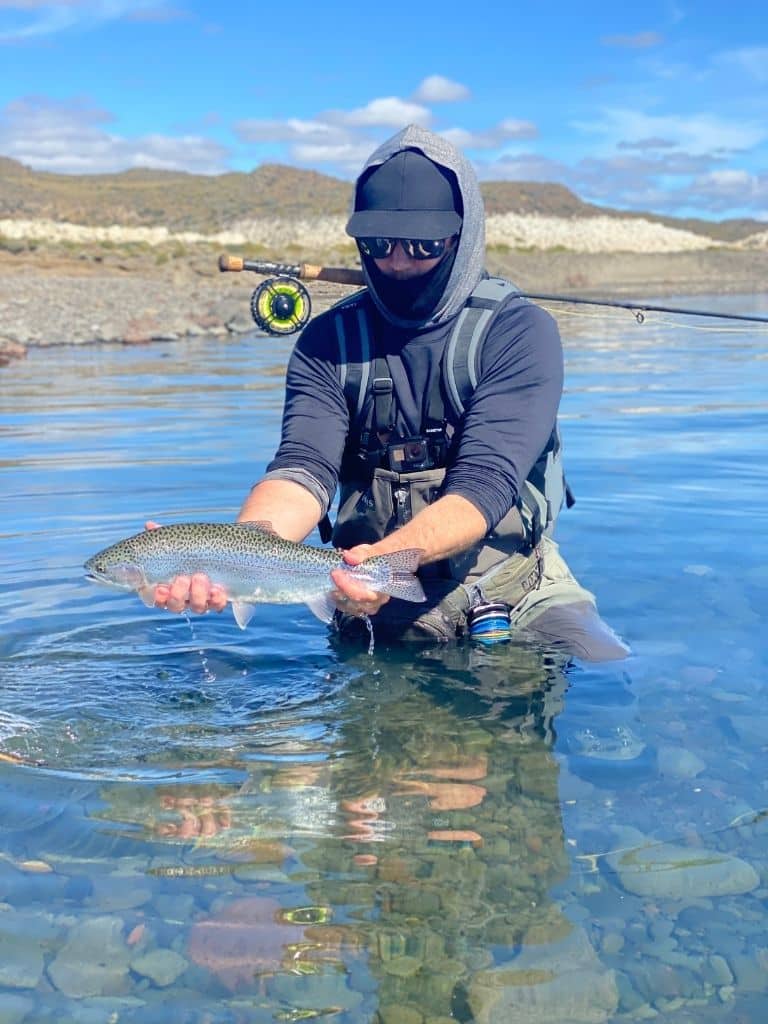 Don't get me wrong, I still had days when we caught 10+ huge trout, but it wasn't every single day as would be common just a couple of weeks earlier.
In my opinion, this is still an exciting time to fish at Jurassic because it's still a challenge. As the waters calm and the breeze calms, the fish become more alert to your fly. Presenting to them becomes more challenging, and for many anglers, it will be a more rewarding fishing experience than catching on nearly every cast.
The great thing about this time of the year is the weather. It's warmer (although we still had snow and hail during our visit) and it's calmer. The conditions are much easier for a day on the water.
Jurassic Lake Fly Fishing in the Fall
Late Season: Mid-March to May
If you're considering visiting Jurassic Lake Lodge during this time, then I'd go for April. The fish begin gorging themselves at this time of year and the fishing can be incredible.
I asked my guide Rado what his favorite month at Lago Strobel was, and he was confident that April was the absolute best fishing in the year. The numbers are consistently high, but there's still a challenge in catching the fish without it being "too easy."
The weather is starting to cool down again at this time of year, so expect returning winds, rain, hail, and even snow. But you can also expect the best fly fishing of your entire life.
Fish Species
There's only one species to fish for at Lago Strobel and that's rainbow trout. I'm not sure why they never stocked any brown trout or other species here, but with so many world-class rainbows, I guess you don't need anything else.
If you've ever caught a rainbow trout below a dam, then maybe you know just how powerful and aggressive these fish can be when they're overfed.
In Lago Strobel and on the Rio Barrancoso, it's not unusual to catch fish that are so fat, they're almost as wide as they are long.
Because there are no avian predators around the river or the lake, many of the trout confidently lurk like sharks in the shallows, swimming with their dorsal fins protruding above the surface of the lake.
They patrol back and forth along the left and right sides of the river mouth, looking for smaller fish to ambush.
When you see the number of trout and the sheer size of them for the very first time, I guarantee you'll lose your mind.
The water literally bubbles with trout either attacking or attempting to escape from larger predators. This is a sight you'll never forget.
You'll frequently see 10-pound fish as close as 5 feet offshore. You'll see 20-pound fish rolling in the waves a few feet farther, and a little farther than that, you'll spot a monster cruising up and down the shore.
The largest of these fish probably break the 30-pound mark, and they're so powerful that they can rip the rod right out of your hand (it's happened on many occasions at Jurassic Lake Lodge).
While there's only one species of fish at Lago Strobel, it's fascinating to see their variations depending on where you catch them. At the Mouth and at the Bay of Pigs, the rainbow are typically silver and look like steelhead but with short, stout tails.
When you catch one from the Aquarium you'll see powerful fan tails, pectoral and anal fins, but you'll also notice an incredible golden-brown rainbow color to the fish.
As you head farther up the river, the fish morph into what look like spawning males, with protruding jaws, larger humped backs, and an overall badass look to them.
Jurassic Lake Fly Fishing Spots
Now that I'm pretty sure I've clarified just how insane the fly fishing is at Lago Strobel in Argentina, let's talk about where you'll be fishing.
The best part of staying at Jurassic Lake Lodge is that it's the only lodge on the lake that offers access to the Rio Barrancoso. That's right. No other anglers can fish the Barrancoso River (the only river in or out of the lake, I remind you), unless they're staying at Jurassic Lake Lodge.
A whiteboard at the lodge lists the fishing places you'll go each day. Typically you'll go to one spot for the morning fish (9 am-1 pm) and another for the afternoon (3 pm-7 pm). All of the spots are just a few minutes' walk from the lodge, and each one offers a new and exciting fly fishing challenge.
The Mouth
The Mouth refers to the mouth of the Barrancoso River, where it flows into Strobel Lake. This is where the fish come to feed after heavy rains.
This part of the river is fished the most, so there's quite a bit of pressure on the fish, but pressure isn't what you should expect at Lago Strobel.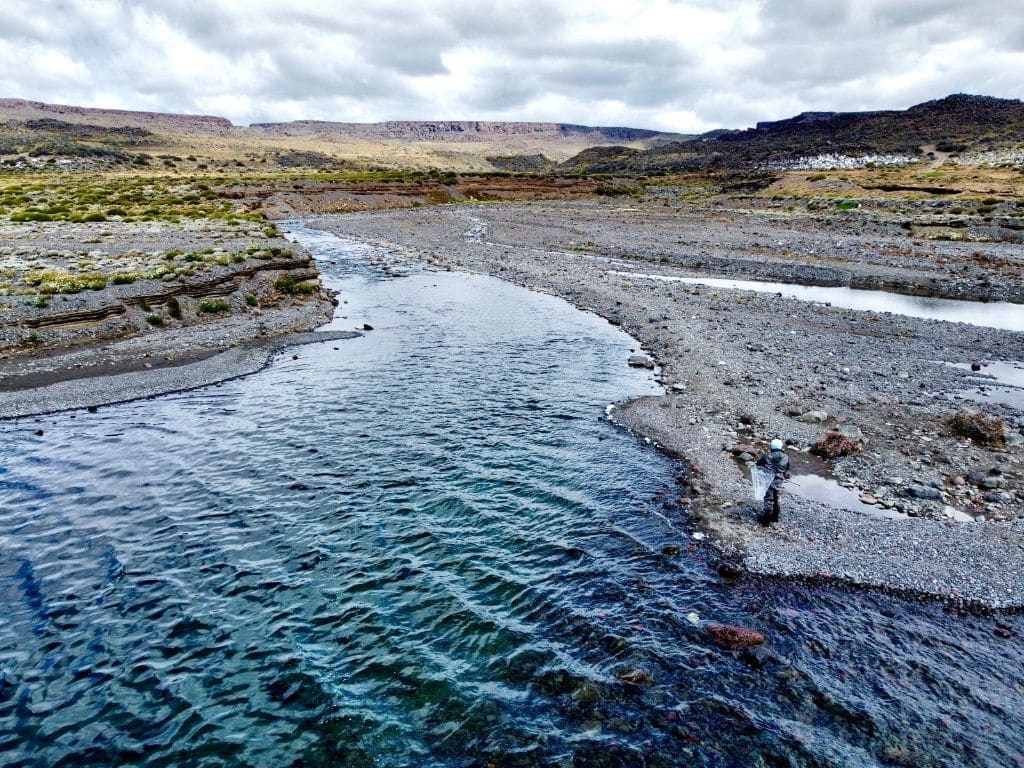 You see, the fish alternate constantly. There are so many fish in Lago Strobel that you'll likely never see the same one twice. After each rain, the fish head back out into the lake. But when new showers fill the river, a new set of fish always comes up looking for food.
It's a sight to behold. You might see clouds out on the horizon, and then the level of the Barrancoso will slowly start to rise. As it does, the waters of the lake begin to bubble as new trout make their way to the mouth, feeding on smaller trout and larval insects on their way.
Once they hit the mouth, it's a feeding frenzy.
Best Time to Fish the Mouth
In my experience at the lodge, the best time to fish the mouth was the early morning or late evening after heavy rainfall. The fish also fed much more aggressively in windy conditions. Luckily this is the norm in Patagonia.
Flies to Use on the Mouth
Believe it or not, there are so many fish in the mouth of the river (and at other spots listed below) that you won't always be able to fish with wet flies. When the numbers are at their highest, the chance of foul hooking a fish is simply too high.
When we were at the mouth, we had a few days like this, but for the most part, we were catching trout on Squirmy Wormies, San Juan Worms, Prince Nymphs, small green Hoppers and tiny floating ants (mostly with small wings).
Sides of the Mouth
The guides refer to these fishing spots as "Right of the Mouth" and "Left of the Mouth." Both are great fishing spots.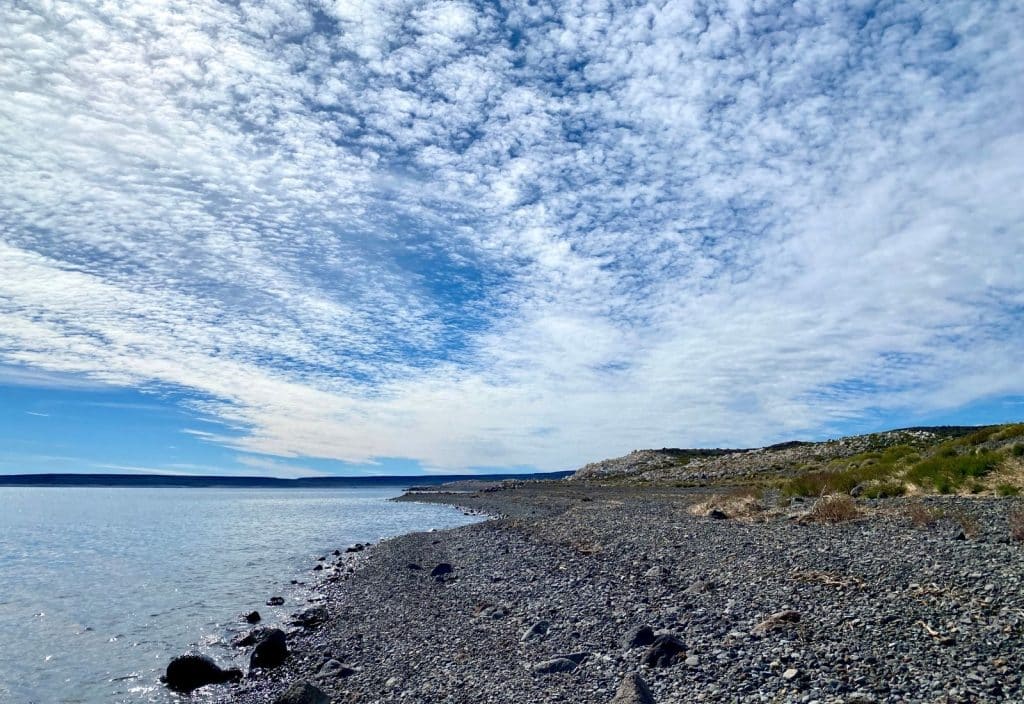 You'll often stand in the surf, with 4-foot waves crashing into your body while you cast out into the depths.
You'll see massive rainbow trout rolling in the waves and it'll be your job to get a fly to them…if you can.
Best Time to Fish the Sides of the Mouth
The fishing is best here during heavy winds when the water is churned up and the waves are violent. Also, because the fish are attracted to the food that the river produces after rain, you'll likely have better luck after the river levels have risen.
I personally never had a lot of luck on the sides of the mouth. The fish just weren't feeding offshore when we were at the lake. But the guides assured me that this is where many of the largest fish are caught, so be prepared.
Flies to Use on the Sides of the Mouth
Almost all of the guides at Jurassic Lake Lodge swear by a slow retrieve of an olive Bugger at both sides of the mouth. Historically this fly is magic and catches an astonishing amount of fish on both sides of the mouth.
Another fly that works well is any white streamer, like a large bunny leach. On sunny days when you can easily get the attention of the fish, the bright color is best to attract hunting trout.
The Bay of Pigs (Bahia de Cochinos)
This is the spot where the largest trout are always caught at Lago Strobel. Sometimes you'll find the fish in the bay itself, patrolling the surf, but generally, the best fishing is from the rocks on the peninsula that juts out into the lake directly in front of the lodge.
This is probably one of the most incredible fly fishing spots you'll ever see in your life. Standing on boulders overlooking the lake, you'll be casting into the abyss.
Schools of massive trout will literally pass by beneath your feet, while even bigger rainbows lurk in the depths. The ones near the surface have their dorsal fins poking out of the water like sharks.
Once you hook into one of these monsters, the fight is on. They have nothing but open water to work with and they'll use their enormous tail fins to propel themselves as deep into the lake as they can.
Meanwhile, it'll be your job to just hold on until they tire. Make sure you have a powerful drag and strong tippet material (0X recommended).
Best Time to Fish the Bay of Pigs
While most of the guides will tell you that the area fishes best when it's windy and raining, I had success here both on glass-calm days and on windy days. On glass-calm days, you can spot the fish patrolling the depths.
The issue is that they can also spot your line and approach, so they're definitely harder to land, even if easier to find.
Flies to Use at Bay of Pigs
The most success I had at the Bay of Pigs was using a small black nymph that Rado tied, dropped below a CDC hopper. Every fish except for one took the nymph, so I guess the real star here was the bottom fly. It was a basic pattern with a wide gape hook, a thin black body, and a tungsten bead head. Simple but effective.
The Aquarium
This is probably my favorite fishing spot around Jurassic Lake Lodge. About 500 yards upriver from the mouth, the river opens up into an enormous pool that's probably about 100 feet across.
The pool itself fishes almost like stillwater. The surface is glass calm. It's sheltered from the worst of the winds and is about 25 feet deep in some spots. The head and the tail of the pool are fast-moving, and fish like the pool's typical inflows and outflows.
There's just something special about this place. On calm days you can see massive trout feeding in the depths. The coolest part is when you present a tiny dry fly and a 12-pound monster emerges from the depths at full speed and eats the fly on the surface.
The Aquarium is one of those places that you really can't explain in a blog post or portray in a video. It's a place you have to experience to fully understand.
Best Time to Fish the Aquarium
I'm pretty sure the Aquarium fishes well all day, every day. There was a period of time when there were a few other anglers at the lodge and the Aquarium needed resting. Because it's so calm, clear, and secluded, almost every fish in the pool can see the ripples when your line hits the water.
After a day or two of being cast at, these fish tend to turn off. If you have the opportunity, try to rest the Aquarium for a day or two and then return. The fish here can be some of the most aggressive, and it's a blast to see them at their hungriest and least afraid.
Flies to Use at the Aquarium
During the peak months, you won't be able to fish any wet flies. This is because there are so many fish in the Aquarium during peak months that you'll likely snag a fish with every cast if your flies aren't on the water's surface.
In my time at Jurassic Lake, I found that tiny (size 14+) black ants with clear wings were the best patterns to use. It's almost impossible to see these flies floating on the water at distance (particularly when wind ripples the surface), but when you see a fish strike, you'd better set the hook and get ready for a wild ride.
Other flies that fish consistently well at the Aquarium are terrestrial patterns. I turned to my trusty small green hopper a few times and had great success.
The Upper Section
Combining a day at the Aquarium with the Upper Section of the Rio Barrancoso will probably end up being the best day of fly fishing in your life. These are two of the most fascinating fishing spots around the lodge.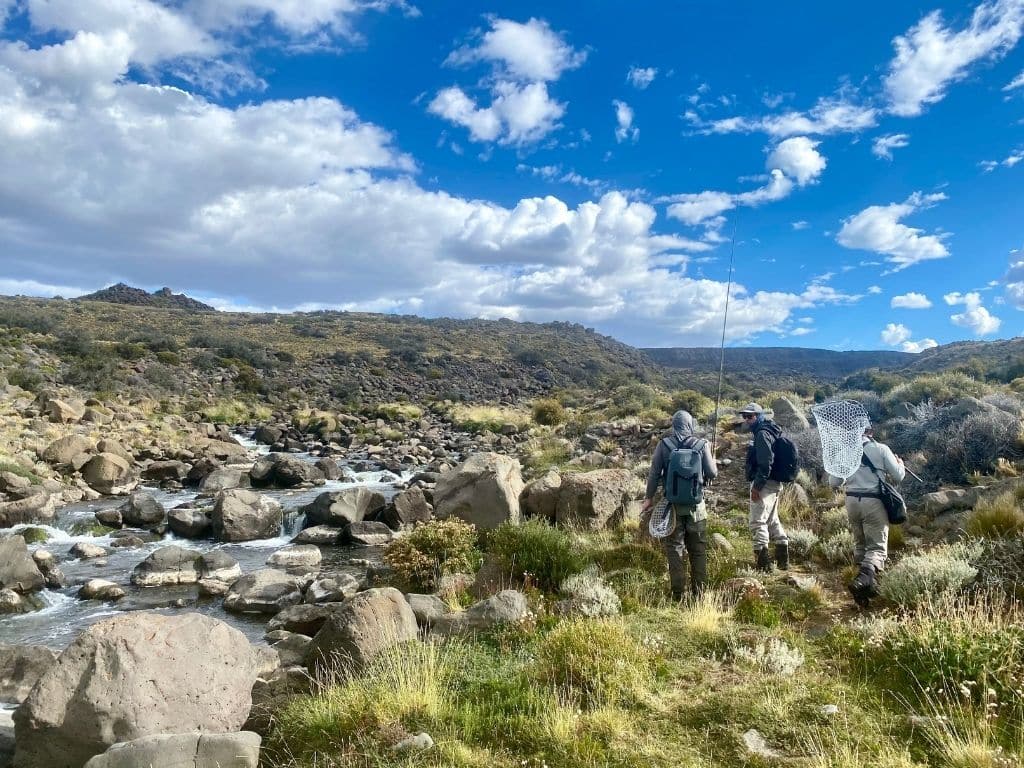 The Upper Section is hardly fished at all, as most anglers opt for the more fish-rich waters of the Mouth, the Bay of Pigs, and the Aquarium. But that's not to say that there isn't some incredible fishing to be had in the Upper Section.
In fact, it's hard for me to decide which was my favorite, the Aquarium or the Upper Section. If you're looking for a challenge and a fun hike-and-fish experience, then the latter will probably be right up your alley.
The river breaks into fast-flowing sections, redirected by enormous boulders and bubbling rapids. Here you can climb onto large rocks and dangle your fly to waiting trout.
It's not easy to catch a fish here, and it's definitely not easy to land one, but if you're looking for a challenge, this is where you want to be.
When to Fish the Upper Section
I'd say this is the best place to come when all other water around the lodge is heavily pressured. If there has been no recent rain and the fish haven't cycled out of the mouth, and if a lot of anglers are at the lodge fishing the Aquarium and the Bay of Pigs, then come here.
Hike up for 15-20 minutes to find some fantastic fishing holes. I caught one rainbow in this area that had no real business being there.
Looking at the structure and size of this river, it almost feels like a small stream up there, but hiding under these big rocks are some truly gargantuan trout. If you hook into something that feels like a rock, set the hook just in case. It might just be a boulder-sized rainbow!
Flies to Use at the Upper Section
I recommend using a double nymph rig here and making sure the bottom nymph is super heavy so that it can get to the bottom even in the fast-moving current. Almost any nymph pattern will work, as these fish aren't heavily fished and they'll go for just about anything.
Look for pockets and eddies where the water is churning in slow circles against the current.
These pools are deceptively deep, but near the bottom of most of them, there's a monster trout hiding. Once you've cast a few times into a single pool, move up. These fish are easily spooked.
Preparing for a Fly Fishing Jurassic Lake Trip
When I was preparing for my trip of a lifetime to Jurassic Lake Lodge, I actually found it a little bit difficult. The information on their website, while well-written and well-presented, is actually a little bit vague, and when you Google around trying to find more, there's just not that much online about this lodge (aside from some great YouTube videos).
That's why I was excited to create this post. I figured I could clarify some of the questions you might have as a potential angler at Jurassic Lake Lodge.
What to Pack
This is a major area where the Jurassic Lake Lodge website could offer a bit more insight. They do have a decent What to Pack section, but they don't really clarify what is and isn't included in the cost of the lodge.
Flies
This is a funny one to me. The flies aren't technically included in the cost of your trip, so be sure to bring plenty of your own. The good news is that, although they probably should include all flies considering the cost, the flies they do offer for sale at the lodge are no more expensive than what you'd find in a fly shop.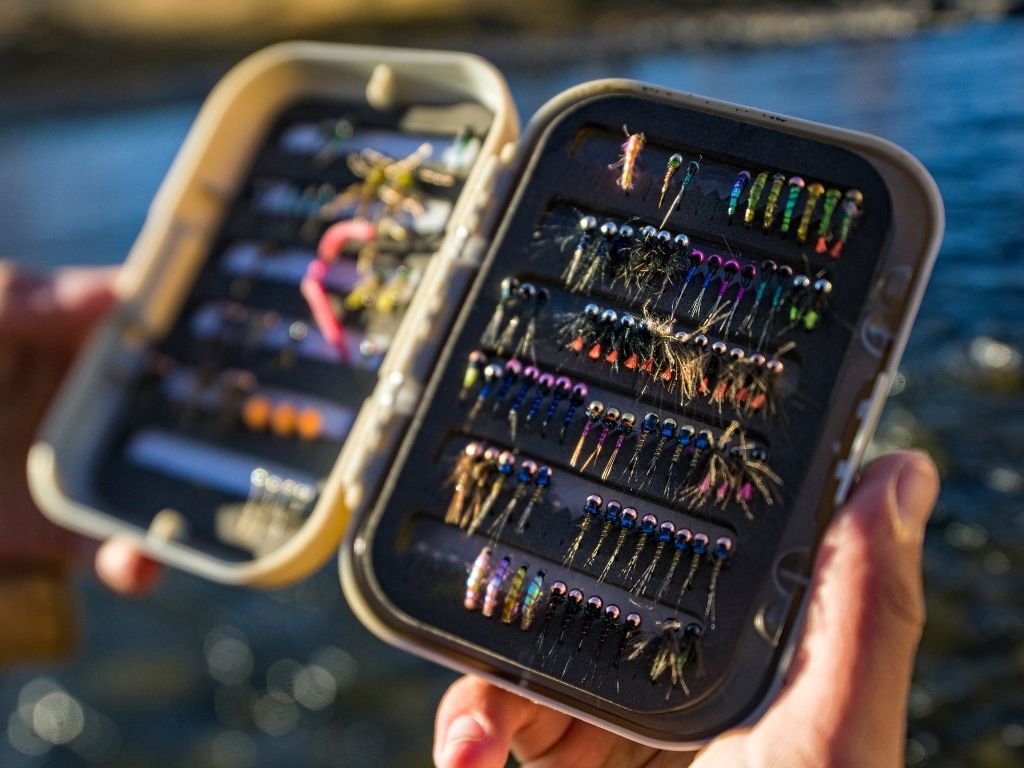 Here are some flies I wouldn't go to Jurassic without. Make sure they're all barbless before heading out on the water.
Leech: Black / Olive / Chartreuse / Claret – #6 Long Shank Jig Hook
Woolly Bugger: Black / Olive / Bead Head with Blue Flash #8-12
Beadhead Woolly Bugger: Black / Olive / Bead Head with Blue Flash #8-12
Woolly Bugger Rubber Legs: Black / Olive / Bead Head with Blue Flash #8-12
Beadhead Woolly Bugger Rubber Legs: Black / Olive / Bead Head with Blue Flash #8-12
Yellow Yummy: Yellow / Black / White #8-10 Long Shank Hook
Bouface: Black / Olive / Purple #6 Long Shank Hook
Bunny Leech (or Similar): White / White with Silver #6-12
Clouser Minnow: White with Silver #6-12
Nymphs:
Prince Rubber Legs: Speckled with Red Rail #10-12 Heavy Shank
Prince Nymph: #12-14
Beadhead Prince Nymph: #12-14
GRHE: #12-14
Beadhead GRHE: #12-14
Prince Rubber Legs: Speckled Yellow #12 Heavy Shank
Beadhead Prince Rubber Legs: Black & Yellow / Black #12 Heavy Shank
Scud: Orange / Pink / Pearl / Tan / Grey # 10 Scud Hook Heavy
Intruder: Black / Brown / (Anything Dark) #8-12 Articulated
San Juan Worm: Orange / Red / Yellow / Pink #10-12 Heavy Scud
Squiggly Wiggly: Orange / Red / Yellow / Pink #8-12
Hares Ear Rubber Leg: Black / Black & Yellow #12 Standard Heavy Shank
Hares Ear Curved Rubber Leg: Black / Brown #12 Curved Shank / Wide Gape
Beadhead Rubber Leg Flash Caddys Nymph #10 Heavy Scud
Girdle Bug: Black / Black & White / Tan / Tan & Black #10 Scud
Dries:
DD Natural / UV Flash #10
Hopper: Green / Yellow #8-14
Wulfs Irresistible White #10
Dragonfly: Black & Silver / Black #8-10
Red Humpy: Red / Red & Black #10
Chernobyl Ant: Black / Black & White / Tan & Yellow #10
Chartreuse Humpy: Chartreuse #10
Goddard Caddis: Black / Brown #10
Small Round Beetle: Black with Dull Gold Underbody #12
Small Round Beetle: Black with Peacock Underbody #12
Beetle: Black #12-16
Rubber Leg Parachute #12 HEAVY HOOK
Tan Rubber Leg Caddis / Hopper #10
Black Rubber Leg Hopper #10
Small Black Midge Dry Dubbed Body #14
Small Black Midge Foam Body #14
Bombers: Tan & White / Black & White / Black #10
Ant: Black #12-16
Gear
There's a rental program at the lodge, but you'll have to pay a day rate to rent any gear. So, it's best to bring all your own gear if possible. While your guide will likely have leaders and tippets for you, these will also be charged. If you can travel with everything you need, you'll be better off.
Rods
I brought a Snowbee RMX 7wt 10′ fly rod and a Snowbee Prestige G-XS 5wt 9′ fly rod on this trip, and they were perfectly acceptable. I would've also liked to have had my 8 weight on me and maybe a spey rod for casting into the surf on the sides of the mouth and at the Bay of Pigs, but these weren't obligatory for the trip.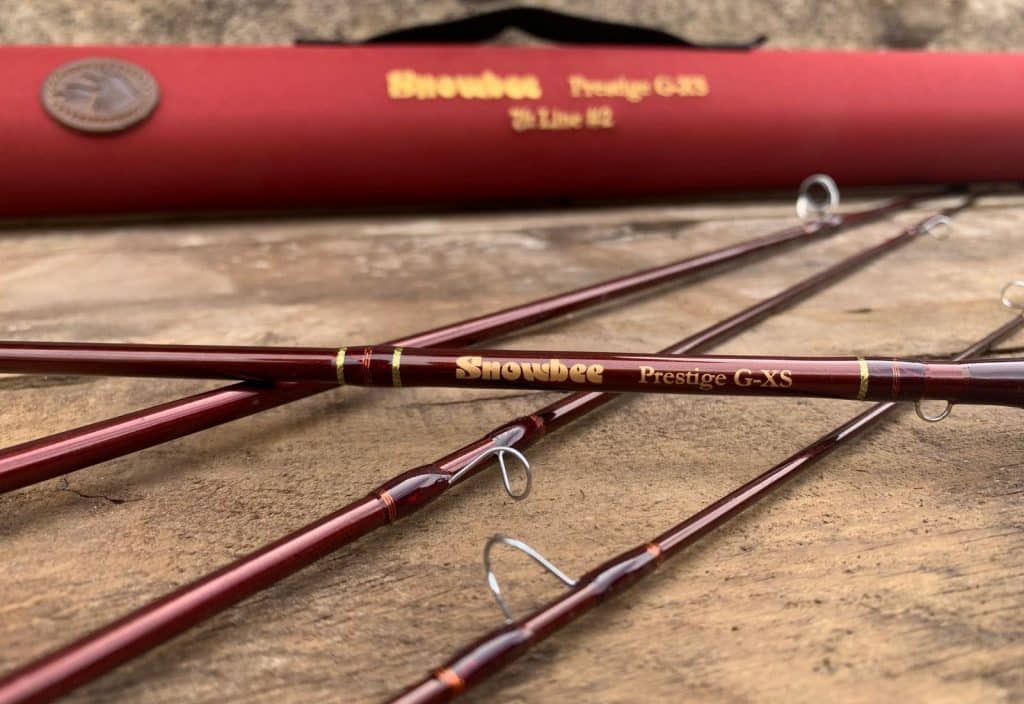 At the very least I'd bring a 7wt to 8wt rod with you. But as you probably know, it's always best to bring a backup on a trip of each weight if you can fit it.
Seeing the size of the fish at Jurassic, you may be surprised that a 5wt is recommended by the lodge, but it was super handy to have the lighter rod as there were days when these massive fish were only taking tiny flies on light tippets. For this, you need the forgiveness in the 5wt rod tip to protect the lighter tippets.
Check out our lists of recommended rods:
Reels
Of course, you'll want to match your reel weight to your rod. In some cases, if you have a fast-action rod, it really pays to overweight your line/reel a little bit to the rod. This will help the rod load and can help you fire the line out on those super windy Patagonian days.
Check out our lists of recommended reels:
Lines
Lines are arguably more important than reels and rods when it comes to casting distance, accuracy, and presentation. If you're buying anything for this trip, buy new lines.
You don't really need a fast sinking line in my experience. A sinking tip with a shooting head will be fine. The shooting head is important, though. If the winds are ridiculously strong, that'll be the only way you'll get your fly out to the fish.
Otherwise, good dry lines are imperative, something that casts easily and can present delicately.
Check out our lists of recommended fly lines:
Leaders/Tippets
When it comes to leaders and tippets, you should come prepared to Jurassic Lake Lodge. There is no reason to bring anything finer than 3X if you have a 6wt+ fly rod. You simply won't use it.
If you're also bringing a 5-weight, then you might get away with putting a 4X tippet on it, but even then the power of these fish can break that off. Bring plenty of tapered leaders and plenty of tippet material.
Vests/Packs
I packed the Vixyn Waist Pack. I love this thing. But you can bring along any of your favorite waist packs, hip packs, backpacks, or vests. All will do just fine. Just make sure that they have plenty of storage for all of your flies, leaders, tippets, and other gear.
Check out our lists of recommended packs:
Waders
You'll need to bring a good pair of chest-high waders. Don't bother bringing any hip waders. I made this mistake and they were basically unusable, so I rented a pair of SIMMS chest waders from the lodge.
When you're out in the surf, the waves can crash right into your chest, so protecting that area from the freezing cold water is imperative. Also, bring a repair kit or two in case you spring a leak. You know…the normal fly fishing protocols.
Wading Boots
You'll obviously need a good pair of comfortable, warm, full-foot wading boots for a trip to Jurassic Lake Lodge. There can be a considerable amount of hiking involved if you end up spending a lot of time in the upper river sections.
I wore my trusty 8Fans Wading Boots on this trip and they were perfect. I've had these things for years and I still can't believe they're under $70. It's unreal. Some Amazon reviewers have complained about the soles coming loose, but I've had no issue with mine whatsoever.
I highly recommend them as a cheap boot or a cheap backup boot.
Check out our list of recommended wading boots:
Wading Jacket
At the very least you should have a completely waterproof jacket made from lightweight breathable material. Don't bring a big thick snow jacket because even though you might get snowed on, it's better to layer than to have too heavy of clothing.
Clothing
This is important. As mentioned above, you need to bring your clothes in layers. No one layer should be sweltering hot, as even on cold days it can quickly get warm when the sun comes out.
Here are some important things I'd bring:
Winter hat/beanie (toque for my Canadian friends)
Gloves: Both fingerless fly gloves and full-finger gloves
Buff: Or any SPF face-covering cloth
Hat: Preferably a full brim that covers your face & neck and fits over your beanie
Polarized sunglasses: Get proper fishing sunnies with polarized red lenses (and bring extras).
Warm socks: Merino wool breathable socks & wading socks
Thermal tops & bottoms
Fleece sweater
Merino wool sweater/outer layer
Camera Gear
If you're heading on a trip as epic as Jurassic Lake, you'll probably want to document it. I know I did.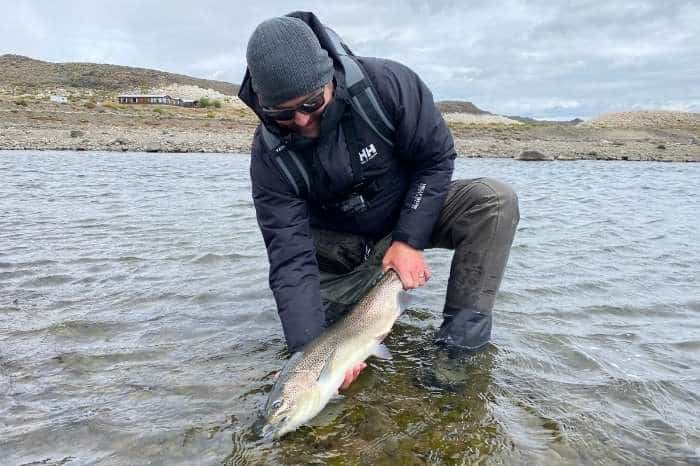 Most likely you won't go as hardcore as me unless you're running a fly fishing blog and a YouTube channel, but just in case you're a bit of a videographer at heart, here's the gear I brought:
One thing I didn't bring on this trip but definitely will next time is a GoPro Dome for those cool underwater/overwater clips and photos. I'd also bring along a spare GoPro for fish release videos so that I can keep the chest-mounted GoPro in its place and not have to fumble around on the water.
Fly Fishing Jurassic Lake FAQs
If you're like me, you probably have a hundred questions about fly fishing Lago Strobel and Jurassic Lake Lodge in Argentina. While I'm not going to write out 100 FAQs, I'll answer the ones you probably have off the top of your head. Comment below if you have more.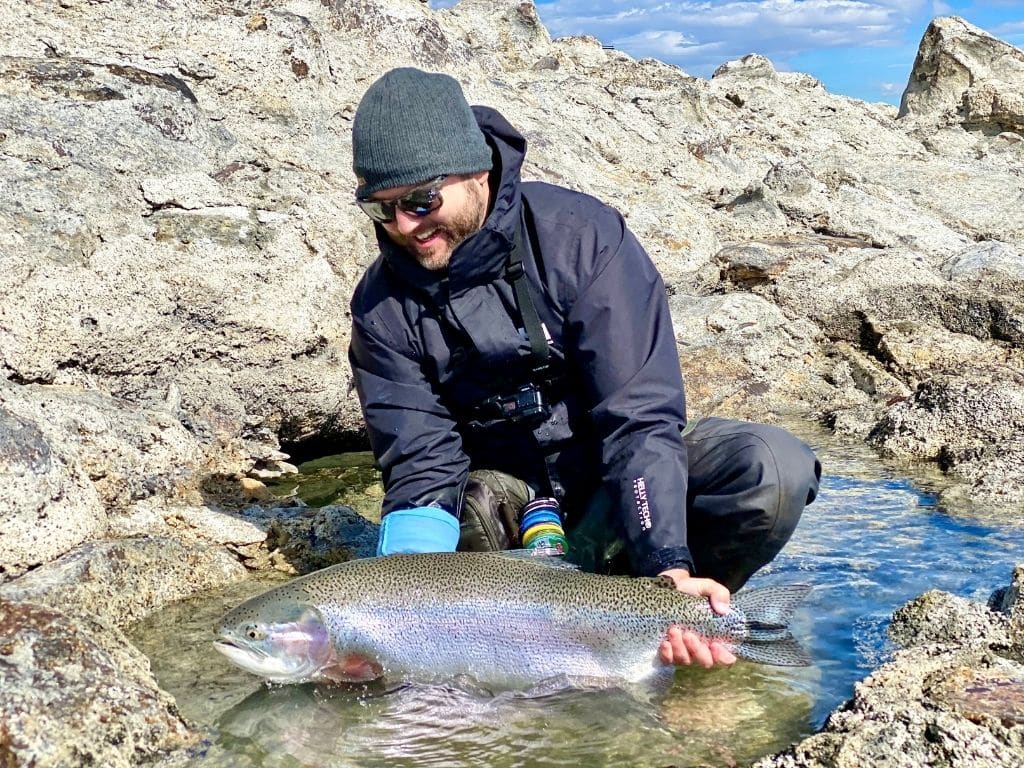 Is gear included?
No. Bring your own gear, including flies, tippet, leader, waders, boots, rods, reels, and lines. Otherwise, you'll have to rent it from the lodge at a cost.
Does it get boring catching massive fish all of the time?
Hell. No. This is a common question about Jurassic Lake Lodge. If you're worried about catching too many fish (if that's possible), consider coming in the off-season to make it more challenging.
Is it too windy to cast?
Winds at Lago Strobel often reach up to 100 km/hr. But the way the fishing spots are situated, you can almost always cast with the wind at your back, and the guides will help you make the wind your friend. Don't worry.
Can beginners fish at Jurassic Lake Lodge?
Absolutely yes. While the conditions are a bit rough, the guides are great at ensuring that even novice anglers hook into fish. My guide has had numerous clients who'd never picked up a fly rod before, and he said they did fine.
Are tips included?
No. As with any fishing trip, it's recommended to leave 10% per person per day. At Jurassic, that equates to around $80-100 per day per person.
Are the beds comfortable?
Absolutely. I loved the beds at Jurassic Lake Lodge and I'm a pretty picky sleeper. Plus, you'll be exhausted from fishing all day so you'll sleep like a baby.
Are there things to do at the lodge for non-anglers?
No, not really. My wife came with me on the trip and she didn't fly fish, but she was busy filming. If one of your party doesn't fish at all and doesn't want to, consider splitting up and they can do something else for the time you're at Jurassic Lake Lodge.
Or, if the person is like Dariece and is eager to learn, there's no better place to learn fly fishing than Jurassic Lake Lodge, with great guides and tons of fish to be caught.
What does it cost to stay at Jurassic Lake Lodge?
The costs differ depending on how long you stay at the lodge, but expect around $900-1,000 USD per person, per day of the trip.
That might sound a bit expensive, but considering you get a dedicated guide every day (guides normally cost $400-$700 per day), a great room, and all food and booze, it's actually a good value trip.
How do you book Jurassic Lake Lodge?
You can book Jurassic Lake Lodge directly on their website. Currently, they're not available to book on any other booking engine.
My Overall Thoughts about Fly Fishing Jurassic Lake Lodge
How do you summarize a place like Lago Strobel? How do you rate an experience like the one I had at Jurassic Lake Lodge? All I can say is that if you can afford it, or if you can save up to do it…then go.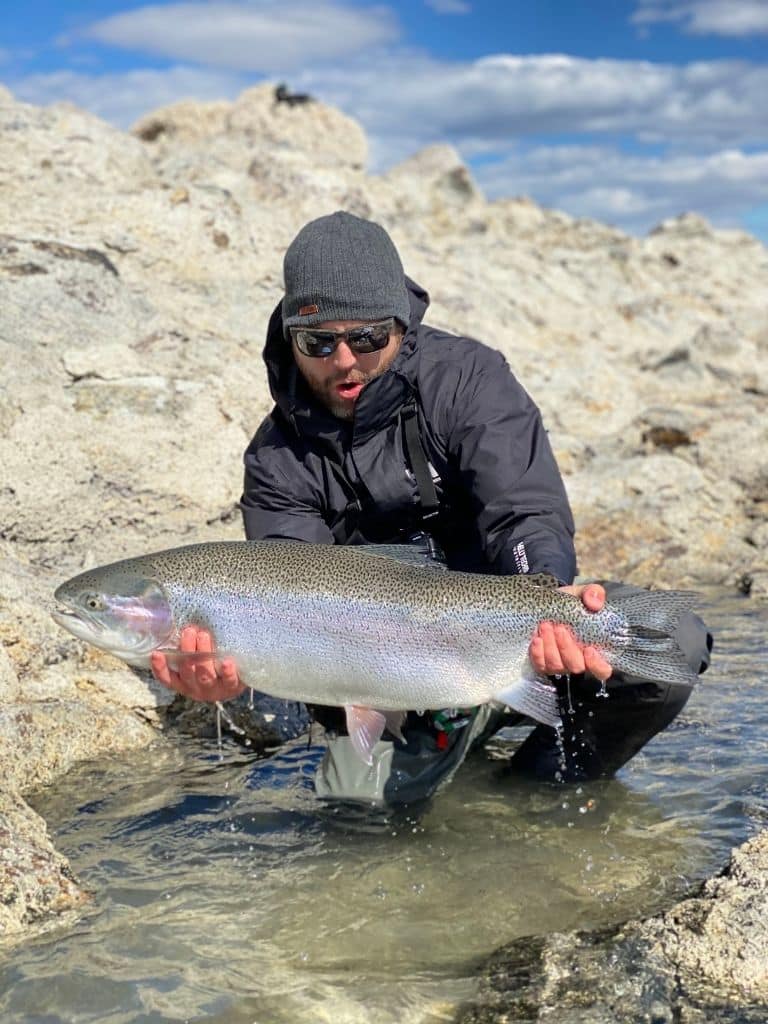 This was a trip I'll never forget. From the remoteness of the lodge to the knowledge of the guides and the peacefulness of the fishing holes, this is a trip that I believe every fly angler should take at least once in their lifetime.
I was fortunate enough to be invited on this trip thanks to this blog and our YouTube Channel, and I'm extremely grateful for the opportunity. I hope I can soon return to this fly fishing mecca. It is, and will probably remain, the best fly fishing trip of my life.
Special thanks to Carlos and the entire team at Jurassic Lake Lodge for hosting us on this trip. As always, all thoughts and opinions on this website and on our YouTube Channel remain our own.
Amazon and the Amazon logo are trademarks of Amazon.com, Inc, or its affiliates.