The world of fly fishing accessories is one that can cause anglers quite a bit of stress. The options seem to be endless with each company claiming they have the most efficient or best choices. Fly fishing packs are easy to find, but discovering the one that suits you best isn't easy.
The VIXYN Fly Fishing Waist Pack offers anglers just about everything they would need for a day on the water. I've used countless different packs over my years on the water and each one offers its own unique features. The VIXYN, however, has a little bit for everyone.
VIXYN Fly Fishing Waist Pack
If you like what you see in this VIXYN Fly Fishing Waist Pack Review, you can order the pack on Amazon.
It can work for a quick afternoon on the water or hold enough fishing gear for an entire day. Despite the smaller size, VIXYN has done a nice job making the most of the space.
As an Amazon Associate I earn from qualifying purchases.
Why Trust My VIXYN Fly Fishing Waist Pack Review?
I spent a few days on the water in a variety of conditions with this pack. I put it to the test in its carrying capacity as well as difficult weather conditions. At Into Fly Fishing we only review gear that has been personally used by our creators.
I put my fly fishing packs through quite a bit of stress. I've never been known to be easy on my gear and there are no exceptions with my fly fishing packs. I appreciate the work VIXYN put into their design.
Watch The Video
What's in the Box?
When you receive your VIXYN fly fishing pack, you'll receive the pack itself as well as instructions and a card explaining the warranty system. In the pack you'll find the strap that goes around your neck in case you would like to make it a chest pack.
VIXYN Fly Fishing Waist Pack Features & Specs
Fly fishing specific packs aren't always easy to find. VIXYN does a nice job catering to fly anglers with the materials they used to create and the specific pockets and storage available within the pack.
Build Quality
The VIXYN Fly Fishing Waist Pack is made out of mesh as well as nylon. The mesh is durable and the nylon has proven to not rip despite getting flies stuck in it and walking through thick vegetation.
The straps are made with a nice amount of foam and it by no means feels too bulky or cumbersome.
Accessibility
When it comes to fly fishing packs, anglers need them to be accessible. Whether you're in the midst of a hatch or you're sight fishing and need a quick fly change, there's no time to waste digging around in the pack for the necessary accessories. The VIXYN Fly Fishing Waist Pack has five outer pockets that are perfect for storage.
Main Compartment
The main compartment of the VIXYN pack is by far the largest. Within this pack there are two storage pouches, a divider and a zippered pocket. The storage pouches are perfect places to put fly dressings or other small items.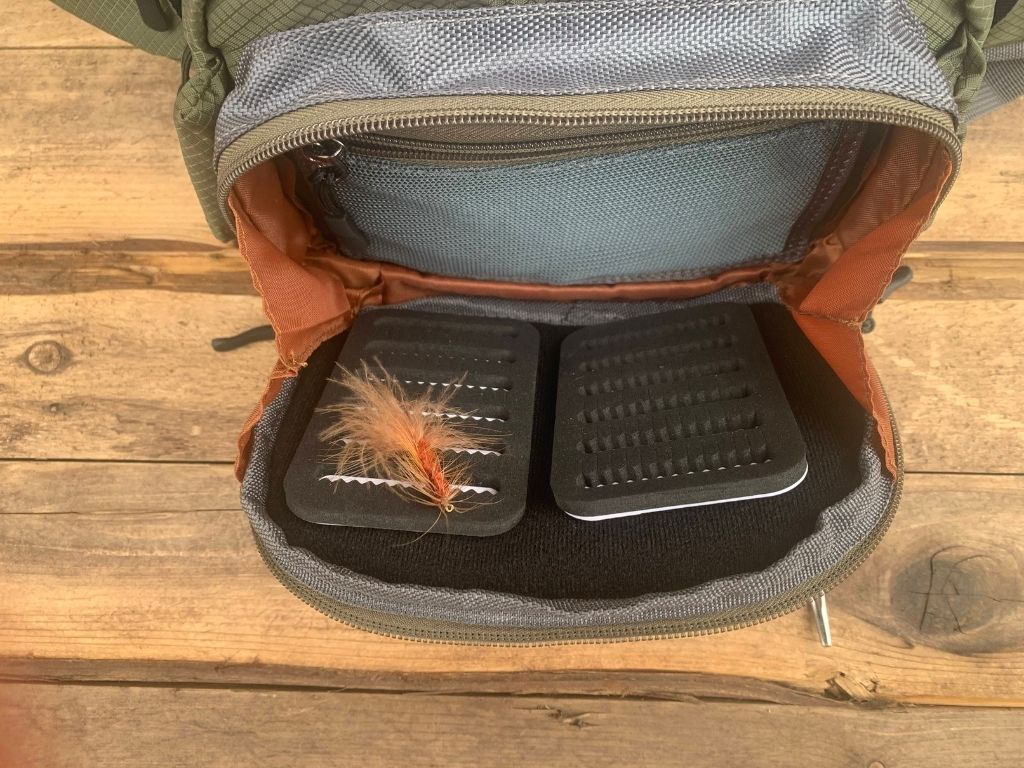 The zippered pouch can hold extra forceps or even leaders and tippets. The organization within the main compartment is a rarity for fly fishing packs. Usually, the main compartment is wide open and it's quite easy to lose things or be extremely unorganized while out on the water.
Order The VIXYN Fly Fishing Waist Pack
If you like what you see in this VIXYN Fly Fishing Waist Pack Review, you can order the pack on Amazon.
There is room for three or four full size fly boxes and even a spare reel if necessary. It's a surprisingly large pocket that you wouldn't think would hold as much equipment as it does. While it may take a bit of organizing, you'll appreciate the extra room.
As long as you're not a heavy packer, you should have no problem fitting everything you would need for a day on the water in this pack.
Fly Storage Compartment
Right in front of the main storage compartment is perhaps my favorite feature. You'll find a pocket that folds and opens like a mouth. On the backside of the compartment are detachable fly patches. These patches have plenty of room for flies so you can change in and out as you're fishing.
Too often anglers misplace flies or lose them when they're changing. By placing them inside the pack on a specific patch, the odds of you losing your flies dramatically increases. Plus, since it folds out, you'll have an easy way of looking at your flies and seeing which one you might want to use.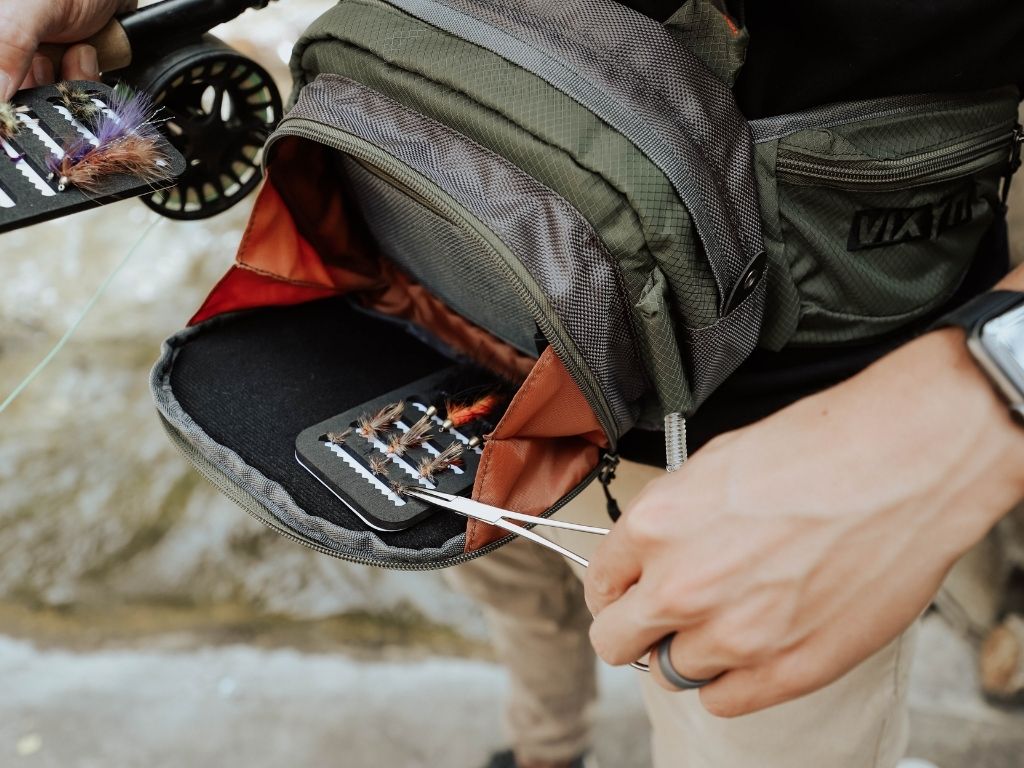 Within this compartment you also have another smaller zippered pocket. The zippered pocket is perfect for leaders or other smaller items that you would like to keep next to your flies. There is no excuse for you to be unorganized when you're using this pack! Even I found a way to be organized and that's not always easy for me to do.
Minor Pockets
The other three pockets on the VIXYN pack are a bit smaller and perfect for valuables or other accessories. Two of the pockets are located on the straps and can hold your keys, wallet or any other valuables you may bring with you on the water.
The final pocket is located on the very front of the pack. This is a perfect place to keep your fishing license. It's easy to misplace licenses so go ahead and put it in this pocket and you'll never have to worry about whether or not you're good to go!
Neck Strap
The neck strap is a unique feature on the VIXYN pack. It allows you to change it into a chest pack if you would like. If you're wearing waders and using this pack, it's not a bad idea to turn it into a chest pack, especially if you're wading in higher water.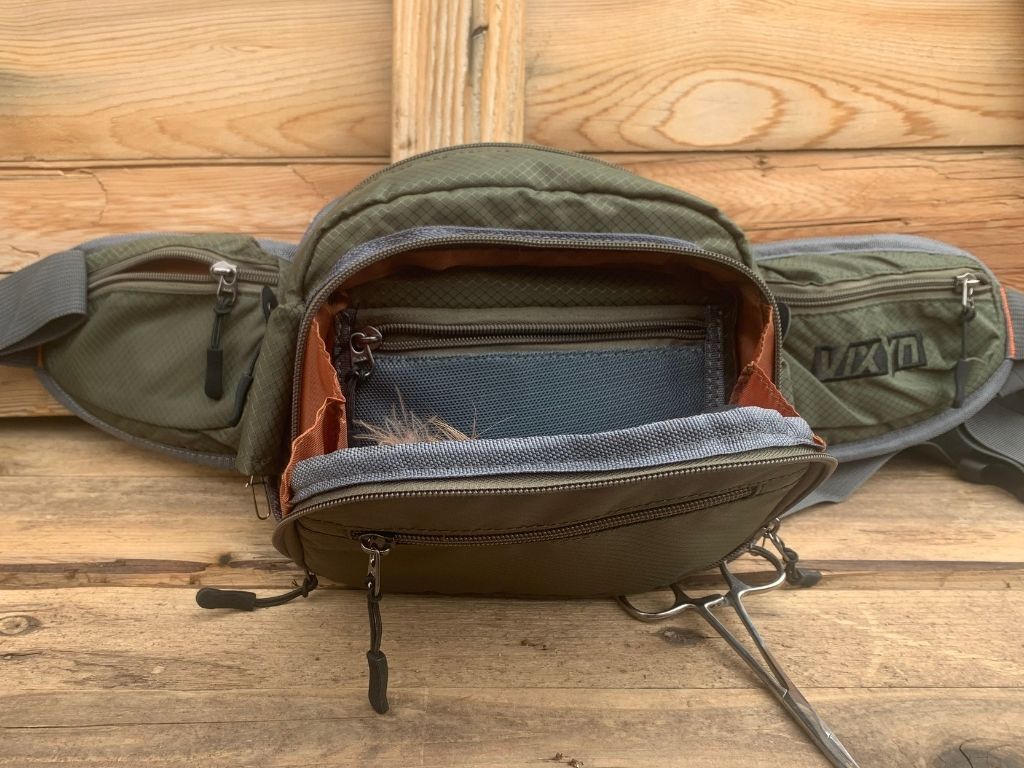 On the back of the next strap, there is a loop that you can hook a fly rod into. Storing a fly rod can be an issue on many other types of fly fishing packs, but VIXYN provides an option for you to hook onto it if it's necessary.
VIXYN Fly Fishing Waist Pack Review: My Personal Thoughts
The VIXYN Fly Fishing pack is a solid option for anyone in searching of a new pack. While it's not perfect, it fits the majority of needs that you might have.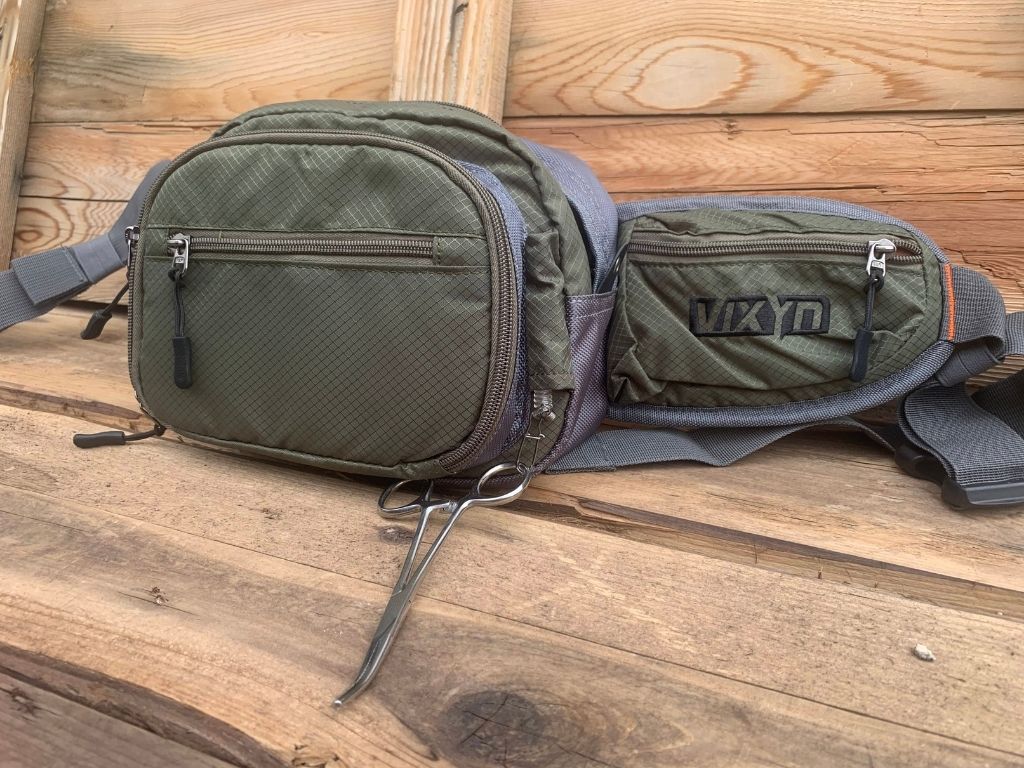 Pros
One of the best features of this pack is the ample opportunities to be organized. There's a pocket or pouch in this pack for just about everything you would need. As long as you're willing to stay organized, you won't have any trouble with this pack.
Another great feature are the retractable leashes on the front of the pack. The retractable leashes are great for your nippers or your forceps. They're very easy to access and you won't ever have to worry about where you might have placed them when you're ready to release your next fish.
The straps on the waist are one of the best features of the pack. Not only are they extremely long so they can fit a variety of sizes of people, but they're also comfortable. I'm a fairly skinny person and many times packs feel baggy on me because they're too big or the pack doesn't sit right.
This VIXYN pack fits nicely because it's a bit smaller and the straps are very tightly on my body. I haven't found this with many other packs. On top of it all, even when my pack was fully loaded, it didn't feel like it was falling off my body.
I could strap it tight enough that it stayed close and I wasn't worried that it was going to slide around.
Cons
One thing I wish this pack had was a place to put a water bottle. Too often I get thirsty while out on the water, but my fishing packs don't have anywhere to put water. While it would be possible to hang a water bottle with a carabiner off the side, it would likely weigh it down too much.
One small water bottle pouch on the side of the pack would make a wonderful addition!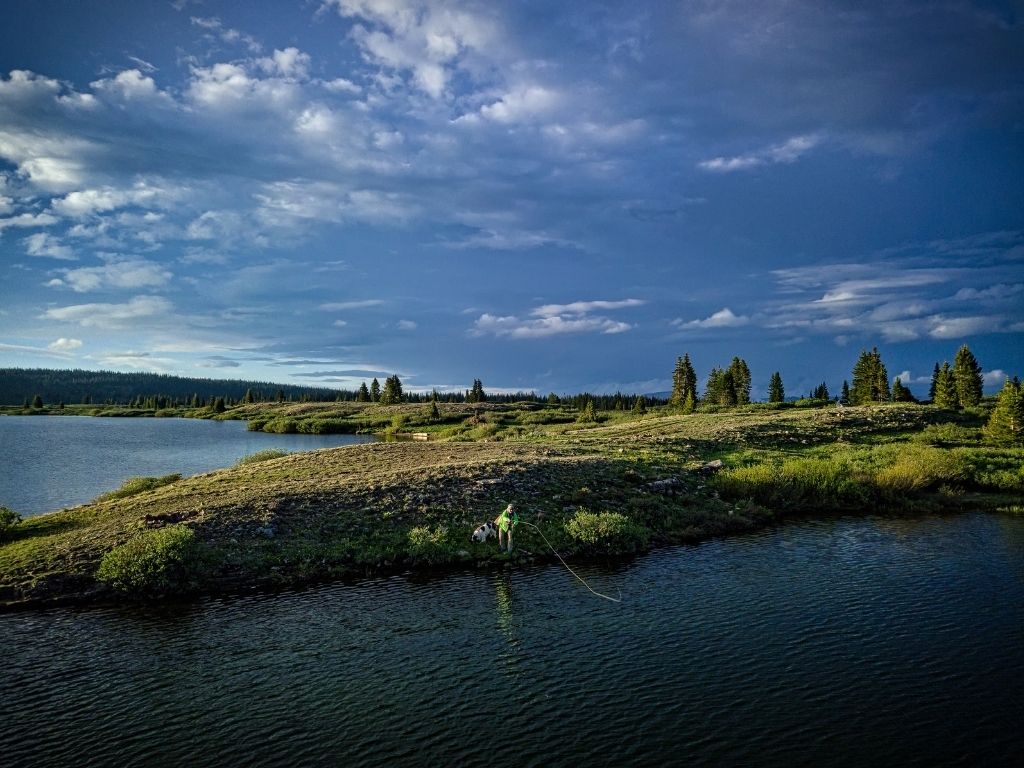 Another aspect of the pack that caused a little bit of annoyance are the leashes that hold the nippers and the forceps. These would rarely retract back into the casing. As a result, they would hang far lower than the pack and sometimes be difficult to access or in the way. It's obviously not a deal breaker, but it was definitely noticeable.
Order The VIXYN Fly Fishing Waist Pack
If you like what you see in this VIXYN Fly Fishing Waist Pack Review, you can order the pack on Amazon.
The VIXYN Fly Fishing Waist Pack costs $50. While many big name brands are nearly double the price for a waist pack, this is a bit on the higher end for competing models.
It's nice and high quality, but I would definitely think about paying $50 before I purchased it.
Conclusion
The VIXYN Fly Fishing Waist pack is going to do the job. If you choose to purchase it, you can rest assured that it will perform exactly how you need it and won't do anything more or less than that.
Sometimes it pays to buy something that isn't too flashy! A quality performing item is all one can ask for. The VIXYN Fly Fishing Waist pack is exactly that.