If there is one piece of gear that changed my 30+ year fly fishing career it is a waterproof backpack and in this YETI Panga Backpack review, I am going to show you why I think this is the best of them all.
The YETI Panga fly fishing backpack has been by my side for over 5 years now and it has saved me and my gear countless times. I have guided and fished with it in Kenya, the outer atolls of Seychelles, Mexico, Belize, Costa Rica, Maderia, and the Galapagos – it is still going strong.
One thing that you might not know about the YETI Panga is that it is submersible. It is airtight and will even keep you afloat if you have to take a swim in a tricky situation. It beats the Simms Dry Creek Z and Patagonia Guidewater backpacks in my eyes.
Read Fly Fishing Vest & Pack Reviews:
Why Trust My YETI Panga Backpack Review?
At IntoFlyFishing, we don't review any gear that we haven't owned or tested to the max in the field, and the same goes for this review of YETI Panga.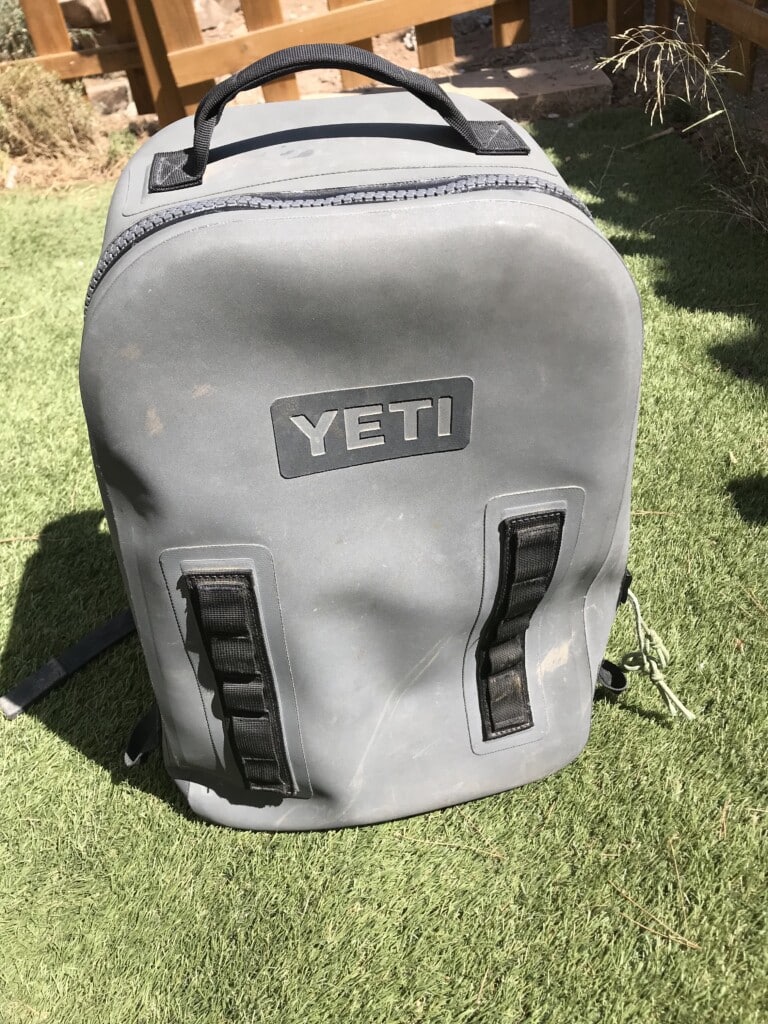 By following this strict honor code, we can give you an honest review (from a fly guide's perspective) that ensures you only buy the products that will truly add value to your life in fly fishing.
As I already mentioned, I have used the YETI Panga Backpack every day for the last 5 years. It is my laptop bag, carry-on luggage, beach bag, hiking backpack, and of course, my fly fishing backpack. It is never more than 1 meter away from me!
How I Used The YETI Panga Backpack
I actually got given my YETI Panga Backpack by a client in Seychelles as a tip after an epic day on the water, lucky me! The 32-degree heat, 80% humidity, salt, and often tricky wading of 2 seasons (18 months) in Seychelles really put this backpack to the test, and it pretty much laughed in the face of it all.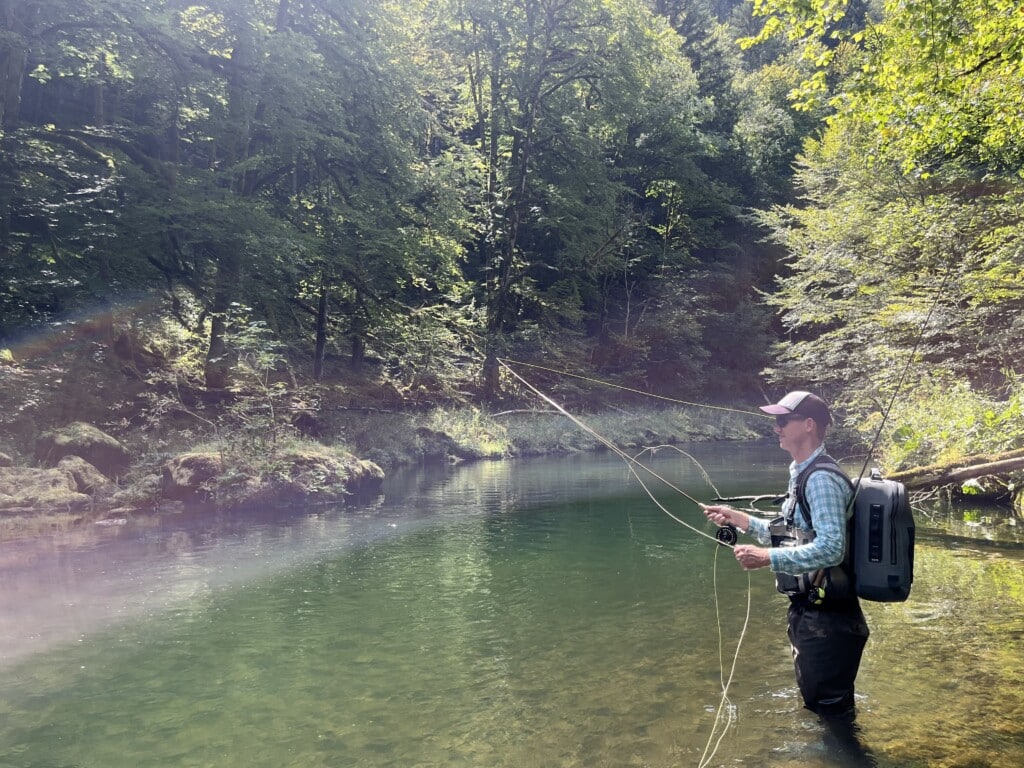 On one occasion I fished longer into an incoming tide than expected. I had to swim to the skiff (fully clothed with wading boots) while my clients waited in the shallows. The YETI Panga kept me afloat all the way and not a drop of water came inside.
There is no harsher place to test gear than in a tropical saltwater environment, so when I go wading in mountain streams, the YETI Panga has a very easy life.
What's in The Box?
When you buy something new, especially fly fishing gear, opening the box is a bit of a moment, and my YETI Panga Backpack Review without talking about this. When you open the box, the smell is a bit intoxicatingly awesome and all that is inside is the backpack and the removable suspension system.
28L Yeti Panga Backpack
The first thing you will notice when you put your hands on your YETI Panga is the outer material. It is smooth, rugged, and feels pretty bombproof.
The quality is second to none, especially when you note the multiple grab handles, adjustability, attachment points, and super sturdy zipper.
Removable Suspension System
The waist belt and sternum strap do not come attached to the YETI Panga, they are separate. Built with the same quality and feel I mentioned above, you can choose when you need to use them or not.
YETI Care Leaflet
YETI really do think everything through with their products and they even give you a leaflet explaining how to ensure your YETI Panga lasts as long as possible. You can expect tips on zipper maintenance, cleaning, and lots more.
YETI Zipper Lubricant
YETI also gives you a stick of YETI Zipper Lubricant with your backpack (like a stick of lip balm).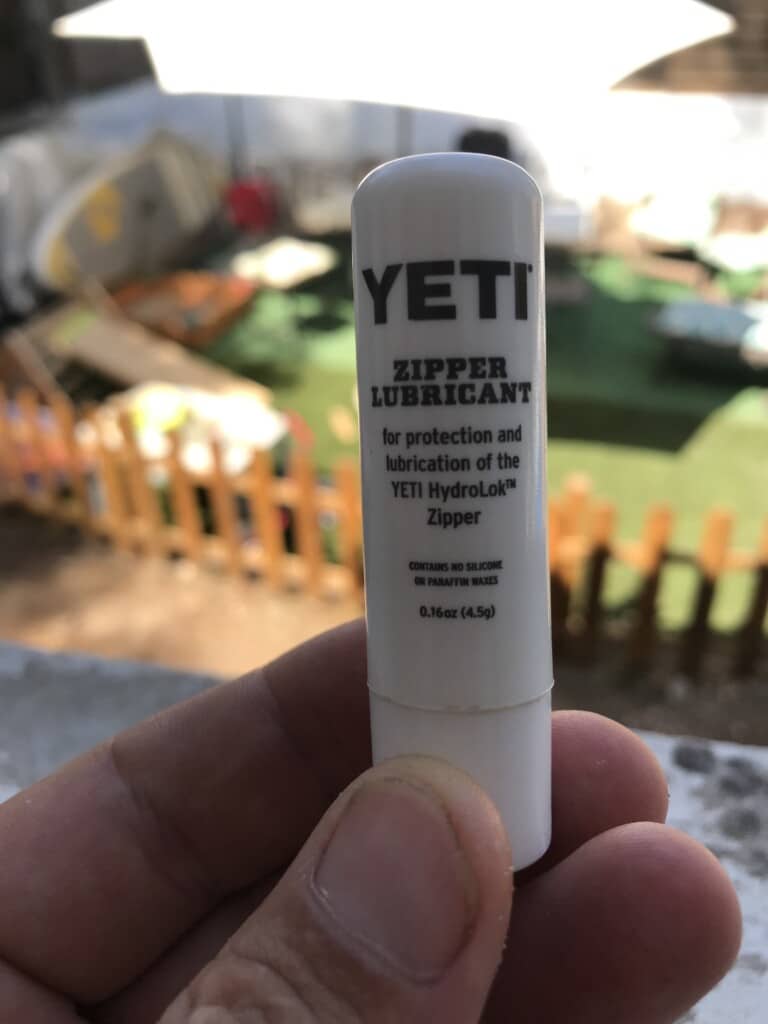 It is imperative that you lube the zipper on a monthly basis (use-dependent) so that it glides smoothly and lasts as long as possible.
YETI Panga Review Features & Specs
Next up in this 28L YETI Panga review, we will look at all the specs and features that make this fly fishing backpack so damn awesome.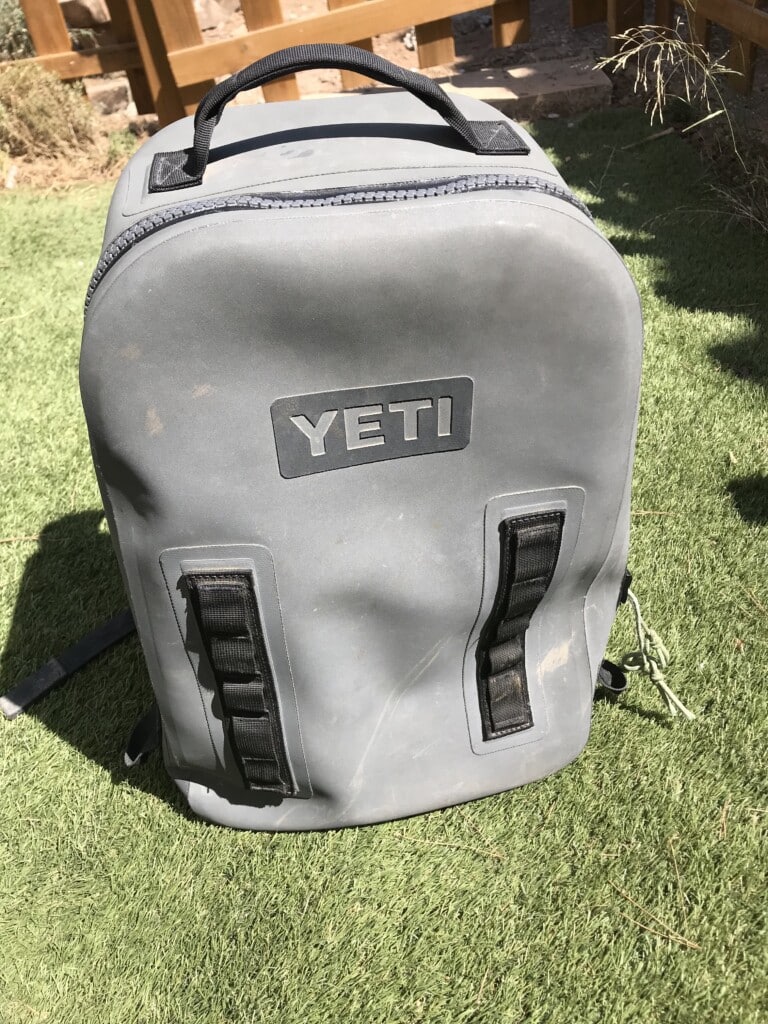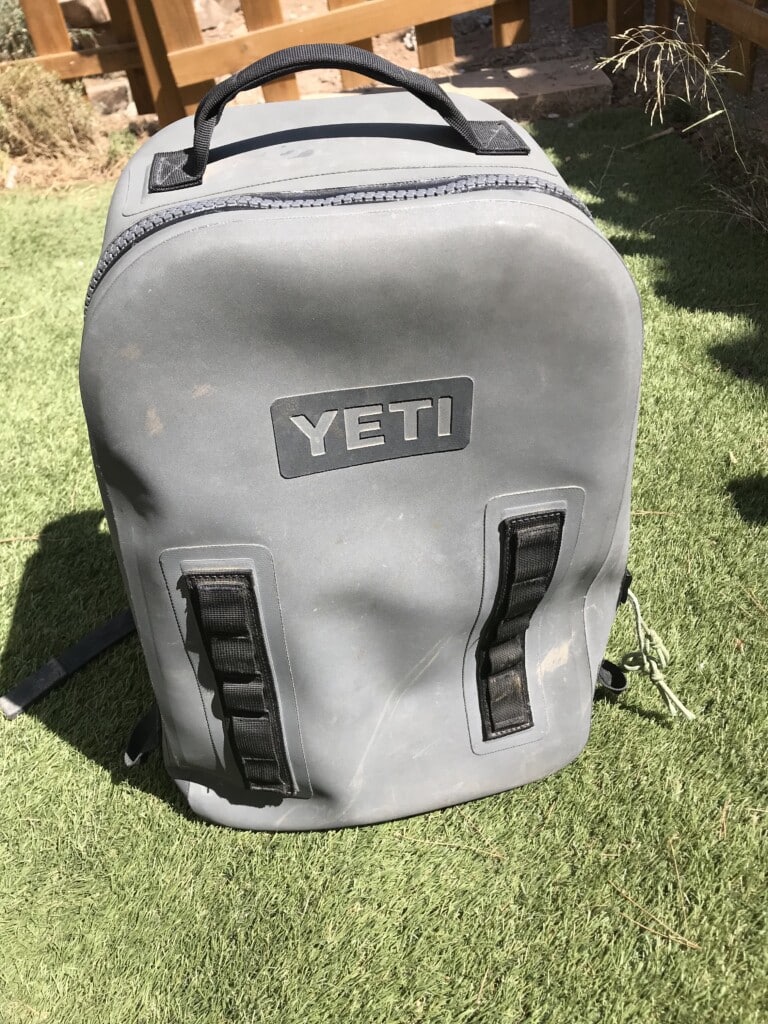 Specifications
Physical Weight: 3.9 lbs/1.8 kg
Available Sizes: 28 L
Measurements: 12.5″W x 7.0″D x 20.0″H
Materials: High-density laminated nylon, aka ThickSkin Shell
There is no other waterproof backpack that feels as tough as the YETI Panga. The skin is thick, like really thick, but it doesn't feel heavy when empty and it holds its shape well.
Overall, the quality gives you the confidence to take this backpack anywhere and everywhere.
Warranty
The YETI Panga comes with a 3-year warranty and during this time if your YETI Panga breaks in any way, YETI will send you a new replacement.
The warranty service is excellent. All you need to do is take a picture of the damage, send it to customer services, and show proof that you have shipped your broken YETI Panga to them. Once you send proof of shipment, YETI will send a new one in the post to you.
Zippers
There are two zippers on the YETI Panga, the outer waterproof zipper and a small zipper on the internal mesh pocket. The waterproof zipper is a tough HyrdoLok zipper with a U-Dock at the end.
When lubed up it is very smooth and make sure it goes fully into the U-Dock to create an air and water-tight seal.
Do not overfill the YETI Panga as this can cause the teeth on the HyrdoLok zipper to pull apart. The internal zipper is also robust and smooth.
Storage
The YETI Panga comes with very limited storage options, and it is one of the few faults of the backpack.
You have an internal zippered mesh pocket for easy access, a sleeve at the back that works for a laptop, and a patch at the back where you can velcro "extras".
Otherwise, it just has a large main compartment which I have squeezed enough in for a week away along with a laptop.
Waterproofing
The YETI Panga is more than waterproof, it is airtight. This means it floats and keeps you afloat too. It has been tested to IPX7 standards meaning it can be submerged at a depth of 1 meter for 30 minutes and not a drop of water will get inside.
Outer Connection Points
The YETI Panga has excellent places to add gear to on its outer shell. The front is covered in Molle webbing and the shoulder straps have webbing you can attach things to also. It is also designed to integrate with YETI accessories, more on those later.
Grab Handles
There are three grab handles on the YETI Panga. One on the top and one on each side all of which can double up as attachment points as you wish.
They are super tough and do not absorb water.
Suspension System (Straps)
The suspension system consists of DryHaul shoulder straps that are fully adjustable and do not absorb water.
They are very comfy and when you clip in the sternum straps and waist belt, the system works well to ensure an even weight distribution so that you can wade comfortably for hours.
Available Colors
The YETI Panga comes in two colors, storm gray, and tan. Both look great although I prefer the gray as any scuffs or marks do not show up as much.
Build Material, Finish & Durability
Built from layers of high-density laminated nylon with reinforcements on the base and on the handles, it is tough as nails.
The material is puncture-resistant, abrasion-resistant, 100% waterproof, and it's about as good as it gets. Combine this with the incredible seals and you have one of the most durable backpacks on the planet.
The SideKick attaches to the webbing on the front of the Panga and the sling onto one of the grab handles on the side. This saves space in the Panga and means you have easy access to smaller gear items on the water while you fish.
How The YETI Panga Backpack Compares
No YETI Panga Backpack review would be complete without comparing it to other backpacks of a similar class.
Below we take a look at some of the YETI Panga's top contenders from the likes of Patagonia, Simms, and Fish Pond to see how it stacks up.
Patagonia Guidewater Backpack
The Patagonia Guidewater Backpack has the same IPX7 waterproof rating as the Panga, is lighter, and has 2 more liters of storage volume.
It also comes with internal organizer pockets, a rod tube holder, attachment points, and more. However, it is not built with the same tough material as the Panga, it is a bit thinner.
Simms Dry Creek Z Backpack
The Dry Creek Z Backpack is waterproof and submersible but is not rated at IPX7 like the Panga. It does have a handy net sleeve at the back with a D-ring, plus dual water bottle holders on each side, one of which can double up as a rod tube holder. I also like the waterproof stash pocket on the front the Panga doesn't have.
Fishpond Thunderhead
The Fishpond Thunderhead is very similar to the Yeti Panga. It is almost as tough (not quite) and comes with very similar features. The front waterproof pocket, multiple internal pockets, and rod tube holder are things the Panga doesn't have.
However, I do not like that the waist belt is not removable, it is bulky and when undone you are going to strip your fly line into tanglers around it.
Don't miss our Fishpond Thunderhead Backpack Review.
YETI Panga Review: My Personal Thoughts
Here are some of the things that I love about my YETI Panga Backpack, and a few areas where I feel that it falls a bit short.
Pros
As durable as it gets
Comfortable to carry
More than enough storage space
It never leaks and keeps you afloat
Excellent attachment points for gear
Removable waist and sternum straps
Cons
Internal gear organization is a struggle
Sweaty to carry on hot days due to the lack of breathability on the back panel
Personally, I have never loved a backpack as much as I do the YETI Panga and I have owned both Patagonia and Fishpond waterproof fly fishing backpacks.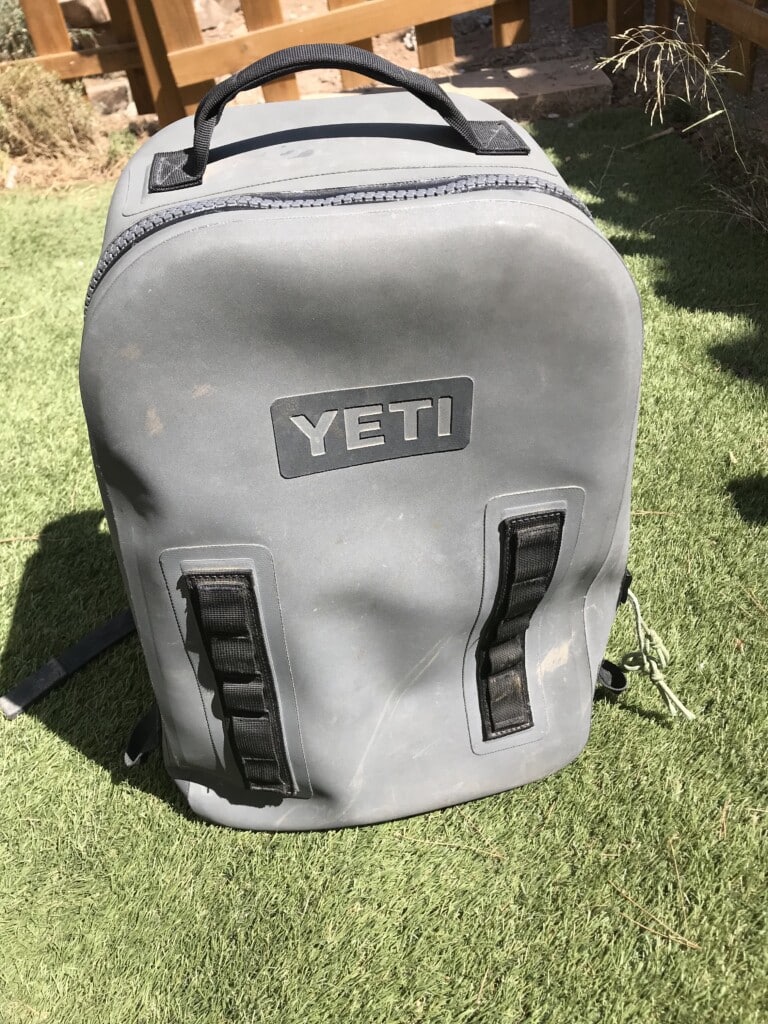 With the YETI Panga, I simply know nothing is going to go wrong. I swam across creeks in Kenya with it while my laptop and DSLR were inside, that is how much I trust it.
My only gripe with it is that it heats up my back on long hikes down the river, especially with waders and it is hard to organize the internal compartment so you can find things quickly. Otherwise, it is simply a dream to use and I am never without it.
The Verdict
As you have probably noticed from my YETI Panga Backpack review, the Panga is not perfect but it is close, and you can't ask for much more. It has taken me places and saved my skin in moments where I never thought a backpack could.
In my eyes, it ticks all the high-priority boxes I want it to – durability, waterproofing, size, and comfort. Where it fails (internal organization & a sweaty back), are problems I am happy to live with if it gets me everything else it brings to the table.
If you are looking for a waterproof fly fishing backpack you can take anywhere that will survive and deliver, I honestly think you can't go wrong with the YETI Panga Backpack.
Disclaimer: IntoFlyFishing.com is a participant in the Amazon Services LLC Associates Program, as an Amazon Associate I earn from qualifying purchases. Please see our Privacy Page for more information.