Today, I'm going to do a full review of the Snowbee Fly Vest Backpack.
I've been fly fishing and using this vest backpack by Snowbee for the last three weeks all around northwest Montana. I was so stoked to do this review for you because honestly this is the best vest, backpack, or vest/backpack I've ever had for fly fishing.
I have to say that, yes, Snowbee did send it to me to test and review, but in no way are we asked to be positive about any of the gear that they send us. I have no obligation to give a biased review on any gear we get on this website, whether we purchase it for ourselves, it's shipped to us by the manufacturer, or we rent it out to clients.
We're honest, and we're 100% transparent with what we think are the faults and positives of everything we review.
I'm not exaggerating—the Snowbee Fly Vest Backpack really is the best I've ever had. I just love how the backpack and vest are integrated into one. There's just enough storage on this thing without it being too bulky.
It's comfortable. It's adjustable enough that you can wear it and feel good no matter how big or small you are. It's pretty much one size fits all.
It's made with 840D ripstop polyester with PU coating, which basically is just nerdy fly fishing talk for the fact that the backpack and vest are waterproof.
It's built like any other Snowbee product. It's built to last, really high quality, and I just love it. So let's get into this Snowbee Fly Vest Backpack review.
→ Don't Miss Our Full List of The Best Fly Fishing Vests in 2023
Build and Construction of the Snowbee Vest Backpack
Snowbee updated it for 2021, and they added a really handy water bottle pack on the back. You can put your water bottle in there and cinch it up.
They also added two rod tube holders on the back, one on each side. Rod tubes can get clipped in with straps near the top, which come off.
I have to say that it's a great idea by Snowbee, adding to a product that was already doing really well. Now the backpack/vest is doing even more. I love that about it.
One handy extra feature of the Snowbee Fly Vest Backpack, which not all other fly fishing vests have, is a useful little rod holder loop at the bottom of the vest. You can hook your rod in there, right around the reel seat, and then cross it across your chest up to the velcro strap on the right side of your chest.
Then you've got the perfect place to put your rod away, and you have both hands ready and available to change flies, to get new flies out of your boxes, to change spools, or to do whatever you need to do while you're on the river.
I really wish that more manufacturers would do this on their fly vests because it's so convenient to be able to use both hands. I'm really happy that the Snowbee Fly Vest Backpack has that feature included.
The front vest section incorporates pretty much every feature you'd want from a modern fly vest. There are large fly box designed pockets with two smaller pockets in front of them, providing the perfect place to slide in different size fly boxes, your tippet material, or whatever you want.
Additionally there are a couple of concealed coil retractors with tube pockets where you can put forceps or your nippers, which is what I have attached. Because they're on the coils, they're not swinging around and getting in your way too much.
Inside of each of the pockets is a concealed mesh slip where you can put an extra spool, some more tippet material, or whatever. It's a handy use of space.
Having extra pockets all over the Snowbee Fly Vest Backpack is really useful, without making it too complicated. They're all placed in the right spots, and you're not going to lose your stuff while you're out on the water because you've got too many pockets. It's actually just enough.
Another handy feature with the vest are little elasticated loops on your chest. They're the perfect place to hook in your monofilament spool setup.
What I've been doing is linking it across my chest and clipping it to the other side, so I have a really easy-to-retract spool system right across the middle of my chest or on my sternum.
I'm also using those little loops for my floatant gel. It's right there on my chest and really easy to access. I douse those flies in the gel and make sure they're floating.
The inside of the fly vest backpack is lined with a nice, comfortable, padded and highly breathable mesh material that really helps to wick the moisture off your back while you're fishing.
It keeps you dry in the summer months, so it keeps you cool, and in the winter months it stops you from sweating a lot in your back. So that helps to keep you warm, and it really works both ways. It's a smart idea to have this breathable material on the inside of the fly vest backpack.
It also has a large side zip pocket that's just along the zipper that you zip up the center of the vest with. It's mesh lined and really big. You can put a lot of things in there, even your lunch if you wanted to.
But you probably wouldn't want to put your lunch there because this is a vest backpack, so the perfect place to put your lunch and any extras that you don't need immediate access to while you're on the river is on your back, in the backpack portion of the bag.
Watch the Snowbee Fly Vest Backpack Review Video
The Backpack Portion of the Snowbee Fly Vest Backpack
The main zipper pouch in the backpack is really large. You could easily fit in there a bunch of extra stuff that you need for a day of fishing—extra reels, extra spools, and your lunch most likely.
It's also extendable, and it has this really handy extender. You just unzip it and all of a sudden you've got a couple more inches of space in the backpack portion of this bag.
Not only does it have the water bottle holder and the rod tube holders that I already mentioned, but it also has this extra mesh elasticated sleeve on the very back. It's a lot of extra space, so you can put whatever you want in there.
What I love about the Snowbee Fly Vest Backpack is the way that Snowbee designed it so that every pocket is actually two or three different pockets.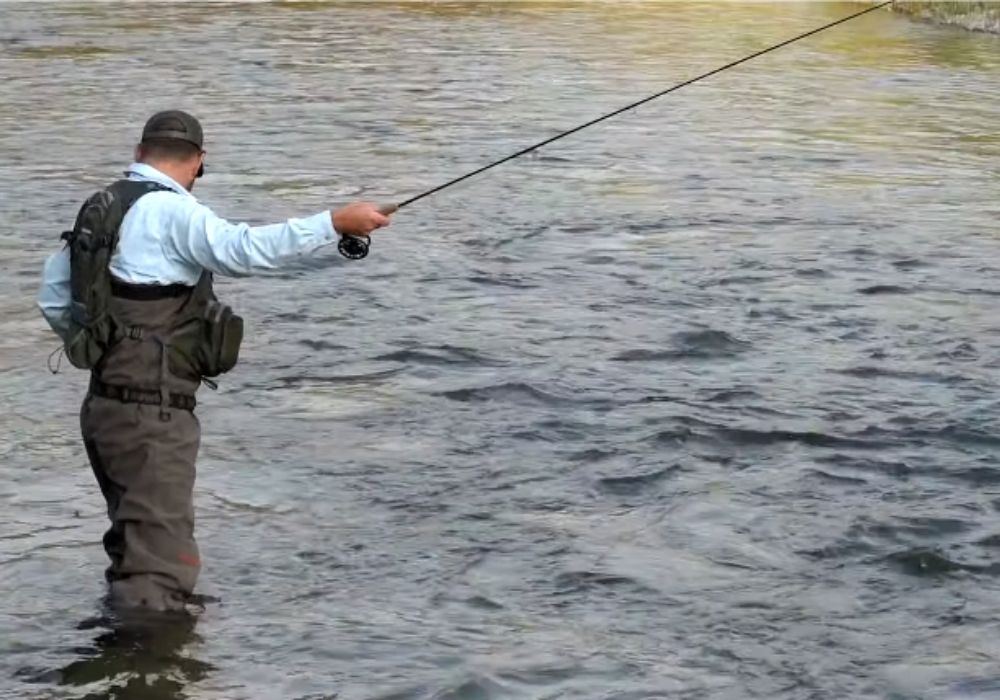 When you really start breaking down this bag and looking at it, you'll know you have a lot of storage. You're never going to be on the river thinking, I have nowhere to put this, I've got too much stuff now.
The Snowbee Fly Vest Backpack is perfect for an angler who's got a lot of stuff and needs to store it while they're out fishing.
The Price of the Snowbee Fly Vest Backpack
The Snowbee Fly Vest Backpack falls somewhere in the upper ranges of the price point for a vest. But the fact that you get a vest and a backpack for $150 USD is a pretty great deal, especially with all these features and all this storage.
Basically it's everything you need. So, 150 bucks is in the upper regions of the price range, but it's definitely worth it. Like I said, it's my favorite one I've ever had.
When you take the Snowbee Fly Vest Backpack out of the bag or the box after you order it, you'll see. The way they've themed the zippers, and all the stitching is nicely done. There's no extra fraying or thread hanging off the sides.
I've been using it pretty extensively. At least for a couple weeks I used it almost every single day, and there's no fraying still. It's in really good shape.
It definitely has the typical Snowbee build, and it's worth the $150 price tag.
The Overall Fit and Adjustability
It's highly adjustable. The shoulder straps have really useful adjustable straps on them. The entire bag can be loosened or tightened to how you want it. It really is a one-size-fits-all product.
I'm 6 feet tall, 200 pounds, and it fits me perfectly. I've got it mid-level, but I could extend it further and cinch it up tighter if I wanted. I think it's a good way of making it, so that this one pack can be perfect for a smaller woman or a bigger guy.
They've done a good job of making it pretty forgiving in sizes, so anybody can use this vest backpack.
Cons of the Snowbee Fly Vest Backpack
Of course a vest and a backpack is an intricate product. It's never going to be perfect. But I was hard-pressed to find anything wrong with this bag, so it may seem I'm really reaching for a con.
I'd love to see a little loop at the back where you could hook a magnetic net. A lot of vests have one on the back, and you can just pull the net off the back end of your vest.
Strangely, it does have a loop in the inside, but no small hole going to the outside where you could clip a net on the back.
One more thing I'd love to see on this vest is a little patch of hair on either the right or left side of the chest. A lot of fly vests have this, and it's just a nice place where you can quickly hook in your flies and take them out easily. It's also a great place to dry out your flies.
On this Snowbee Fly Vest Backpack, there aren't many places where you can hook in a fly, particularly if you're fishing with barbs, that you can easily take out again. So that would have been a nice feature to see added.
Other than that, it's really hard to think of anything wrong with this vest.
Don't Miss Our Fishpond Thunderhead Backpack Review.
My Personal Thoughts and Opinions About the Snowbee Fly Vest Backpack
I've made it pretty clear that I think it's awesome. I've had many vests over the years. Typically I spend a little less on my vests, maybe in the $50 to $100 range, but it's worth paying the extra $50 for the Snowbee Fly Vest Backpack.
I think it's totally worth the money just because of the way the vest is built. It's perfect for someone who carries quite a bit of stuff out on the river. You have pockets for everything that you want to have, without it being too bulky.
It's super comfortable and really breathable. I was out in 37 degree (98.6° F) weather, and it wasn't too hot for me. It's not meant to keep you warm, but when you're out there and you have a bunch of warm clothes on, because it's so adjustable, it'll still fit over all your down jackets and sweaters.
It's a super comfortable bag that's really well built. It's definitely worth the price point. I think if you're in the market for a vest, you might as well up it a little bit and get the vest backpack from Snowbee. I love this product.
I hope you all enjoyed this Snowbee Fly Vest Backpack review and that it was helpful for you. If you did, please give it a like, leave a comment down below, and tell me what you like to fish with—a vest, a waist pack, a lanyard, or what.
I've been fishing with the Snowbee Fly Vest Backpack here in northwest Montana, so check out my vlog series where I'm taking you out fishing around northwest Montana using this gear and a lot of different gear we have at the cabin.
Until next time, tight lines.