As an Amazon Associate I earn from qualifying purchases.
When looking for the best fly fishing backpacks, you should keep a few things in mind. First, you should think about how much storage space is needed and how many pockets the pack has.
Then, you should think about durability and how often you plan on using it. After these first two qualities, you can really focus on the specifics of what you need as an angler.
Quick Look: Fly Fishing Backpacks
★ #1 Best Fly Fishing Backpack Overall: Orvis Safe Passage ★
I enjoy brook trout fishing in the mountains, so my first thought is always something that's small and lightweight.
I don't need a lot of gear, just enough to hold some flies and maybe a water bottle.
If you plan on fishing large rivers and spending long days or weekends camping, then a larger backpack for fly fishing will work best for you.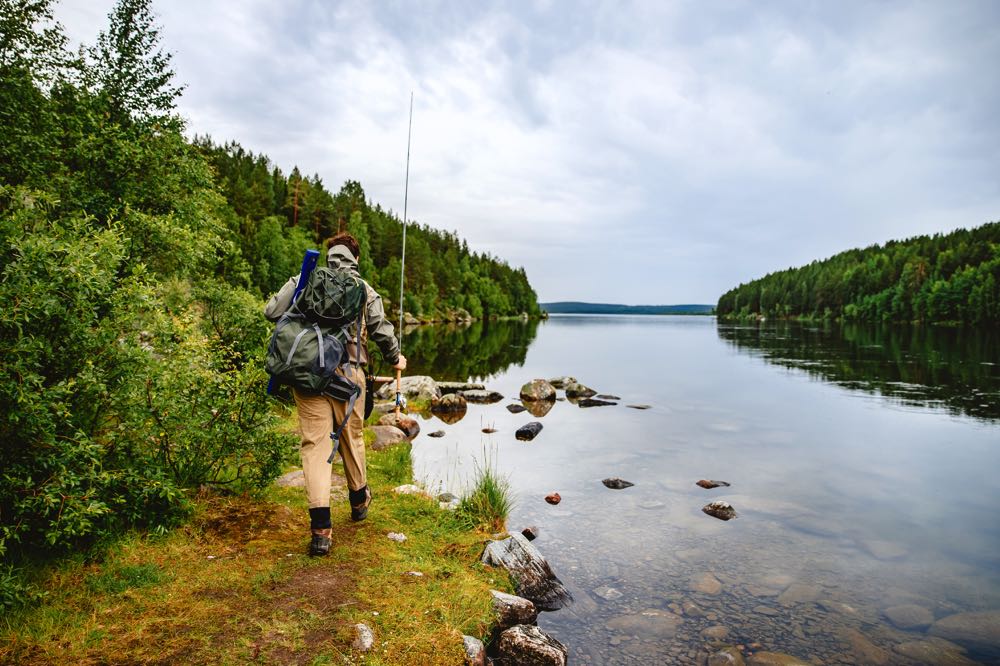 We also have a post all about the best fly fishing packs overall, including sling packs, chest packs, waist packs and more, so make sure you check that out.
Below I'll go over five different backpacks for fly fishing that will make your trips more fun and hopefully more successful.
Best Fly Fishing Backpacks
I'll go over five different packs that you'll be able to utilize on your next fly fishing trip. All are meant to be worn either as a backpack or a sling pack, and some may even have a few other features that give them extra room for storage and gear capacity.
So, whether you're fishing the quiet lakes of Iowa, Minnesota and South Dakota or the wide, trout-filled rivers of Montana and Wyoming, these fly fishing backpacks should be able to carry what you need for any fishing trip.
1. Osage River Fly Fishing Backpack
Number of pockets: 4
Pros: Large internal pocket, multiple rod holders
Cons: Not waterproof, no padding or back support
For the price, the Osage River Fly Fishing Backpack features a surprising amount of space. The main compartment is large enough to hold two large tackle boxes.
Then, you can factor in the three other pockets that can hold pretty much anything that might be on your fly fishing packing list.
This includes extra line, tippet, fly reels, a camera, a phone, and anything else that you can think of.
There are also two sections on either side of the pack where you can store a fly rod, making this the perfect pack for someone who hikes long distances back to their fishing spot or for a camper who enjoys keeping a rod with them.
The back of the pack is made of mesh, so you don't have to worry about overheating while fishing on warm sunny days. The rest of the pack is made of strong and durable nylon. For the price, this pack is very strong and will hold up to rough treatment.
2. Rocky Mountain Fishing Backpack
Number of pockets: 6
Pros: Detachable chest pack, can hold a hydration bladder
Cons: Not a lot of storage, backpack portion difficult to access when the chest pack is attached
The Rocky Mountain Fly Fishing Chest Pack Backpack Combo has the best of both worlds. It allows you to carry your heavier gear and other nonessential fishing items on your back while carrying everything you need to catch lunkers right there on your chest.
While this backpack may not be fully intended just for fly fishing, it works very well as a fly fishing backpack.
You can keep your flies, tippet, and anything else you need right in the front pocket, so you can quickly and efficiently zip down the front pocket and be able to see and grab exactly what you need.
If you don't feel like having a chest pack, then all you have to do is unclip it and remove it from the backpack.
Now, you'll be more lightweight and agile. Even with the chest pack, this polyester-blend backpack is lightweight and won't weigh you down when you're spending those long days out on the water.
The back of the pack is made of mesh that will help keep you cool when you're wading in the water during those hot summer days.
The side of the pack also comes with straps that you can use to tie down either a fly rod that has been broken down, a rod tube, or a full-length rod.
3. Allen Gunnison Switch Pack
Number of pockets: 4
Pros: Can convert from backpack to fishing pack, multiple rod tube holder
Cons: Needs extra strap for support, needs padding or mesh
Allen Gunnison had the right idea with the Allen Gunnison Switch Pack, but fell just a tad bit short of perfect execution. That being said, this is still a very good backpack.
At first glance, it looks like a normal backpack that you can use to carry fly fishing gear as well as a camping and hiking gear.
Upon closer inspection, you'll see it can be converted into a full-on fly fishing pack.
The large inner compartment is still there for you to hold larger items, and you can also attach a smaller chest pack on the pack that can be used to hold your fly fishing gear. It's perfect for storing tippets and flies.
It comes with two rod tube holders that you can use to hold all of your gear as you hike back to your spot.
If you only want to bring one rod, then one of the tube holders can be utilized as a water bottle holder.
4. Orvis Safe Passage Anglers Day Pack
Number of pockets: 3
Pros: Very durable, water-resistant, and you can also attach a chest pack to it.
Cons: Not a lot of storage, pricy
Orvis designed the Orvis Safe Passage Anglers Day Pack with rock climbing bags in mind. It's small and lightweight, but has just enough storage to be able to hold your gear on top of a few other non-essentials.
This is my favorite fly fishing backpack on this list thanks to its comfort, versatility, and pack organization.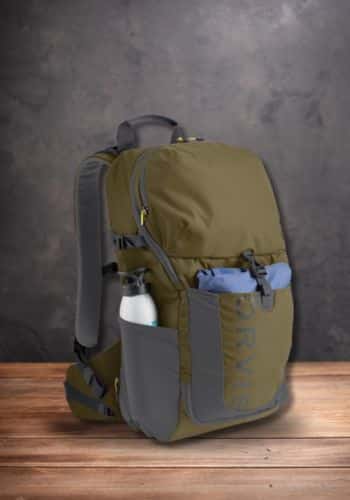 If you find that the pack itself doesn't have enough space, or if you find it too cumbersome to reach back to grab a fly, then you could always attach the chest pack to it.
The pack is also foam padded and has a molded back panel, which keeps you comfortable all day out on the water.
The foam back also helps keep anything large and clunky from digging into you as you hike and wade your way down the river.
The side pockets can carry a water bottle or a rod tube. They're also equipped with straps to hold them in place.
The large main pocket can hold a sizable tackle box, while the nylon material the pack is made out of will hold up to the abuse that mother nature and a fly angler will put it through.
5. KastKing Fishing Tackle Backpack
Number of pockets: 5
Pros: Tons of storage, water resistant
Cons: Small external pockets, can be a little too big
The KastKing Fishing Tackle Backpack is a tough and water-resistant bag that will last you fishing season after fishing season. This pack is loaded with spots to store gear, and it can hold extra rods and reels in the side compartments.
Internally, the pack has different compartments for you to keep your tackle neat and organized. You can load up on fly boxes, extra reels, an iPad, rain gear, and anything else you can think of. There's plenty of storage space in this bag.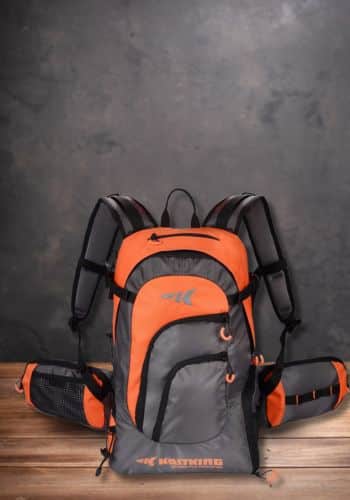 The only downside is that the bag can become cumbersome when you're out on the water. The large size that allows you to haul whatever you want can become too much when you're trying to delicately land Elk Hair Caddis flies in an eddy.
What Makes the Best Fly Fishing Backpack?
Now that I've gone over a few different types of backpacks, let's go more in depth. I'll look at the features that you should be looking for. Below I'll cover pockets, adjustability, water resistance, durability, material, comfort, breathability, and price.
These are especially important when you're picking out your very own backpacks intended for fly fishing.
Pockets
The number of fly fishing backpack pockets is not quite as important as how these pockets are organized. A pack may have only three pockets, but are there layers and holding areas?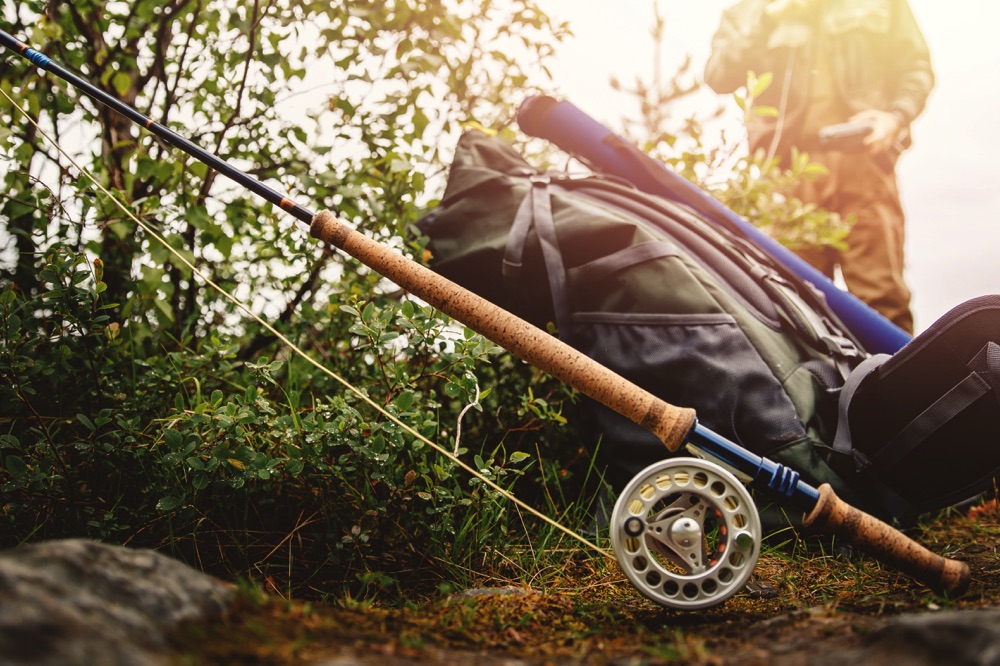 You'll need spots where you can store a small fly box in one and your leaders in another. As long as there's one large pocket and the other pockets have decent organization, then you should be all set.
Adjustability
The best fly fishing backpacks have straps you can adjust. Everyone has a different body size and shape, so you need to be able to ensure a secure fit with straps.
This is also true if you plan on fishing in hot or cool weather.
If you enjoy fishing in July in just a t-shirt, then you'll need a tighter fit, as opposed to fishing in January when you'll be wearing a heavier coat.
Water Resistance
It's important for a pack to be water-resistant, but it's not a necessity. Knowing your gear is safe and dry when you take a spill in the water is great.
If you get worried about being rained on, consider packing a small garbage bag to line the inside of your pack with.
However, you should be thinking about durability and comfort before water resistance.
The best beginner fly fishing backpack might be one that's water resistant. This is because a new angler might not be as adept at wading and could fall easier.
Durability
The best backpack for fly fishing is one that's durable. Fly anglers can be rough on gear, so they need something strong. Look for a nylon pack. These are the most durable. However, the areas that break first are the seams.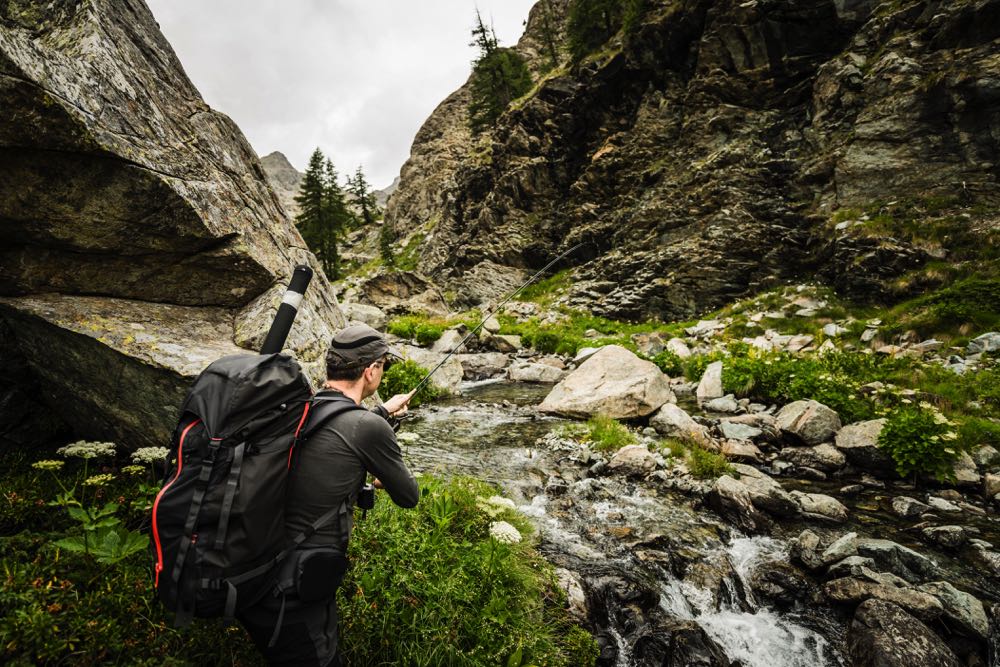 So, stitching is just as important as the material it's made out of. This can be tough to see, though. Typically, you just have to go with the reputation a company has as well as what the price tag reads.
Material
Nylon and polyester are the main types of materials for the top fly fishing backpacks on the market today. Polyester typically isn't the most durable, but it is lightweight.
Nylon is the material you should really be looking at.
If possible, find a pack made of ripstop nylon. Ripstop nylon is the strongest you can find, and it'll hold to up to scratches and abrasions. It's ideal for when you're hiking in thick backcountry.
Comfort
If you plan on fishing for long days, then comfort should be of high importance to you. The last thing you want is a strap digging into your neck or side as you watch your drift. Look for a good fly fishing backpack that has adjustable straps for comfort.
Also, there are bonus points if it has a mesh back. This helps keep you cool on the water, and it'll keep your sweat to a minimum.
Breathability
If you plan on fishing in the summer months, then breathability is crucial. You don't want to be uncomfortable out on the water, unless you enjoy fishing all day with a damp, sweaty back.
Take some time to look for a pack that has a mesh back that'll allow your skin to breathe while you're wearing it. It'll only make you more comfortable out on the water, and it's something you should invest in.
Price
The importance of price is something that varies from person to person. If you want to drop a couple hundred dollars on an incredible backpack, then you'll find one.
Typically, those really expensive packs have increased durability, water resistance, comfort, and storage.
However, you can find a cheaper backpack for less than a hundred dollars that could have all those features as well. It's just going to take a little more time on your end.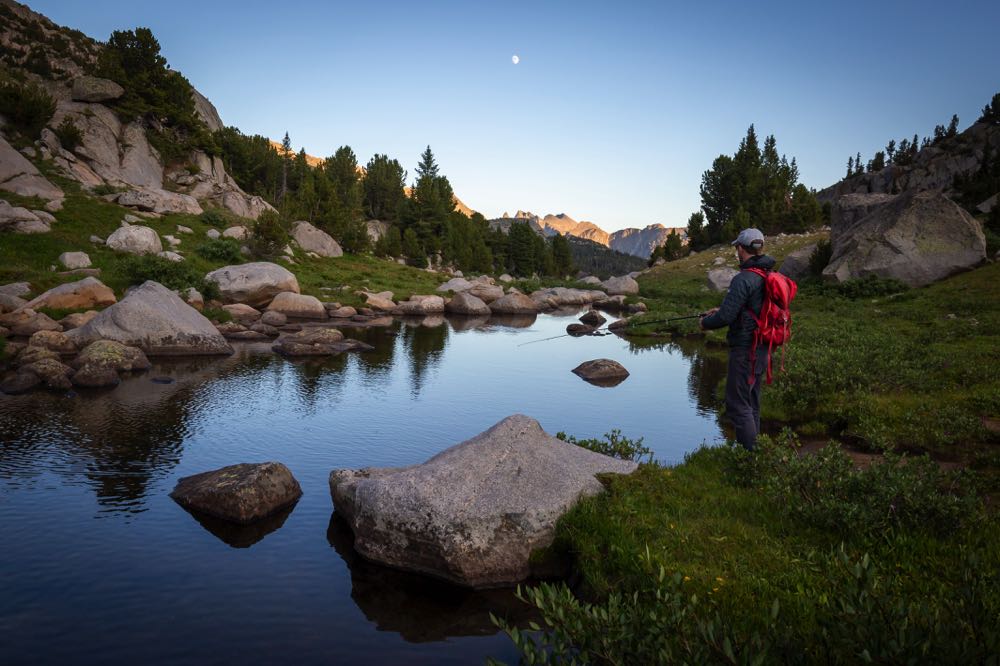 Sometimes the best value deals on good fly fishing backpacks are found as part of full fly fishing outfits.
These are basically combo packs where you can also get a vest, waders, boots, a fly rod, a reel, a fly box, fly line, some flies, and pretty much everything you need to get started all included in one purchase.
Review This Post
Conclusion: The Best Fly Fishing Backpacks
When looking for the best fly fishing backpacks, you need to focus on what's important to you. There are a lot of different products on the market, and it can be overwhelming.
Take the information above and use it as your guide to finding the right pack for you. You could even use some of the packs I recommend as a springboard to find what you're looking for.
The right fly fishing backpack is out there for you. Use this list and take some to scour the internet, or hit up your local outfitter to find one for you. Try some on and ask questions. You'll find what you're looking for, and you'll be a better angler for it.
Some images in this post are courtesy of Shutterstock.com.
Like This Article? Pin It!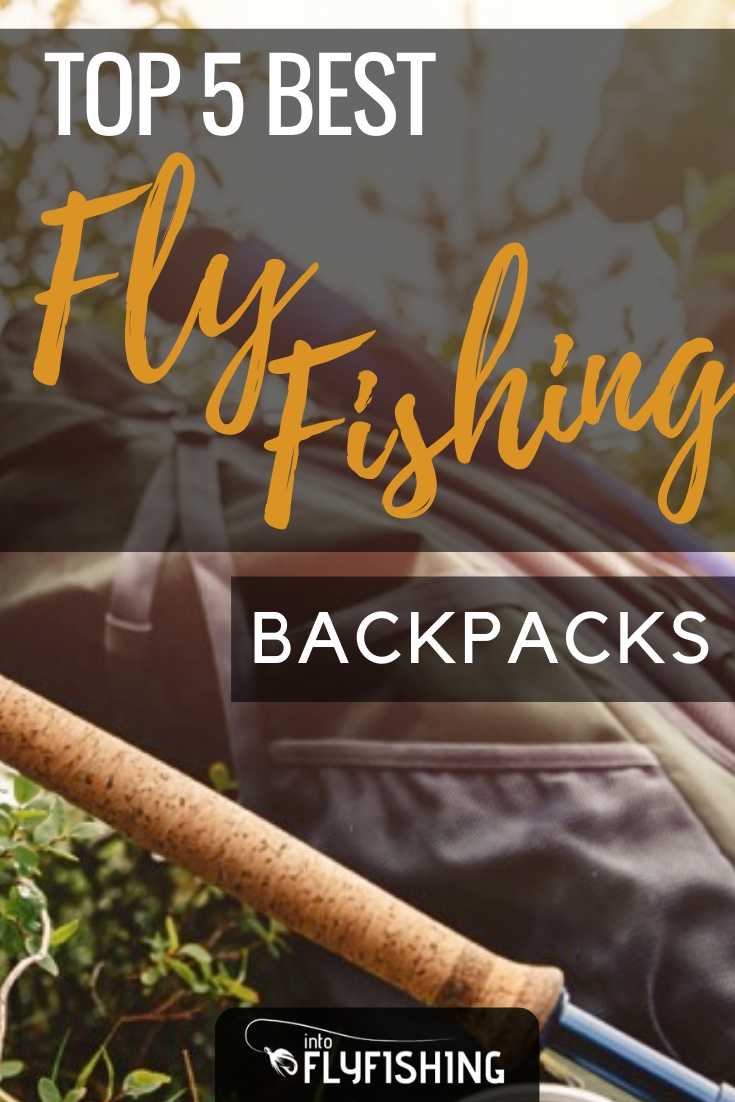 Amazon and the Amazon logo are trademarks of Amazon.com, Inc, or its affiliates.
As a part of the Amazon Associates Program and other affiliate programs, Into Fly Fishing® may receive a comission if you order products through links on this website.