As an Amazon Associate I earn from qualifying purchases.
Friends, buddies, pals, how are you doing? Welcome back to another review. This one is all about the Orvis Pro wading boots.
What I Want in a Wading Boot?
Before I get to these boots, I'll tell you what I look for in a boot. I'm a big fan of ankle support.
Some wading boots can be too high, like the old Simms G3 guide boots. I tried those and they were way too high. They cut into my shins and made me bleed, and I didn't get on with those at all.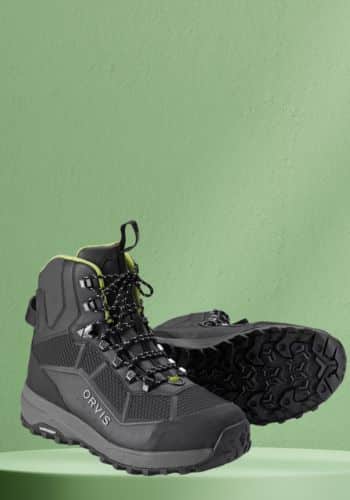 Orvis Pro Wading Boots
If you like what you see in this Orvis Pro wading boots review, you can order the wading boots at Orvis.
And then, if they're too low, and they don't come up over your ankle enough, it's a big problem. You'll move your feet around a lot when you're in a river, so you need to have high enough ankle support.
They've got to be able to stand up to the job. They've got to be light. They've got to drain pretty well, and they should look cool as well. That's pretty superficial, but it's important to me.
My Experience with the Orvis Pro Wading Boots
I've worn this model of boot for the last three seasons now. I've given them a good run, and I've got a good idea of what they're all about.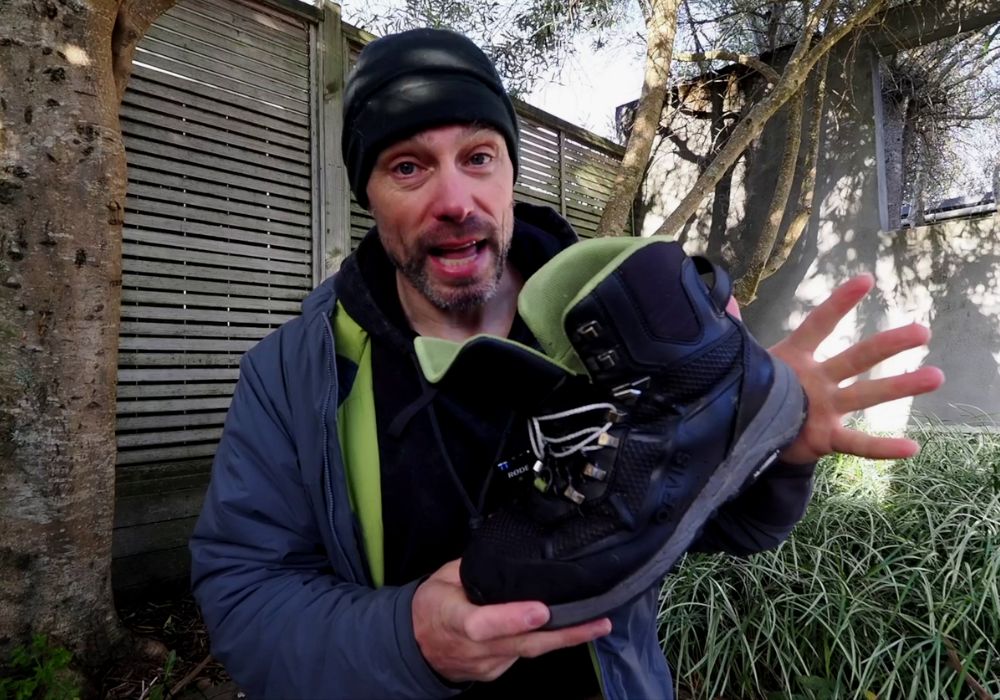 I'll run through them with you today, and I'll tell you what I like and what I don't like about them. Maybe if you're in the market for a new pair of boots, this review will answer some of your questions.
My Pair of Orvis Pro Wading Boots
First things first—I probably need some new laces. I have a bad habit of running laces into the ground and beyond. That will give you some idea of just how much I use these boots. I basically walk them into the ground.
That said, I fish a lot more and I'm on the river a lot more than most people. So, if you don't fish all the time, you're going to get a lot more out of these boots than I ever will.
Orvis Pro Wading Boot Review: The Looks
Let's get superficial. They look damn cool. When I first saw these boots, I had to try them just because of how cool they look. The outer part of the boot is black, and the lining is a cool yellow-green, which is really great.
The eyelets and hooks for the laces look awesome—kind of space age. Every time I put these boots on, I feel like I'm Darth Vader. And that to me is only a good thing.
Seriously though, I love the look of these things. Like I say with my rods and my reels—actually with all my gear—I like stuff to look cool because I get enjoyment out of it. That's a positive in my book.
Orvis Pro Wading Boot Review: Ankle Support
Talking about ankle support, it's a nice medium. They're not as high as some boots out there, like the G3 guide boots. I don't know if Simms still makes those or not, but they were really high. They were just too much.
On the other hand, with some lightweight boots, the ankle basically comes to only about an inch above the top of the foot, and that's too low for me.
When you do up the Orvis Pro wading boots, they go around your ankle, and when you walk in the river, you always feel like your feet are supported. You never feel like you're in danger of rolling your ankle or hurting yourself. That's super important.
Orvis Pro Wading Boot Review: Boot Construction and Design
They're very strong. They're structurally sound and comfortable.
At the back is a grip you can grab when you put your boots on. It helps you pull your boots on easily. There's no danger of it ever popping off and breaking, because it's solid.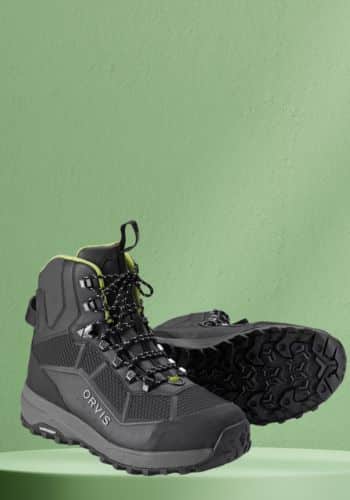 Order the Orvis Pro Wading Boots
If you like what you see in this Orvis Pro wading boots review, you can order the wading boots at Orvis.
Whether you're buying these boots or another pair of boots, always check where the stitching is on the side of the boot. You don't want the stitching on the outer top edge. That's where you'll rub the boot against the rocks in the river, and it wears very quickly.
The stitching on the Orvis Pro wading boots is nice and high, so it stays away from the rocks and there's no chance of wear.
It's coming to the end of the season, and there's no sign of wear on mine at all. That's proof that the stitching is nice and high, and it stays out of the way.
Like I said, the shoelace eyelets and hooks are solid. They're never going to break. They're never going to pop out.
A buddy of mine was putting his boots on the other day. The eyelets were material, not metal, and they just popped. They broke right when he was getting ready to get in the river. You don't want your boots to do that.
There's a ring at the base of the tongue where you can attach a neoprene sock or waders. The little hook on the waders will pop into the loop. I've never bothered to use it because it never seems to stay in place. Either way, you'll never have any trouble with a neoprene wader or gravel guides popping up and being an issue.
Orvis Pro Wading Boot Review: The Sole
The sole on my Orvis Pro wading boots is looking pretty worn. Like I said, I do a lot of walking, more than most in a season, which is why I go through so many boots. I've pretty much started to wear the bottom of the sole off, just from walking. But they're still pretty grippy in the river.
It says on the sole that these are Michelin sole, like the tire. It's supposed to be so-many-percent more grippy than other rubber soles. I can't tell you whether or not that's true, to be honest. In my opinion, rubber soles are rubber soles, and they're slippy.
Some rivers are really slippery. Some rivers are quite grippy. That's just how it goes.
You can add studs into these, and I know a lot of people do that. I haven't used studs for quite a few years now because I do a lot of boulder hopping.
If you hit some of those big boulders with studs on, you might as well be jumping on ice. It's lethal. I've eaten shit quite a few times, and it's pretty scary. So I don't use studs for that reason. Also, I don't like the clicky-click-click when I'm in the river. I've actually seen fish spook from a client with studs before.
So basically all I do is take my time, try to be careful, link up if I'm fishing with a buddy, and use a wading stick. It's a personal preference. I know people use studs, though. It's up to you, and if you do want to use them, with the Orvis Pro wading boots, there are places for the studs to go.
Orvis Pro Wading Boot Review: Comfort and Durability
I've always found the Orvis Pro boots to be super comfortable straight out of the box. A couple people have told me that they found it a little bit stiff on the first day, but after one or two days in the river, they softened up quickly.
Once they're broken in, they're usually the most comfortable boot I've ever worn.
Drainage holes are on the outside and inside. The boots seem to drain really quickly. Somebody asked me about this the other day, and I realized that I'd never even thought about what the drainage was like. That must mean that they drain really well, because it's never been an issue.
There couldn't be a better testing ground for gear than New Zealand. New Zealand's terrain is harsh. Rivers are pretty rough. There's a lot of pumice around, which gets into everything and wrecks it. The terrain around, when you're getting to and from the rivers, is savage as well.
Orvis Pro Wading Boot Review: The Price
The Orvis Pro boots retail at $279 USD in the States. They're $450 New Zealand dollars.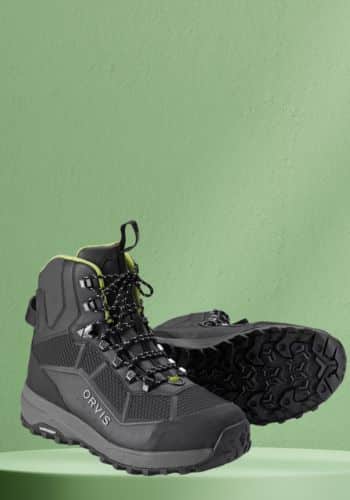 Order the Orvis Pro Wading Boots
If you like what you see in this Orvis Pro wading boots review, you can order the wading boots at Orvis.
I feel that's pretty reasonable. That's right in line with the price of top end boots from other brands, and they're worth every penny.
My Final Thoughts About the Orvis Pro Wading Boots
If you're thinking about upgrading to a better boot, or maybe trying a different brand from what you usually use, these are definitely worth checking out.
I hope Orvis never stops making them because I don't want to stop using them. That's how good they are.
They're sturdy. They have good ankle support. They look cool. They're comfy and have good drainage. They have good solid soles. What more do you want from a boot?
I hope that was helpful. I hope I answered some questions.
Cheers to Into Fly Fishing for having me back to talk about the Orvis Pro wading boots. I'll be back in a couple of weeks to talk about some other gear that I use and I like.
See you then. Have a great week.
Amazon and the Amazon logo are trademarks of Amazon.com, Inc, or its affiliates.
As a part of the Amazon Associates Program and other affiliate programs, Into Fly Fishing® may receive a comission if you order products through links on this website.