The best hip waders are ones that you're going to feel the most comfortable in. There's nothing worse than getting set out to spend a day on the water only to be thirty minutes into the trip and find out your waders don't fit you.
On top of that, they should also allow you to get to all of the spots that you want to fish. They should be strong, flexible as well as durable. This might be tough to find since a lot of hip waders are on the cheaper end, but we're going to help you out today.
Our Top 3 Hip Waders
Best Overall: Frogg Toggs Rana
Best Budget: Kylebooker Breathable Stockingfoot Hip Waders
Best Top-End: Frogg Toggs Canyon II
So, if you're looking for a pair of hip waders then check out the information below. We're going to go over several different brands and materials so that you know exactly what kind of waders you need for your next trip.
Quick-Look: Best Hip Waders 2021
★ #1 Best Hip Waders Overall: Frogg Toggs Rana ★
As an Amazon Associate I earn from qualifying purchases.
Why are Waders a Worthy Investment?
Waders can make or break a fishing trip. A good pair of waders will allow you to get to just about anywhere in the water that is walkable. It will also keep you wet and comfortable for the day.
On top of that, it's going to keep all of the gear and important stuff dry. Many different waders have sealed dry pockets that you can utilize to keep you phone keys and wallet from being sprayed with water.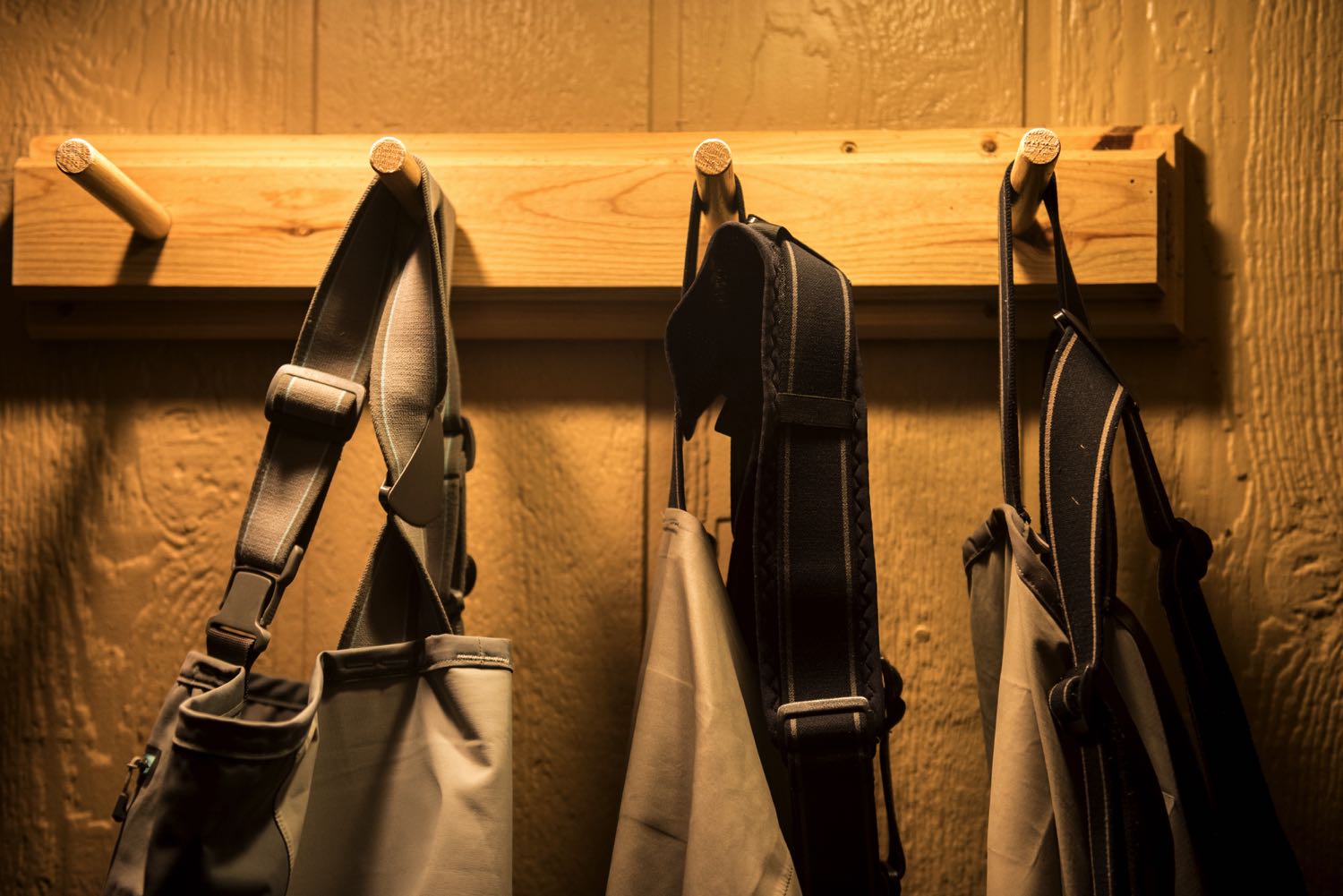 So, below, we're going to go into a little bit more detail to help you understand all of the uses that waders can provide. Check out some of the features and see which one you like the best.
Keeping You Dry
If you plan on spending a whole day out on the water then chances are you're going to get wet. Often that not you're going to need to wade through knee-deep water to get back to the plunge pool or run in the river.
So, that's where waders are going to come in handy. A pair of waders is going to keep you dry and comfortable. Sure, you can wade in a bathing suit or quick-dry pants, but when you get out of the river to hike t your new spot you're going to be walking with extra weight because of all the water.
Protection
On top of keeping you dry waders are also giving you an extra layer of protection against anything in the river that may cut you. What might be a bad cut in a pair of shorts might just be a small scrape in waders.
When walking the river you'll find there are a lot of different hazards. Boulders, sunken trees, and just about anything the river could throw at you. So having that extra layer could make the difference between something small and large.
Keeping Valuables Dry
Most waders are going to have a dry pocket. This can be used to hold all of your important non-fishing gear that cannot get wet. Most pockets are large enough to hold a phone, wallet, as well as keys.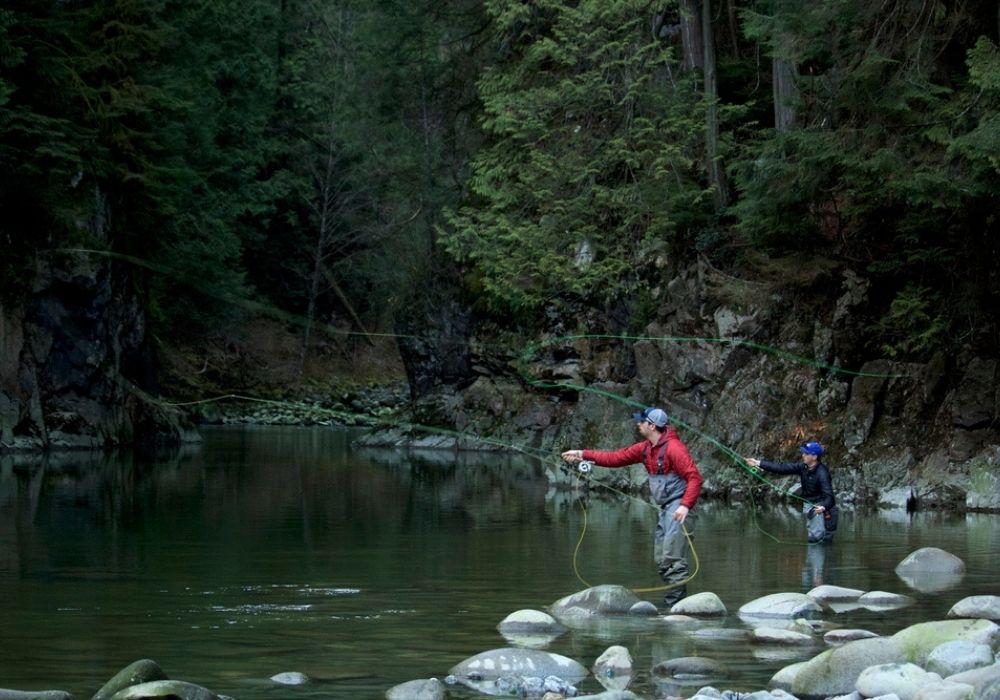 You can keep them in your dry bag if you want, but these pockets are usually a little bit easier to access. So when you need to pull out a phone to take a photo it will be within easy reaching distance.
The Best Hip Waders of 2021
Below, we're going to go over five different hip waders. Each of these has its own pros and cons so check out the following products and see which ones are going to work the best for you!
So far no new hip waders were released in 2021 that would make this list, but we're keeping our eye out and will update the list when new sets are available.
Kylebooker Breathable Hip Waders
Pros – Waterproof and 100% breathable
Cons – A little bulky and uncomfortable
If you want a pair of Kylebooker Breatable Hip Waders that breathes just like you're chest waders then these are the ones for you. Easily hike up and down the river all day and stay cool and refreshed. Unlike a pair of rubber hip waders.
The neoprene socks are 4mm and are designed to help keep your feet warm while standing in the river. Perfect for those days where the water is just a little bit chilly and you need your toes to have feeling in them.
These also come with 3 ply reinforced shins and knees. Allowing you to walk around the river and stream with confidence that your waders get a hole in them and your shins are protected.
Frogg Toggs Canyon II
Pros – Attached gravel guards with lace hooks
Cons – Not very breathable and the inseam can run long
The Frogg Toggs Canyon II are some solid waders if you're looking for a reasonably priced pair of hip waders. They are not ideal for fishing in hot weather because their breathability isn't perfect, but great for fall, spring, and cool summer mornings.
You'll find that these waders also have a very convenient and easy to use belt located right at the top of them. These make it really easy to clip on and off and allow you to quickly slide your waders on and off.
These are very diverse waders too. You can easily use them for hunting and hiking as well. These are lightweight and functional so they won't wear you down while during a day of fishing.
Frogg Toggs Rana
Pros – Great price, Quick adjusting boots
Cons – Boots are not comfortable and don't have great support
The Frogg Toggs Rana are great waders for the price. Coming in at under $30 a beginner angler could use these as a pair of waders to introduce them to the sport. With the price being so low you don't have to worry about spending too much.
These could also make a great backup pair of waders. Keep these in the box in your truck and bust them out if your main pair has a leak or if you just need a quick pair of hip waders to slide on.
The boots on these are not insulated. So keep that in mind if you plan on fishing in colder weather or in cold water. These would be better suited for fishing in warmer waters.
Caobin Wading Pants
Pros – Very durable, Adjusatbale hip drawcord
Cons – Run a little long
If you're tough on your gear then this is the pair of waders for you. The CaoBin Wading Pants allows you to walk through the harshest environments with confidence that you won't put a hole in them.
There are also adjustable belt leashes and quick release buckles. Making this great for easy take-off after you've spent a full day out on the water.
8 Fans Men's and Women's Waders
Pros – Breathable and comfortable
Cons – Needs a belt and the knee pad area holds water.
Technically the 8 Fans Men's and Women's Waders are not hip waders. These are instead waterproof pants that come up and sit on your waist. I put them here just in case there is someone out where who wants something in between the chest and hip waders.
So, if that's what you're looking for then check these out. They're very comfortable and can be used in many different fishing conditions. These are great for wading in small creeks where you need to stay dry but want a lot of mobility.
On top of that, they also come in seven different sizes. Allowing just about anyone to have a pair of these and utilize on their next fishing trip.
Hip Waders: Buyers Guide
Below, we're going to go over in more detail what you should be looking for when purchasing the best hip waders. Check out the information below and see which features will work the best for you.
Types of Fly Fishing Waders
Below, we're going to go over the three different types of fly fishing hip waders. Each has its own pros and cons so check out the list below and see which ones you like the best.
Stockingfoot Waders
These have neoprene socks on them and are meant to be worn with wading boots. So you'll have to purchase boots as well as your waders. These are great at keeping your feet warm and the boots you purchase can fit you perfectly.
Boot Foot Waders
These are waders that have boots already attached to the waders. They're great because they usually the best budget hip waders, and you also don't have to purchase any boots with the waders. All you have to do it slide them on and you're ready to go.
Hip Waders
These are what we have been talking about. They're waders that come up right to your hip. These are great for wading in shallow water, and will typically allow the wearer to have great mobility.
Hip Waders Important Features
Check out the list below. We're going to go over some of the most important features of hip waders!
Breathability
If you plan on fishing in warm weather and hiking a lot in them then a pair of breathable waders is crucial.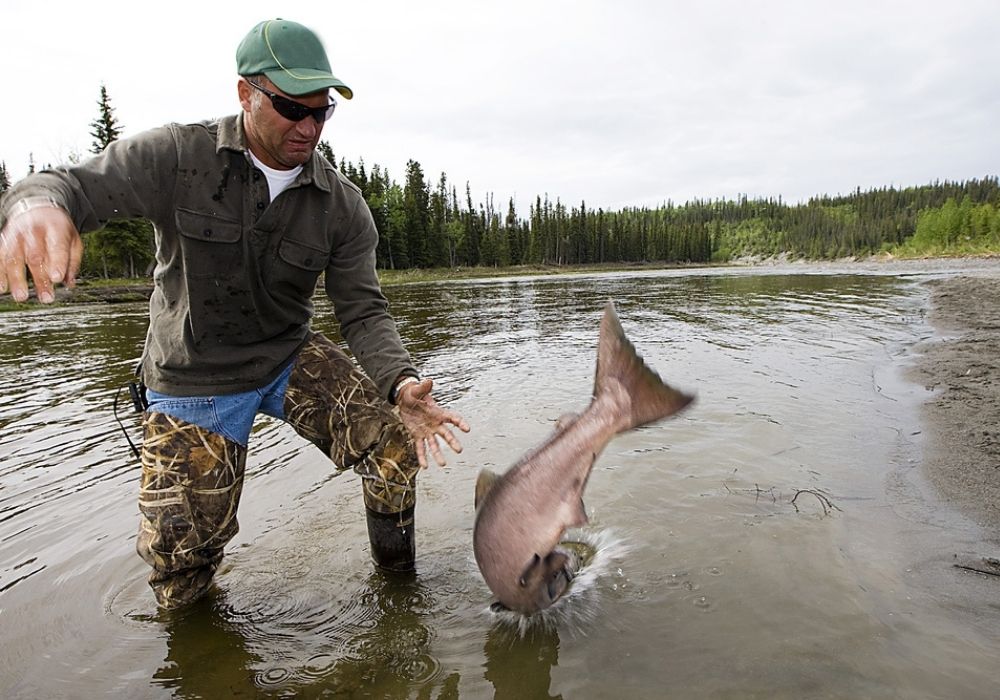 Hiking back to your favorite spot in a pair of neoprene waders is going to overheat you if the weather is too hot.
Adjustability
Most hip waders are going to have straps on them so that you can adjust your waders to fit you more comfortably. I would advise not to get waders that don't have any straps. These will be uncomfortable.
Seam Reinforcement
If you want durable waders then you need to find something that says on the packaging that the seams are reinforced. The seams are one of the biggest spots where leaks can come from.
Pockets
Pockets are not needed but can be a great asset when out on the river. You can keep your flies, tools, or any other essentials in them. It can be great to keep your phone and wallet it in as long as it's waterproof.
Price
The good thing about them is that they're normally the best affordable hip waders. Most are under $100, so they're great for beginners or the angler on a budget who is looking for the best inexpensive hip waders. However, if you want a really nice pair then you can find some that are $100 and over.
Durability
It doesn't matter if you fish 4 days a week or a few times in the summer. You need a pair of waders that are going to be durable Otherwise you'll be buying a new pair every season and you'll be wasting money.
Comfort
If your readers are not comfortable then your fishing experience will not be as much fun. Always look for straps that can allow them to fit you better. If you don't have a comfortable pair of waders then you won't be out fishing as much.
Review This Post
Conclusion
Hip waders for fishing can be a great tool for anglers. They help keep you dry as well as your other valuables. So if you plan on bringing your keys, phone, and anything that cant get wet then a pair of waders is the way to go.
On top of keeping you dry they also are going to help protect you from the elements. They're going to not only keep you warm in the cold water but also protect your legs from boulders and fallen trees.
So, after reading the above information you hopefully see the benefits of purchasing a pair of hip waders. think about what you need in a pair of waders, use the above article and check out Amazon for a pair of your own!