I've been in the market for a new set of chest waders for a while and I'm always looking for the best, not just in overall quality (because waders can be ridiculously expensive), but also in value.
The best chest waders on the market will obviously keep you and your gear dry, but they'll be comfortable, breathable, and durable. They'll also come with straps that can be adjusted to fit you better.
Chest Waders Quick Look
★ #1 Best Chest Waders Overall: Orvis Pro ★
Waders are a great way to get out on the water more often. There will be times and conditions where wet wading simply isn't possible, and waders will help you with that.
I've personally owned, tested, and reviewed dozens of pairs of chest waders and I've researched hundreds more to come up with this list of the absolute best based on value for money, comfort, style, and more. I'll go over several different types of waders as well as some products to help give you a better understanding.
Note: This post has been updated to include new chest waders that were recently released or that we reviewed and tested in 2023.
The Best Chest Waders of 2023
Below, I'll go over five different chest waders. Each of them has its own pros and cons, so check them out and see which ones will work best for you.
1. Orvis Pro:
Best Chest Waders Overall
The Orvis Pro Fishing Waders are excellent top-of-the-line waders for fly fishing and we've fished them extensively over the past few years.
Compared to other waders that we tested for this list, we found that the Orvis Pro Chest Waders are just a little bit more breathable, a little bit more durable, and a lot more comfortable.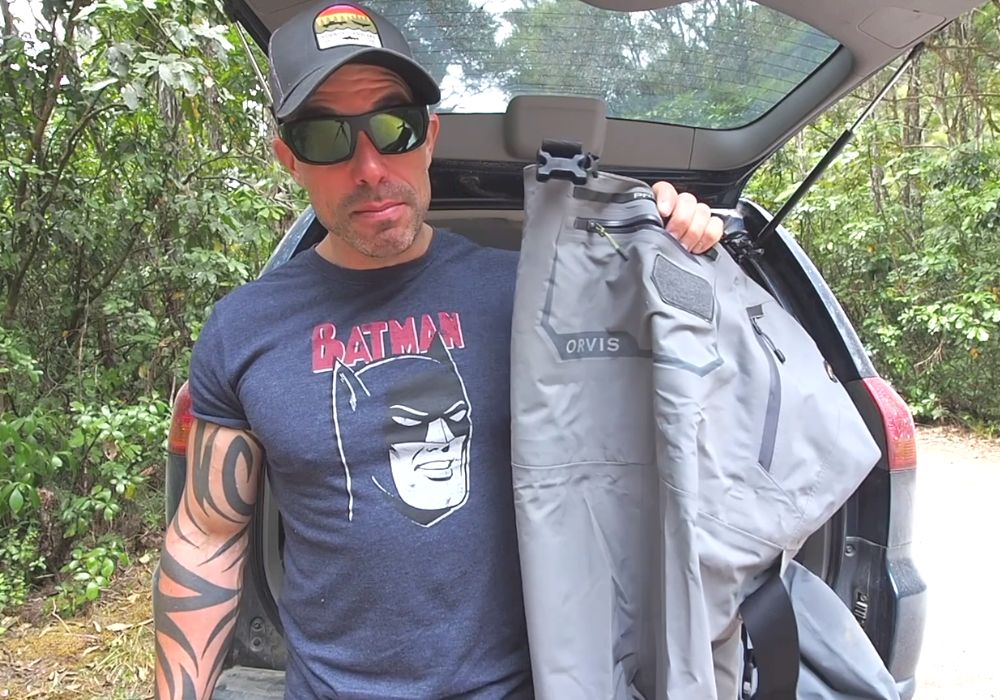 Our team angler, Alex did a full, hands-on Orvis Pro Fishing Waders Hands-On Review complete with an in-depth video, so make sure you check that out to see these things in action.
These are stockingfoot waders, so make sure to check out our guide to The Best Wading Boots so that you can get the perfect pair of boots to go along with these excellent waders.
Why We Chose Them
We chose the Orvis Pro Waders as the best chest waders overall because they have great storage, they're durable, and have all of the important features that you'd want from a good pair of chest waders.
2. Simms G4:
Runners Up
We've fished the Simms G4 Waders extensively. In fact, one of our team fly fishing guides Kevin Main has fished these things for years up in Alaska, where waders truly get put to the test.
His Simms G4 Pro Waders are still going strong. Check out his Simms G4 Waders Review here.
The Simms G4 Pro Stockingfoot Waders are a great set of waders. Of course, you'll need to have $800+ to fork out on these puppies to keep yourself dry.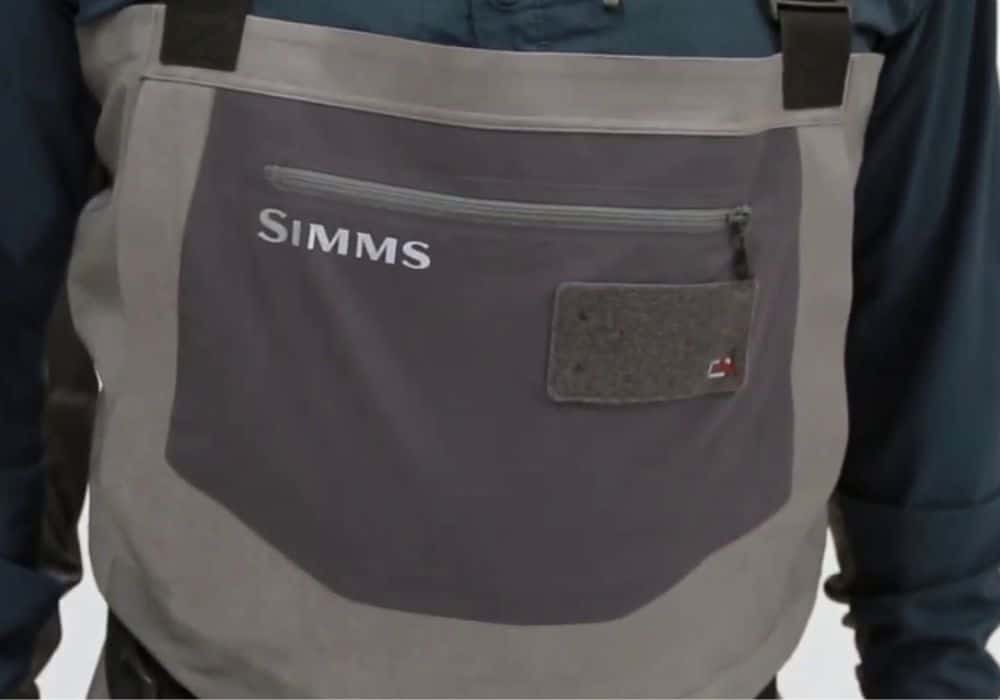 I listed these as the best top-end chest waders on this list because, believe it or not, they sit on the rack with an even higher price tag than the Orvis Pros.
Why We Chose Them
We chose the Simms G4 Waders as the best top-end chest waders because after fishing them extensively in Alaska, where the conditions are as tough as they come, they've held up, lasting one of our team guides many seasons of hard fishing in the far north. They are high-quality but have a price tag to match.
3. Simms Tributary:
Best Cold Weather Waders
We love how these waders feel when wearing them in cooler weather and after fishing winter seasons with them, we prefer them to the others on this list when it comes to off-season fishing.
The 3-layer upper and 4-layer lower on the Simms Tributary Stockingfoot Waders provide great durability for fishing in those cold, tough conditions. Ideal for fishing in the high-altitude mountains or on those chilly rivers, the Tributary waders will hold up to whatever you and mother nature can throw at them.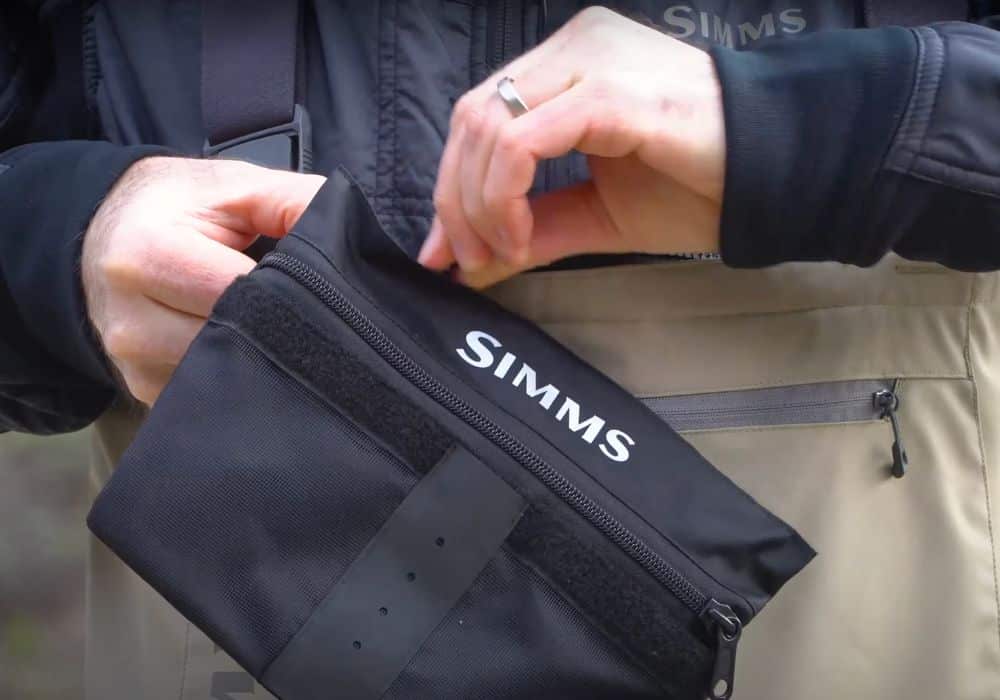 It's all about the fleece-lined hand warmer that can be used as extra storage and a zippered chest pocket that can be used to hold your fly fishing gear.
They could definitely use a bit more storage, but I think they are still some of the best for winter weather and if you need more storage, you can also pick up a fly fishing vest (which most anglers have in their kit anyways).
Why We Chose Them
We chose the Simms Tributary Waders as the best cold-weather waders because we've fished these things in below-freezing weather, and in hot weather, and they do well in both. Breathable enough to keep you cool in spring, and warm in the dead of winter. You can't ask for more.
4. Redington Sonic Pro:
Best Storage
Pros: Can convert to waist wader, great quality, great warranty
Cons: Material is stiff
In 2023 I decided that the Sonic Pro Waders beat out the previous Redington Palix, but it was a very close battle. I'd say if you don't mind the extra cost, the Sonic Pros are worth it. Otherwise, the Palix are still an excellent option.
Both are great waders, but the Sonic Pros just feel a bit better and are higher quality and still have that great big front pocket to keep your gear.
If you're looking for a combination of great quality, an excellent warranty, lots of storage, and an affordable price, then these are likely the waders for you.
Why We Chose Them
These are some of the best waders for storage on the market. They're built well, have good features, and that big front storage pocket.
5. Caddis Neoprene:
Best Neoprene Chest Waders
Pros: Warmth, mobility
Cons: Odd fit with big stockings and large torso area
If you're looking for a pair of neoprene waders to keep you warm during those cold winter months, then look no further. The Caddis Neoprene Waders are the ones for you.
If you're fortunate enough to have spring-fed rivers nearby, then you can fish year-round. You'll just need to keep warm when in and out of the water. That's where neoprene waders come into play.
These are a great neoprene wader if you're just starting out. They'll keep you warm and give you some mobility when you're walking in the river and on any paths outside of it.
If you're like me and enjoy fishing year-round, then neoprene waders are something that you need to have. Occasionally the weather is too harsh to layer up under polyester. That's where the toughness and warmth of neoprene come into play.
Why We Chose Them
Caddis Neoprene Waders might not have the big brand name as some of the other waders on this list, but when it comes to neoprene waders they do a great job with these, keeping them relatively breathable, warm and non-restrictive.
6. Caddis Men's Taupe:
Best Midrange
Pros: Breathable fabric, front hand warmer pocket
Cons: Very large stockings make it uncomfortable if they don't fit properly
The Caddis Men's Taupe waders are made with lightweight and breathable polyester, making them perfect for fishing in the warmer months of the year. If need be, you can wear layers beneath and use them in the winter too.
The front hand warmer pocket is great for keeping your fingers warm on those cool mornings. Also, the waders have a zippered pocket in front to keep flies, a phone, or anything else you need.
These are the ideal waders for someone who's looking to take the next step and upgrade their gear. These are both comfortable and durable, making them great for an angler.
Why We Chose Them
Caddis Men's Taupe Waders are a great midrange option for waders thanks to their comfortable belt, breathable fabric and versatility.
7. Frogg Toggs Canyon II:
Best Value Chest Waders
Pros: Breathable and very comfortable
Cons: Lacking in durability on the front zippered pocket
We've worn and fished the Canyon II waders for a very long time and we've put them through their paces.
Similar to the waders above, the Canyon II is great for someone making the leap from inexpensive chest waders gear to a nicer set of waders.
These are made of breathable polyester and have a 4 ply upper, making them surprisingly durable for their price point. These will hold up to just about anything you can throw at them.
These also made our list of the best waders overall, but in the best value category. It's really hard to find a good pair of fly fishing chest waders for under $100, and the Frogg Togg Canyon II chest waders can be picked up on Amazon for around $70-$90, depending on your size.
One of the anglers on our team, Danny, has had these waders for over two years and has put them through their paces. They're still holding up, and they're still his go-to set when he's out on the rivers in the Midwest.
Check out our full, hands-on review of the Frogg Togg Canyon II chest waders here.
They also come with an adjustable wading belt that's perfect for keeping your waders snug and secure. Also, you'll find the H back suspenders will make your wading experience much more comfortable.
There's a front pocket that's zippered and waterproof. Excessive use of the zipper can cause it to break and become useless. So, keep that in mind if you really need a pocket. It might be best to avoid these if so.
Why We Chose Them
Our team has fished and tested these waders for quite a few seasons and we still find it incredible that they're able to sell these things for under $140. They're a very high quality wader for this price and that's why they made our list as the best value chest waders.
8. 8Fans Chest Waders:
Best Budget Chest Waders
Pros: Comfortable, Come with Knee Pads, Good price
Cons: Pants run long (again, not always a con), booties not really well-fitted
I've had the 8Fans Chest Waders for a few seasons as well and the only time I sprung a leak in them was when I walked through a huge thorn bush and pierced them above the knee.
This would've happened with any of my more expensive waders as well.
I don't know why, but there are 2 versions of 8Fans Chest Waders and only one that I'd really recommend (I've ordered and fished both versions).
The main difference is the waistband. For some reason, in the older version of these waders, the strap goes right across the chest pocket, making it almost impossible to access the pocket when the belt is done up.
Make sure you get this version of the 8Fans chest waders and you'll be good to go.
Why I Chose Them
I chose these as the best budget chest waders for this list because they are super affordable, coming in at under $100, but they've actually lasted me a long time, they're comfy and they are breathable enough, especially for the price.
9. Snowbee STX Bootfoot:
Best BootFoot Waders
Pros: Whisper quiet material, long-lasting, comfortable, breathable
Cons: No cons. I absolutely love these waders.
I've had the Snowbee STX waders for over 2 years now and I love them. There's really no fault here.
Their boot foot variety simply gives you a boot attached to the bottom of the legs, but all the great features, the whisper-quiet material, the storage, and the adjustability that I love from their stockingfoot version are carried over to these boot foot waders.
Considering they include the boots (separate boots often cost $200-$400) these are arguably an even better value than the original version.
Snowbee didn't go cheap on the boots either. The boots attached to these waders are comfortable and made with high-quality PVC and a great grip.
Why We Chose Them
I love Snowbee waders and my Prestige STX Waders have lasted me 2 full seasons including some winter fishing. They are comfortable, breathable, and include really great boots, which is why I consider them the best boot foot chest waders.
10. Aquaz Dryzip Waders:
Best Zip Chest Waders
Pros: Extremely durable as well as lightweight
Cons: Price, not a lot of pockets for gear storage.
If you want some front zip chest waders, then the Aquaz Dryzip Waders are the ones for you. They're extremely durable, breathable, and comfortable. They're perfect for the hardcore angler who spends more time on the water than anywhere else.
The price tag is a little high for just a normal weekend warrior angler. However, if you want something is easy to take on and off (thanks to the front zip), and that will last fishing season after fishing season, then these are hard to beat.
Because of how lightweight they are, they make for great waders to hike in. There's no need to worry about overheating on your 3-mile hike back to your favorite trout stream.
Why We Chose Them
We chose these as the best zipper chest waders because they are some of the most high-quality waders on the market with the zipper in the front. They still manage to have decent storage, they're comfortable, and they just feel super high-quality. But they ain't cheap.
Why Are Chest Waders a Worthwhile Investment?
You can't always wet wade. It's great fun to break out a pair of shorts or quick-dry pants and wade a spring creek, but sometimes it's just necessary to put on a pair of waders.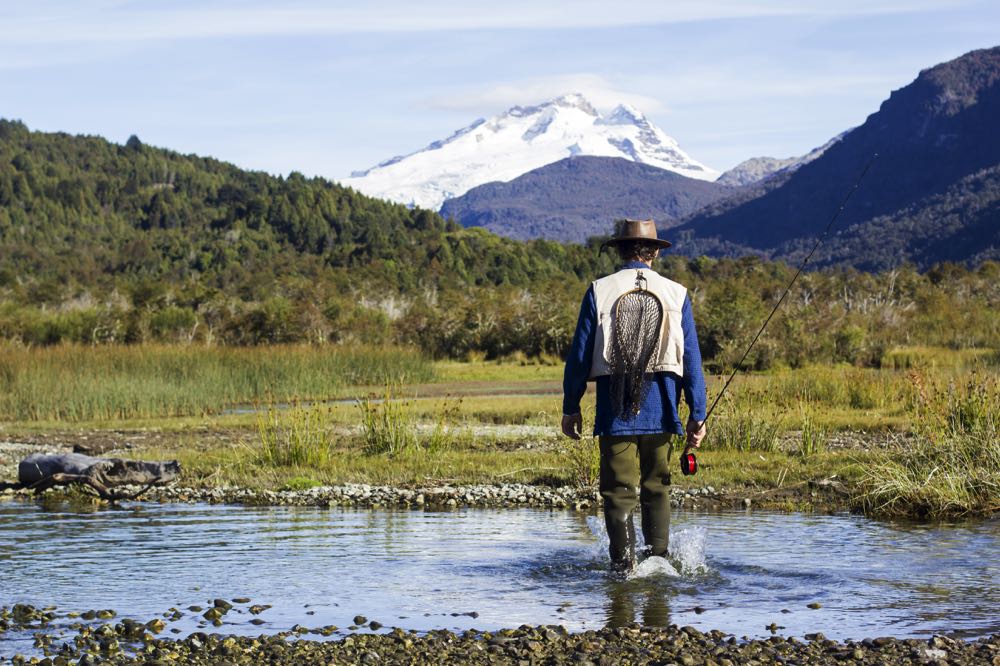 Not only will they protect you, but they'll also allow you to get out and fish more often, which is the whole reason we do this anyway. They'll also improve your fishing experience, making you more comfortable and allowing you to fish for longer periods.
So, below I'll go over a few different features on why chest waders are a worthwhile investment. Check them out and see which one you like the best!
Protection
Waders don't offer a lot of protection, but they can be the difference between a skinned knee and a ruined pair of waders. Having that extra layer of protection plays a bigger role than you think.
Rivers and lakes are filled with unseen hazards. Laydowns, boulders, and trash can potentially crowd you when you're in the water. So, keep a pair of waders with you and use them as much as possible to keep yourself safe.
Keeps You Dry
Yes, chest waders will keep you dry. It's great to know you don't have to drive home with wet pants or change at your car into dry clothes.
However, they also play an important role in keeping your gear dry. Many times chest waders have waterproof pockets. These are great spots to hold your valuables. Phones, wallets, and keys can all be placed here.
Warmth
When you're wading in the winter, spring and fall, there's a good possibility that the water and air temperature will be too cold for wet wading. So, you'll need an extra layer to help keep you warm.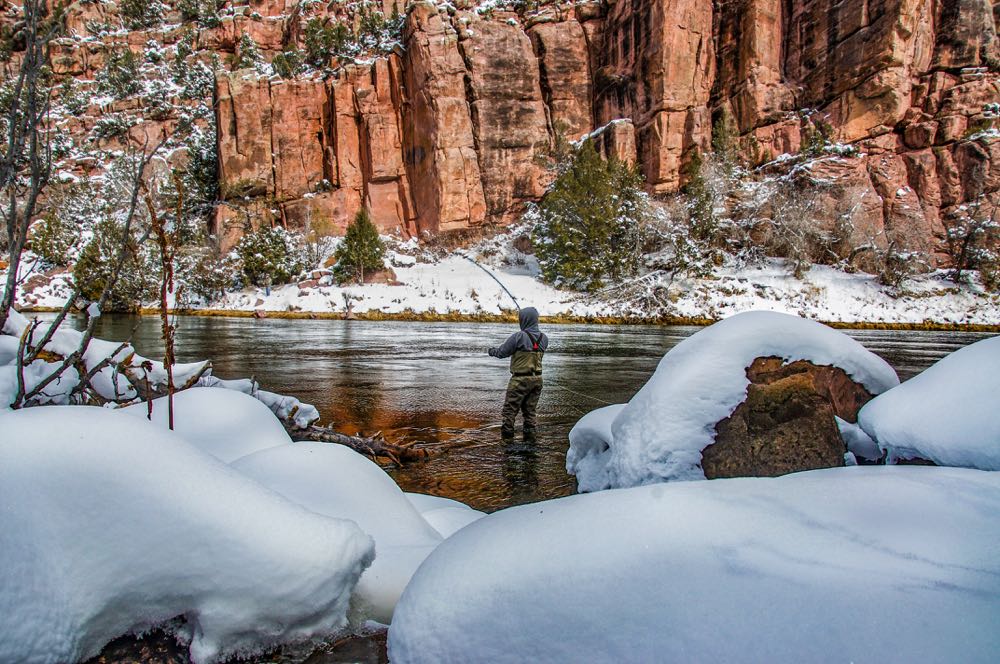 On top of the extra layer from your waders, you can also layer up underneath. Wearing long johns and sweat pants underneath can help keep you warm when you're fishing on those cool spring mornings.
Chest Waders Buyer's Guide
Below, I'll go over the different types of chest waders for fishing as well as different materials. Each has their own pros and cons, so check them out and see which one is the best for you.
Stockingfoot Waders
These are typically the nicest waders. They come in many different materials and styles, and it's recommended that you purchase wading boots with them.
The stockingfoot is just a neoprene sock that's meant to be worn inside of a shoe or boot. So, you'll have to include the cost of a boot if you plan on buying these.
Bootfoot Waders
These are usually made of neoprene, rubber, or polyester. However, they typically aren't the nicest waders out there. You can find nice ones, though. It just takes a little hunting.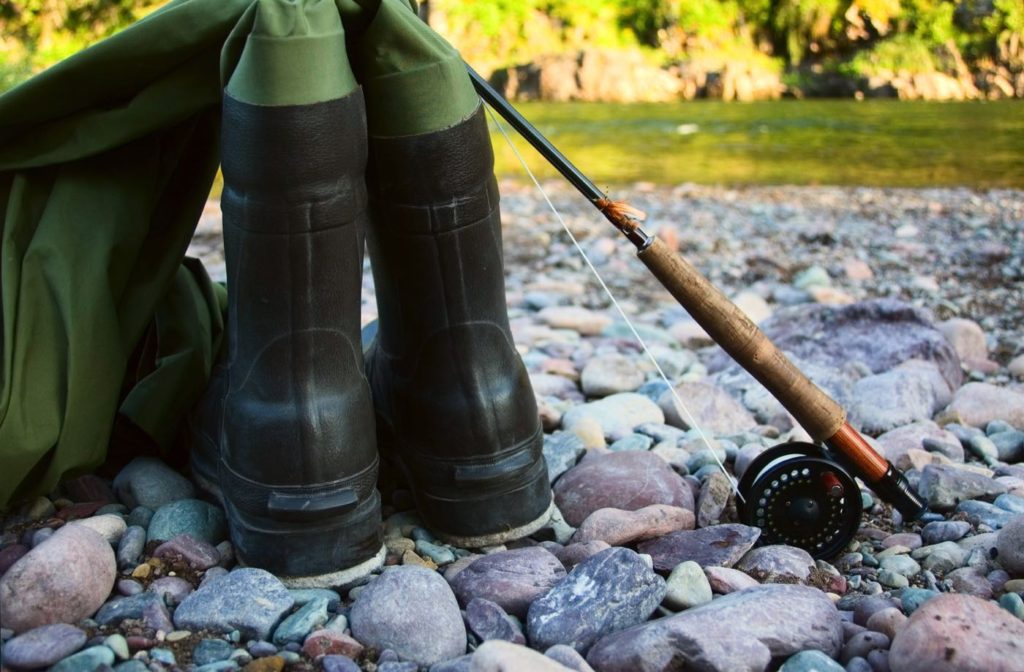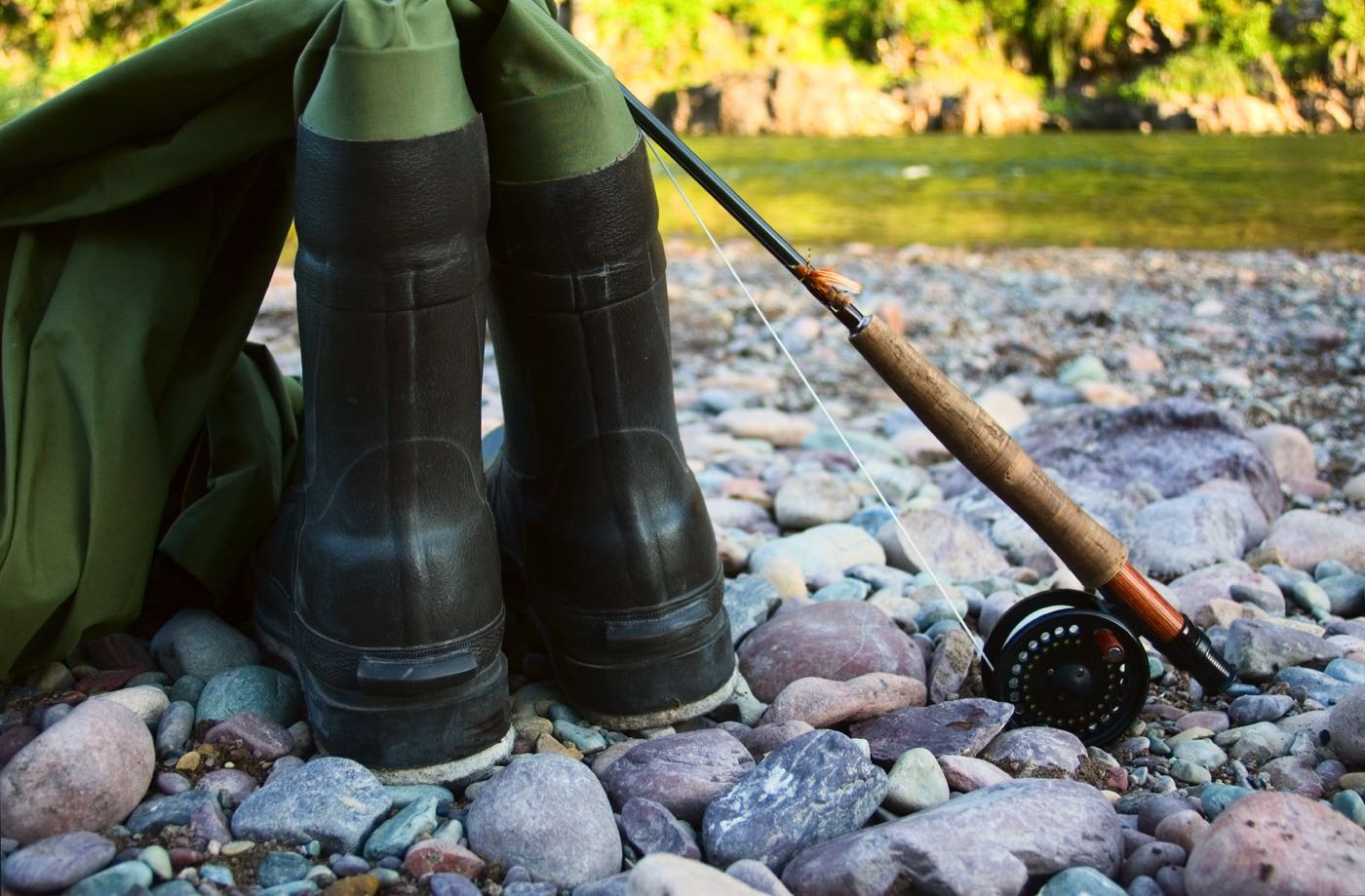 These are great because there's a boot already attached to the waders. This way you can just purchase one item and not have to worry about outfitting your waders with boots.
Rolldown Waders
These are chest waders for fly fishing that allow you to roll down the chest part so that they just cover you right at your hips. These are great for fishing in warm weather and when you know you won't be wading in deep water.
Most chest waders can do this as long as the adjustable straps allow for the chest section to be rolled down. Ensure that they will allow this before purchasing.
Chest Wader Important Features
Below, I'll cover some important features that you should be looking for when purchasing your chest waders. Check them out and see which features will work the best for you.
Breathability
If you plan on fishing in warm weather, then this is a must. Polyester is the best bet for you, as these are the most breathable waders. Neoprene is the opposite and should only be worn in very cold weather or water.
Adjustability
The suspenders and belt of your waders should be fully adjustable. This helps customize the fit to your body and will allow you to walk and wade much more comfortably. If they don't adjust, then you should be looking elsewhere for waders.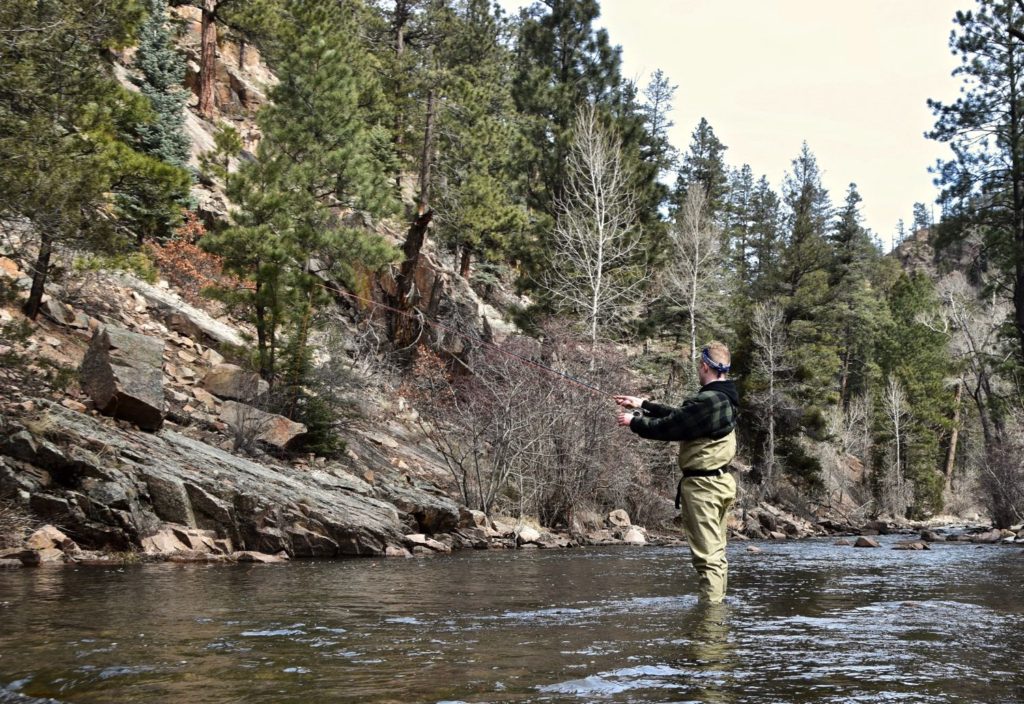 Seam Reinforcement
This is critical for durable waders. You need to have seams that are reinforced against leaks. This is especially true if you fish a lot in really rough conditions. Typically you'll see "reinforced seams" on the package of the waders.
Pockets
There has been a surge in the past decade in fly fishing packs. However, you still need pockets on your waders. These allow for easy access for grab-and-go tools, flies, and other valuables. Ensure these pockets are waterproof before putting a phone in there.
Price
Waders can become expensive very quickly. So, if you're just starting out, it's recommended that you purchase the best budget chest waders to help get you going. Once you know how often you plan on fishing, you can upgrade to something a little more expensive and nicer.
Durability
Most cheap waders don't have the best durability. So, if you fish every weekend and plan on taking these waders to the backcountry, then look for something that can withstand briars, rocks, and miles of walking.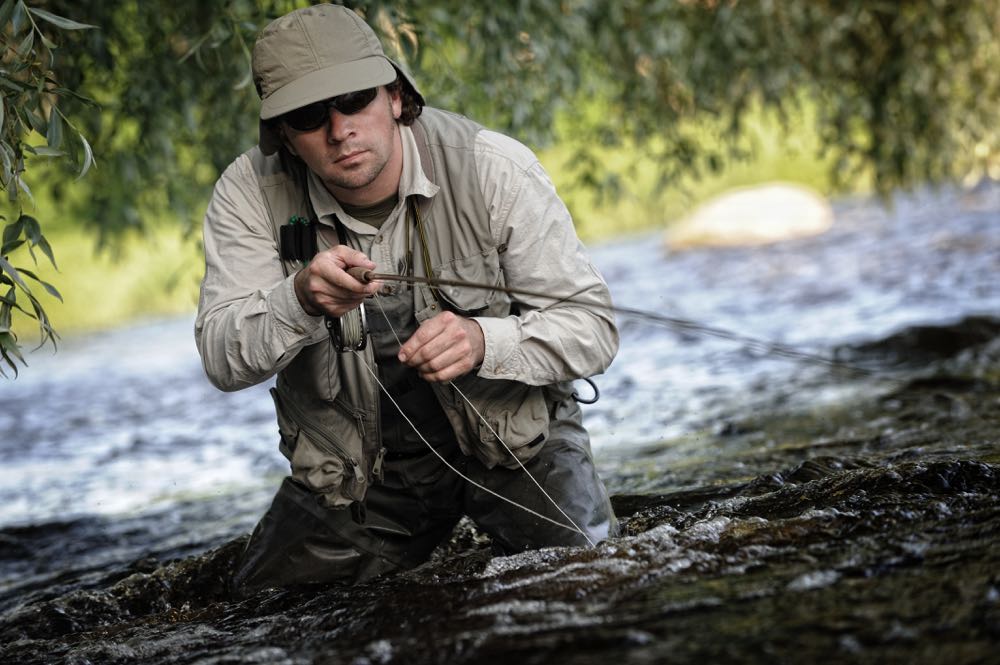 Comfort
This goes back to adjustability. You need to be able to adjust your suspenders as well as your belt to customize your fit. On top of this, you also need to be able to try on the waders to make sure they fit. You don't want the feet too big or too small.
FAQs About Chest Waders
What are chest waders and why are they important for fly fishing?
Chest waders are waterproof overalls that cover the angler's legs and torso up to their chest. They are essential for fly fishing, as they keep the angler dry and comfortable while standing in the water for extended periods.
What is the best material for chest waders?
Without a doubt, the best materials for chest waders are Gortex and breathable nylon. Most high-end chest waders like those from Orvis and Simms will be made with this material. If anyone tells you that neoprene chest waders are the best, they are incorrect. Neoprene is heavier, less breathable, and limits mobility more than Gortex and Nylon.
Do you wear jeans under waders?
It's not recommended to wear jeans under waders. Instead, consider wearing breathable pants or leggings.
How do you choose the best chest waders?
The three most important factors to consider when selecting a fishing wader are comfort, durability, and breathability. Keep in mind that each brand may fit differently, so it's important to try on a few options to find the best fit for you.
Do you wear a jacket over or under your chest waders?
Deciding whether to wear your jacket over your waders or under your waders depends on the weather. If it's raining outside, you'll definitely want the jacket over the chest waders so that water doesn't run down the jacket and into your waders. If it's a sunny day, you may decide to put your jacket inside your waders so you can still access the waders front storage pocket.
Do you wear shoes over chest waders?
Most chest waders will have neoprene booties which require you to wear shoes or wading boots over top of the booties. Some chest waders are "boot foot chest waders" which mean they'll have an integrated boot and you won't have to wear any footwear over top.
Should I wear socks with my waders?
It's always best to wear breathable, moisture-wicking wading socks, hiking socks, or merino wool socks under your waders. In the winter season, make sure you have warm socks under your waders as the river temperatures can get extremely cold.
Review This Post
Conclusion
Chest waders are a very important tool in a fly angler's toolbox. They'll help you get out on the water more often and on top of that will also help protect you from any cuts or abrasions you might get while out in the woods.
Chest waders in particular are great because of their versatility. They can be used in deep water, and some of them can even be rolled down to be used in shallower water and during warmer weather. The same goes for material as well. You can find a chest wader made of any material you can think of.
So, if you find that this will help you fish more often, I recommend going out and purchasing a chest wader of your own. Check out Amazon to see what kind of deals they have. They have a huge selection, and I'm sure you'll be able to find one!
Disclaimer: IntoFlyFishing.com is a participant in the Amazon Services LLC Associates Program, as an Amazon Associate I earn from qualifying purchases. Please see our Privacy Page for more information.