As an Amazon Associate I earn from qualifying purchases.
In this 2023 Buyer's guide, I will help you choose the best breathable waders. I've wader fished in many countries and destinations all over the world, from the freezing water of Vancouver Island in the winter to summer trout fishing in summer in Cape Town.
Over that time I've been able to test and use many different types of waders and I've narrowed down exactly what makes a great set of breathable waders.
Quick-Look: Best Breathable Waders
★ #1 Best Breathable Waders Overall: Simms G3 Guide ★
When it comes to freezing weather and intense heat, there is only one type of waders that will work in these two extremes, a breathable wader.
Why Are Waders a Worthy Investment?
Waders make it possible to fish in conditions where it would usually be uncomfortable or impossible. This means that waders are a tool that will get you on the water more often and keep you safe.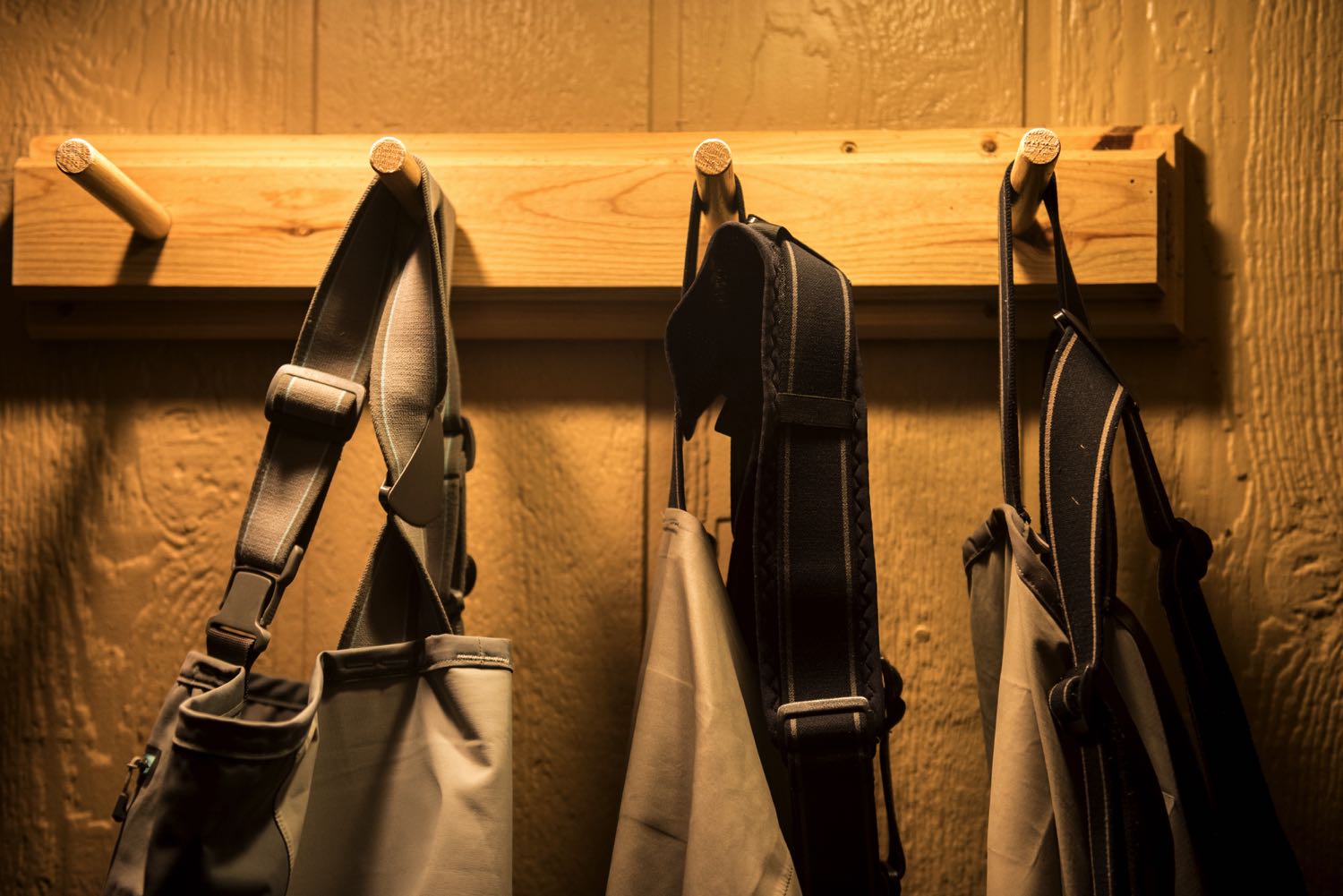 After owning and fishing with waders in varying climatic conditions, I can tell you exactly why waders are a worthy investment.
Waders Keep You Dry
Whether you are fishing in cold or warm conditions, fishing waders' primary purpose is to keep you dry. It doesn't matter what the insulating purposes are of the wader's material; if you're wet on the inside, you'll be freezing.
Once a pair of waders start leaking, it renders them useless. Buy a pair of waders that have a reputation for being durable. Avoid waders that are prone to develop leaks.
Prevent You From Getting Cold
Suppose you're fishing in cold rivers and climates, like winter steelhead fishing; being dry will not suffice. You'll need an insulating layer to keep you warm.
Some materials have more insulating properties than others. Neoprene waders, for example, is ideal for cold water applications. Breathable waders may not be warm enough by themselves. However, they are very comfortable to wear together with a thick base layer, making them ideal for cold water applications.
Anglers who regularly fish in warm water do not have to worry about this function of a wader.
Storage Space
I have some angling friends who prefer carrying as little fly fishing equipment with themselves as possible. Pure minimalists. They use their wader's built-in storage pockets in cold water conditions to stow all their fishing goodies.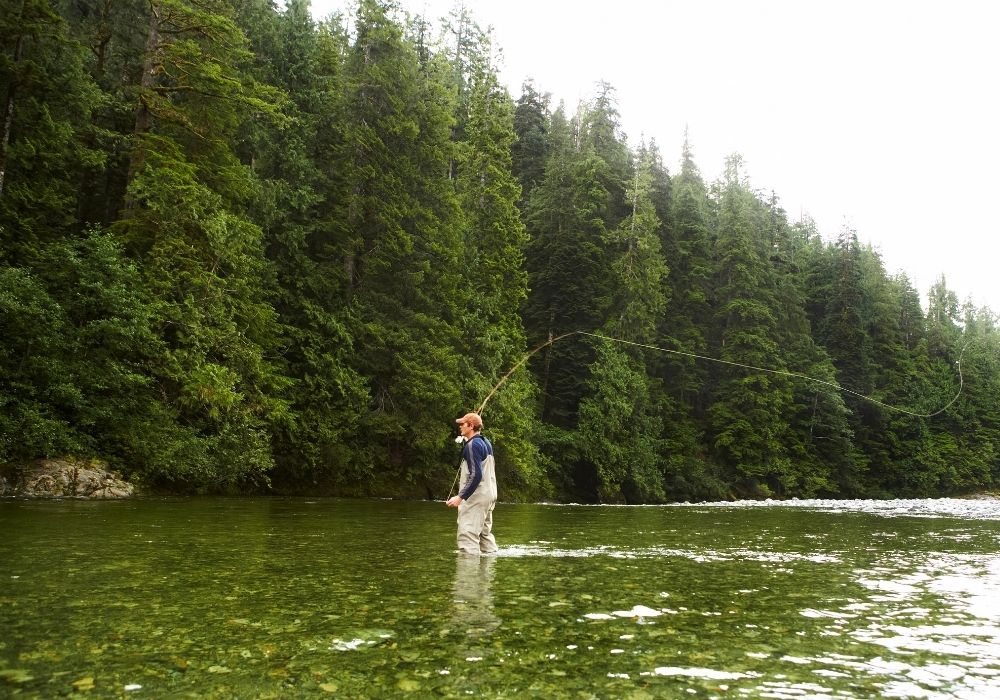 This might not be a deal maker or breaker, but if you regularly use the waders' storage pockets, keep this in mind.
The Best Breathable Waders of 2023
In this section, we'll have a look at some of the best breathable waders on the market in 2023. Depending on your budget, any of these will serve you well.
Please note I have not listed them in any particular order.
1. Redington Sonic Pro HDZ Waders
Material: 4-layer breathable and waterproof fabric with SonicWeld seams
Boot options: These are only available as stockingfoot waders, so you'll need a pair of boots.
Pros: Waterproof front TIZIP zipper to allow for easy access when nature calls, internal waterproof pocket, dual hand warming pockets (with zips), tool storage system
Cons: The long-term durability of the long zip depends on how well you look after it; the addition of the zip adds almost $100 to the price
The Sonic Pro HDZ is Redington's most advanced waders. In essence, they are precisely the same as the standard Sonic Pro HD wader. The most significant difference is that the HDZ version features a waterproof zipper. This zipper changes the configuration of the chest pockets.
Speaking of chest pockets, the HDZ features two zipped fleece-lined hand warming pockets, a tool storage system, and an extra water-resistant storage pocket. Redington has chosen a 4-layer breathable fabric with SonicWeld seams in the construction.
The booties feature 3.5mm neoprene in the upper portion and 4mm neoprene below the sole, making them comfortable to wear. A slim wading belt comes included with the wader.
If the HDZ version is slightly out of your budget range, I recommend the standard Sonic Pro HD waders. Both versions are high-performance waders, which are very durable.
Compare At:
AvidMax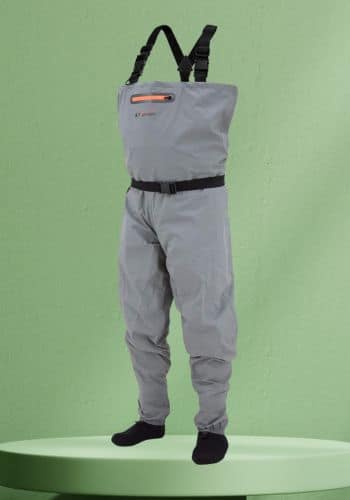 2. Frogg Toggs Canyon II
Material: 4-layer Nylon upper
Boot options: The Canyon II is only available as a stockingfoot wader. You'll need a separate pair of wading boots.
Pros: Great value for money, single splash-proof chest pocket, zippered flip-out security pocket
Cons: No hand warming pockets, could be more breathable
The Canyon II wader is an affordable offering from Frogg Toggs. Frogg Toggs are known to make some very durable and capable waders. Although this wader costs just slightly more than $100, it has most of the features you'd expect from more expensive options.
The Canyon II has a 4-ply Nylon construction throughout, making it very durable. However, this thicker material in the chest area could be uncomfortable when fishing in warm climates as it isn't as breathable as thinner materials.
The wader is suspended over the angler's shoulders with a Y-back strap with quick-release buckles. A splash-proof zippered chest pocket has enough storage space for a phone and one or two small items. Do keep in mind this pocket is not waterproof.
The wader comes with an adjustable wading belt with a quick-release buckle. Integrated gravel guards are kept in place with lace hooks and do an excellent job keeping debris out of your boots.
3. Simms G3 Guide Waders
Material: The G3 wader is constructed from a 3-layer Gore-Tex Pro Shell in the top and a 4-layer in the bottom.
Boot options: Simms offers the G3 wader in either stockingfoot or bootfoot. Bootfoot models must be ordered in advance directly from Simms.
Pros: Durable fabric with excellent breathing properties, available in a wide range of sizes and fits, large front chest pocket, a reach-through hand-warming pouch
Cons: Expensive
Although the Simms G3 Guide Waders are expensive, they are well worth it for the serious angler who spends many days a season on the water.
The G3 is available in a wide range of sizes and inseam lengths that ensure a proper fit. They're also available in two colors, which include Shadow Green and Cinder.
The biggest claim to fame of the G3, in my opinion, is the material used to construct the wader. Simms has gone to town in this department, giving the G3 a 3-layer top and 4-layer bottom Gore-Text Pro Shell. This ensures a proper waterproof wader with incredible breathability.
Ample storage space can be obtained from the large front zipper pocket and the reach-through hand-warming pouch. The G3 also features an integrated zipper to attach Simms' Tippet Tender or waterproof bag.
The G3 guide waders are very durable. If your waders develop a leak within the first year, regardless of the reason, Simms will repair it free of charge.
Compare At:
Telluride Angler
Trident Fly Fishing
Trouts Fly Fishing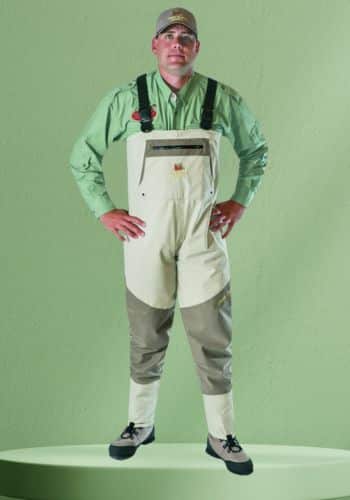 4. Caddis Northern Guide Breathable Waders
Material: The Northern Guide waders are constructed using CaddisDry 240 Denier heavy-duty polyester fabric
Foot options: These waders are available as both stockingfoot or bootfoot models.
Pros: Durable material, great value for money, various sizes and foot configurations available
Cons: Might not be too warm for hot climates
As far as value-for-money waders go, it's hard to beat Caddis. The Northern Guide Breathable Wader is one of my favorite models in their massive range. This wader is available as a stockingfoot or bootfoot model.
The stockingfoot model is available in a wide range of sizes and fits, including Standard to Long inseams and S to XXL sizes. The bootfoot models are sized according to the boot size, which ranges from 8 to 13. These boot models also have 1200 grams Thinsulate built-in for extreme cold situations.
The Northern Guide is made from a breathable and durable 240 Denier polyester material called CaddisDry. Due to its thickness, the wader performs well in colder water conditions. I like that Caddis has reinforced both the knees and the seating area for added durability.
A sizeable zipped storage pocket is located on the chest area. Behind that, a reach-through warming pocket provides respite for your hands on cold days.
The Northern Guide comes with a free wading belt and wader repair kit. Taking all these features and prices into account, these waders are ideal for the angler looking to buy their first pair of waders. They have all the features you need and will last a good number of seasons.
5. Patagonia Middle Fork Packable Waders
Material: 3-layer 100% recycled nylon upper and 4-layer polyester (70% recycled) lower with H2No technology.
Foot options: Only available as stockingfoot models
Pros: Packs up extremely small, light in weight, the chest portion of the waders drop down to allow the angler to use them as hip waders on warm days
Cons: The waders do not feature a large chest storage pack or hand-warming pouch
The Middle Fork Packable wader is ideal for the angler who regularly goes on international fly fishing trips or backpacks to remote waters. It folds up small and comes with its own stuff sack. It weighs in at only 26 ounces, making them extremely lightweight.
Patagonia used a 3-ply 100% recycled nylon for the upper portion, which sits above the hip. The rest of the wader is constructed using a 4-ply polyester, which uses 70% recycled material.
A smart feature is that the chest portion of the waders can drop down to just above hip-height. This characteristic makes these waders exceptionally well suited to warm water fishing situations.
Unfortunately, the Middle Fork does not come with a proper chest storage pocket. However, it does feature a convenient waterproof pouch that is positioned on the inside of the wader. This is an ideal place to stow valuables such as your car key or cellphone.
The waders' unique booties are constructed from rubber, which is lightweight. The absence of seams makes this portion of the wader very durable.
Best Women's Breathable Waders
Here are two of the best waders that are specifically designed to fit female anglers.
Orvis Women's Pro Wader
Material: 4-layer upper and 5-layer lower Cordura shell
Foot options: Stockingfoot only
Pros: Available in a wide range of inseam lengths and body sizes, very durable waders, zipped hand warming pocket, large chest storage area, integrated knee pads
Cons: Only available as stockingfoot models, expensive
The Orvis Women's Pro Wader is a serious piece of kit for the determined female angler. This durable wader is constructed with a 4-layer upper and 5-layer lower Cordura fabric.
It has ample storage space, which includes a large chest pocket and two zippered hand warming pouches. There is also an integrated loop facility where you can attach streamside essentials such as floatant or forceps.
The Orvis Pro has removable padded knee guards, which work well when you're fishing pocket water and use your knees to lean against boulders. It's also easy to convert the wader from a full-chest configuration to a hip-high summer wader.
The Orvis Pro wader has all of the most advanced features you could ever dream of in a wader. Yes, the price is a bit steep, but it's the last waders you'll buy for a long time.
Compare At:
AvidMax
Trident Fly Fishing
Patagonia Women's Spring River Waders
Material: The upper and lower part of the wader is constructed using a 4-layer 100% recycled polyester microfiber material.
Foot options: Stockingfoot only
Pros: Made from 100% recycled material, easy to convert to hip-hight, explicitly designed to fit a female angler
Cons: Might be too expensive for some less serious female anglers
If the Orvis Pro is just out of your budget, the Patagonia Women's Spring River waders are a perfect choice. These waders are constructed using 4-layers of 100% recycled polyester. They are both durable and offer good breathability.
The Spring River waders have a large zippered front chest pocket and a full reach-through fleece-lined hand-warming pouch on the storage side. A fully waterproof bag is secured to the inside of the waders, perfect for storing valuables such as car keys or cellphones.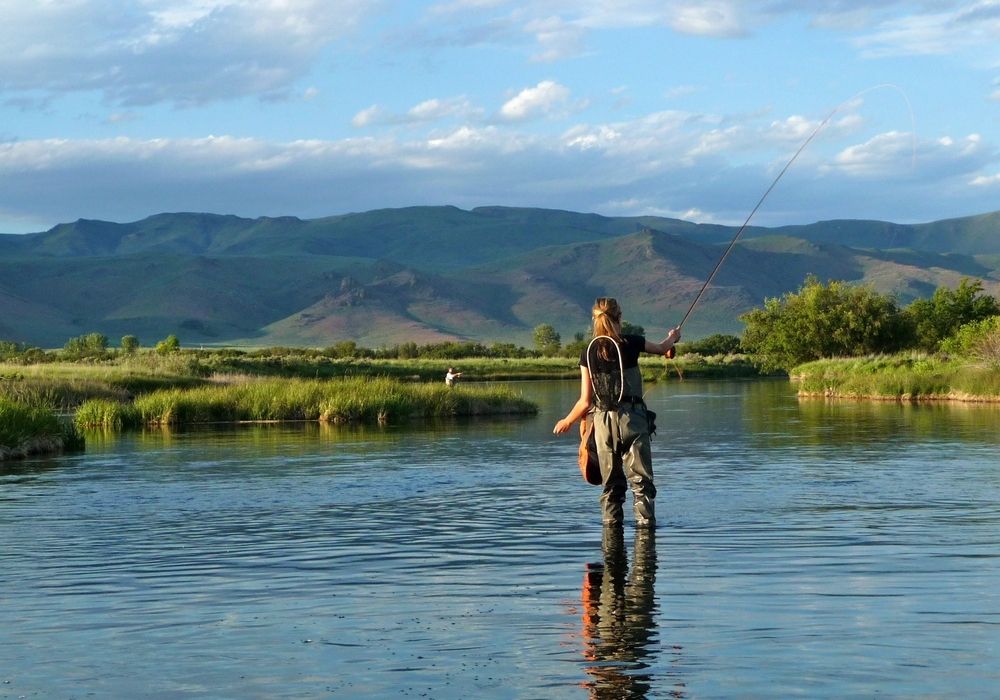 Patagonia has also equipped the Spring River waders with an innovative system that easily allows the angler to drop down the wader to hip height. This feature comes in very handy on warm days or when you want to reach into a pocket in your jacket.
These waders are built to last and offer great value for money.
Compare At:
AvidMax
Breathable Waders: Buyer's Guide
With so many waders on the market these days, it's of utmost importance that you make a well-informed decision when purchasing a pair of breathable. Unfortunately, not all waders are created equally. Making the right decision will keep you dry and warm so that you can spend more time on the water.
Types of Breathable Waders
In this section, we'll look at the most popular configurations of breathable waders.
Stocking Foot Waders
Stockingfoot waders are meant to be worn with a separate pair of wading boots. In most cases, the stocking portion of the wader is made from neoprene. Depending on the brand and model, this neoprene bootie may vary in the material's thickness and how well they fit around your foot.
Boot Foot Waders
Bootfoot waders have an integrated rubber boot. The boots' quality varies depending on the brand and model. Some manufacturers offer insulation and various sole options.
The downside to bootfoot waders is that the boot size mostly determines the wader's size.
Hip Waders
Hip waders offer the angler protection against the elements up to hip level. These waders are ideal if you're fishing in low water and warm weather conditions. Hip waders are available in both stockingfoot and bootfoot options.
Chest Waders
In my opinion, a chest wader is the most versatile option. Chest waders offer the most protection and allow the angler to traverse deeper rivers. These waders are available in either stockingfoot or bootfoot models.
Features of Breathable Waders
Breathable waders come with a vast range of features. Knowing what is available out there and what would work for you will help you make the right decision. Let's look at some of the essential features of breathable waders.
Breathability
A breathable wader allows internal moisture to pass from within the wader to the outside. This breathability depends significantly on the material used, and the number of layers included in the construction. What makes a breathable wader so unique is that they are still completely waterproof.
Other materials, such as neoprene, do not offer the same level of breathability. These waders allow no moisture to escape from within the wader. Therefore, they are incredibly uncomfortable to wear in warm weather conditions.
Adjustability
An important characteristic to look for in a pair of waders is how adjustable is the fit. This feature is particularly important if you have a large or small build. A good pair of waders should at least include an adjustable wading belt and shoulder straps.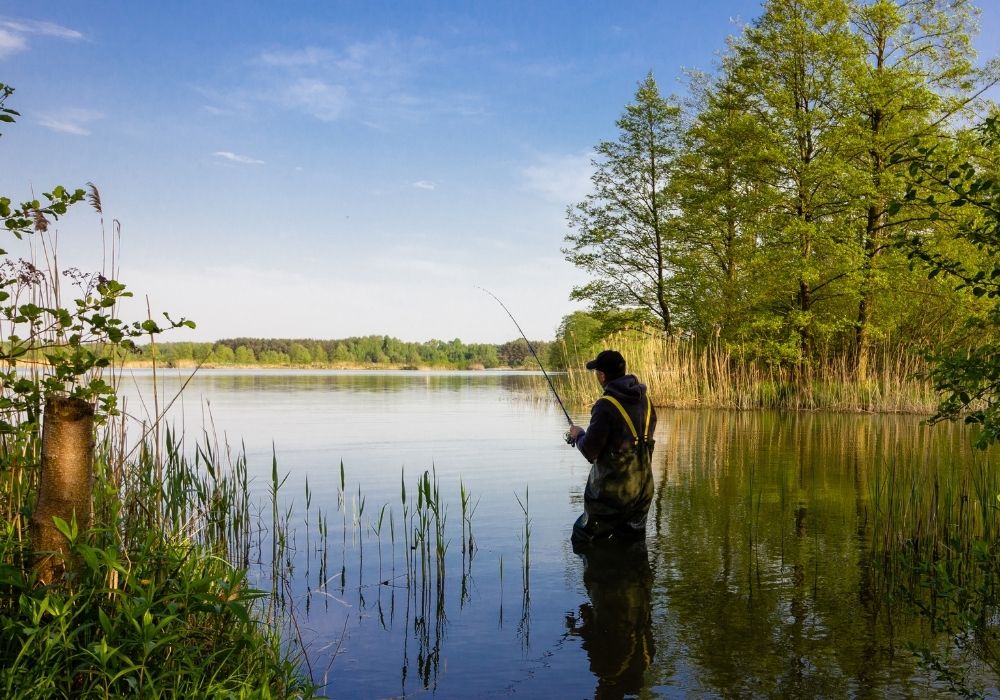 Some chest waders can also be converted into hip waders. The Patagonia Middle Fork Packable Wader is an excellent example of this. This feature is ideal if you're fishing in warm weather conditions, and there is no risk of water entering the waders.
Seam Reinforcement
Seam reinforcement is crucial on all waders, not only breathables. Low seam quality will result in leaking waders. Make sure that the seams are reinforced. Many of the leading wader manufacturers position the seams out of high-wear areas, which further adds to the wader's durability.
Storage Pockets
The number of storage pockets built into the waders must also be taken into consideration. I know a couple of anglers who only use their waders' integrated storage systems to carry their streamside tools and fly boxes. For myself, these storage pockets are less critical as I carry a separate chest pack with me all the time.
On freezing days, it is a luxury to have a hand-warming pocket. Most waders come with a fleece-lined pouch that provides a comfy spot to warm up your hands after releasing a fish in freezing water.
Please note, most of the wader's storage pockets are not waterproof. At most, they are splash-proof or water-resistant. They will not keep electronic equipment dry.
Price
Most of us have a strict budget that dictates what waders we're able to buy. If money weren't an option, all of us would be probably be walking around with a pair of Simms G3 waders. Luckily there are some quality waders on the market for an affordable price.
Do as much research as possible on the waders you're looking at before buying. Look at, specifically, the durability when buying budget waders. It does not help you save $100 but end up having to replace them after every season.
Durability
There is a fine line between durability, comfort, and price. Traditionally, you could only have two of those options in a wader. If you wanted a durable and comfortable wader, you'd have to flog out the cash.
These days there are a lot more durable waders on the market for an affordable price. The reason for this is that it has become cheaper to manufacture breathable materials on a large scale. Yes, these waders are not handmade in the States (like the premium Simms waders), but they'll nonetheless get you on the water.
Comfort
Comfort is an often-overlooked feature of a wader. This is because most of us just look at physical specs and the price of the wader. When you're spending 10 hours a day in a pair of waders, comfort is of utmost importance.
For this reason, I mostly recommend stockingfoot waders to anglers, especially to anglers who are slightly larger than standard. This will allow the angler to purchase precisely the right size of waders for their body fit, then combine that with a well-fitting pair of wading boots.
Review This Post
Conclusion
In this article, my main aim was to introduce you to breathable waders and show you how versatile they are. With this one type of wader, you can fish a vast range of scenarios and remain comfortable. If there's only one type of waders I could choose, a breathable would be it.
Any of the seven waders in our article will serve you well. I am confident that they will all last you a good number of seasons. Most importantly, they'll keep you dry, comfortable, and get you out on the water more often.
If you found this article interesting, please share it with your fellow anglers and friends. We'll love to hear your thoughts and which waders are your favorite.
Amazon and the Amazon logo are trademarks of Amazon.com, Inc, or its affiliates.
As a part of the Amazon Associates Program and other affiliate programs, Into Fly Fishing® may receive a comission if you order products through links on this website.