As an Amazon Associate I earn from qualifying purchases.
If you're looking for advice on the best waders for surf fishing, you've come to the right place. In this article, we'll look at what makes a wader essential for surf fishing, what are the best waders on the market at the moment, and what to look out for when purchasing a new pair.
Quick-Look: Best Waders For Surf Fishing
★ #1 Best Waders for Surf Fishing Overall: Simms G3★
Why Are Surf Waders a Worthy Investment?
Depending on where you'll be fishing in the surf, waders might be an essential piece of kit. I started saltwater fly fishing on the North Eastern shores of South Africa, close to Mozambique's border.
In these warm, tropical water, waders aren't necessary at all. However, if you're fishing in the surf zone on the Alaskan coast, waders are an invaluable investment.
Stay Dry
As I mentioned in the Best Breathable Waders article, a wader's most essential function is to keep you dry. If you get wet in super cold fishing conditions, you have a high risk of developing hypothermia.
Leaking waders can also be very uncomfortable. When you buy a wader for surf fishing, make sure that it is reputable for being durable.
Stay Warm
The ability to stay warm in cold fishing situations will keep you safe and comfortable. Ultimately, it will keep you on the water when most other anglers head for the bar.
I always select a slightly larger sized pair of waders for freezing water to allow for enough space for a base and insulating layers.
Stay Protected
The protection that waders offer is a topic that one might not think about that often. When wading in the surf zone, the angler needs to traverse boulders and slippery rocks. When you bump your legs or fall, it is highly likely that you'll get cut or bruised.
Specific waders offer protection in this regard, especially waders made from neoprene. These days, some breathable waders also come with a padded knee guard for added protection.
The Best Waders for Surf Fishing 2020
Let's have a look at some of our favorite waders for surf fishing in 2020. We've also listed many of these on our main guide to waders which includes the best waders for all types of fishing, but these ones below are particularly good for the surf.
1. Redington Sonic Pro HDZ
Material: 4-layer waterproof and breathable fabric, SonicWeld seams, waterproof TIZIP zipper
Boot style: Stockingfoot only
Pros: Ease of access and very versatile, available in a range of sizes and fits
Cons: Quite expensive
Redington took their top-class Sonic Pro HD wader and added a durable waterproof zip to it. This zip allows the angler quick access to items stored in their insulating jacket or when nature calls.
The durable 4-layer breathable material keeps you dry will ensuring that moister is wicked away. A water-resistant zipper closes the fleece-lined hand-warming pocket situated on each side. Furthermore, the HDZ has two zipped chest pockets and a tool dock.
The Redington Sonic Pro HDZ waders come with a wading belt that can accommodate items such as pliers, wading staffs, and wading net holders. I also like the integrated waterproof pouch that is positioned on the inside of the waders. This pocket is ideal for cellphones and car keys.
The HDZ waders feature a one-year warranty that covers any defects in materials or workmanship.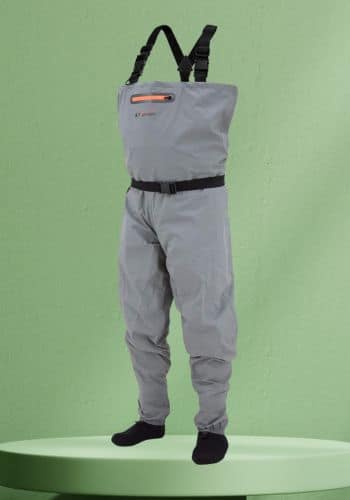 2. Frogg Toggs Canyon II
Material: 4-ply breathable and waterproof nylon upper and lower
Boot style: Available in stockingfoot models only
Pros: Good value for money
Cons: Not available in a wide range of sizes and fits, it does not feature a hand-warming pouch
The Frogg Toggs Canyon II is a good value beginner wader that will serve you well for several seasons. It is constructed from a durable 4-play breathable nylon fabric in both the upper and lower sections.
It features a splash-proof zippered chest pocket and a flip-out security chest pocket where you can store valuable items such as a small camera or cellphone. Unfortunately, you'll have to survive with cold hands when wearing the Canyon II as it does not have any hand-warming pockets.
The Canyon II comes with a one-year warranty against any defects. This warranty does not cover damages or normal wear and tear.
3. Ouzong Chest Waders
Material: 2-ply Nylon and PVC
Boot Style: Boot foot models only
Pros: Very affordable
Cons: I would not recommend these waders if you're looking to make a long-term investment
The Ouzong Chest Waders are ideal if you want to get into surf fishing, but you have a very tight budget. It's also a great option if you're looking to keep a spare pair of waders in the back of your truck.
The Ouzong waders are made from a lightweight PVC and nylon material. The material is not very durable or breathable; however, it gets the job done.
You can choose between a camo or green version, which makes the wader very versatile as it may be used for water-based hunting. The Ouzong waders are only available in a bootfoot configuration.
4. Simms G3 Guide Waders
Material: 3-layer upper and 4-layer lower Gore-Tex Pro Shell
Boot Style: Stockingfoot and bootfoot (only available as a custom order)
Pros: Durable, extremely breathable
Cons: Expensive
Simms waders are the measuring pole that all other waders are measured against. The Simms G3 Guide Waders are one of their premium American-made offerings meant for the serious angler and guide. These waders are intended for serious use.
Simms constructs the G3 from a 3-layer top and 4-layer bottom Gore-Tex Pro Shell. This construction means that the wader is ultra-breathable and waterproof. It has a reach-through microfleece-lined hand warming pocket and a zipper pouch to store on stream necessities.
Simms has done a sterling job with the fit of the G3 as it's incredibly comfortable to wear. Speaking of the fit, the waders are available in a vast range of sizes, which ranges from Short to Long inseam lengths and S to XXL sizes.
If you're a serious angler who spends many days a year surf fishing in cold and challenging conditions, the G3 is worth every penny.
5. Caddis Neoprene Waders
Material: Neoprene
Boot Style: Bootfoot and stockingfoot
Pros: Durable and warm
Cons: Too warm for hot fishing climates, may restrict the angler's movement, not available in a wide range of sizes and fits
Caddis offers five models of Neoprene Waders for the angler who is looking for a warm and durable option.
Three of the models have stockingfoot configurations, but each with a different fit. They are each designed specifically for adult males, women, and children. What I love about these stockingfoot waders is that you're able to pair them with your favorite wading boots.
The other two models in the neoprene range are bootfoot waders. The first is a 3.5mm neoprene wader, which features 200-gram insulated boots. The other wader is designed for cold water, and winter fishing conditions with its 5mm neoprene fabric and 500-gram insulated boots.
Waders Buyer's Guide
In this section, I'll take you through all the factors that influence how well a wader performs on the water.
Types of Waders for Surf Fishing
If you've been doing an online search for surf fishing waders, you'll notice that there are a couple of different configurations available. Each of these has its strong and weak points and intended use.
Stocking Foot Waders
Stockingfoot waders feature neoprene socks, and the angler must wear them with wading boots. Here are the most important pros and cons to keep in mind when buying a pair of stockingfoot waders: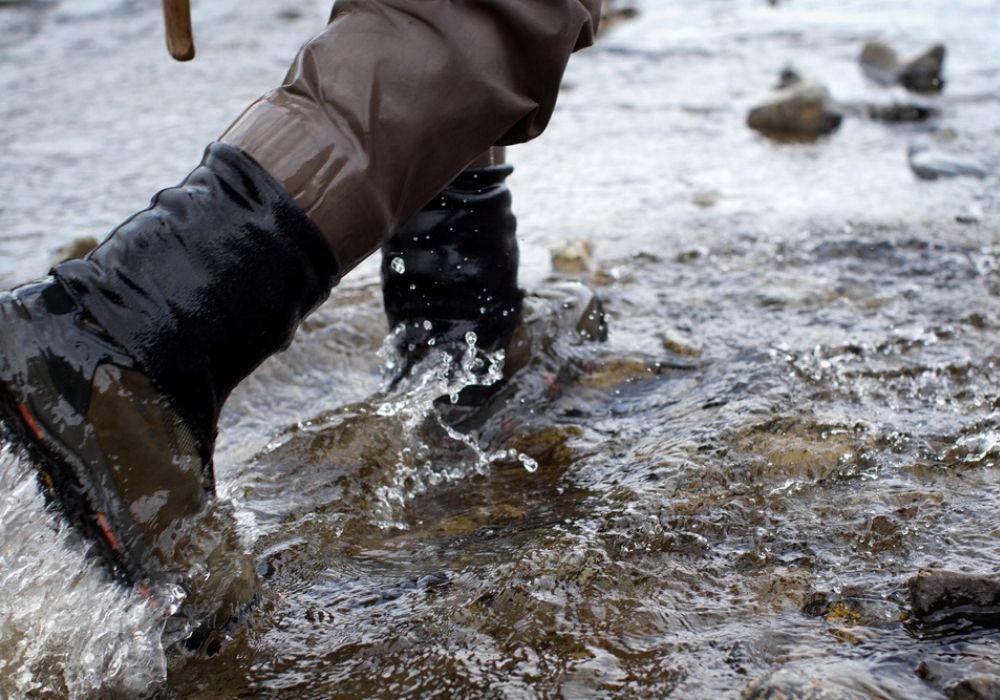 Pros:
Most manufacturers offer stockingfoot waders in a wider variety of sizes and fits when compared to bootfoot waders
The angler can purchase a wader that is perfectly suited to their build
The angler can choose precisely which wading boots to pair with the waders, which allows them to adapt the traction offered by the boot to the wading conditions
Cons:
A separate pair of wading boots must be purchased, which significantly increases the cost
Boot Foot Waders
These waders have integrated wading boots, which is usually made from rubber. These waders are ideal for the angler who regularly fishes the same spot and does not require a small folding wading system. Let's have a look at the pros and cons of bootfoot waders: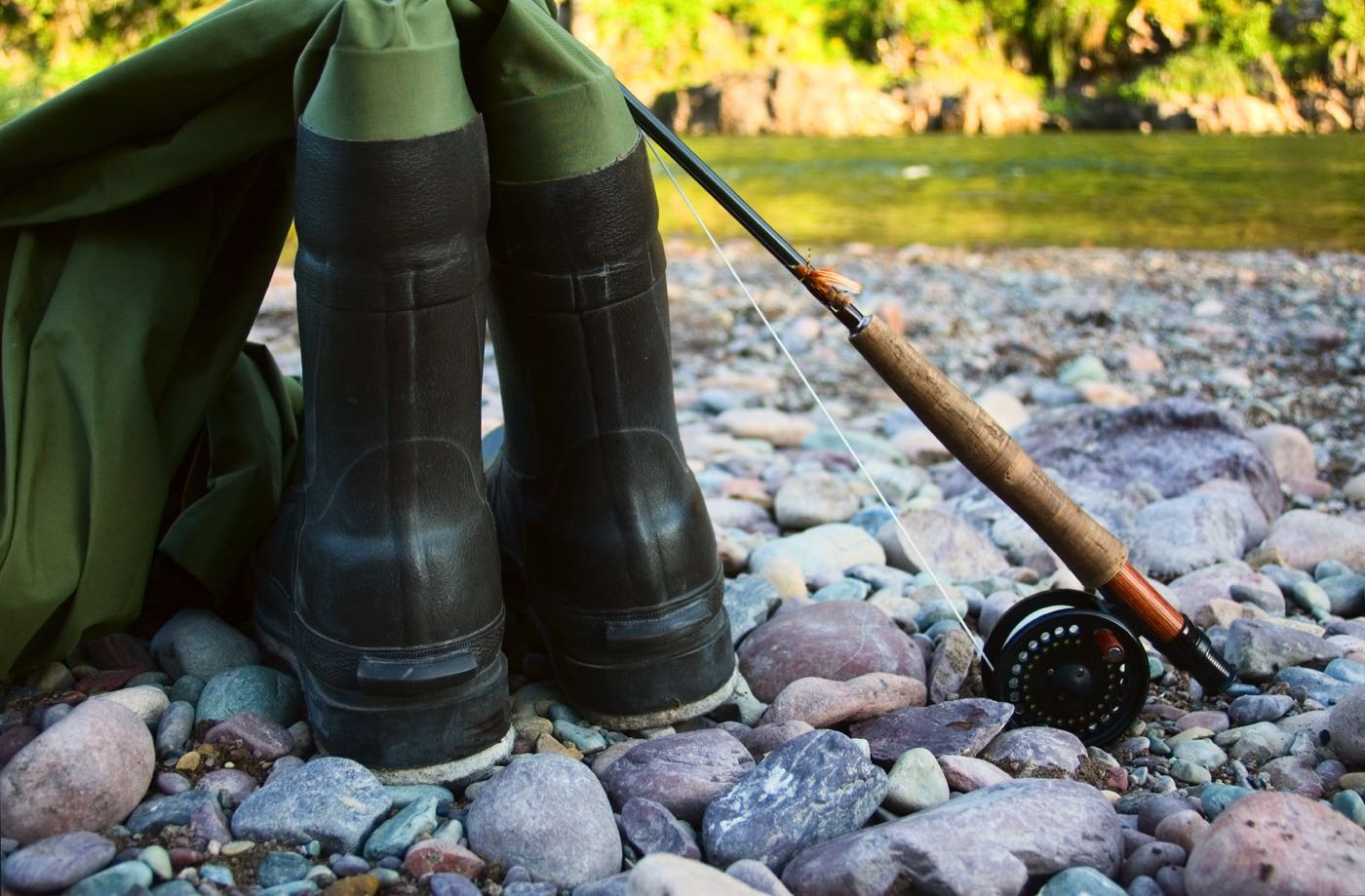 Pros:
You don't have to buy a separate pair of wading boots, which makes this option more affordable
Easy and quick to put on and take off
Cons:
The boot itself determines the size of a bootfoot wader. Some anglers might find it challenging to get an exact fit that makes the waders comfortable to wear.
Most bootfoot waders are only available in rubber soles. If you're fishing a surf area with slippery rocks, you might want to switch over to felt soles. In this case, you won't have that luxury
Hip Waders
Hip waders extend from the angler's feet up to their hips. These waders are perfect if you're fishing in low water conditions or from rocks but need something to keep you warm. In my opinion, if you're going to walk in the water, I recommend going for chest waders instead.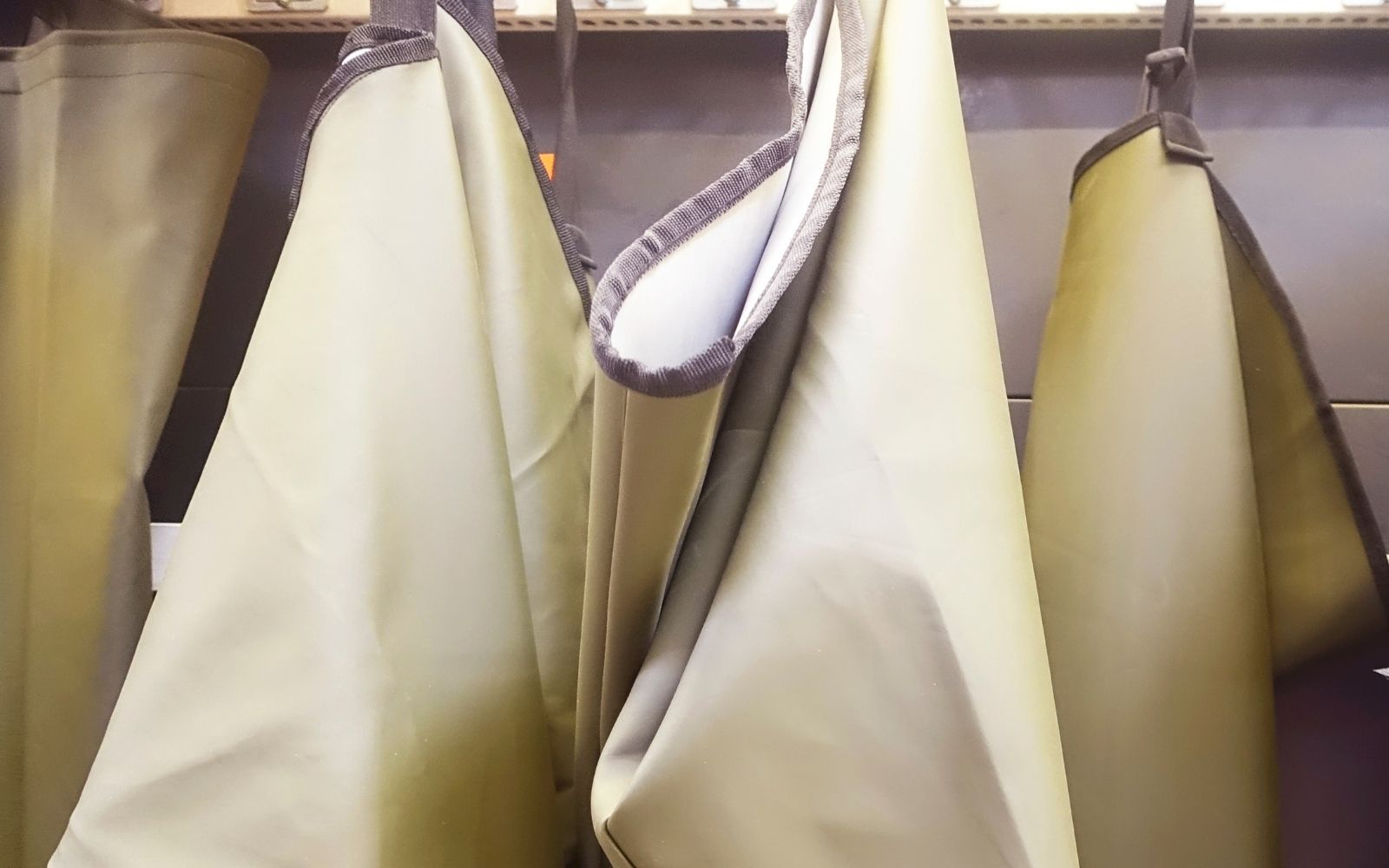 Pros:
Ideal waders to wear in hot climates
Will keep your feet and legs dry
Cons:
Not ideal if you're going to wade in the surf as waves will wet your chest area
Chest Waders
In my opinion, chest waders are better suited to surf fishing than hip waders. They offer more protection against the ingress of water and keep your body warmer. Most of them feature some kind of storage facility and hand-warming pouch.
Pros:
Keeps your body warm
Prevent the ingress of water into your waders so you can wade deeper
Features integrated storage systems
Has a hand-warming pocket for those cold days
Cons:
Depending on the area that you fish, a chest wader might be too warm to wear. If that's the case, you probably don't need waders at all
Features of Waders for Surf Fishing
Here are some of the most important considerations you need to consider when buying a pair of waders for surf fishing.
Breathability
The fabric that the wader manufacturer uses determines the wader's breathability. A breathable wader prevents water from entering from the outside, yet it allows moister generated by your body to pass through it. That is the reason why you'll find many of the breathable waders have a thinner upper section than the lower parts.
A breathable wader is more comfortable to wear during warm weather conditions. However, while fishing in the surf during winter it is less critical.
Adjustability
As most waders only come in standard sizes, a wader must be adjustable. This adjustability allows the waders to conform to your body to ensure a comfortable fit.
An adjustable wading belt sits just above the angler's hips. This piece of kit allows you to seal off the bottom of the waders to prevent water from entering. We also use it to attach stream necessities to such as pliers or a wading belt.
The shoulder straps on chest waders should also be adjustable. This will allow you to adapt the height of the waders to the length of the angler.
Material
In my opinion, there are only two types of material that are worth looking at for surf fishing waders, and they are neoprene and breathable fabric.
Neoprene
Neoprene waders are durable and offer incredible insulation. They are relatively inexpensive and last a very long time. I recommend these waders to anyone fishing in cold water but do not have the budget for a pair of premium Simms or Orvis waders.
Breathable Fabric
Breathable fabric is both comfortable to wear and durable. One of the best things about breathable waders is that they are generally available in a wider range of sizes than neoprene options. If you're fishing in cold climates, choose your breathable waders one size larger to accommodate a proper base layer.
Review This Post
Conclusion
I hope that you found this article helpful. As I always say, a wader is a piece of kit that will get you on the water more often. This fact, in turn, will give you more time to fish, which will result in you catching more fish. Waders also allow you to do this safely and comfortably.
If I had to choose between all these waders, it would be challenging as they all will serve you well. If money was not an option, I would go for the Simms G3 Guides. For a mid-range model, I suggest the Redington Sonic Pro HDZ (or even the Sonic Pro HD, which is $100 cheaper).
The Caddis neoprene waders are exceptional value for the beginner or working angler.
Please feel free to comment or ask any questions at the bottom of the page. I would love to hear your thoughts on the topic.
Until next time!
Amazon and the Amazon logo are trademarks of Amazon.com, Inc, or its affiliates.
As a part of the Amazon Associates Program and other affiliate programs, Into Fly Fishing® may receive a comission if you order products through links on this website.