As an Amazon Associate I earn from qualifying purchases.
South Africa fly fishing is excellent and can easily be combined with the country's other popular attractions. As a South African angler myself, I've been fishing these waters for over 20 years and am excited to share my experiences with you.
South Africa has so many quality fly fishing destinations that you can spend months traveling around the country. This post covers some of the best fly fishing spots in South Africa and the most popular species you can target.
Why Fly Fishing in South Africa?
To me, the main appeal to fly fishing in South Africa is the diversity of species and the landscapes in which you target them. The quality of, especially, the freshwater fishing is drastically underrated. With the correct info, the pursuit of saltwater species can also be exhilarating.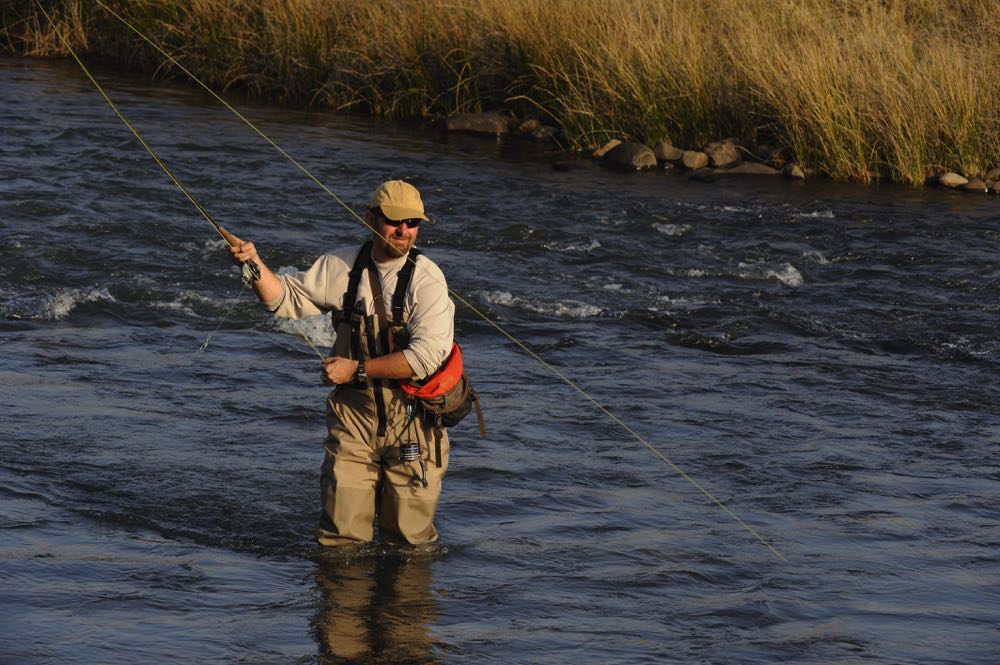 South Africa Fly Fishing – Fish Species
South Africa is a very diverse fishery, with so many different saltwater and freshwater species worthy of being targeted on fly. Here, I have looked at some of the most popular species and how to catch them.
Yellowfish
In total, there are 9 species of Yellowfish in South Africa. The two most popular being the Smallmouth and Largemouths. Both of them frequent the same river systems but, in general, require different tactics.
Smallmouth Yellowfish
The Smallmouth Yellowfish is the most prolific of all the Yellowfish species. I've caught them in the smallest high-altitude river in Lesotho to the orange river estuary in Alexander Bay. They occur in the Orange and Vaal River systems.
They are most successfully targeted by making use of tight line nymphing techniques. The areas to focus on are broken rapids that are around knee depth. This is where they forage on the bottom for free drifting nymphs.
Use two or more weighted flies, such as a caddis or mayfly imitation. Their average size is around 2 – 4 pounds, but they can attain weights of over 12 pounds.
Largemouth Yellowfish
The trophy of the Yellowfish species. Very often referred to as the fish of a thousand casts. Largemouth Yellowfish are very scarce, but there are areas where they are more abundant.
These predatory fish can attain a weight of over 30 pounds. Baitfish imitations in sizes 8 and larger may work, but how to present and work the flies are critical for success.
If you are keen on catching a trophy Largemouth Yellowfish, I would strongly suggest looking up a specialist guide.
Trout
As in many other countries in the world, trout were introduced into South African rivers. Adaptive as they are, they thrive in cooler rivers. They are also still stocked in still waters where they are targeted by recreational anglers.
Rainbow Trout
Areas around the town Dullstroom and the northern parts of the Eastern Cape have excellent still waters. They also frequent many rivers in South Africa. The best areas are in Lesotho, the northern parts of the Eastern Cape, and just outside Cape Town.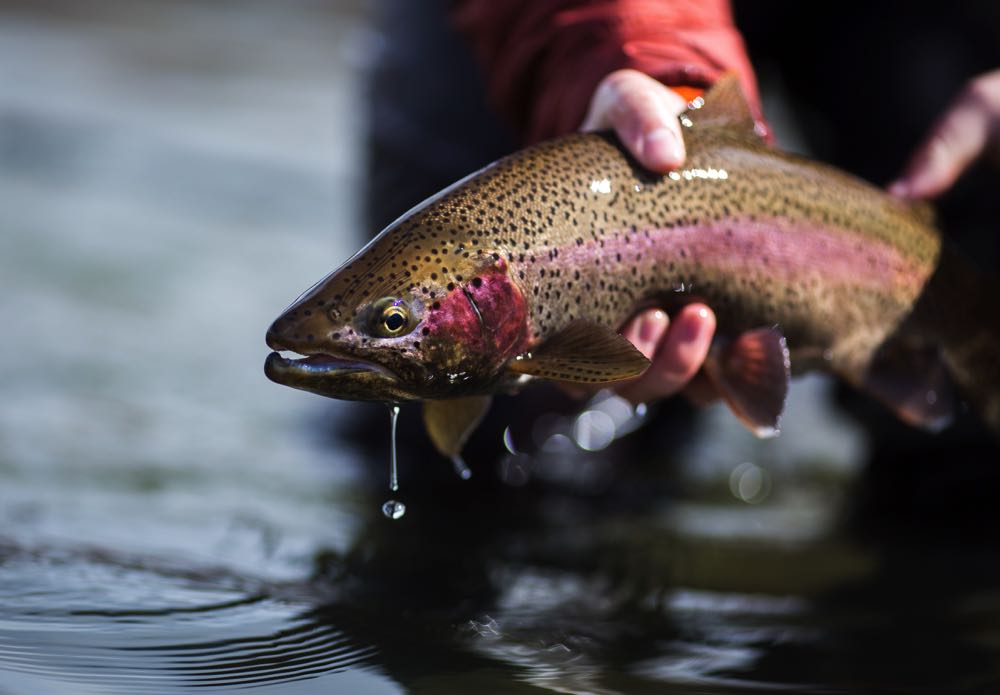 For Stillwater rainbows I recommend damsel and dragonfly imitations, wooly buggers, and more traditional killer patterns. For river rainbows, your more popular dry flies will suffice. These include Humpies, Adams, and caddis imitations.
Brown Trout
Although you will catch the odd Brown Trout in a Stillwater, the best places to target them are in rivers. South Africa, and Lesotho, have excellent brown trout streams.
The best areas to target them are in the northern Drakensberg region and the central areas of Lesotho. Here they can grow up to 8 pounds in size. Streamers, like dark Wooly Buggers, and classic dry flies will work.
Tigerfish
Although South Africa isn't well known as a Tigerfish destination, there are spots where you can catch one. Fishing off a boat in a dam, cruising along while elephants and rhinos roam the savannah. Typical African bush stuff.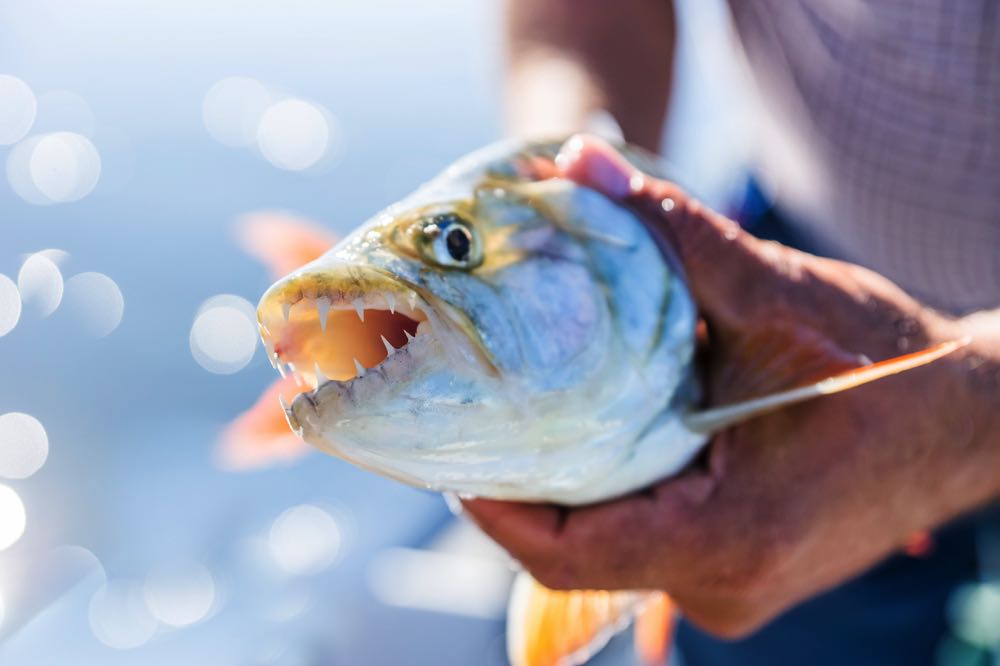 These dams are all located in the northern parts of the Kwazulu-Natal Provence. Use heaving sinking lines and dark baitfish imitations. Color combinations that work are purple-and-black and red-and-black. Remember a section of steel bite trace as these fish have very sharp teeth.
Yellowtail Kingfish
The Yellowtail is a very popular sustainable commercial saltwater fish, feeding thousands of homes. Most frequently caught in the Western Cape, they are usually caught off a boat on submerged rocky points out at sea.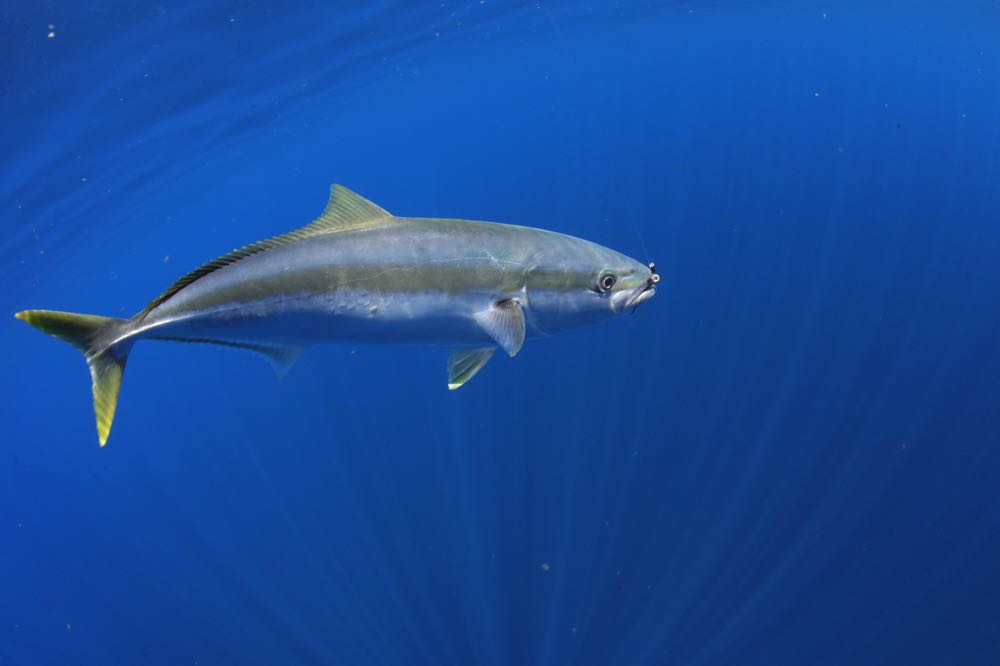 A 10 weight fly rod with a fast sink-tip fly line will work perfectly. In general, pink baitfish flies tied on size 1/0 to 4/0 saltwater hooks are used. The fly is cast out as far as possible, then allowed to sink. Fast long strips usually work best.
Best Fly Fishing Spots in South Africa
To find the best fly fishing spots in South Africa is quite hard without some insider information. The reason for this is that most of the country's land is either state or privately owned. There is very little land open to the general public.
In this section, I'll introduce you to some very productive spots that I have had success at.
Fly Fishing Rivers in South Africa
River fly fishing in South Africa has gained popularity over the last decade. To access the spots is relatively easy and cheap, and there are many different species you can target. Here are some of my favorite spots.
Vaal River
📍Location: Vaal River – Eendekuil, South Africa
The Vaal River is South Africa's third-longest river, flowing approximately 1120 km from its source to the confluence with the mighty Orange River.
One of the best spots on the river, Eendekuil, is close to a town called Parys. The spot can be reached with a normal vehicle and there are camping spots and accommodation available.

Most of your fishing here will be done by wading in the river. I suggest felt-soled wading boots as the Vaal's rocks can be quite slippery. A wading stick can also be very helpful.
Species that can be targeted here include Small- and Largemouth Yellowfish, Carp, Barbel, and Mudfish. Heavily weighted caddis and mayfly patterns can be cast into the rapids and slower pools. If you are a novice at nymphing, make use of a strike indicator that will indicate takes.
Typically, I'll be looking at fishing with a 5 or 6 weight fly rod, ideally 10 feet long. Long leaders of up to 15 feet and tippet sizes between 2X and 4X.
Orange River
📍Location: Orange River – Douglas, South Africa
Covering a total distance of more than 1400 miles, the Orange is South Africa's longest river. It starts as a small stream in the highlands of Lesotho and flows into the Atlantic Ocean on the western border to Namibia.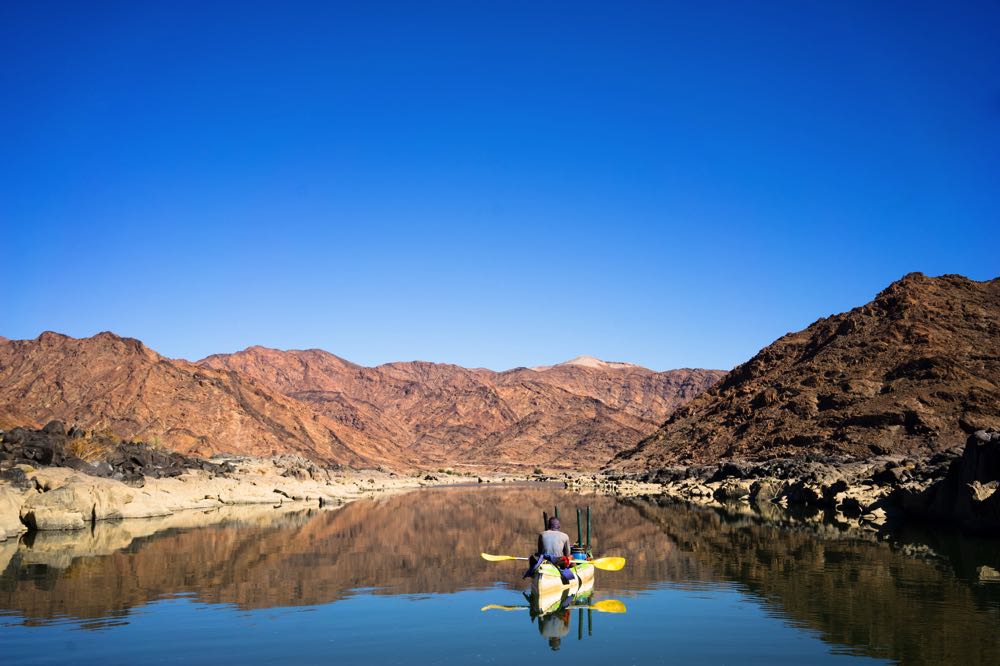 As the majority of the river flows through a very hostile and arid environment, most of the fishable water isn't easily accessible. The town of Douglas offers excellent fishing spots, and I would recommend getting in touch with one of the operators in the area called Hunter Fisher Safaris.
All of your fishing will be done wading the river. Here I also recommend felt-soled wading boots and wading sticks.
The target species are similar to that on the Vaal, but the populations are healthier in numbers. Make use of multiple weighted nymphs and work shallow rapids for foraging Yellowfish.
Cape Streams
📍Location: Cape Streams – Cape Piscatorial Society, South Africa
The Cape Streams are a collection of small rivers close to Cape Town that hold a good population of wild Rainbow Trout. Fly into Cape Town, and enjoy all of the restaurants and things to see and do, before making your way to these rivers.
Access can be gained through The Cape Piscatorial Society. They manage the river's beats to ensure low fishing pressure.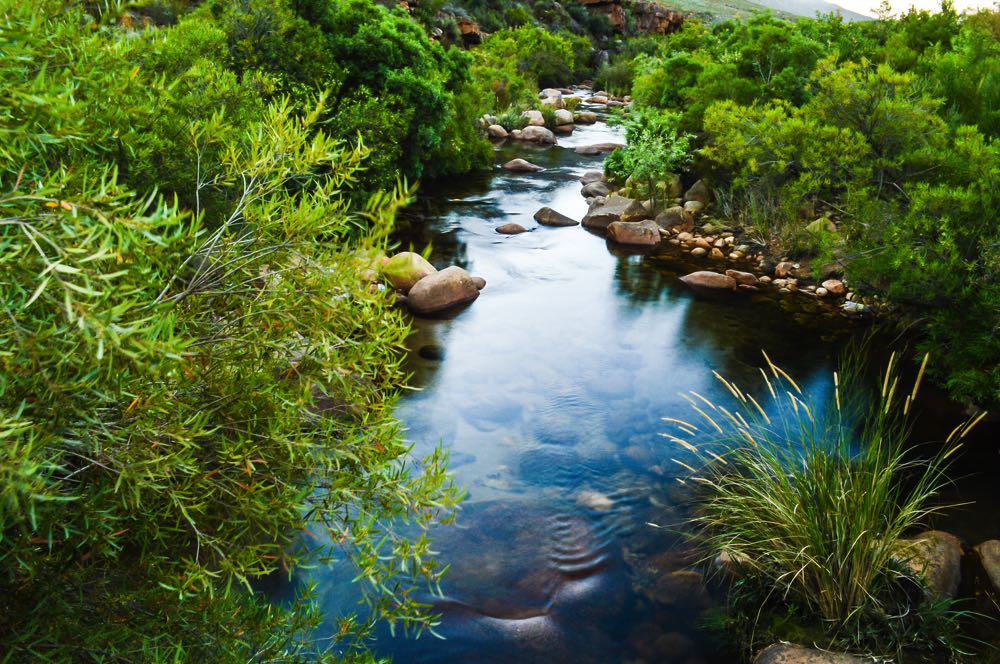 Widely regarded as being some of the most technical rivers to fish in South Africa, I would strongly suggest getting hold of a guide that knows the rivers well.
The rivers are very small and need a level of finesse to present flies to these clever Trout. I recommend a 2 or 3 weight rod that is 10 feet long. Having plenty of pocket water, the longer rod will assist in controlling the short drifts.
A normal floating fly line and very light tippet (think 5X, 6X, and 7X) will do the trick.
Flies that work are very small mayfly nymphs (size 16 to 22), parachute-style mayfly dry flies, Klinkhammers, and CDC & Elks. A very popular fly is the locally developed RAB (Red Arsed Bastard).
Semonkong River
📍Location: Semonkong River – Semonkong Lodge, South Africa
The Semonkong is situated in central Lesotho. It has a population of decent-sized Brown Trout. The similarly named lodge, situated on the banks of the river, is easily reachable by a standard sedan. The lodge has various accommodation types, from camping to luxury rooms.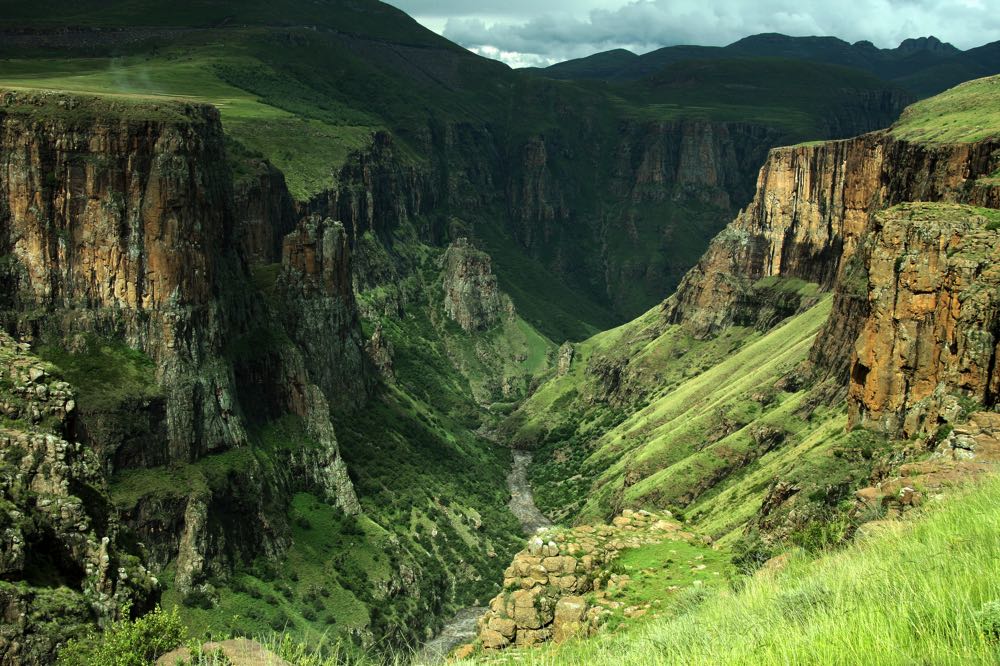 To build awareness of the value of Trout and river quality in the community, the lodge requires that you hire a gilly or guide for each day out on the river. He'll help you carry your equipment and also take you to popular fishing spots.
I recommend normal trout rods in the 4 to 5 weight range paired with a floating line. Flies that have worked for me include smaller Wooly Buggers, various small nymphs, and parachute-style Adams.
Fly Fishing Lakes in South Africa
About 30 years ago, still-water fishing for Trout was the most popular form of fly fishing in South Africa. Today, I still rate South Africa's lakes as being world-class. From targeting 10-pound plus Rainbow Trout to beetle sipping Yellowfish and everything in between.
La Verpa in Dullstroom
📍Location: La Verpa – Dullstroom, South Africa
About two hours drive East of Johannesburg lies the small town of Dullstroom. It's South Africa's highest town above sea level (approximately 6900 feet). This high-altitude, cool climate, and abundance of water make it South Africa's most popular trout fishing destination.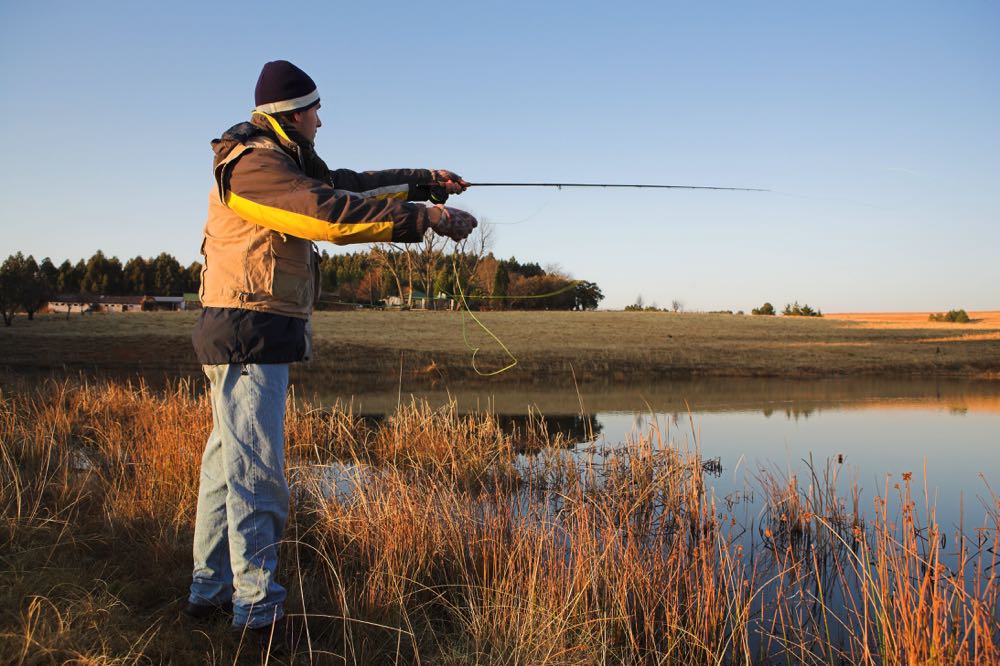 There is a multitude of accommodation types in and around the town. Most will be accessible by a normal sedan.
To get started I recommend fishing one of the Mavungana (a Dullstroom fishing shop) waters called La Verpa. You'll have to pre-book and get a day license from them.
These dams hold both Rainbow and Brown Trout and are an excellent spot to take newcomers to the sport. The dams are managed well and have a good stocking program.
Traditional trout rod sizes will be perfect. Flies that work are black Wooly Buggers, Copper Johns, and Bloodworms. Also worth trying out is a popular South African dry fly called a DDD (Triple D).
Lake Jozini
📍Location: Lake Jozini – Jozini Tiger Lodge, South Africa
Situated in the northern part of Kwazulu-Natal, Lake Jozini is one of the few spots that you can target Tigerfish in South Africa.
Jozini Tiger Lodge is probably the best-known spot to stay while targeting these fish. They have great guides and boats. This is not a spot that you want to try and catch fish from the foot. The shoreline is riddled with crocodiles and hippos.
I recommend 8 or 9 weight rods with fast sinking lines. A 9 foot 20 or 30-pound fluorocarbon leader with about 6 inches of bite trace would be perfect. Black-and-red and fire-tiger colored Clousers tied on 2/0 hooks work perfectly.
Sterkfontein Dam
📍Location: Sterkfontein Dam, South Africa
Situated in the Northern Drakensberg, close to Harrismith, you will find this amazing blue piece of water. Forming part of the Drakensberg Pumped Storage Scheme, this dam is mainly utilized for hydroelectricity.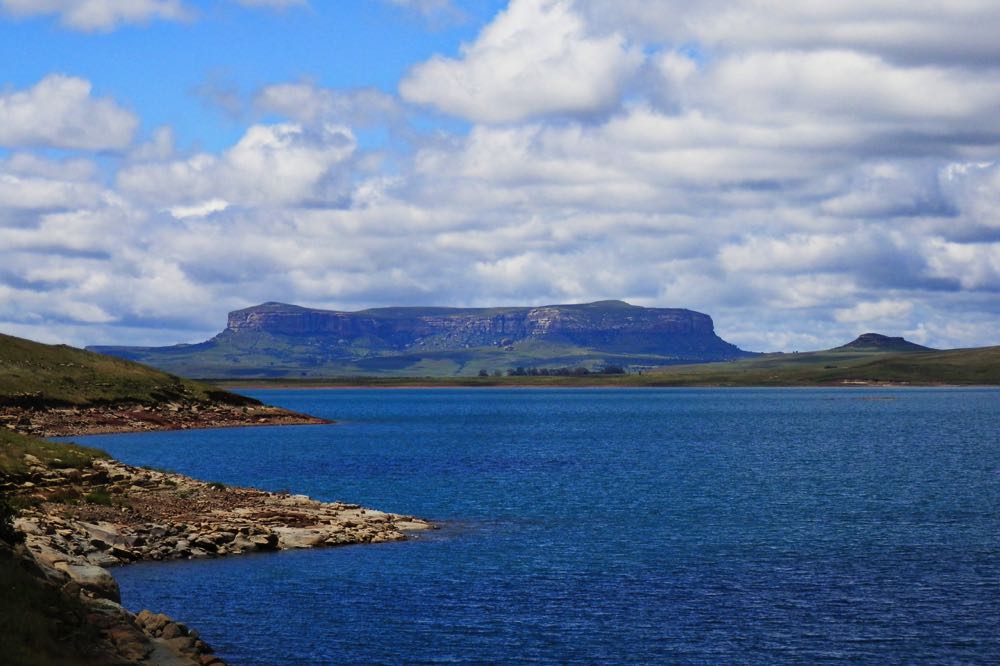 This is an extremely exciting dam to fish, as thousands of Smallmouth Yellowfish congregate around the banks. As the water is extremely clear, stealth must be maintained when fishing. Work the bank until you see pods of cruising fish. They will usually feed in long scum-lines.
The best flies to use are terrestrial dry flies. Beetles, hoppers, and crickets all work.
Saltwater Fly Fishing South Africa
South Africa has a coastline of more than 1700 miles which presents various saltwater fly fishing opportunities. Mostly, the fishing is very seasonal and technical. Here I've made mention of one of my favorite saltwater fly fishing spots in Cape Town.
Cape Point
📍Location: Cape Point, South Africa
While visiting Cape Town, a couple of days out on the sea targeting Yellowtail is super exciting. The fish are very aggressive and give a good account of themselves in the fighting department. Unfortunately, you'll need a boat to target these fish, so making use of an operator is a must.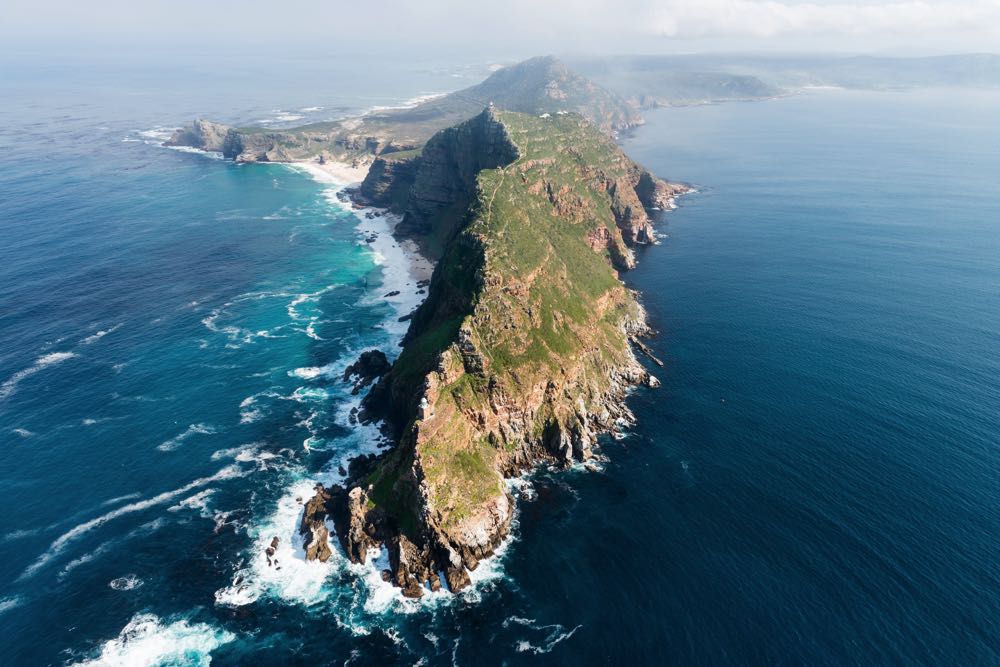 I recommend the guys from Upstream Fly Fishing. They have the best rates in town and their boat is customized for fly fishing. They also have all the right gear if you didn't bring yours along.
When targeting Yellowtail you also have the chance of catching or resident "Snoek", Bonito and Yellowfin Tuna.
South Africa Fishing Seasons
Although the official fishing season in South Africa varies by region, the country generally has the best fishing during its warmer months. That is, from September up until about the end of May. That being said, the still water trout fishing is very good during the cold winter months.
South Africa Fly Fishing in September to November
As the rivers heat up, the Yellowfish start moving into shallower water to fatten up before the spawn. This is a great time of year to target Yellows. Most of the trout rivers also open, as they've been rested during the colder months.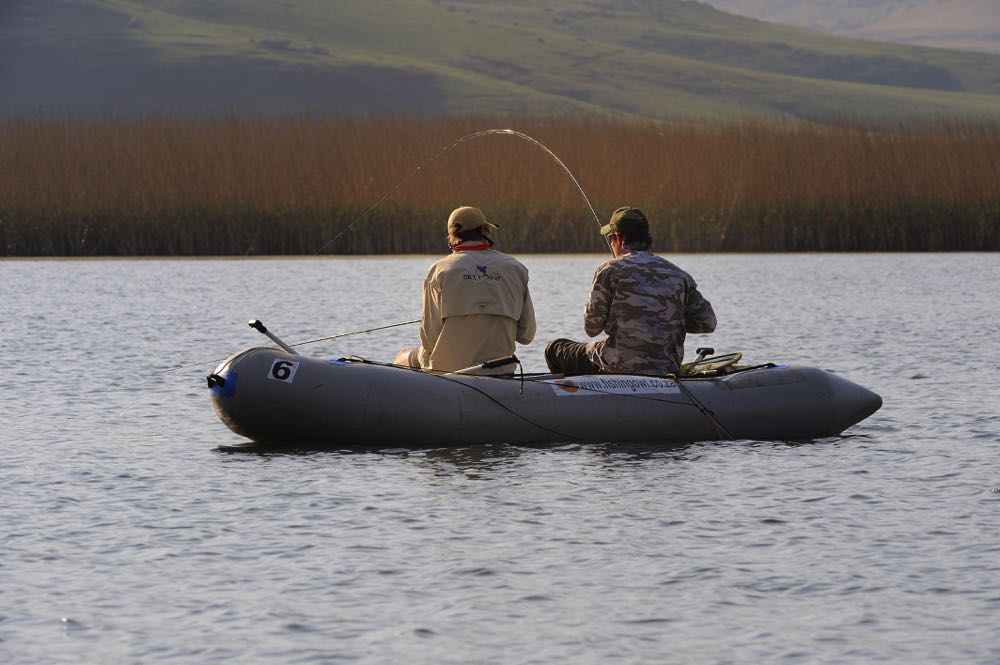 Fly Fishing South Africa in December to February
Fly fishing for Yellowfish and river Trout are in full swing. This is also a good time to start fishing Tigerfish. Many saltwater species can also be targeted along the coastline.
Fly Fishing South Africa in March to May
In these 3 months, the river season closes. Most Trout rivers close by the end of May, but Yellowfish rivers remain open. Western Cape Yellowtail Kingfish are around in good numbers. This is also a good time to start fishing still waters for larger trout.
Fly Fishing in South Africa from June to August
Best time of year to target Stillwater trout. Both the Dullstroom and Eastern Cape areas are excellent.
What To Pack For A South Africa Fly Fishing Trip
If you're fly fishing South Africa as part of a designated anglers trip, a guided tour, or you just plan to hit up some rivers, lakes and shores while you're travelling around the country, you'll want to pack the right fly fishing gear for your trip.
Best Fly Fishing Operators in South Africa
Due to the small population of fly fishermen in South Africa, you won't find any dedicated fly fishing lodges. Instead, South Africa has some very good fly fishing operators that can tailor trips to your needs. They also have invaluable local knowledge of specific areas.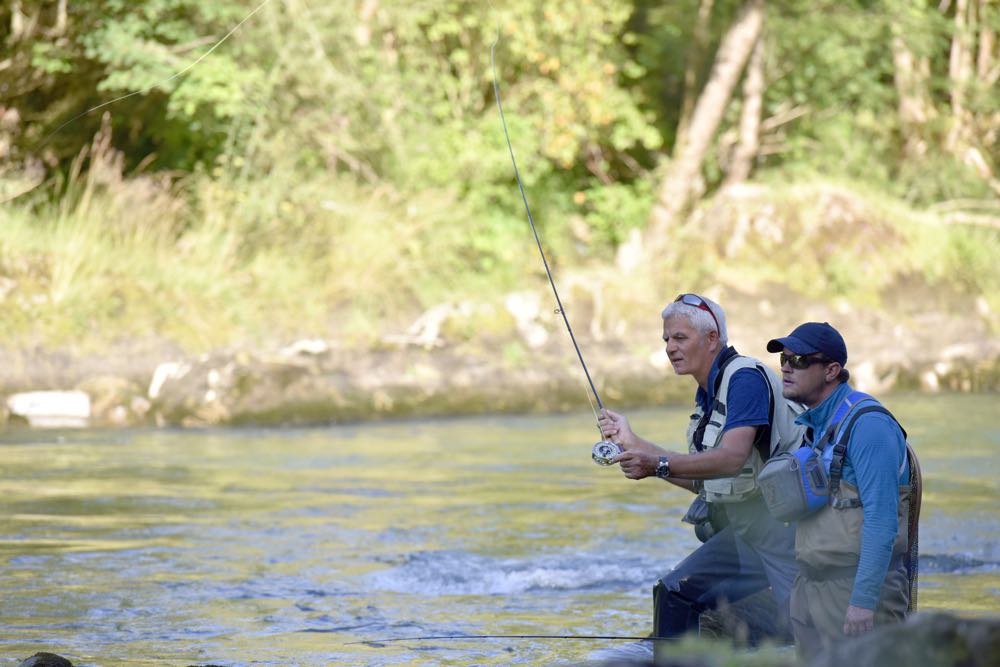 Upstream Fly Fishing
For all things fly fishing in the Western Cape. Upstream Fishing has a cozy and well-stocked shop in the heart of Wineberg, Cape Town. They have extensive freshwater and saltwater experience and have access to amazing venues.
Contact them for any gear related inquiries, and single or multi-day trips.
Freshwater species they regularly target include wild river trout close to Cape Town, still water trout, bass, and carp. On the saltwater side, they can help you catch Yellowtail, local "Snoek" and Garrick.
Hunter Fisher Safaris
The owner of Hunter Fisher Safaris, Jacques Marais, has been fly fishing in the Douglas area for close to 20 years. He has represented South Africa at the World Fly Fishing Championship numerous times, so he knows his way around a fly rod.
Hunter Fisher focuses on Smallmouth and Largemouth Yellowfish in various locations throughout the country. They also provide accommodation and catering if required.
African Waters
If you are looking at fishing the mountain kingdom of Lesotho, be sure to contact African Waters. They're doing tremendous work with the communities and have a prime lodge set up on the banks of one of Lesotho's greatest rivers.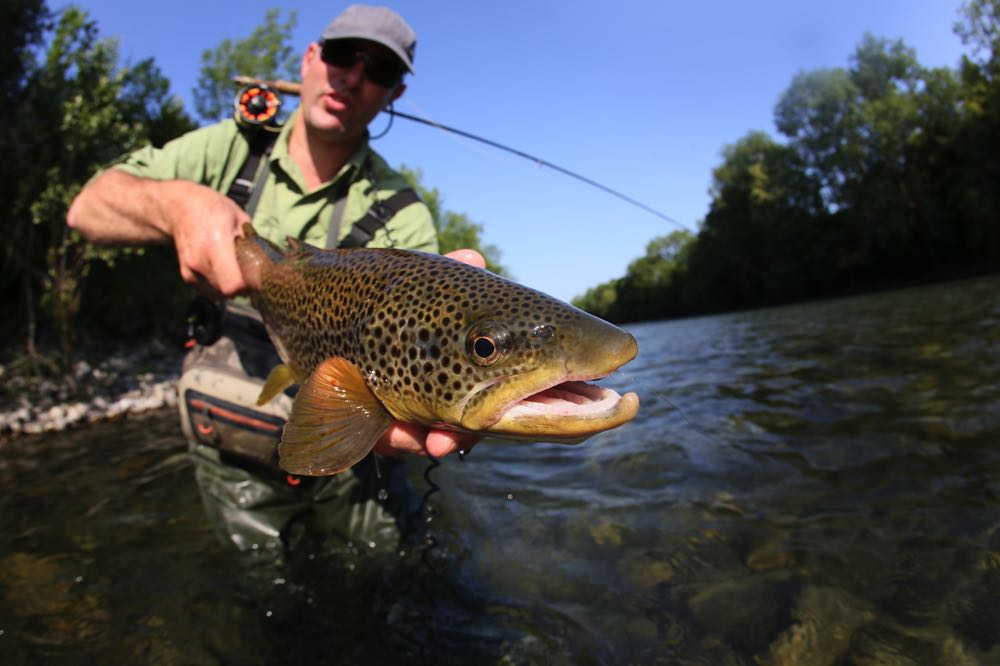 Here you can fly fish to large schools of Smallmouth Yellowfish, Brown and Rainbow Trout. What makes this fishery so unique is that the Yellowfish eat very large terrestrial patterns from the surface.
African Waters also offers excellent Orange River fishing packages. These trips are situated in the Kalahari Largemouth Yellowfish Conservancy. The scenery and fishing quality is exceptional.
Conclusion
Despite what certain media streams might broadcast, South Africa is a warm and inviting country. Apart from the excellent fly fishing, I believe South Africa has so much to offer for the traveler and fly fisherman.
The multitude of fish and experiences you can have in a short 2-week visit is staggering. South Africa's unique wildlife, quality restaurants, and exceptional wine just add so much depth. It's a place very dear to my heart and I would encourage you to fly fish it at least once in your life.
Some images in this post are courtesy of Shutterstock.com.
Like This Article? Pin it!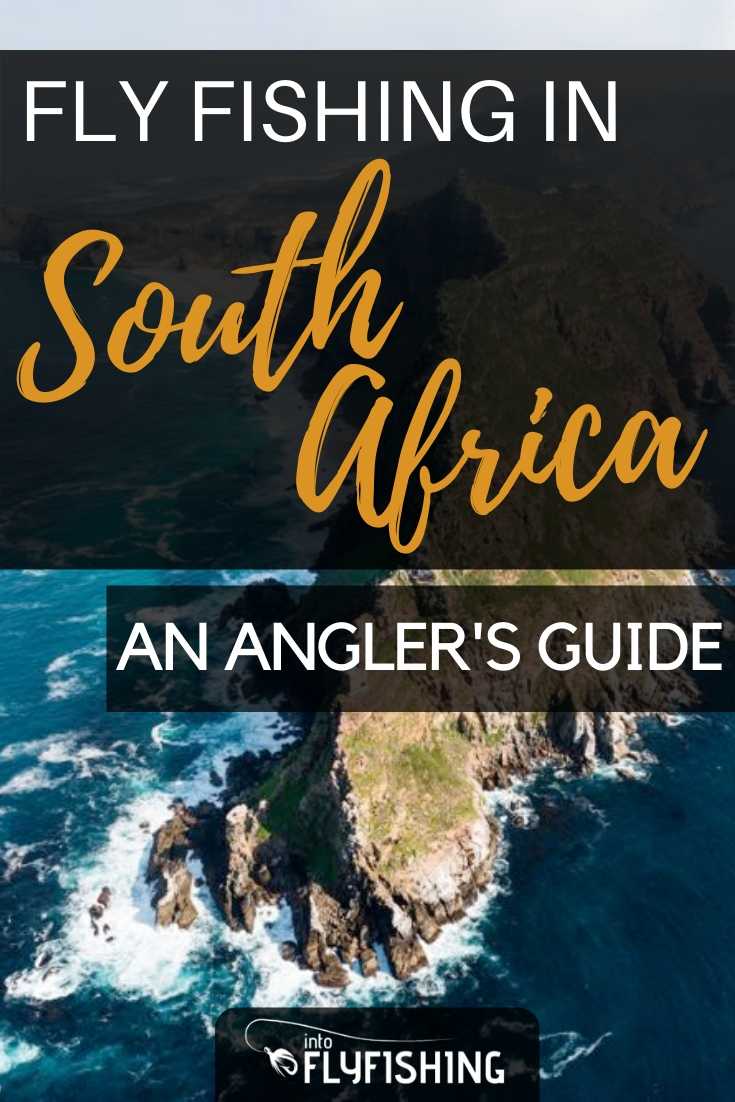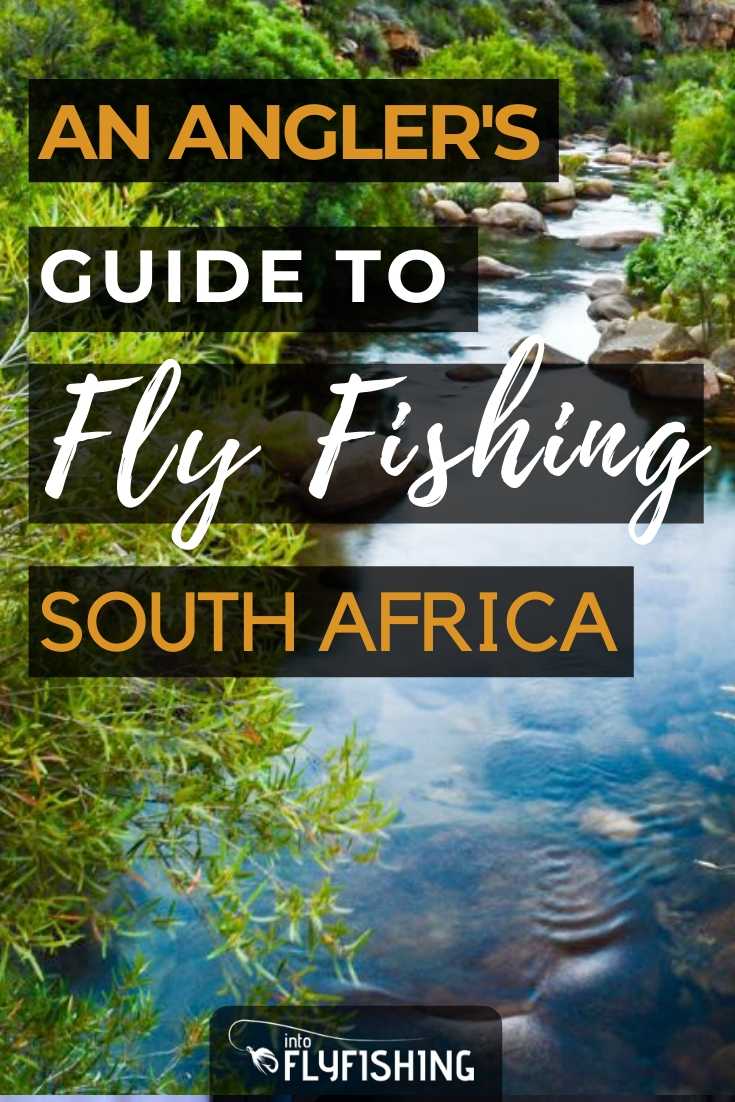 Amazon and the Amazon logo are trademarks of Amazon.com, Inc, or its affiliates.
As a part of the Amazon Associates Program and other affiliate programs, Into Fly Fishing® may receive a comission if you order products through links on this website.