Wales offers an abundance of fly fishing spots suitable for anglers of all skill levels, including beginners, intermediates, and advanced fly anglers. As a professional fly fishing guide based in the UK, I'm here to highlight the finest fishing locations in Wales.
Wales has impressive brown trout fly fishing opportunities, coupled with an excellent run of Atlantic salmon. Anglers from all corners of the world travel to Wales for its diverse range of water bodies.
So, where do I believe the best fly fishing spots in Wales are? Read on to find out!
My Experience Fly Fishing in Wales
I'm currently based in Northern Ireland, and have extensive experience in fly fishing in Wales. I regularly take the ferry from Dublin to Holyhead, making this journey at least four times a year.
The waters I've had the privilege of fishing in Wales are exceptionally clear, and I've had the rare opportunity to sight-fish for trout, an uncommon experience in the UK.
I'm always impressed by the abundant population of brown trout on my fishing trips in Wales. On one of my recent trips, I even had the thrill of landing a 10lb Atlantic salmon. Wales holds a special place among my favorite fly fishing destinations worldwide, and in this post, I'll tell you why.
Why Fly Fish in Wales?
Unlike other destinations where rivers can be overcrowded, Wales boasts numerous rivers and streams to choose from thanks to its stunning mountain ranges.
This abundance means you'll have plenty of untouched water to explore during your fishing adventures in Wales.
Learn About The Diet of Fish:
10 Best Trout Rivers in Wales
Wales has numerous pristine rivers, perfect for a wide variety of fly fishing techniques and styles.
Fly fishermen in England primarily target the wild brown trout in these rivers which is a difficult yet very rewarding catch.
River Dee
The river Dee is well known for its great population of wild brown trout, located close to the town of Llangollen in the North of Wals. Furthermore, no 4×4 is required to fish this river, and the Elk Hair Caddis and Pheasant Tail Nymph are well-known successful flies commonly used in this location.
River Taff
The river Taff is a river I like to call a 'hidden gem'. Although it's not popular, it's extremely good for targeting brown trout and is situated close to Cardiff.
Furthermore, the Taff's open fields make the river fantastic for impaired anglers or beginners learning how to cast. The Black Gnat is a well-known fly to use here.
River Usk
The river Usk is a well-known trout river located close to Brecon that fishes well with a dry fly pattern known as the Adams Irresistible.
Furthermore, the river Usk has developed the nickname "The Lady of the Stream" due to its crystal clear, waters, making it a favorable spot for many Welsh fly fishermen.
River Teifi
The river Teifi is located close to Lampeter and is known for its diverse water conditions; from gentle streams to fast-flowing rapids. If you're looking for the largest brown trout in Wales, this is a good location to try. Many anglers know the Teifi to hold very large fish that can be caught on Royal Coachman flies.
River Wye
The river Wye is located close to the border between England and Wales, offering a range of creeks and tailwater sections best fished with an Adams Parachute. The river Wye is well known for its famous wye salmon as well as its impressive brown trout.
River Clwyd
The river Clwyd, situated near Ruthin, offers some of the best fishing in Wales for brown trout. While fishing with a Gold Ribbed Hare's Ear, you can admire the superb castles along the river bank.
River Dovey (Dyfi)
The Dovey (otherwise known as the Dyfi), is located in the middle of Wales. The Dovey is famous for its large run of sea trout which can be easily caught on a Zulu fly in late June and early July. 
River Conwy
It should be noted that a challenging river to fish due to its drastically changing water levels is the river Conwy. However, despite it's difficulty, it's a fantastic spot to target brown trout when the conditions are correct. Conwy is situated close to Wale's largest mountain, Snowdonia.
River Mawddach
The river Mawddach, situated near Barmouth, is a brilliant location to target brown trout in Wales using Orange and Coch-y-Bonddu flies. However, I've heard from other anglers there are numerous pesky trout-eating otters that run this river so keep an eye out when fishing it.
River Teifi
The Teifi Pools are made lakes created from the Teifi river and form the only location in this list that I recommend using a 4×4 to get to. This river is located in the Cambrian Mountains and fishes well using a Red Tag fly.
10 Best Trout Lake Lakes in Wales
Wales not only boasts numerous fantastic trout rivers but also offers a considerable abundance of brown trout lakes. In this section, we'll dive into my top ten trout lakes in Wales.
Lake Tegid (Bala Lake)
Lake Tegide, otherwise known as Bala Lake, is located near the small town of Bala in Wales. The open environment of this lake makes it easy to access and is great for beginner fly anglers who haven't perfected their roll casts. This lake does not require the use of a 4×4 and fishes well with an elk hair caddis fly.
Fishing With Specific Fly Types:
Lake Brenig
Lake Brenig is located in Denbighshire, close to the town of Cerrigydrudion. It's home to a healthy population of brown trout that are usually caught on daddy long legs. Furthermore, Brenig is well known for its fantastic rises in summer months.
Lake Clywedog
Clywedog is located in the hills of Powy and holds very large trout that can be caught using pheasant tail nymphs. While a 4×4 is not essential, there is a steep drive up to this lake.
Lake Gwyn
Gwyn has an impressive stock of brown trout and legend tells that the lake is home to a submerged city called "Cantre'r Gwaelod." Lake Gwyn can be found near Snowdonia and does not require a 4×4 to access it.
Lake Cwellyn
Cwellyn is located at the base of Snowdonia, which is the largest mountain in Wales. In addition to its impressive backdrop, this lake holds medium to large trout and can be easily accessed by the road without the need of a 4×4.
Lake Geirionydd
This lake, located in Conwy Valley, is home to the famous Welsh poet Taliesin. Lake Geirionydd has brown trout and can be accessed without a 4×4.
Lake Nantlle Uchaf
Nantlle Uchaf is located in Snowdonia. Local anglers praise this lake as being one of the best for dry fly fishing in all of Wales. I personally recommend using a parachute adams on this lake.
Lake Padarn
Padarn is near the small town of Llanberis, and you can access it without needing a 4×4. Lake Padarn fishes well with a teal blue and silver or bloody butcher.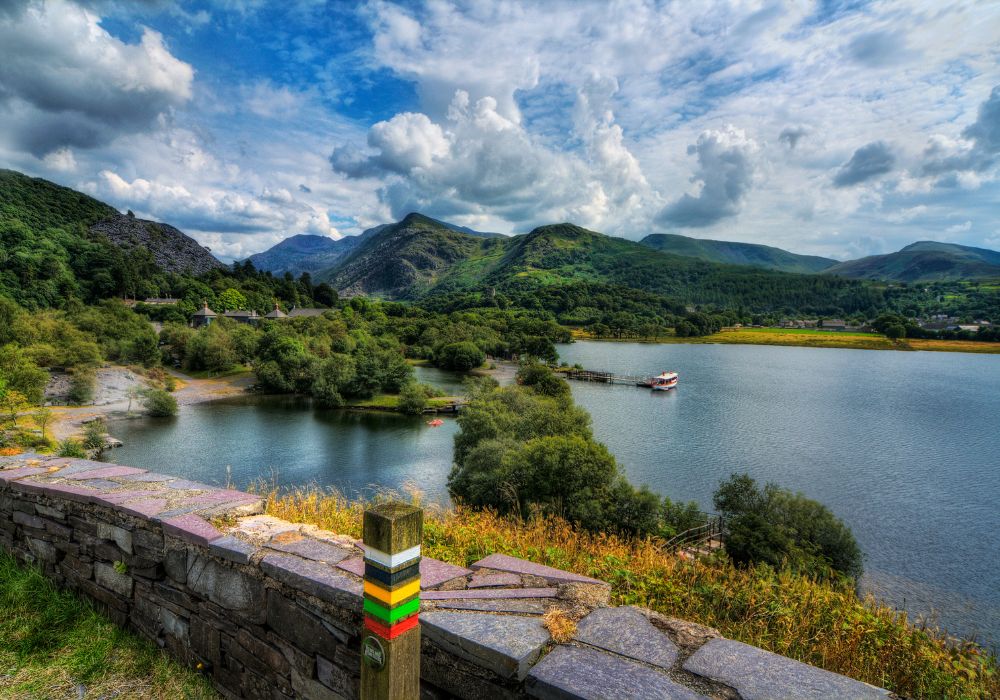 Lake Alaw
Situated on the isle of Anglesey, this lake is a paradise for birdwatches. In addition to its famous bird watching, Alaw offers an impressive array of brown trout that anglers can catch using black pennel flies.
Lake Crafnant
Crafnant is located in Snowdonia national park. Lake Crafnant is a twin lake that can be found beside Llyn Geirionydd. This lake fishes well using Humpy patterns and does not require a 4×4 to access.
Fly Fishing in Wales Regions
Fly Fishing in Wales is renowned for its diverse fly fishing opportunities.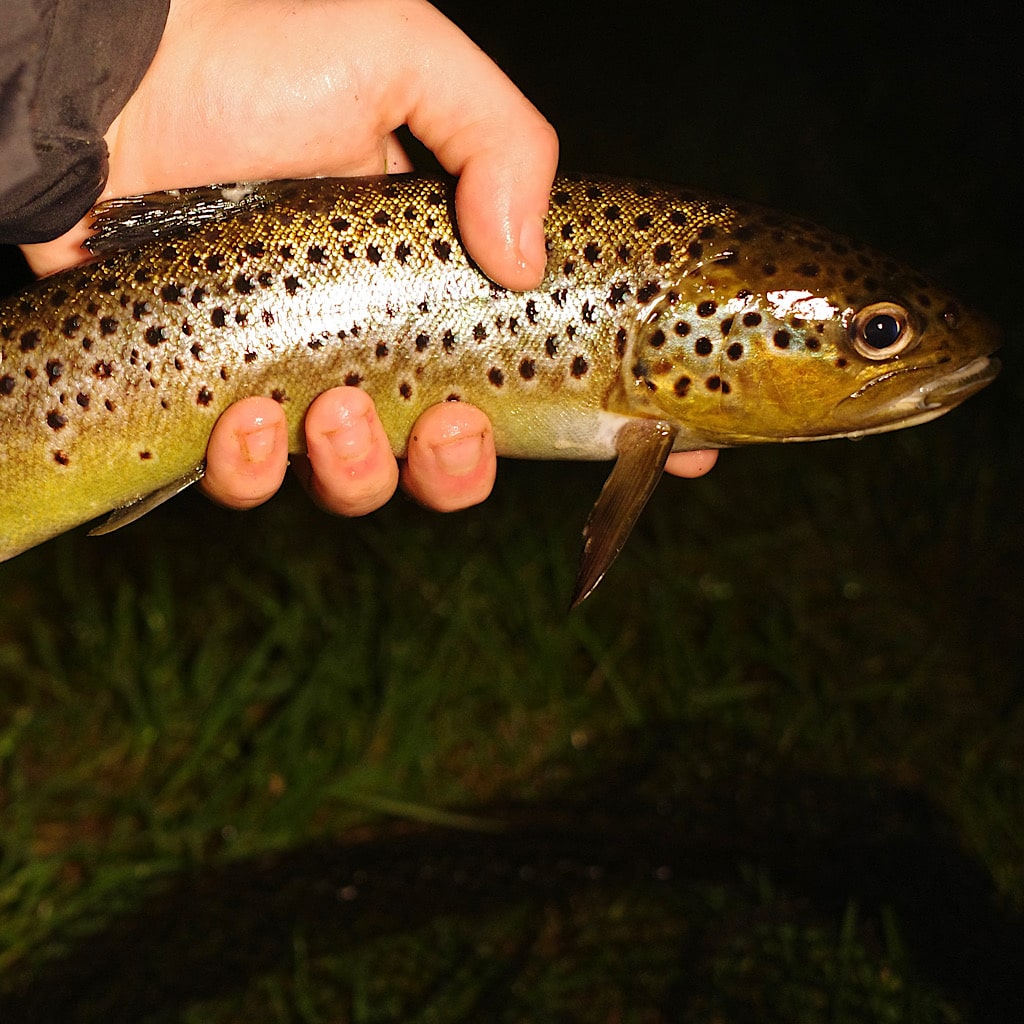 Whether you're targeting the majestic Welsh mountains for brown trout, the fast-flowing rivers for Atlantic salmon, or the rugged coastline for mackerel and sea bass, there's a Welsh region sure to be perfect for your fly fishing preference.
Snowdonia
Snowdonia is renowned for its expansive mountain lakes teeming with brown trout. While it's a rare occurrence, Atlantic char can also occasionally be found in Snowdonia's waters, adding an extra layer of intrigue to this already remarkable fly-fishing destination.
Brecon Beacons
The Brecon Beacons, located in the southern section of Wales, is a national park characterized by a network of fast-flowing rivers teeming with aquatic life. Whether you're pursuing wild brown trout, pike, or even the elusive Atlantic salmon, this region offers a diverse range of opportunities to cater to the preferences of all fly anglers.
Pembrokeshire Coast
The Pembrokeshire coastline abounds with local species such as pollock, coalfish, and sea bass, making it a fantastic destination for fly fishing enthusiasts.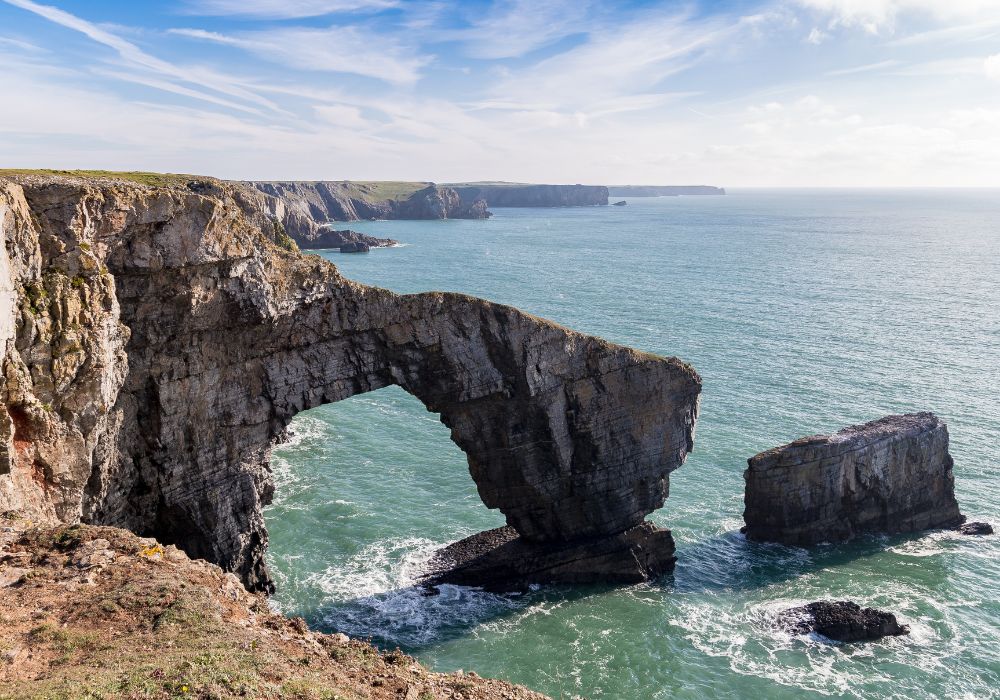 Additionally, during the months of July and August, you can even have the thrilling experience of catching mackerel and mullet on the fly in this gorgeous coastal region.
Anglesey and the North Wales Coast
Anglesey is Wales' largest island, and offers an exceptional fly fishing experience, particularly along the north coast of Wales, which is perfect for targeting sea bass on the fly. This rugged coastline is home to a significant population of sea bass that can be effectively pursued using sand eel patterns.
Fly Fishing Info, Tips & Tricks:
Wales Fly Fishing – Fish Species
There are over ten species that are commonly targeted in Wales on the fly. In this section, I've created a curated list of the most common species to target in Wales on a fly rod:
Brown Trout
Brown trout can be targeted all over Wales. They are native to rivers streams and lakes and they can be caught using Kate McLaren and Black Pennell flies.
Atlantic Salmon
Atlantic Salmon are viewed as the most prized fish to land on a fly in Wales. Wales has a good run of Atlantic Salmon from June through to September.
Seatrout
Sea trout are brown trout that have swum to the sea and returned to the base of the river. They are typically silver in color and can occasionally be mistaken for small Atlantic salmon.
Pike
Pike are notoriously strong fish to catch on the fly. Most anglers target them with an 8-weight fly rod and use flies that imitate the local perch. Furthermore, they can be targeted all year round on the fly.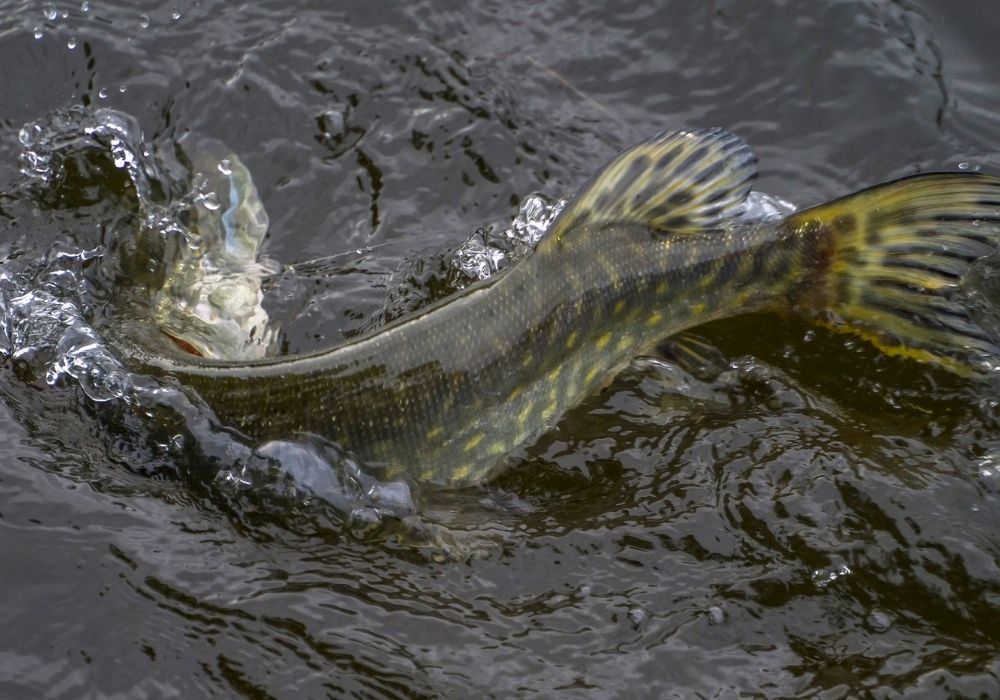 Mackerel
Mackerel are sometimes seen as a beginner's fish to target. However, they provide excellent sportfishing opportunities in Wales and put up a fantastic fight for their size. I highly recommend them as a sportfish to target.
Pollock
Pollock can be found on the Welsh coastline year-round. Although they typically grow to around 2 pounds in weight along the coast, they have been known to reach over twenty pounds.
Coalfish
These fish are sometimes confused with Pollock, but the key difference is that they have a straight lateral line and exhibit green tinges throughout their scales. Coalfish can be successfully caught using various sand eel fly patterns.
More on Fly Fishing Different Species of Fish:
Best Flies For Wales
There's a wide variety of flies suitable for targeting fish in Wales. In this section, I've curated a list of my top flies that have proven effective during my fishing adventures:
Dry Flies
Below, is a list of five of my favorite dry flies that are effective in Wales:
March Brown: Hook 12-16, best fished late spring to early summer, usually dead drift or twitch gently in water
Parachute Adams: Hook size 14-18, can be fished year-round, use a natural drift
Royal Wulff: Hook size usually between 10-14, best fished late spring to early summer with a steady retrieve with occasional twitches
Blue-winged Olive: Size 16-20 hook, spring to early summer works best, utilize a delicate drift
Hopper Pattern: Hook sizes 8-12, late spring to early autumn, fish natural with occasional twitches.
Wet Flies
Here are five of my favorite wet flies that are effective in Wales:
Alder: Best hook size 12-16, best fished late spring to early summer, slow and steady retrieve
Alexandra: Hook size 6-10, effective year-round but especially in early spring and late fall, use varied retrieve
Black Pennel: Hook size 8-12, best in late spring to early summer, slow to moderate figure-eight retrieve with pauses
Bloody butcher: Hook size 6-10, best in spring and early summer
Dunkeld: Hook size 8-12, effective year-round for trout and salmon, use a steady retrieve with occasional pauses
Streamers
These are my top five streamer flies that are effective in Wales for Atlantic salmon:
Low Water Crathie: Made famous in Scotland, this fly's distinctive blue color is perfect for Atlantic salmon
Willie Gunn: A fiery orange color, perfect for attracting Atlantic salmon in murky water
Willie Gunn Gold: The most famous Atlantic salmon fly ever made, old but gold!
Internat Greenbutt Cascade: A classic salmon pattern best used on a double hook
Munro Killer: A combination of the four most popular salmon fly colors
Nymphs
Below, are five of my favorite nymph flies that are effective in Wales:
Pheasant Tail Nymph: Best fished with hook sizes of 12-18, its slim profile and natural coloration help allure brown trout
Prince Nymph: Hook size: 10-16, successfully imitates caddisfly nymphs thanks to its peacock herl body and white wings
Goldhead Damsel: Usually fished with a hook size: of 10-14, this pattern is a go-to in Wales
Zebra Midge: Hook size: 18-22, a simple pattern in black, red, or olive
Hare's Ear: Hook size is usually between 12-16. This nymph has a natural appearance and a soft, lightweight body that makes it very versatile
Saltwater Flies
I've listed five of my favorite saltwater flies that are effective in Wales below:
Oz's Eurobass Clouser: A bright orange fly that saltwater bass cannot resist
Surf Candy: These flies work best in olive, they represent sand eels and are fantastic for most saltwater species
Soft Sandeel: The white version of this sandeel pattern is popular for mackerel and can even pick up garfish in Wales
Bass slider: One of the best heavy-duty flies to catch saltwater bass in the UK
Crease fly: Works well in olive and black, this pattern is good for pollock, coalfish, and bass
Wales Fishing Season
Fly Fishing in Wales is at its best during the months of June through July. In this section, we'll discuss the unique characteristics of each month and why they offer exceptional fishing opportunities.
Wales Fly Fishing in June
June is a fantastic month for trout fishing in Wales. The rivers are abundant with trout, and the warm weather leads to fantastic trout rises, especially just before sunset. This makes June one of the most active and productive months for trout fishing in Wales.
Wales Fly Fishing in July
July offers exceptional salmon fishing across Wales. During this month, the majority of Atlantic salmon have entered the river systems to spawn, and they are present in significant numbers; providing excellent angling opportunities.
Wales Fly Fishing in August
August is a superb month for saltwater fishing along the Welsh coastline. During this time, many fly anglers target saltwater species like bass and the migratory mackerel, making it an excellent period for saltwater fly fishing in Wales.
Wales Fly Fishing in September
September provides one of the last significant opportunities for anglers to pursue plentiful salmon and trout in Wales. After September, fly fishing activity tends to slow, making this month a prime time to enjoy productive angling for these species before the season winds down.
Wales Fishing Report
During my recent trip to Wales, I had the pleasure of landing a remarkable 10lb wild Atlantic salmon. This fish displayed beautiful brown colors, indicating it had been in the river system for an extended period. I was thrilled with the fight this Welsh salmon put up and was left absolutely buzzing with excitement.
In the same week, I also had the pleasure of landing several brown trout, each weighing over 3lb, which was another rewarding experience.
On the way back to catch the ferry for my return to Ireland, I made a stop at the coastline and was able to pick up some small local pollock from the harbor using a 4# fly rod. Overall, a very mixed species trip, and I will definitely be returning this coming year.
Best Fly Shops in Wales
In this section, we will explore some excellent fly fishing stores that Wales has to offer:
The Fly Shop
The Fly Shop not only offers a selection of exceptional locally handcrafted flies suitable for all your fishing needs, but also provides a valuable resource through its local blog.
This blog is a great source of information for learning about fishing in Wales and helping anglers prepare for their outings with valuable insights and tips.
Foxons Tackle
Foxons, a local favorite in Wales, has a rich history in the world of fly fishing. With a comprehensive inventory that includes rods, reels, fly accessories, and a wide selection of flies, this fly shop has everything you could possibly need for your Welsh fly fishing trip.
Garry Evans
This Garry Evans Shop, based in Southern Wales, is a fly fishing paradise with an extensive selection of flies, particularly well-stocked in salmon and trout patterns.
Celebrating its fifty-year anniversary, it holds a special place in the Welsh fishing community, solidifying its status as a cherished institution for anglers in Wales.
Wales Fly Fishing Licenses
You have the convenience of purchasing fishing licenses online, with options available for 1-day, 8-day, or 12-month durations. There are also reduced rates available for individuals aged 66 or over, or those with disabilities.
The fees for these licenses are as follows:
A 1-day license costs £6.60 for trout and coarse (up to 2-rod), and £12.60 for salmon and sea trout
An 8-day license is priced at £13.20 for trout and coarse (up to 2-rod) and £28.30 for salmon and sea trout
For a 12-month license, the fees are £33 for trout and coarse (up to 2-rod), £49.50 for trout and coarse (3-rod), and £86.10 for salmon and sea trout
Fly Fishing Guide Services in Wales
In this section, I've curated a short list of some highly recommended fly fishing guides in Wales:
Fly Fishing Wales
Email: kim@flyfishingwales.com
Website: http://www.flyfishingwales.com
Phone Number: 01639 639076
Kim Tribe, a professional grayling guide, is ready to take you on a fly fishing journey of your dreams in the picturesque Welsh hills.
Steffan Jones
Email: ceri.thomas@anglingtrust.net
Website: https://fishingwales.net/guides-and-instructors
Phone Number: 07879898344
With over twenty years of experience specializing in sea trout fly fishing, Steffen is the perfect guide for your Welsh fishing adventures.
James Waltham
Email: james@jwflyfishing.co.uk
Website: http://www.jwflyfishing.co.uk/guided_fishing
Phone Number: 01745710109
Operating in North Wales, James Waltham specializes in fly fishing for trout and ensures a successful catch on your Welsh fly fishing journey.
Conclusion
I hope this article has inspired you to consider fly fishing in Wales. Wales offers a diverse range of species ideal for fly fishing, coupled with breathtaking mountainous scenery.
I highly recommend visiting; it's a must-visit bucket-list destination for fly anglers. Alongside its perfect landscapes and abundant species, this destination also boasts a rich historical background and a welcoming community of experienced fly anglers ready to offer valuable advice and guidance.
Disclaimer: IntoFlyFishing.com is a participant in the Amazon Services LLC Associates Program, as an Amazon Associate I earn from qualifying purchases. Please see our Privacy Page for more information.