As an Amazon Associate I earn from qualifying purchases.
Slovenia has long been on my fly fishing bucket list. As an avid traveller and fly fisherman, seeing photos of beautiful and illusive marble trout in the Soca Mountains, massive Hucho in the central rivers and of course the stunning beauty of the country itself, I knew that one day I'd have to make it to Slovenia on a fishing trip.
In 2021, that's just what I did. My partner and I landed in Ljubljana, the Capital, after a quick flight from Belgium.
I have to say that the capital itself is worth a visit, or (as we did) a long stay.
But we're not here to talk about old buildings, good restaurants, and narrow cobblestone streets are we? You came to this post to hear a little bit about the fly fishing opportunities in Slovenia.
As a part of the Amazon Associates Program and other affiliate programs, Into Fly Fishing® may receive a comission if you order products through links on this website.
Finding a Guide
Whenever I go to a new country or even a new region, I like to hire a guide. Even though I've guided myself and consider myself a pretty experienced angler having fished my whole life… I knew nothing about fly fishing in Slovenia.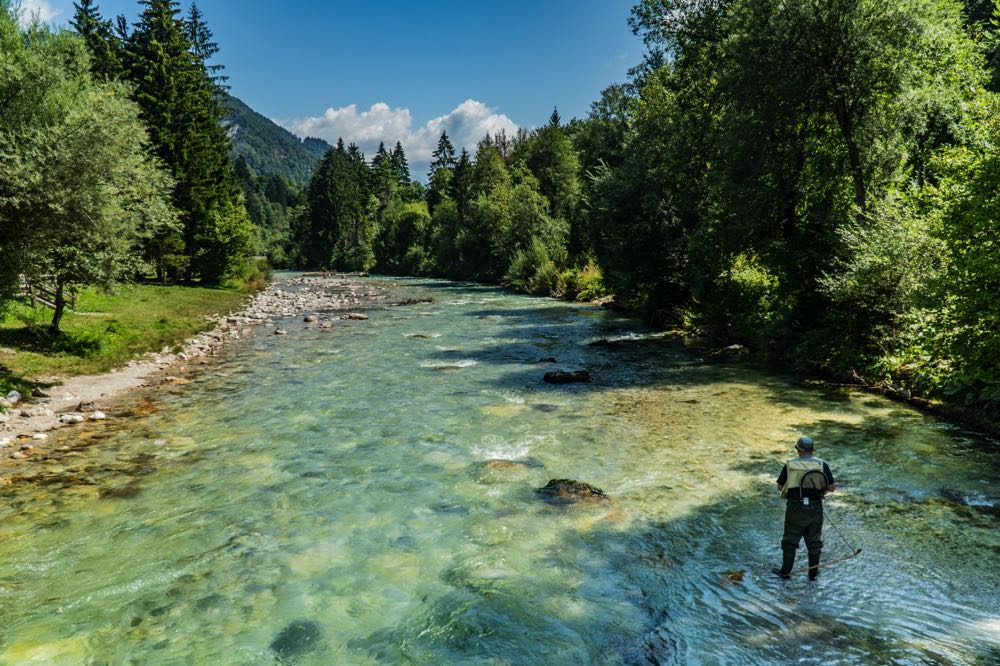 A quick Google search quickly pulled up Rok Lustrik of Lustrik Fly Fishing. This guy is a legend in Slovenia. He lives, eats, and breathes fly fishing.
The guy spent years just practicing fishing knots in his basement, he fishes 300+ days a year some years and he's also been the Slovenian fly fishing champion a few times.
In short, he knew these waters and he was the right guy to go with.
Day 1: Sava Bohinjka
Rok picked me up at my house and asked quite bluntly:
"What do you want to do today? Catch a lot of fish for sure, or maybe only catch one or two but they'll be big?"
Normally my answer would always be to catch the big ones, even if the chances are low, but after getting skunked completely on a recent trip to Golden in Canada trying to target huge bull trout, I opted for the former.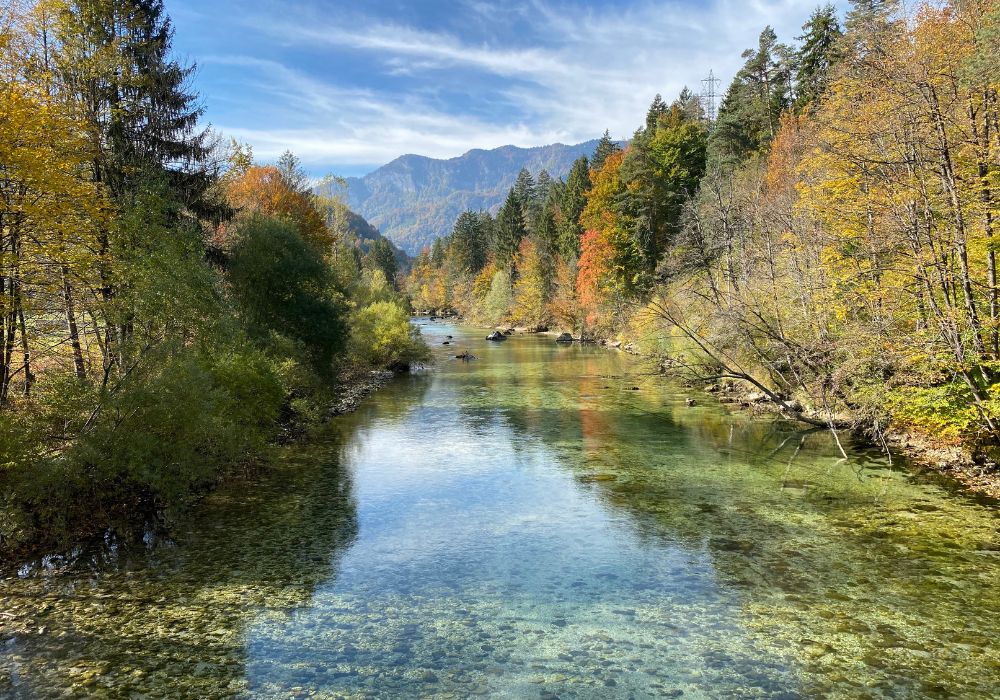 So we headed out to Sava Bohinjka near Lake Bled.
By the way, if you're expecting to get exact fly fishing locations, rivers, pools and spots, you won't find them here.
We like to protect fishing spots as much as possible and while we share pretty much everything we know on this blog, you won't find us blowing up local fishing spots and ruining them for local fishermen.
Anyways, we headed out to a river near lake Bled and the day started well.
We fished below a small waterfall with an old bridge crossing above it. The scenery was spectacular. Far away from any main roads with only a few hikers and local farmers passing over the small bridge.
In the background, the Karawanks mountain range towered overhead and as the sun rose above them, it painted the river and the surrounding trees in a warm gold.
After 5 minutes I already had a fish on and lost it, and within 15 minutes we had 2 nice little 12-inchers landed, netted and safely released.
Slovenia is famous for Hucho, a massive river-living salmonoid species that can grow to 6-feet long.
After catching about 10 smaller fish in the pool below the waterfall, Rok drove me to another spot, but not before stopping along the side of the river to show me a couple of massive Hucho swimming in the depths.
They didn't even look like fish. They were so enormous I thought they were logs.
I know what you're probably thinking reading this post. Hurry up and get to the part where you land a 6 foot monster.
Well, sorry guys… I didn't buy the Hucho license on this trip to Slovenia, but I want to go back next Spring to give it a go and you can rest assured I'll share it on this blog and on our YouTube Channel.
The next spot was another beautiful place near a bridge. It was a little bit busier with cars and people than the first spot, but I was one of only 3 anglers on the river and the surroundings were still breathtaking.
The final spot we went to was in a small village tucked deep in a rocky valley with gorgeous old houses and a long meandering portion of crystal clear river.
In total throughout the day, we probably landed and released 20 fish. The biggest was around 10 inches, so not huge. But I knew I could hit Rok up again on his second offer for fewer, but larger trout.
Day 2: The Bohinj
Rok picked me up again and this time my answer to his question was different.
"Take me to the big ones" I said excitedly, and off we went.
We drove for about an hour to reach the spot, which was a very slow-moving river about a mile from a large dam.
The water was almost still, making it hard to even tell it was a river. But as soon as we reached the bank, we spotted big dark shadows lurking in the depths.
The water wasn't as clear as on day one, and the surroundings weren't as pretty, but man there were some beasts in these waters.
We stood in dense bush that hung over the river bank, so a back cast was going to be impossible. Rock told me to drop a quick roll cast right in the center of about 3 or 4 of the patrolling shadows.
The fly landed with a little bit more of a disturbance than I had hoped, which did temporarily spook a couple of the fish. But just as they started to disperse, Rok told me to raise the tip of the rod slightly to raise the nymphs in the water.
When I did that, two of the fish immediately turned around and suddenly there was a strike. The smaller of the 2 aggressors took the bottom black beaded nymph and went wild with it.
It was a decent size rainbow, about 14 inches, and was the best fish I had caught yet in Europe.
But the day was just beginning. This same tactic worked like gangbusters in this spot. We caught 3 nice fish including a beautiful brown that almost looked like a lake trout with deep dark spots and gold rings.
The next spot we went to was a trudge through thick bush that actually resulted in a couple of punctures in my waders. Oh well… it was going to be worth it.
Again we stood on a bank of what looked like a lake with a large dam looming in the background.
With no room for a back cast, it was another roll cast this time, but this time into dark, black inky water. There was going to be no way to see the fish shadows at this spot.
After about 15 seconds of letting the dry fly bob on the surface with the beaded nymph dangling below it under water, we saw what we'd been waiting for.
The hopper dipped underwater and I pulled the rod up quickly.
… but not quickly enough.
Rok was pretty disappointed and explained that the fish are going to sip the fly pretty softly, so when there's a slight take, I need to set.
The second time I didn't make the same mistake. The dry fly dipped, I yanked and I was taken for a ride.
A massive 10-pound rainbow must've leapt out of the water four or five times as it peeled out my reel and exploded into action.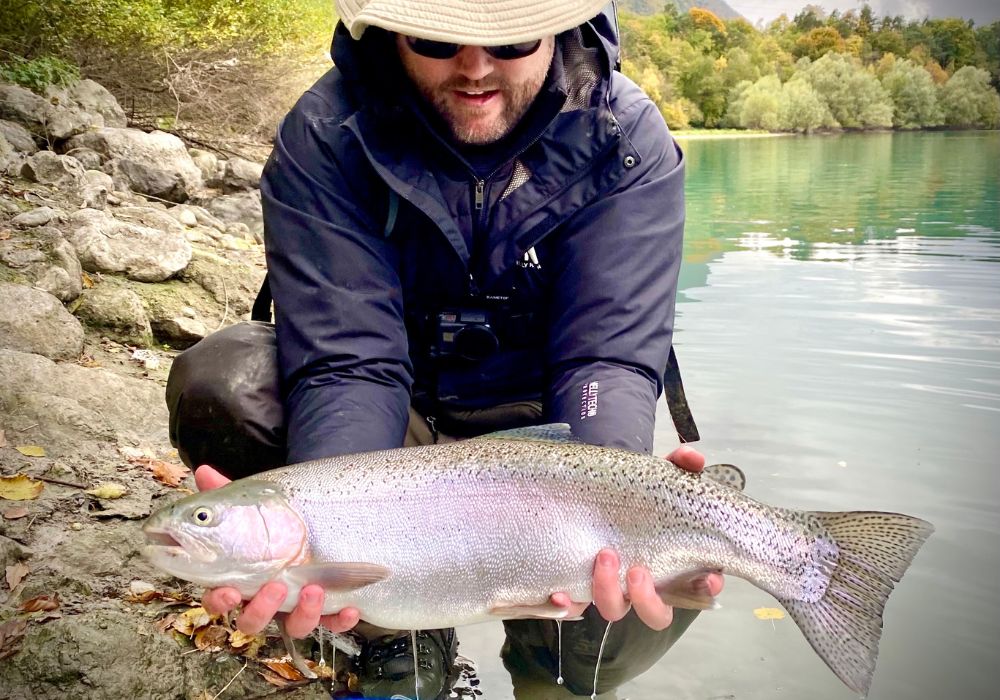 What a blast. This is why I love fly fishing.
I fought the fish for probably 10 minutes before safely getting it into the net, taking a couple of photos, and releasing it back to the dark depths of the tailwater.
Day 3: Back To Bled
On another day, I decided to head out on my own and I'm glad I did. I went back to the same places that Rok and I went to on day 1 near Lake Bled to see if I could land some larger trout.
Luckily, I did. I had quite a few 12-inchers and one that was probably almost 14 inches. What a day.
I was super happy to be able to take what I learned from Rok, go back to his spots, and have just as much success. That's what fishing is all about.
It's a neverending learning experience and when you take local guide advice and apply it on your own fishing days, it can be incredibly productive.
Day 4: The Soca Valley
The Soca Valley is the most famed fly fishing area in Slovenia, and for good reason. The river is home to the rare and illusive Marble Trout that are only found in this region and the neighboring mountains in Italy.
It's also probably one of the most visually impressive fly fishing locations I've ever been to.
This time I headed out with Rok, but not Rok Lustrik. I different Slovenian fly fishing guide named Rok.
We were casting our lines onto gin-clear water under the shadows of the enormous Julian Alps. All around us the rocky peaks stabbed into the perfectly blue sky.
After an hour we had a marble trout in the net. What a beautiful creature. These are the largest growing freshwater trout on earth, but we didn't catch any real monsters because we were high in the upper Soca and most of the larger ones are in the lower reaches of the mountain rivers.
Still, we had a few nice marbles and some rainbows and it was just as much about the scenery as it was the fishing.
My Overall Thoughts
After finally ticking Slovenia off of my fly fishing bucket list, I can say that this was the best fly fishing trip I had to date. Of course, I hadn't been to Jurassic Lake yet at this time, so the bar was about to be set a bit higher.
But for the sheer beauty and variety of fish species, I think Slovenia still takes the cake as my favorite fly fishing destination.
If you're considering a fly fishing trip in Europe, then I think Slovenia should be near the top of your list.
I hope you enjoyed reading this fly fishing diary.
Until next time… Tight lines.
Amazon and the Amazon logo are trademarks of Amazon.com, Inc, or its affiliates.