Having fly fished for over 30 years now, I have done my fair share of saltwater fly fishing. Fly fishing in The Bahamas was my first saltwater experience with a fly rod in my hand and it changed my fly fishing life forever.
The Bahamas fly fishing experience is something else. Walking across azure blue sand flats or along the edges of mangrove cays in knee-deep water while seeing shoals of bonefish swimming toward you certainly gets your heart pumping.
When you hook into your first bonefish and it takes off into the distance at 30 mph (ish) ripping you into your backing everything changes. To sight fish in such a stunning place is one thing, but to feel the power of a bonefish for the first time is another.
I found it very hard to even think about catching a trout after my first day of bonefishing and it took me a long time to go back to rivers and instead stuck flats.
After my first trip to The Bahamas, I was lucky enough to get a job managing a bonefishing lodge on South Andros. This is when got to experience some of the best fishing spots in The Bahamas while I lived there for close to 2 years and I am here to give you the inside scoop.
More Fly Fishing Destinations
My Experience Fly Fishing in The Bahamas
My first fly fishing experience fly fishing in The Bahamas was on the island of Abaco. At the time, I was running a fly fishing safari business in Kenya and Ethiopia but wanted to have some saltwater destinations up my sleeve.
It just so happened that I was invited to a wedding in The Bahamas and reached out to the lodge to see if I could come and stay so that I could experience it and then send some clients their way.
We fished for 3 days from a flats skiff with the local guides who worked at the lodge and saw countless bonefish, caught a bunch, had shots at permit, and even jumped a couple of huge tarpon. It was insane, especially for my first saltwater fly trip ever.
My next visit was to go and manage Bair's Lodge on South Andros where I spent 18 months working with 6 amazing local guides. Their knowledge of the flats was and still is second to none.
They taught me a lot, and I'd spend at least a few hours every day walking the flats alone trying to work out just how this saltwater thing worked.
After 6 months, I had it dialed in. Times, tides, which flats worked when and why, and how the weather made the fish behave.
Why Fly Fish in The Bahamas?
There are a lot of reasons why to go and fly fish in The Bahamas. It is a stunning place filled with natural life, the culture really gets under your skin, and you get to experience it all on a fly-fishing trip.
I would also say it is the perfect place if you want to move into the saltwater fly fishing world from freshwater and this is thanks to the abundance of fish and the awesome guides.
The Bahamas fishing guides are a ton of fun to fish with, you'll see everything from sharks to dolphins and turtles while you are fishing, and there are thousands of bonefish so you can have shots all day long.
Fly Fishing Islands In The Bahamas
You can find fish on every island in The Bahamas however some are a lot easier to get to, have a lot more fish, and are much better equipped with guides and lodges than others. Those are the islands I have focused on below so can experience The Bahamas' fly fishing at its best.
Abaco
Abaco is a rather special fly-fishing island in the Bahamas. It is home to "The Marls", a gigantic network of mangroves and shallow flats on the one side, and stunning oceanside sand bars and flats on the other both of which are home to bonefish, permit, and tarpon.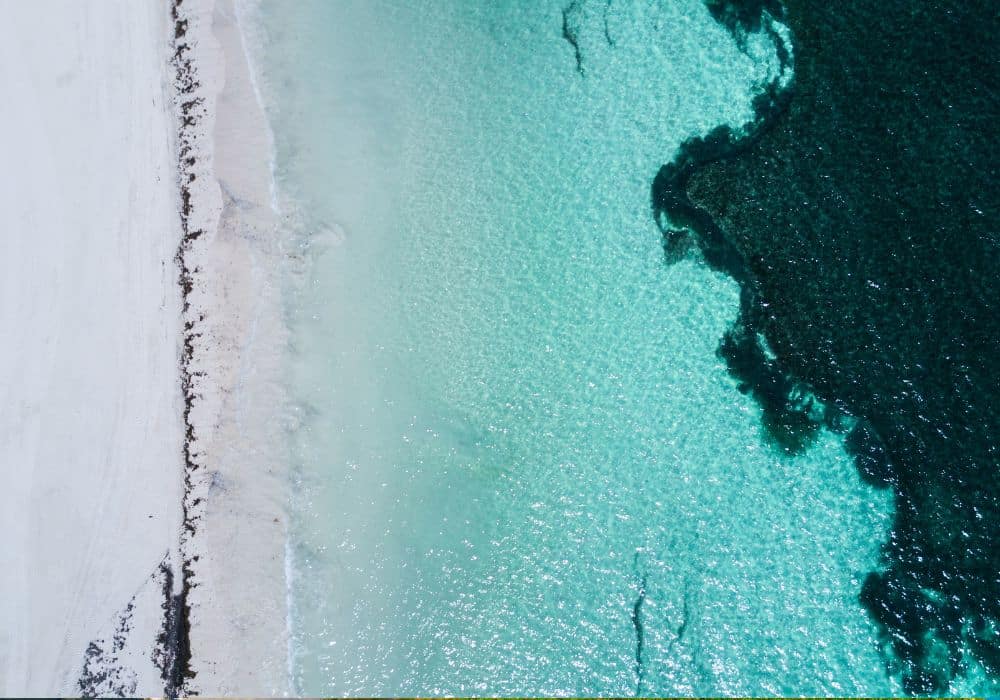 It also has some incredible guides & lodges, plus it is very easy to get to with direct flights from the US and from Nassau (the capital of The Bahamas).
Grand Bahama
Just west of Abaco is the neighboring island of Grand Bahama which is also one of the best fishing places in the Bahamas. It has an incredible network of sand flats and mangrove cays along its eastern end as well as oceanside flats and more.
North Andros
North Andros is one of the largest islands in The Bahamas and is one of the most remote. It is home to a huge fishery made up of the West Side National Park as well as creeks plus sandy and mangrove cays on the north, east, and southern ends. The fly fishing opportunities are endless here.
South Andros
South Andros has it all. You have multiple creeks to fish as well as the southern keys, oceanside flats, and the huge and famous "west side" where the bonefish are big, to say the least. It is big, remote, and full of fish.
The Berry Islands
The Berry Islands are made of 12 small islands that sit to the north of North Andros.
It is home to a massive network of sand flats that are home to thousands of bonefish and is one of the best permit fisheries in The Bahamas too.
5 Best Spots For Fly Fishing in Abaco
Abaco is home to literally thousands of flats where you can find bonefish and more. Some you can fish on your own and get to with a car, others you will need a guide and a skiff to access and fish effectively.
The Marls
The Marls sits on the west side of Abaco protected from ocean swells. The calm shallow waters are great for flats skiffs, plus the bonefish, permit, and tarpon love it. Stretching for over 300 square miles, it is a huge fishery and one that has to be fished with a knowledgeable guide that knows their way around and will also show you the right flies to use.
Coopers Town
Sitting in North Abaco, Coopers Town is a great place to do some DIY bonefishing. The flats are hard-bottomed which makes for easy wading and easy to access with a car. If you drive to the west side of the island at Coopers Town, you'll find numerous cays and flats.
Be sure to get there at the bottom of the low tide and then fish the incoming tide. You'll see bonefish pushing up the flats and they can be tricked with a small mantis shrimp fly.
Cherokee Sound
Cherokee Sound is a lovely little area filled with flats and mangrove cays that are filled with bonefish. You can drive or get a taxi there but you need to be there at the right time of the tide.
The last three hours of the dropping tide and the first three hours of the incoming are ideal as the bonefish become easy targets are they are literally pushed out of the flats and back on. Small shrimp flies in a natural tan color are ideal.
Sandy Point
Sandy Point is on the southern tip of Abaco and is pretty much one big flat. The hard bottom makes for easy wading and you can drive up right next to it. Follow the water in either direction and try and stay ahead of the fish as they move onto or off the flats with the tide. Bonefish love a shoreline to follow so at high tide walk along the beach.
Casuarina
On the northern end of Abaco, just before Coopers Town is Casuarina. Here, you can easily access some mangrove flats on the west side that make for easy wading. It is best fished toward the top of the tide as the water drops a lot which makes getting to where the fish are at low tide rather difficult.
Ocean Side Cays
There is a long network of ocean-side cays (islands) on the east of Abaco. These are renowned for big bonefish plus have more tarpon and permit than other areas of Abaco. You will need to fish these with a local guide and on a skiff though as the area is so large and local knowledge is required for both access and success.
5 Best Spots For Fly Fishing in South Andros
South Andros is home to some of the best fly fishing in The Bahamas in my opinion, although I am biased as I called it home for a while. There are some stunning flats you can access with a car as well as incredible mangrove cays, sand bars, creeks, and more that you will need a guide and a skiff to fish.
Tan shrimps with rubber legs will always get the job done, my favorite fly for this area is the spawning mantis by Umpqua.
Dotum
Dotum is a local spot that not many anglers know about, it even took the guides a while to tell me about it. It is at the end of the road (literally) at the southern end of South Andros.
You'll arrive at a sandy gravel spot where you can park your car and then you wade out to one of the few small mangrove cays just off the shoreline. This can only be fished on either side of the dead low tide and be careful not to get caught out as you won't be able to get back to your car once the tide has come in.
Bair's Home Flat
Along the beach just in front of Bair's Lodge is a lovely flat, and this is where I would wade for an hour or so each day while busy managing the lodge.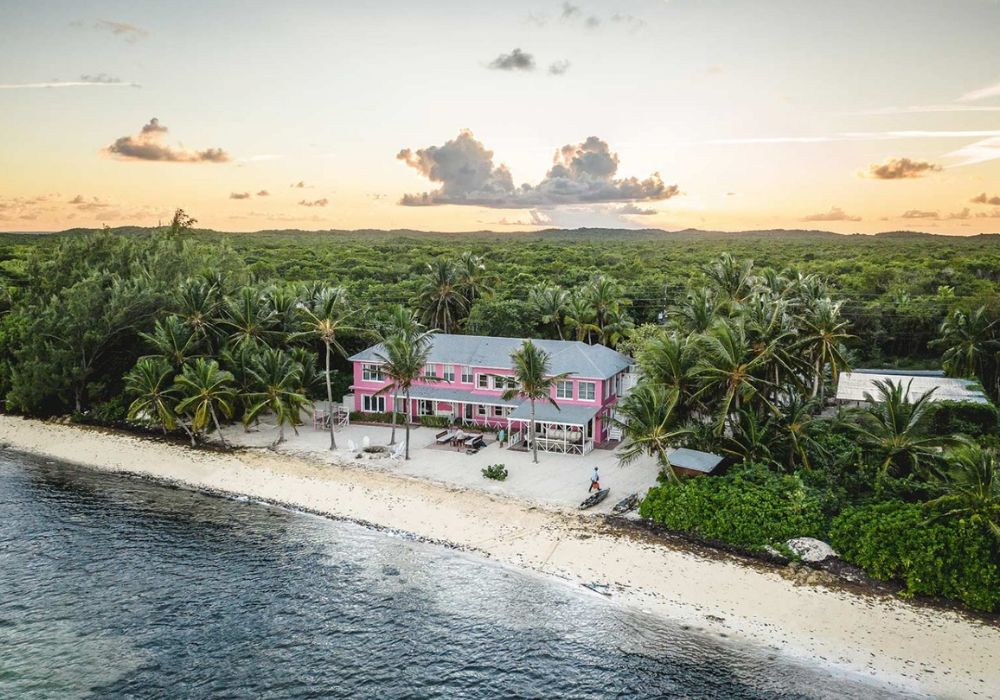 You can access it by car and it is best fished on a mid-tide going out or on in. The wading is easy and will find a few schools of bones if you get the tide right.
Little Creek
Little Creek is a large network of mangrove cays and channels that connects the east side of South Andros all the way to the west side. It is a stunning area but you'll need a local guide with a skiff to fish it as it is a maze and knowing the channels is key to being able to get back home again.
Deep Creek
Deep Creek is similar to Little Creek but it's a bit deeper, hence the name. It is a great place for bonefish and it has some resident tarpon that are willing to take a fly which makes for a fun day out. Again, you'll need a local guide and a skiff to be able to access it and fish it properly.
Southern Cays
The southern tip of South Andros is one of my favorite places on earth to cast a fly rod. It is home to a series of mangrove islands and sandbars and it feels like a place that time forgot. There are some huge bonefish in this area and it is about as beautiful as the Bahamas gets in my opinion.
You'll need a guide and a skiff to get there, and calm weather also helps as it is a long run so smooth seas with save you what can be a very bumpy ride.
The West Side
The West Side of South Andros is rather famous. It is very remote, home to huge bonefish, and on the right day it can deliver the best day of bonefishing anyone could ever see. The only way to fish it is with a local guide and a skiff.
The Bahamas Fly Fishing – Fish Species
There are quite a few species to target when fly fishing The Bahamas, however, the best fishing in The Bahamas and the most consistent is bonefishing. But, there are other species to mix it up your trip with.
Bonefish
Bonefish are your bread and butter when fly fishing around The Bahamas. It is home to millions of these amazing fish and they can reach speeds of up to 40 mph, just imagine that on the end of your 8 weight.
They hunt in the shallows in schools or as singles, hoovering up shrimps and crabs off the bottom.
The average size is about 3 lbs but you can find fish between the 10 and 20 lb range, particularly on oceanside flats.
Permit
The Bahamas is not known as a permit fishery however, more and more are being caught as the local guides have honed in on them as a species.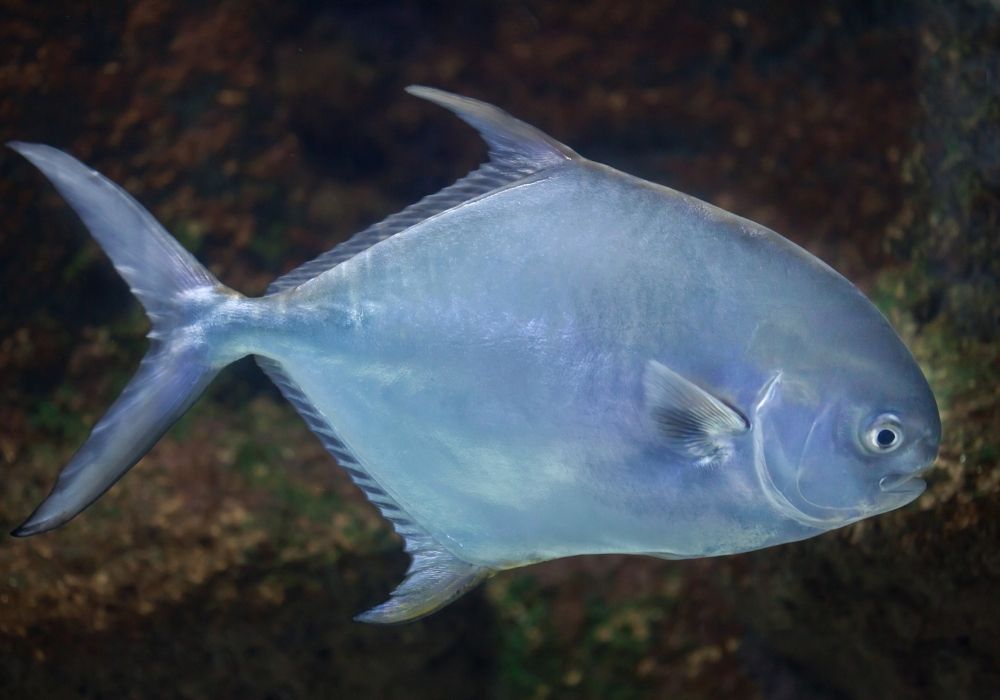 The Berry Islands, Grand Bahama, and Abaco tend to deliver more of them than the other islands.
Tarpon
The Bahamas doesn't see a migration of tarpon through its waters but there are resident fish on every island. They are rather tricky to convince to eat a fly but it is always worth a cast.
The tarpon in The Bahamas are around 40 lbs on average but get up to 80 lbs.
Barracuda
Keeping your bonefish from being eaten by barracudas is something you are going to get good at while fly fishing in The Bahamas, and catching them on a fly is an amazing experience.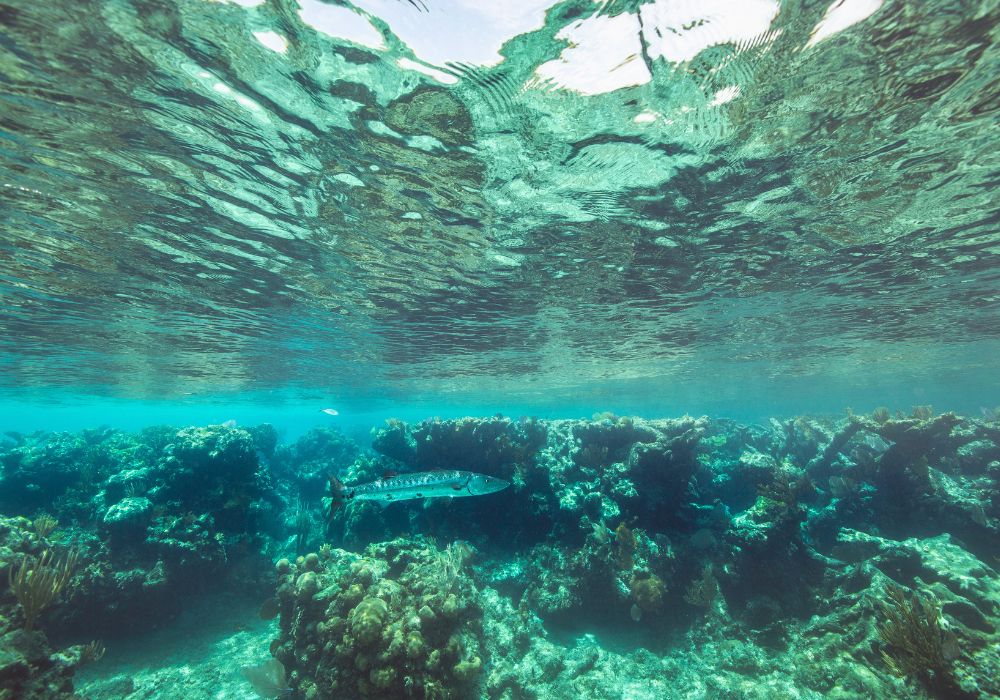 The eat is electric and once hooked they jump and cause a lot of commotion.
Gray Triggerfish
Found on oceanside flats and shallow reefs, gray triggerfish are a fun species to target. They are willing to eat a shrimp/crab pattern so long as you make the right shot, as they are rather fussy and annoyingly intelligent.
Mutton Snapper
Mutton snappers also frequent the same flats as bonefish and they pulled hard however convincing one to eat a fly is not easy. A stealthy cast is a must, any sign of unnatural delivery and they will spook.
More on Fly Fishing Different Species of Fish:
Best Flies For The Bahamas
Having the right flies is key for any fly fishing trip and in The Bahamas you want to focus on crabs, shrimps, and baitfish imitations. Different we
Shrimp Flies
Here are the top 5 shrimp flies that you want to have in your box. You will need to fish them off the bottom, so make sure to have them in different weights for shallow and deep flats.
Crab Flies
When it comes to permit a good range of crab flies is essential and it is fun to change it up and catch some bonefish, muttons, and triggers on them too.
Baitfish Flies
If you want to catch a barracuda or a tarpon on fly in The Bahamas then you'll need a good selection of baitfish flies.
Tan Brush Fly: Looking just like a small mullet or bonefish, a "cuda" will hoover this up on a sand flat in seconds
EP's Peanut Butter: This fly imitates a huge range of baitfish and will work for tarpon and cuda.
Tarpon Toad: In black and purple or chartreuse, this classic tarpon fly works well in The Bahamas
Laid-Up Tarpon: Ideal for laid-up tarpon near the surface with its soft landing, this is a must-have fly in chartreuse and tan
Double Barrel Popper: A great fly for GTs, the cudas of The Bahamas can not resist eating this in tan or black with a very explosive bite
Find The Best Flies For Any Fishing Scenario:
The Bahamas Fishing Season
The Bahamas fishing season technically runs all year round. However, due to hurricanes and the flats getting too hot after midday in the summer, the lodges are open from October to June.
Fly Fishing The Bahamas in October & November
You'll find all the species on the flats in The Bahamas in October and November. It is the ideal balance between warm and good weather and the water temperatures are ideal too.
You'll find fish on the flats all day long but be careful not to book early October as I have had to evacuate the lodge due to late hurricanes arriving in early October.
Fly Fishing The Bahamas in December to February
During the winter months, The Bahamas can have a lot of cold fronts pushing through. This means high winds, clouds, and poor visibility but it is also the time of year when the biggest bonefish are on the flats.
However, weeks of perfect weather are also possible so visiting during this time is a roll of the dice, but worth it for a 10+ lb bonefish.
Fly Fishing The Bahamas in March to June
March and April are the best months to go fly fishing in The Bahamas in my opinion. The weather is on your side with low winds, the water is crystal clear, warm but not hot, and every species is on the flats.
Fly Fishing The Bahamas July to September
July to September is incredibly hot in The Bahamas and it is hurricane season for the Caribbean. Bonefish will be on the flats in the morning but will move to cooler deep water in the afternoon. This is a good time for permit and tarpon though, but it does come with some weather risks.
The Bahamas Fishing Report
The final three months of my last season (April to June) in The Bahamas were incredible, to say the least. With my flats fishing at its best, I was lucky enough to land a few big tarpon as well as break the 10 lb mark on bonefish a couple of times.
The flats were full of life with schools of 100+ bones on some occasions pushing their way down towards us. Working with the local Bahamas guides to catch fish is a large part of what makes the experience so special and I still miss fishing with them to this day.
The only cons are the sand flies and the horse flies. They will make a meal of you, even when fishing on a skiff, so be sure to wear long pants if you don't want to be swatting at your legs all day long.
The Bahamas Fly Fishing Licenses
You do need a fly fishing license to fish in The Bahamas but luckily they are very affordable ranging from $15 for a day license to $20 for a weekly license $30 for a month, and $60.00 for a year. With a license you can fish any flat on any island in the Bahamas, giving you total access.
You can buy a license online at the Go Outdoors Bahamas website. However, if you are fishing with a guide service or a lodge, chances are they will organize this for you
Fly Fishing Guide Services in The Bahamas
Guide services in The Bahamas usually consist of an individual guide who owns their own flats skiff. They all work together as a network so if one is fully booked, they will find you another great guide to fish with.
Alvin Greene
Alvin is a renowned bonefish guide on South Andros and you are guaranteed to have an awesome day on the flats with him.
JR Albury
Address: Abaco Island
Website: NA
Phone Number: + 1 (242) 475 1892
JR Albury is another excellent Bahamian fly fishing guide that knows the flats of Abaco like the back of his hand.
Phil & Mel's Bonefishing Guides
With some of the most knowledgeable guides on Grand Bahama, you'll be shown around the incredible eastern end of the island which is full of fish.
Fly Fishing Lodges in The Bahamas
There are a lot of bonefish lodges in the Bahamas and a lot of them are quite high-end. The guides are excellent, the skiffs are world-class, they have fly shops and fly gear for rent, the accommodation is super comfy, and the food is amazing too.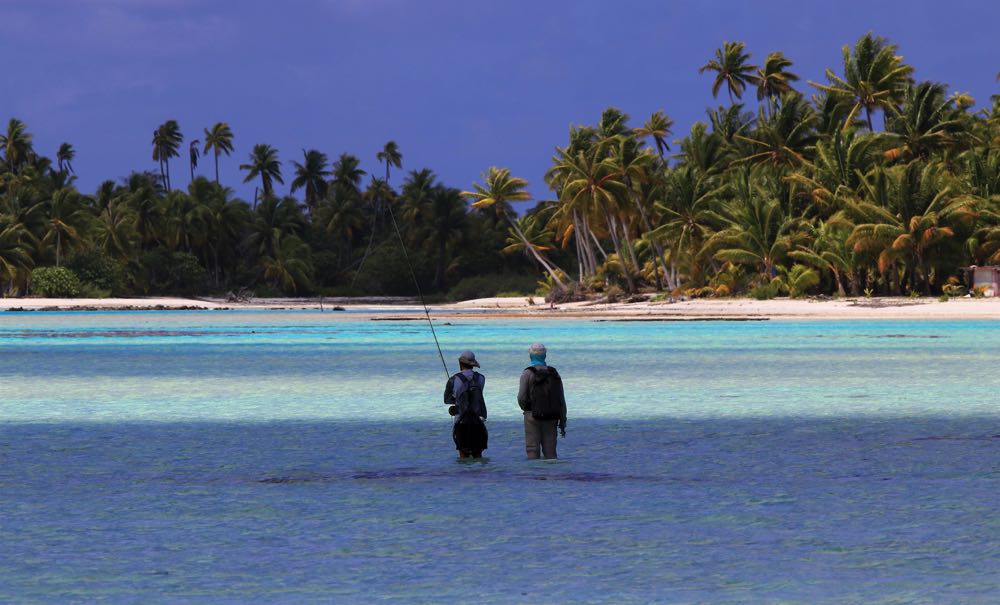 Bair's Lodge
With the beach as its garden, Bair's Lodge could not be more idyllic plus with their amazing guides and fleet of Maverick skiffs, you are guaranteed an amazing time. You can wade out off the front on the home flat in the early mornings or late afternoons before/after fishing, and the service is second to none.
Abaco Lodge
The sister lodge of Bair's, Abaco Lodge is on the Marls and offers the same quality of service, guides, and skiffs as Bair's. You have a higher chance of hooking a permit or a tarpon at Abaco than at Bair's.
East End Lodge
Sitting right next to the incredible fishery of the East End of Grand Bahama, this lodge is the best place to stay on the island if you want to chase bonefish, tarpon, and permit.
Soul Fly Lodge
Soul Fly Lodge has some of the best guides in the world and it is located in one of the best permit fisheries in The Bahamas, the Berry Islands. If a Bahamian permit is what you are looking for, this is the place to head to.
Conclusion
With such excellent fly fishing infrastructure from amazing guides to world-class lodges, you can go fly fishing in The Bahamas in luxury or try your hand at DIY. However, I'd always recommend doing at least one guided day to start off with to get you into the rhythm of the flats and spotting bonefish, as they are almost invisible.
Fly Fishing The Bahamas, as you have probably noticed, holds a special place in my heart and I can not recommend fly fishing there enough. It is the perfect place to take you from a freshwater fly fisherman to a saltwater one, and once you get a taste for it, you will find it hard to stop.
Disclaimer: IntoFlyFishing.com is a participant in the Amazon Services LLC Associates Program, as an Amazon Associate I earn from qualifying purchases. Please see our Privacy Page for more information.