As an Amazon Associate I earn from qualifying purchases.
This is a huge topic and there is a lot of saltwater out there! Strangely though, despite the wide range of locations and species, a handful of flies are likely to catch you fish anywhere in the world.
I have been fishing for the best part of fifty years and at first, I think all anglers start out as I did, by looking for the magic formula and the local secret ingredient fly pattern. Sometimes a local variant is vital of course, but it is surprising how often a small number of basic patterns can do service across the world.
Order The Best Saltwater Flies on Amazon
As an Amazon Associate, I earn commissions from the below buttons & links.
My local sea fishing (the south coast of the UK) is primarily for sea bass or mackerel – but I have also visited locations into the South Atlantic and stations en route including Ascension Island and it is amazing how the top saltwater fly patterns with key attributes work in fly fishing destinations around the world.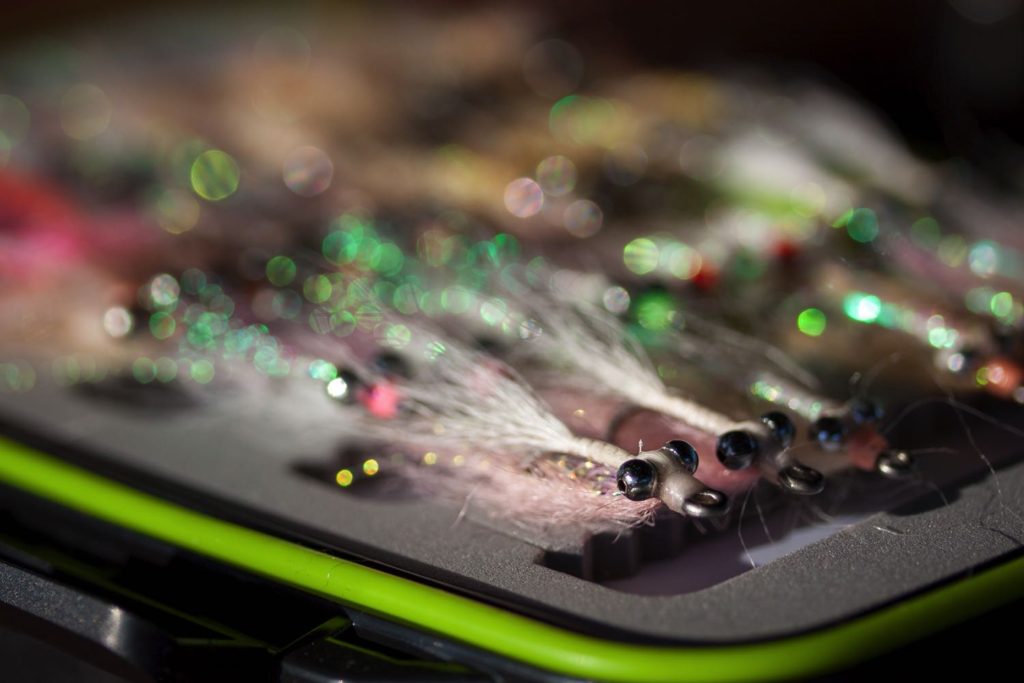 Fly fishing for saltwater predator fish is a relatively new facet of the fly fishing sport only a few decades old, but there is already a body of classic patterns out there – almost too many to choose from.
This article will review some of the greatest Saltwater flies with which to stock your fly box, wherever you fish and provide you with a capsule collection of the most effective saltwater fly patterns.
As a part of the Amazon Associates Program and other affiliate programs, Into Fly Fishing® may receive a comission if you order products through links on this website.
What Makes A Great Saltwater Fly?
Here we have a look at the classic trio; action, imitation, and attraction, to judge the qualities of saltwater flies.
By and large saltwater fly fishing involves searching for larger species of fish than when trout and freshwater fishing – and so larger imitation prey (the fly) and the potentially more turbulent saltwater environment means that conditions favor mobile and soft hair or long feather patterns.
In my experience even hungry small mackerel seem to have eyes larger than their stomachs and will attack larger lure patterns than their freshwater fish cousins might usually entertain.
Action
In the saltwater environment action is likely to be exaggerated. Use of hair wing patterns (or poppers or plugs) will all play to the marine environment of eddies and cross currents and tidal movement to animate the lure and bring it to the attention of the predator fish.
Imitation
This may be a bit more 'general' and less specific – sea fishing with the fly tends (a sweeping generalization here) to focus on presenting something like fish fry with less emphasis on precise imitation. There are of course exceptions to the rule.
Attraction
This may be a key element in saltwater fishing, and may also depend on where you are fishing. Tropical toothy critter fishing in strong sunlight may rely on more attractor triggers than say fishing for European sea bass.
And one other thing…
Of course, fishing saltwater with the fly places extra demands on your kit, and this includes the flies too. Long-lasting fly patterns will be tied on stainless steel hooks but rinsing everything off in freshwater at the end of a session should help prolong the life of rods, reels, and flies too.
Basic Types Of Saltwater Flies
The categories for saltwater flies tend to be a bit more constrained than for say Panfish. Essentially we are looking at:
Hairwings
A tying which is more readily 'fly fished' in the conventional sense in my view.
Plugs
Not really 'fly fishing' as such but some of the foam patterns are verging on plug patterns.
Poppers
Poppers certainly have a place in saltwater fly fishing and have the ability to attract by sound in addition to color and movement.
10 Best Saltwater Flies For Fly Fishing
Here I propose to give you a few of one and a few of the other – a selection of flies which originated and might work well in the South Atlantic or Pacific fishing blue water and sandy beach exotic locations, and some more imitative styles for closer to shore work originating in Europe.
But any of these should catch fish anywhere in the world.
1. Lefty's Deceiver
A classic tried and tested bright orange/red feather and hair wing pattern from Lefty Kreh which catches fish around the world. There are numerous variations (see later).
2. Oz's Live Bait Fly (also known as Oz's Live Bait Sandeel)
Probably my all-time favorite hair wing pattern for saltwater fly fishing from the shore. This pattern was developed by Austen Goldsmith and is a hair wing – brown or olive top hair stacked on a light underbody of hair, and a pair of bead eyes. Originally designed for European bass but should work anywhere.
This is mobile, relatively tangle-free, and easy to tie.
3. Sunray Shadow
This has a long and slender back wing – the density of the black coloration (of course black and white are not really colors but you know what I mean) makes this pattern readily visible to fish in murky water conditions. This started life as a bass or salmon pattern but again should catch fish anywhere in the right sized tying.
4. White Deceiver
The two lures above have dark hair in the tying – a white hair fly is useful as lighting conditions change. A variation of the Lefty Kreh tying.
5. The Classic Hairwing
This has an attractor element with tinsel wrapped body and of course a simple hairwing to add the movement and action, possibly with some dumbbell eyes – either glass or painted plug/basin chain. I reckon with the flash in the body this is the simplest fish fry imitation. The body can be built up with a thicker tinsel rope to add some texture and added flash and profile.
6. Crab Patterns
It's not all about fish fry; as the tide comes in you can expect target fish to search for and feed on small crabs which in turn are emerging to feed. Typically tied with flexible rubber legs and a weighted foam body these effective saltwater fly patterns provide some variety in your offerings. useful when nothing else is working.
7. The Clouser Minnow
There are numerous colourful variants of this pattern which is almost a style of tying rather than a specific pattern, so the original olive colour is by no means the only one to choose and bright orange and yellow may be just the ticket when out for tarpon or blue fin. I think this pattern originated in North America and has now been adopted worldwide.
8. Poppers
Mylar covered poppers have all the attractions of a noisy pop when retrieved coupled with, in effect, a fish silvery fish skin that should catch the light on a sunny day and provide added attraction as something 'alive'.
Other popper patterns may be drab and olive and sometimes the contrast is worth a change of pattern on the end of the line.
9. Cuban Shrimp
This is quite a sparse tying of the shrimp pattern with a few rubber legs to provide the movement and much less bulky than some other patterns.
My personal preference is for a slender and simple tying which is less inclined to tangle up and where the materials can be left free to move in a lifelike semblance of a small wriggling fishy thing trying to escape from a large real fishy thing. Sometimes a bit of bulk is useful though, should you need to present a larger profile to bonefish or permit in which case you might try…
10. The Avalon Fly
A classic bonefish and tarpon pattern – but the bulk of the body is kept separate from the tail. A fly with an excellent reputation.
What Do Saltwater Flies Imitate?
You will see from the list above that the typical 'best saltwater fly' represents either crab, shrimp or fish fry. These represent a simple range of basic patterns but a considerable number of variations on a theme.
Review This Post
Conclusion
So there we have ten of the most productive top saltwater flies – tried, tested and effective saltwater and predator patterns. Some originated in Europe, some in the more modern realm of warm water tarpon, bluefin, and 'toothy critter' fly fishing.
But all of which will catch fish anywhere. These favorite saltwater flies will create an excellent core fly box collection you can take anywhere and fish with confidence.
Tight lines!
Like This Article? Pin it!
Amazon and the Amazon logo are trademarks of Amazon.com, Inc, or its affiliates.