Of all the exotic places to cast a line in the world, no other place can compare to the fly fishing in the Seychelles. Its pristine beaches, secluded islands, and fish species make it the perfect fly fishing destination.
In this post, I will share with you my learnings gained during my time spent as a fly fishing guide on Seychelles' outer atolls. And, if you have ever considered or dreamed about fishing this spectacular place, its more breathtaking than you can ever imagine.
Disclaimer: IntoFlyFishing.com is a participant in the Amazon Services LLC Associates Program, as an Amazon Associate I earn from qualifying purchases. Please see our Privacy Page for more information.
Why Go Fly Fishing in The Seychelles?
Situated in the warm waters of the Indian Ocean, Seychelles comprises many islands. While the main island still offers some decent fishing, I would like to focus this post on the outer atolls.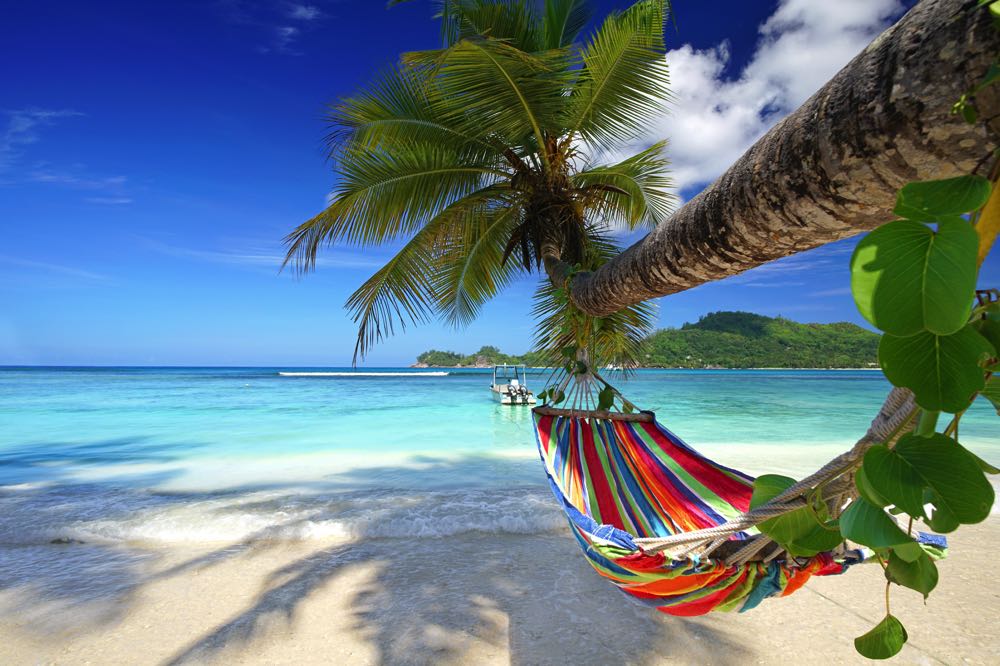 This is where you will be able to immerse yourself in a truly wild aquatic wilderness void of human influence. There is no other way to describe it than to say – it will blow your mind.
Seychelles Fly Fishing – Fish Species
One of the reasons why the outer atolls of Seychelles are so unique out of a fly fishing point of view is the variety of species you can target. Within an hour or two it is possible to catch a Bonefish and a Sailfish.
I would rate the fish below as the main targets when visiting Seychelles, but there are many more species that are equally as exciting to catch.
Bonefish
The bread and butter of every guide on the flats. Seychelles bonefish average between 3 and 6 pounds, with larger fish being caught here and there.
The most impressive thing about the bonefish in Seychelles is the sheer numbers. On these outer atolls, it's not uncommon to encounter schools of bonefish as far as the eye can see. Being able to catch 20 or more bonefish in a space of 2 hours is totally doable.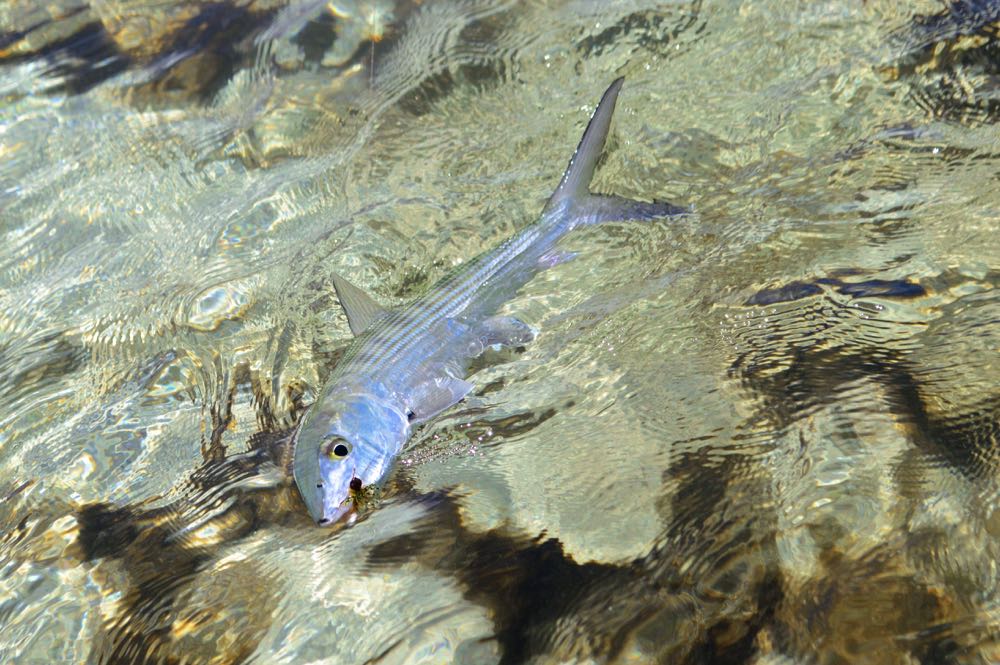 An 8 or 9 weight saltwater fly rod paired with a smooth reel and matching fly line would be perfect. These bones aren't as leader shy, so make use of 16 or 20 pounds breaking strain tippet.
Flies that work are various Crazy Charlies, Bonefish Bitters, and Pink Puffs. Every Seychelles fly box also needs the legendary Pillow Talk. For more information, check out our Bonefish Fly Fishing guide.
Triggerfish
The two main triggerfish species you'll be able to target in Seychelles are the Moustache (or Titan) and Yellow Margin Triggerfish. Both of them are caught in the same areas and with the same flies. But the presentation to them differs slightly. Don't miss our guide to Fly Fishing Triggerfish
Moustache Triggerfish
The most aggressive of the triggerfish species, many scuba divers actually fear these fish. I've also seen large specimens caught on stick baits by conventional anglers.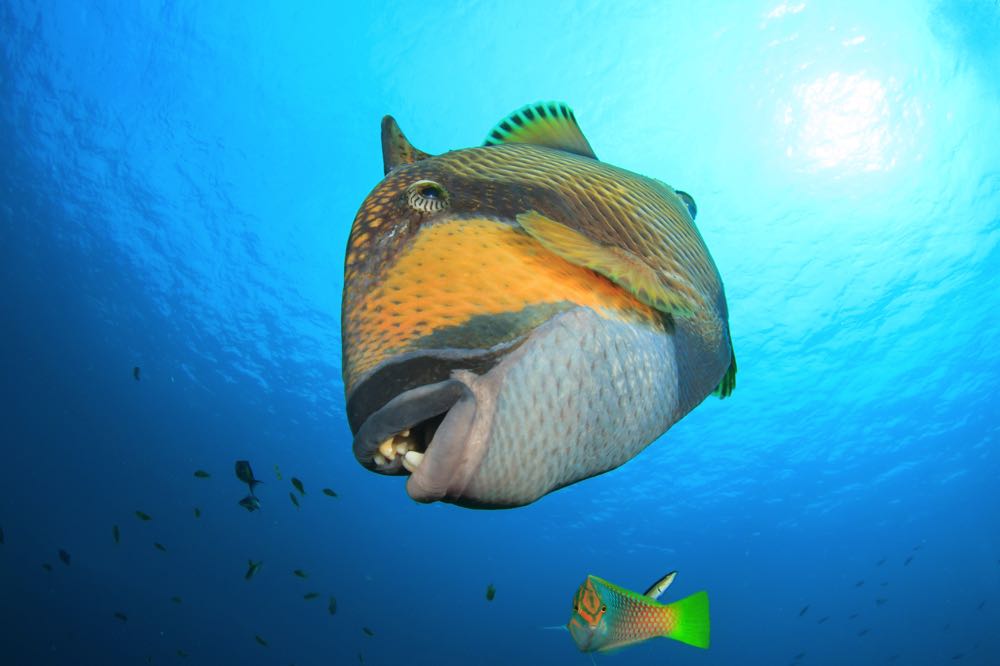 Mostly you'll find these fish tailing on shallow-water reefs and in the surf zone. When feeding on the bottom, their tail comes out of the water like a paddle. In this mode, they are the easiest to catch as their eyesight is pointed downwards and they're in "feeding mode".
Flies that work are Alphlexo Crabs, various weighted shrimp patterns, and the WMD (Weapon of Mass Destruction) by Alec Gerbec.
Yellow Margin Triggerfish
A very spooky and skittish fish. I reckon its harder to catch a Yellowmargin then a Permit.
You'll also find them tailing on shallow-water reefs or in the surf zone. But they have this undeniable knack of sensing when you are about to make a cast to them. Make use of the same flies as for Moustache Triggerfish
Indo-Pacific Permit
The holy grail of saltwater fly fishing in the Seychelles, the Indo-Pacific Permit is by far the most beautiful and prized catch you can make here. They are extremely fussy eaters and once hooked, are a nightmare to land – especially when they're about to be netted.
The fish can be found on white sand flats, especially following deeper channels. They also love the surf zone. Flies that work are small, neatly tied, Alphlexo Crabs, various shrimp patterns, and Avalon Shrimps.
Milkfish
These hard fighting, algae-eating speedsters look like massive mullet. Due to their diet and physiology, they do not produce lactic acid during a fight. This means you have a 20 to 30-pound fish that doesn't get tired. I've had clients fight them for over 3 hours before they came to the net.
Milkfish can be targeted on the outside of the reef, in deep water, where they congregate in large shoals under scum and current lines. Here they feed on clumps of algae and plankton.
You'll also see thousands of them on the white sand flats, where accurate casts will enable you to hook one. A fly that works really well, known as the Milky Dream, resembles a piece of floating algae.
Giant Trevally
The most popular fish on the Seychellois flats is the Giant Trevally. And for good reason. The image of a large black GT shooting off the back of a ray and engulfing your brush fly will forever be imprinted in your mind.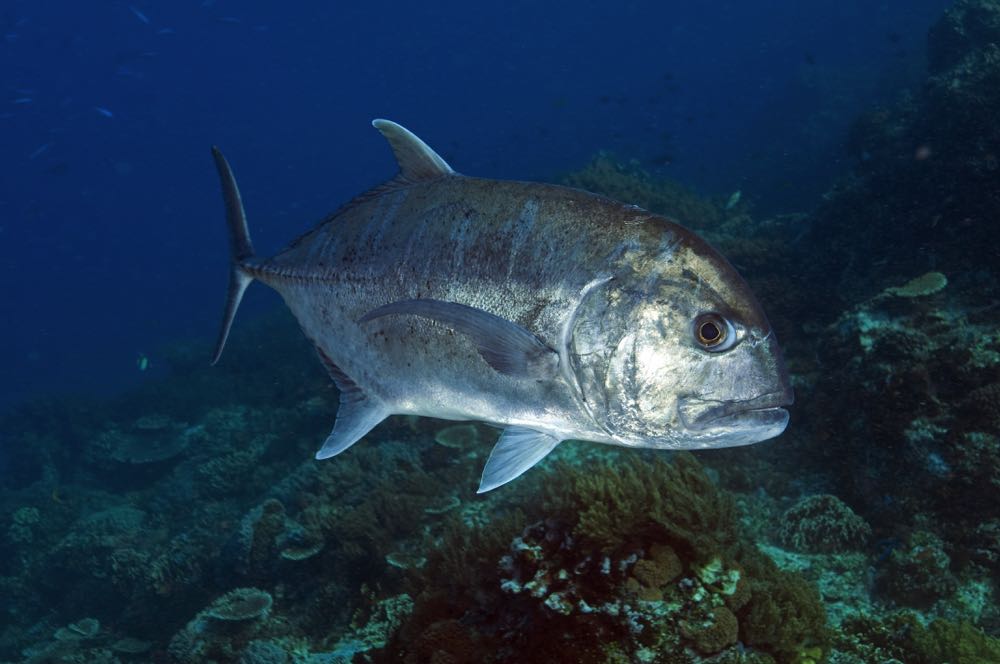 These fish can be targeted by popping deeper water reefs and walking, or poling, over the white sand flats. Be on the lookout for rays and sharks. Very often a GT will be cruising with either of these in search of something to prey on.
Flies that work include large baitfish patterns, large shrimps, and crabs. A 12 weight with a good quality reel and fly line is a must. I would also recommend using a straight fluorocarbon leader of at least 80 pounds. Ensure your reel has at least 300 yards of 80-pound backing.
If you're going to go fly fishing in the Seychelles, catching this fish might just change your life forever.
Check out our Fly Fishing Giant Trevally Guide.
Sailfish
The fastest fish in the world, and a perfect fly fishing adversary. During certain times of the year, they are very prolific, so much so that some lodges offer Sailfish Snorkeling as one of their activities.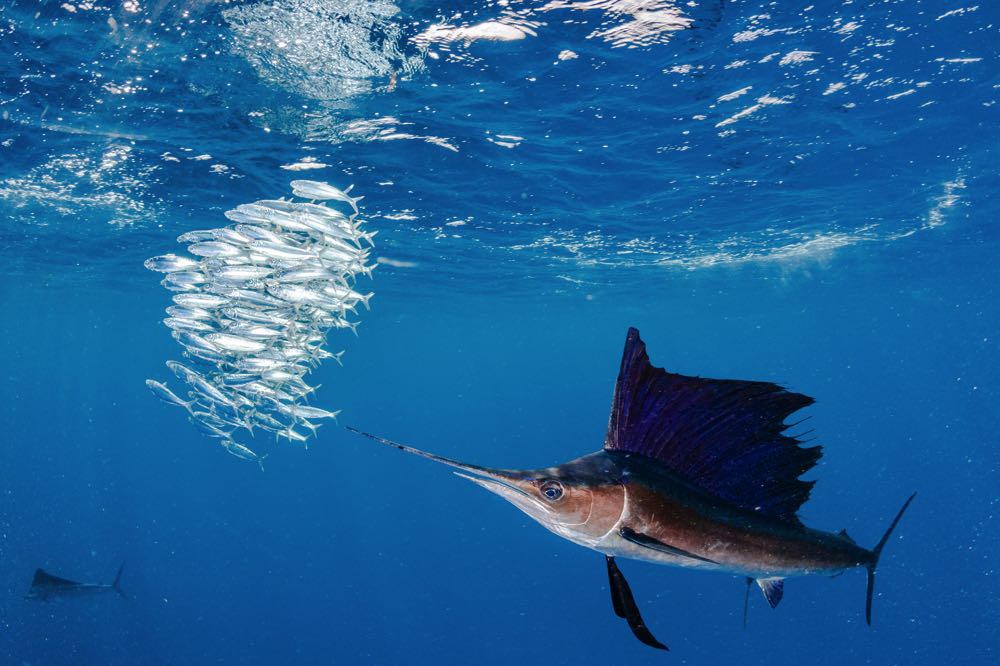 Sailfish are teased to the boat with conventional tackle (with no hooks attached), and once close enough to the boat, the fly is switched with the teasers. Once hooked, these fish run like mad dogs.
I recommend a 12 weight rod, a reel with a very smooth drag, and plenty of backing (at least 300 yards). Mostly, the fight doesn't drag on too long.
What To Pack for Fly Fishing in Seychelles
The outer atolls of Seychelles are harsh and remote, therefore, packing the right fly fishing equipment is essential. Most of the flights to these islands have severe luggage weight restrictions.
Packing for a trip to these islands can be quite tricky, but here I have made a list of things that I would pack for a week's fly fishing in Seychelles.
Clothing
It's not necessary to pack loads of clothes, only take what you need:
Fishing Clothes
Two sets of long fishing pants. You can alter these every day to make sure they get washed and dried properly. If you want to wear shorts, make sure you have long tights to keep the sun off your legs;
Two sets of short or long tights. This will help with chaffing.
One or two pairs of wading socks, either wool or neoprene.
One pair of gravel guards. Some neoprene wading socks have integrated gravel guards.
One pair of suitable saltwater wading boots. An extremely important piece of kit.
Two longs sleeve shirts. These are altered each day, with your pants.
Two buffs. This helps protect your neck and face from the sun.
A good pair of polarized sunglasses. Take a cheaper pair as a backup – you don't want to be caught on the flats with naked eyes. Make sure you have a catcher or lanyard attached to them to prevent them from falling in the water.
A cap or wide-brimmed hat for sun protection.
A pair of sun gloves for your hands.
Pack a rain jacket. You will get cold when you're wet (due to rain or wading).
A wading belt.
Casual Clothes
A pair of flip-flops or comfortable open shoes for the evenings.
One or two short-sleeved shirts.
A pair of shorts.
A light jersey or softshell.
Gear
There are thousands of things that you can take to Seychelles. I'm going to keep it to the bare minimum – these are the things you should take.
A 9 weight saltwater fly rod. This is the rod that you'll be spending 80% of the time with. Make sure you take a backup rod as things break. If you're on a bit of a budget, taking a cheaper backup 9 weight rod is a good idea.
A 12 weight saltwater fly rod. Make sure it's as good quality as you can afford. Take a backup rod as well.
Saltwater specific 9 weight and 12 weight fly reels. If you buy something of high quality I would say you can take the chance of not having a spare for each. Before the trip put one new backing on both reels and test the drags.
Two 9 weight floating lines.
Two 12 weight floating lines.
A spool of extra backing for the 12 weight reel.
Leader material for your 9 weight rig will be 25lb, 20lb, and 16lb (all fluorocarbon).
For your 12 weight leader material, take 100lb Suffix Zippy, 80lb, and 60lb fluorocarbon.
For the 9 weight rig's flies, Alphlexo crabs (size 2 and smaller), Crazy Charlies, Avalon Shrimps all tied on really good hooks.
On the 12 weight side, take Brushflies, Sempers, Squid, and Clousers. I only recommend these flies tied on Gamakatsu (SL12S and SC15-2H) and Owner (Aki and Circle) hooks.
A good fly box to carry all of your flies
A good pair of pliers in a sheath that can be attached to your wading belt.
A fully waterproof fly fishing backpack that can be submerged underwater.
It's always nice to have memories of these caliber trips, so make sure you pack a camera. These days the phones' cameras are so good, just make sure you get a waterproof housing for it.
Optional Extras
Some other things that you may want to bring on the trip that aren't necessarily a necessity, but will likely be on every fly angler's packing list.
Best Fly Fishing Spots in Seychelles
If you are looking for the best fly fishing spots in Seychelles, you'll have to travel to the outer atolls. Unfortunately, this comes at a premium, but if you are able to do so, your life will never again be the same.
Atolls in Seychelles
Here's a summary of some of the most popular atolls to fly fish in Seychelles.
Alphonse Atoll
📍Location: Alphonse Atoll, Seychelles
From Mahe, Alphonse Atoll is about a 3-hour flight with a private charter. This is the home base of Blue Safari. The atoll itself offers excellent fishing, especially if you're willing to walk to the furthest corners.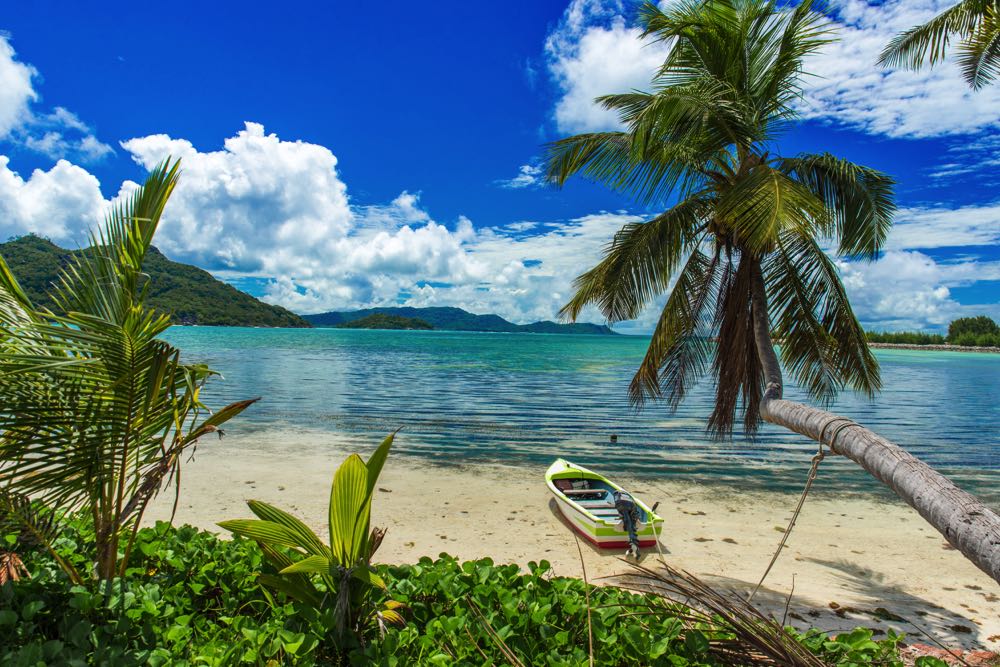 The bonefish are quite skittish on Alphonse, I would recommend fishing a fluorocarbon tippet of a maximum of 16 pounds. Also, make use of small, sparsely tied flies with little to no flash.
For Giant Trevally I would recommend big tan and white Clousers on 80-pound fluorocarbon leaders.
St. Francois Atoll
📍Location: St. Francois Atoll, Seychelles
While staying on Alphonse Island, you have the option to fish St. Francois atoll as well. This obviously comes at a premium, as they only allow 12 rods per week on the atoll. This ensures fishing pressure is kept to a minimum.
Large Bonefish drops are very common, and catching 20 or more bonefish per day is a regular occurrence. Other species that you'll encounter are Giant Trevally, Triggerfish, Milkfish, and Permit.
Cosmoledo Atoll
📍Location: Cosmoledo Atoll, Seychelles
Giant Trevally capital of the world. This atoll produces more Giant Trevally than any other atoll. Its large surface area and low fishing pressure ensure that this remains true year after year. Some weeks see more than 300 Giant Trevally tailed, which is totally mind-blowing.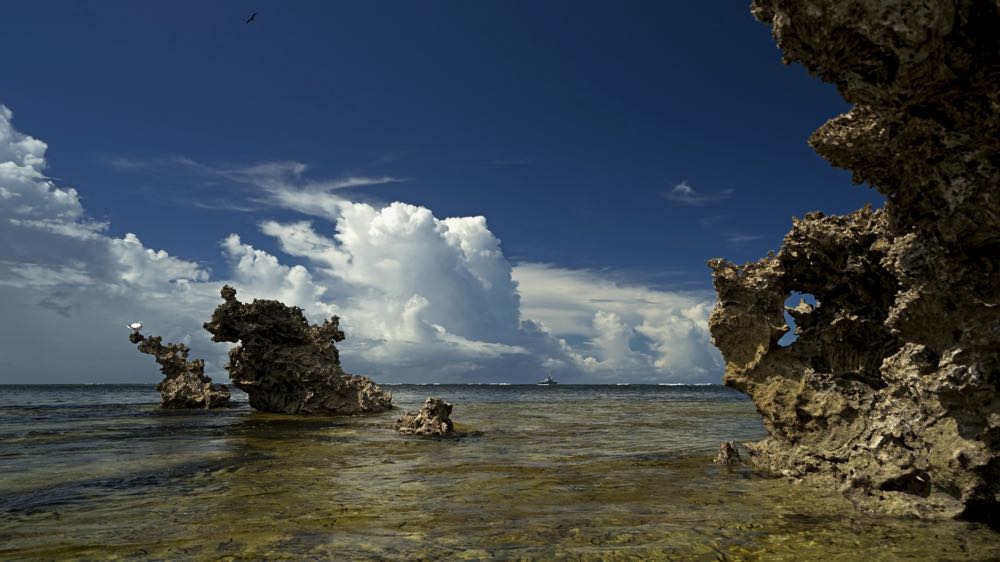 Cosmoledo also is home to very large bonefish and has a healthy population of Indo-Pacific Permit.
Astove Atoll
📍Location: Astove Atoll, Seychelles
One of the most picturesque atolls in Seychelles, Astove has a huge, shallow lagoon. Countless bonefish swim around in this milky lagoon, together with giant trevally and permit.
If you are looking at targetting triggerfish, the surf zone around the island is an excellent area. Here, you also have shots a large trevally species and Bohar Snappers.
Farquhar Atoll
📍Location: Farquhar Atoll, Seychelles
A very large atoll that produces amazing fish year after year. Because of its size, like Cosmoledo Atoll, it experiences less fishing pressure than the smaller atolls.
Here you'll find the regular Seychelles species, but Farquhar is a well-known destination to target Bumphead Parrotfish on fly. These are tremendously large fish with a parrot-like beak. They are targeted on shallow flats making use of 10 weight fly rods and large crab imitations, like Alphlexo Crabs.
Seychelles Fishing Season
The fishing season in the outer atolls of Seychelles stretches over a 9 month period. During the off-season the Eastern Monsoon winds hit most of these places, making it impossible and even dangerous to be on the water.
During the 9-month fishable time frame, most of the species listed above are around in enough numbers. The weather also remains fairly constant, with small patches of squalls coming through every couple of weeks. Here are some of my favorite months during the season.
Seychelles Fly Fishing – September
The first couple of weeks of the season are, to me, the most exciting. You still have the slight presence of the Eastern Monsoon, making it quite hard to fish.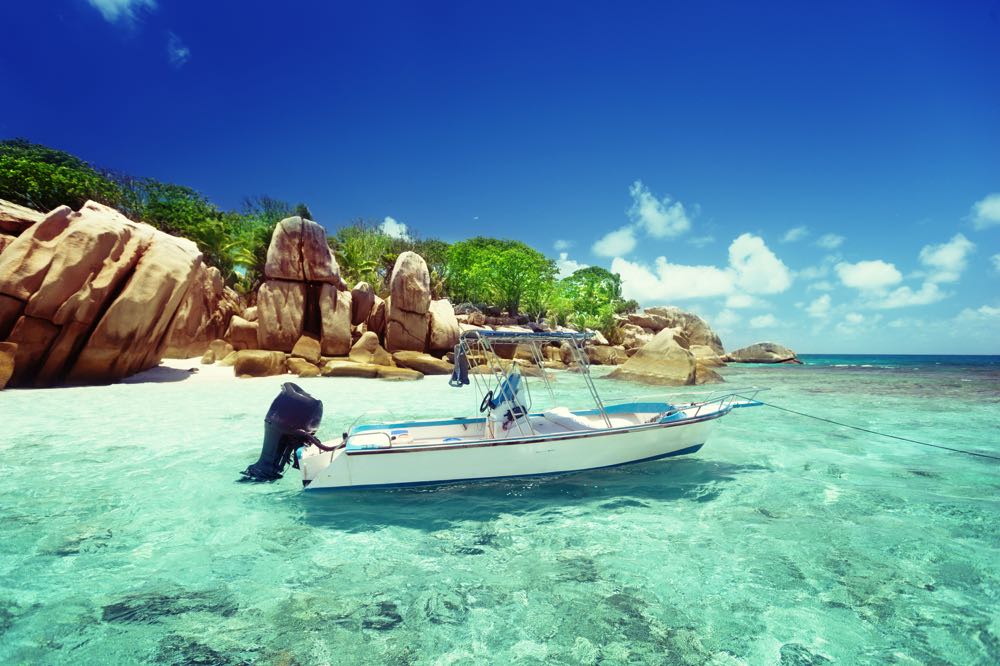 But with this wind, you get a substantial movement of cool water. The fish have also been "rested" for 3 or 4 months, making a noticeable difference in the catch rates of the more fussy fish (like Permit)
Seychelles Fly Fishing – January
The weather is prime over this time of year, with only slight breezes. This makes it easier for novice anglers as they don't have to battle against strong winds.
Seychelles Fly Fishing – May
The incoming Eastern Monsoon winds bring in cooler water, blowing in new life into the atolls.
Tide Cycles and Moon Phases
As with most saltwater fly fishing, choosing a specific tide and moon phase is important. The two most extremes of these phases are known as neap and spring tides.
Neap Tide
Neap tide occurs every two weeks when the resultant force between the sun and the moon on the earth's oceans is the least. This coincides with half-moons.
The tidal height difference between low and high tide is the least during neap tide. This means that there will a low movement of water. Neap tide, therefore, is good when targeting fish that required less movement of water. Typical species include triggerfish and permit.
Spring Tide
Springtide, also occurring every two weeks, is a result of when the resultant force between the sun and moon on the eath's oceans is at its maximum. This coincides with new and full moons.
The tidal difference between low and high tide is extremely large during spring tide. This means that there will be a high movement of water.
This hight fast movement of water gives the fly angler small time windows of opportunity, but in general results in fast pace fishing. All trevally species love this high flow of water. Milkfish also thrive on the current lines created by the high movement of water.
Best Fly Fishing Lodges in Seychelles
There are only two groups that operate in the atolls that I have mentioned. They are dedicated to keen anglers and most importantly, to the sustainability of the fisheries.
Bird Island Lodge
Bird Island Lodge is a stunning eco property nestled among coconut palms on an old plantation on Bird Island. The lodge has individual chalets that span the westernmost part of the island.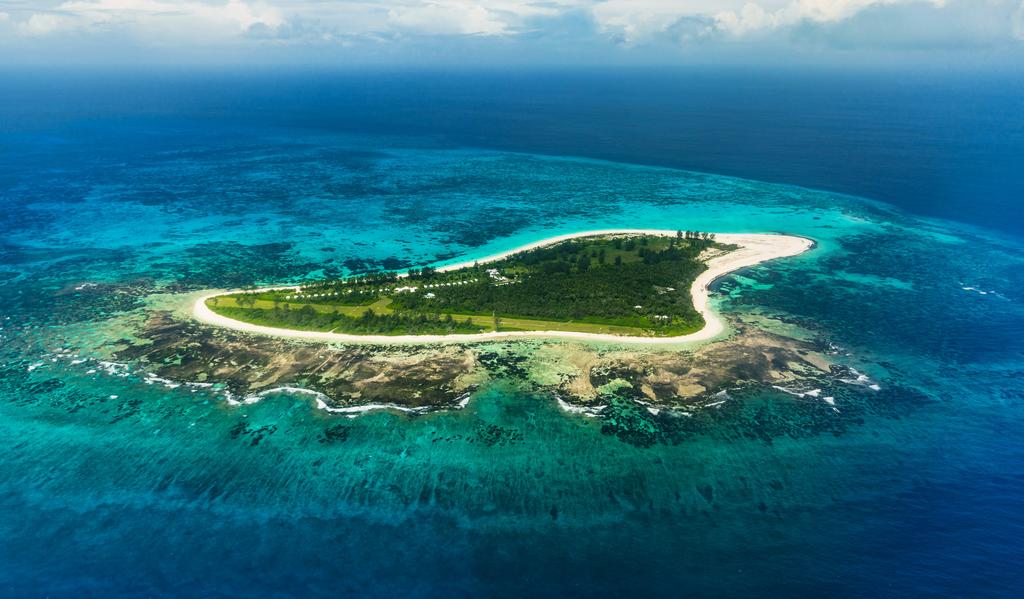 There are plenty of places for fly fishing around Bird Island, but you'll have to bring your own gear.
Blue Safari
Previously known as Alphonse Fishing Company, they have the largest footprint on the outer atolls of Seychelles. They have an ultra-luxurious lodge on Alphonse Island, a lodge on Astove Island, and a fisherman's lodge on Cosmoledo Atoll.
Being so far geographically removed from the outer world, and offering a level of unparalleled luxury to its guests, these lodges are pricey.
However, they have excellent guides, boats, and other activities for the family.
Fly Castaway
Fly Castaway operates mainly on Farquhar and St. Brandon's atolls in Seychelles. They have excellent guides and offer amazing accommodation. These atolls are also reached by private charter from Mahe.
Conclusion
If you are looking for a once-in-a-lifetime fly fishing experience, it doesn't get better than the outer atolls of Seychelles. The quality of fish and well-managed atolls will ensure that you get a shot at your dream fish.
The incredible bonefish numbers, infuriating triggerfish, and seductive permit will haunt your sleep forever. I believe that once a fly fisherman experiences a giant trevally take in person, on a fly that he cast, he will never be the same again.
There's a couple of screws that get undone in your mind. Your priorities in life change.
I hope that this post has shed some light on the often confusing topic of Seychelles fly fishing. If you have any questions regarding targeting these fish, or would like more detail, just leave a comment below. I would be happy to assist with follow up posts.
Some images in this post are courtesy of Shutterstock.com.
Like This Article? Pin it!