As an Amazon Associate I earn from qualifying purchases.
Spain offers an abundance of exciting fly fishing opportunities that are sure to leave you satisfied. I've been a dedicated fly angler for the past fourteen years and have enjoyed exploring various locations across Spain, including its picturesque Canary Islands, in pursuit of the finest fly fishing experiences.
Spain's rugged landscapes, complemented by crystal-clear waters and warm weather, make it an outstanding destination for fly anglers. In this article, we'll dive into the top four locations for fly fishing in Spain, encompassing rivers, lakes, saltwater, and distinct regions.
More Fly Fishing Destinations
My Experience Fly Fishing in Spain
I've had the pleasure of fishing in the Canary Islands, with the majority of my time spent on Lanzarote. I've targeted a diverse range of fish, including bass, bream, boga, barracuda, ornate wrasse, and many others.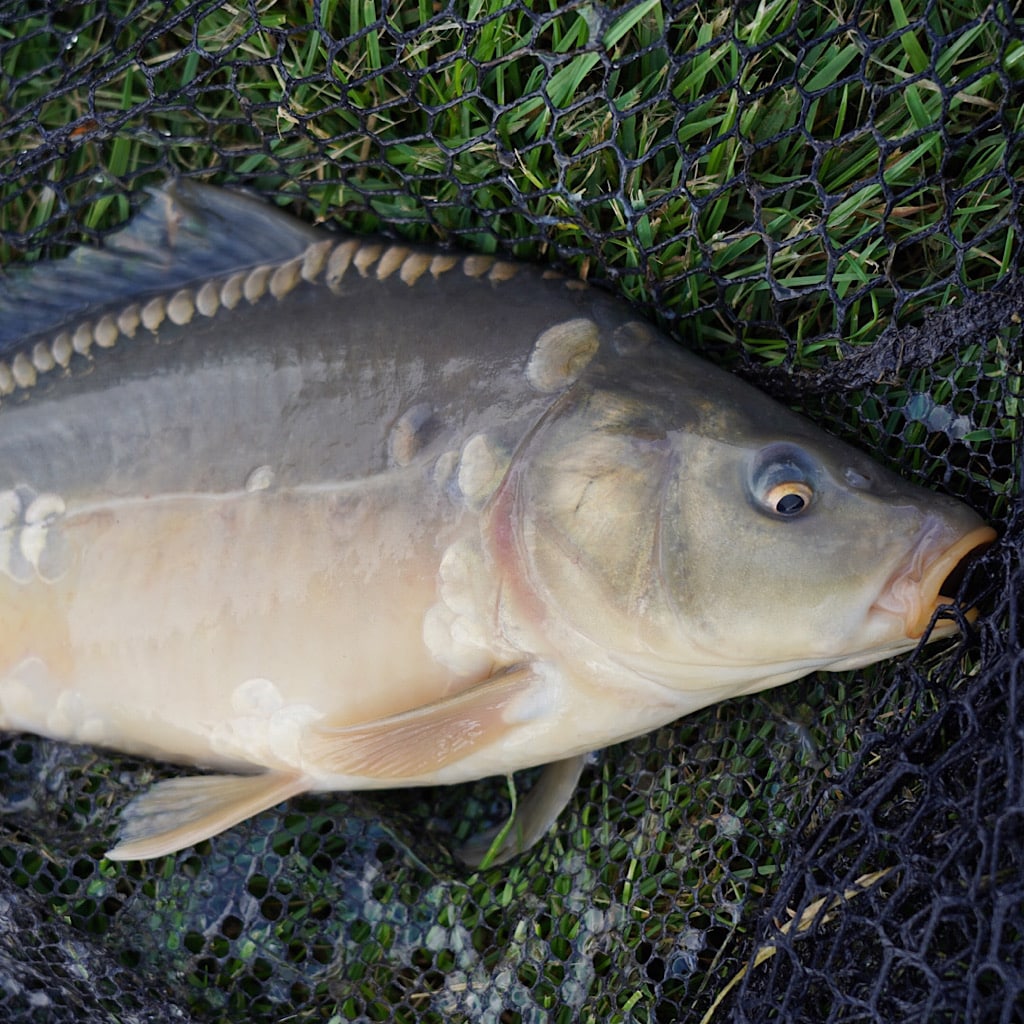 Engaging with the locals was a regular practice, allowing me to discover the prime spots for fishing and their preferred techniques. In multiple instances, I received invaluable assistance from locals in finding tackle stores and learning new fishing techniques.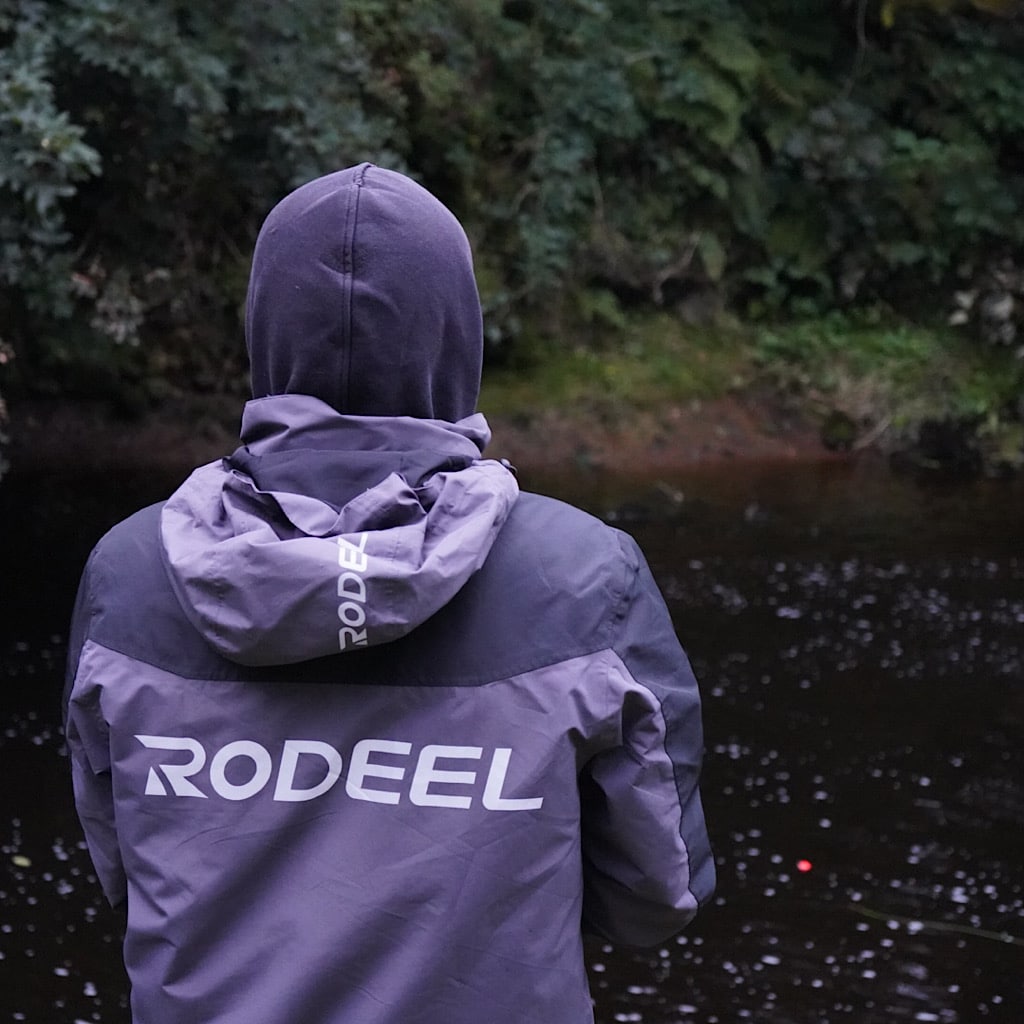 My fishing expeditions were typically in the company of my brother and father, and we covered a wide expanse of water. This approach enabled us to encounter a greater variety of species and rapidly gain expertise in navigating the waters of Spain.
Why Fly Fish in Spain?
Spain's fly fishing is truly exceptional for numerous compelling reasons. It's challenging to select just a few reasons why I highly recommend Spanish fly fishing.
Spain boasts a remarkable diversity of species that can be targeted, whether you're interested in saltwater or freshwater angling. From sea trout, barbel, and Atlantic salmon to parrotfish, bream, mullet, and bass, Spain offers something for every angler.
10 Best Trout Rivers in Spain
Spain's diverse landscape is intersected by rivers that stretch across the entire country, offering opportunities to target sea trout, Atlantic salmon, barbel, and more. Let's now delve into Spain's top-rated trout fly-fishing rivers.
River Ebro
The Ebro River is Spain's longest river, located beside northeastern Spain, Zaragoza this river is superb for wild trout and is home to a population of giant catfish that can weigh over two hundred pounds.
It is also one of the few rivers in Europe that hold the European eel, the Ebro is an open environment that does not require the ability to roll cast nor the use of a 4×4 vehicle.
River Jerte
Located in Western Spain in the Jerte Valley, this river is home to a unique species of native trout called the Mediterranean Brown Trout. The Jerte River has crystal clear waters, making it a perfect location for fly fishing without the need for a 4×4.
River Tormes
The Tormes River, which flows through the center of Spain close to the historic city of Salamanca, is a popular fly fishing spot. This river offers a variety of terrain, including open stretches and pockets of isolation, and is accessible without the need for a 4×4, to entice its resident trout, local anglers frequently use flies like the Blue Winged Olive.
River Noguera Ribagorzana
The Noguera Ribagorzana, located in northeastern Spain among the majestic Pyrenees, offers trout fishing amongst rapids and waterfalls which the rare Pyrenean brook trout inhabits, a species that is only found in the Pyrenean mountains.
Some of Noguera Ribagorzana's more secluded areas may require a 4×4 to access.
River Miera
The Miera River, which flows through the Cantabrian Mountains in northern Spain, offers excellent trout fishing opportunities. It is known for annually holding a fishing competition that draws expert anglers from all over Spain to compete for the title of being the best trout fisherman in the area. For the most part, areas along the Miera may be reached without a 4×4.
River Deva
The Deva River offers a pristine haven for trout fishing and is tucked away within the Picos de Europa National Park in northern Spain. If you're fortunate, while fishing along its banks, you might also get to see the local Cantabrian brown bear, all without the need for a 4×4.
River Alberche
The Alberche River, which flows through the scenic Sierra de Gredos in central Spain, appeals as a serene trout fishing sanctuary.
A river with a rich history and centuries-old stone bridges will give your fishing trip an amazing touch of tradition as well as a variety of fish species, including barbel and chub, extending the range of fishing opportunities beyond its trout.
River Sella
The Sella River meanders through the scenic Asturias region in northern Spain and is renowned for its natural beauty and superb trout fishing. The open setting of the river, which is reachable without a 4×4, has vast stretches that make casting easier. In these waters, flies like the Royal Coachman work well.
River Guadalquivir
Located in southern Spain, the Guadalquivir offers a unique trout fishing experience, in addition to trout, this river holds European pond turtles and the Iberian barbel. Without a 4×4, anglers can access the wide, slower-moving river.
River Duero
The Duero River meanders through northwest Spain and is linked to the famed Ribera del Duero wine region. Fishing does not require a 4×4 and flies such as the elk hair caddis fish well on this river.
10 Best Trout Lake Lakes in Spain
Spain boasts a wealth of abundant lakes ideal for fantastic trout fishing. In this section, we will explore the ten best trout lakes that grace Spain's landscape.
Lake Sanabria
Lake Sanabria reigns as the largest glacial lake on the Iberian Peninsula. Its crystal clear waters teem with an abundance of trout, notably the prized local subspecies of Iberian trout, making it a cherished destination for fly fishing enthusiasts.
Furthermore, the lake has a small island named "La Culebra," with a centuries-old chapel placed in the center of it.
Lake Enol
Located in northern Spain's Picos de Europa National Park, Lake Enol is home to a flourishing trout population. The lake is a part of the Covadonga Lakes, a UNESCO Biosphere Reserve, and is easily accessible without the need for a 4×4.
Lake Alcántara
The Alcántara Dam on the Tagus River forms Lake Alcántara in the western Spanish province of Cáceres, providing a haven for trout fishermen. Flies such as the bloody butcher work well on this lake and there is no requirement for a 4×4 to access it.
Lake Riao
Lake Riao is a reservoir in the province of León that is encircled by the Picos de Europa and Cantabrian Mountains. The original Riao's sunken town is located under the clear waters. It occasionally reemerges during dry periods, providing a bizarre window into history.
Lake Lanuza
Nestled in the Spanish Pyrenees, not far from the quaint village of Sallent de Gállego, Lake Lanuza is a serene reservoir surrounded by breathtaking mountain views.
Despite having a strong trout population, Lake Lanuza is more than just a place to go fishing. It serves as a venue for cultural events and music festivals, fusing nature and entertainment in a way that appeals to both culture lovers and fishing fanatics.
Lake Isoba
Located in the León province, Lake Isoba is a tranquil lake surrounded by the Riao Mountains that makes a beautiful backdrop for trout fishing. Its clear waters allow you to see trout approaching your fly making it a commendable spot for angling. This location is great for impaired anglers who require easy access to fish.
Lake Iznájar
The largest reservoir in Andalusia, Lake Iznájar is located in the province of Cordoba in southern Spain.
There is no requirement for a 4×4 and this lake fishes well using fry flies such as the caddis and daddy long legs.
Lake Mauricio
Located in the Catalan Pyrenees' Aigüestortes i Estany de Sant Maurici National Park, Lake San Mauricio sparkles as a beautiful lake that is cherished by trout fishing lovers. The captivating vistas of the surrounding peaks and the vast network of hiking routes encourage exploration while you target the abundant trout in this water. This lake has notoriously good fishing at sunrise and fishes well using a French partridge.
Lake Casares
Located in the province of Cáceres, this quiet reservoir is surrounded by the scenery of Extremadura and is ideal for trout fishing. The lake is a fantastic spot for birdwatchers in addition to waterfowl. Plasencia, a nearby town with a rich architectural heritage, provides a charming setting, making the lake easily accessible without the requirement of a 4×4.
Lake Cueva
Lake Cueva is a hidden treasure beloved by trout anglers and is located deep within the Picos de Europa National Park. This lake, which is reachable by a short climb, is surrounded by towering limestone cliffs which allow for astounding clarity that provides for an extraordinary fishing experience.
Saltwater Fly Fishing in Spain
In Spain, the finest saltwater fly fishing experiences are found within the Canary Islands as well as the Balearic Islands.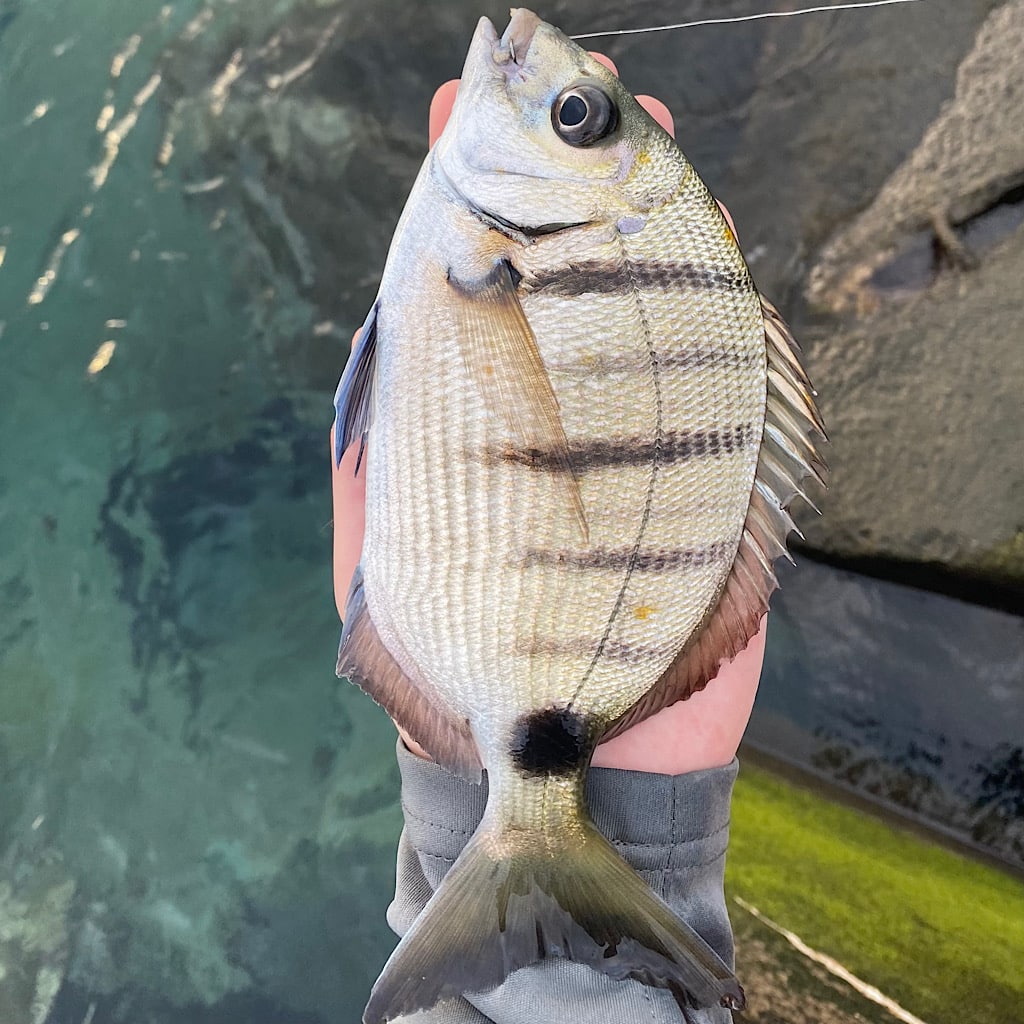 I personally prefer the Canary Islands which comprises eight main islands, and in this section, we will provide information about each of these islands and the species you can catch there.
Lanzarote
For saltwater fly fishing, the Canary Islands' Lanzarote is a hidden gem. Casting lines into the Atlantic has a distinctive backdrop thanks to its volcanic coastline. In its beautiful waters, anglers can pursue species like bonefish, mullet, and barracuda.
Tenerife
Another Canary Island, Tenerife, is a favorite choice for fly fishers due to its unique aquatic ecosystems, which are home to a variety of species like parrotfish and ornate wrasse. Tenerife is the perfect location for fly fishers of all skill levels due to its warm, clear waters, and professional fishing charters.
La Graciosa
Fly fishing fans will find a lonely paradise on the smaller island of La Graciosa in the Canary Islands. Its pristine waterways are home to fish like permit and snapper and provide a tranquil, unspoiled fishing experience.
Fuerteventura
Many different species, including boga and bream, can be found in the warm, clear seas surrounding the island.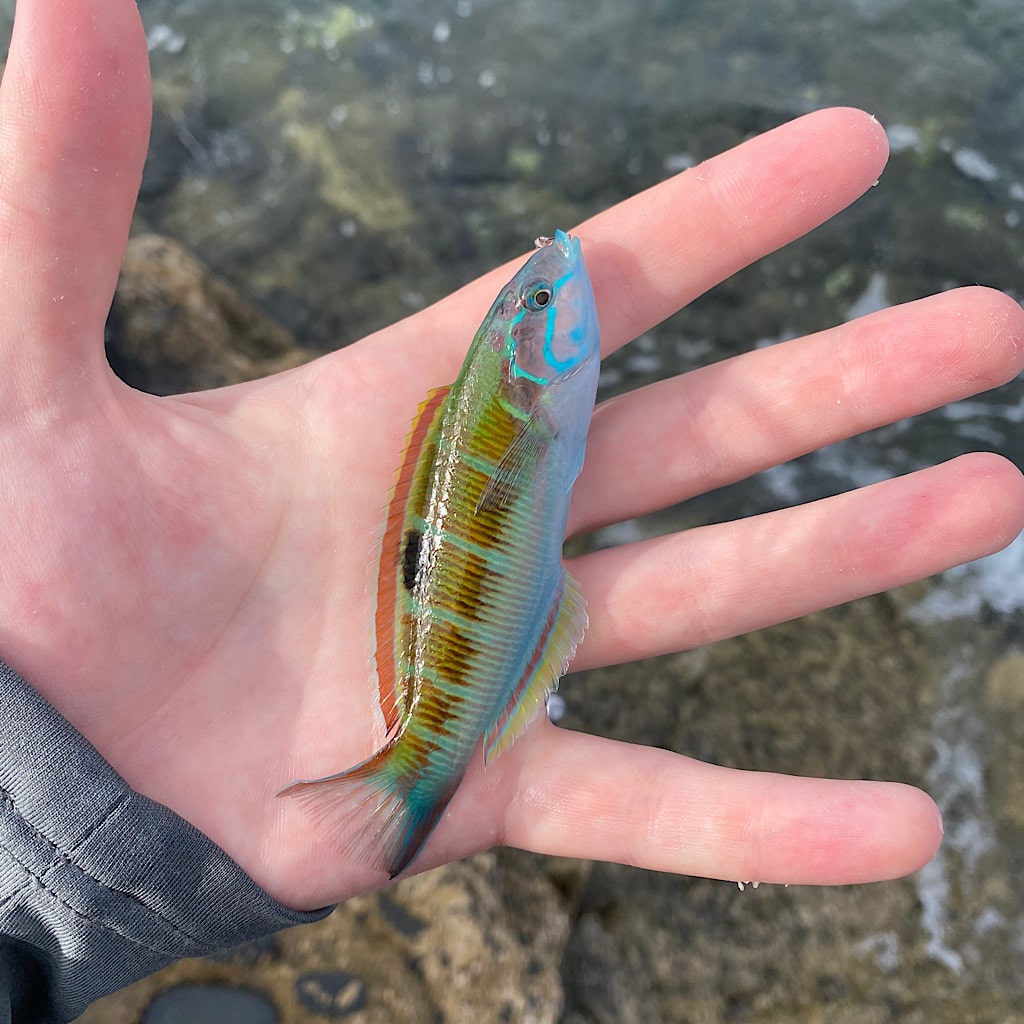 The top-notch fishing facilities, knowledgeable guides, and stunning scenery on Fuerteventura make it a popular destination for fly fishing lovers.
Gran Canaria
Along its scenic coastline, Gran Canaria, the second-most popular island in the Canary Islands, provides a wide variety of fly fishing options. Gran Canaria's waters are ideal for a variety of fly fishing techniques, from chasing furious bonito in the surf to stalking mullet in the flats.
La Gomera
La Gomera in the Canaries is a beautiful island that provides an exceptional saltwater fly fishing experience. Anglers can test their skills with species like barracuda and sea bass.
El Hierro
The smallest of the Canary Islands, El Hierro, is a fly fishing haven for anyone seeking seclusion and pristine waters.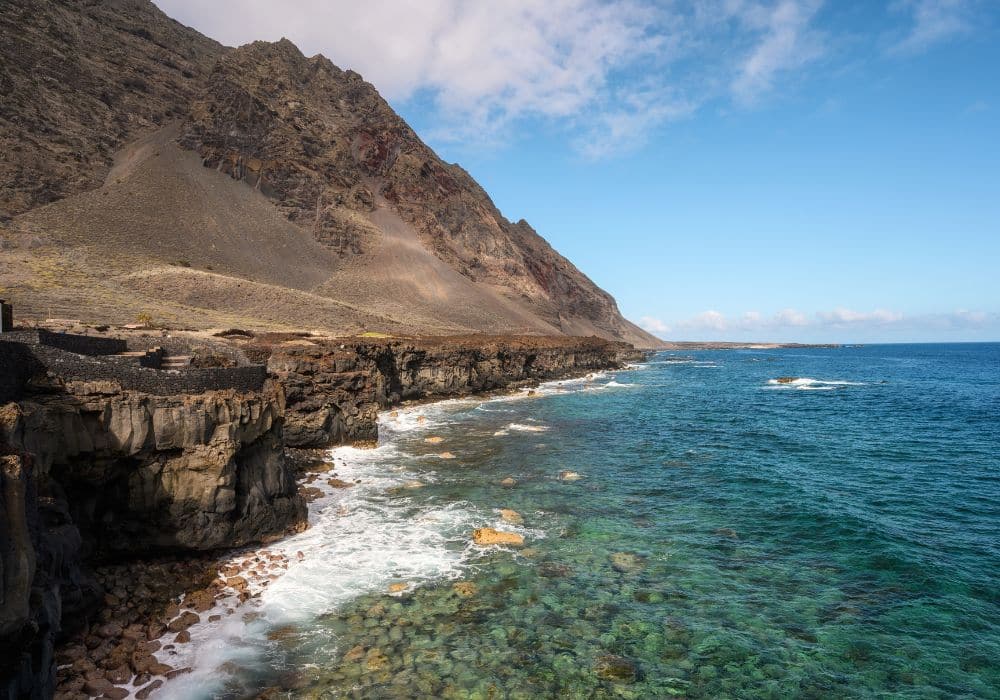 Because of the island's volcanic past, it has a distinctive underwater terrain that serves as a haven for species.
La Palama
Many game fish, such as dorado, mackerel, and others, can be found in its crystal-clear waters. La Palma is a location where fly fishermen can combine their love of fishing with exploration and an appreciation of the island's natural beauty thanks to its lush landscapes.
Fly Fishing in Spain Regions
In this section, we will delve into the six distinct regions that make up Central Spain, including the Balearic and Canary Islands.
Aragon
This region of Spain's northeast is home to a variety of fly fishing options. The Cinca, Veral, and Ara rivers, which are home to a large population of brown trout, are just a few popular locations. Aragon is a popular location for fly anglers because its reservoirs and lakes offer excellent opportunities for carp and catfish fishing.
Catalonia
Catalonia offers a variety of fly fishing opportunities due to its varied geography, which stretches from the Pyrenees to the Mediterranean coast.
The Ter, Noguera Pallaresa, and Segre rivers are just a few of the high-altitude streams in the area where fishermen can pursue trout and grayling.
Andalusia
In southern Spain, Andalusia is renowned for being an exceptional fly-fishing location. There is a vast network of rivers and reservoirs in the area, including the Guadalquivir and Guadalhorce rivers, where anglers can pursue carp, barbel, and trout.
Basque Country
On Spain's northern coast, the Basque Country is well known for its beautiful fly fishing locations. Made up of picturesque valleys in the region's trout-rich rivers, like the Nervión and Oria. Saltwater fly fishing is possible along the Basque coast, with sea bass and mackerel as common targets.
Balearic Islands
A group of islands in the Mediterranean Sea, the Balearic Islands provide an exceptional fly fishing environment. Saltwater fly fishing is perfect in the crystal-clear seas of Mallorca, Menorca, Ibiza, and Formentera since they are abundant with marine life.
Canary Islands
A group of islands in the Mediterranean Sea, the Canary Islands provide an exceptional fly fishing environment. Saltwater fly fishing is perfect in the eight islands owned by Spain.
Spain Fly Fishing – Fish Species
In this section, we will cover the most commonly caught fish on the fly in Spain.
Trout
Both brown and rainbow trout are commonly found in Spain. These fish provide an exhilarating fight when caught on the fly, making them highly recommended for sport fishing enthusiasts.
Fortunately, trout can be caught almost anywhere in Spain with the Pyrenees being notably one of the best locations for them.
Barbel
Often referred to as "freshwater bonefish," barbel are known for their impressive fights and can be found throughout Spain's freshwater bodies. Barbels are often nymphed for in Spain, with silver-beaded nymphs being highly recommended by locals.
Pike
Pike, along with catfish, are among Spain's largest freshwater predators. They offer thrilling battles with heavy runs and vigorous fights. You can charter boats to target pike on the fly or fish from river banks to cath these extraordinary predators.
Carp
While carp can be targeted with fly fishing, it's not as common as some other species on this list. They do however put up a great fight when hooked.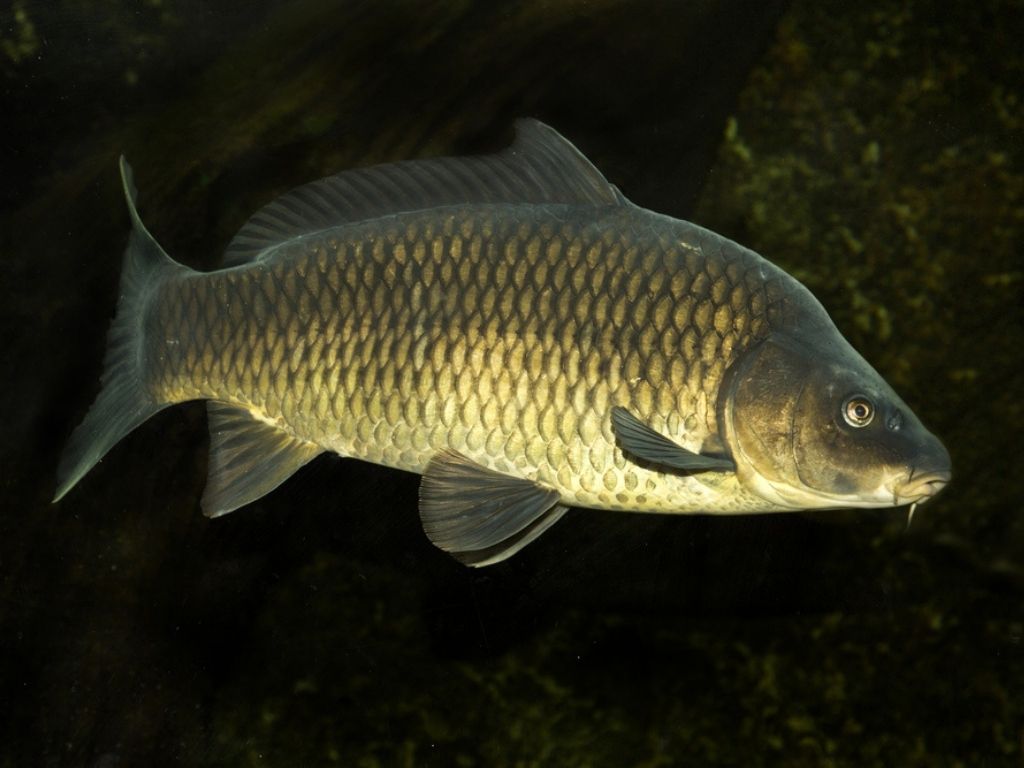 Carp can be a very tedious fish to target on the fly as they tend to be picky eaters in comparison to targeting them on bait rods.
Bass
Bass are abundant in the Balearic and Canary Islands. They are a personal favorite for many anglers due to their spectacular top-water strikes. I recommend using a bright silver or blue fly, finding a rocky mark with deep water drop-offs, and fishing the fly fast across the surface of the water.
Mullet
Mullets are renowned for being one of the most challenging fish to catch on the fly. They can be extremely tricky to hook but are well worth the effort for their rewarding fights. Mullet shake their head when hooked so make sure to set the hook good before battling this impressive fish species.
More on Fly Fishing Different Species of Fish:
Best Flies For Spain
There is a wide variety of flies suitable for targeting fish in Spain. In this section, I will present five of each fly type that will enable you to catch more fish while fly fishing in Spain.
Dry Flies
In this section, we will introduce five commonly used dry flies suitable for catching fish in Spain.
These versatile flies are effective for various freshwater fish species.
Wet Flies
In this section, we will introduce five commonly used wet flies suitable for catching fish in Spain.
These versatile flies are effective for various freshwater fish species.
Streamers
In this section, we will introduce five commonly used streamer flies suitable for catching fish in Spain.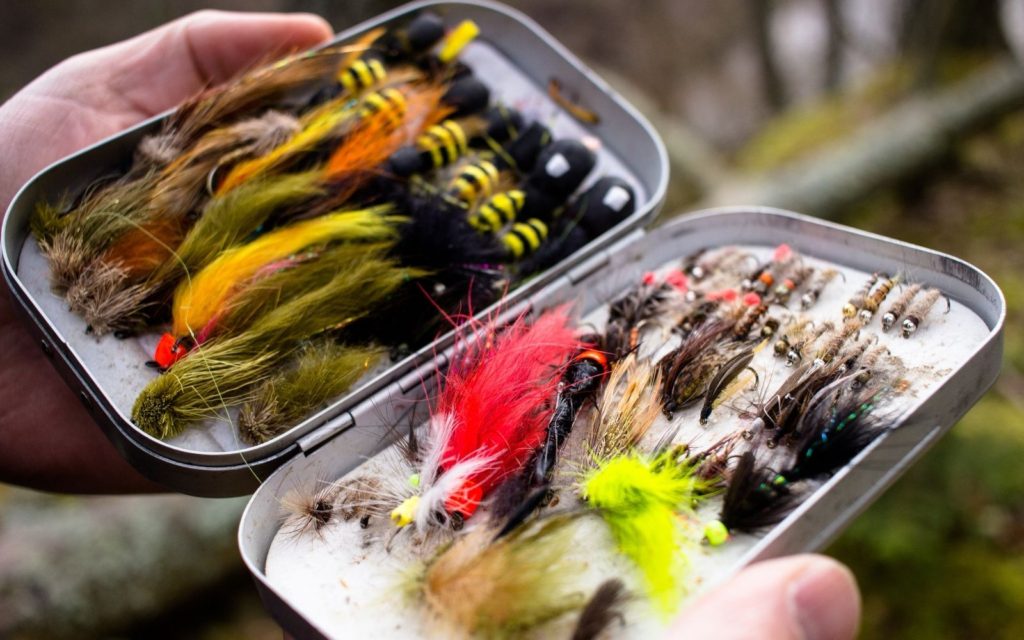 These versatile flies are effective for various freshwater fish species.
Nymphs
In this section, we will introduce five commonly used nymphs suitable for catching fish in Spain.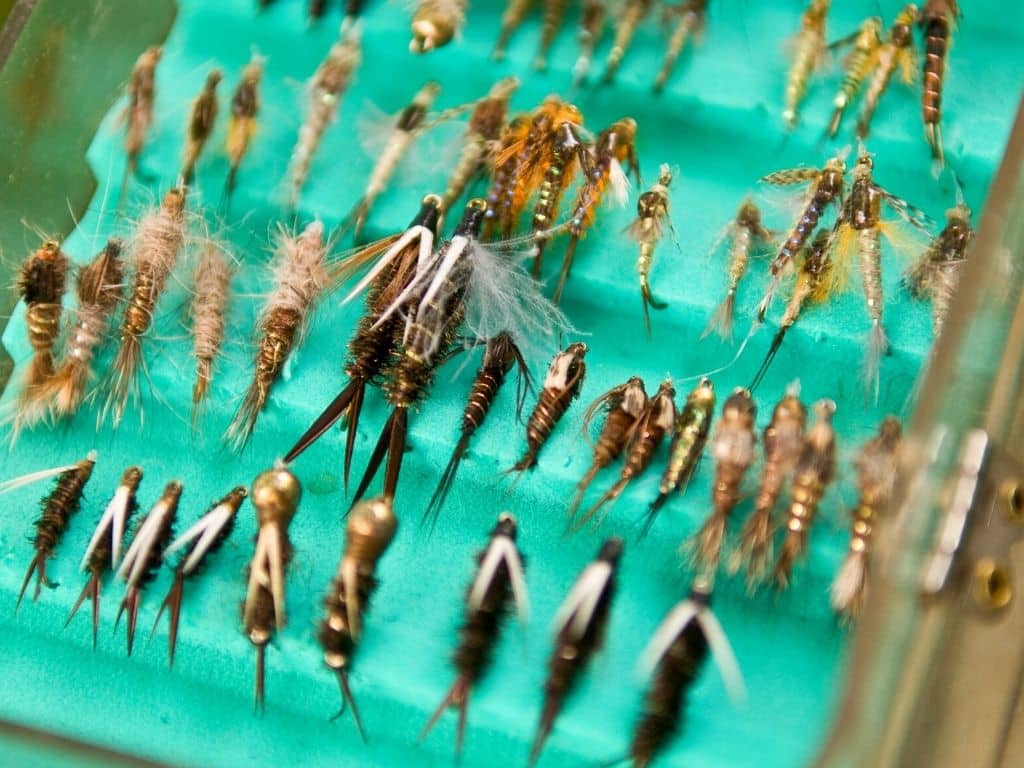 These versatile flies are effective for various freshwater fish species.
Saltwater Flies
In this section, we will introduce five commonly used saltwater flies suitable for catching fish in Spain.
Find The Best Flies For Any Fishing Scenario:
Spain Fishing Season
Spain offers fantastic fishing opportunities from April through July. In this section, we will dive into each month and discuss the best types of fishing activities to enjoy during that time.
Spain Fly Fishing in April
April is an excellent month for rainbow trout and brown trout fishing in Spain.
Notable rivers like the Pyrenees, including the Ebro and the Noguera Pallaresa, are renowned for their fishing during this time. Expect to encounter mayflies and caddisflies, making it an ideal period for dry fly fishing enthusiasts.
Spain Fly Fishing in May
May offers fantastic fly fishing opportunities for trout, babel, and chub in Spain. Rivers in Asturias, such as the Sella and the Deva, are prime locations for trout fishing during this season. Keep in mind that it can get warm during midday, so we recommend avoiding fishing during that time.
Spain Fly Fishing in June
In my opinion, June is one of the best months to fish in the Mediterranean islands of Spain. Fishing is at its peak during this time, with fish being highly active in the heat. The early morning rises and bubbling waters are perfect for fly fishing enthusiasts.
Spain Fly Fishing in July
Trout fishing tends to slow down in Spain in July due to extremely warm water temperatures. However, this period presents an excellent opportunity to explore the coastline or target Spain's black bass.
Spain Fishing Report
My last fishing adventure in Spain was about a year ago, and it took place on the beautiful island of Lanzarote. The fishing experience was nothing short of magnificent.
During that trip, I had the pleasure of catching over seven different species of fish, including bass, Boga, ornate wrasse, damselfish, bream, and many more. The diversity of species added a delightful element of surprise to each fishing excursion.
To make the most of my fishing outings, I often began my day very early, waking up at 5 a.m. to embark on a full day of fishing. The mornings proved to be the best time for angling, with ideal conditions and a higher likelihood of success.
However, as midday approached and the sun became scorching, the fishing slowed down, and it was just too hot to continue effectively. Yet, during the late afternoon and early morning hours, the conditions were perfect for an angler seeking an exciting catch.
The allure of not knowing what species you might hook next, paired with the possibility of landing the fish of a lifetime, provided an unparalleled thrill that made my fishing experience in Lanzarote truly unforgettable.
Best Fly Shops in Spain
In this section, we will cover three great examples of the fly shops that you can find in Spain.
Fly Shop Salmon 2000
This is one of Spain's largest fly shops stocking gear from, Orvis, Simms, Guideline, Patagonia, Costa, and more. This shop is also a specialized agency that provides fishing trips for angling destinations all over Spain.
The Fly Center
The fly center has an impressive stocking of fly rods as well as a fantastic range of fly patterns. They are based in Coslada in Spain and are one of Spain's top-rated fly shops.
Rivers Fly
Rivers Fly is one of Spain's top-rated fly fishing stores with close to five-star ratings. They have a beautiful range of fly patterns suitable for Spain's waters that you can pick up in-store.
Spain Fly Fishing Licenses
Applicants must obtain a fishing license before fly fishing. To get a Spanish license go to the territorial Ministry of the Environment office (Ministerio de Medio Ambiente).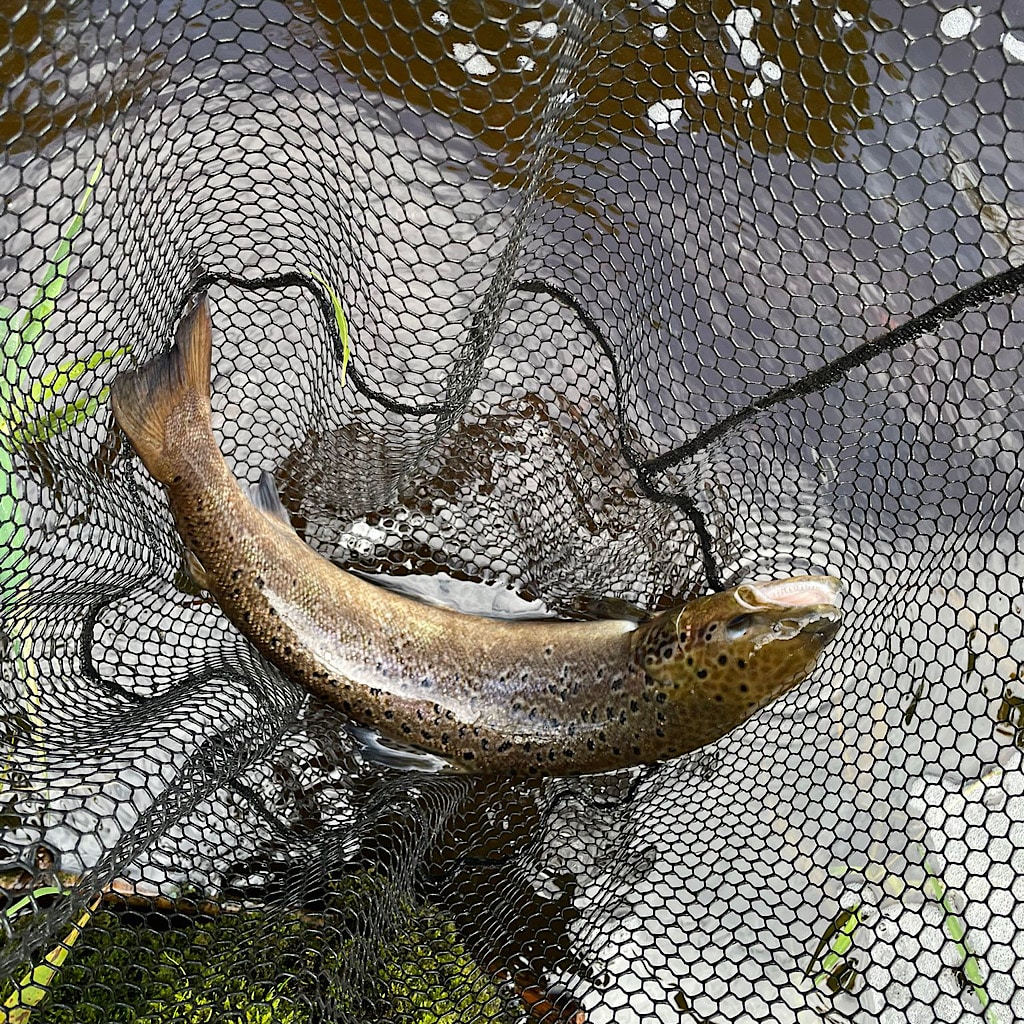 On the website, you must complete a theory exam to ensure you understand all the rules before receiving access to a license.
Fly Fishing Guide Services in Spain
In this section, we will cover three reputable fly fishing guides found in Spain.
Pyrenees Fly Fishing
Pyrenees Fly Fishing, located in the northern region of Spain, specializes in guided fly fishing adventures across scenic locations such as Leon, Picos de Europa, and the Pyrenees. The primary focus of your guided excursion with them revolves around pursuing the elusive and renowned wild zebra trout, prized for its spirited and challenging fighting characteristics.
Pescatravel
Pesca Travel offers fly fishing guides for various regions in Spain, catering to diverse fishing preferences. Whether you're pursuing salmon and brown trout along the Northern Coast or seeking brook trout in the Pyrenees, Pesca Travel has the expertise and options to meet your fishing needs.
Spain Fly Fishing Guides
Spain Fly Fishing offers guide services throughout Spain. They provide comprehensive ground services, starting from your arrival at the airport. All their guides are fluent in English, and they are natives of the region where you will be fishing, ensuring you have an authentic and informative experience.
Conclusion
Spain offers a diverse range of fishing opportunities, whether you're intrigued by the abundant freshwater species available inland or you prefer the adventure of island hopping and Mediterranean saltwater fishing. Spain caters to the preferences of all anglers.
In addition to its impressive fishing options, Spain boasts breathtaking landscapes and a vibrant cultural heritage. Its sunny weather makes it an ideal destination for a memorable vacation.
Amazon and the Amazon logo are trademarks of Amazon.com, Inc, or its affiliates.
As a part of the Amazon Associates Program and other affiliate programs, Into Fly Fishing® may receive a comission if you order products through links on this website.