As an Amazon Associate I earn from qualifying purchases.
Over my 30+ years of fly fishing, 10 of them as a fly guide, I've traveled a lot with my fly rod in hand, and fly fishing in Switzerland is one of my best-kept secrets that I'm happy to share with you in this post.
There's nothing quite like wading up the crystal clear rivers stalking trout or being surrounded by mountains on the alpine lakes. It's truly stunning and dare I say, home to some of the most beautiful rivers I have ever had the chance to cast a fly on.
More Fly Fishing Destinations
My Experience Fly Fishing in Switzerland
Switzerland fly fishing isn't on most people's radar and it only came into my mind while visiting a friend who lives on Lake Geneva.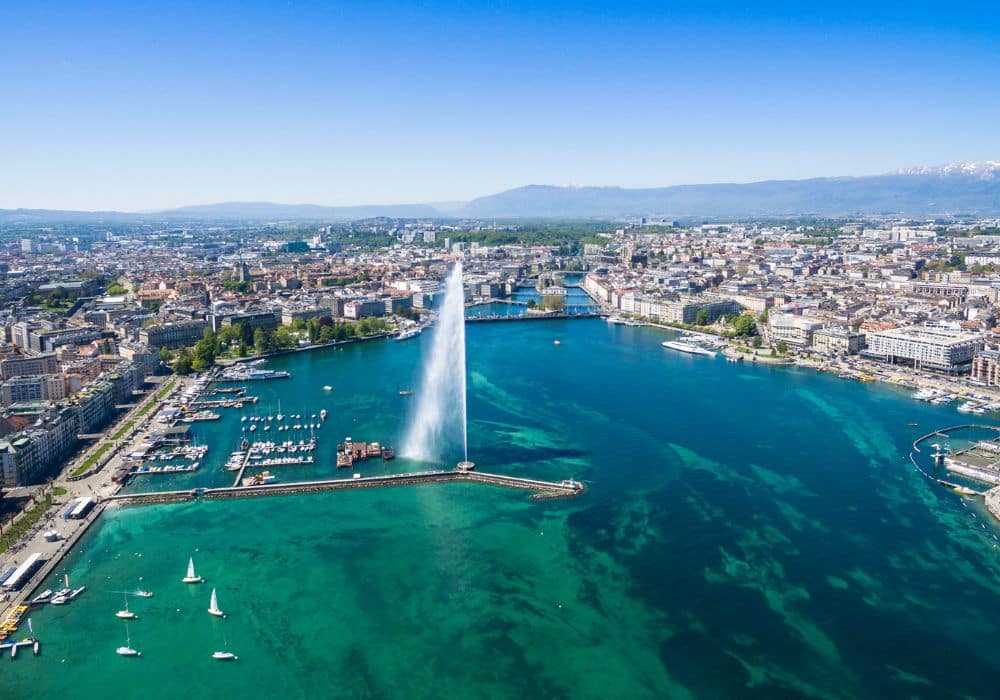 Snorkeling in the lake and hiking around the surrounding mountains, I thought there had to be some great fly fishing here, and sure enough, there was.
I visit my friend in Switzerland every year and over the last 3 years have slowly begun to unlock the secrets of the best fishing spots in Switzerland. I mainly stick to rivers, (as I find lakes a little boring), and use Google to find out how to buy licenses for them, which isn't always so straightforward in some cases.
Finding a fly fishing shop isn't easy in Switzerland either but there are some local Switzerland fishing guides with websites that give you a vague sense of where to fish. However, they keep their knowledge hidden to reduce DIY fishing.
Why Fly Fish in Switzerland?
Why go fly fishing in Switzerland? Well, the real question is, why not? Fly fishing in Switzerland is pretty untouched in my experience and it's an adventure every time. Hiking through ancient forests and down gorges to rivers that look like they belong in the Garden of Eden – it feels like fly fishing Nirvana.
10 Best Trout Rivers in Switzerland
The best fishing rivers in Switzerland are spread out across the country which means you're never too far from a great fly fishing spot. Here are my favorites:
The Doubs
The Doubs is hailed as one of the top fly-fishing rivers in Europe.
Home to brown trout, grayling, and zebra trout, it runs through the Jura Mountains along the border between Switzerland and France. The water is crystal clear, there are stunning gorge sections, tailwater sections, and zebra midges tend to be the best fly to use here.
River Schüss (La Suze)
The River Schüss, (La Suze in French), is a stunning chalk stream that also runs through the Swiss Jura mountains in the Canton of Bern.
Access is easy from the main road and the gin-clear waters are filled with brown trout and grayling. Surrounded by foliage, casting is tough so Euro-Nymphing with tungsten hare's ears is a wise move.
River Thur
The River Thur is a tributary of the Rhine and it offers some excellent brown trout fishing. The fly fishing section of the river is in Eastern Switzerland, close to the Liechtenstein border in the canton of St. Gallen.
Access is easy and there are multiple parts to fish including a creek and a very wild section. The section between Alt St. Johann to below Starkenbach has a 1km fly-only stretch. Prince Nymphs, PHTN, and Adams are the way to go.
River Inn
The River Inn sits in the Engadine Valley of Eastern Switzerland, a place known for its mountain culture and wild, stunning alpine scenes.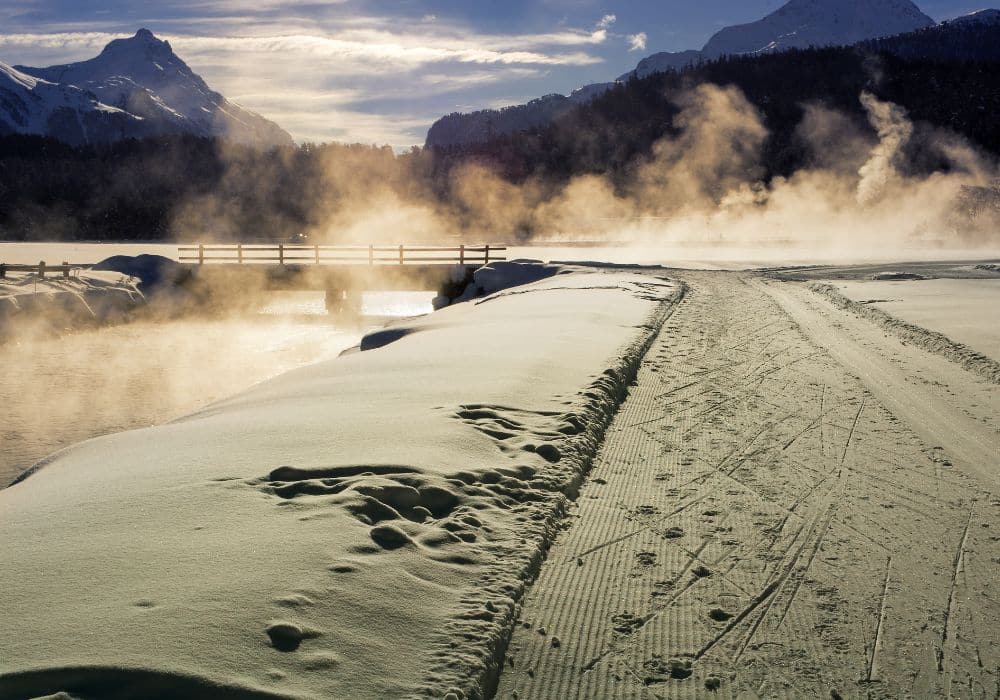 Access to the fishable parts of this river requires a hike and can be found around the town of Celerina/Schlarigna, down the road from St Moritz. Big grayling and brook trout await you, small nymphs and dry flies are the way to go.
River Seez
The River Seez is a small mountain stream in the Weisstannen valley of Eastern Switzerland. Home to wild brown trout, this is a technical mountain stream that's challenging to fish.
Hiking around boulders and up steep sections is required to get to the pools which makes for a great adventure. Tungsten nymphs are a must and there's no room to back cast.
River Lussel
The River Lussel is a tiny stream in the Swiss Juras that's home to brook trout. It's not easy to fish as it is surrounded by dense vegetation on both sides, and this makes the hike in tough too. You can fish the whole section in Solothurn canton. Short rods, roll casts, small dries, and nymphs are needed here.
Werdenberger Binnenkanal
The Werdenberger Binnenkanal is one of the top grayling rivers in Switzerland and is home to brook trout and rainbow trout that migrate from the lake in spring until spawn.
The stretch you can fish is run by the Werdenberg Fishing Association. Access is easy and the water is super clear, but casting is tricky, and you'll need heavy nymphs along with small dry flies.
River Emme
The River Emme is a stunning wild stream in the Canton of Bern with a 19 km stretch of easily accessible water. Surrounded by forests and mountains, and featuring a gorge section, it's a magical place to fish.
Home to brown trout and brook trout, small weighted nymphs are the way to go. There isn't much foliage around the banks so casting isn't too difficult.
The Linth Canal
The Linth Canal connects two lakes, Walensee and Zurich, and is one of the best fishing spots in Switzerland to catch some large grayling.
Brown, lake, and rainbow trout also make their way into the canal, making it an excellent big fish spot all around. Access is easy from the town of St Gallen. Use heavy nymphs to get down to the fish.
River Birs
The River Birs sits in the Canton of Bern in the Swiss Juras and is home to brown trout, pike, perch, and barbel. There's 75 km of river to fish and with such an array of species, you could easily spend a week on it.
Be aware, however, that frustratingly, you need a certificate of competence (SaNa) to fish here, which is hard for anglers outside of Switzerland to get.
5 Best Trout Lake Lakes in Switzerland
When trout fishing in Switzerland you aren't limited to rivers, as some of the best fishing lakes in Switzerland are home to trout too. Surrounded by the mountains, often at high altitudes, they are magical places to cast a fly.
Lake Blausee
Lake Blausee sits at 2,000 meters above sea level and is accessed via a gondola from Stockalp to Melchsee-Frutt and a short hike.
The lake is home to large brown trout, and arctic char, and is exclusively fly fishing only. Midge imitations are best here – zebra nymphs, Griffith's Gnat, and bibio wet flies.
Lake Sitysee
Lake Sitysee is a stocked lake in central Switzerland that's packed full of Arctic char, brook, and rainbow trout. It's an ideal spot for beginners with wide open areas for casting and fish willing to take most flies.
It's not the best fly fishing in Switzerland, but if you're looking for a bit of easy Switzerland trout fishing, this is the lake to go to.
Lake Burgäschisee
Sitting in the Swiss Canton of Solothurn is Lake Burgäschisee. This lake isn't home to trout, however, there are some large pike here which are a lot of fun to catch on a fly rod.
A 7-wt with large streamers and a wire tippet are needed to subdue these creatures. It's best fished from a boat, which can be rented, as the banks have a lot of lilies and reeds to get through.
Private Zermatt Lake
There's a private lake stocked with brown trout, rainbow trout, Arctic char, and lake trout which remains nameless no matter how much research I do. Glacier-fed, the waters are crystal clear and stay cold on the hottest of summer days, and stalking trout is very possible. Small midge flies are the way to go here.
Lake Engstlensee
Lake Engstlensee is a remote alpine lake that can only be accessed via a series of cable cars from Engelberg.
It offers some of the best Switzerland fly fishing in a lake in my eyes due to its remoteness with large brown trout and magical views in every direction.
Lake Eugenisee
Lake Eugenisee is in Engelberg (where you get the cable car to the Engstlensee above) and is stocked with both rainbow and brown trout. It's a stunning lake where you can buy day tickets and take your trout home for dinner. Acces is easy and good flies include GRHE, Montanas, and PHTN.
Lac des Vaux
Lac des Vaux sits in the Valais Caton of Switzerland and can only be accessed via a series of cable cars from Verbier.
Home to brown trout, casting a line here feels as though you're fishing on the top of the Alps with mountain peaks in every direction. Midge imitations are best used on this lake.
Fly Fishing in Switzerland Regions
In order to experience some of the best fishing in Switzerland, it helps to break the country's fly fishing down by region. I find this particularly useful when traveling to fish as you can focus on one area and its licensing system at once (each region has a different license system in Switzerland).
Swiss Juras & Canton of Bern
The Swiss Juras & Canton of Bern is where I would recommend focusing your efforts when fly fishing in Switzerland. The licensing is easy and it's home to some of the best fly-fishing rivers in Switzerland – The Doubs and La Suze.
Engadine Valley & Eastern Switzerland
The Engadine Valley & Eastern Switzerland is home to some excellent fly fishing.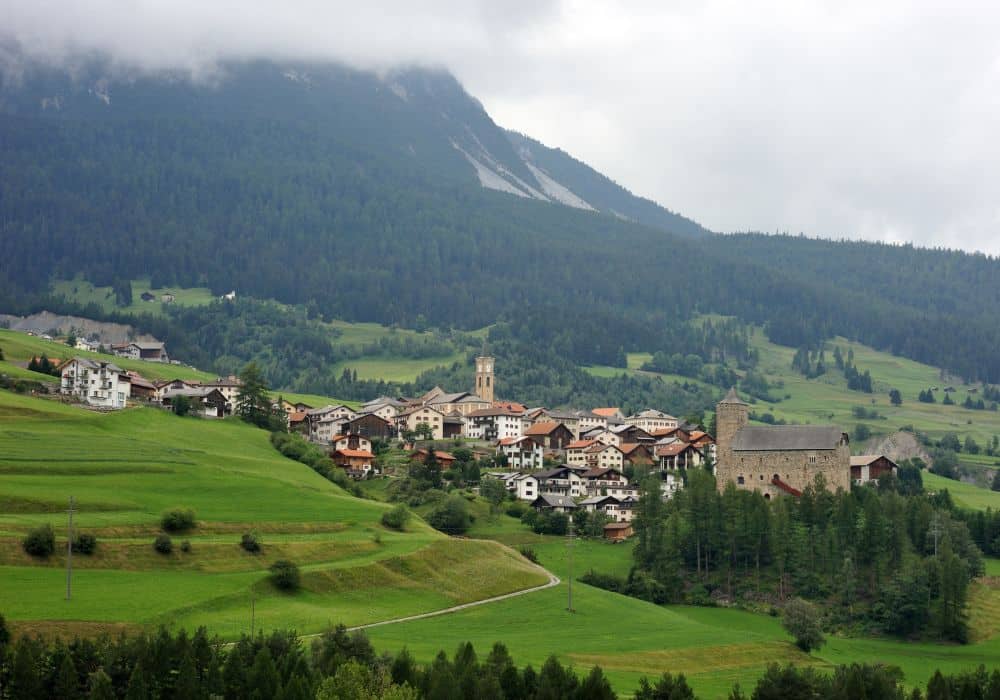 Sitting on the eastern end of Switzerland, close to the Liechtenstein border, it's naturally wild with mountains in every direction. The River Inn, River Seez, River Thus, and Werdenberger Binnenkanal can be found here.
Valais
The Valais region of Switzerland offers some excellent fly-fishing opportunities across both lakes and rivers. It's a huge region that encompasses a lot of the Swiss Alps and is where the private lake in Zermatt is located, as well as tributaries of the Rhone can be fished.
Switzerland Fly Fishing – Fish Species
Being a landlocked country, the only fly fishing species available in Switzerland are freshwater. That being said, there are quite a few to choose from:
Brook Trout
A stunning species of trout, 'brookies' live in the small mountain streams of the Juras and the Engadine.
They only grow to 1 lb and love a small dry fly like an Adams or a small nymph such as a pheasant tail.
Grayling
I love targeting grayling on the fly and you can find huge specimens over 3+ lbs in The Doubs, Suze, Linth Canal, and more rivers in Switzerland. Heavy nymphs are required and they love red tags, perdigons, and cased caddis.
Brown Trout
Brown trout are the most common fly fishing species in Switzerland and can be found in almost every lake and river listed in this article.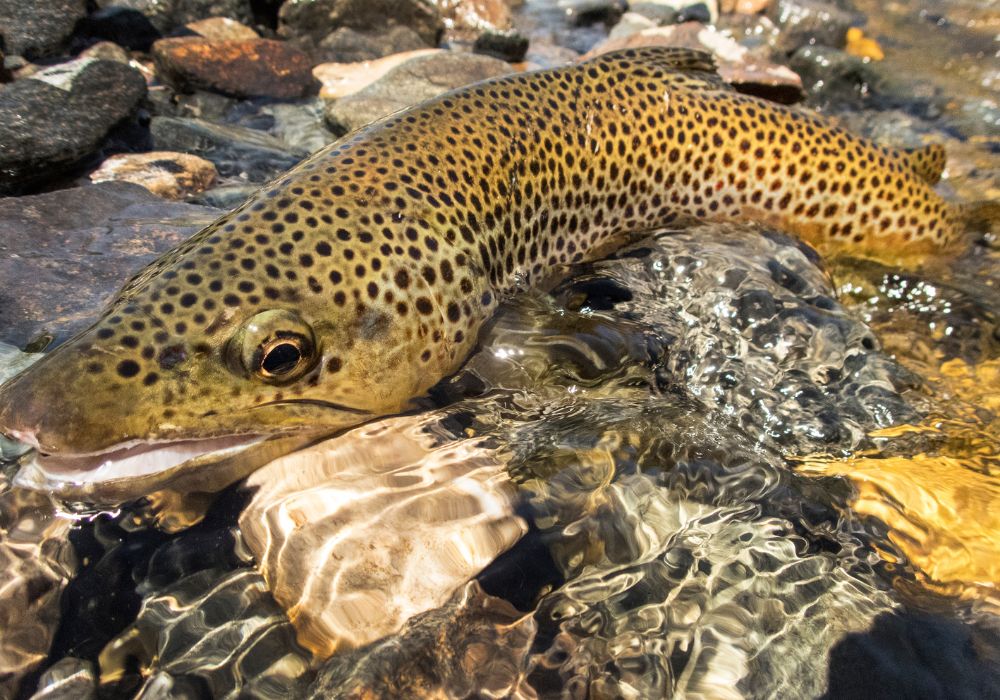 Fish up to 40 cm in length (2+ lbs) are a reality and can be found in The Doubs as well as other rivers. Tungsten hare's ears, cased caddis, and zebra midges work particularly well.
Zebra Trout
Zebra trout are endemic to Southern Europe and can be found in the River Doubs. They look just like brown trout but with dark/light bands across their body. They love a hare's ears, cased caddis, and zebra midge, and grow up to 1-2 lbs.
Rainbow Trout
A lot of the Swiss fly fishing lakes are stocked with rainbow trout and these often make their way into some of the rivers from the lakes.
Rainbows of up to 3+ lbs are possible and the best places to catch them are Lake Blausee and the Linth Canal.
Arctic Char
Arctic char are stunning fish and can be found in the high-altitude lakes of Switzerland including Lake Blausee and Lake Sitysee. They love a midge imitation (not many other fly life lives at such high altitudes); Zebra midge nymphs and Griffith's Gnat dry flies are the way to go.
Lake Trout
Lake Trout are actually part of the char family and can also be caught in Switzerland on the fly. You'll find them in the private lake in Zermatt as well as in the Linth Canal.
They can be found in sizes up to 4 lbs and love a caddis or leech imitation.
Pike
Lake Burgäschisee, mentioned above, is home to pike and they are a ton of fun to catch on a fly rod. At Lake Burgäschisee or the River Birs, throw large streamers with a wire tippet on a 7-weight and wait for an explosive bite.
Barbel
Barbels are fantastic to target on the fly as they fight incredibly hard and grow well over 12 lbs.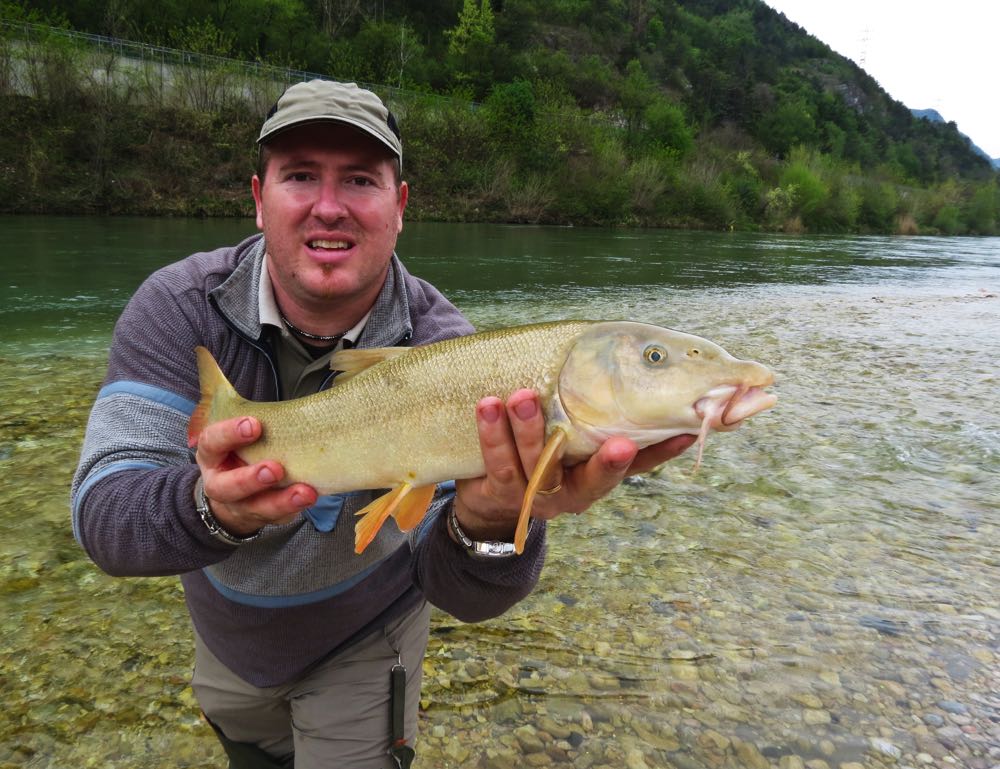 You can find them in the River Birs in Switzerland and they love to take a range of heavy nymphs and worm imitations. Use a San Juan Worm, Hare's Ear, Copper John, and Cased Caddis.
Best Flies For Switzerland
When fly fishing anywhere, you should always load up your box with the right flies. It pays to do some research about where you're fishing but luckily for you, I've already done it. Here are the best flies for Swiss rivers and lakes:
Dry Flies
When the hatch is on, you're going to want to switch to a dry fly.
Make sure you have the following in your kit:
CDC: This is the perfect emerger/dry fly for Switzerland. Ideal in sizes 14-18 and in natural colors, fish them whenever you see a hatch
Griffith's Gnat: The best midge imitation out there. Use this on high-altitude lakes, rivers, and tailwaters in sizes 16-22
Parachute Adams: The dry fly that works everywhere in the world. It imitates everything from mayflies to midges in sizes 14-22
Black Gnat: In sizes 16-22, this fly can be the one that makes the day when nothing else seems to work during a hatch
Elk Hair Caddis: A staple for trout all over the world, this imitates caddis and a lot of other winged insects in sizes 14-18
Read more about: Dry Flies
Wet Flies
Wet flies can change your day as they imitate nymphs, emergers, small fish, and drowned insects all at the same time.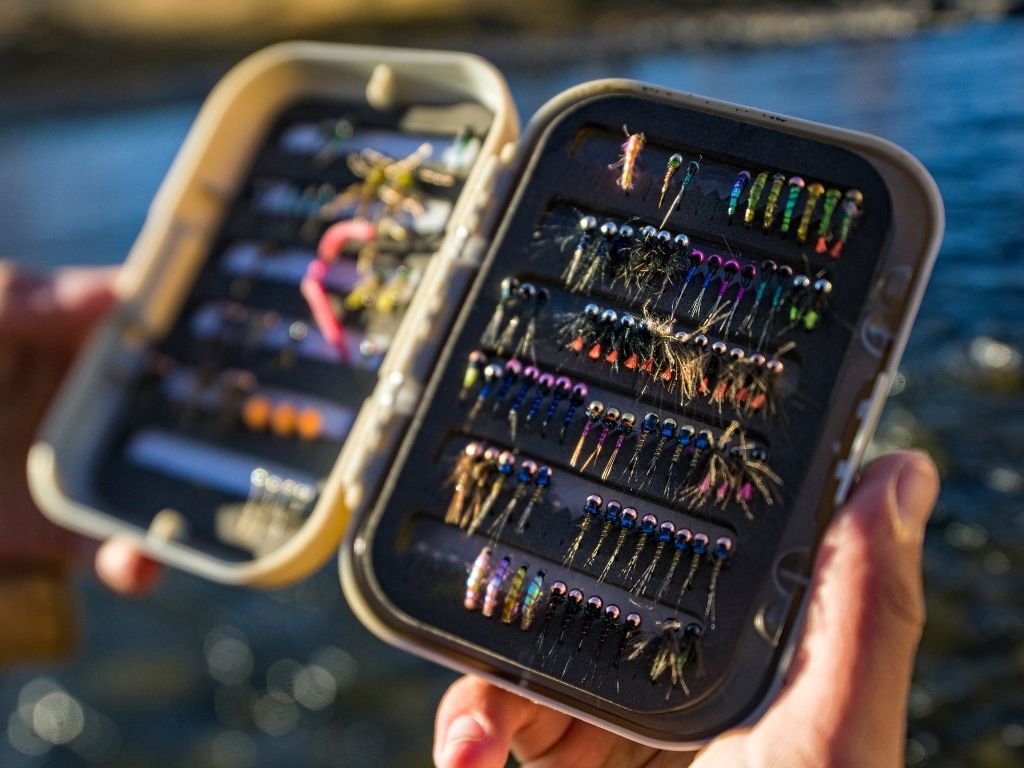 These are the ones to have with you:
Bibio: In black this looks like a drowned clump of midges or a nymph, sizes 12-16 work well
Black Spider: Great for high-altitude lakes full of midges in sizes 14-18
Bread and Butter Caddis: Excellent in Swiss rivers when fished on a dead drift in sizes 12-16
Walt's Worm: Put this fly on in faster water as it imitates a large range of insects in sizes 14-16
Invicta: With large wings and a touch of flash it looks like a drowned insect and small fry, sizes 10-14
Streamers
When fly fishing for pike or trout at the end of the season, these are the streamers you want to be swinging: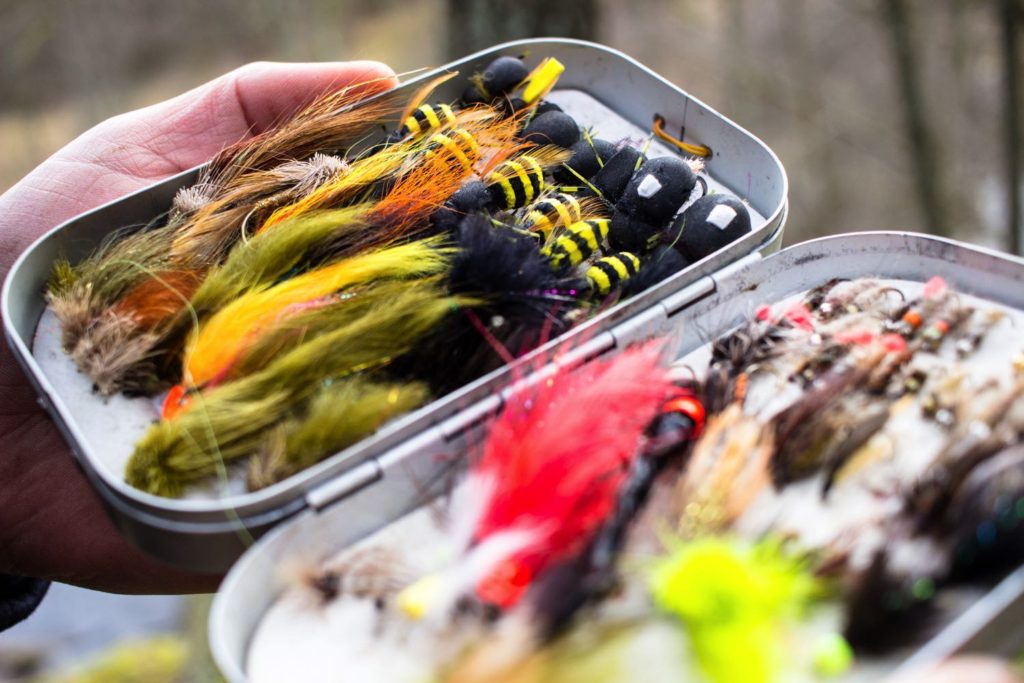 Fish them with a sink-tip line if the river/lake is deep.
Bunny Leech: Big, bad, and bold in black imitating a leech or baitfish in sizes 2-6
Hothead Zonker: One of my favorite baitfish imitations in orange/black/olive in sizes 2-6
Clouser Minnow: A great fly for fishing deep with an irresistible action in sizes 2-8
Woolly Bugger: This works in olive & black best imitating a leech, crayfish, and baitfish all at once
Egg Sucking Leech: One of the most effective leech patterns out there in sizes 4-8
Read more about: Streamers
Nymphs
Nymphs are the most effective flies to use in Switzerland.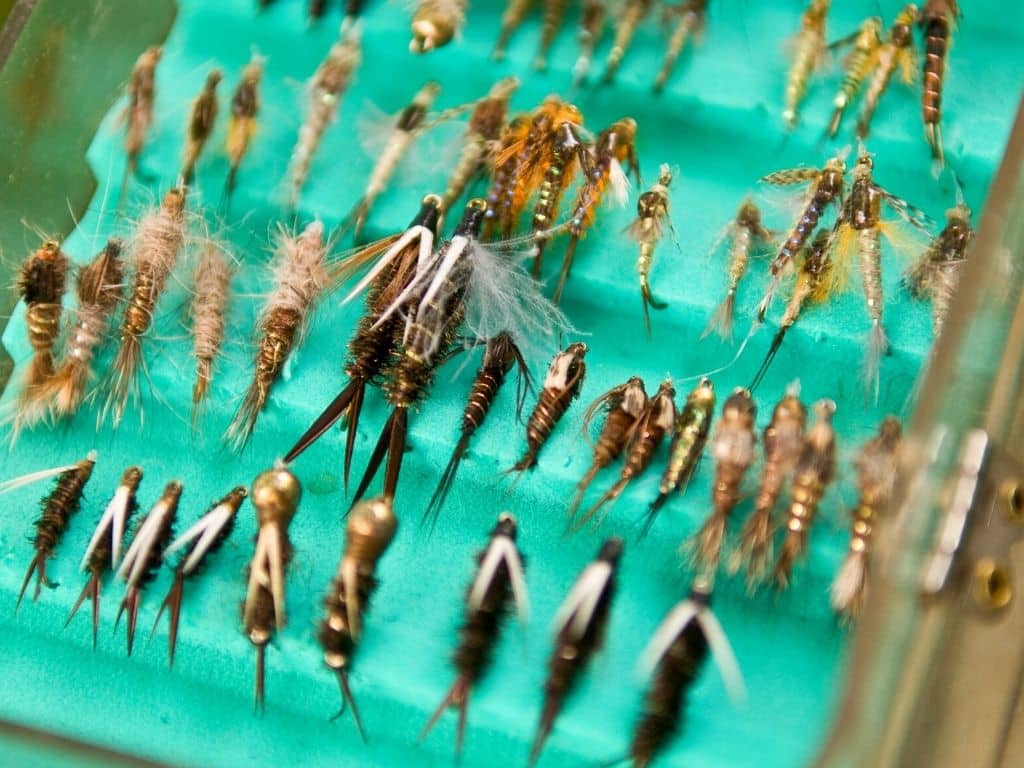 Make sure to have the below with tungsten heads, in natural colors, and in sizes 12-18:
GRHE: Imitating a broad range of nymphs, this is a go-to when you're not sure what to tie on
PHTN: The pheasant tail nymph is a classic and the trout/grayling of Switzerland love it
Zebra Midge: The right choice in early season, in tailwaters, or high-altitude lakes when midges are number one on the menu
Cased Caddis: Caddis are a staple in a trout and grayling's diet
Perdigon: Perdigons are big and heavy, ideal for getting down to grayling in deep fast water
Red Tag: A grayling favorite that is a must-have, the red tag tail drives them wild
Read more about: Nymphs
Find The Best Flies For Any Fishing Scenario:
Switzerland Fishing Season
The Switzerland fishing season runs from March to September in some areas, and May to September in others. The opening times differ from one fishery to the next based on altitude more than anything.
The high-altitude lakes and rivers will still be too cold (or even frozen) in March/April, so it is best to start fishing in May.
Switzerland Fly Fishing in March/April
This is the time to focus on the lower altitude lakes and rivers, most of which are found in the Caton of Bern and the Swiss Juras. However, river flows can be very high due to snow melt, making them unfishable.
However, there can be some excellent fishing in the Werdenberger Binnenkanal and Linth Canal in March when big rainbows come out of the lakes to spawn in these rivers.
Switzerland Fly Fishing in May
In May, the Swiss Juras sees an excellent hatch of mayflies and I would highly recommend being on the Doubs and La Suze for the last two weeks of the month.
Switzerland Fly Fishing in June – September
From June to September, all the rivers and lakes I've mentioned in the article offer excellent fly fishing. Caddis, mayflies, and midges are the hatches to keep an eye out for.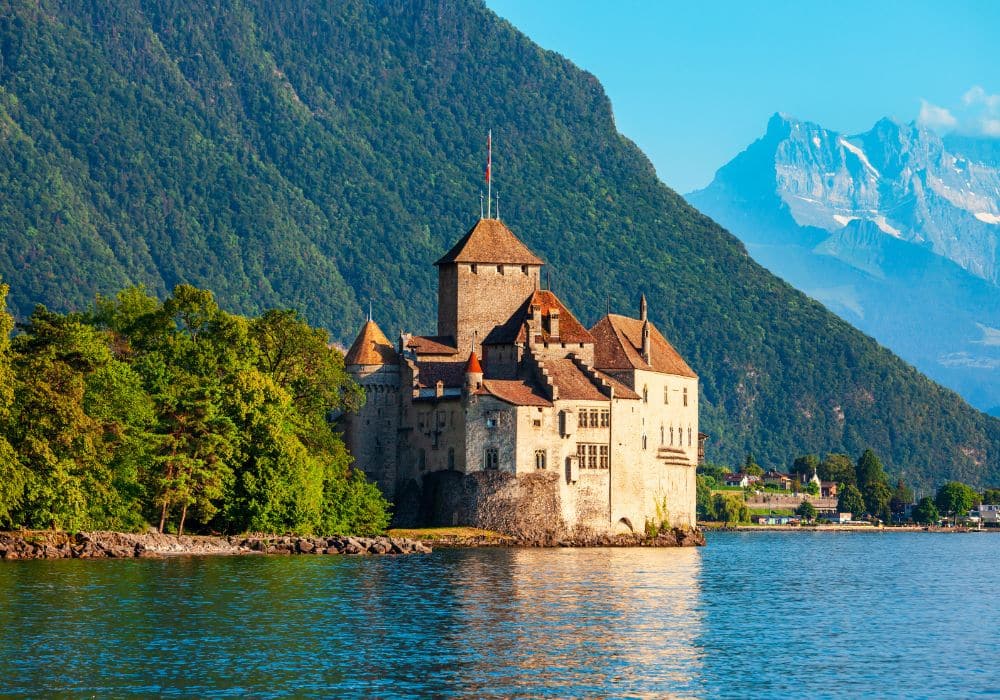 The water is still very cool, even when it's a boiling hot summer day, and you'll find you have the best success with nymphs.
Switzerland Fishing Report
The last time I went fly fishing in Switzerland I had a love affair with the Doubs River in the Swiss Juras; my Switzerland fly fishing report is therefore mostly about that: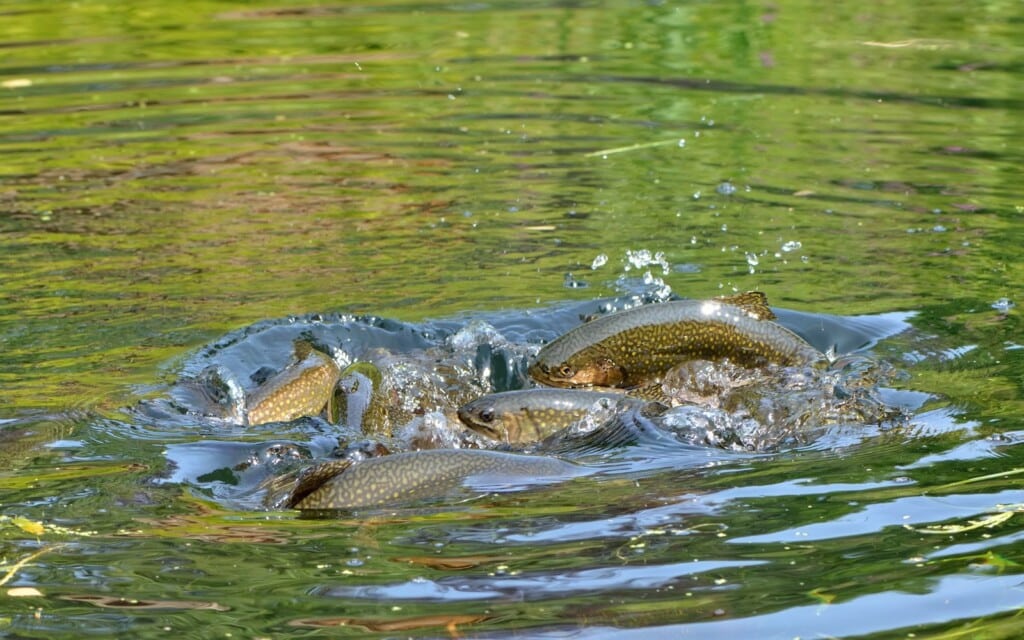 The ancient forests, deep gorges, crystal clear water, big grayling, and zebra trout kept me coming back – it was highly addictive, to say the least.
The fishing is very tough due to the incredible clarity of the water which makes the fish very spooky. The river is also hard to wade, has deep sections that are hard to fish, and you're always within 5-10 feet of a tree so roll casts and euro-nymphing are the only way to go.
These kinds of challenges are present on most Swiss rivers but you're rewarded with the incredible scenes you're fishing in and it feels 10 times as good when you do finally catch a fish.
Best Fly Shops in Switzerland
Local fly shops are the best places to get information about local fisheries when you travel to fly fish. You can't beat local knowledge and local flies, so be sure to go to one in the area before you start fishing:
RDB Fishing
A great place to stock up on flies and get some advice about fishing around the Swiss Juras and the Canton of Bern.
Fly With Us
If you fly into Zurich, this is the place to stop for local advice and get some local flies for your trip.
Inn River Fly Shop
Your go-to fly shop for local flies and excellent local information when fly fishing Eastern Switzerland and the Engadine.
Switzerland Fly Fishing Licenses
Getting fly fishing licenses in Switzerland is either very easy or rather hard. The annoying thing is that it's organized by canton, meaning you'll need a different fishing license for each region you're fishing in. Luckily, they're created on day tickets, so don't have to buy a year's license for each region.
Most of the websites to buy licenses from are also in French or German, which makes getting a license even harder. Here are links or info pages for licenses in each region. For lakes, you can usually buy your day ticket at the local shop/tourist office/hotel:
For some rivers, you'll need a a certificate of competence (SaNa) to get the license which is very hard to get as an angler from outside of the country
Fly Fishing Guide Services in Switzerland
There are quite a few Switzerland fishing guides to choose from, all of which have a lot of experience and are great on the water. Switzerland is expensive so expect to pay $750 plus per day for guiding.
Upstreamflyfishing
An excellent guiding service that operates in the Juras and Bern Canton.
Flytastic
A top guide for the rivers of Eastern Switzerland.
Jura Fly Fishing
A fantastic fly fishing guide for the Jura Mountains on both the Swiss side and the French side.
FAQs About Fly Fishing in Switzerland
There are a lot of questions out there about fly fishing in Switzerland. Here are some answers to the most frequent ones below:
Is there fly fishing in Switzerland?
Yes, there's a lot of fly fishing on offer in Switzerland with its many mountain lakes and rivers.
Is fly fishing popular in Switzerland?
Fly fishing is popular in Switzerland but its inaccessibility does make it difficult. You have to be willing to do some serious hiking in some cases and manage tough alpine terrain.
Is trout fishing good in Switzerland?
The trout fishing in Switzerland can be very good. It's a lot easier on the high alpine lakes than in the rivers, but with some effort, you're sure to be rewarded.
Do I need a license to fish in Switzerland?
Yes, you 100% need a license to fish in Switzerland and these differ from canton to canton. In some cases, you need a certificate of competence (SaNa) in order to buy a license.
What species of fish can I catch while fly fishing in Switzerland?
Brown trout and grayling are the main species of fish you can catch while fly fishing in Switzerland as well as rainbows, arctic char, brook trout, lake trout, zebra trout, barbel, and pike.
Conclusion
I can't recommend fly fishing in Switzerland enough – it's truly a beautiful but challenging adventure. Getting to the rivers and then hiking up them is tough, catching fish in the gin-clear water will test your skills, and dealing with the licensing requires patience.
However, you'll be fly fishing in one of the most beautiful settings in the world and once you start catching fish, you'll feel like you've well earned your prize (and it'll taste better than all the others)!
If you're up for a challenge and some truly wild fishing where you are on your own, Switzerland is the spot for you.
Amazon and the Amazon logo are trademarks of Amazon.com, Inc, or its affiliates.
As a part of the Amazon Associates Program and other affiliate programs, Into Fly Fishing® may receive a comission if you order products through links on this website.