In this article, I'll cover everything you need to know about a basic Euro nymphing setup. We'll look at each component, including the rod, reel, line, leader, and flies.
I'll also take you through the basic principles of Euro nymphing and what makes it different from indicator nymphing.
As an Amazon Associate I earn from qualifying purchases.
What Is Euro Nymphing?
Euro nymphing is a broad and semi-loose term that groups together multiple different techniques. These advanced methods or styles of fishing were developed by European competition anglers. They're among the most effective ways of catching fish.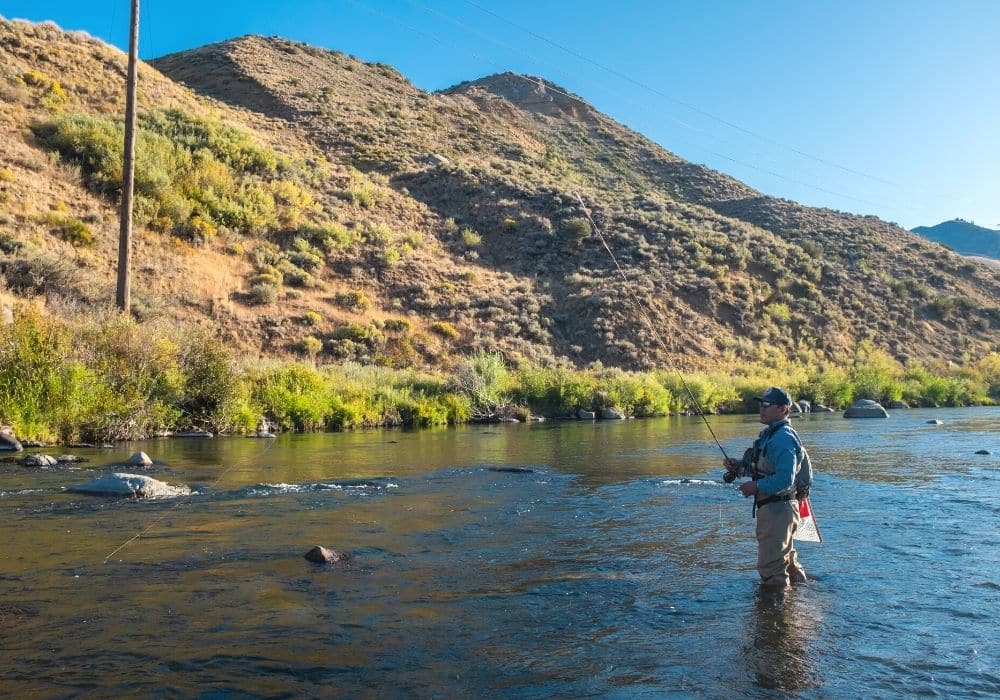 Within the realm of Euro nymphing, there are various styles; you'll hear terms like French nymphing, Czech nymphing, and tight line nymphing. They all have the same principles with slight variations in leader construction, depth, and fishing distance.
The most common technique that's trickled down to recreational fishing is Czech nymphing. It's a short-line technique, meaning you fish at distances up to a maximum of 30 feet.
This technique's fundamental principle is to use a thin leader, which I'll cover later in the article, and heavy flies. This allows you to get down to where the fish are holding, and the tension helps you detect takes.
What Is the Difference Between Indicator and Euro Nymphing?
Well, this is a very important question, considering that indicator nymphing is so popular and effective. Let's start by looking at some of the shortcomings of fishing with an indicator.
Where Indicator Nymphing Falls Short
Indicator nymphing is relatively effective and a great way to get new anglers into some good fish. However, it's not perfect. Here are some of the issues I have with indicator nymphing:
If you're using a large indicator, it makes a massive noise when it's pulled from and lands on the water.
I've also seen indicators spook many fish, mainly when you target them straight upstream.
Compared to Euro nymphing, indicator nymphing takes too much time to adjust your fishing depth.
Advantages of Euro Nymphing
So, let's take a brief look at which advantages Euro nymphing has over standard indicator methods:
You're using a thin leader with a built-in piece of colored monofilament as a sighter. This rig lands much softer, spooking fewer fish.
It's easy to adjust your fishing depth using the same flies; you can just lift or drop your rod.
I'm by no means saying there's no space for indicator nymphing. I still carry a couple of indicators with me for particular scenarios, and using them in the right conditions can be deadly.
The Basic Euro Nymphing Setup
So, to get started on Euro nymphing, you need the right gear. In my opinion, the most essential piece of the puzzle is the leader. However, having a complete rig dedicated to Euro nymphing will make you much more effective, and you'll catch more fish.
Rod
A Euro nymphing rod is a specialized piece of kit. Every component and detail has a purpose which, ultimately, gives you an advantage. Let's look at each of these in more detail.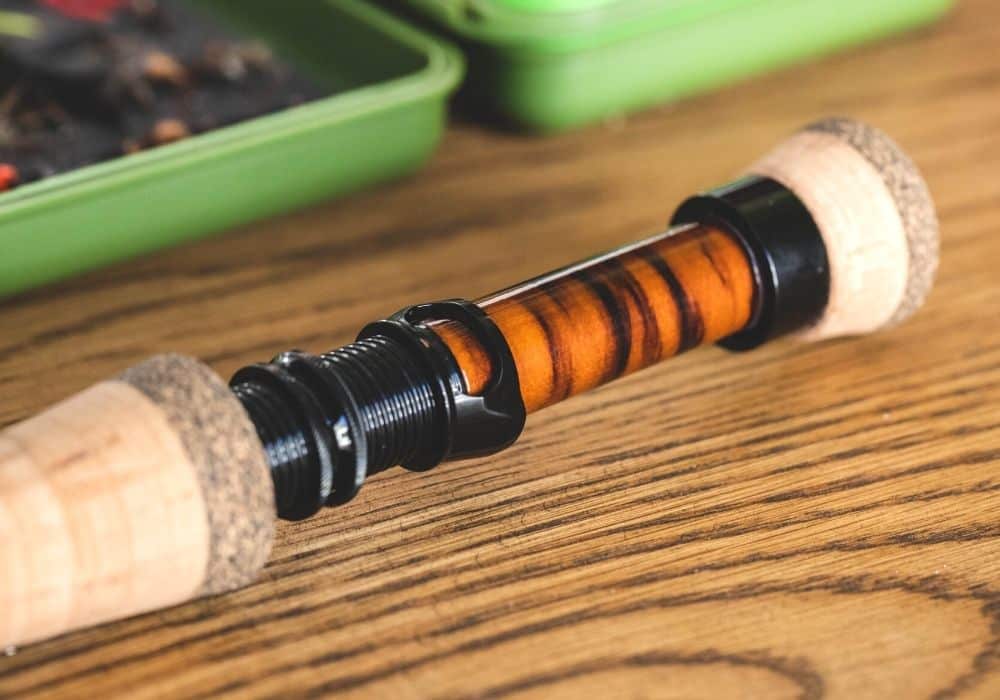 Length
The most noticeable feature about a nymphing rod is its length. These rods range from 10 to 12 feet, with 10 to 10 ½ feet being the most ideal for beginners. The length provides the angler with two distinct advantages:
It helps you to reach over obstacles and currents to ensure your rig has no drag on it.
The second advantage is only applicable to competition anglers, where the rules state your leader and tippet length may only be twice the length of your rod. Now, if you're fishing an 8-foot dry fly rod, you're only allowed a 16-foot leader. On the other hand, if you're fishing an 11-foot nymphing rod, you can extend it to 22 feet.
Fighting Butt
A good Euro nymphing rod will have a fighting butt that has two functions:
It provides a comfortable and stable anchor point against your forearm while you high stick.
Nymphing rods mostly have down-locking reel seats. The fighting butt keeps the reel away from your body and other snags while you're fighting a fish.
Reel Seat
A nymphing rod has a down-locking reel seat, which helps balance the longer rod length. In my experience, look for one that has two locking rings that securely hold the reel in place.
Rod Finish
If you regularly fish in bright and sunny areas, I recommend going for a nymphing rod with a matte finish. Because Euro nymphing takes place at such close distances, there's a good chance that your rod's flash will spook fish.
Line Guide Position
Another adjustment on the rod that makes a day on the water more comfortable is the positioning of the first stripper guide. Most good Euro nymphing rods have one located high up on the butt section.
This positioning reduces line sag when you high stick.
Tip
The tips on these rods are very sensitive and flexible. This allows the rod to load with no fly line out of the tip. Some rods can even load themselves just by their swinging weight.
A soft rod tip will help detect takes and protect the relatively light tippet material while you're fighting a fish.
Butt Section
Because a Euro nymphing rod is so long, the butt section needs to be beefy to support the additional weight. This stiffer butt section gives Euro nymphing rods enormous fighting power for the rated line weight. For instance, a 3wt Euro nymphing rod will easily handle fish you're normally targeting on your 5 weight.
Reel
The reel is of less importance, in my opinion, although there are many brands with European nymphing specific models. Here are a couple of points that I should mention about the particular reel you're going to use: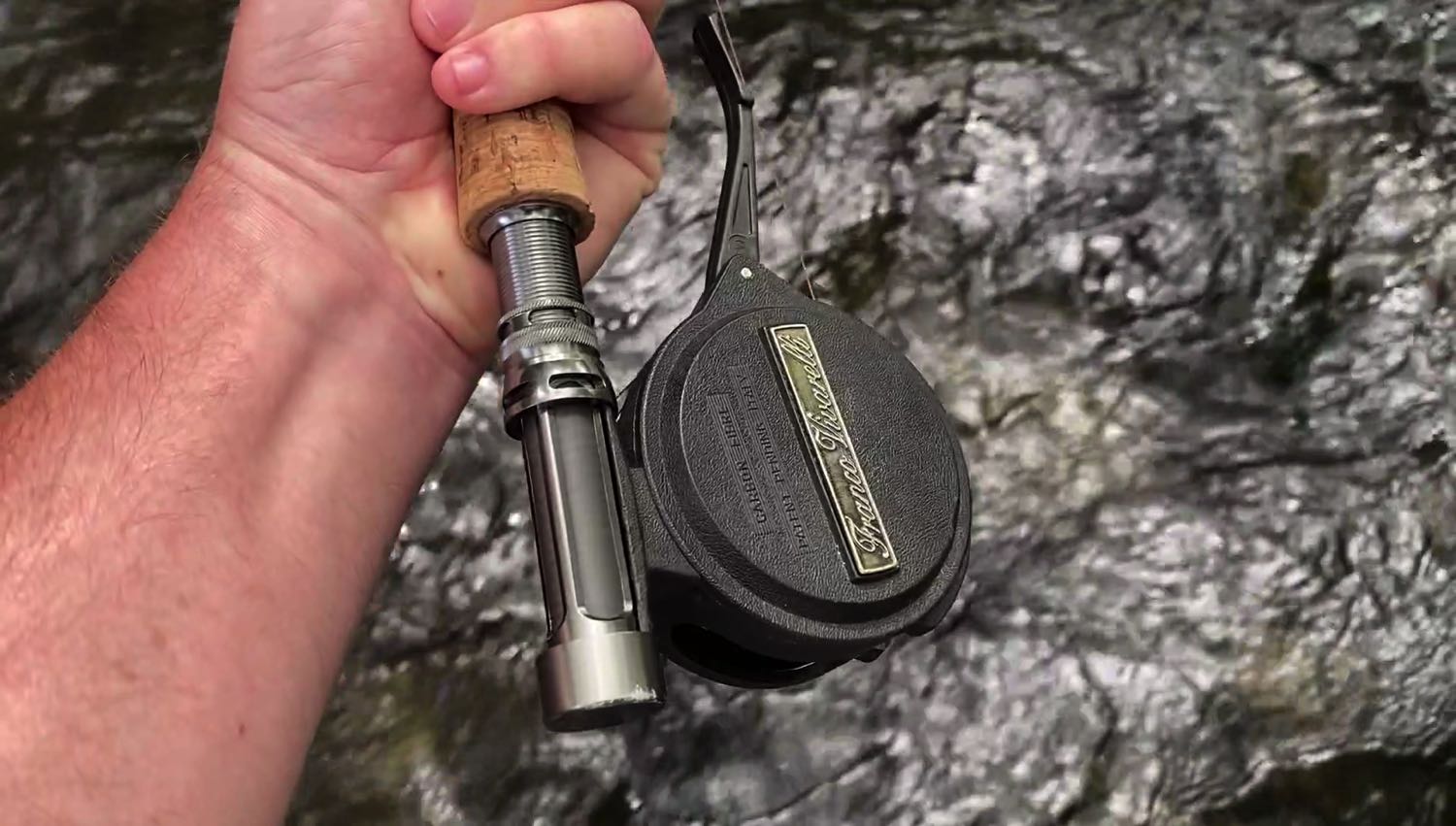 Oversize the reel by at least two line weights. For instance, on a 3 weight Euro nymphing rod, use a 5 or 6 weight reel. This balances the entire system better.
A large arbor reel helps to improve line pickup rate and reduces memory on your leader and fly line.
The reel doesn't need a massive amount of stopping power, but make sure the drag is smooth.
Fly Line
The most popular Euro nymphing technique is closer to Czech nymphing. This means that you'll be fishing relatively close in, and with a leader length of 20 feet, you probably won't have any fly line out of your rod tip.
For these scenarios, buying a specific fly line isn't as important. I use a cheap 2wt double-tapered fly line, and it serves me well.
If you're going to fish slightly longer distances, I recommend getting a good Euro nymphing fly line. These lines are thin to reduce drag and line sag while still giving you a level of control.
Leader
Now, this is where the foundation of Euro nymphing lies. If you understand this leader construction, you can apply it to basically any length of rod and still get good results. Let's take a closer look at the entire leader:
Fly Line to Leader Connection
To ensure a solid and smooth connection, I don't recommend using a loop-to-loop (or Cat's Paw) connection. We don't want a hinge point here.
If your new Euro nymph fly line comes with a welded loop, the best option to join the leader to it is by making a solid connection, like a clinch or uni knot. Another option, especially if you don't have a welded loop, is a superglue splice.
Clear Leader Section
The first 12 feet is a section of level or tapered thin monofilament or fluorocarbon. The diameter, or breaking strain, is dependent on the size of fish you're looking to catch, but try and keep it as thin as possible. For most applications, I recommend 3x and 4x here.
Sighter
The sighter is a 2-foot piece of colored monofilament that helps you with a couple of essential functions:
It makes the leader visible, helping you spot it quickly when you've made a cast.
The sighter helps you to gauge which depth you're fishing at, which makes it possible to adjust the depth according to the fishing conditions.
It acts like a strike indicator, so set whenever the sighter makes any unusual or unsuspecting movements.
The sighter is attached to the clear leader section with a blood or surgeon's knot.
Tippet Ring
Tie a micro tippet ring in at the end of your sighter, which is where you'll also attach your tippet. This gives an excellent point of contact for your tippet material, and it helps that your leader doesn't shorten over time when you replace sections of the tippet.
Tippet Section
The tippet section runs from the tippet ring and is, ultimately, around 6 feet in length. The specific material you'll be using, once again, depends significantly on the species and size of fish you're targeting, but I'd try to stick to anything between 4x and 7x.
The first section is between 4 and 5 feet long. Attach a second section of about 2 feet in length with a surgeons knot. The tag end of the first piece is where you'll tie the lighter of the two flies, and the end of the second piece of tippet joins the heaviest fly.
If you want to learn how to set this up, be sure to check out my article and video on how to set up a dry and dropper rig. The process is the same for Euro nymphing.
Flies
The last piece of the puzzle you'll need for your Euro nymph rig is the right flies. Most of these flies are heavy, which gets them down quickly to where the fish are holding.
Some of my favorite Euro nymphing flies include:
If you want more information on these flies and what makes a great Euro nymphing fly, head on over to my article and video about the best Euro nymphing flies.
Conclusion
As you can see, the Euro nymphing rig is a specialized setup, but don't let that discourage you from trying it out. If you already have a 9 foot rod and a standard floating line, get yourself a good selection of Euro nymphing flies and leaders and try it out.
There's no doubt that a proper Euro nymphing setup will up your game considerably, so I encourage you to get all the components listed above. You won't be sorry.
Until next time!