As an Amazon Associate I earn from qualifying purchases.
Trout season is over, but that doesn't mean the memories of last year's fly fishing trips have to fade away. At Into Fly Fishing, we had an unforgettable year of fly fishing, from Patagonia's Lago Strobel to the white sand beaches of the Maldives and the beautiful rivers of Europe – this was definitely a season to remember for me and the team.
We understand that not everyone follows every post on the blog and every video on the YouTube channel, so we've put together a quick round-up of our top trips of 2021 to inspire your next fly fishing adventure and maybe even add a spot or two to your bucket list.
Here it is, a quick round-up of our 2022 year of fly fishing, as well as a bit about what's in store for 2023.
Watch The Video
A Jurassic Start
Lago Strobel in Argentina has long been on my (and probably every angler who knows about it) bucket list ever since the first time I saw a video on YouTube of the enormous rainbow trout found there.
In 2022 I finally turned that dream into a reality. After spending a few weeks fishing and traveling around Bariloche in Central Patagonia, my wife and I flew down to El Calafate where we met up with the guys from Jurassic Lake Lodge about a week after New Year 2021. What a way to start the year!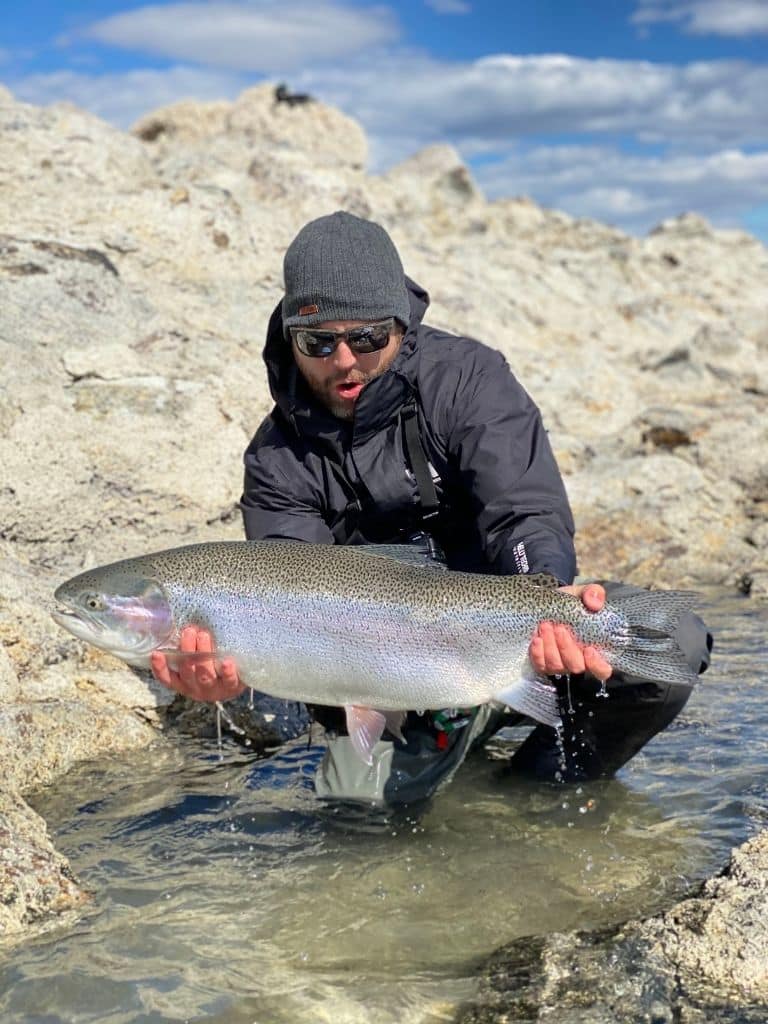 We spent an entire week fishing Jurassic Lake and Rio Barrancoso. We were there in the off-season, probably about 2 weeks too early, but still, the fishing was world-class.
There's nowhere else in the world, bar maybe the South Island of New Zealand, with such enormous trout found in such astonishing numbers. It was a free-for-all on the fly rod.
The largest fish I caught was over 20 lbs, but that same day I landed 3 others that were all well over 10 pounds.
The fishing was only part of the experience. Jurassic Lake Lodge is a luxury lodge set in the middle of nowhere. The food was fantastic, the scenery was incredible and the views were spectacular.
If you ever have the chance, I highly recommend making the trip out to Jurassic Lake Lodge in Argentina.
The Maldives
Sometime in April, Pierre, one of the lead guides and content creators here at Into Fly Fishing, messaged me on WhatsApp and asked if I wanted to go to the Maldives on an epic 8-day fly fishing trip.
Unfortunately, I already had travel plans booked, so I had to decline, but Pierre and Chris went on the trip and filmed the whole thing. It was a once-in-a-lifetime saltwater fly fishing trip and after seeing all of the videos and reading Pierre's article about the trip, I was even more gutted that I couldn't make it.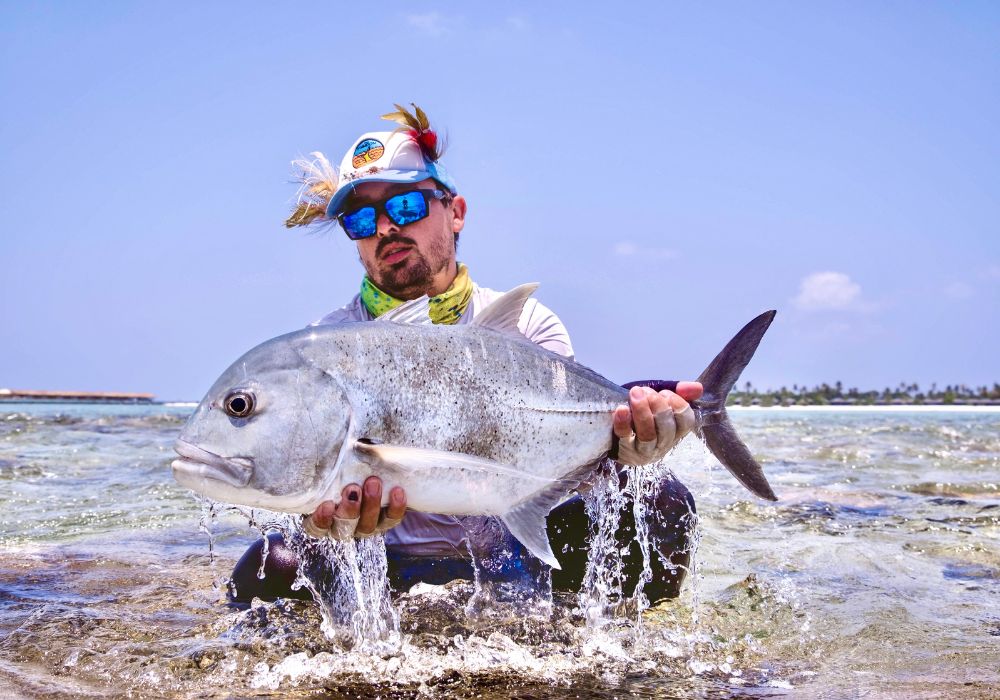 The guys hooked into some decent GTs, Bluefin, and plenty of other smaller species. The fishing conditions were grueling and by the end of it, all the guys on the trip were battered and bruised, but happy to have had the opportunity to fish in paradise.
I still haven't done much saltwater fly fishing, especially to the level that these guys were hitting it every day, so it's probably best that I hung back on this one.
I need a few more days out in the surf practicing tossing a 12-weight before I can join the guys on a trip like that.
Still, I'm glad that Pierre and Chris went and filmed it all for the YouTube Channel.
If you haven't seen the videos yet, check out the full Maldives Playlist here.
Bulgaria
Just after Pierre and Chris got back from The Maldives, I landed in the Eastern European country of Bulgaria. Not a lot of anglers know about this place, but it's actually a pretty cool spot to fly fish on European rivers with fewer crowds.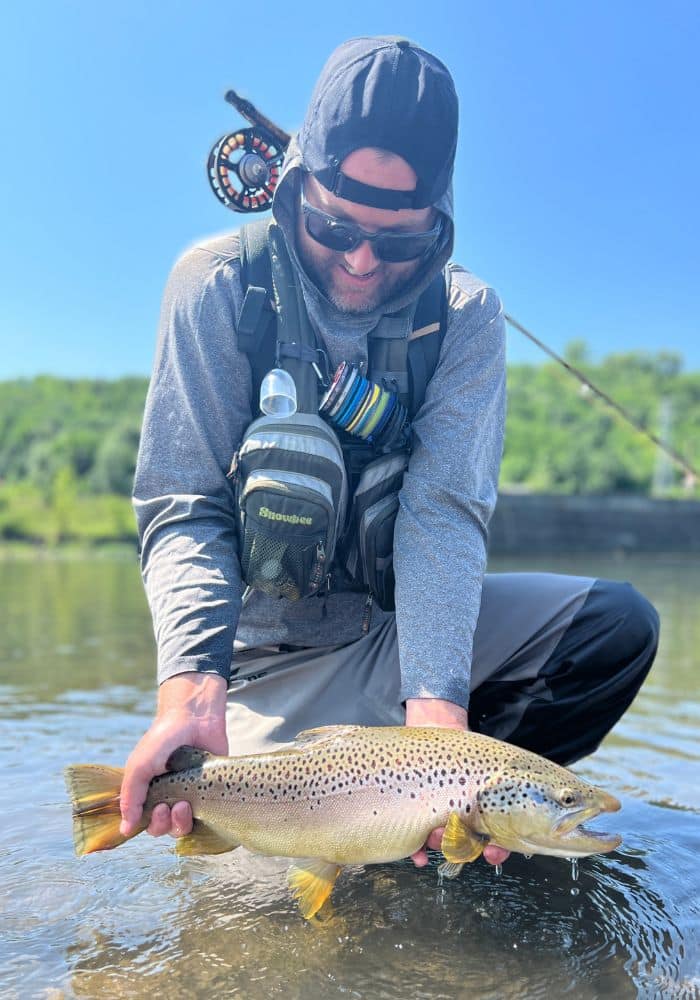 I hired a couple of different guides here to get the lay of the land and had an absolute blast.
There are plenty of smaller mountain rivers here that hold decent trout in the 2-5lb range. But there's one place North of the Capital that has some monsters lurking.
I went there twice with guides and I'm glad I did. We landed some stunning brown trout and rainbow trout there.
Bulgaria's not easy to get to, and it's not on the radar of many fly fishermen, but it's a gorgeous country with very accessible fly fishing.
Slovakia
Continuing on my European Fly Fishing adventure in 2022, I headed to Slovakia for 2 months over the summer. We based ourselves in Poprad, a decent-sized town in the Tatra Mountains.
From there, I headed up into the mountains and around Poprad for some great fishing. Aside from the Bella and some other small streams up in the Tatras, it's pretty hard to get away from the crowds in the summer in Slovakia.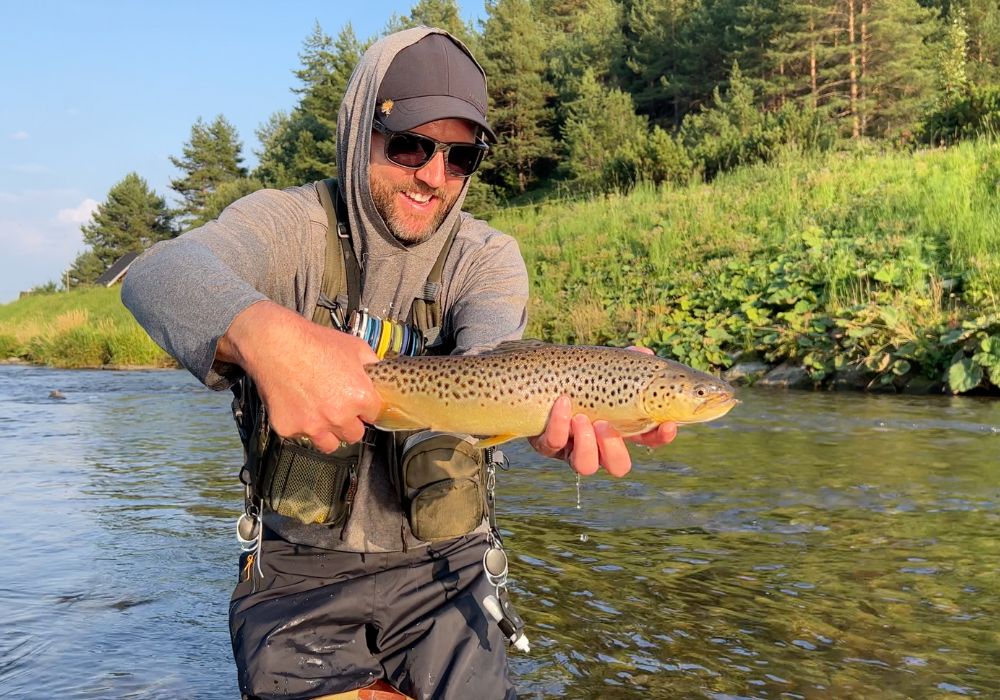 On top of that, a lot of the fishing spots in towns and villages, so it doesn't feel as natural as fly fishing in Slovenia for example (but also the licenses are a lot more affordable).
We did find some great urban areas with nice size browns and rainbows and there were plenty of cool spots up in the mountains.
What really made Slovakia special was the hiking, which the wife loved. There are gorgeous trails all around the Poprad and you can see the Tatras towering over most of the country as well.
Poland
Yet another country under my belt in Europe, Poland is somewhere I didn't expect I'd ever go on a fly fishing trip. But from Poprad, it was just a 2-hour drive up to some decent rivers in Poland, so I hired a local Polish guide to take me around to some of the best rivers closest to the Slovakia border.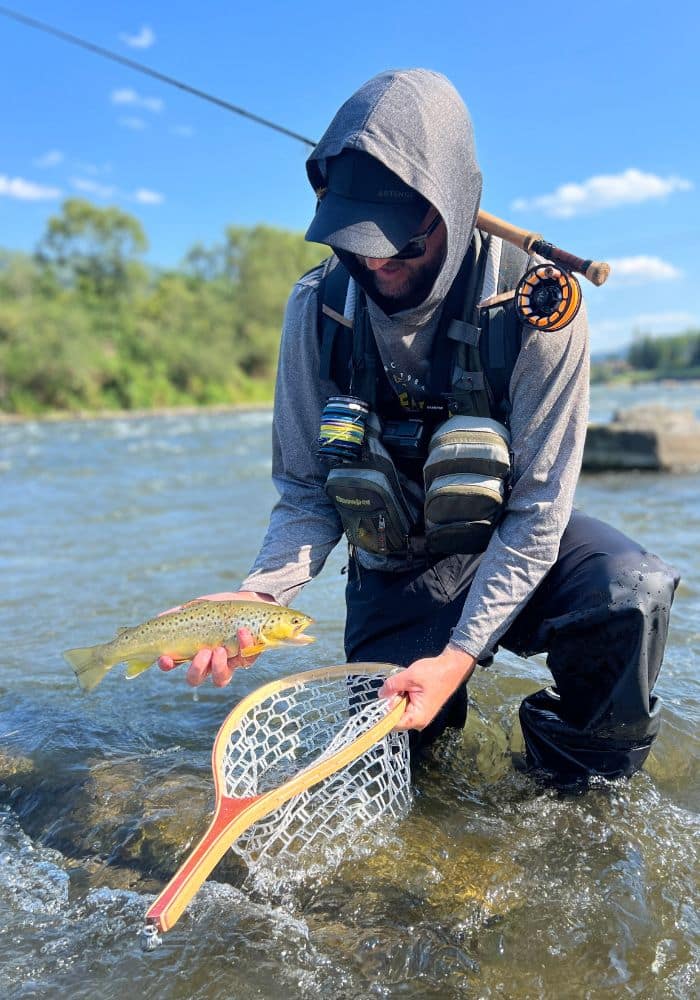 We had a great day out on the water and hooked into plenty of smaller rainbows and browns. Definitely, there are larger fish there, but we ended up going on the hottest day of the month, so a lot of them were holding deep or not feeding.
I was surprised to find out that there's some decent fly fishing culture going on in Poland and plenty of locals and foreign anglers were out on the water with fly rods.
My guide for the day was around €100, so not too expensive, and the license was €25 per day.
2023 Will Be Epic
Now that the turkey, egg nog, and Christmas cheer is wearing off, I'm already planning what 2023 will hold for Into Fly Fishing. I'm thinking we can definitely get a few more epic trips planned for this year.
I'm basing myself in Europe in 2023 so I'm hoping to do another trip to Slovenia (maybe for Hucho in the Fall), as well as Bosnia & Herzegovina (there's some incredible fly fishing on the Ribnik and other rivers there), as well as more fishing in Bulgaria and possibly to a Scandanavian country like Sweden or Norway.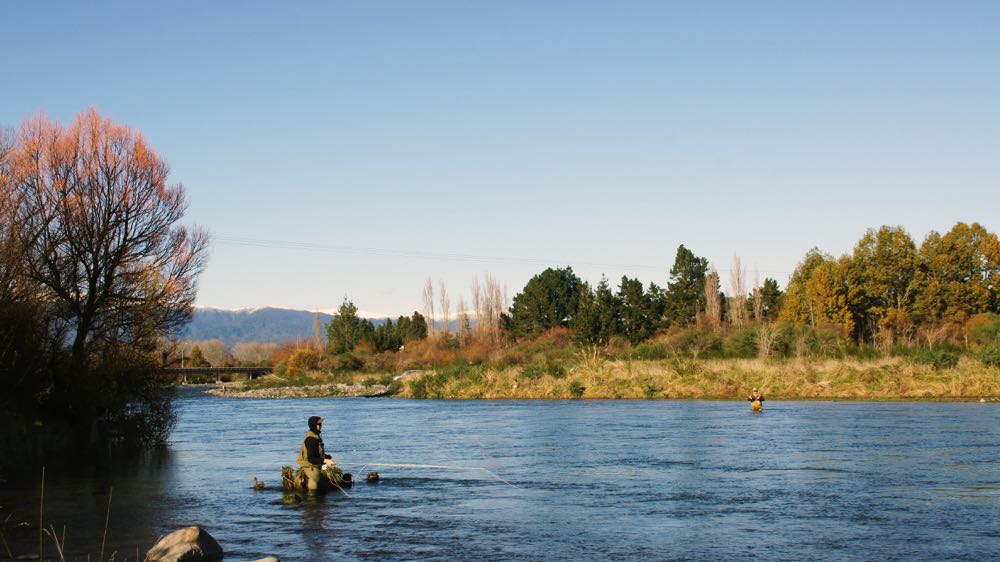 To finish it off, my goal is to make it to New Zealand by the Fall. Scratching off Jurassic Lake in 2022 and New Zealand in 2023 would be incredible. New Zealand has long been at the very top of my fly fishing (and travel) bucket list and it's looking like this might be the year.
The goal would be to head there for 2-3 months and rent a campervan to travel and fish the South Island for at least half of that time. Then maybe meet up with our buddy Alex from Trippin' On Trout to do some fishing around the North Island as well. I can't wait!
Lastly, I'm finally going to hop on the vise and learn to tie some flies. So far all of the videos and articles about fly tying at Into Fly Fishing have been by our resident expert Pierre, but in the future, I hope to get good enough at tying my own flies to share a few patterns here on the blog and on the YouTube Channel.
As always, thanks so much for following the blog and the YouTube Channel. We really appreciate every comment, email, view, and like. I hope you have an epic 2023 as well.
Tight lines…
Amazon and the Amazon logo are trademarks of Amazon.com, Inc, or its affiliates.
As a part of the Amazon Associates Program and other affiliate programs, Into Fly Fishing® may receive a comission if you order products through links on this website.