If you've always wanted to fly fish in a tropical destination and are considering the Maldives, you've arrived at the right article. Here I'll take you through everything you need to know about fly fishing in the Maldives.
I've fished and guided at a bunch of tropical saltwater destinations all over the world. Once saltwater flats fishing has bitten you, not much else gets close to it. In this article, I'll talk about the Maldives and everything you need to know about fly fishing in this country.
Where Is the Maldives?
For those of you that have never heard of the Maldives or don't know where it is, the Maldives is an island nation in the Indian Ocean off the coast of India.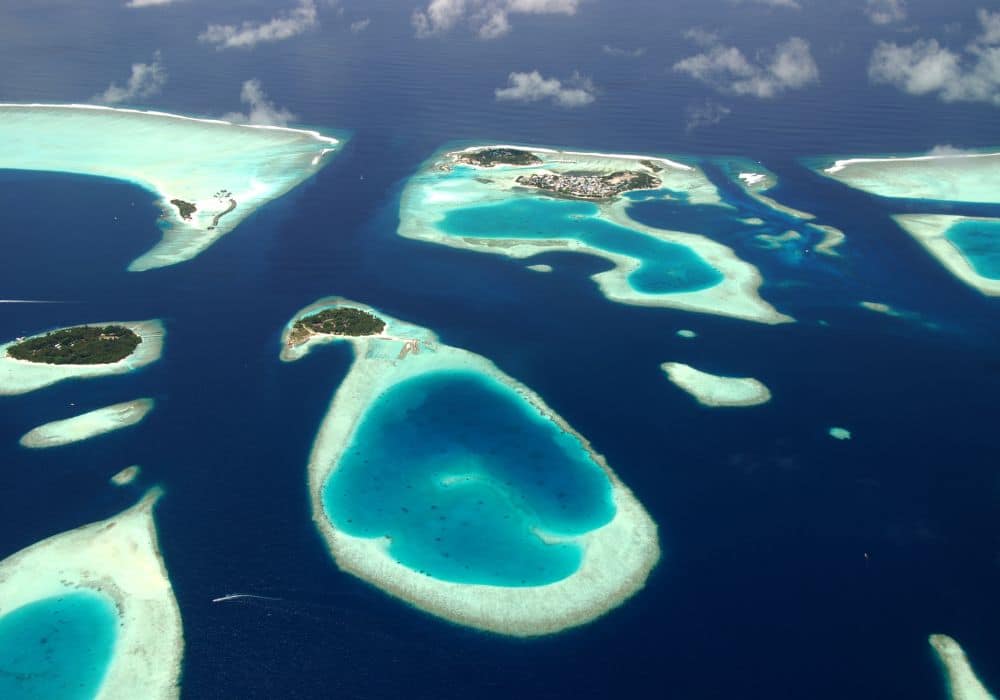 It's formed out of groups of large atolls, each with hundreds of small islands. It's the perfect fly fishing destination.
How to Get to the Maldives
Unless you own a private yacht or boat that you can sail there, the Maldives is only reachable by air. Ultimately, the two main routes into the Maldives are either through Dubai (flying with Emirates) or Doha (flying with Qatar Airways). Both of these airlines are exceptional, and their connecting airports are world class.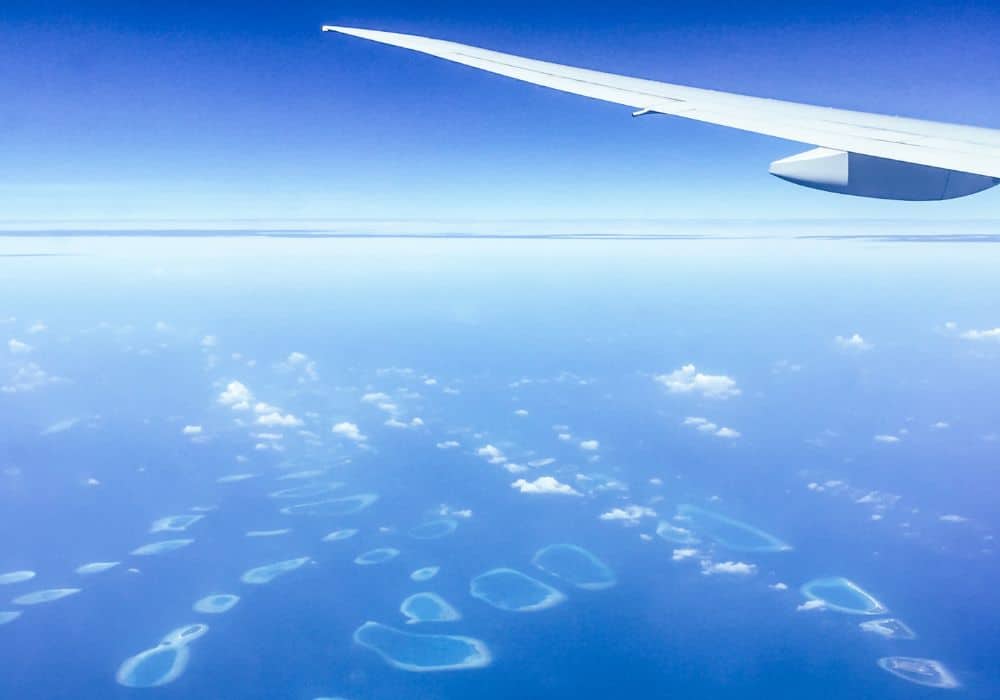 As you approach the capital of Malé, you'll start seeing small islands and tiny atolls, which gets the heart pumping. Now, in my experience, as soon as you touch down in Malé you'll have to be patient, especially when arriving via one of these major centers on a big aircraft.
Most of the wait is only at passport control, and it really does take time.
Where to Stay in the Maldives
There are literally hundreds, if not thousands, of resorts, B&Bs, and Airbnbs to stay in the Maldives. As mentioned earlier, the country is spread out over hundreds of islands and almost every one of them has a resort built on it.
That being said, most of the resorts close to Malé don't offer great fly fishing. You'll need to travel to more remote areas of the country to get to good fishing waters if this is your main aim.
If you're going to the Maldives on a fly fishing-only trip, I recommend getting in touch with one of the fly fishing operators in the area first and finding out where they recommend you stay.
Traveling in the Maldives
If it's your first time visiting the Maldives, arrange a chaperone from your hotel or resort to meet you at the airport. From there, they can escort you either to your final destination, or at the very least, to the boat or domestic plane terminal. (Yes, there's a boat terminal at the airport.)
Depending on where you stay and how much luggage you have, you can get to your accommodation via either a seaplane or boat. The seaplane is quicker and much more comfortable, but it's more expensive and you can load less luggage in it.
On the other hand, there are speed boats that are like sea buses in the Maldives. They have between two and four 200HP motors and run on a very strict schedule. This is great if you want to save some money or have a lot of luggage.
Once you're at your accommodation, you won't need any other mode of transport other than organizing a boat to take you to and from your fishing spot.
Once again, if you're looking to do a dedicated fly-fishing trip, make sure to book with a fly-fishing outfitter and discuss getting around with them.
DIY Fly Fishing in the Maldives
Because there are so many relatively cheap accommodation options in the Maldives, and you can bargain with the locals to take you to spots, the Maldives is a good do-it-yourself fly fishing destination.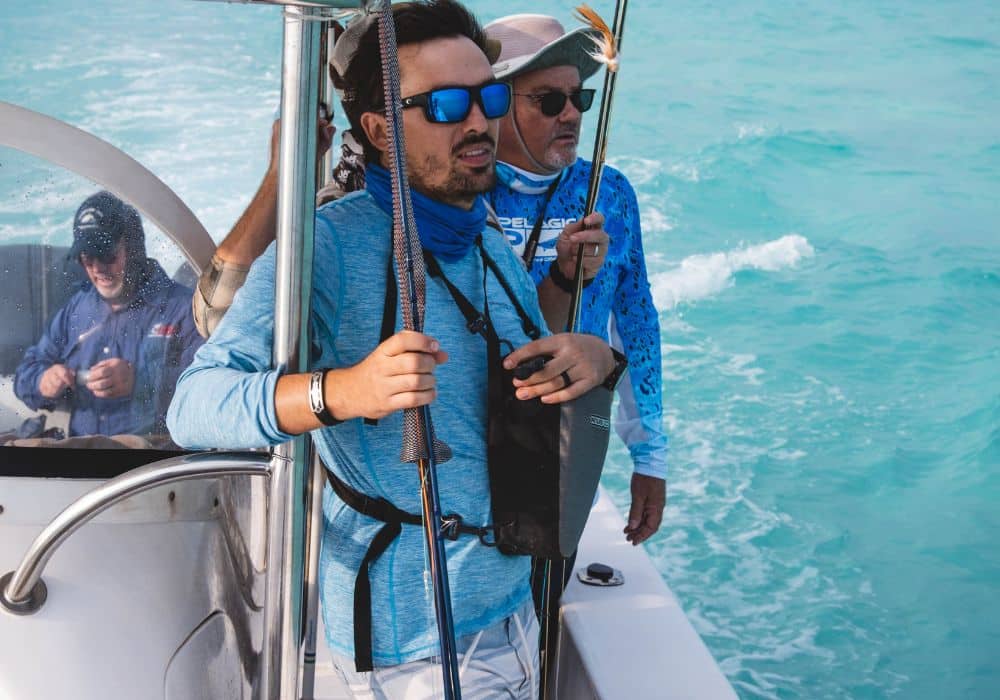 As is the case with any DIY fishing trip anywhere else in the world, you need time and you need to manage your expectations. If you don't have a lot of time to spend in the Maldives or are dead set on catching your 1 m giant trevally, your best bet is to go with a fly-fishing operator.
Fish Species to Target in the Maldives
The main reason you're going to the Maldives on a fly fishing trip is to catch fish, so let's look at the most popular game fish species you're likely to encounter.
Giant Trevally
The main target species in the Maldives are GTs – this is the reason why I went and it's a fish you'll definitely encounter on the reefs.
Giant trevally is the largest species of trevally in the world and frequents all types of water from the surf zone to sand flats.
Bluefin Trevally
The bluefin trevally is probably the most prolific trevally species in the Maldives. They don't grow as big as the GTs, but what they lack in overall size they make up for in looks. A bluefin has the most incredible electric blue color that differentiates it from any other fish.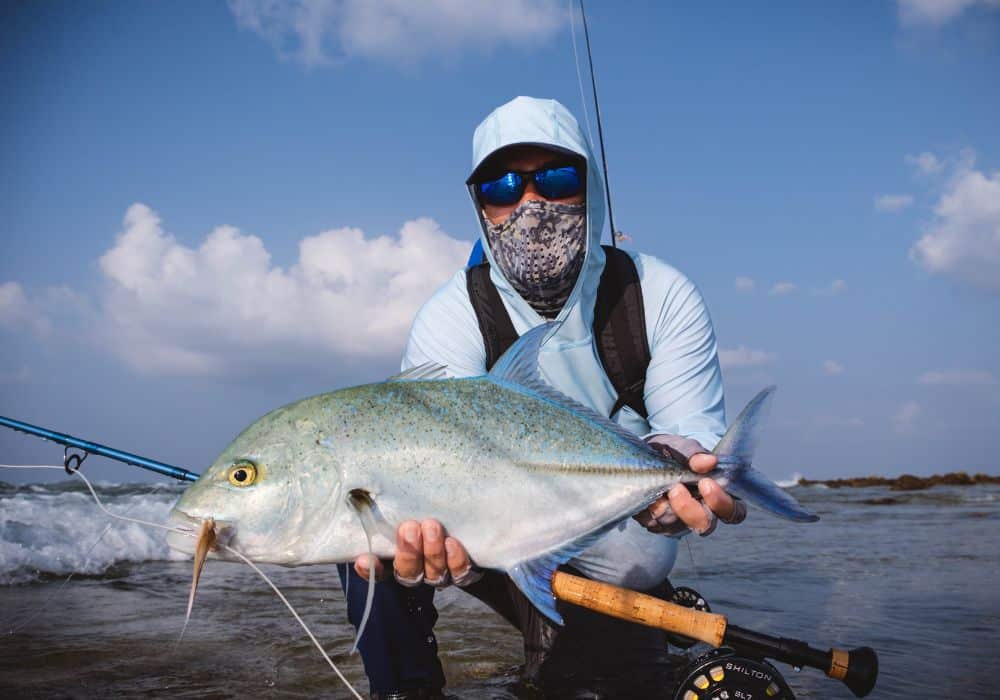 But the fact that they don't grow up to 80 lbs doesn't mean they're not strong. Bluefin trevally are incredible fighters and you'll be surprised about the amount of pulling power these fish have, even when you're fishing with a 12wt.
Other Trevally Species
Giant trevally and bluefin aren't the only trevally species that occur in the tropical waters of the Maldives. It's not uncommon to catch several different species including big-eye trevally, yellow spot trevally, and black jacks.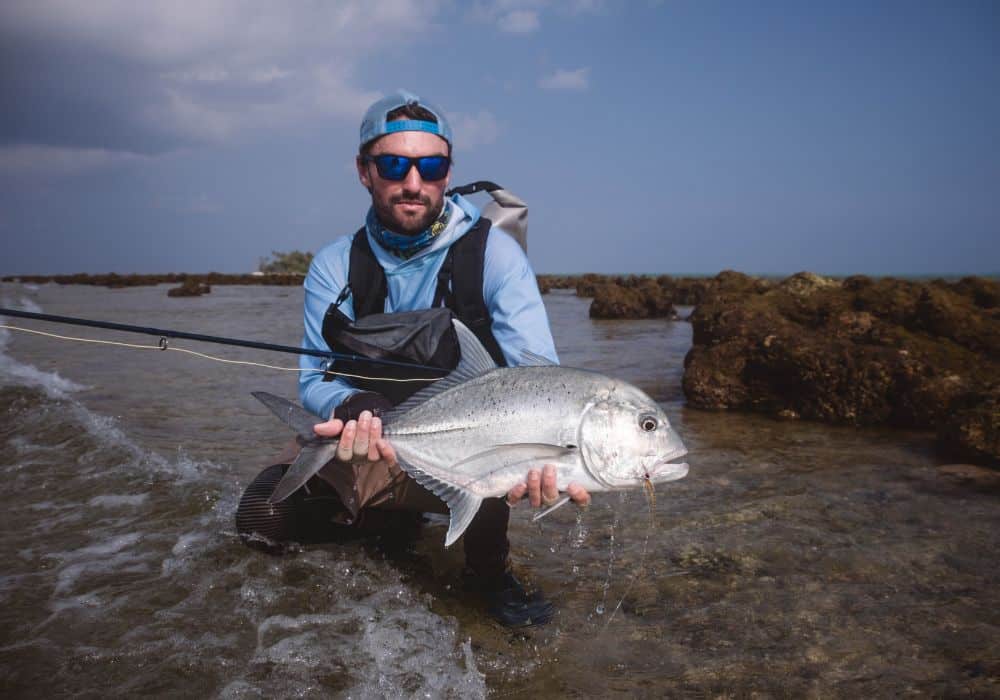 Triggerfish
Spending time in the surf and coral flats you'll see a lot of different triggerfish, the largest and most recognizable of which are the yellow margin and mustache triggerfish. These fish have a reputation of being full of crap and hard to catch, and I found it to be especially the case in the Maldives.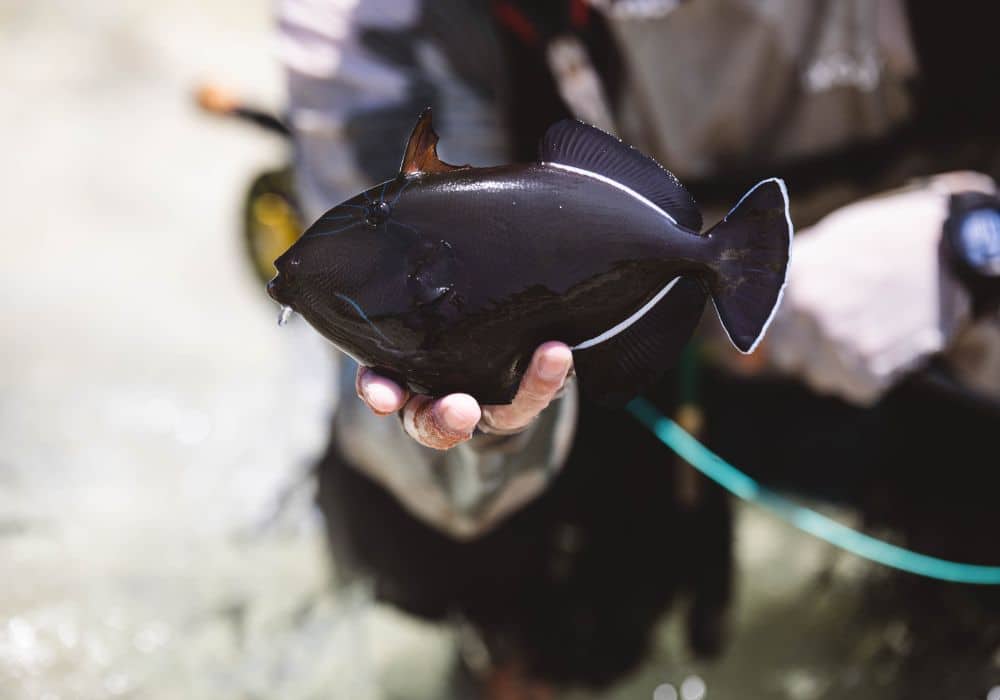 It's not impossible to catch them, so be sure to cast your Alphlexo Crab at them when you have a shot.
Bonefish
Some of the outer atolls of the Maldives have populations of bonefish, but in much smaller numbers than, say, the outer atolls of Seychelles. The schools are generally small and you'll need to make very accurate casts to entice these fish.
The Maldives isn't a dedicated bonefish destination, but bonefish is rather something that you cast your spawning shrimp to if you happen to see a school.
Other Fish Species
There are tons of other fish species you'll encounter in the Maldives, and what makes it so interesting is that each small island is unique in terms of the fish you find there. For instance, I found a good school of unicorn fish on a reef that was happy to feed on my flies.
Probably the most common fish you'll see in the surf is parrotfish. There are literally thousands of them all crunching down on coral and crustaceans. Getting your fly in front of the fish and tempting them to eat is a real challenge.
If you want to see the full glory of tropical fish species, tie on a size 6 spawning shrimp on your 8 or 9 wt and cast it into the surf or around coral heads. You'll catch a ton of unique and weird-looking coral species.
Fly Fishing Gear for the Maldives
Let's talk about gear and what are the best options when fly fishing in the Maldives. Firstly, I think it's important to know whether you're going on a dedicated fly fishing trip or if you simply want to take a fly rod along on your honeymoon or family trip.
9-Weight Setup for the Maldives
If you're doing a dedicated fly fishing trip or simply want to take a rod with you on a family trip, a 9wt setup is my first recommendation. This rig is small and sensitive enough to cast the entire day and catch smaller trevally species like bluefin, small GTs, and yellow spots.
A fast-action fly rod is ideal for the Maldives, as you very often have to deal with wind and relatively large or heavy saltwater flies. All the rod hardware, like the reel seat and line guides, must be corrosion resistant.
The reel must be saltwater proof, as it will get wet either when you're fishing or landing a fish. Make sure that the drag is also saltwater ready, like a good cork or a fully sealed drag.
Because you're fishing relatively light tippets on a 9wt, the reel must have a good backing capacity in case you hook into a decent fish. Anything above 150 yards should be sufficient.
A weight forward floating fly line that's rated to be used with a 9wt rod in tropical conditions is essential. For leader material, I usually take 16 lb, 20 lb, 25 lb, and 40 lb fluorocarbon.
12-Weight Setup for the Maldives
If catching giant trevally is an absolute must for you, I recommend taking a good 12wt setup to the Maldives. Yes, you can catch a small specimen on a 9 or 10wt rig, but if you hook into a decent fish you'll need a 12wt.
A durable 12wt rod is absolutely essential when targeting giant trevally in the Maldives. Since you'll be transported to and from fishing spots via a boat and you're fishing in some seriously harsh environments, these rods take an absolute pounding.
As with the 9wt rod, your 12wt must have corrosion-resistant components and a decent fighting butt.
Here, once again, a high-quality rod and reel are really essential. The reel must be saltwater ready and have a sealed or cork drag. Speaking about the drag, it needs to have some serious stopping power for giant trevally because these fish are among the dirtiest fighters around.
Spool 300 yards of 80 lb braid as backing onto your reel and opt for a 12wt line that has a very strong core. These days there are dedicated GT fly lines on the market which all the big brands make, like Cortland, Scientific Anglers, Rio, and Airflo, which is perfect for the job.
For leader material, I usually pack 80 lb fluorocarbon and 120 lb mono.
Other Important Gear for the Maldives
If you'd like to find out more about other gear that's absolutely essential when fly fishing in the Maldives, check out the video we did on how to pack for a saltwater fly fishing trip. This is a comprehensive video where Chris and I cover each piece of gear in detail.
What Is the Best Time to Fly Fish the Maldives?
Because the Maldives is located close to the equator, from a temperature point of view you can fish the entire year. The determining factor is the prevailing wind. From May to August the Indian ocean experiences the Southwestern Monsoon, which generally makes the sea rougher and the conditions harder to cast in.
The best time of year to visit the Maldives is from September to April.
What Are the Tides to Fly Fish the Maldives?
Now, what tides are the best to fish in the Maldives? If I'm planning a giant trevally specific trip and have access to boats moving me around and being on standby where I fish, I'd definitely say spring tide.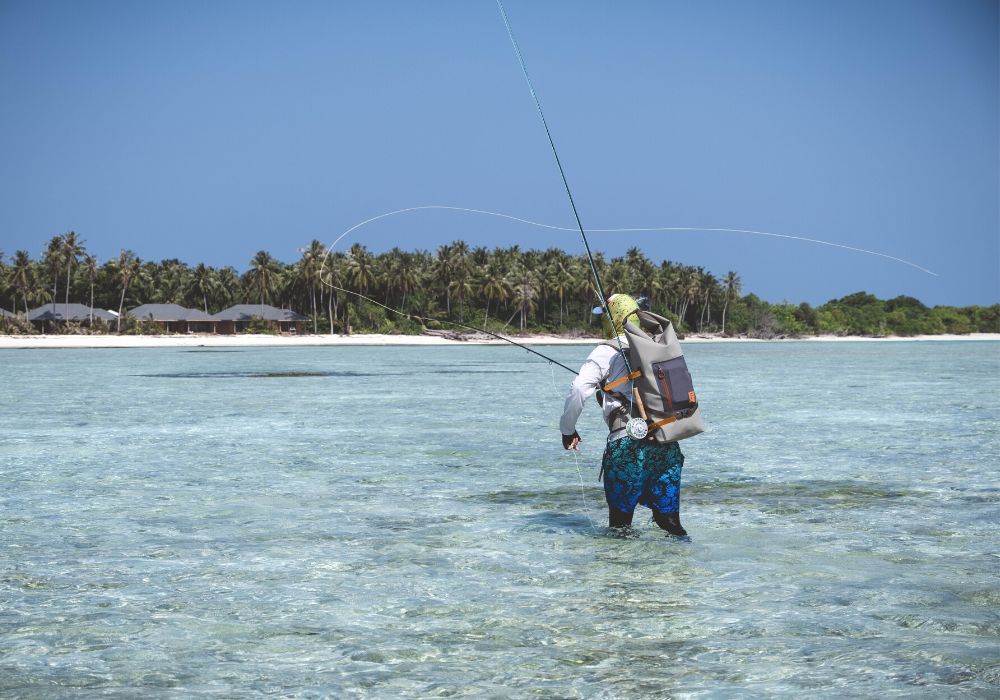 Because the fluctuation of water is more during spring cycles for a set time, the general flow of water is greater and pushing colder water onto the flats. Giant trevally love rough and fast-moving water, so springs are absolutely ideal.
That doesn't, however, mean you won't catch fish on neap tides. The fish will still be around and it opens a lot of other opportunities for you.
Conclusion
I hope that you found this article on fly fishing in the Maldives not only helpful, but also that it provoked your interest, as it's a seriously underrated fishery. If you go to the right places with the right people, you can experience world-class fishing.
Until next time.
Disclaimer: IntoFlyFishing.com is a participant in the Amazon Services LLC Associates Program, as an Amazon Associate I earn from qualifying purchases. Please see our Privacy Page for more information.