As an Amazon Associate I earn from qualifying purchases.
Fly fishing in Northern Ireland is a must-experience for all enthusiasts, whether you're interested in trout, salmon, pike, bass, seatrout, pollock, or coalfish, Northern Ireland has something to offer every angler. I have been an avid fly fisherman for fourteen years and have fished in Northern Ireland since I was a child.
The picturesque coastline and beautiful flowing rivers of Northern Ireland make it an ideal destination for fly fishing. Its rich fly-fishing heritage adds to its appeal as a fantastic fly-fishing destination. Let's dive into a local's personal guide to fly fishing in Northern Ireland.
More Fly Fishing Destinations
My Experience Fly Fishing in Northern Ireland
I've spent my entire life fishing in Northern Ireland, engaging in fly fishing across all six counties. Whether I was pursuing pollock with a fly rod in County Londonderry or seeking salmon in County Antrim, I've consistently been impressed by the diverse fishing opportunities that Northern Ireland offers.
Over the years, I've honed my skills in this region, commencing with rainbow trout in stocky lakes and progressing to brown trout and salmon in rivers. More recently, I've ventured into targeting saltwater species like pollock and bass with a fly rod.
Through firsthand experiences with local anglers, I've cultivated numerous valuable relationships within the Northern Ireland angling community. This underscores the welcoming nature of fellow anglers who are always ready to assist beginners when fishing in Northern Ireland.
Why Fly Fish in Northern Ireland?
Convincing someone that a location is a must-visit for fishing, potentially one of the best in the world, can be challenging. However, I genuinely believe that Northern Ireland stands out as a bucket-list destination for fly fishing.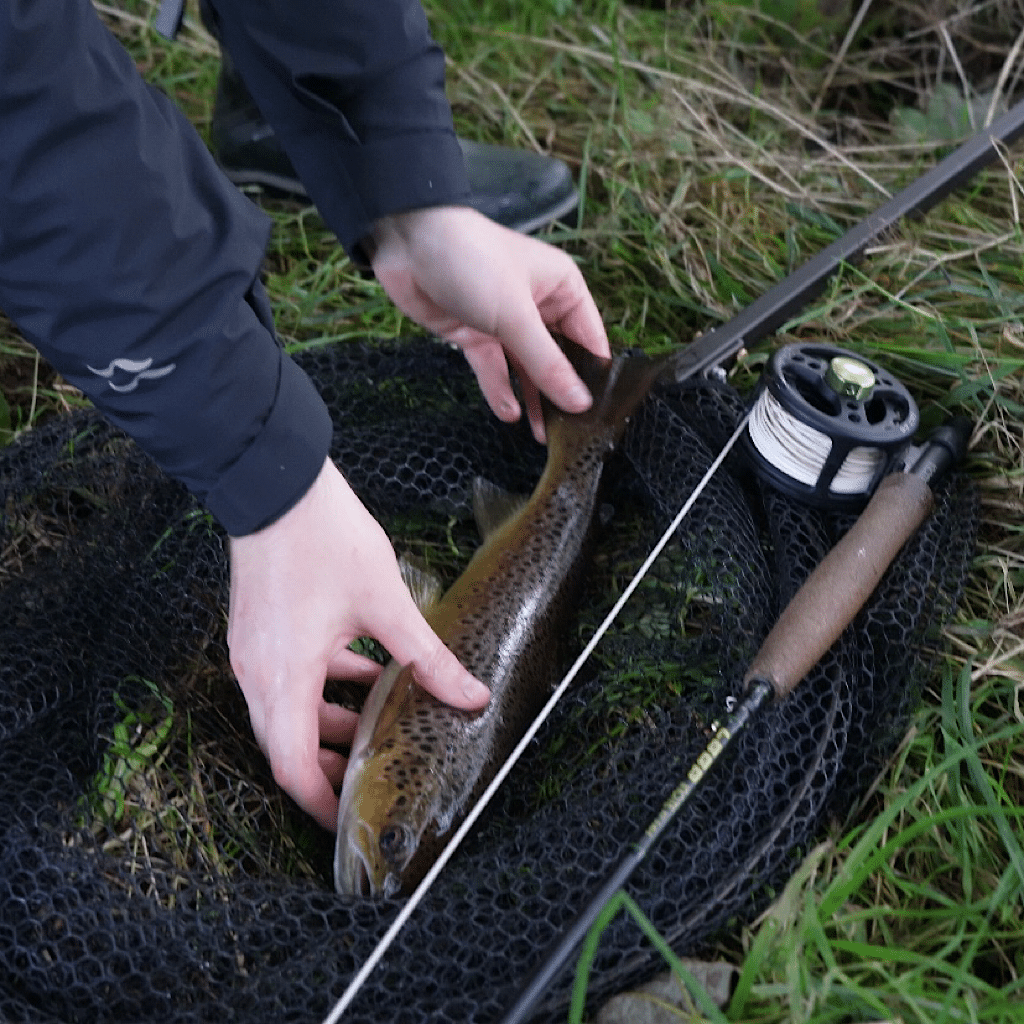 Situated on the Irish coastline, Northern Ireland offers a wealth of species to target and boasts some of the finest trout runs. This includes the opportunity to catch brown trout sub-species like the dollaghan, making it a true paradise for trout fly anglers.
10 Best Trout Rivers in Northern Ireland
In this section, we will explore the top ten rivers for fly fishing in Northern Ireland. I'll provide an account on each river to help you determine which location might be the best fit for your fishing preferences.
River Mourne
Nestled amidst the picturesque County Tyrone, the River Mourne is indeed a dream come true for trout anglers. Flowing through charming towns like Strabane and Newtownstewart, it provides easy accessibility for anglers, this river also offers a wide range of water conditions, from sections with fast-flowing currents that provide an exhilarating challenge to serene pools perfect for novice fly fishers.
River Bann
The River Bann, Northern Ireland's longest river, meanders gracefully through the heart of the region. Easily accessible from towns like Coleraine and Portadown, it is a popular choice for dollaghan trout fishing that doesn't necessitate the use of a 4×4 vehicle to reach prime fishing spots along its banks.
The river Bann was the country's best coarse fishing spot until it experienced heavy poaching, however, pike can still be caught in it on the fly.
River Roe
Situated near the town of Limavady, the River Roe is a hidden gem for trout anglers. Its easy accessibility eliminates the need for a 4×4, and the river is renowned for its crystal-clear waters and an abundance of aquatic life, creating an excellent habitat for trout, consider using flies like the Yellow Sally and the Blue-Winged Olive.
River Strule
The River Strule flows through the town of Omagh, making it a convenient spot for anglers. It boasts a mix of water conditions, ranging from riffles and runs to deeper pools. What enhances the appeal of the River Strule is its esteemed cultural significance; it served as a muse for the renowned Irish poet Seamus Heaney, who drew inspiration from its tranquil waters for some of his poetry.
River Bush
The River Bush, located in close proximity to the town of Bushmills, offers a fantastic fishing experience. Easily accessible without requiring a 4×4, it is conveniently situated near amenities and the famous Bushmills Distillery. This river is renowned for its challenging currents and water conditions, making it ideal for experienced fly fishermen.
River Maine
The River Maine in County Antrim is conveniently located near the town of Ballymena, ensuring easy accessibility for anglers without the need for a 4×4 vehicle. The river offers a mix of closed, wooded environments and more open sections, presenting a variety of casting challenges and opportunities.
River Faughan
Flowing through the city of Londonderry/Derry, the River Faughan is readily accessible to anglers and does not necessitate a 4×4 vehicle.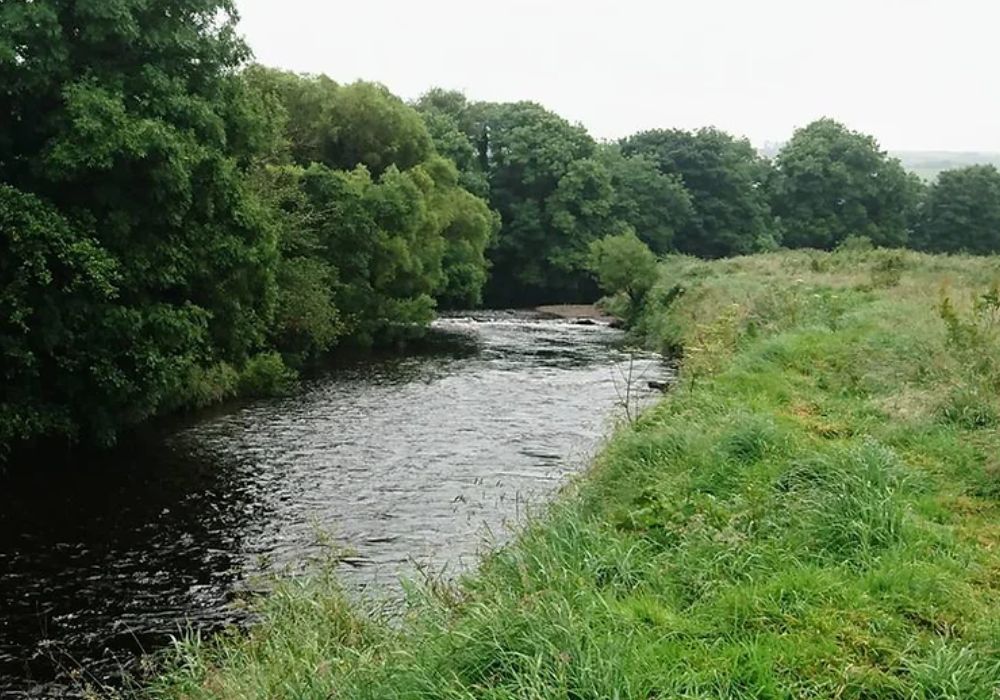 What sets the River Faughan apart is its location within the Faughan Valley Area of Outstanding Natural Beauty, fly patterns like the Green Peter and the Bibio work well here.
River Shimna
The River Shimna, nestled in the heart of the Mourne Mountains, serves as a haven for trout and salmon anglers. Accessible without a 4×4, it offers a unique mountain fishing experience. What further distinguishes the River Shimna is its crystal-clear waters, making it one of the few places in Northern Ireland where you can combine trout fishing with stunning mountain scenery.
River Ballinderry
Located in County Tyrone, the River Ballinderry is close to towns and easily accessible, eliminating the need for a 4×4 vehicle. What adds to the appeal of the River Ballinderry is its status as a conservation success story. Extensive restoration efforts, including habitat enhancement and water quality improvements, have transformed it into a thriving ecosystem for trout.
River Blackwater
Winding its way through County Armagh, the River Blackwater offers a diverse fishing experience. Easily accessible from towns and free from the requirement for a 4×4, it stands out for its large and elusive trout, some of which have grown to impressive sizes due to the abundance of aquatic insects in the river. I personally recommend using a Copper John nymph in this river.
10 Best Trout Lake Lakes in Northern Ireland
In this section, we'll explore the top ten trout lakes in Northern Ireland that are ideal for fly fishing. We'll delve into their accessibility, highlight popular fly choices, and also share some intriguing fun facts.
Lough Neagh
Lough Neagh, the largest freshwater lake in the British Isles, known for its eel fishing, is also a fantastic spot for trout fishing enthusiasts. It's conveniently located near the towns of Antrim and Lurgan, making it easily accessible.
You won't need a 4×4 to reach the lake. Some of the popular flies for trout here include the Black Pennell and Invicta patterns.
Lough Erne
Lough Erne, an extensive network of lakes in County Fermanagh, is a hidden treasure trove for trout fishing. It's close to the charming town of Enniskillen, ensuring easy access. No need for a 4×4 here and the Bibio and Muddler Minnow work well. Pike fly fishing charters can also be found on Lough Erne.
Silent Valley Reservoir
Nestled in the serene Mourne Mountains, the Silent Valley Reservoir is just a stone's throw from Kilkeel. While the journey offers breathtaking scenery, reaching the reservoir is straightforward, and you won't need a 4×4. Trout in this environment often responds to flies like the Hare's Ear.
Lough Melvin
Lough Melvin, situated in County Leitrim, is a short drive from the Northern Irish border. While getting to the lake may involve navigating some narrow roads, a 4×4 can come in handy. The expansive lake provides ample room for casting, making it perfect for anglers of all levels.
Lough Beg
For a peaceful fishing experience close to Bellaghy, look no further than Lough Beg. It's easily accessible, and a 4×4 is not required. Popular flies for trout here include the Buzzer and Olive Nymph.
Lough Muckno
Lough Muckno, located near Castleblayney in County Monaghan, is a hidden gem for trout fishing. Trout in this lake are known to respond well to flies like the cadis and daddy longlegs.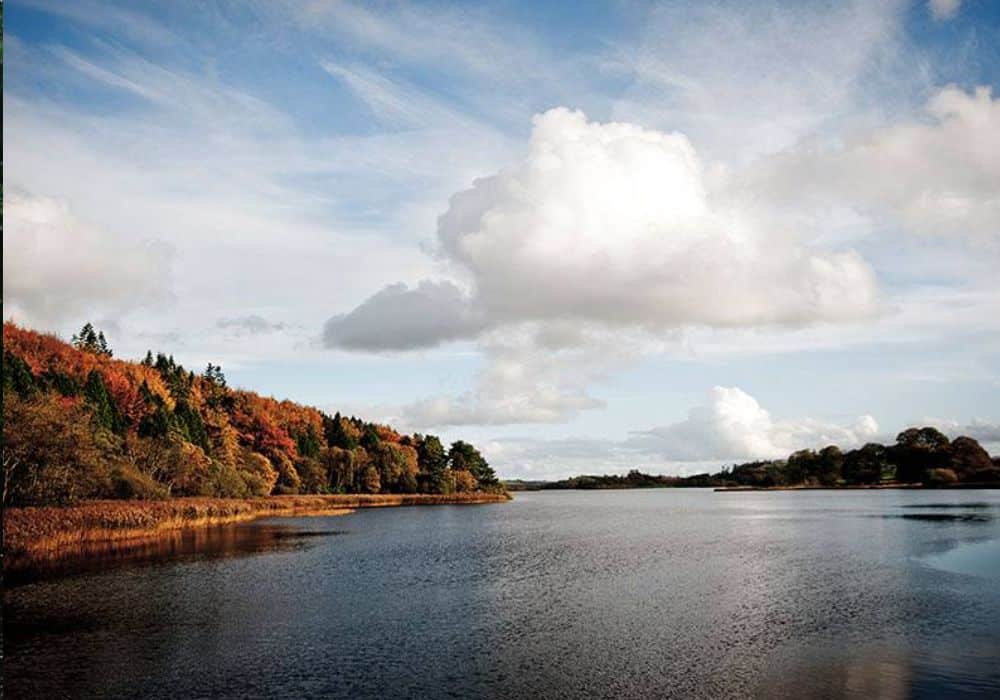 Lough Muckno is recognized for hosting international angling competitions, attracting anglers from across the globe.
Lough MacNean
Lough MacNean, nestled near the town of Belcoo in County Fermanagh, offers a unique trout fishing experience within Northern Ireland. It's easily accessible, and a 4×4 is not required. Trout in this lake responds well to flies like the Black Gnat and Mayfly patterns.
Islands situated on Lough Neagh
Exploring the islands within Lough Neagh adds an exciting dimension to trout fishing. While they're close to towns, reaching these islands requires a boat or kayak. Flies like the Dunkeld and Daddies are often effective in this isolated location.
Lough Money
Lough Money, located near Dundrum in County Down, offers a serene fishing experience close to town. You won't need a 4×4 to access this lake. Lough Money is located within Tollymore Forest Park, providing opportunities for hiking and wildlife spotting alongside your fishing adventures.
Lake Camlough
Camlough Lake, situated near Newry, offers a tranquil trout fishing experience near town. You won't need a 4×4 to reach this accessible spot.
Flies like the Diawl Bach and Pearly Invicta work well for successful angling. The closed environment of this lake ensures calm waters for precise casting.
Saltwater Fly Fishing in Northern Ireland
Northern Ireland offers not only fantastic freshwater fishing but also an excellent opportunity to explore saltwater fly fishing. Whether you're pursuing bass, mackerel, mullet, or sea trout, Ireland has something to offer for every angler.
Ballintoy Harbour
Ballintoy Harbour is a picturesque fishing spot, renowned for fly fishing for mackerel during July and August. Additionally, you can also encounter pollock here, which can be caught using fly fishing techniques. I have personally had the pleasure of landing some impressive coalfish from the rocky shoreline on the right-hand side of the pier.
Strangford Logh
Strangford Lough offers excellent sea trout fishing opportunities. I recommend using a silver sand eel pattern when targeting them in this area. Most of your fly fishing will take place from sandy coves during low tide, focusing on deep water holes where the trout are known to congregate.
Rathlin Island
A small island, accessible by booking a boat from Ballycastle, is a fantastic destination for fly fishing. Its rugged coastline, combined with deep waters, makes it an ideal spot for targeting pollock, coalfish, and pouting with fly fishing gear. However, I would advise traveling here only during the summer months since the winter can bring choppy waves that may not be suitable for fishing.
Ballycastle
Ballycastle is a charming coastal town located in Northern Ireland.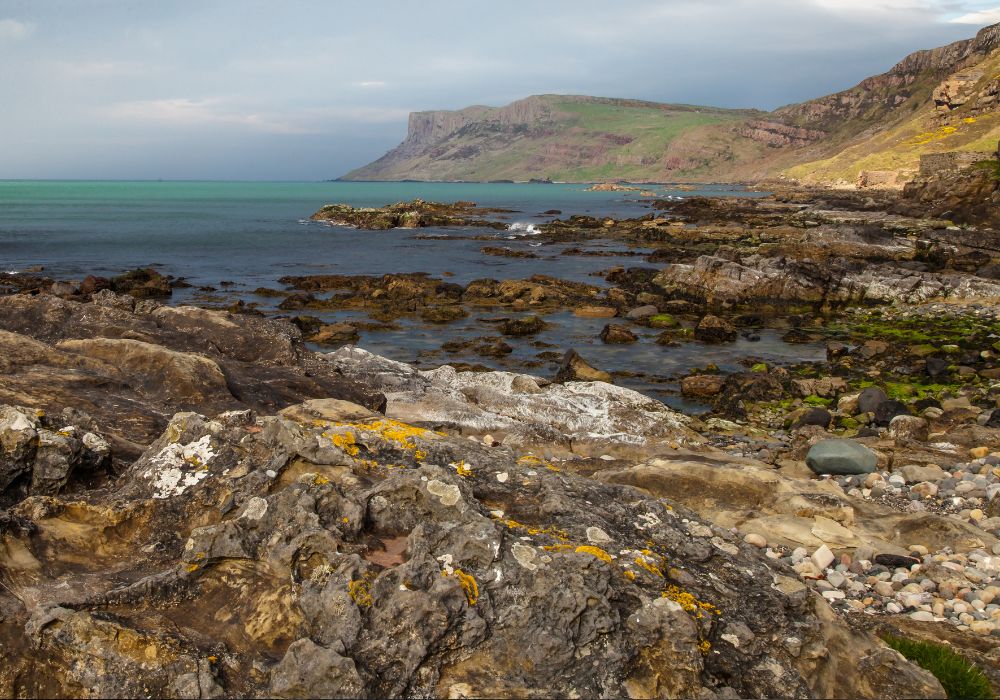 It's an excellent destination for targeting mackerel during the season, along with local codling and pollock. Personally, I highly recommend the rocks at the end of the beach as one of the best spots for fly fishing.
Bangor
Bangor's harbor can be a great spot for targeting pollock and mackerel, and you can also find shoals of whiting near the rocks at the front of the harbor. I would recommend fly fishing at this location only during high tide, as other times can be challenging.
Fly Fishing in Northern Ireland Regions
Northern Ireland is divided into six counties, and in this section, we will explore the best fly fishing opportunities in each county.
Antrim
During the summer months, county antrim teems with impressive schools of mullet and offers excellent opportunities to target them using fly fishing techniques. Additionally, there are spectacular runs of mackerel along the Antrim coastline, making it a prime location for fly anglers seeking these exciting catches. Don't forget to explore the exceptional trout and salmon fishing opportunities in the scenic Antrim countryside as well.
Armagh
County Armagh stands out for its outstanding freshwater fishing options, particularly for those seeking large pike in the region's picturesque lakes. Additionally, trout fishing is a popular activity alongside Lough Neagh, and visitors can rent wooden row boats in county Armagh to enjoy this tranquil experience on the water.
Down
County Down boasts fantastic shore fishing, with a notable focus on targeting large pollock for those interested in this species. Additionally, the region is known for its impressive salmon runs, making it a must-visit destination for anglers seeking these majestic fish.
Fermanagh
Fermanagh is widely recognized as one of the best locations in Northern Ireland for fly fishing enthusiasts looking to pursue pike. Here, you can access guide services equipped with high-tech boats and charter equipment, ensuring a memorable and productive fishing experience on the water.
Londonderry
Londonderry County offers a wealth of opportunities for salmon enthusiasts, with the county being home to some of the most prolific salmon runs in Northern Ireland.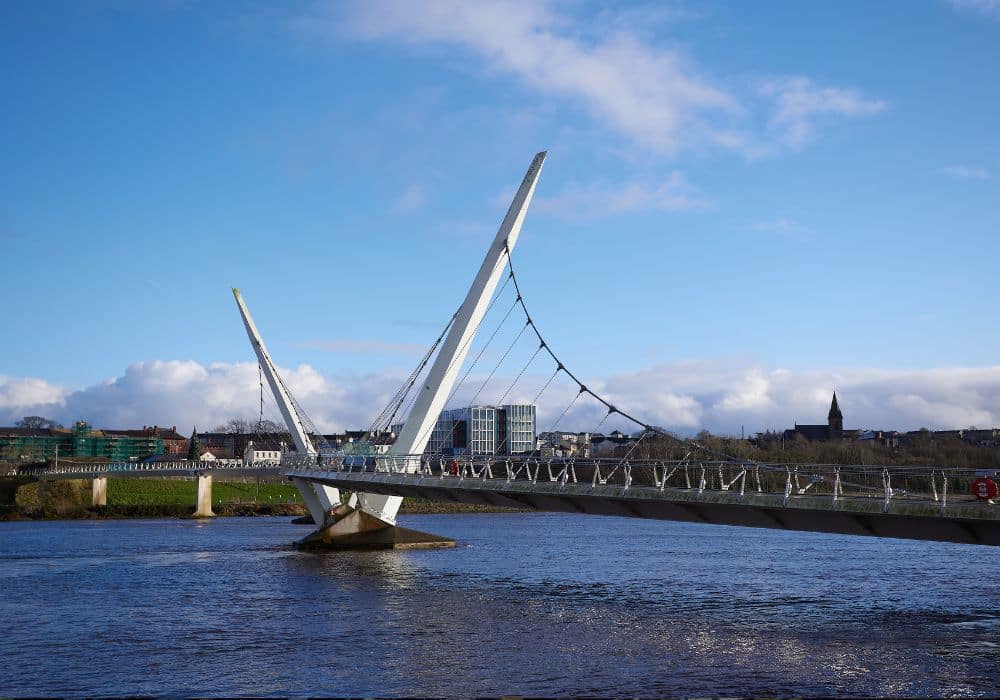 Additionally, the county's coastline is a prime location for shore fishing, with the peninsula being a particularly attractive destination.
Tyrone
County Tyrone, being fully landlocked, offers excellent freshwater trout fishing opportunities. If you're interested in landing a big brown trout, Tyrone is an ideal destination for you to explore and enjoy this challenging and rewarding fishing experience.
Northern Ireland Fly Fishing – Fish Species
In this section, we will cover the most common species targeted in Northern Ireland on a fly rod.
Atlantic Salmon
Atlantic salmon are the most prized fish to catch, only available in Northern Ireland. Northern Ireland has a great run of Atlantic salmon from June through mid-September.
Dollaghan
Dollaghan is a prized subspecies of brown trout that is local to Lough Neagh and its surrounding tributaries. The dollaghan are commonly fished for at night as this is when they are most active.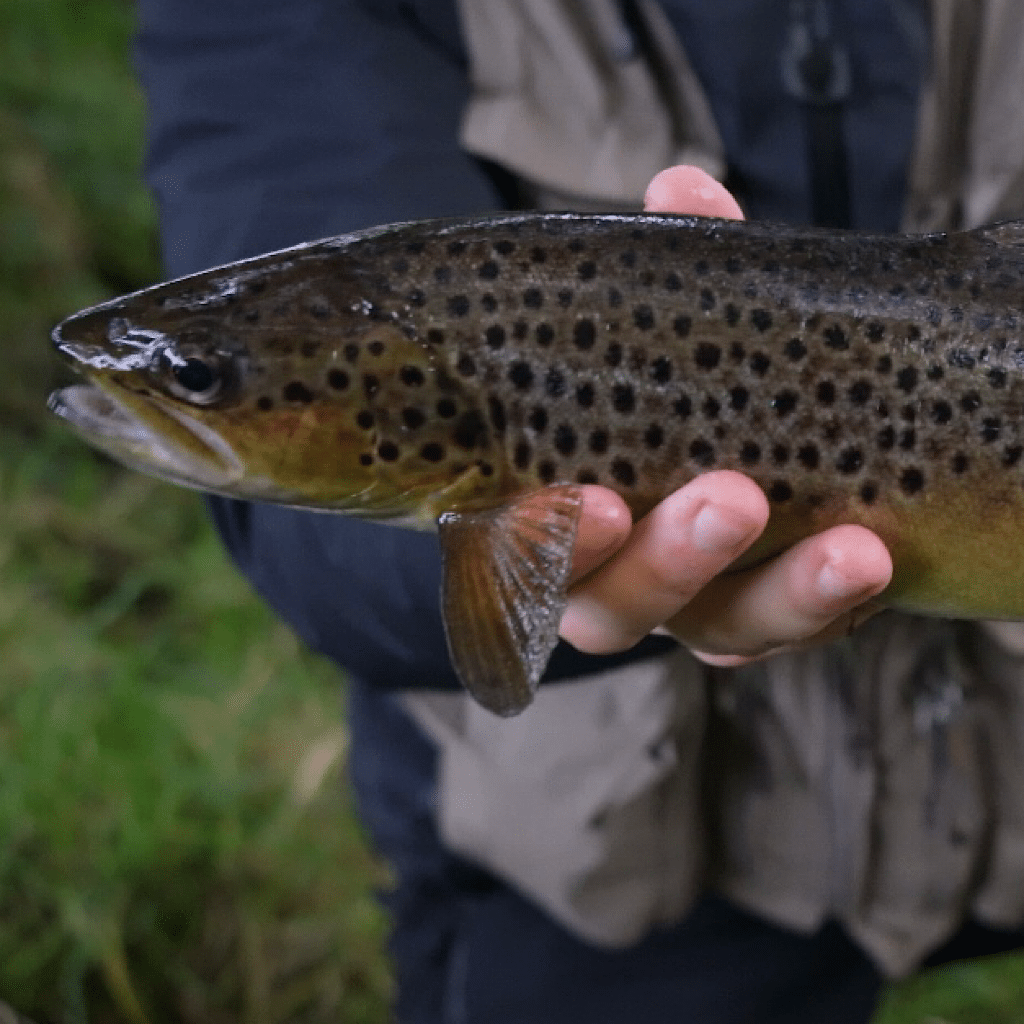 Furthermore, the dollaghan put up an impressive battle on the fly, I recommend using a bloody butcher to effectively catch these trout.
Brown Trout
Brown trout are present in Northern Ireland's waters all year round, but they can only be targeted during the fishing season. Brown trout don't grow very large in Northern Ireland; around six pounds would be considered a specimen fish.
Pike
Pike can grow to over twenty pounds in Ireland and are known for their aggressiveness when targeting them with a fly.
I recommend targeting them around Lough Erne from chartered boats. Ensure you have very heavy tackle as pike have a set of ferociously sharp teeth.
Mullet
Mullet are arguably the hardest fighting fish pound for pound that can be caught in Northern Ireland. I recommend using bread imitation flies, as this has been the most successful approach for my mullet fishing seasons.
Mackerel
Mackerel put up a great fight when caught on a fly. Always use a dropper when catching mackerel, as there's a great chance you'll hook multiple at once since they swim in shoals. Any bright fly will work well for mackerel in Northern Ireland, however, I personally have found great success using the EX sand eel patterns.
Sea Trout
Sea trout are brown trout that have migrated to the sea and turned a silver hue color. These trout are incredibly fit and put up a great fight when caught on a fly.
Sea trout can be often caught at the mouth of the river around estuaries or piers.
Sea Bass
Saltwater bass are a prized fish to target on the fly in Northern Ireland. Be cautious of their spines running underneath and on top of their body. Bass are fantastic sport on the fly due to their top water blow-ups. When catching bass on the fly, make sure to set the hook hard on the strike.
Perch
Perch are very common in Northern Ireland and can be great fun to catch on light tackle. You can find perch in most canals or boat docks in freshwater. In some instances, there are so many perch in Northern Ireland that you can catch them on accident when targeting salmon.
Pollock
Pollock is one of the most common fish found on the coast of Northern Ireland. They can grow to enormous sizes and provide an exciting fishing experience when targeted with a fly.
Smaller pollock can be found in Northern Ireland all year around, however, bigger fish will migrate inland during the summer months.
Coalfish
Coalfish are commonly misidentified as pollock, but they have notably different skin shades as well as a straight lateral line running through their body. They are also great to catch on the fly as they put up fantastic hard runs. I recommend using a closer minnow when targeting coalfish.
More on Fly Fishing Different Species of Fish:
Best Flies For Northern Ireland
In this section, we will extensively cover the best flies to use in Northern Ireland.
Dry Flies
In this section, we will introduce five commonly used dry flies suitable for catching fish in Northern Ireland. These versatile flies are effective for various freshwater fish species.
Black Midge: This pattern works well in small creeks for local brown trout. If you fish it slowly you'll receive more strikes. I recommend using it as a dropper paired with a heavier point fly.
Greenwell Glory: A traditional British dry fly pattern that works well for catching brown trout. It should be noted that this fly can be tied as a wet or dry fly pattern.
Daddy long legs: An absolute necessity to have at your local rivers in Northern Ireland. This fly is perfect when a large number of crane flies are blown across the water.
Adams: A traditional American fly pattern at works surprisingly well in Northern Ireland.
Deer hair emerger: One of the best dry flies, known for its fantastic floating capabilities.
Wet Flies
In this section, we will introduce five commonly used wet flies suitable for catching fish in Northern Ireland. These versatile flies are effective for various freshwater fish species.
Bloody Butcher: One of the best dollaghan flies in all of Ireland. This fly is a fantastic dropper fly for landing large dollagahan.
Brown hackle peacock: Another fantastic fly designed to land big brown trout when fishing statically over fast-flowing water.
Partridge and orange: One of my personal favorite wet flies, this is great when a small amount of color is needed for murkier water.
Black Gnat: One of the most basic wet flies there is, this simple but effective fly always proves to fish well in Northern Ireland.
Sandy blank buster spider: My go-to fly when the water has little to no movement. This fly works well when retrieved at a moderate pace in local rivers.
Nymphs
In this section, we will introduce five commonly used nymphs suitable for catching fish in Northern Ireland. These versatile flies are effective for various freshwater fish species.
Hares Ear: One of the most popular nymphs in the world, this fly is sure to catch you a trout in Northern Ireland.
Pheasant Tail: A solid choice for targeting Atlantic salmon and big dollaghan.
Copperhead stone: This fly is best fished as a point fly in moderate moving water.
Jenkins blob tail: This nymph works very well for trout in olive colors.
Mayfly Micro: One of the best dropper nymphs, this fly is perfect for catching small stream trout.
Saltwater Flies
In this section, we will introduce five commonly used saltwater flies suitable for catching fish in Northern Ireland.
Sparkle Minnow Blue: One of my favorite flies for targeting large pollock. This fly does have some weight to it so I do recommend using a 6 weight and upwards to cast it.
Salty clouser minnow: This fly works well for catching codling and needlefish
Pillow talk: A small fly great for hanging over the edge of piers and picking up small coalfish.
Surf candy: A fantastic choice for targeting mackerel, this fly needs to be retrieved hard and fast if you want to hook into a shoal of mackerel. It is best fished during very bright days as this is when mackerel will feed best.
Sandeel EZ: Another fantastic pattern for targeting hard-fighting mackerel. These tend to come in blue or green, I personally prefer to blue pattern.
Find The Best Flies For Any Fishing Scenario:
Northern Ireland Fishing Season
The best months to fish in Northern Ireland are from July through to September. In this section, we will dive into the fish you should be targeting when fishing in Northern Ireland.
June marks the beginning of the prime fishing season in Northern Ireland. Mackerel and mullet make their way to the coastline, while salmon start their upstream journey in the rivers. Trout become highly active, offering excellent angling opportunities.
Northern Ireland Fly Fishing in July
By July, the fishing season is in full swing. Dollaghan fish begin to appear in the rivers, and salmon become more plentiful. The coastline is abundant with mackerel, making it easy to catch them in large numbers.
Northern Ireland Fly Fishing in August
August is arguably the best month for fishing in Northern Ireland. Dollaghan fish are plentiful in the Lough Neagh tributaries, mackerel are at their peak, mullet can be found in harbors, and salmon have moved well upstream.
Northern Ireland Fly Fishing in September
September is the last chance to catch salmon before the fishing season winds down. After September, fishing opportunities decline, as mackerel and large pollock return to the sea, and dollaghan fish become more elusive.
Northern Ireland Fishing Report
My current focus in Northern Ireland is the thrilling pursuit of Dollaghan trout. These trout are highly sought-after in the specific rivers I frequently fish, with some specimens reaching weights of up to four pounds.
In the past week alone, I've embarked on four fishing sessions specifically targeting Dollaghan trout, and each outing has proven to be incredibly rewarding, with more than five fish caught per session. Their spirited fights and striking beauty make them a captivating species to pursue in Northern Ireland.
What makes fishing for Dollaghan even more enticing is the potential surprise of hooking an Atlantic salmon. These salmon, if found in the small creeks I explore, would undoubtedly provide an exhilarating battle, further enhancing the thrill of fly fishing in this region.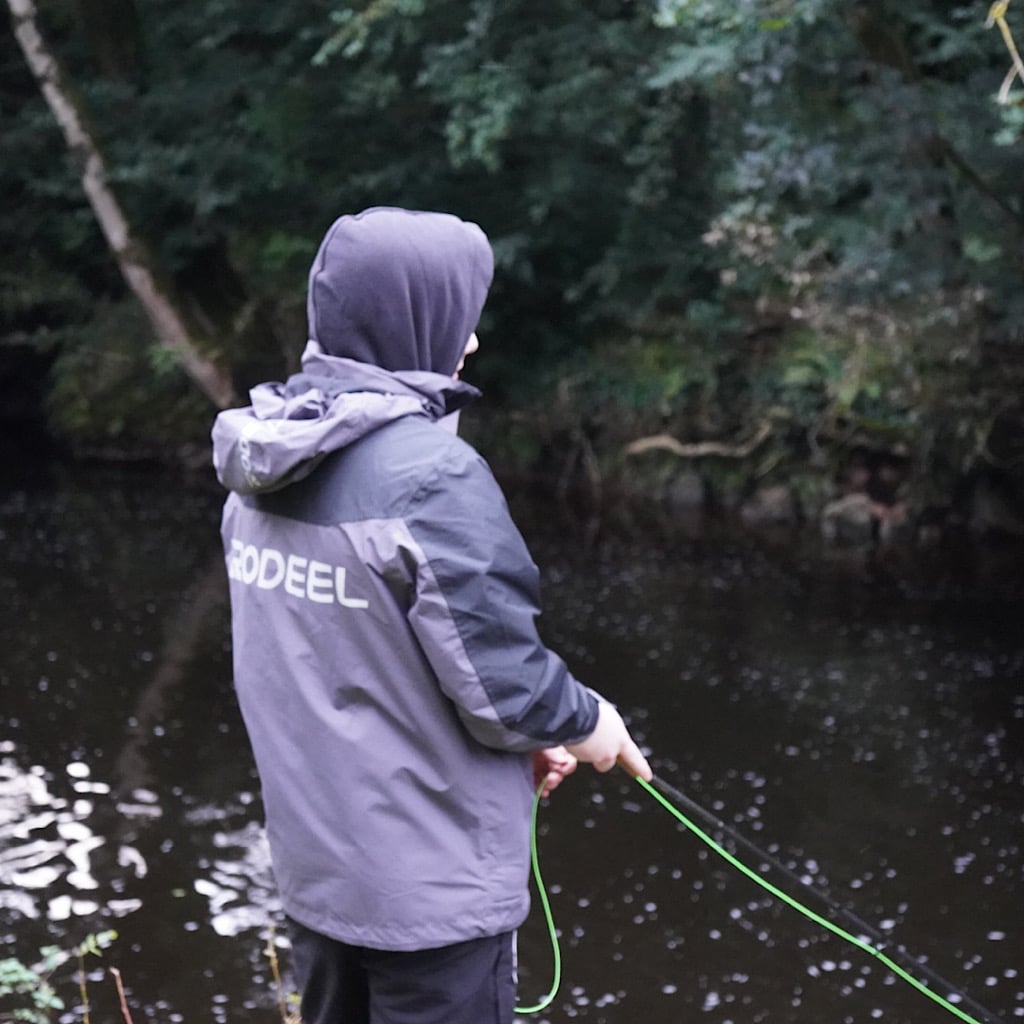 Overall, my experiences with fly fishing in Northern Ireland have left me thoroughly satisfied and eagerly anticipating my next adventure on the water. The combination of Dollaghan trout and the possibility of encountering Atlantic salmon makes for truly magnificent fishing.
Best Fly Shops in Northern Ireland
Throughout Northern Ireland, you will find fantastic fly fishing stores no matter where you go Almost every store I have entered in Northern Ireland has been very pleasant in helping me find the best local spots for trout and even salmon. In this section, we will cover three prime examples of the best fly fishing stores in Northern Ireland.
Mid-Antrim Angling Centre
My go-to store, this fly fishing store is owned by a gentleman who will be more than happy to assist you in finding the best local spot on your visit to Northern Ireland. This store also has an impressive array of gear suitable for all your fly fishing needs.
Serious Country Sports
This is a fantastic fly fishing store heavily stocked with all the latest fly fishing gear and accessories. They have a great range of flies suitable for all types of fishing as well as a great selection of rods and reels stocked in-store.
Kindale Fly Fishing
Kindale Fly Fishing has a perfect selection of fly fishing gear as well as a solid selection of flies. This shop is located in Dromore, about an hour's drive from Belfast.
Northern Ireland Fly Fishing Licenses
To get a fly fishing license in Northern Ireland, you can either make an online purchase or visit a local fishing tackle shop or an authorized licensing agent. The easiest way is to go online to the official DAERA website.
Once on the website, find the section related to fishing licenses, and select the type of license you need, such as a freshwater angling license for fly fishing. Provide the required personal information and payment details to complete the online purchase.
Print your license so that when asked by a bailiff you can provide the license as well as your identification.
Fly Fishing Guide Services in Northern Ireland
Northern Ireland has three primary fly fishing guides: salmon, trout, and pike fly fishing guides. In this section, we will highlight three great options for you to choose from.
Gary Bell Fly Fishing
Email: gary@gbflyfish.com
Phone Number: T: 02892 090878 M: 07828 976548
Gary Bell based in Northern Ireland offers a wide range of services. Whether you want to improve your casting or pay for a guided fishing trip Gary Bell has you covered. Gary currently offers half days (3 hours) or full days (7 hours) on the river. He covers a wide variety of fish such as trout, salmon, and even pike.
Guide Service 2
Email: anglingclassics@aol.com
Phone Number: N.A
Stevie Munn is a fly fishing guide and instructor in Northern Ireland. In his lessons he can cover; safety around water, fly fishing & casting, life cycles of salmon or trout, watercraft and how to read a river, assembly of tackle, and knot tying and fishing techniques.
Guide Service 3
Trout Tours Northern Ireland offers packages that include accommodation. Furthermore, they offer trout fishing guided days where rod licenses are included.
Conclusion
Northern Ireland's captivating blend of history and culture makes it a remarkable place to plan a vacation. When it comes to angling opportunities, this region offers an unparalleled experience, catering to both saltwater and freshwater enthusiasts.
In its pristine waters, you'll encounter an impressive array of fish, from the rugged coastlines to serene lakes and rivers, Northern Ireland offers something for all skill levels and preferences.
Amazon and the Amazon logo are trademarks of Amazon.com, Inc, or its affiliates.
As a part of the Amazon Associates Program and other affiliate programs, Into Fly Fishing® may receive a comission if you order products through links on this website.