The word nymph can trigger quite a few emotions in fly anglers. For some, it's jubilation and for others it's bewilderment. Nymphing is intimidating for many beginner anglers, but as soon as you can learn the proper mechanics and what flies work, you're in for a wonderful time on the water.
It took me a year of fly fishing to gain courage to learn how to nymph. Once I did, I started landing more fish than ever. The variety of ways to fish with them combined with the hundreds options of flies add an entirely new facet to your fishing.
Disclaimer: IntoFlyFishing.com is a participant in the Amazon Services LLC Associates Program, as an Amazon Associate I earn from qualifying purchases. Please see our Privacy Page for more information.
What is a Nymph Fly?
A nymph is a fly that sits below the surface of the water and imitates a hatching insect. These are found all over the bottom of lakes, streams and rivers.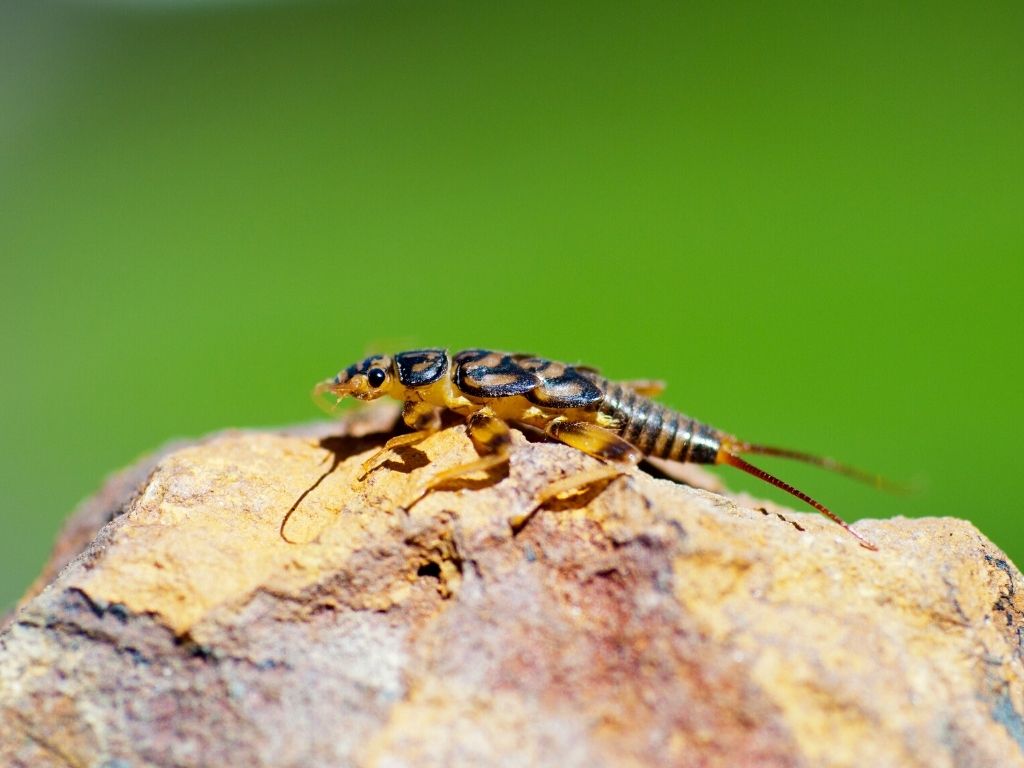 Fish see them as easy targets and they're plentiful. You'll most often find these flies from size 8-22. Anything larger than this will be considered a streamer.
15 Best Nymphs for Trout
There are hundreds of nymph patterns anglers can choose from when deciding what to use. Depending on where in the world you're fishing, you'll need to adjust what you're throwing, but the following 20 patterns have proven to work no matter where you're fishing!
Hare's Ear Nymph
If you're looking for a Mayfly imitation, the Hare's Ear Nymph will work great. It's a classic pattern in the world of fly fishing for good reason! Keep a few of these patterns in your box ranging from size 12 to size 18.
Also, make sure you're using a variety of colors: especially olives.
Pat Rubber Legs
The Pat Rubber Legs stonefly pattern works wonders! The rubber legs create quite a bit of action that is hard for the fish to ignore. Anywhere you can find Stoneflies, make sure you have a few of these patterns in your box!
You'll receive quite a bit of action. Fish have a hard time resisting this scrumptious pattern.
San Juan Worm
Worms have caught fish since the beginning of time. Fly anglers too often overcomplicate their fly choice and forget how successful the San Juan Worm pattern can be!
You can fish it in a few sizes and even tie it yourself! Fish it on the days where the conditions seem difficult. It's a great option for a safety net.
Glo Bug
Egg patterns are great to fish during the spawn. Larger trout will hang around spawning fish and eat the eggs. Also, if salmon or steelhead are spawning in your local waters, throw the Glo Bug patterns and it won't take long to land something! You may need to attach a split shot to get it deeper in the water column.
Zebra Midge
The Zebra Midge is a simple pattern that represents midge larvae. You can find these in several different colors so make sure you do your best to match what's hatching before you throw.
Drift these through the seams and riffles. You'll find them in sizes 14-18. They're a bit smaller, but plenty successful.
WD-40
The Pat Rubber Legs is a delicate little fly. You'll find it somewhere between size 12-18. Don't be surprised if you go through a few of these flies on your next excursion.
The sections just below dams in tailwaters are a great spot to try the WD-40. If you're new to fly tying, don't try and tie this pattern! You'll find yourself extremely frustrated.
Sow Bug
If you're fishing Sow Bugs or Scuds, you can't go wrong with this pattern! They're a bit fatter and trout are always willing to take a look at it if necessary.
This is a great pattern to use if you're willing to take a chance with your fly choice. It's one of those hit or miss options that can really pay off on a good day!
Mop Fly
Oh man! The Mop Fly is a classic! Some anglers refuse to use this pattern since it's almost unfair. It represents just about everything you need in the grand scheme of things!
Anglers find themselves using this pattern in a pinch. If you've had a tough day on the water and can't quite seem to find anything, go ahead and tie on the Mop!
Copper John
The Copper John is a smart pattern to use if the water is high and moving fast. The extra weight drops it lower in the water column than most flies on this list.
It has just enough flash and color for the fish to notice. The heavier weight provides some more significant movement in the water. You'll find this pattern somewhere between size 12 and 18.
Caddis Pupa
The Caddis Pupa is another one of those cheat code flies. Most bodies of water across the world are home to some sort of Caddisfly. You can purchase this fly in a beadhead or non-deadhead version.
This pattern can work great all year round! Don't count this out no matter when you're fishing. It's a fly that should be in your box no matter the time of year.
Mini Bugger
Any opportunity to sneak a Wooly Bugger into a best flies list should be taken advantage of! These mini versions of the Wooly Bugger can sometimes be as successful as the official pattern.
You'll find these in size 10-14. Dead drift these through pools and some of the pockets you find throughout the river. Make sure you have black, olive and tan patterns in your box!
Czech Nymph
Even if you aren't using the Czech Nymph technique, these flies work! They're heavy and look extremely buggy. Buggy patterns are always a solid option. Too often fish see flies that look manufactured.
A messier looking pattern is a breath of fresh air for these fish! If you know it's a few hours before a hatch is going to occur, go ahead and tie on the Czech Nymph and see what happens.
Holy Grail
The Holy Grail was created to be versatile. It's another buggy looking pattern that offers anglers a chance to be successful in a variety of fishing conditions. You'll find it anywhere between size 12 and 16.
It's a difficult pattern to tie, but fish don't often see it so it's well worth the effort! Give it a try a few times and you'll find yourself improving!
Glass Chironomid
Glass Chironomid is one of the more unique flies you'll use! The denseness of it makes it fall in the water column. It's bright and flashy so make sure you use it on those days you're fishing in the clear water.
As it falls in the water, fish are going to strike. Use quick strips to get it back to you!
Ooey Gooey Grub
This nymph is a great grub imitator! Again, don't make things too complicated. Grubs have landed just about any freshwater fish you could find!
Orvis recently developed this pattern and it's landed quite a few fish since I've put it into my rotation.
When To Use a Nymph Fly?
Nymphs really don't have a specific time or place that they should be used. They work year-round and at all hours in the day. The time to avoid using them is in the midst of a hatch.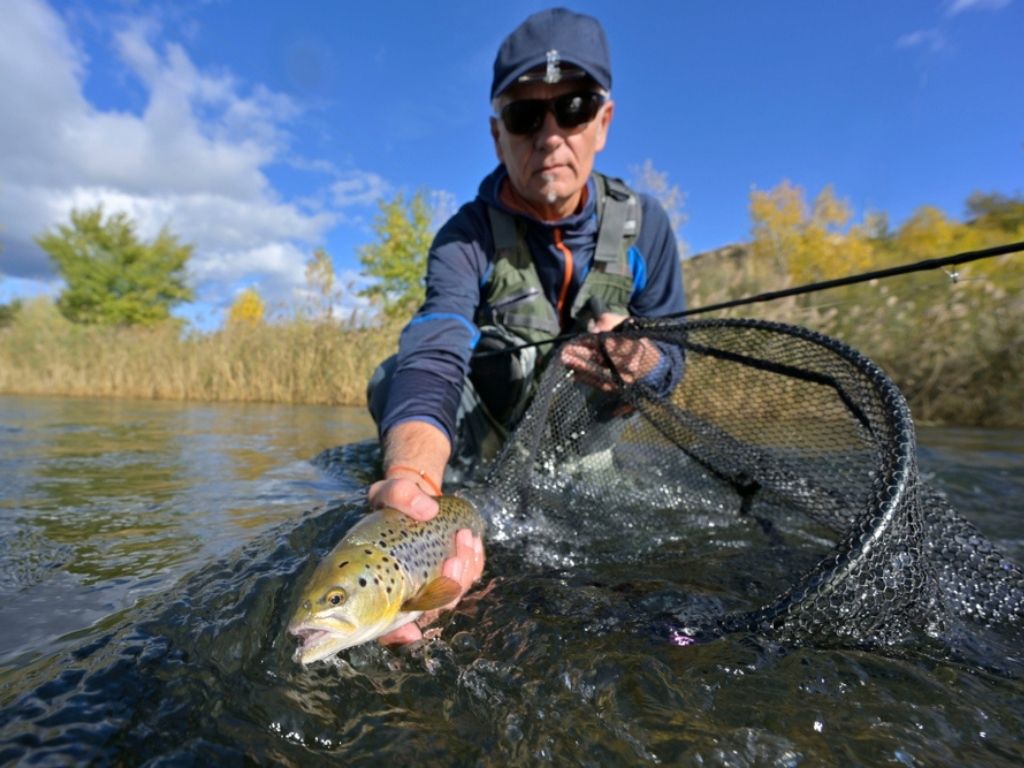 Fish are often looking to the surface of the water for their food, but this doesn't mean that they won't hit a nymph.
Basic Types of Nymph Flies
There are two main types of nymphs you'll find in most fly shops and stores. The main difference is whether or not it has a beadhead! There isn't a large difference in size for the majority of nymphs.
Tips on How To Use Nymphs
Nymphs are best used in areas that streamers may not perform as well. Since they're small subsurface flies, they can fit in portions of rivers and streams that you couldn't fit a larger pattern.
Don't be afraid to use these patterns throughout shallow riffles within a stream or river. Many anglers don't realize that fish often hold in these areas. A dead drift through a seam is going to entice quite a few fish to strike!
Pocket water also offers ample opportunities to use nymph patterns. Let the current suck the fly behind the rocks and deep into the slower moving water.
Fish often strike out of instinct and a nymph through the pocket is going to get a reaction out of most fish. Be ready to strip set because you don't know when they're going to hit!
The final option is to dead drift nymphs through pools. Stripping nymphs doesn't always work since they're a bit smaller so it's best to stick with dead drifting them through the slower moving water.
Be sure to use a strike indicator along with some split shot to make sure the fly gets to where it needs to in the water column.
Conclusion
Nymph fishing is an acquired taste. It's not a glamorous type of fishing, but it does require patience and quite a bit of technique. It's imperative that your fly choice is correct to ensure you're going to make the most of your time on the water!
Be willing to be a bit adventurous with your fly choice. Fish don't take long to start striking nymphs so once you find a pattern that works, you're in for an extremely entertaining day!