There are few things more exciting in fly fishing than a hot dry fly bite. Seeing the fish break the surface in search of a meal makes every fly angler lick their lips. Finding times in the day when the fish are willing to feed and seem like they'll hit anything is rare. That's what makes dry fly fishing truly special.
I spent the first year of my fly fishing career using only wet flies. I never really understood how much fun fishing with dry flies was until I went on a guided trip on the Madison River in Montana. I had the pleasure of fishing the Salmonfly hatch in early July and quickly realized I had wasted a year of fly fishing by not using dries!
Disclaimer: IntoFlyFishing.com is a participant in the Amazon Services LLC Associates Program, as an Amazon Associate I earn from qualifying purchases. Please see our Privacy Page for more information.
What is a Dry Fly?
A dry fly is created to represent an adult insect. When adult insects hatch, they dry their wings on the surface of the water before they take off and fly.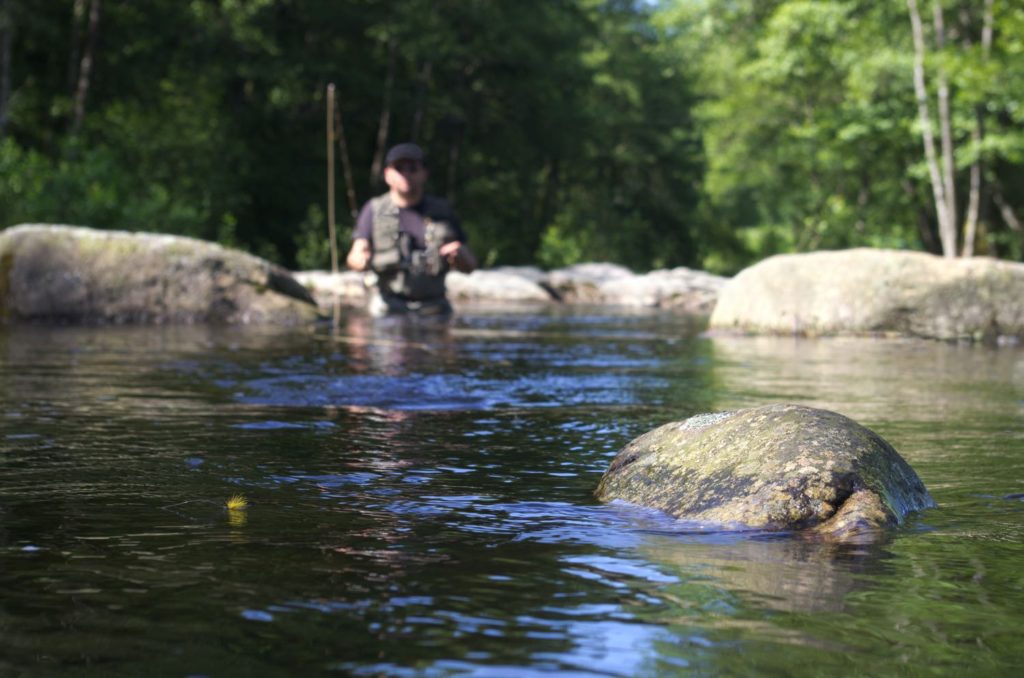 They should land softly on the surface and if tied properly, they'll stay on top of the water as they drift. It's an extremely productive type of fly that will land you fish!
Basic Kinds of Dry Flies For Trout
There are essentially three different kinds of dry flies for anglers to choose from. While they're not as different as nymphs, emergers and streamers, there is some solid variety amongst the dry fly community.
Hatch Matching Flies
These types of flies are tied specifically to match the insects that are located near the water. Local fly tiers understand the insect life in the area and create patterns based on what is near. Several of these patterns include mayflies, caddisflies, stoneflies along with midges.
These flies should be used when you're aware of what is hatching. They're not as versatile, but as soon as you know which one of these to use, you won't be able to keep the fish off of your fly.
Attractor Flies
Attractors flies are supposed to do exactly what their name says. They don't necessarily imitate any sort of insect, but they are bright and hard to miss on the surface of the water! These flies are great if you aren't exactly sure what to use.
Fish are curious creatures and they'll come take a swipe at these as a result. Also, attractor flies work great in the spring during spawn season. Fish strike out of aggression during the spawn and it's smart to tie these on if you're looking for some action.
Terrestrial Flies
The third type of dry fly you can use is a terrestrial fly. These are some of the most fun flies you can possibly use! They're large, and fish will smash these flies any chance they can get. These flies are best used in the late-summer and early fall.
Being on the water when the weather is warm and throwing terrestrials leads to hours of fun. These flies are created to imitate larger insects that make their way onto the water. These include grasshoppers, dragonflies, ants and a variety of others.
Why Do Trout Love Dry Flies?
Trout have two very active feeding times throughout the day. They're most active usually in the morning and in the evenings. Trout choose these times because it's when many of the insects hatch. While fish feed around 80 percent under water, they are much less picky when they being feeding on the surface.
Dry flies are extremely easy targets and fish do not have to work too hard to find them. As soon as you start throwing a dry fly, it'll likely only take a few seconds for the fish to find it and strike!
11 Best Dry Flies For Trout
Dry flies are specific to particular areas of the world, but there are quite a few that work regardless of where you fish. Versatility in the dry fly community is a rarity, but once you find a few that work, make sure you always have them in your box.
1. BWO Sparkle Dun
The Sparkle Dun is a perfect imitation of a Blue-Winged Olive. BWO's hatch late in the fall and throughout the early spring. You'll find these in sizes between 16 and 20.
When you fish these flies, make sure that you use 4 or 5x tippet and focus on casting them where you see rises! Don't make dry fishing too complicated!
2. Chernobyl Ant
The Chernobyl Ant is one of the best terrestrials you can use. It has an inch long foam body and is useful in dozens of different situations. This is a perfect top for your dry-dropper pattern.
You can tie just about any size nymph to hang underneath it. The Chernobyl Ant is a great search pattern for when you're in new water!
3. Elk Hair Caddis
The Elk Hair Caddis is a staple in the world of dry flies. These are obviously caddisfly imitation patterns that work well, sitting high on the surface of the water.
It's not always easy to identify your dry fly on the surface of the water, but the Elk Hair Caddis makes your life easier. If you tie them on size 16-20, you'll be fine.
4. Black Ant
The Black Ant is another foam terrestrial pattern. Again, use these late in the season when the temperatures warm and the fish start looking to feast on those large insects.
However, with ant patterns, you can use them all year round. Also, be sure to use these as the top of the dry-dropper pattern.
5. Stimulator
The Stimulator is another staple in the dry fly world. It originated on the East Coast in the late 1980s. If you're fishing anywhere where the stoneflies hatch, the stimulator is a must-have in your box.
You can tie these in sizes 10-12. The larger the fly that you tie, the larger the fish that you will catch. You can get creative with this pattern!
6. Royal Wullfs
Royal Wullfs are a must have for any fly angler's box. Most anglers consider these flies to imitate ants. They are also considered to be under the "attractor fly" category.
The thing that sets them a part from many other dry patterns is the peacock herl. If you tie your own flies, feel free to get a bit creative with this pattern.
7. Parachute Adams
The Parachute Adams is another quality pattern that you should keep in your box. These are trout magnets and will work on all rivers across the country.
This pattern imitates an adult mayfly, caddis, or midge. It originated in Michigan in the early 1920s. This pattern will sit high on the water and make it easy to see!
8. Hendrickson
The Hendrickson imitates the PMD. You'll find these patterns a bit larger than the majority of other dry fly patterns.
The variety of colors on the pattern can make it challenging to tie, but they're extremely attractive to the fish. Fish these up along the banks or anywhere else you see rises.
9. Griffith's Gnat
The Griffith's Gnat is one of the smaller dry fly patterns you can find. Gnats are everywhere, so any place you can see them, go ahead and fish this pattern.
You have to pay extra careful attention when fishing with the Gnat. It's very small and can be difficult to identify so make sure you're on watch! You could miss a bite.
10. Foam Beetle
The Foam Beetle is a blast to use. The bottom of these flies is a bit more patterned, and the small rubber legs off the side are going to be just what you need to attract the attention of the fish.
These flies can be difficult to cast on a windy day since they're so light. If possible, make shorter casts.
11. Rusty Spinner
The Rusty Spinner is more of a hidden dry fly pattern that you won't always hear about. It can look somewhat similar to a parachute type of fly, but the extra material off the back is a solid imitation of a mayfly.
It will sit high on the water, so don't expect it to last long! The trout will make it their meal.
When To Use a Dry Fly?
Determining when you use a dry fly really shouldn't be that challenging. If you see a rise, throw your dry fly at it. Don't make your life too complicated. Many anglers try to get too creative when fishing with dry flies. Fish will feed where the flies land.
It's important to study the river before you begin fishing. Take some time to survey the currents, see where the fish are normally feeding, and then make your decision on how you're going to fish the water.
Conclusion
Dry fly fishing is what fly fishing was designed around. The founding fathers of the sport saw how productive this type of fishing could be and wanted to experience it for themselves. From then on, anglers from all over the world have continued to develop dry fly fishing into what it is today.
It provides anglers with a true opportunity to experience all that fly fishing has to offer.