As an Amazon Associate I earn from qualifying purchases.
Bass fishing offers anglers a chance to fulfill their love of strong fighting fish and heavy action. They're amazing to target on a spin rod, but going after them with a fly rod adds an entirely new experience. It's becoming a more popular fish to target within the fly fishing community, but still has plenty of room for anyone interested.
When it comes to targeting bass, location is important, but right behind that is fly choice. Choosing the right bait is going to make or break your bass fishing experience. I started targeting bass on the fly just a couple years ago and it made me wonder why I waited so long.
Many anglers aren't located near areas where they can find trout or other traditional fly fishing species. Therefore, targeting other freshwater fish like bass can fulfill that angling itch.
What is a Smallmouth Bass Fly?
Smallmouth bass flies sit in all parts of the water column. They imitate everything from frogs to smaller panfish.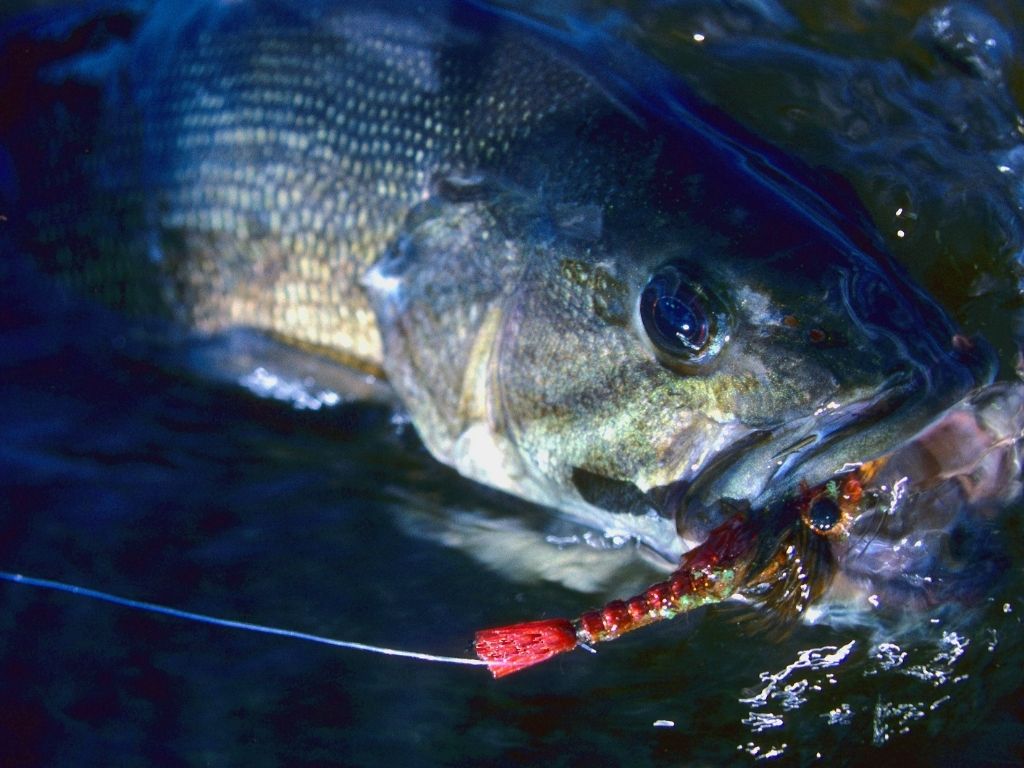 They're versatile and can be extremely flashy.
Basic Types of Smallmouth Flies
Smallmouth flies can be used on the surface, just below the surface and near the bottom of the water. Don't make the mistake of thinking that it's easy to locate these fish and they consistently follow the same patterns.
Dry Flies
Dry flies are flies that are mean to imitate any food that sits on the surface of the water. In the bass fishing world, these include frogs and even mice. Smallmouth bass aren't going to often eat insects if they have the choice. However, they will take advantage of a terrestrial hatch!
Streamers
Streamers are the other type of flies that you'll most often use if you target Smallmouth Bass. These flies sit below the surface of the water and they're usually a bit heavier. Anglers often put quite a bit of movement into these flies if they can.
The Best Smallmouth Bass Flies for Fly Fishing
Smallmouth bass feed on similar things across the entire world. Therefore, you don't have to make many changes to your fly box if you plan on traveling to land some of these fish.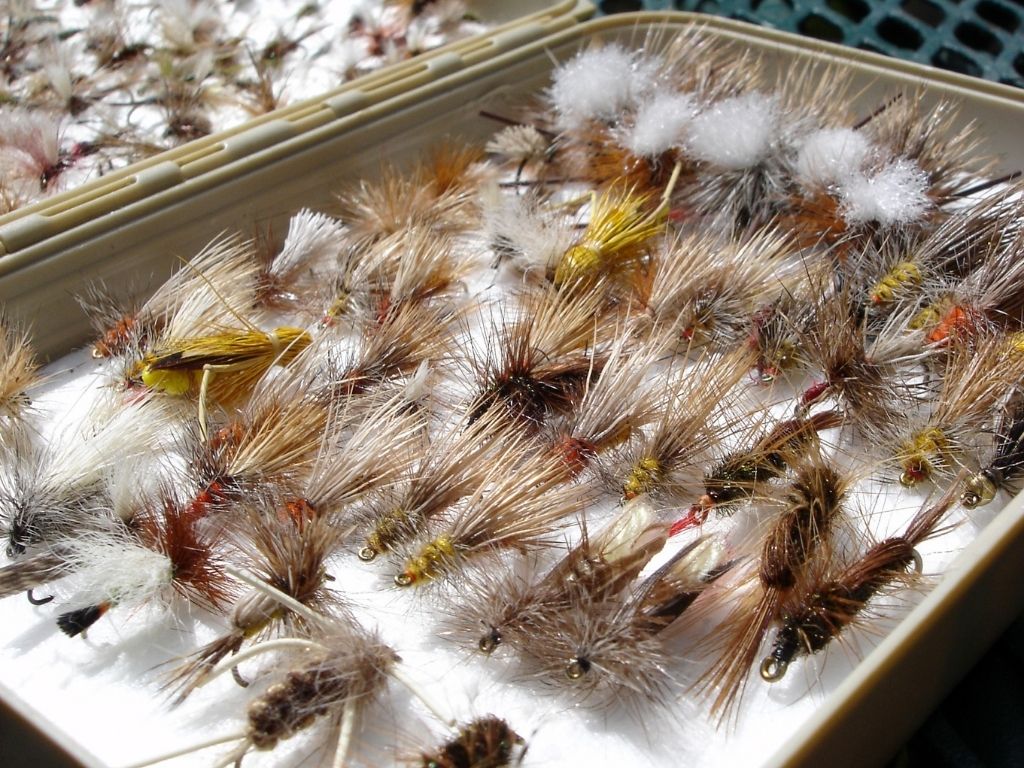 Take a look at this list of flies and make sure they're included!
Best Dry Flies for Smallmouth Bass
Using dry flies for bass is a blast. Seeing fish blow up the surface of the water going after these flies never gets old. If you have the opportunity to target these fish while they're surface feeding, make sure you take advantage of it.
Boogle Bug Popper
The Booble Bug Popper is a great option for anglers looking to land some smallmouth on the fly. It comes in a variety of colors and this version makes quite a bit of commotion on the surface of the water. You can fish this fly in a variety of ways.
Depending on where you're fishing, you may need to use some more aggressive strips. If you're in the midst of lily pads, make sure the fish know you're there! If it's a quite and still morning, you may not need to be as obnoxious.
Take a few approaches to fishing with this fly. Again, Smallmouth Bass don't always respond to the same type of fishing. You're going to have to get creative if you want to land a few of these fish.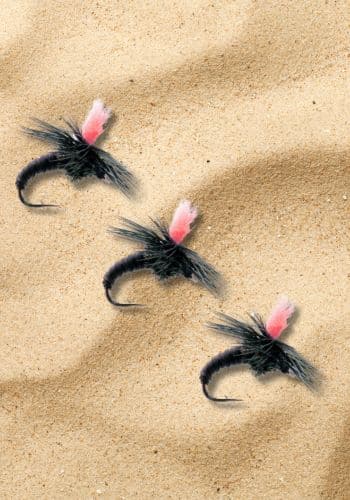 Black Magic
The Black Magic fly is a great imitation of a variety of terrestrials. Don't get too picky with trying to match the hatch. The Black Magic is good enough for a variety of patterns. If you're fishing in a river, find a section that has some weeds along the bank.
Weedy areas are common places for terrestrials to live. They fall off the weeds into the water and Smallmouth are quick to pounce on it. This can work for hoppers, beetles and large beetles. It has a large foam body so it will float very high in the water and make it easy to see.
As soon as you cast, let the fly drift for a second or two. Then begin your stripping. Make sure you use slow and jerky strips. Terrestrials don't look smooth when they try and leave the water. Wait for one of those massive explosions! They're amazing.

Crease Fly
The Crease Fly is a unique pattern. It has a large gap in its mouth so it causes quite a bit of commotion on the surface of the water. If you're fishing a windy day or there's a slight chop on the surface, go ahead and toss the Crease Fly. You'll find yourself landing some nice fish.
If you see baitfish in the water, the Crease Fly is going to work. It has a longer face than the traditional popper and looks really nice as it moves along the water. This works great in clear water where the fish appreciate some flash.
Sneaky Pete
The Sneaky Pete is a little less obnoxious than a traditional popper or the Crease Fly. It sits high on the water column, but the inverted face doesn't push as much water. At times, the Smallmouth don't want as loud of a presentation. The Sneaky Pete is going to slide across the surface of the water.
These are great for the skittish fish. You'll know when the fish are aggressive. If you see them try and strike your popper and miss, keep throwing it. They'll likely come after it again. If you see small breaks on the surface, throw on the Sneaky Pete and see what happens.

Mouse Flies
Mousing for Smallmouth is one of my favorite activities. These large flies create large strikes. If possible, throw these flies later in the evening or early in the morning. Fish stay near the bank and wait for prey to fall onto the water.
Once bass hear a mouse hit the water, they're ready to blow it up. They know they have to strike hard to make sure the mouse doesn't escape so wait to feel that tug and make sure you set the hook with some authority. You want to make sure the fish stays pinned! Odds are this fish has some serious size.
Let the fly plop onto the water and make short, aggressive strips. If there's any fish in the area with any appetite, they're going to make a strong run at one of these flies.
Wiggle Bug
The Wiggle Bug is both a dry and subsurface fly. It has an angled lip that causes it to dive a bit deeper in the water. As soon as it lands, it's not uncommon for fish to strike it! Have a bit of patience and see what you can find.
Best Streamers for Smallmouth Bass
Streamers work great for Smallmouth. These fish feed primarily below the surface of the water so don't be afraid to switch up your fly option and see what you can find.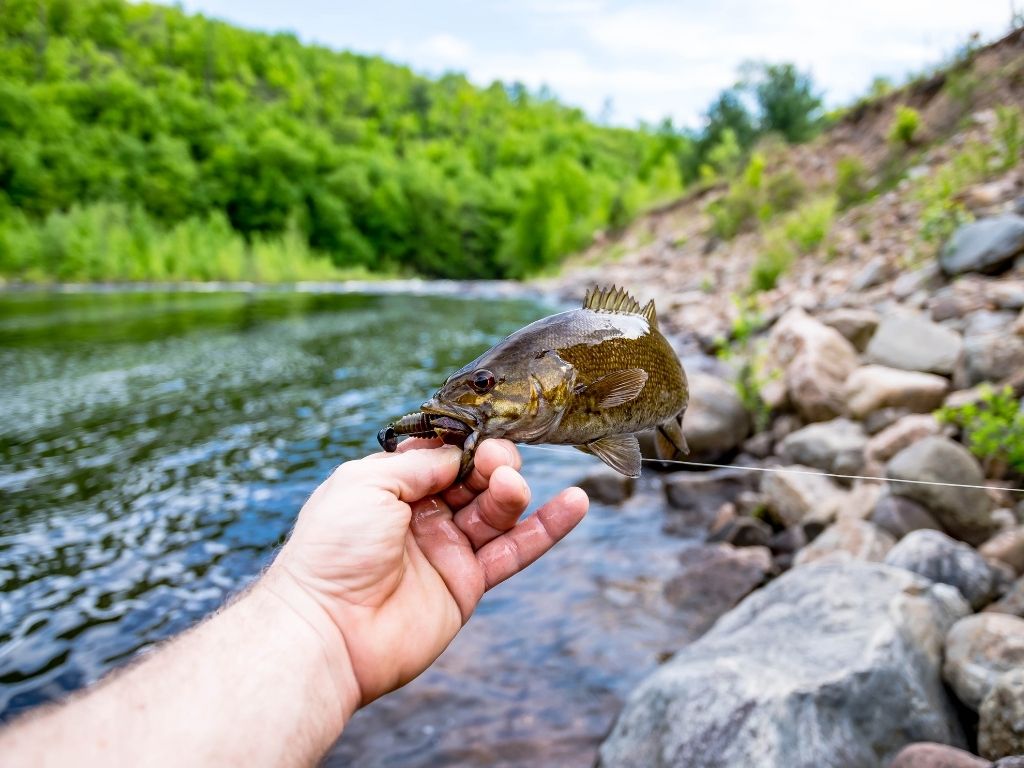 TeQueeley
The TeQueeley has a similar appearance to a Wooly Bugger and really is a versatile fly. If you know how the fish are feeding, go ahead and make some aggressive strips. The fish might want some more action below the surface of the water. However, you may need to tone down the retrieval pace depending on what is working.
You can even use it as a dropper on a dry-dropper rigs. Dry-dropper rigs work well even for bass! Don't be afraid to try just about everything with this fly.
Hairy Fodder
If you know the fish are deep in the water column, it's time to break out the Hairy Fodder. This fly is a great diver and looks like something you'd find in the bottom. Fish it low and slow. Take your time and move it along the bottom.
Don't be surprised if you find yourself snagged quite a bit when you use this fly. It may cause some frustration, but there will be no mistake when you get a smallmouth bass to hit it!
Hansen's Meal Ticket
This is a big, obnoxious fly that's going to land fish. It can imitate a variety of things so don't feel like you have to throw it only in certain situations. This will work however you need, but you'll have to vary the retrieve if you want to land fish.

Barr's Meat Whistle
The Barr's Meat Whistle is a classic. It has a jig hook so it's one of my favorite flies to throw due to the few snags I find. It has a cone weight at the top and will dive deep in the water column if you need. If you're fishing dirty water, throw this!

Clouser Minnow
You can't target smallmouth without throwing the Clouser Minnow. This fly is a classic and has proven to work in dozens of situations. It has quite a bit of movement so don't be afraid to create some commotion under the surface of the water when you throw it.
Conclusion
Smallmouth Bass fishing is always entertaining. They're beautiful and unique fish with the ability to grow upwards of seven or eight pounds. Fighting one of these on the fly is going to start an addiction that you won't soon overcome!
Amazon and the Amazon logo are trademarks of Amazon.com, Inc, or its affiliates.
As a part of the Amazon Associates Program and other affiliate programs, Into Fly Fishing® may receive a comission if you order products through links on this website.