As an Amazon Associate I earn from qualifying purchases.
Choosing the best terrestrial fly patterns is often more dependent on specific times of the year just as 'matching the hatch' is for aquatic flies.
As a fly fisher of nearly fifty years, I have seen a shift toward more terrestrial patterns and more acceptance of these as a 'type' of fly. In the UK there was once a very codified form of fishing etiquette which has now, largely, evaporated.
In North America, there may have been a greater readiness to experiment with terrestrial patterns to good effect.
There are some key patterns we can look at to achieve effective terrestrial fly fishing options, and it is easy enough to consider local variations once you have thought about the season and terrestrial insect activity predominating.
As a part of the Amazon Associates Program and other affiliate programs, Into Fly Fishing® may receive a comission if you order products through links on this website.
What Is A Terrestrial Fly?
'Fly' may be an honorary title for a number of imitations of fish food which we can cast from the end of a fly line.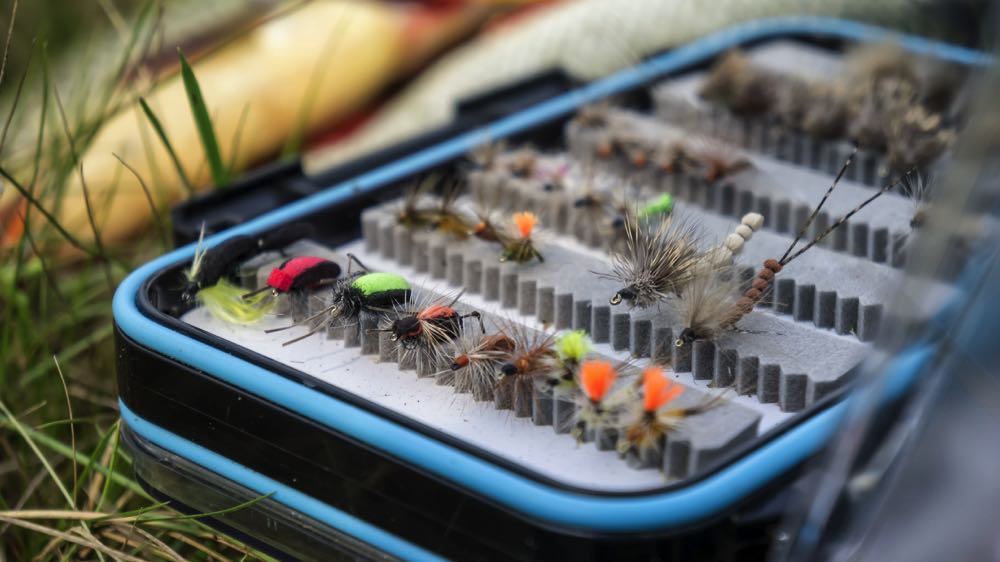 Traditionally a 'fly' refers to an imitation of an aquatic species – a fly that lays its eggs in water and where the immature caddis or nymph develops before emerging at the water surface and becoming a proper winged insect.
In this case, a terrestrial fly may be winged, but could also include a variety of other fish food which can be imitated and fished with a fly rod.
What Makes A Great Terrestrial Fly?
The criteria are not quite the same as, say, those for nymph or dry fly patterns. And terrestrials are not staple patterns in the same way.
On the right day the right fly will be great. Terrestrials are a fly pattern you need to keep in the fly box – perhaps you will not fish them as often as some of the 'regular' insect patterns such as blue-winged olives or mayflies – but on the right day you need an essential terrestrial pattern.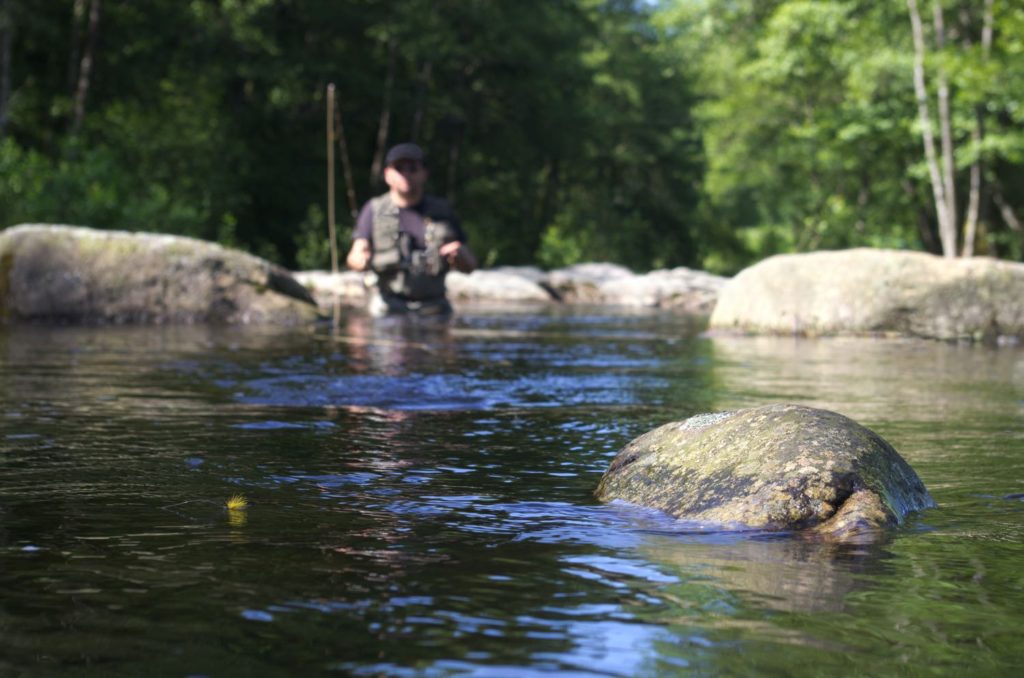 This is when the fish are not feeding on the 'usuals', when a steady stream of edible insects are falling to their doom from overhanging trees or a breeze is pushing land borne insects to be eaten by one or a circling rotation of trout (who likely will be ignoring any other food offerings whilst they hoover up).
How do the usual criteria (Action, Imitation, and Attraction) apply to terrestrial selection?
Action
For most terrestrial patterns action may be less important and can be left 'dead drift' as imitating a struggling caterpillar is nearly impossible (though some chenille things may work).
But there are some exceptions – crane fly with gangly dangly legs moving in the breeze or water flow. Beetles, snails, and the like are challenging to deliver any action though and other attributes may be more important, such as…
Imitation
The general impression is probably sufficient for most situations, but modern foam and plastics allow for some very accurate imitations.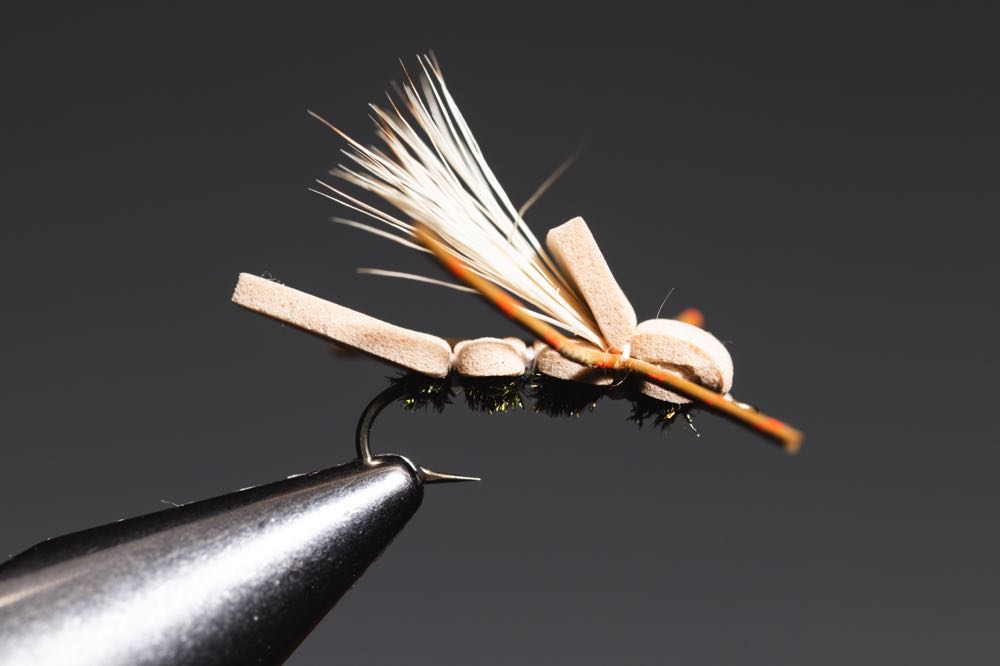 Attraction
My view is that attractor trigger details, together with adequate imitation are the two main elements to achieve in the most effective terrestrial fly patterns – crane fly legs are probably a key trigger for trout or grayling, a mouse or frog pattern will rely on tail length or jointed floppy legs to signal 'FOOD'!
What Do Terrestrial Flies Imitate?
Essentially terrestrials are land-based insects – possibly even mammals – which the fish will entertain as food. Anything which is not born and dwells permanently in the water -this might be nonaquatic flies, moths, anything creepy crawly or mice or frogs.
So what are the greatest terrestrial fly patterns you need to keep in stock for one of 'those' days?
10 Best Terrestrial Flies For Fly Fishing
Here is a selection of top terrestrial flies to cover a range of fly fishing situations:
1. Crane Fly
There are numerous dressings of this fly pattern. Some have detached bodies which help with floatation, some bodies are wound on the hook shank – typically pheasant tail or chenille, plus cock hackle wings and a wound hackle for added buoyancy.
The main ingredient in my view is the leg design – usually of knotted pheasant tail. Whilst this may have a limited season it is one of the most effective terrestrial patterns at the right time of the year – late summer or fall.
2. Ant
Usually tied with a black silk body and one or two black hackles to represent a flying ant. Possibly mistaken for a midge at a pinch, as I suspect the fish sometimes only see the hackle points in some lighting conditions. The body profile should look ant-like with two segments.
Click Here to learn how to tie a Chernobyl Ant fly pattern.
3. Floating Snail
Usually tied on a size 10-12 dry fly hook as anything larger is likely to prove a challenge to the fish. The traditional material is a cork body, but modern dressings are likely to incorporate foam. Ace fly fisher and author Malcolm Greenhalgh also recommends a black spider wet fly pattern when trout are feeding on very small snails.
4. Caterpillar
Usually fished below trees, usually, hook size 10-14, and usually tied very simply with a green or brown lightly textured body dubbing or wool this is a simple yet effective terrestrial pattern and a good one to start with if you are learning to fly tie.
5. Hoppers (Grasshoppers)
Older dressings have quill slip wings, modern patterns are likely to be foam. Another pattern that has a limited time window but maybe one of the most productive terrestrial fly patterns on the right days in the summer.
Click Here to learn how to tie a GFA Hopper.
6. Beetles
This could cover a multitude of patterns but the most common are likely to be the shield bug or ladybird (ladybug).
The Jassid is probably the best all-round general purpose beetle pattern and would be my first choice 'top terrestrial fly' especially for a tryout – the dressing has a jungle cock or substitute single wing and lightly palmered hackle.
This is a pattern sometimes worth speculating with when fish are not taking any of your other offerings, especially worth a punt under tree cover where creepy crawlies are always losing their footing and dropping onto the water.
If you are always catching trees rather than fish, try a roll cast ahead of the tree and allow the line to trot below the branches, and wait for the bang…
7. Mouse
Mainly a North American pattern but applicable anywhere as trout – the large ones anyway – may venture at anything edible. This could be tied with a foam body, cork, or spun deer hair.
The tail will likely be an attractor key feature, perhaps a couple of back legs, and may need a noisy retrieve to create a ripple or 'wake' to indicate a madly paddling small mammal.
Might also attract the odd pike. If you want to carry only one pattern, especially for low light fishing Greenhalgh's deer hair muddler is worth a shout.
8. Frogs
Usually a foam body pattern, but again could be spun deer hair, the legs are likely to be the attractor element here and need to be mobile and floppy to be noticed.
9. Moths
One might use a caddis pattern at a pinch if moths are blowing onto the water in an evening breeze but patterns such as Walker's Ghost Swift Moth may be worth a try (swan feather wing and hackled to float) or a Spruce moth pattern – deer hair body and lower wing, poly yarn floaty top wing.
Not a pattern to use often but an essential terrestrial fly pattern – you only need one or two in your fly box to stay in business when you have tried all the other options.
10. Bees and Wasps
The McGinty Wet Fly has a black, and yellow chenille barred striped body and looks like a drowned wasp. The pattern is nearly 150 years old (1883 – by Mr. McGinty of Chicago) and is proven as one of the most effective terrestrial fly patterns for a range of fish species, not just trout.
When To Use A Terrestrial Fly
You will probably have noticed when reading my notes above, but I think it is worth repeating, that these are some of the best terrestrial fly patterns but they have very specific times of the day or year or season to use them.
Observation
Observational skills are important and you should assess the activity on the water and bankside. Most of the fish's diet will be under the water so nymphs and scuds or shrimps will form the main food source.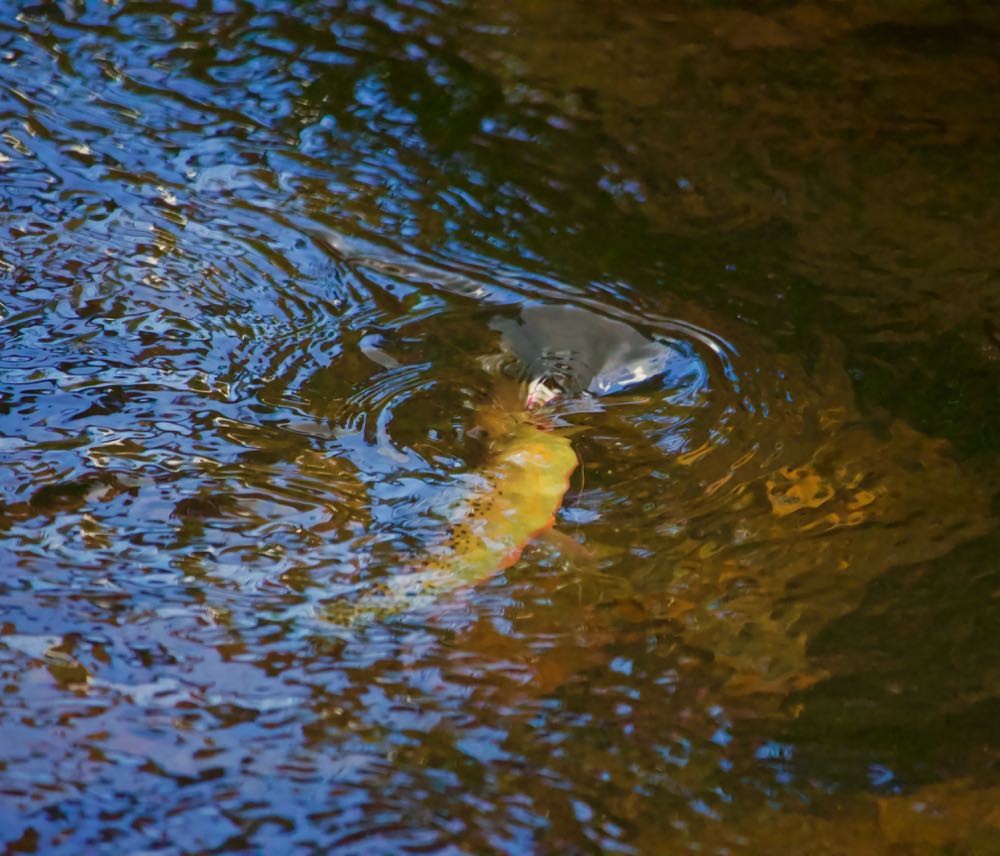 Emergers and dry fly patterns will probably be the next source of food. But there will be times when insects are dropping from tree branches, or a breeze forces flies or moths onto the water and the trout may turn to feed selectively on these.
Season/ Time of Year/ Time of Day
If you know when certain terrestrials are likely to be active at a certain time of year or time of day, then you might try them even when none are in evidence.
Some of these 'top terrestrial fly patterns' are worth speculating with when nothing else will work and a deer hair mouse pulled in a noisy retrieve may be just what is needed when all else has failed to raise a fish – and in contrast to the various 'stealth' patterns you have tried.
Conclusion
I hope this article proves a useful refresher and helps provide confidence in keeping a stock of terrestrial patterns to hand. In my own fly fishing, I usually have an 'A' box of flies I expect to work, and when they don't dip into my reserve 'B' fly box.
This is the time to pause, look carefully at the water, and consider your tactics before tying on another pattern in desperation (though we have all done it!).
The range of top terrestrial flies described above should cover nearly all the situations where you may need a 'nonstandard' type of fly.
But do not flog the water indiscriminately. Remember your observational skills and select the right fly with thought and fish with patience.
Tight lines!
Some images in this post are courtesy of Shutterstock.
Amazon and the Amazon logo are trademarks of Amazon.com, Inc, or its affiliates.