I've been fly fishing Montana for nearly my entire life, and I have to say, for United States fly anglers, the fly fishing in Montana is nothing short of casting in paradise.
The miles of crystal clear trout streams surrounded by snow-capped peaks are enough to make many die-hards uproot their lives and move to the Big Sky State.
The legendary waters have been producing trophy trout for years.
My first time fly fishing Montana showed me how incredible the state truly is. My father and I were hiking along the Boulder River when we stopped to talk to a fellow angler.
She owned the land surrounding a portion of the river where A River Runs Through It was shot, and she offered to let my father and I fish it.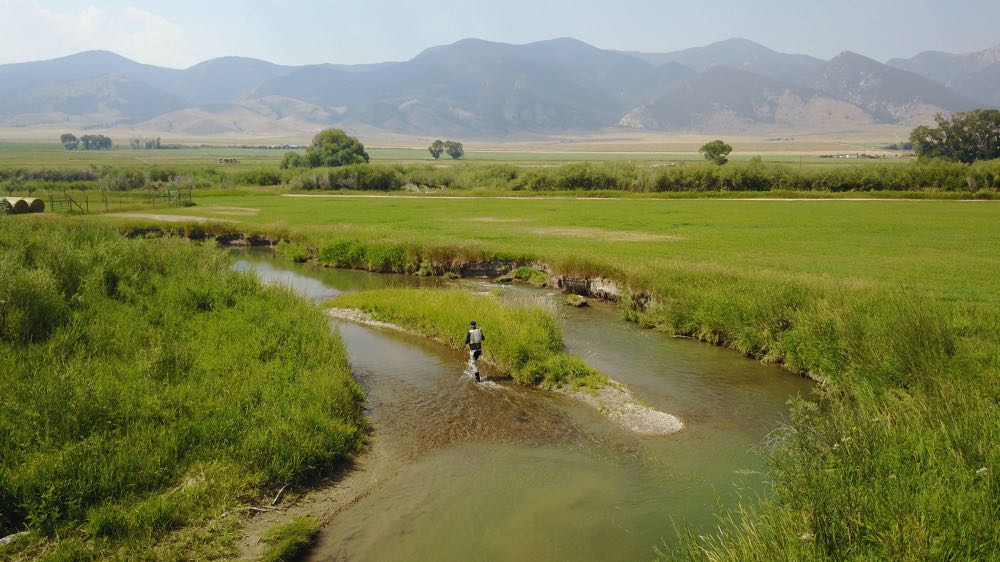 It was surreal to think back on this iconic movie and stare at the same water that represented the ultimate beauty of Montana. Besides having this unique experience, my father and I also landed some impressive fish that day, enough to motivate me to return again and again.
Since then, I've packed up my fly fishing gear in my camper van countless times for regular pilgrimages to Montana. I've fished big raging rivers, tiny bubbling brooks, and lonely high-altitude lakes all over the state. It's hard to pick only 10 spots as the very best, but I can say that I've done my best with this list.
I've hooked into many different kinds of fish in these spots. They're all prolific waters, with fantastic scenery too. Most of them are close to cool little towns, where you can find good fly shops and everything else you may need on a fly fishing expedition to Montana.
Yes, everything you've heard about Montana is true, and then some. Massive hatches combined with sizable trout make the trip entirely worth it.
Disclaimer: IntoFlyFishing.com is a participant in the Amazon Services LLC Associates Program, as an Amazon Associate I earn from qualifying purchases. Please see our Privacy Page for more information.
Best Fly Fishing Spots in Montana
Montana has every type of water that an angler would want to try. Wide free-flowing rivers, small mountain streams, and alpine lakes are available across the state.
These locations often have easy access, but beware of private property. Landowners in Montana own everything above the high water mark, so be sure to pay attention to your location.
Fly Fishing Rivers in Montana
Montana has numerous legendary rivers. These waters have brought every enthusiastic fly angler from all over the world to the United States. You'll never have a shortage of moving water to fish in Montana.
It's what makes the state one of the best places to fly fish on Earth.
Clark Fork
The Clark Fork River has a storied past. It was almost lost at one point due to mining waste and runoff. There have been massive efforts made to keep this river functioning at a proper level, and it's done well to return to prime fishing water.
The best portion to fish is near Missoula. Here, the water flows are stronger and casting lanes are easy to find.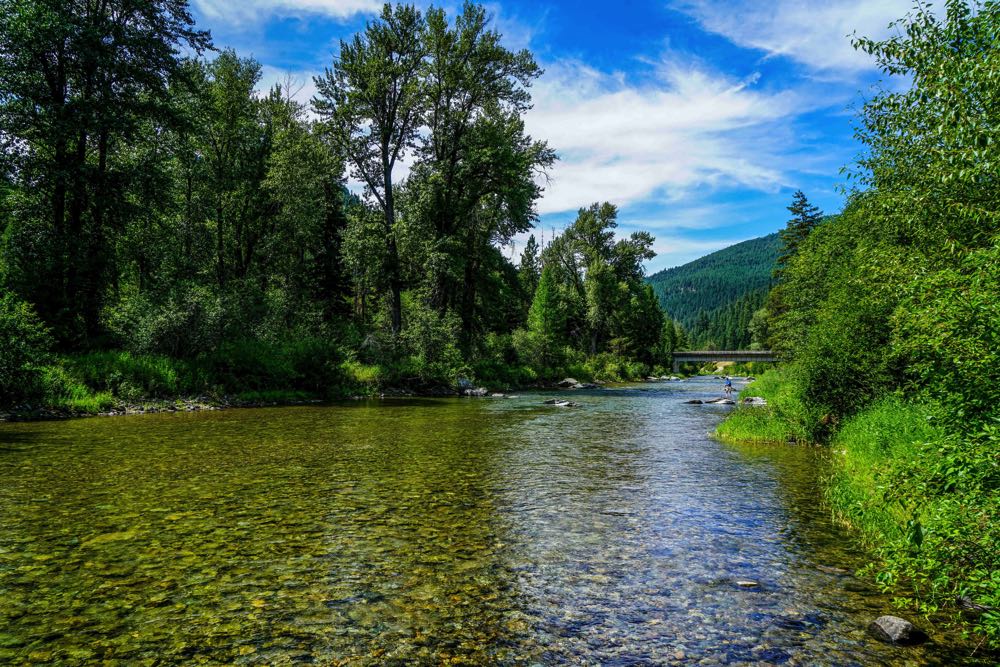 I've had the most success fishing this river by wading, so I'm always sure to bring a solid pair of waders to keep me in the water for the day. In the Clark Fork, I've hooked into brown, rainbow and cutthroat trout.
Use PMDs, Parachute Adams, minnow streamer patterns, and terrestrials in the late fall. Also, a 5-weight rod with 4x leader will handle all of the fish you'll find in the Clark Fork. You can pick these up at a fly shop in Missoula.
Madison River
The Madison is one of the best rivers in all of Montana, and I've hit it up on nearly every visit I've made to the state. The dry fly hatches, especially the Mother's Day caddis hatch, is something to witness. The feeling of being immersed in a cloud of flies is something I'll never forget.
Large rainbow and brown trout roam the waters. This is a must-visit for anyone heading to Montana.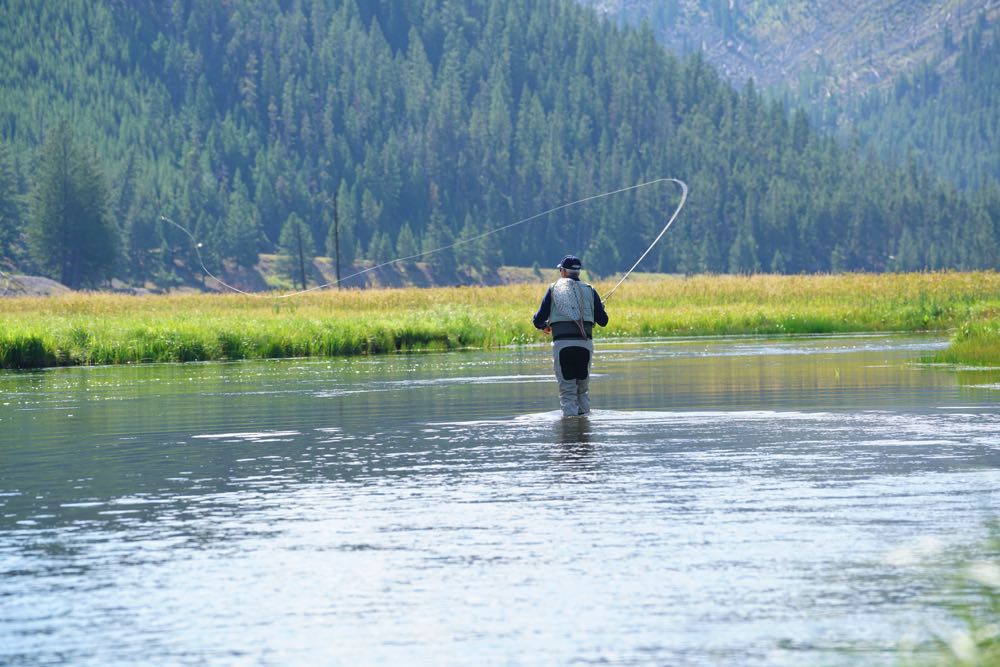 In the Madison, use your 5-weight rod with 3 or 4x leader and 5x tippet. If possible, you'll want to fish it with dries. Mayfly spinners and caddisflies are the best choices.
For streamers, use crayfish and minnow patterns. These will land some of the larger fish.
If you'll be targeting large fish, Beartrap Canyon holds them, but access can be difficult. If you're adventurous, it's well worth your time.
The rest of the river has plenty of access and casting lanes are quite open if you're willing to wade in the water a little ways.
Gallatin River
The Gallatin begins in Yellowstone National Park and is a wonderful river to wade. Flows are rarely unbearable and access is plentiful. Plus, float fishing is not allowed on the majority of the Gallatin.
When you're fly fishing on the Gallatin River, you'll likely catch rainbow and brown trout along with the occasional cutthroat.
The Gallatin is a wonderful river to fish with dries. I've always found that caddis, mayfly, and spruce moth patterns work well. Also, the terrestrial bite later in the summer is elite.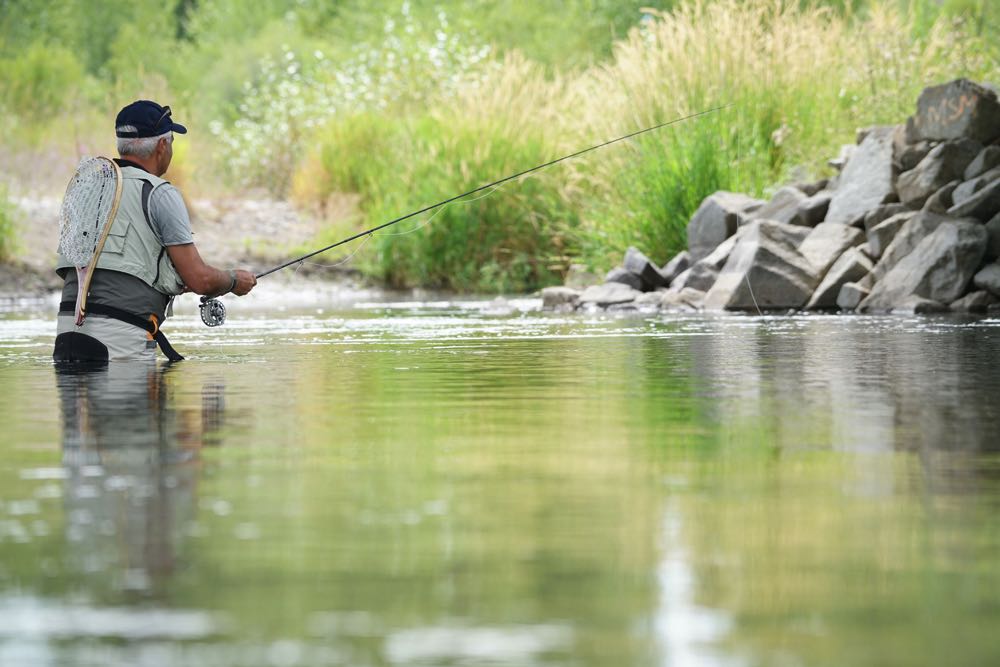 The larger fish are often caught during the late fall when the terrestrial bite is in full swing.
To be comfortable, you'll only need your 5-weight with 4 or 5x tippet. These fish can spook, but if you're present during a hatch, there's little that can distract these fish from feeding.
One of my very favorite things about this river is that the peace and solitude that you can enjoy there. It's one of the few like it left in the United States.
Missouri River
The Missouri River is another must-visit for anyone looking to fly fish in Montana. While the size of the water can seem intimidating, the amount of large rainbow and brown trout is staggering.
The dry fly bite is to die for, and the monsters will gobble up streamers any chance they can get.
The amount of water to fish can be a challenge, but don't fret. It always takes time to learn new water and the tendencies of the fish. Some of the best fishing is below the Holter Dam.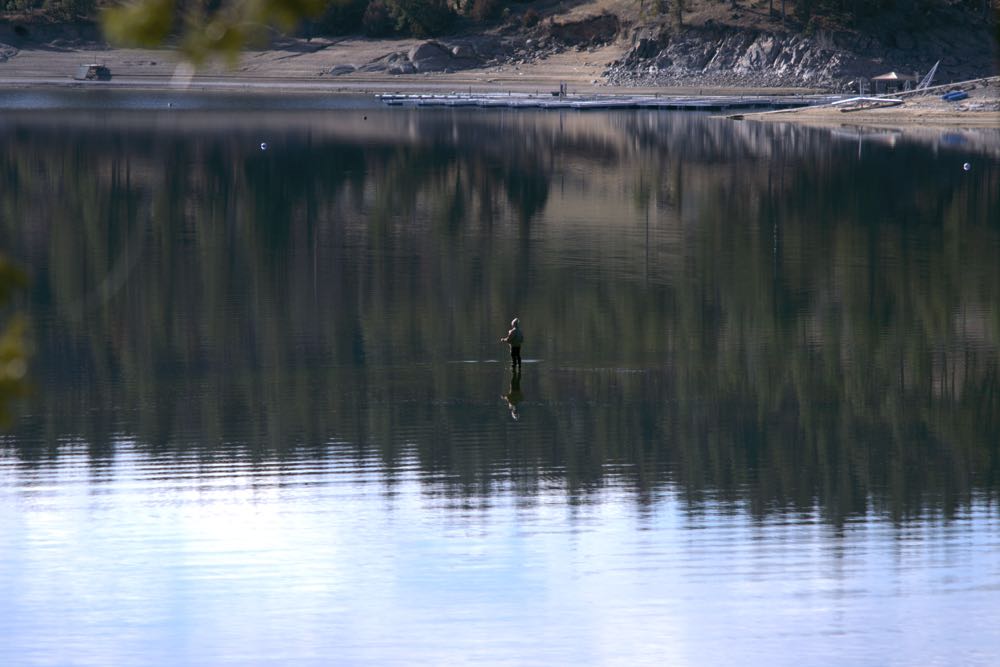 The amount of access in this section is reassuring, and anglers don't have to worry about fishing on top of one another.
To catch fish, use Pheasant Tail Nymphs, PMDs, Parachute Adams, and terrestrials in the late summer. Also, if you have any mouse patterns, use them. They're best fished at night up against the banks when the real-life mice might be falling off of them.
You'll receive some massive blowups and have lifelong stories. Use your 6-weight on the Missouri. You'll need some extra casting power!
Flathead River
The Flathead River is found in the Bob Marshall Wilderness in northern Montana. This region of the state is filled with large wildlife and fish. You'll catch cutthroat, bull and rainbow trout in this river.
It's best fished via a backpacking trip, but be careful of the grizzly bears that inhabit the area. I've seen (and heard) more than a few big ones roaming around near the river while I was fishing.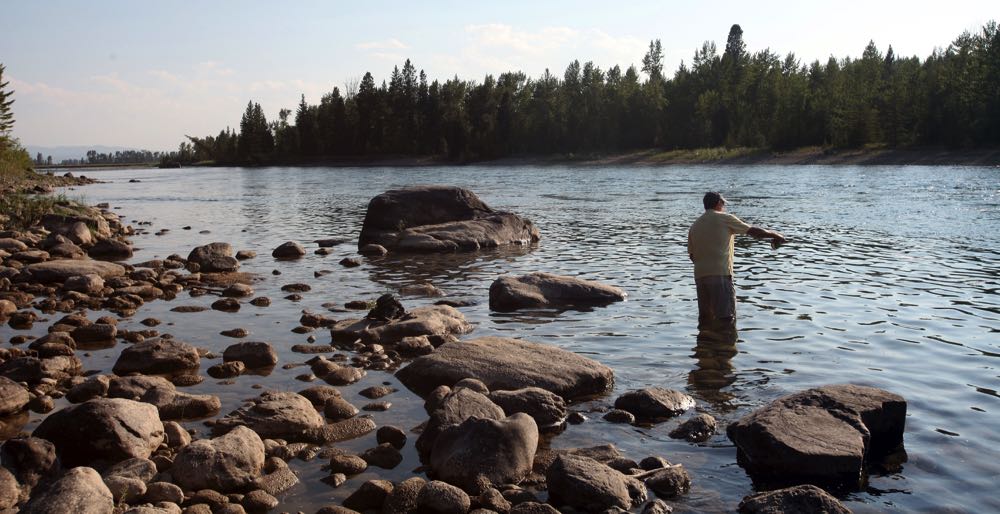 The Flathead's clarity is often exceptional, so be careful as you approach the water. Sight fishing for these fish is doable, but stay concealed so you provide yourself with enough protection to properly scout the area before you begin.
Use a 6-weight rod with light leader and tippet. Streamers and Royal Wolf flies will catch the big fish. Crayfish and minnow patterns will also help land trout in impressive numbers.
Tobacco River
A small river in northwest Montana, the Tobacco is stocked pretty full of bull trout, rainbows, and cutthroat. On my recent trip there, I was almost exclusively landing the latter two species, but depending on the time of year, the river can be a great place to hook into some decent-sized bullies.
In the fall, around mid-September to October, the Kokanee salmon run up the Tobacco from Kukanusa Lake. If you get them early in the run, they can make for some amazing fishing.
Unfortunately, Montana still allows for "snagging" season on this river, which is a pretty brutal way to fish. But if you can get away from those snagging banks and hit up some fresh fish closer to the lake, you'll be in for a treat.
The Kootenai River
Named after the Kootenai Indians, this river pours out of the southernmost tip of Kokanusa Lake about 20 miles north of Libby. The fishing here is world class, and in fact, the largest trout ever caught in Montana, a 38-pound monster, was pulled out of this river very close to the Libby Dam.
If you'll only be visiting northwest Montana and won't make it down south to "The Big 3" rivers (Gallatin, Missouri, Yellowstone), then this is northwestern Montana's answer to those behemoths.
If you want to hook into a monster of the 20lb+ variety, you'll have to be very patient drifting streamers in these enormous waters (or hire a guided float trip).
Otherwise, there are plenty of nice 12-24 inch trout to be found in the wadable waters between the Libby Dam and Libby.
Fly Fishing Lakes in Montana
While rivers and streams are the most common waters to fly fish in Montana, the lakes throughout the state hold trophy fish that are a delight to catch on the fly. These fish may require some different tackle to land, but it's well worth your time to see what you can find.
Hebgen Lake
Hebgen lake is a great spot to target all year long. The ice fishing is spectacular and fly fishing throughout the rest of the season is top-notch. The water is very clear, so there are always sight fishing possibilities.
When you do sight fish, make sure you are using 9-12 foot leaders to help you stay hidden. I've caught lots of both rainbow and brown trout in Hebgen.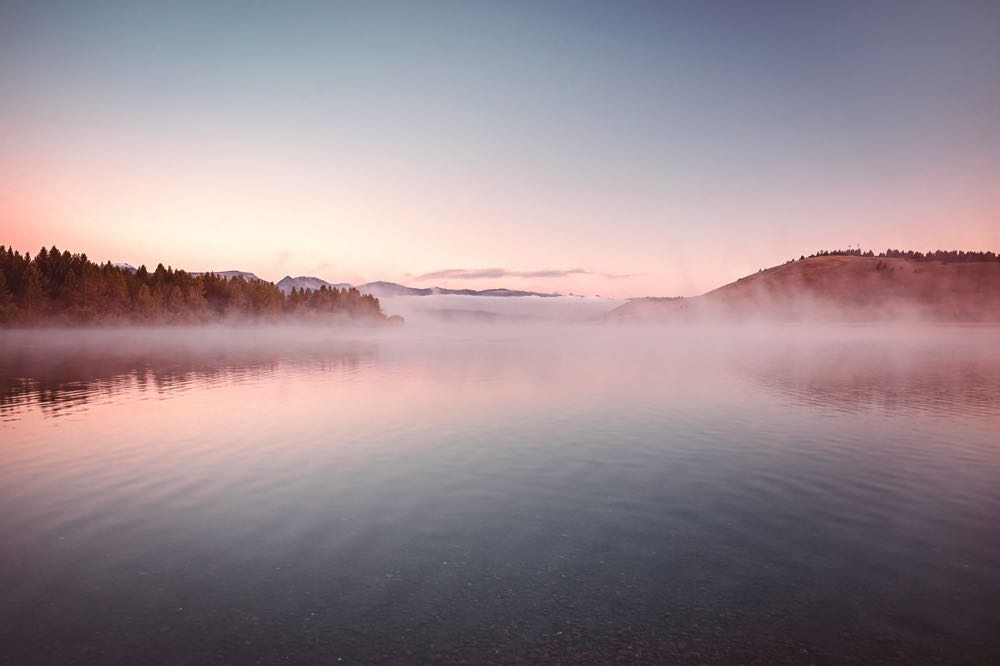 For tackle, I like to use a 5 or 6-weight. There are some large fish in Hebgen Lake, so you need to be prepared for a fight. If you can, fish this lake on a float tube or a boat. It's a large lake and the more water you can cover, the better.
Use crayfish, midge, trico, and callibaetis patterns. The spruce moth hatch begins in late July, and the terrestrial season starts in August.
There are 65 miles of shore to cover, so don't spend too much time at one spot if the fish aren't biting. You'll see rising fish throughout the entire day and dries are always productive.
Wade/Cliff Lakes
These lakes are located near the Madison River but are a ways off the beaten path. The Montana state record brown trout was caught in Wade Lake. It weighed almost 30 pounds.
The brown trout I've caught there may not have been 30 pounds, but they've put up quite a fight. Even when the fish aren't biting, the scenery is so gorgeous that I've barely noticed.
Due to the clarity of the water, be sure to bring along longer leaders and light tippet. These fish will expect nothing short of perfection, so be sure not to disturb the water.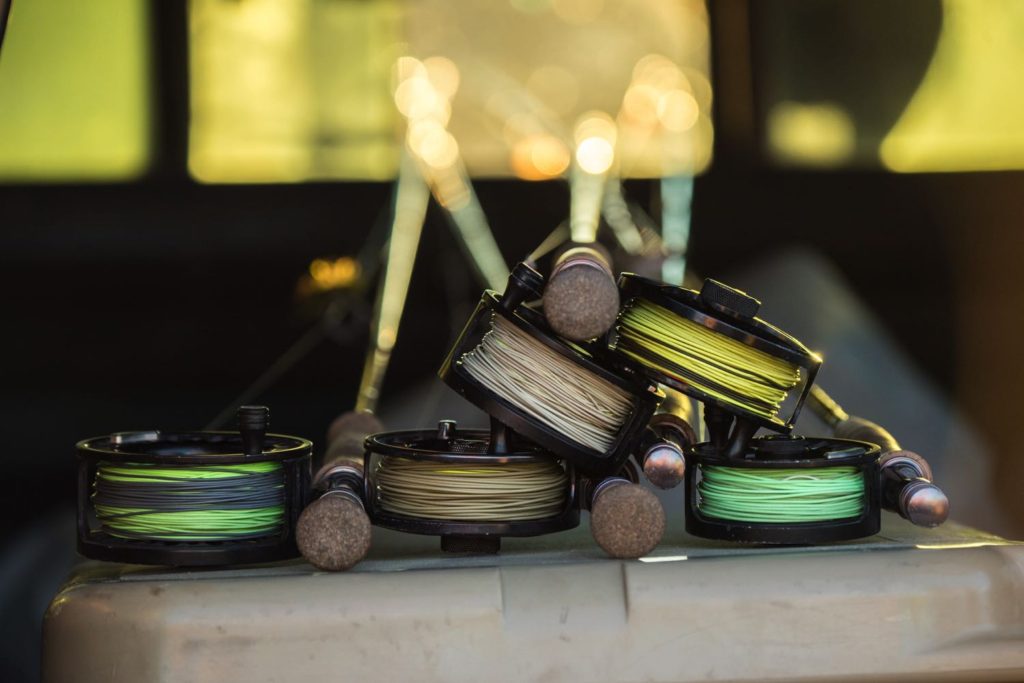 For tackle, use a 5 or 6-weight with both floating and sinking tip line. Depending on what the fish are hitting, you may need to switch your approach.
These lakes can get fairly deep, so it's important to be equipped to fish in multiple ways.
Similar to in Hebgen Lake, I've caught a lot of fish using callibaetis and midge patterns. Also, for streamers, use both leech and crayfish patterns.
The old standby Woolly Buggers will land fish as well. If you're fishing as soon as the ice is out, fish these streamers extremely slow.
Whitefish Lake
Located near Whitefish, this is one of the prettiest lakes I've fished in Montana. The tall pines surrounded by mountain peaks make it the ideal spot to spend the day fishing. It's about 3,300 acres in size and holds both rainbow and brown trout.
These fish are consistently biting, so be prepared for a day full of action.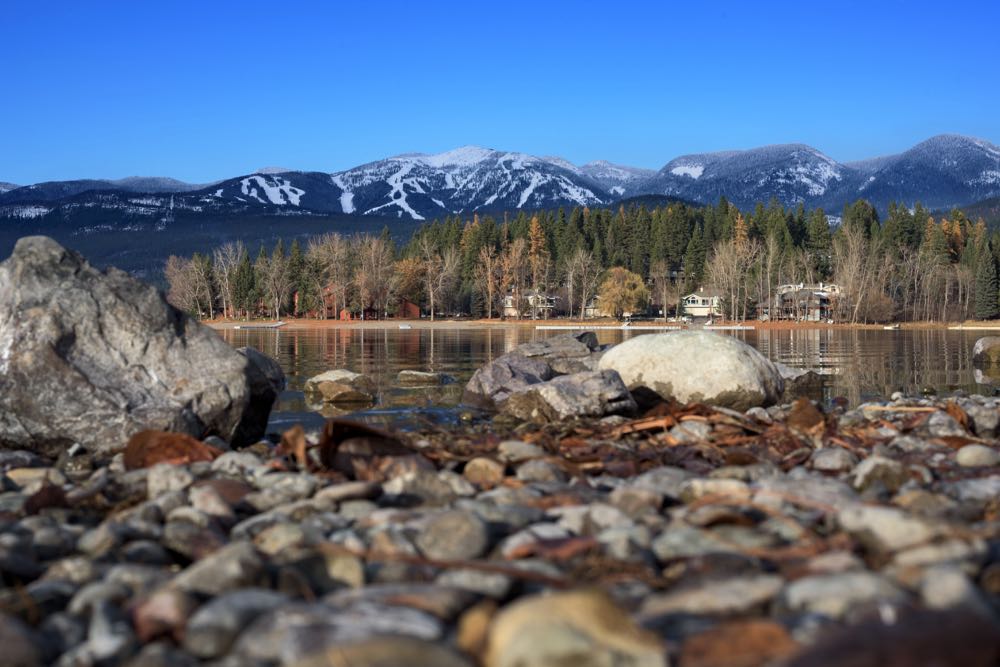 To target these fish, use both weight forward and sinking line. You'll need a chance to hit all levels of the water column and these lines will provide that for you. Use a 6-weight rod with longer leader so you're able to properly sight fish.
You'll catch the fish on minnow, crayfish, and leech patterns. Also be sure to use salmonflies, midges, and small caddisflies.
This lake has plenty of shore access. If you follow the railroad tracks on the western side, you'll have quite a bit of the lake to yourself. Stop along the areas you see structure and do your best to cast near it.
Dicky Lake
Nick, the founder of Into Fly Fishing, recently headed out on a trip to northwestern Montana, and Dicky Lake was one of the small lakes he checked out near where he was staying.
The lake itself doesn't provide world-class fly fishing by any means. There are some very small smallmouth bass along the banks and structure, and there are some decent, although not numerous, Kokanee salmon in the deeper waters.
The reason Dicky Lake made this list of the best fly fishing spots in Montana is just because it's so scenic. For those of you who are going on a fishing trip with family members that don't like to fish, this lake is perfect for everybody.
It has decent fishing, it's great for belly boating, and there are plenty of day use areas where the non-fishing members of the family can relax, swim and enjoy the scenery.
Hyalite Reservoir
The Hyalite Reservoir is a 200-acre alpine lake located near Bozeman. This is a wonderful spot to fish during runoff when the rivers are full. It's got clear water along with large fish.
You'll find cutthroat and grayling in impressive numbers.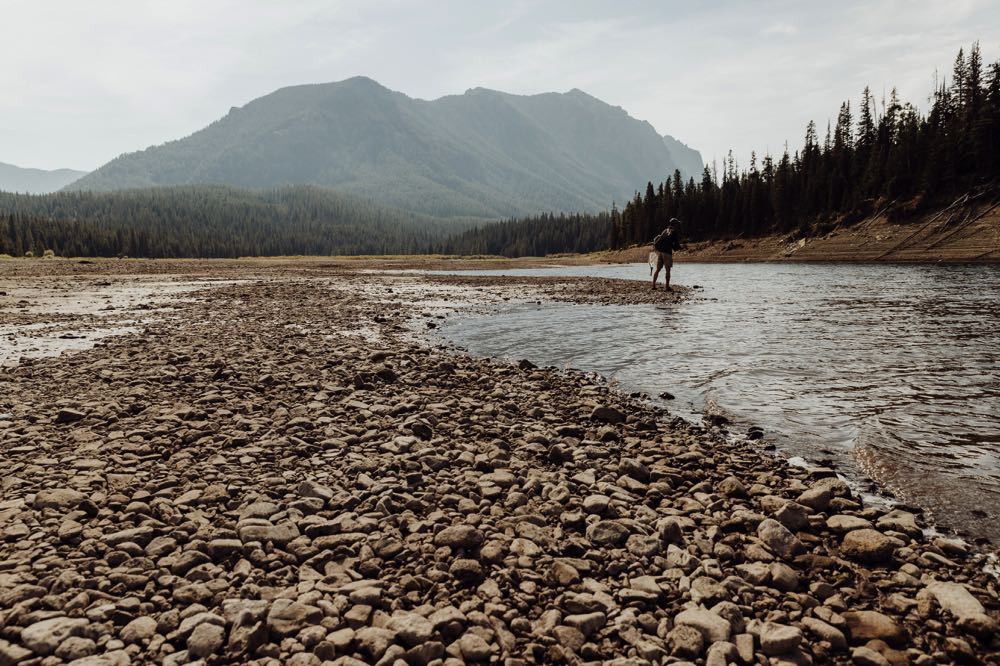 If you can, fish this lake from a float tube. It's small enough that you'll be able cover plenty of water with it. Plus, you'll receive up close and personal interaction with the fish. You'll want a 3 or 4-weight with very light tippet.
If possible, tie a 9 foot, 4x leader on with 5x tippet. You may have to switch between sinking and floating line depending on how the fish are biting.
If they're after streamers, use leech patterns. If they want dry flies, Royal Wolves are a smart option. It's the perfect escape if you're in the town of Bozeman. You won't regret making the drive out to it.
There are also some great fly shops in and around Bozeman to help get you kitted out.
Georgetown Lake
Georgetown Lake is another wonderful place to test your skills. From May until July there are special regulations, so be sure to check on those before you fish. The fishing is always on fire and you won't have trouble catching a large trout.
You'll find rainbow, cutthroat and brook trout in the lake. Many times I've hooked into rainbows over 10 pounds, and I've caught plenty of 2-pound brook trout.
There is also a population of Kokanee salmon in the water. To land fish in Georgetown, use Speckle Duns, Parachute Adams and Purple Haze flies. Also, Woolly Buggers and leeches are smart streamers to use during the season.
To catch the salmon, wait until the fall and throw egg patterns.
Use a 6-weight rod to fight the fish in Georgetown Lake. You should use a long 3 or 4x leader with a sinking tip line. If you see the trout surfacing, change to weight forward or floating line. Georgetown Lake is extremely diverse, so go out and enjoy the day.
Want to try angling in a different state?
Check out our full guide to fly fishing in Connecticut.
Why Fly Fish Montana?
Fly fishing in Montana is never going to be easy, but it will always be rewarding. These fish are wary and smart. They don't fall for just any sort of presentation, and anglers have to earn every one of their catches.
Take on the challenge and you'll be pleased with the end results.
Top Guided Fly Fishing Tours in Montana
As Montana is one of the very best fly fishing destinations in the world, it's always best to hire a guide and go out on the river with an experienced angler, at least for your first day of fishing.
What to Pack for Fly Fishing in Montana
Here are a few of the essential items for any fly fishing trip. I make sure to always bring them along with me on my trips to Montana. Everything will come in handy, as there are so many different styles of fishing in the state.
Montana Fish Species
Montana has a variety of freshwater species, but their trout population is what makes it truly unique.
The state has over a half dozen different types of trout that fill their streams as well as mountain whitefish, bass, and a variety of others. Here's a list of species you can target on the fly.
Rainbow Trout
Rainbow trout upwards of 6 or 7 pounds are regularly caught throughout Montana. These fish are non-native to the state, but they've found a home and are flourishing.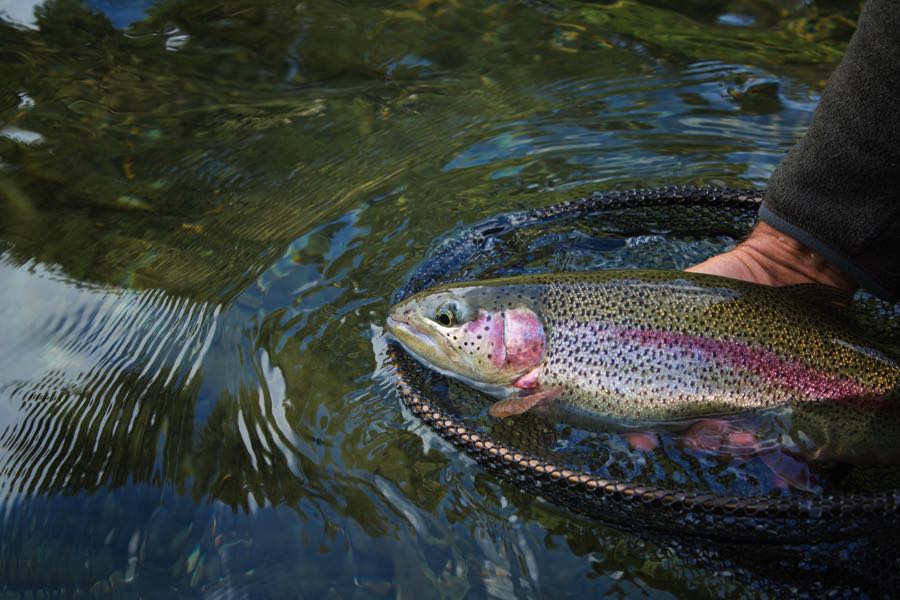 You can find these fish in almost every cold-water lake or river whenever you're fly fishing around Montana. These include the Madison, Yellowstone, Boulder, and the Missouri rivers.
You can catch these on Pheasant Tails, PMDs, Parachute Adams and terrestrial flies, all ranging from size 12-18.
Brook Trout
The brook trout is another non-native trout species that thrives in Montana. I've caught these multicolored fish up to 2 or 3 pounds in multiple rivers throughout Montana.
You can find them in the Smith, Big Hole, portions of the Yellowstone, and several other rivers. Use salmon flies, tricos and any sort of midge patterns to catch these fish.
The less intrusive you can be with your leader and tippet, the better. Keep things light with 4x leader and 5x tippet.
Bull Trout
Bull trout are a native species to Montana and are considered to be threatened. They often breed with the non-native brook trout, and all of the offspring are sterile.
This leads to a decrease in bull trout numbers. They need extremely clean water with minimal sediment levels. If you're fishing Montana on a fly rod, you can look forward to hunting these beautiful fish.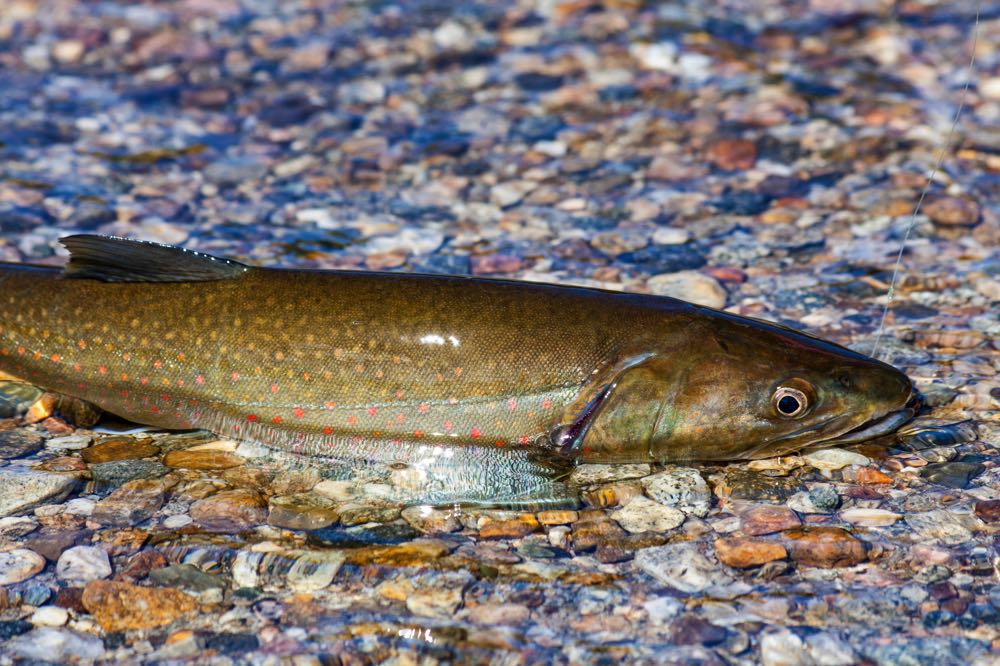 You can find them up to 15 pounds in the western portion of the state in the Clark Fork and Flathead Lake/River.
Adult bull trout prefer baitfish patterns. Minnows, Woolly Buggers and crayfish will all help you catch the elusive bull trout.
Cutthroat Trout
The Westslope cutthroat trout is another native trout species found in Montana. It also happens to be the state fish. They have a red line near their jaws that's unmistakable.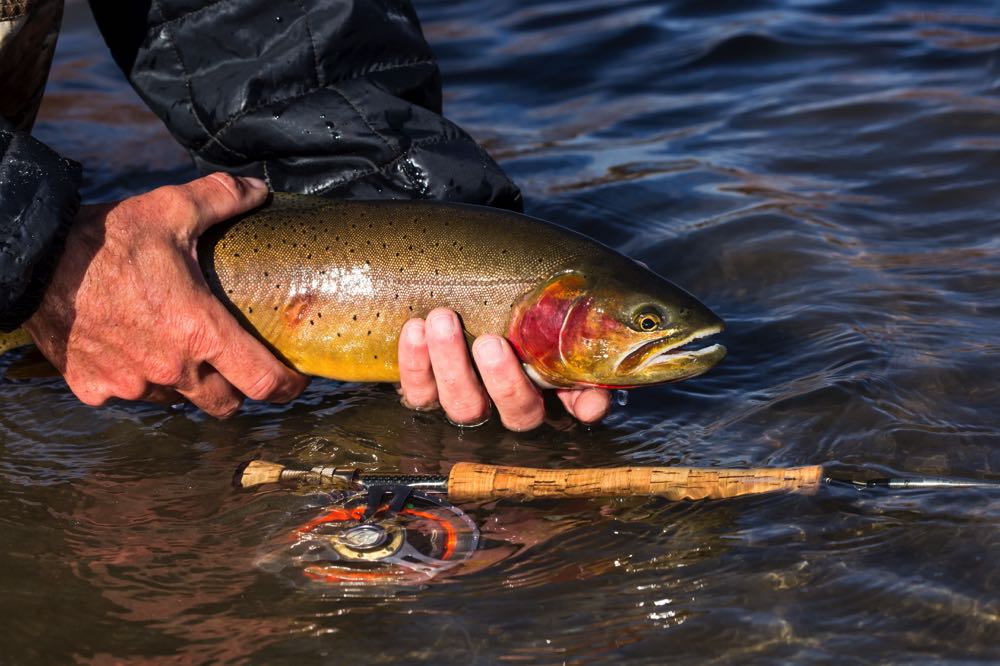 This fish is also considered to be at risk by the Montana Game and Fish Department. These fish are rarely caught in large numbers, but it's an amazing experience when you do.
You'll find these in the Clark Fork and Missouri River. Use Hare's Ear Nymphs, Prince Nymphs, and blood midges to catch these fish. Also, Elk Hair Caddis flies will provide you with some success.
Brown Trout
Brown trout were brought to Montana in the late 1880s and have flourished ever since. You can find them across almost the entire state in large populations ranging from 12-20 inches.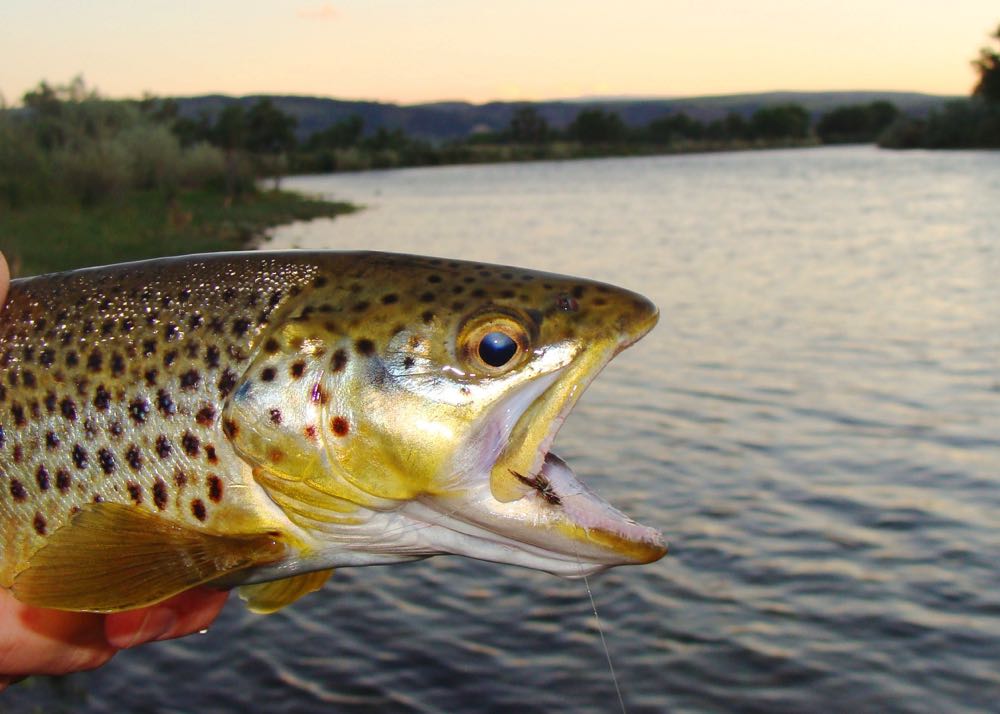 When you head out to fly fish in Montana, you'll catch these in the larger rivers like the Yellowstone, the Missouri, and the Boulder. The larger fish feed at night and prefer baitfish, crayfish, and other larger streamer patterns.
In the late summer, you'll catch some sizable browns on terrestrial patterns.
Mountain Whitefish
The mountain whitefish is another native species to Montana. They're commonly found up to 2 or 3 pounds all across the western portion of the state.
Flathead Lake, the Madison River and the Gallatin River all hold them.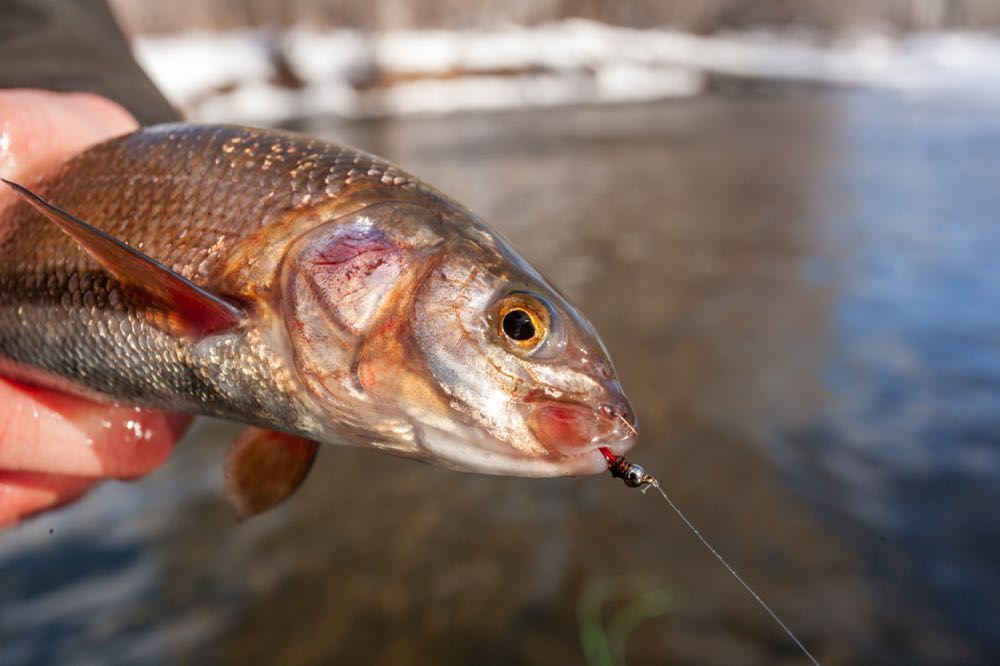 They're a common fish to catch when you're targeting the larger trout on this list. For every trout you catch, you'll likely catch two or three mountain whitefish. This is just the way it is when you're fishing Montana on the fly.
If you are targeting them, however, use egg patterns, Woolly Buggers, and terrestrials.
Montana Fishing Season
Like many Western states, Montana's fishing season largely depends on the runoff. There are multiple mountain ranges spread across the state and many of the above-mentioned rivers receive water from them. Do your research on the flow levels before you head out to the water.
Montana Fly Fishing in April
Fly fishing Montana in April can be hit or miss. There's likely minimal snowmelt and the fish are starting to get hungry. Midges, BWOs and march browns are hatching, so be sure to use these.
Research the flow levels and call local fly shops to see how the waters are fishing.
Montana Fly Fishing in May
Fly fishing in Montana in May is tricky. You'll be dealing with inclement weather along with challenging water. The runoff begins in May and stays through early July. This doesn't mean the fish won't eat.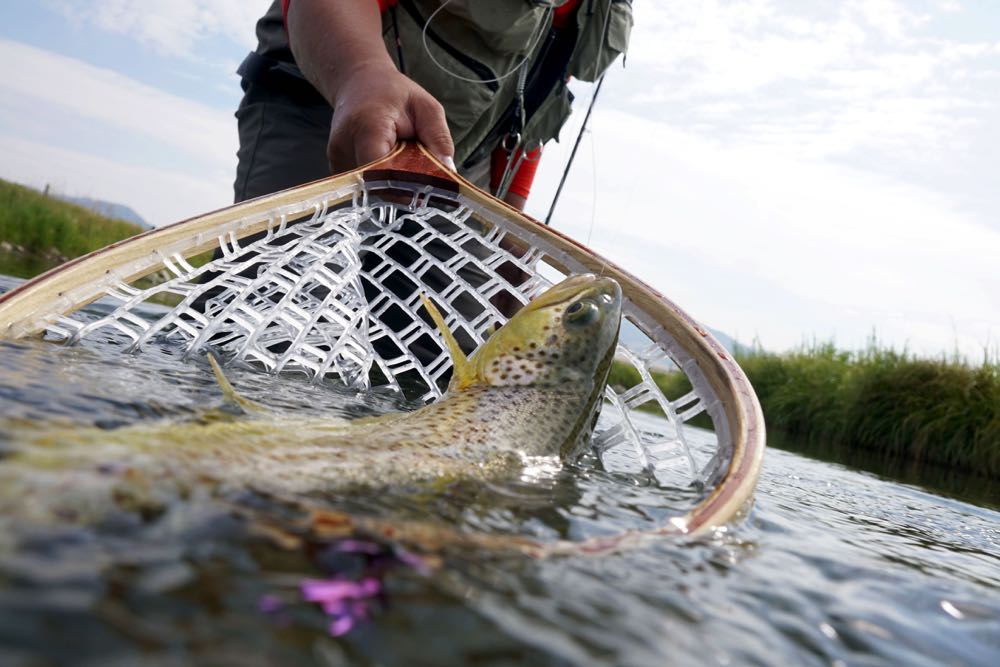 You'll have to be more creative or stick to the lakes. They handle the water a bit more and fishing is more productive. Use caddisflies as well as BWOs. Streamer patterns throughout the pools will also work.
Montana Fly Fishing in June
June is the month where Montana fly fishing starts to get more productive. By the end of the month, the runoff is under control, and anglers can get back to their normal methods of fly fishing.
Don't miss the continual caddis hatch. Also, green drakes, stoneflies, and salmon flies are beginning to hatch. It's the start of a great season to come!
Montana Fly Fishing in July
Fly fishing Montana in July is wonderful. Head to the mountains for some cooler temperatures and clear water. The fish are eating and the dry fly bite is in full swing.
Caddis, drake, stoneflies, and salmonflies are all hatching, so any of these patterns will work well. Continue to throw streamers in the deeper portions of the rivers.
You'll land the bigger fish this way.
Montana Fly Fishing in August
Fly fishing Montana in August is similar to July, except the bite gets even better. It's probably my favorite month in the state. Continue to fish the mountain streams because the temperatures at lower elevations are warm.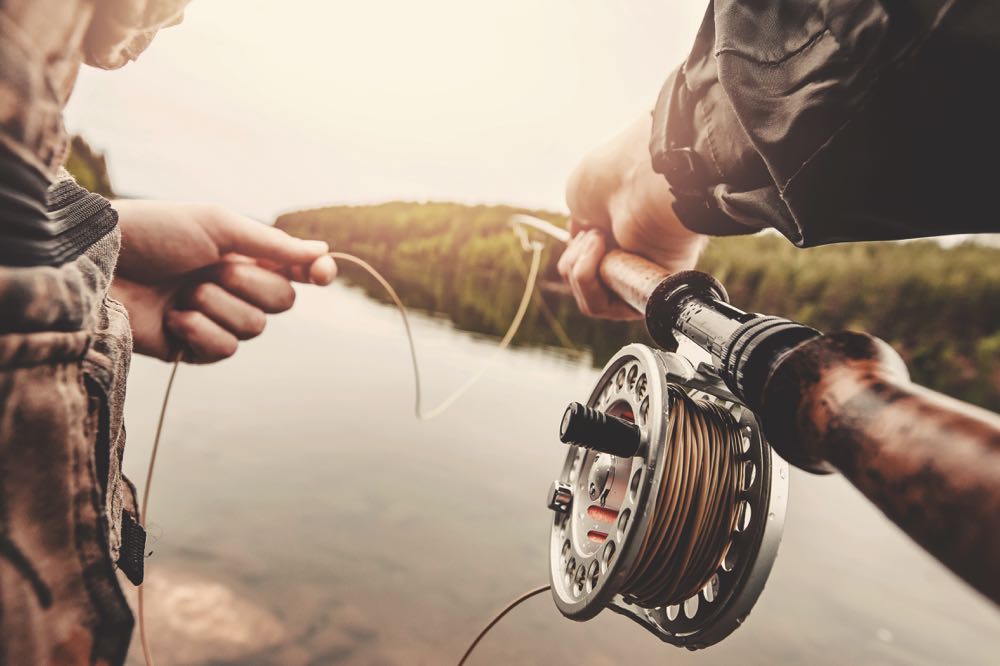 You'll have plenty of success with trico and stonefly patterns. The best part of August, however, is the terrestrial flies. Ants, hoppers, and beetles are falling into the rivers, and big trout are eager to eat them.
September Fly Fishing in Montana
You can't go wrong spending time on the water during September in Montana. The trees are changing colors, the terrestrial bite continues, and temperatures are bearable no matter where you are in the state.
Montana is one of the prettiest places to be in the fall.
Best Fly Fishing Lodges in Montana
Montana has numerous world-class fly fishing lodges. These lodges are always worth the money due to the access they have to private water. You can't go wrong with any fly fishing lodge in Montana.
The guide services the lodges provide, along with their beautiful facilities, are unforgettable.
Madison River Lodge
Located in Ennis, the Madison River Lodge is an Orvis endorsed lodge and offers numerous packages for guests. They have a private two-acre trout pond for you to warm up on before you tackle the Madison.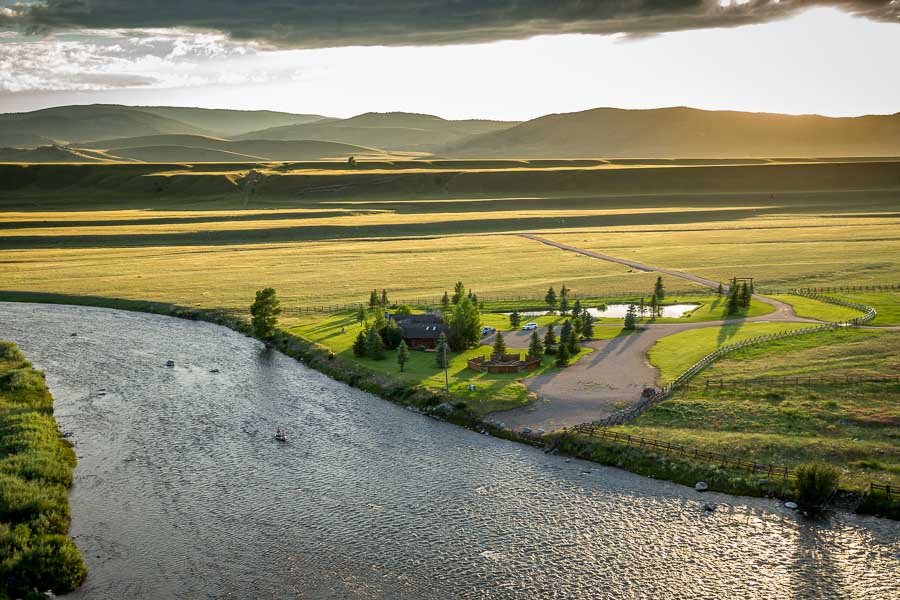 The river literally bends right around the property, so you'll have a lot of opportunities to cast your line on your own. They also have fly fishing guides available that can take you to nearby rivers and lakes.
Each guest room has its own private bathroom and walk-out deck overlooking the beautiful Madison River. A three-night all-inclusive trip will cost $2300 per person.
Gallatin River Lodge
Located in Bozeman, Montana, close to the Gallatin River, the beautiful Gallatin River Boutique Lodge offers an on-site restaurant, a full bar, and upscale decor with handcrafted oak furniture in all of the rooms.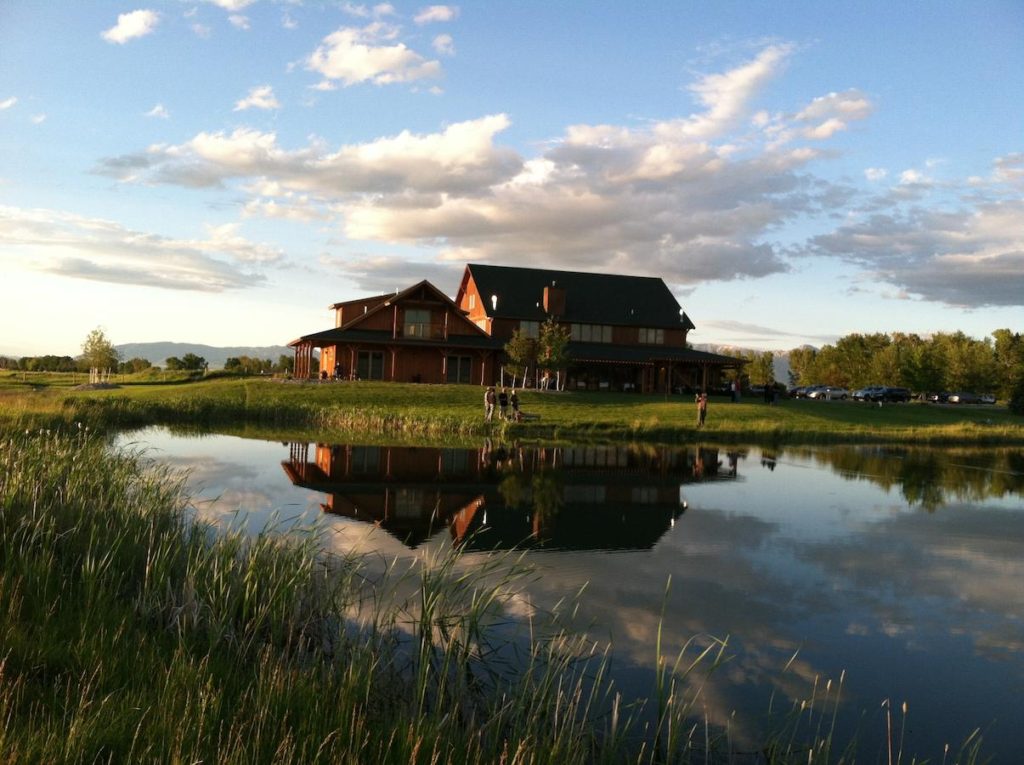 There are beautiful views, great cocktails, regional microbrews, and an extensive wine list in the restaurant, while the lodge itself has a very cosy feel.
The Gallatin River Lodge specializes in fly fishing guide services and offers tours on the Yellowstone, Gallatin and Madison rivers.
There's also a great trout pond located on the property and plenty of other things to keep you busy nearby like hiking, whitewater rafting, and snowmobiling and skiing in the winter.
Boulder River Outpost
The Boulder River Outpost is located on the East Boulder River and provides all-inclusive packages for guests. You'll have a great view of the Beartooth and Absaroka mountains on both sides of you.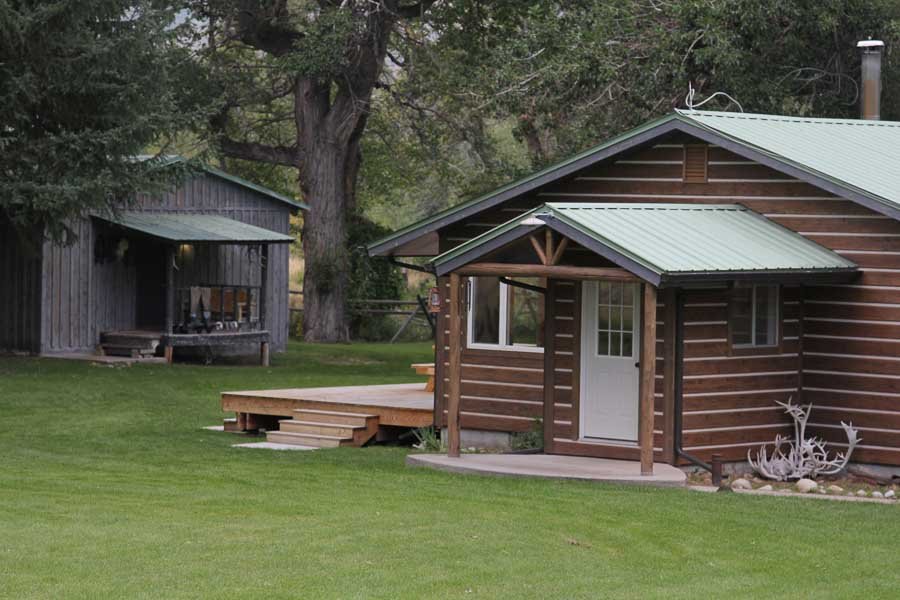 There are plenty of lightly fished waters around the property, allowing anglers to cast their lines to fish that haven't already been spooked by too many flies on the water. A three-day, two-night all-inclusive trip will cost around $2000 per person.
Sweet Grass Basecamp
Sweet Grass Basecamp is located at the base of the Crazy Mountains on a 25,000-acre cattle ranch.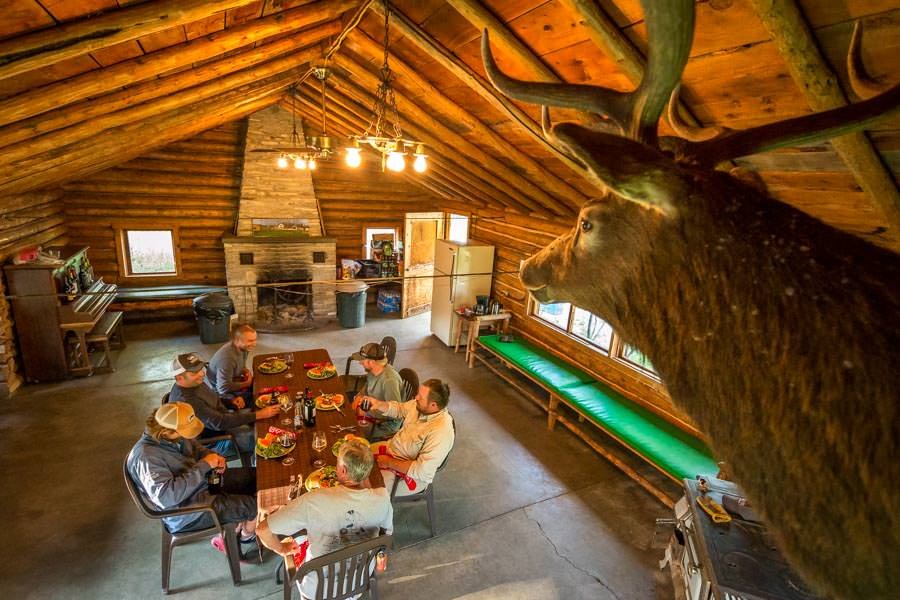 You'll enjoy private access to two trout streams and will experience all of the seclusion that you could desire. An all-inclusive rate for three nights and two days is $2000 per person.
Conclusion
Fly fishing in Montana gave me a brand new perspective on the sport. Its breathtaking scenery, large populations of hungry fish, and sheer size far exceeded my expectations, and at the end of each visit to Montana, I always find myself thinking about the next one.
It inspires and invigorates those who may be tired of the difficulties that fly fishing can present. You'll never regret making an effort to spend a few days in the Montana wilderness discovering all that it has to offer.
You'll create memories that will last a lifetime, and you'll not only return a more skilled angler, but you'll have countless stories to tell.
Some images in this post are courtesy of Shutterstock.
Like This Article? Pin It!